Big Ten:

Lions-Badgers-111126
November, 26, 2011
11/26/11
9:45
PM ET
MADISON, Wis. -- The game ended one debate and added intrigue to another.
Wisconsin's
45-7
dissection of Penn State left no doubt as to which is the best team in the Leaders division. After falling behind early, the Badgers outclassed the Nittany Lions, as they're prone to do in a building where they've now won 16 consecutive games. They earned the right to face Michigan State next week in the inaugural Big Ten championship game.
But the decisive victory only brought more uncertainty to a question Badgers players and coaches love to get asked even though few have an answer.
Who is the Big Ten's Offensive Player of the Year: quarterback
Russell Wilson
or running back
Montee Ball
?
[+] Enlarge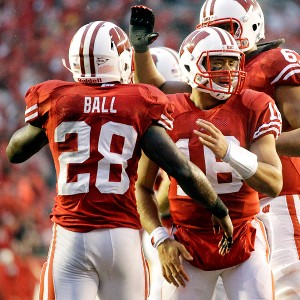 AP Photo/Morry GashWill Russell Wilson and Montee Ball end up sharing the Big Ten's top offensive player of the year honors?
"I'd split it," Wisconsin coach Bret Bielema said. "I don't know if there's ever been co-offensive MVPs off the same team. I don't know if that's ever been done, but I don't know how you can give it to one without the other."
It has happened once: Big Ten coaches voted Iowa quarterback Matt Rodgers and running back Nick Bell as co-Offensive Players of the Year in 1990. Will it happen again next week?
Wisconsin wouldn't be where it is without the contributions of Wilson and Ball, who are putting together the best combined quarterback-running back performance in a season in Big Ten history (more on that later). The senior quarterback and junior running back both sparkled again Saturday, having a hand in all six Wisconsin touchdowns against the nation's No. 8 defense. Wilson finished the game 19-of-29 passing for 186 yards and two touchdowns, while Ball recorded 156 yards and a touchdown on 25 carries.
It's rare when one NCAA record is set in a game, much less two. How about two records by two players in the same half? Wilson and Ball delivered Saturday.
Ball's second rushing score late in the second quarter gave him 12 consecutive games with multiple touchdowns, breaking Barry Sanders' NCAA record of 11 straight games. Wilson's 21-yard touchdown strike to
Jared Abbrederis
in the first quarter gave him 36 consecutive games with at least one touchdown pass, tying the NCAA record held by former Texas Tech star Graham Harrell.
Wilson's team single-season touchdown passes record stands at 28. Ball, meanwhile, has his sights set on a loftier mark, one thought to be unreachable. His four touchdowns Saturday give him 34 for the season, the second-most in NCAA history behind only Sanders' 39 scores in 1988.
"It's extremely rare," Wilson said of his and Ball's performances this season. "It's a once-in-a-lifetime type thing. You don't see it very often, but I think with Montee's ability to do a lot of different things, and then with my ability to throw the ball extremely well and to improvise when I have to, it's pretty dangerous."
You think?
Big Ten awards voting wraps up Sunday, and all-conference teams will be announced Monday night. The league's Offensive and Defensive Player of the Year awards are announced Wednesday afternoon, so the debate about Wilson vs. Ball will continue until then.
Don't expect much help from the Badgers.
"I'm very happy I don't have to make that decision," offensive lineman Travis Fredrick said.
"I couldn't say," added fellow offensive lineman Ryan Groy. "I'd be split between both of them."
Ball appeared to provide a definitive answer the first time I asked him.
"I'd pick myself," he said. "Of course, I'd pick myself."
But when asked during a
video interview
, Ball flip-flopped, saying he'd vote for "the pretty boy, Russell. Because what he brought to this team was a lot." When called out, Ball tried to backtrack, the first time all afternoon he had to.
Wilson was a bit more decisive.
"I'd definitely vote for Montee," he said.
While the debate carries on about which individual performance is superior, the combined effort from Ball and Wilson is more notable.
There's never been anything quite like it in Big Ten history. Wilson's passer rating of 192.9 this season keeps him on pace to break Colt Brennan's single-season NCAA record of 186. He should have no trouble breaking the Big Ten season record of 175.3 set by Michigan's Bob Chappuis in 1947.
Ball already has shattered the Big Ten season touchdowns mark of 26 and should finish among the league's top 10 in single-season rushing (he currently has 1,622).
While the Big Ten has witnessed better individual rushing and passing performances, the combined effort from Ball and Wilson stands alone in league annals. It's the best since Penn State's Kerry Collins and Ki-Jana Carter 1994: Collins passed for 2,679 yards and had a quarterback rating of 172.8, which ranks second in Big Ten history; Carter rushed for 1,539 yards and 23 touchdowns.
Former Wisconsin coach and current athletic director Barry Alvarez brought up Iowa's Chuck Long and Ronnie Harmon in 1985. They had impressive numbers -- Long racked up 3,297 pass yards, 27 touchdowns and a rating of 153.1; Harmon had 1,166 rush yards and nine touchdowns -- but not as impressive as the Wilson-Ball tandem.
"They're both really special," Alvarez told ESPN.com. "You only have one ball, so it's hard to have two guys with numbers like that."
It wasn't hard for Ball and Wilson to mesh. They play different positions and have different responsibilities, but they're driven in the same way.
"It goes back to how hard I worked in the offseason and how hard he worked when he got here," Ball said.
When Wilson arrived July 1, he told Ball he would compete to become one of the best quarterbacks in the country.
"He gravitated to that," Wilson said. "Every day in practice, we work together and communicate extremely well. Our desire to be great and to never be afraid to excel is something we definitely have in common."
For those arguing that Wisconsin and its stars feast on inferior competition, consider this: Ball racked up 495 rush yards and seven touchdowns and added two receiving scores against three top-10 defenses (Michigan State, Penn State and Illinois). While Wilson wasn't at his best in the Michigan State game, he still rallied his team brilliantly in the fourth quarter and stepped up against an excellent Penn State defense on Saturday, completing 15 of 21 passes for 149 yards in the first half.
"Two of the most complete players at their respective positions that I've ever seen play the game," Bielema said.
Wilson and Ball could share Big Ten Offensive Player of the Year. One or both could earn an invitation to New York for the Heisman Trophy presentation.
But the two are more focused on sharing a podium in two other places -- Indianapolis and Pasadena.
November, 26, 2011
11/26/11
6:44
PM ET
MADISON, Wis. -- The
Wisconsin Badgers
are headed to Indianapolis.


No. 16 Wisconsin made easy work of No. 19 Penn State and earned the right to play for the Big Ten championship Dec. 3 at Lucas Oil Stadium. Although the two teams share the Leaders division title at 6-2, Wisconsin advances because of
its win today
.
The 16th-ranked Badgers now will face Michigan State in a rematch of the teams' epic Oct. 22 contest in East Lansing, Mich.
While the Badgers' record-setting offensive backfield of quarterback
Russell Wilson
(186 pass yards, 2 TDs) and running back
Montee Ball
(156 rush yards, 4 touchdowns) will grab the headlines, Wisconsin's defense deserves a good deal of credit for Saturday's win. Aside from one blown coverage in the first quarter, Wisconsin performed brilliantly against a Penn State offense that never got much going. After introducing the Wild-Lion element last week against Ohio State, Penn State couldn't find the right plays to score points against a team that racks them up in bunches on its home field. You also got the sense the Lions were emotionally spent after an extremely rough month, as they committed a season-high four turnovers.
It will be interesting to see where Penn State goes bowling -- the Meineke Car Care Bowl of Texas seems like a possible destination -- and what happens with the school's coaching search in the coming days. There's a lot of uncertainty surrounding the Penn State program right now.
Wisconsin, meanwhile, has much bigger plans, namely a return trip to Pasadena.
More to come from Camp Randall ...
November, 26, 2011
11/26/11
6:10
PM ET
MADISON, Wis. -- The Wisconsin-Michigan State rematch is 15 minutes away from becoming a reality. The 16th-ranked Badgers continue to dominate No. 19 Penn State, leading 42-7 entering the fourth quarter. They're jumping around here in Madtown.
Some quick thoughts:
Penn State's only chance was to come out firing after halftime and score quickly. Instead, normally reliable RB Silas Redd fumbled near midfield. Wisconsin scored three plays later on a nifty run by Montee Ball, effectively putting the game out of reach (if it wasn't already).
The only debate left is whether Ball or QB Russell Wilson is the Big Ten's Offensive Player of the Year. Both men have strengthened their cases today with brilliant performances. Ball has come on strong in the third quarter, racking up 88 yards and two touchdowns, giving him four four the game and 34 for the season. Wilson continues to attack Penn State's defense.
Turnovers have really hurt Penn State today, as all three Lions giveaways have turned into Wisconsin touchdowns. The Badgers defense might not be dominant, but it makes big plays, much like it did last season. And Wisconsin's offense makes you pay for putting the ball on the ground.
Expect to see plenty of reserves for Wisconsin in the final quarter. Can't imagine Wilson be out there much longer.
November, 26, 2011
11/26/11
5:12
PM ET
MADISON, Wis. -- Halftime thoughts from Camp Randall Stadium, where No. 16 Wisconsin
has taken complete control
against No. 19 Penn State in the battle for the Leaders Division title.
Player of the half:
Wisconsin QB
Russell Wilson
. The senior has been brilliant all season at home, and he might be saving his best for his final game in a Badgers uniform. Wilson has completed 15 of 21 passes for 149 yards and two touchdowns. He has added five rushes for 44 yards, including a 20-yard scamper on third-and-7.


Stat of the half:
You don't often witness two NCAA records in one half, but it happened today. Wilson tied an NCAA record by throwing a touchdown pass for the 36th consecutive game. Wisconsin RB
Montee Ball
also set an NCAA mark with his 12th consecutive game with multiple touchdowns scored. The Badgers outgained Penn State 278-111 and held the ball for 21:54.
What Penn State needs to do:
Make some big plays. The Lions' only chance to get back into this one is to get yards in chunks, as they did on the 44-yard touchdown strike from
Matthew McGloin
to
Curtis Drake
. But Penn State can't wait around for blown coverage. It must make something happen. While the defense is making Wisconsin work for points, the Badgers haven't been stopped. Penn State must stop Wisconsin on third down as the Badgers have converted 7 of 9 chances.
What Wisconsin needs to do:
Avoid major mistakes. Penn State lacks the type of offensive firepower to get back in this game unless Wisconsin helps out the Lions. The Badgers have done a nice job against
Silas Redd
and, aside from the blown coverage, prevented big plays from Penn State. The kicking game remains a little shaky, and Wisconsin must prevent breakdowns on special teams.
November, 26, 2011
11/26/11
4:16
PM ET
MADISON, Wis. -- Some quick thoughts at the end of the first quarter in Madison, where Wisconsin and Penn State are tied at 7-7. But probably not for much longer.
After being stopped on the game's opening series, Wisconsin has settled in to a nice rhythm on offense. Senior QB Russell Wilson has come to play, connecting on 8 of 11 passes for 93 yards and a touchdown. Top WRs Jared Abbrederis and Nick Toon both have been effective against Penn State's veteran secondary, and the line is opening things up for RBs Montee Ball and James White. Wisconsin might have to pass to set up the run today, but Wilson looks more than willing to do so. The Badgers held the ball for 11:23 in the quarter.
Curtis Drake continues to be a difference-maker for Penn State's offense. A week after leading the Wild-Lion attack against Ohio State, the sophomore found himself uncovered for an easy 44-yard touchdown. Drake benefited from a blown coverage by Wisconsin safety Aaron Henry on the play. Wisconsin might want to keep an eye on No. 7 from here on out. Drake had only three catches coming into the game.
Matthew McGloin looked comfortable throwing the ball until an ill-advised interception. It will be interesting to see how the Penn State quarterback responds.
Special teams continue to hurt Wisconsin in big games. A running into the punter penalty on White prolonged Penn State's first drive, leading to the Lions' touchdown. The Badgers also had a kickoff sail out of bounds to give Penn State excellent field position.
November, 26, 2011
11/26/11
3:02
PM ET


MADISON, Wis. -- A few pregame notes from soggy Camp Randall Stadium, where it's still raining.
As expected, Travis Fredrick worked as Wisconsin's top center in warmups with quarterback Russell Wilson. Fredrick will get the start in place of the injured Peter Konz (ankle).
Silas Redd (collarbone) worked as Penn State's first-team running back, while Stephfon Green worked as the primary backup. It will be interesting to see how Redd looks after another week to rest.
Penn State's quarterbacks took the field very early for their warmups. Matthew McGloin, Rob Bolden and several others looked to be testing out the less-than favorable conditions.
As usual, a late-arriving crowd here at Camp Randall. The student section doesn't even look one-fourth full. It will be interesting to see if this is a normal home atmosphere for the Badgers.
November, 26, 2011
11/26/11
2:00
PM ET
MADISON, Wis. -- Greetings from America's Dairyland, where the Leaders Division championship is on the line today as No. 19 Penn State visits No. 16 Wisconsin. I'm still savoring the reuben rolls I devoured at the Capital Tap Haus last night. Yum.


Weather could be a factor as showers are in the forecast. It rained for much of the morning and early afternoon.
It will be interesting to see what the home crowd is like during the holiday weekend. State Street seemed much quieter than usual Friday night. One student I met said the student section would have a good turnout despite many of his classmates heading home for Thanksgiving. We'll see.
The pressure is definitely on Wisconsin, considering it's the Big Ten preseason favorite and an 18.5-point favorite in today's game. The Badgers received a second chance after their back-to-back heartbreaking road losses, and they've been brilliant at home, winning 15 straight games and averaging 52.3 points per contest this year at Camp Randall. A loss today would be a major disappointment for Bret Bielema and a program on the rise.
Penn State can spoil the party, and Lions players staying in my hotel last night seemed focused but not too uptight. The players know they'll have to play by far their best game of the season to win, but they've embraced the fact most folks are counting them out. Penn State's defense will be among the best Wisconsin has faced this season -- certainly the best defense the Badgers have faced at Camp Randall. But I don't think any team can hold down the Badgers for four quarters, so Penn State will need to generate points with its offense and special teams. The Lions added an effective new wrinkle last week with the Wild-Lion, run by
Curtis Drake
and
Bill Belton
. They must continue to evolve and take some chances on offense against a Badgers defense that isn't dominant but boasts solid players in the back seven.
As expected, Wisconsin center Peter Konz (dislocated ankle) is out for the second consecutive game. Travis Fredrick will start in his place, so it will be interesting to see how Penn State defensive tackles Devon Still and Jordan Hill perform.
Much more to come from Camp Randall, so don't go anywhere.