April, 11, 2013
Apr 11
3:00
PM ET
Our look at a Saturday packed with spring games around the Big Ten continues with Purdue. Head coach Darrell Hazell wraps up his first spring session with the annual Black & Gold spring game at Ross-Ade Stadium.
Here's a closer look:
When:
Saturday, 1 p.m. ET
Where:
Ross-Ade Stadium in West Lafayette, Ind.
Admission:
Free. Gates open at noon. Free parking is available on a first-come, first-served basis in the A Lot (west half only), F Lot, G Lot, H Lot (upper and lower), R Lot and Z Lot. The family fun fest takes place from 11 a.m.-noon ET and is open to all kids in eighth grade or younger.

TV:
Live on BTN2Go
. Big Ten Network will air the game at 9 p.m. ET on April 15.
Weather forecast:
Partly to mostly cloudy, temperatures between 41-48 degrees, winds at 15-17 mph.
What to watch for:
There are new schemes on both sides of the ball, an evolving quarterback competition and a different feel with Hazell and the new staff. Purdue
drafted teams Wednesday
-- secondary coach Jon Heacock will lead the Black team and defensive line coach Rubin Carter will lead the Gold squad. Full rosters are
here
.
The quarterbacks will be in the spotlight Saturday and it will be interesting to see how the Black squad rotates senior
Rob Henry
and freshman Danny Etling, as they seem to have separated themselves a bit in the competition. Henry tried to
trade Etling to the Gold squad
for offensive lineman
Robert Kugler
and punter
Thomas Meadows
but was shot down.
Etling made a move last week and shared most of the reps with the first-team offense in practice earlier this week. Henry has worked extremely hard to learn John Shoop's pro-style system, and while he's always branded as an athlete first, he wants to show he can be an effective pocket passer.
Austin Appleby
, meanwhile, will lead the Gold squad and has a good opportunity to end the spring on a strong note. Although Appleby seems to have fallen back a bit in the race the last week, he can leave the coaches with a strong impression coming out of the spring.
Line play also will be an area to watch as
Purdue tries to get closer to being "Big Ten strong
." Defensive tackle
Bruce Gaston
Jr. is back on the field after recovering from thumb surgery, and he'll lead the Gold squad line, while end
Ryan Russell
lines up for Black. Hazell told ESPN.com this week that the offensive line is "starting to make strides," so it will be interesting to see which team protects the passer better. The defensive line is thin as
Ryan Isaac
,
Greg Latta
and
Brandon Taylor
all are out with injuries.
The secondary could be a strength for Purdue this fall, and while top defensive backs like
Ricardo Allen
,
Frankie Williams
and
Normondo Harris
are split between the teams, all have opportunities to showcase their playmaking ability. Outside receivers
Dolapo Macarthy
and
Charles Torwudzo
, both of the Gold team, will challenge Williams and Harris.
Running back
Akeem Hunt
has had a very good string in establishing himself as the starter, and he'll help lead the Black team's offense. The Gold will counter with
Robert Gregory
and, if he's cleared,
Brandon Cottom
.
May, 11, 2012
5/11/12
6:30
AM ET
2011 record:
7-6
2011 conference record:
4-4 (third place, Leaders Division)
Returning starters:
Offense: 9; Defense: 9; kicker/punter: 1

Top returners
DT
Kawann Short
, CB
Ricardo Allen
, QB
Caleb TerBush
, QB
Robert Marve
, QB
Rob Henry
, RB
Akeem Shavers
, RB
Ralph Bolden
, DE
Ryan Russell
, WR
Antavian Edison
, DT
Bruce Gaston
, OT
Trevor Foy
Key losses
LB Joe Holland, S Albert Evans, LT Dennis Kelly, OG Nick Mondek, WR
Justin Siller
, K Carson Wiggs
2011 statistical leaders (*returners)
Rushing:
Ralph Bolden* (674 yards)
Passing:
Caleb TerBush (1,905 yards)
Receiving:
Antavian Edison* (584 yards)
Tackles:
Joe Holland (94)
Sacks:
Kawann Short* (6.5)
Interceptions:
Ricardo Allen* (3)
Spring answers
1. Healthy QBs:
After two years of dealing with injuries and inexperienced signalcallers, Danny Hope finally had enviable depth at the position this spring. With Robert Marve healthy, last season's starter Caleb TerBush a year wiser, and Rob Henry on the mend from a torn ACL, Purdue has three former starters at quarterback. Hope said the depth made for much improved offensive execution this spring, which should carry over into the fall. Now he just has to figure out whom to play and when, as it's likely more than one will see the field in the same game.
2. Defensive front and back set:
The Boilermakers have a chance to be very good up front defensively, and it all starts with defensive tackle Kawann Short. He passed up the NFL draft, and could work his way into first-round status with a big senior season. Bruce Gaston returns along side him in the middle, and sophomore defensive end Ryan Russell looks like a future star after coming on strong at the end of last season. The secondary is also in great shape, with returning cornerbacks Ricardo Allen and
Josh Johnson
possibly forming the best tandem in the league, according to Hope. Nickel back
Normondo Harris
had a big spring game, and
Max Charlot
returns at safety. Purdue should have the ability to generate a pass-rush and defend the ball in the air.
3. More confidence:
There's little doubt that there's more confidence in the air around West Lafayette. That comes from the team making -- and winning -- its first bowl game under Hope last season, and returning 18 offensive and defensive starters. This is Hope's deepest team, and it should be his best. Some are picking Purdue as a potential Big Ten sleeper, and the players believe that talk is justified.
Fall questions
1. Linebacker Who?
While the defense looks stout up front and in the secondary, questions remain at linebacker. Joe Holland, the team's leading tackler a year ago, graduated.
Dwayne Beckford
missed the bowl game after a DUI arrest, and his status for the fall remains in flux.
Will Lucas
is the only returning starter guaranteed to suit up in September. There's talk of using some 3-4 looks under new defensive coordinator Tim Tibesar, who implemented his system in practices closed to the media this spring. Does Purdue have enough linebackers to make it work?
2. Offensive line chemistry:
The Boilers' offensive line didn't get a lot of hype last season, but it produced two NFL draft picks in Dennis Kelly and Nick Mondek. Trevor Foy is moving from right to left tackle, and
Kevin Pamphile
and
Rick Schmeig
worked at multiple positions this spring. Purdue will mix in some new faces and some veterans in new places this fall, and how well that unit comes together will have a large say in how the offense flows.
3. X-factors on offense:
Some things we simply don't yet know include the following: Can Ralph Bolden successfully return from knee surgery? If not, is Akeem Shavers a capable every-down back? What will happen to leading receiver Antavian Edison after his arrest on weapons charges this week? Will fellow wideout
O.J. Ross
make it back from academic suspension? Can kick returning dynamo
Raheem Mostert
make an impact at receiver? Purdue has a lot more options on offense than in the recent past, but there also remains a lot of question marks.
April, 16, 2012
4/16/12
10:00
AM ET
There were supposed to be seven Big Ten spring games over the weekend, but we ended up with only six as Nebraska canceled its game because of inclement weather.
Purdue had to switch up its plans as well, moving the Black and Gold game indoors for a scrimmage that was closed to the general public because of heavy rains. Let's take a quick look at what happened as part of our spring game roundup.

You can read coverage of the Boilermakers' scrimmage
here
,
here
and
here
.
Star of the game:
Cornerback
Normondo Harris
, who had a pair of interceptions.
How it went down:
The Black team (No. 1 defense) won the game 36-20. The defense came up with five total interceptions, including those two by Harris. That could be read as a bad sign for the offense, but more so it points out a potential strength for the team.
"We have the potential to be outstanding in the secondary this year," said head coach Danny Hope. "We have good speed, tough guys and experience back there."
Robert Marve
had the best day of the quarterbacks, completing 14-of-24 passes for 134 yards, according to media reports.
Caleb TerBush
was 8-of-20 for 109 yards after starting the game 1-of-8.
Doug Gentry
led all rushers with 91 yards on just six carries. He had a 42- and a 35-yard run. Expected No. 1 back
Akeem Shavers
was held out of the game for precautionary reasons.
Receiver
O.J. Ross
hauled in a 46-yard touchdown pass from Marve, but the junior receiver remains off scholarship until his academic status improves.
Don't read terribly much into the results, as Hope said he kept things very basic and vanilla on both sides of the ball, declining to even use quarterback cadences and signals for the offense. There were no blitzes by the defense, and every drive started at the 50 or closer.
Still, Hope said he was happy with the spring in general.
"They had an outstanding offseason, so it was important for them to generate momentum throughout the course of spring practice, and I think we did as a football team," Hope said. "They have an outstanding attitude. I love the work ethic of this football team."
April, 12, 2012
4/12/12
12:00
PM ET
She feels great. Her spirits are high, the whole family's high. There's your headline.
March, 12, 2012
3/12/12
10:30
AM ET
Purdue is getting a little bit of a buzz as a sleeper team for 2012 after breaking through with a bowl game (and win) in 2011. The Boilermakers opened spring practice last week and went for a couple of days straight before taking off for spring break. I had a chance to catch up with Purdue head coach Danny Hope to talk about how things are going in his program and the areas of concentration this spring.
Did you sense any different attitude this offseason after getting to that bowl game last year?
[+] Enlarge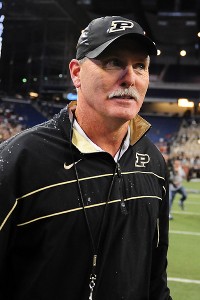 Andrew Weber/US PresswireCoach Danny Hope said the momentum from boilermakers' bowl win last season has carried over into the spring.
Danny Hope:
I think we ended the season on a high note and with some momentum, and I think it carried over into the offseason. I think we're really hitting on all cylinders with our new director of sports performance, whom we hired last year about this time. It's the first time since I've been the head coach at Purdue that we're going into spring with a quarterback that's healthy that's played any football.
Caleb TerBush
wasn't penciled in as the No. 1 [quarterback], but he became No. 1 about a week before the opener. He had to get his feet wet and learn throughout the course of the season, but by the end of the season he was playing pretty good. That momentum carried right over into the bowl preparation and the win carried right into the weight training offseason and that carried into spring practices. And having experienced quarterbacks is important. It's the first time since I've been here we've been able to do something as simple as getting signals in early in spring. It's a little different tempo out there right now as a result. We've got some good players back and we've got some confidence as a football team.
You have quite a few experienced quarterbacks now, in fact. How are you splitting up the reps for them this spring?
DH:
Well,
Sean Robinson
is playing on defense right now. It's hard to get four quarterbacks ready in spring ball, and he wasn't going to get as many reps as he needed to. So we're going to try him some at the linebacker position. That leaves TerBush and
Robert Marve
, who's finally healthy. I think Robert did some good things last year, but I think he's in position to take some big steps in his development because this is the first time since he's been here that he's been able to get a lot of reps without concern about an injury or an eligibility situation. Then
Rob Henry
is back. He's a little bit limited right now because he's coming off knee surgery, but I'm really pleased with where his recovery is, and most of the time when he's out there right now you can't tell much of a difference. But you have to limit his reps a little just because you don't want to overdo it and create a swelling issue. So the numbers are kind of taking care of themselves in some ways. We went into the spring with TerBush as No. 1 and all those other guys are competing.
Your leading rusher, Ralph Bolden, tore his ACL again, but you have two pretty good running backs in Akeem Shavers and Akeem Hunt. How do you feel about the depth at running back this spring?
DH:
We had a real strong running attack last year. We were fifth in the Big Ten in rushing. The past couple of years, we've been able to establish a strong running game. I like the progress that we've made and having good running backs is a big part of that, and any more, having a couple of running backs you can play is a big part of it. We had a lot of different guys rush for us last year, probably 10 different guys who were utilized as ball carriers. We really like Akeem Shavers. He's a fast, physical back who finishes runs. Akeem Hunt is an excellent sprinter who's a member of our track team and was a state champion track performer in Georgia. So he's a class sprinter in a lot of ways for a football player.
We've also got a kid we redshirted last year in
Doug Gentry
, and he's a skilled player. We have
Gavin Roberts
, who has good size but was injured last year. He's a big back we can utilize in the backfield. Then we've got a couple fullbacks in
Derek Jackson
, who weighs about 240 pounds, and
Kurt Freytag
. So we've got some guys still in the stable even though Ralph is out. And we've utilized
Antavian Edison
and
Raheem Mostert
some as ball carriers out of their slot position, and both those guys are really skilled players. So we've got some athletes who can tote the mail, and we spread the wealth out around here.
Were you upset about the new kickoff rules because you have such a weapon at kick returner in Raheem Mostert?
DH:
Well, we all play by the same rules. You'll have to make decisions about bringing some out, so the return man is going to have to be a good decision-maker. From a kickoff standpoint it might change some things. You can kick them all deep and try to force the touchback if you want to, but you're going to be giving the opponent the ball at the 25. Or you can kick the ball high and deep and try to pin them down and do a great job covering. So there's going to be some game planning and schemes involved. I think it will all even out. ... I don't think it's going to shut down all kick returns, but I think there will be about 25 percent less, is my guess.
January, 25, 2010
1/25/10
10:15
AM ET
The penultimate weekend before national signing day is now in the books, and several Big Ten teams bolstered their 2010 recruiting classes.

Let's take a look at what happened, thanks to ESPN's Scouts Inc.

Productive Georgia back Ean Days set for the Big Ten

Athlete Ean Days of Camdon County (Kingsland, Ga.) has made a Class of 2010 decision to sign with Illinois of the Big Ten.

The 5-foot-11, 190-pound Days chose the Illini over Indiana, Central Florida and Vanderbilt. Days rushed for 1,350 yards and 15 touchdowns as a running back during his senior season. He also returned two of nine kickoffs for touchdowns.

Illinois snares tight end Evan Wilson from Middle Tennessee State

Evan Wilson, a 6-foot-6, 215-pound tight end from Woodstock, Ga., has accepted a Class of 2010 offer from the Illini.

Wilson decommitted from the Blue Raiders. He was also offered by Air Force, Bowling Green, Eastern Michigan, Marshall and Florida International.

Buckeyes, Irish offer 2011 WR Evan Spencer

Junior talent Evan Spencer (Vernon Hills, Ill.) recently picked up scholarship offers from Notre Dame and Ohio State, ESPN affiliate Web site IrishSportsDaily.com reports.

Wisconsin, Iowa, Illinois and Nebraska have also offered the 6-foot, 178-pound prospect with Buckeye ties. Both his parents went to Ohio State and his father Tim played in the Horseshoe.

"I don't have any leader," Spencer stated. "When I was five and younger, I always dreamed of playing there [at Ohio State]. Now I'm extremely open minded. I'm not going to put them over anyone else because my dad went there and my parents went there. I'm not the type of person where they offer me and I'm committing right now. I'm definitely going to wait and look at all my options."

Defensive lineman Jibreel Black drops Cincinnati for Wolverines

Heavily-recruited three-star defensive end Jibreel Black of Cincinnati, Ohio/Wyoming HS (Wyoming, Ohio), has pledged to Michigan after decommitting from the Bearcats.

Holding over 20 offers from major programs, Black had chosen Cincinnati after withdrawing his original pledge to Indiana.

He also has offers from Michigan State, Kentucky, Illinois, Wisconsin, Kansas, Minnesota, North Carolina State, South Carolina, South Florida and West Virginia, among others.

The 6-foot-2, 260-pound Black's older brother Larry starts for the Hoosiers at defensive tackle.

Boilermakers pluck another Sunshine State senior

Purdue has picked up a Class of 2010 pledge from Normondo Harris, a 6-foot-0, 175-pound athlete from Monsignor Pace (Miami).

Projected as a cornerback/receiver, Harris was also recruited by Western Michigan and Florida Atlantic.

He joins prep teammate athlete Isaiah Williams as commitments for the Boilermakers.

The Hawkeyes snare Ohio defensive back Anthony Hitchens

Recruited as a safety, Anthony Hitchens of Clearview (Lorain, Ohio) has accepted a Class of 2010 offer from Iowa.

The 6-foot, 195-pound prospect was also offered by Kansas, Indiana, Akron and Eastern Michigan.

As a senior, Hitchens rushed for over 1400 yards and 21 touchdowns. He had 76 tackles and two interceptions on defense.

Hitchens is the 20th commitment for the Hawkeyes.