July, 23, 2013
7/23/13
9:00
AM ET
Nebraska returns senior quarterback
Taylor Martinez
and most of the firepower from the Big Ten's top offense in 2012. Most believe the Huskers' season hinges on a young, inconsistent defense under the guidance of coordinator John Papuchis and head coach Bo Pelini.
The Blackshirts finished fourth nationally in pass defense and ninth in pass efficiency defense in 2012, but they struggled against the run (90th nationally) and hemorrhaged points in Nebraska's four losses, surrendering 63 to Ohio State, 70 to Wisconsin in the Big Ten title game and 45 to Georgia in the Capital One Bowl.
Nebraska must replace all three starting linebackers and its top pass-rusher, Eric Martin, among others. The Huskers return an experienced secondary led by nickelback Ciante Evans.
ESPN.com caught up with Papuchis earlier this month to discuss the state of the Nebraska defense.
After looking at the unit during spring practices, what were some of your big takeaways from their performance?
John Papuchis:
That's an interesting question because what I've been doing the last couple weeks is going back and looking at our spring cutups. One thing that jumped out to me, after having a little bit of time away from it, was that we improved pretty significantly and steadily as the spring went on. From the first practice to the 14th practice leading up to the spring game, we were much crisper in our alignments and understanding our assignments, we played faster. There was just a lot of development that took place over the course of those 14 practices. We're a young group, and we're going to need all 29 practices before we kick it off against Wyoming.
[+] Enlarge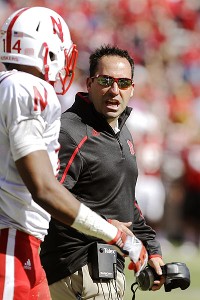 AP Photo/Nati HarnikJohn Papuchis knows his defense will need to be better against the run after finishing 90th in the nation last season.
Were there specific areas or groups where you saw the most improvement, or was it across the board?
JP:
Each position group has its own learning curve. Defensive line, we are relatively young, so for a lot of those guys, it was their first opportunity to really get coached. Where I saw the improvement had more to do with technique than it ever had to do with scheme. They had a pretty good feel of the scheme; it's a little bit simpler in terms of what they're asked to execute. Linebacker, another young group, and where I really saw their improvement was just better understanding of alignment and where they fit in the run game and the pass game. And then in the secondary, where we are a little bit more mature, Ciante Evans, Stanley Baptiste, Mo Seisay,
Harvey Jackson
,
Corey Cooper
, where I really saw those guys make a jump is just a better feel of the nuances of the defense. They were kind of a little bit ahead, the linebackers and D-line, and they showed improvement as spring went on, but it was kind of Level 2 and Level 3 improvement, as opposed to just the basics.
Who do you look for to be leaders up front and with the linebackers, and how much competition do you anticipate with those groups?
JP:
There's going to be a ton of competition, and that's going to be a good thing for us. Really since I've been here, the way things have fallen, a lot of times going into camp, you have a pretty good idea of who your core guys are going to be. And although we have an idea right now, there are some spots that need to be ironed out. In terms of leadership,
Jason Ankrah
and
Thad Randle
across the front. Both of those guys are fifth-year seniors and have been in the program a long time. Jason has started and played a lot of games for us. Thad has been a little nicked up the last two years. But both of them have done a nice job of being leaders through the offseason.
Linebacker, we're young, but the one guy who has some pretty good playing experience is
David Santos
. He's done a good job of taking that leadership role. And another guy who has been in the program for a while and has played on special teams, and has always been one play away from having a more significant role is
Trevor Roach
. He's done a nice job of being a leader and more of a veteran guy with that group.