August, 14, 2014
Aug 14
8:00
AM ET
The hyperbole hits a high point in February on signing day.
For the early enrollees, some over-the-top praise and projections of early impacts might keep going through April. Around July and media days, the optimism from coaches about their talented, athletic, mature-for-their-age freshmen usually gets a second wind.
But then reality hits when training camp arrives, and with just two weeks until the season starts, by now it's pretty easy to tell if the hype was legitimate and time to start picking out a handful of newcomers truly capable of making a splash right away this fall.
At Ohio State, the indicators were there on the opening day of camp when linebacker
Raekwon McMillan
and versatile offensive weapon
Curtis Samuel
were thrown in with the veterans instead of the rookies during split-squad workouts. A stronger suggestion arrived when they were the first two players to have their black stripes removed to be considered bonafide Buckeyes.
Congrats to Curtis Samuel and Raekwon McMillan for being the first 2 freshmen to get their black stripes removed! pic.twitter.com/OZg6314sZ9

— Urban Meyer (@OSUCoachMeyer) August 10, 2014
At Michigan State, the confirmation comes straight from the head man. When the midway point of camp arrives and Mark Dantonio is still willing to include players such as defensive tackle
Malik McDowell
and linebacker
Chris Frey
in his
two-deep
, it's safe to assume those two will be on the field.
The same is true elsewhere around the league, with Minnesota praising its new
talent at wide receiver
or Maryland
tinkering
with five-star lineman
Damian Prince
's position presumably to ease his transition to the lineup at guard. Sometimes it's not quite as obvious, with Michigan coach Brady Hoke trying to temper expectations about defensive back
Jabrill Peppers
-- although the occasional first-team reps that he's received according to coordinator Greg Mattison might have
spilled the secret
.
Sure, there's still time for the hype machine to dial back up. There are some overmatched opponents to play during the first month of the season, and more than just the surefire impact freshmen will get to see the field and raise expectations for what they are capable of providing.
But by now, coaches have typically seen enough to get a reasonably good idea of who can help their team right away. And if there are names which haven't been mentioned much lately, it's probably safe to hold off on getting to know them until next season.
East Division
West Division
And finally ...
Check out what Ralph Friedgen had been up to before diving back into coaching. Maybe he made the wrong choice.
March, 18, 2014
Mar 18
12:00
PM ET
I'll make a deal with you, Warren Buffett. You cut me a check for $10 million right now, and I'll spare you the embarrassment of acing your little challenge.
March, 13, 2013
3/13/13
9:00
AM ET
Michigan begins spring practice on Saturday with both some question marks and some major returning talent. Brady Hoke says of his team: "We're very young. But these guys have a lot of fight to them." There will also be a lot of fighting for starting jobs, beginning in a few days. I recently caught up with the third-year Wolverines coach for his thoughts on the approach of spring ball:
What are the main things you're looking for this spring?
Brady Hoke:
Well, you know, we've got a lot of open spaces. Some guys graduated, some guys aren't with the program anymore and we've got a lot of young guys. I think we only have 11 starters back on both sides of the ball, so there's going to be a lot of great competition, which is exciting. I think the leadership of our seniors, they've done a nice job of holding everybody accountable. But when you get out there with the pads on, it's a little different than just running around in shorts.
[+] Enlarge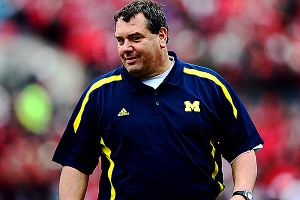 Andrew Weber/USA TODAY SportsWith only 11 returning starters, Michigan coach Brady Hoke said he's excited about the competition this spring.
Some of that competition will be on the offensive line, where you've got three open jobs on the interior. How do you see those battles right now?
BH:
Well, I think the interior of both lines, there's going to be a lot of competition. We've got to find a center, and that's between [
Jack] Miller
and [
Graham] Glasgow
, and
Joey Burzynski
will try to figure that out a little bit, too. At the guard positions,
Ben Braden
is going to move down inside and start out at the left guard, but he'll have a lot of competition because Burzynski is back and so is
Blake Bars
.
Kyle Kalis
will move into the right side, and it will be interesting again with [
Kyle] Bosch
and some of the guys who have been here a little bit. I think it will be a really good competition at all three of those inside positions.
Having
Taylor [Lewan
] back is huge. I think it's great for him and great for Michigan.
Mike Schofield
has had a really good winter. He had some real bright spots during the course of last season, and I think his development is going to be something special.
You mentioned the defensive line, where you also lost a couple of veterans. How does that shape up?
BH
: I think inside, we get
Jibreel Black
for another year and
Quinton Washington
. But once you get through that, there are a lot of young guys ...
Willie Henry
,
Ondre Pipkins
,
Ryan Glasgow
,
Richard Ash
and
Chris Wormley
are all guys who can either play the inside tackle or the strongside end. We'll find out the guys who are competitive.
Tommy Strobel
is another guy we think had a real good winter, and
Keith Heitzman
. So it's going to be fun to see them compete.
Does having so many young guys in key spots on the line make you nervous? Or do you have a lot of confidence in them because you recruited most of them?
BH:
I think it makes you nervous if you think you may have recruited the wrong guys. But we like the work ethic. We like how they've come in to learn and with a lot of enthusiasm. I think there's some competitiveness that we need to keep pushing as a program. You know, we lost five games on the road. We've played pretty well at home but we've got to do better on the road and that's a mindset, a mentality that you have to compete through everything, on every down.
Devin Gardner goes into spring practice as your starting quarterback. How has he developed as a leader?
BH:
I have been really excited about the progress he's made. I'm seeing that maturity that it takes and the leadership it takes and the competitiveness it takes to be the quarterback at Michigan. I think that's a real big part of how he's grown, and I think he's done a nice job with it. I'm liking the direction he's going, and hopefully he can just keep going and keep growing.
What about your running back position this spring, with Fitz Toussaint hurt and Derrick Green not there yet?
BH:
You know, Fitz has come along pretty well. I don't think he'll do a lot of contact or anything like that, but I think he'll be cleared for a lot more drill work. That's gone real well. We've moved [
Dennis] Norfleet
back to running back and we're going to give him an opportunity. Dennis, he's a smaller guy, but he's a very competitive, very tough young man.
Drake Johnson
is a guy we redshirted a year ago, and we really liked the way he competed in scout situations. In the bowl practices, we did some scrimmages and gave him a lot of carries, and we're very excited about what he has to offer.
Thomas Rawls
is coming back, and I think he learned a lot last year about the vision he needs to play with, and I like how he's competed through the [winter]. And
Justice Hayes
is a guy who gives you a little bit different look because of how he can get on the perimeter. He did some things in a couple of games last year, but now I think he'll have a big stage to prove himself more this spring. And he's a bigger guy now, he's 190-something pounds, so he's a little bigger.
[+] Enlarge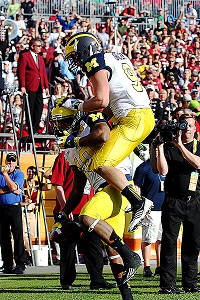 Kim Klement/USA TODAY SportsMichigan coach Brady Hoke said that he's pleased by more than just the on-field success of WRs Drew Dileo and Jeremy Gallon.
You have Jeremy Gallon back at receiver, but you lost Roy Roundtree. You sounded excited about some of the younger guys there during bowl prep. Is spring their time to step up now?
BH:
Yeah, I think so. First of all, I think the leadership with Gallon and
Drew Dileo
, they've done a really nice job being leaders at that position. They're not big guys, but they have a real spirit for the game and really do a nice job of working and leading. We have
Amara Darboh
, who played a little last year, and
Jehu Chesson
, who we redshirted a year ago. And I think
Jeremy Jackson
has had a very good winter; we're very excited about some of the progress he's made.
Joe Reynolds
is a guy who walked on here, and he's done a very nice job. And
Bo Dever
, his dad played here and he walked on. I think that during the course of the spring, we'll be in pretty good shape there. I think as we keep going, we'll keep improving at that position.
Linebacker was a strength for you last year and looks to be so again. Do you see some good competition there this spring, particularly at the weakside spot?
BH:
Yeah, I think with
Desmond Morgan
and
James Ross
, there's going to be great competition.
Joe Bolden
and
Royce Jenkins-Stone
and
Mike Jones
are all guys who are very competitive, and I think the three young guys coming in are going to be guys who will give us a lot of good competition and a lot of good depth.
Kaleb Ringer
is coming back from injury, so we'll see what he can give us. At the sam linebacker,
Jake [Ryan
] is coming back, and we really like what
Cam Gordon
has done during the winter. So I think we feel a little stronger at that position.
How do you replace what Jordan Kovacs gave you in the secondary?
BH:
I don't know if you ever replace that kind of leadership, but I really think
Thomas Gordon
, he's played a lot of football here, and it's time for him to demonstrate the leadership. And he's doing that. Because of the number of snaps and everything he's done, he's really fallen into his own a little bit.
Courtney Avery
has played a lot of football, and whether he's a corner a nickel or wherever, he's got to give us great leadership and great reps.
Blake Countess
is getting healthier; he'll do some things during the spring.
Josh Furman
, I think, has come on.
We've got to see where
Terry Richardson
is and where
Marvin Robinson
is. Both those guys have played a number of snaps. We've got
Raymon Taylor
back, who I think started every game for us last year, we're excited about his development.
Dymonte Thomas
is a guy who's going to compete, and he'll pressure some guys.
Jarrod Wilson
is another guy who played some last year for us. Ross Douglas is here early.
Jeremy Clark
is a 6-foot-4, 210-pound safety we redshirted a year ago, and it's going to be a big spring for him to make some moves.
So I think we may have more personnel back there. And even more in the fall when
Channing Stribling
gets in, and
Reon Dawson
gets in and
Jourdan Lewis
. I think it's going to add something to our secondary.
Finally, what has your message been to the team this offseason after last year's 8-5 season?
BH:
Well, our message has been, we haven't met the expectations at Michigan. That's something that as a football community… that we really feel that we have to do a much better job in all areas, from the coaching aspect of it, from learning and playing with the competitiveness we want to have, from every player at every position playing with the intensity we want to play with. It's about having a mindset and a mentality of how we want to play the game. We make no excuses, but at the same time, we know we have a lot we can do to play better football.
July, 26, 2012
7/26/12
12:00
PM ET
If you're yearning for even more Big Ten media days coverage and the like, here ya go ...
July, 24, 2012
7/24/12
3:00
PM ET
The fallout from the Penn State NCAA sanctions is beginning, and Michigan is an early beneficiary.
While we await on word of possible transfers, the Nittany Lions saw one of their top commitments
cast his lot with the Wolverines
on Tuesday. Four-star cornerback Ross Douglas decommitted from Penn State on Monday and gave his verbal pledge to Brady Hoke today. Michigan had been in the mix for the Ohio prospect before he originally committed to Penn State.
Wisconsin had also been recruiting Douglas, who visited Ann Arbor last year for the Michigan-Notre Dame game at night.
"That was the craziest football game I've ever witnessed," he told ESPN.com. "The atmosphere was nuts, and it just showed me what Michigan had to offer."
Just another day in the charmed recruiting life for the Wolverines, who now have 23 commitments for the 2013 class. Douglas is their 14th four-star prospect among the group, which ESPN.com currently ranks as the No. 2 class in the nation behind USC. He is the third cornerback in the class, joining Jourdan Lewis and Gareon Conley.
It will be fascinating to see how many more of Penn State's recruits decommit from this class. There's no question they will be re-recruited heavily. So far, the top two players in the class -- quarterback Christian Hackenberg and tight end Adam Breneman -- are holding on, but there's no guarantee they will end up in State College.
July, 11, 2012
7/11/12
12:00
PM ET
March, 8, 2012
3/08/12
12:00
PM ET
A little basketball tournament just started in Indy. Who ya got?
March, 5, 2012
3/05/12
11:15
AM ET
Penn State's 2012 recruiting class was held together by spit and duct tape. The Jerry Sandusky scandal that broke in November and the uncertainty surrounding the head-coaching situation until January led to several players decommitting and the Nittany Lions scrambling to salvage any kind of workable group.
But things are looking up for Penn State in the 2013 class. Head coach Bill O'Brien -- who had to split his time between the Lions and the New England Patriots from the time he was hired until the week of signing day -- has already secured commitments from three highly-ranked players in the 2013 class. The latest good news came when ESPNU 150 prospect Garrett Sickles
committed to Penn State

over the weekend.
Sickels is a 6-foot-4, 225-pound defensive end from Little Silver, N.J. He was also pursued by Alabama, Stanford, Florida, Ohio State and Notre Dame, among others.
Sickels joins Virginia quarterback Christian Hackenberg and Ohio cornerback Ross Douglas on the 2013 commitment list for O'Brien's staff. Hackenberg and Douglas are ESPNU 150 prospects as well.
Penn State is also thought to be one of the leaders for highly-coveted tight end prospect Adam Breneman. The Camp Hill, Pa., prospect has said he will announce his college choice on Friday, and Hackenberg has been actively recruiting him over the phone.
Momentum often plays a big part in recruiting, as players sometimes commit in waves and want to go where other top players are heading. The Nittany Lions appear to have reversed the backward momentum that plagued them in December and January. Though it's a long way to go before anything becomes official on signing day next year, these commitments signal that top players are not letting the scandal keep them away from State College.
March, 1, 2012
3/01/12
12:00
PM ET
It happened. Satan's trifecta. The day I most dreaded had fallen on the day I most loved.