October, 1, 2014
Oct 1
12:45
AM ET
BOSTON -- In his words,
Brad Marchand
is on a mission to have a great season.
Talking and chirping is something he has turned into a craft. He's known and hated around the league for his mouth, but if the Bruins forward can make good on his promise to be a better all-around player, it will only bode well for Boston.
[+] Enlarge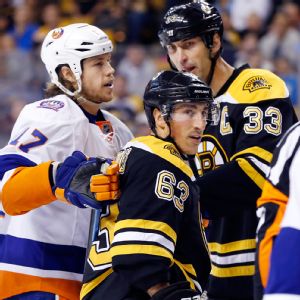 AP Photo/Elise AmendolaBruins agitator Brad Marchand is up to his usual tricks , but he's also in better shape and bringing more energy to the ice.
He entered camp motivated. He's practicing hard and it has translated into the preseason games. On Tuesday, during a 5-3 loss to the
New York Islanders
at TD Garden, Marchand was drawing penalties, getting penalties, scoring goals and assisting on them, too.
He was on the power play and logged 19:17 of ice time. It's also evident that he's having a blast on the ice. But we've seen all of this before, though it has come in spurts during his six previous pro seasons. Year 7, however, could be different.
"This is probably the first season where I've been the most excited to get back at it and come back and get going," Marchand said. "Since Day 1 I've loved coming to the rink, getting on the ice and being with the guys. It's a great feeling and I'm enjoying every second of it. It feels good to be playing better, too. When you're playing well it makes things a lot easier, so you just want to continue that and things will be fun."
Last season, Marchand scored 25 goals and added 28 assists for 53 points while posting a plus-36 rating, but the Bruins still considered it subpar, simply because Marchand could have done more. With the energy and success he's had during training camp and the exhibition games, his goal is to make that translate throughout the course of the entire 2014-15 season.
"Well, you want to build momentum and get your confidence up. If you can do that going into the season, you're confident making plays," he said. "The biggest thing is trying to get the work ethic. When the work ethic is there it's going to bump up the tempo, and when the season starts the big thing is to keep up with that level, so that's the biggest thing we're trying to do and if you can do that, we should be OK."
Marchand and longtime linemate
Patrice Bergeron
have been in midseason form since the start of camp. They're pushing each other to be better, and they're making plays with precision. Marchand almost wishes it was December instead of training camp.
[+] Enlarge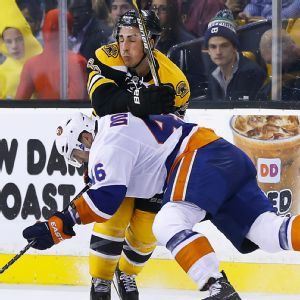 AP Photo/Elise AmendolaBrad Marchand did a little bit of everything against the Islanders, including crashing into Matt Donovan.
"Yeah, sometimes," Marchand said with a laugh. "But [preseason games] are good for us. We're still where we want to be and I think we're getting there. The next couple of games are really going to help and build that confidence and get our legs under us a little bit more and getting in sync a little bit more. If we can do that, we should have some fun this year."
At the end of last season, Bruins general manager Peter Chiarelli and coach Claude Julien discussed with Marchand what his offseason goals should be and how they wanted him to arrive at camp. So far, he's made good on their requests.
"Just his conditioning and how he trained this summer to come to camp and be a better player is definitely one of them," Julien said. "Again, not to confuse the fact that he wasn't in great shape last year -- he was. I don't think he trained [last year] properly for hockey and his cardio wasn't the greatest and the whole year he just struggled with it. This year, he seems a lot better. He seems to have more endurance out there and his shifts are much better because of it."
With the team's power play personnel changing again this season, Julien is experimenting during training camp with Marchand on the PP.
"It's certainly a possibility," Julien said. "He's a better player this year already than he was all of last year."
Marchand welcomes the added ice time and responsibilities.
"Yeah I'm excited to be out there and be part of it," he said. "It's a big opportunity and you want to be in those situations and try and help the team. For the most part, I'm feeling pretty comfortable out there and just trying to make plays. The biggest thing is I can't really worry about the outcome and what their plans are. I just have to control what I can and that's my play on the ice."
Marchand has been in control of his game during training camp, but the real test is whether he can continue playing with this much energy and urgency for the entire 82-game season and beyond. That's when we'll see if he can live up to the great expectations he has set for himself.