October, 19, 2014
Oct 19
4:34
PM ET
BUFFALO -- Boston Bruins forward
Chris Kelly
claims he can't understand his linemates --
Carl Soderberg
and
Loui Eriksson
-- on the ice or the bench because the two Swedish players communicate in their native tongue.
Kelly will joke that he can't stand playing with the pair of Europeans, when in actuality the three work quite well together.
Soderberg and Kelly are tied for the team lead with five points each. Soderberg has two goals and three assists, while Kelly has one goal and four assists. Eriksson has two goals and two assists for four points.
"We've been playing well and controlling the puck well in the offensive zone," Kelly said. "Obviously, I would like the puck to go in the net a little bit more, but at the end of the night the chances are there and you've got to take the positives."
Once
Jarome Iginla
signed as a free agent with the
Colorado Avalanche
on July 1, the Bruins had a vacancy on their top line. Numerous times during the offseason, general manager Peter Chiarelli and coach Claude Julien said they could envision Eriksson on the right side, with
David Krejci
in the middle and
Milan Lucic
on the left.
[+] Enlarge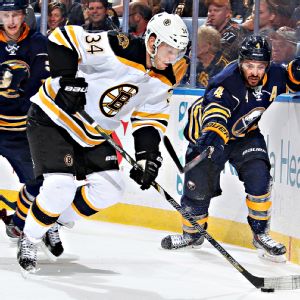 Jen Fuller/Getty ImagesCarl Soderberg continues to get more comfortable with the North American style of hockey, helping make the Bruins' third line their most consistent.
But due to an early-season injury to Krejci, Julien wanted to form at least two lines that had familiarity. Since Kelly, Soderberg and Eriksson played together last season, the coach reunited the trio and they have combined to form Boston's most consistent line this season.
Even when Krejci returned to the lineup after missing the first three games, Julien decided to keep his third line intact.
"It's been important and that's why we put them back together," Julien said. "When David was injured, and we felt that we didn't have all the players in place, we put the ones that we thought had some good chemistry in the past together. That was [Patrice Bergeron's] line and Carl's line. Because of that they helped us weather the storm a little bit, so it's been hard to break them. The other lines are starting to come around too, so we've got to keep plugging away in the early season."
Julien attempts to keep his lineup as consistent as possible. It's a long season and situations occur that will force the coach to make some changes.
"The chemistry's there and we work well with one another. We're reading off each other better and better every game," Kelly said. "But things change. It's 82 games and obviously Claude's going to do what he feels is best for the team, not just three individuals."
When Soderberg first arrived in Boston in 2013, his game was not even close to being ready for the NHL. He had enjoyed success in the Swedish Elite League, but it took him a while to get his game to translate to the North American style. He started to make progress last season and it was evident how comfortable he was playing with Eriksson and Kelly.
"I enjoy playing with those guys and I think I've played pretty good," Soderberg said. "I want to keep that going and score some more goals too."
Kelly is the perfect conduit for the Swedish players. He's a leader on and off the ice, and when he's healthy and productive, he's a consistent player.
"He brings a lot," Soderberg said. "He's strong with the puck and really good on the forecheck. He makes some good plays and he means a lot to us and he makes the line complete."
That line's success was on display during Saturday's 4-0 win over the
Buffalo Sabres
at First Niagara Center. Boston already had a 3-0 lead in the second period, when Kelly's strong forecheck forced a turnover behind the Buffalo net. Eriksson was positioned perfectly to retrieve the puck before quickly passing it to Soderberg, who scored on a nifty backhand.
"You can see Carl from when he's come over till the end of last year and this year and how much he's improved, just knowing the North American game and how well he's reading and understanding the play," Kelly said.
Another aspect to the line's ability to succeed is the fact that both Kelly and Soderberg can play center. Kelly is a little more versatile on the wing, and Soderberg prefers center.
"It's really important," Kelly said. "It's fairly easy for a centerman to go to wing, as opposed to having a winger go to center. Carl and I communicate well. We both can take faceoffs, and both can play in our own end and know the center position well."