April, 23, 2014
Apr 23
6:26
PM ET
DETROIT -- He said it was only a big deal because we were making it one. Reporters and cameras jammed around his dressing room stall as Detroit Red Wings captain Henrik Zetterberg sidestepped specifics on when he might make his 2014 postseason debut.
All he'd say with certainty was that it felt really good to be back out there, skating in his first full practice since recovering from back surgery he had during the Olympics; Zetterberg filled in on a line for Pavel Datsyuk, whose wife just had a baby.
Zetterberg is not feeling any pain but he's not willing to risk any future injuries by coming back too soon. What does that mean for the timeline on his return in this series against Boston? He declined to say for sure. He wouldn't even definitively rule out a return for Game 4, which would be sooner than originally anticipated. He wouldn't confirm that he'll skate in the morning and meet with doctors, either.
Lots of gray area here because, you know, it's the playoffs.
"I have no idea," Zetterberg said. "Because Pav was out, I skated on a line and you guys got a little happy. If Pavel would have been here today, I probably wouldn't have skated on a line and we wouldn't be having this conversation."
So it doesn't sound likely that he returns on Thursday, but after watching the Bruins dominate the Red Wings in Game 3, it must be harder to sit and watch. If the plan was to wait for round two, that game was reason enough to enact Plan B.
April, 23, 2014
Apr 23
3:43
PM ET


DETROIT -- "Tonight Show" host Jimmy Fallon is no stranger to Boston sports. During Tuesday's show, the comedian had a spoof on the NHL awards and three Bruins players were part of the skit.

In his spot titled "Tonight Show Superlatives," Fallon had Brad Marchand winning the award for "Most Likely to Play a Pizza Delivery Guy in an '80s Movie About Skiing."

Marchand did not see the show, but his teammates talked about it at breakfast on Wednesday.

"It was funny to see," Marchand said. "Any press is good press, right?"

Dougie Hamilton won the award for "Easiest To Replicate As A Bobblehead."

"I don't even really know what it means," Hamilton said. "I guess it's just cool to be mentioned on that show and chirp too hard."

Bruins captain Zdeno Chara got the award for "Most Likely To Be Two Humans Sewn Together."

"It's pretty funny," said Bruins forward Milan Lucic of the entire skit. "At the end of the day, we had something to laugh about this morning."

Lucic's favorite award was Marchand's.

"Of the three, that's probably the best one, especially a pizza delivery boy in an '80s ski movie, that one was the best one out of all of them," Lucic said.
April, 23, 2014
Apr 23
3:26
PM ET
DETROIT -- It didn't take long during Game 3 for
Detroit Red Wings
fans to show their disgust for
Boston Bruins
forward
Milan Lucic
.
Midway through the first period of Tuesday's 3-0 Bruins win at Joe Louis Arena, Detroit fans began to chant, "Lucic sucks." It was loud and the crowd repeated it several times during the game. The jeers were in response to Lucic spearing Red Wings defenseman
Danny DeKeyser
in the groin area during Game 1 of this series. There was no penalty on the play, but the NHL fined Lucic $5,000.
"I didn't expect it at all," Lucic said of the chants. "But it's part of playoff hockey and one of those things that makes the game great. When the fans are into it, it definitely makes it a lot more fun to play. The crowd was great and we expect it to probably go up another notch for tomorrow's game."
Lucic added, "You want to use it in a positive way, right? And try to use it to fire you up, so that's how I react to it."
April, 23, 2014
Apr 23
3:10
PM ET
DETROIT -- The
Boston Bruins
held an optional practice Wednesday at Joe Louis Arena, and forward
Daniel Paille
(head) was on the ice, wearing a green no-contract sweater.
He has not played since suffering the head injury on April 12 against the
Buffalo Sabres
at TD Garden. He has been skating for nearly a week on his own, but there's still no timetable on a possible return to game action.
"He hasn't been cleared, to my knowledge," said Bruins coach Claude Julien. "He can skate right now and he's following protocol."
With Paille sidelined, forward
Jordan Caron
has been playing on the Bruins' energy line, along with
Shawn Thornton
and
Gregory Campbell
. Caron notched his first Stanley Cup playoff goal during Boston's 3-0 win over the Red Wings in Game 3 Tuesday night.
April, 23, 2014
Apr 23
1:56
PM ET
DETROIT -- Red Wings captain Henrik Zetterberg on Wednesday participated in what he called his first full practice in months, opening the possibility of his return for Game 4 on Thursday.
Zetterberg hasn't played since leaving the Winter Olympics early to have back surgery.
He skated in the place of Pavel Datsyuk, whose wife was having a baby, and declined to put a timeline on his return.
"Still taking it day by day," Zetterberg said. "I still have to do some skating. This was nice. The playoffs you rarely have any practices, game-like practices or moments. Today was a good day of that. Hopefully, I can get some more of those in here."
Zetterberg said he would consult with doctors before making any decisions on when to return to the lineup.
"The good thing is it's not in my corner," Zetterberg said. "I've got to be cleared by the doctor. I've got to do all those exams."
The Bruins lead the Red Wings 2-1 in the best-of-seven first-round playoff series.
April, 23, 2014
Apr 23
11:32
AM ET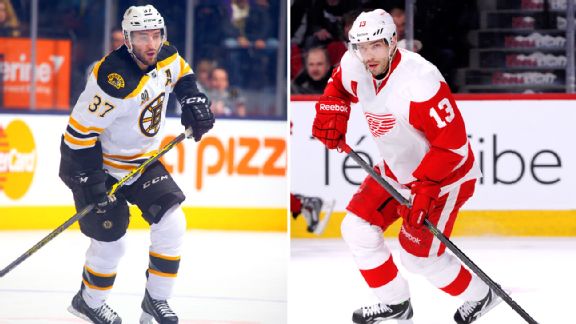 Getty ImagesThe Bergeron vs. Datsyuk showdown has turned this series into a chess match in line matching.
The shift to Detroit was supposed to free up
Pavel Datsyuk
. Get him away from
Patrice Bergeron
and allow him to work his magic.
Game 3 of the first-round playoff series between the
Boston Bruins
and
Detroit Red Wings
, however, turned out to be less of a tactical duel in line matching between two of the best coaches in the league, and more about one team completely overwhelming the other regardless of who was on the ice.
If both teams continue to play like they did in the Bruins' 3-0 win Tuesday, the play of two guys won't make a difference. But if the Red Wings, a team that's shown resilience all season, can tighten things up, the Datsyuk vs. Bergeron showdown comes back into play. And while it seems counterintuitive on home ice, perhaps keeping Datsyuk away from Bergeron isn't the best idea.
One of the side effects of getting Datsyuk on the ice against other lines was that Bergeron was freed from Datsyuk -- a Catch-22 when it has come to line matching in this series. And in Game 3, it made a difference.
To continue reading this article you must be an Insider
April, 23, 2014
Apr 23
12:50
AM ET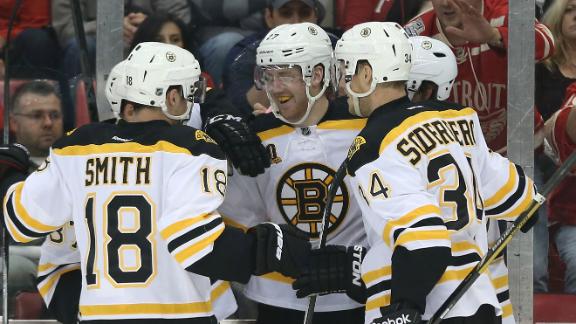 DETROIT -- The Montreal Canadiens are waiting.
After completing a four-game sweep of the Tampa Bay Lightning Tuesday night, the Canadiens will watch and wait to see if they next face the Boston Bruins or Detroit Red Wings. The Bruins gained a 2-1 series lead with a 3-0 win over the Red Wings in Game 3 of the first-round Stanley Cup playoffs Tuesday night at Joe Louis Arena.
Boston capitalized on plenty of bad mistakes by the Red Wings, while Bruins goaltender Tuukka Rask posted his fourth career playoff shutout and finished with 23 saves. The Bruins received goals from Dougie Hamilton, Jordan Caron and Patrice Bergeron (empty-netter).
The Bruins pushed from the opening puck drop, similar to their 4-1 win in Game 2, and were successful once again.
"We were skating well tonight," Bruins coach Claude Julien said. "It's OK to put pucks into the right places, but if you're not skating and not getting there, it doesn't matter. We were closing the gaps and we were able to be physical. We can talk about being a physical team, but you can't be physical if you can't skate and you can't get there. I liked our effort tonight."
April, 23, 2014
Apr 23
12:04
AM ET
DETROIT -- The celebration was warranted and well-deserved.
When Bruins forward
Jordan Caron
scored his first career playoff goal in the first period Tuesday, giving the Boston Bruins a 2-0 lead against the
Detroit Red Wings
in Game 3, he paused to make sure the referee signaled that it was a goal.
[+] Enlarge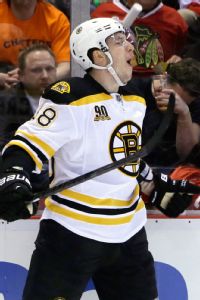 AP Photo/Carlos OsorioJordan Caron, who played just 35 regular-season games, celebrates his first career playoff goal.
"I actually looked at the ref to make sure that one went in before I celebrated," Caron said. "It felt pretty good to see the light go on."
The Bruins went on to win the game 3-0, taking a 2-1 series lead in first-round playoff action.
In the regular season, Caron's playing time was limited to 35 games. He has frequently watched from press level as a healthy scratch, but with
Daniel Paille
(head) out of the lineup, Caron has been given an opportunity to contribute in the playoffs.
"They told me at the start of the season I was going to be the 13th forward, so I knew what to expect and I kept working hard all year," Caron said. "Right now I get to play in the playoffs and it's pretty exciting. I'm really happy to be playing right now."
Caron has been playing on the team's fourth line along with
Shawn Thornton
and
Gregory Campbell
. After Boston's win, Caron's teammates were thrilled with his contributions.
"It's great. It's huge," assistant captain
Patrice Bergeron
said. "It speaks a lot about our depth, but also the character that he's shown all year to stay with it and keep getting better. He's been working hard in practices; he got his chance and now he's taking it and playing well, and he scored a big goal for us."
April, 22, 2014
Apr 22
11:46
PM ET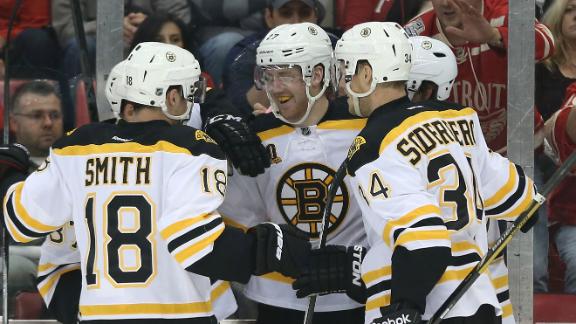 DETROIT -- This was the game in which the Boston Bruins established their dominance. If you watched only the first period of Boston's 3-0 win over Detroit on Tuesday night, you'd have a hard time imagining the Bruins losing another game in this postseason. They came out flying, got pucks deep and kept them there with relentless physical pressure, overwhelming the Red Wings and immediately taking the crowd out of it. The Joe Louis Arena crowd so disgusted that boos filled the building as the first period ended.
The other two periods weren't so bad for the Bruins, either, with Tuukka Rask earning his fourth career playoff shutout.
Instead of the home team coming out charging in the first home game of its 23rd consecutive playoff appearance, it was the visiting Bruins who dominated a Red Wings team whose youth is showing.
Bruins defenseman Dougie Hamilton scored his first career playoff goal in the opening period, skating nearly untouched from his own zone to the right circle before snapping a shot past Jimmy Howard. Jordan Caron capitalized on a poorly executed line change that left the ice wide open for him and Shawn Thornton, who set up the goal.
Two first-period goals were more than enough. It's as many as the Red Wings have scored all series.
"We give them two goals -- any way you look at it, we gave them two goals," Red Wings coach Mike Babcock said after the game. "Now, I'm not trying to take anything away from them, because they played well. They were better than us all night long, but we gave them two goals."
April, 22, 2014
Apr 22
6:16
PM ET
DETROIT -- After
Detroit Red Wings
forward
Luke Glendening
completed his collegiate career at the University of Michigan, he signed with the Providence Bruins and played three games on an amateur tryout in 2012.
"It was a great experience," he said. "Obviously, coming from college I didn't really know what to expect of the pro game. I probably would say it wasn't the best move on my part. I probably wasn't ready. I probably needed a summer off before, just to prepare for what was coming. But it was a neat experience. I learned a lot. I guess it all worked out in the end."
[+] Enlarge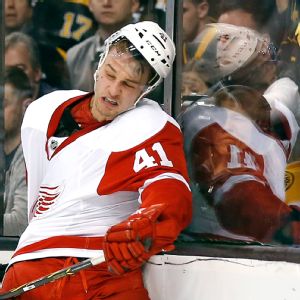 AP Photo/Winslow TownsonRed Wings rookie Luke Glendening gets knocked into the glass during the first period of Game 2 against the Bruins on Sunday.
Glendening eventually signed with the Red Wings' organization and spent the majority of last season with its AHL affiliate, Grand Rapids Griffins, and was a member of their Calder Cup championship team.
The 24-year-old forward made his NHL debut with the Red Wings this season, and coach Mike Babcock has been impressed with the rookie.
"Luke's ultra-competitive, a skater, heavy and used to be a football player, so loves the contact and loves being a grease ball. He plays hard, draws other guys into the battle and has a great hockey sense. Very competitive," Babcock said.
Glendening, who recently signed a three-year contract extension with the Red Wings, scored Detroit's lone goal in Game 2 against the Bruins.
Overall, he had one goal and six assists for seven points in 56 games for the Red Wings during the regular season.
Bruins rookie forward
Justin Florek
played with Glendening during his brief stint with the P-Bruins.
"He's a great two-way player and works hard at both ends of the ice," Florek said. "He's proved himself in this league and he's a good centerman. He's got a great work ethic and that's what drove him to this level. I'm happy for him but he's my enemy tonight."
April, 22, 2014
Apr 22
2:53
PM ET
By
Dean Bernardini, Chevelle
| ESPNBoston.com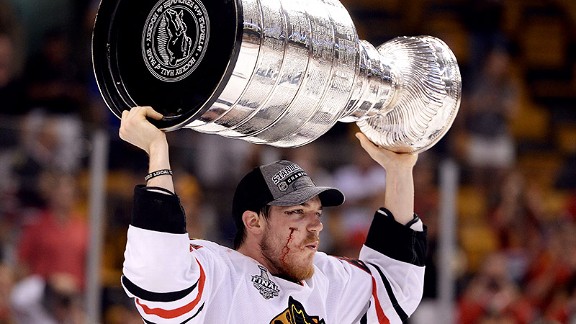 Harry How/Getty Images
When I think about the Stanley Cup, I think of the image of
Andrew Shaw
in the 2013 finals win against the
Boston Bruins
, bloodied up, hoisting the Cup high, full of excitement, dropping F-bombs and not caring who hears it!
To me, that image encompasses what it takes to be a champion. Shaw, being a smaller guy in the size spectrum of the NHL, has made his mark by being a hard-working, physical forward. He had taken a puck to the face in that game and fought through the pain to stay out on the ice and be part of one of the most incredible wins in NHL history.
Being a touring musician for the past decade and in a declining music industry, I have learned that stubborn tenacity is what it takes to be successful in any venture I have attempted.
Cheers!
Dean Bernardini is the bass guitarist for Chevelle.
April, 22, 2014
Apr 22
1:14
PM ET
DETROIT -- Joe Louis Arena has not been kind to the
Boston Bruins
. When the puck drops for Game 3 of their first-round Stanley Cup playoff series against the
Detroit Red Wings
Tuesday night, the Bruins hope their luck changes in this building. Boston has not won here since 2007, and with this series even at a game apiece, the Bruins want at least a split in the next two games.
"This is a negative thought and I don't think there's room for it right now," said Bruins forward
David Krejci
when asked about the team's lack of success here. "We're coming into this game 1-1 and it's a new season. We want to have a good start and go from there."
The Bruins posted a 1-3-0 record against the Red Wings during the regular season. Boston suffered its worst loss of the season when the Red Wings posted a 6-1 win on Nov. 27 at Joe Louis Arena.
"Right now we shouldn't think about that," said Bruins forward
Patrice Bergeron
. "It's about making sure we turn that around [in Game 3]. It's going to be a tight series, a tough series, and we're expecting them to bounce back [Tuesday]. So we can't really start thinking about the building we're playing in. Obviously, it's about just playing our game and bringing what we've done [in Game 2]."
After suffering a 1-0 loss in Game 1, the Bruins played with more of an edge in Game 2, which led to a 4-1 win.
Here's what to watch for in Game 3:
LINE VS. LINE:
Now that the Red Wings are on home ice, Detroit coach Mike Babcock said he'll look to have Pavel Datsyuk's line play against either Boston's top line of
Milan Lucic
, Krejci and
Jarome Iginla
, or the second unit of
Brad Marchand
, Bergeron and
Reilly Smith
.
"Pavel will either play against [Bergeron] or Krejci," Babcock said. "It doesn't matter as much to me; it matters more to me about the other matchups. [Luke] Glendening will play against either one of those two, and then we'll have the other guys against the other guys."
If Krejci faces Datsyuk more in Game 3, Boston's top-line center knows what to expect.
"Just play hard," Krejci said. "He likes to play with the puck, so we have to play the game really tight and try to have the puck on our stick as much as we can. That's our game plan and we'll see what happens tonight."
Though Krejci's line didn't produce much on the score sheet in the first two games, that trio was still engaged physically, even after the whistle.
"I don't really care about [the numbers]," Krejci said. "As long as we're winning is what matters. It's just two games. Obviously, I like to put pucks in the net, but if we keep winning I don't care at all."
Krejci added, "I'm having lots of fun. Those two games were great. Last year against Toronto was a little different because I had a bunch of points already, but this is way more fun. It's great hockey. It's a great atmosphere and it will be the same way tonight. I'm really enjoying this playoff so far."
WHO'S IN:
Bruins defenseman
Matt Bartkowski
missed the first two games of this series with the flu. He participated in the team's morning skate, and coach Claude Julien said the blueliner would take the ice for warm-ups and be a game-time decision. Fellow defenseman
Kevan Miller
, who also missed Game 1 with the flu, did play in Game 2 and will be in the lineup for Game 3. Babcock announced that forward
Joakim Andersson
will be in the lineup for Game 3, and veteran
Daniel Alfredsson
will be sidelined because "he needs another day."
SPECIAL TEAMS:
Boston is 2-for-5 on the power play and a perfect 6-for-6 on the penalty kill in this series. Babcock hopes the addition of Andersson in Game 3 with help Detroit's penalty kill. The Red Wings' coach described his special teams as average in this series and hopes to have better success in Game 3.
MUCH OF THE SAME:
The Bruins played their typical, physical style in Game 2 and it led to victory, so Julien wants to see more of the same in Game 3. Boston was more engaged in its 4-1 win and the Bruins desperately need more of that in hostile territory.
"We're big. We're physical. That's the way we built our team and we shouldn't apologize for it because Bruins fans and the City of Boston love us for that," Julien said.
Babcock was not happy with his team's performance in Game 2, saying his players fell into Boston's hands. So expect the Red Wings to be a more disciplined team in Game 3.