September, 20, 2014
Sep 20
8:30
PM ET
WILMINGTON, Mass. -- There's one thing missing from
Tuukka Rask
's résumé -- the Stanley Cup.
Yes, his name was etched into hockey's holy chalice when the
Boston Bruins
won in 2011, but Rask watched from the bench as fellow netminder
Tim Thomas
helped the team to a championship with his historic performance.
[+] Enlarge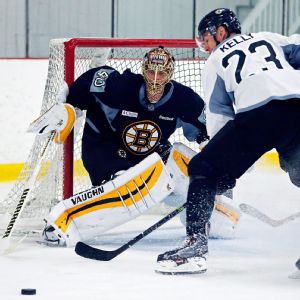 AP Photo/Elise AmendolaTuukka Rask watches the puck get away from Chris Kelly at Bruins training camp.
In 2013, Rask led the Bruins back to the Cup finals, where they eventually lost to the
Chicago Blackhawks
in six games.
Last season, Rask led the Bruins to the Presidents' Trophy as the league's best team during the regular season. He posted a 36-15-6 record, along with a 2.04 goals-against average and a .930 save percentage, and won his first Vezina Trophy as the NHL's top goaltender.
In the playoffs, the
Montreal Canadiens
exposed the Bruins' inexperienced defensive core and beat Boston in the second round.
Rask is expecting to have another good season, but he's not satisfied.
"There's always room to improve," he said. "I'm not focusing on anything specifically; I just like to get better all-around, every area of my game. Guys get younger and there's always going to be new players in the league, so you have to keep up with them and try to reach another level."
Now that camp has begun, he's looking forward to the challenges ahead.
"It's just trying to catch up with the speed. I've been skating for a month now but the speed is obviously different than the captain's practices, so that's my main focus, catching up with the speed and getting my angles right," he said.

The Bruins have only five days of practices before the preseason exhibition games begin Tuesday against the Canadiens at Bell Centre in Montreal. In total, the Bruins have seven games and little time to prepare, especially for the goalies.
"It's a challenge. You just try to feel as comfortable as quick as you can, because the first game is coming in a few days and if you're in there you don't want to look bad out there," Rask said. "Once you start playing it'll come back to you, but it always takes me a game or two to really feel good."
For Rask, preparing for the regular season is more about feeling comfortable than getting in a certain amount of games.
"I don't like to set up a goal," Rask said. "I'll just play whatever they tell me to play. I'm sure I'll get a couple of games, but there's four goalies and it'll be nice for everybody to have a game. It also depends on how you feel, too. If you don't feel comfortable, you say, 'I'd like to play more games.' But if I feel good, it's a couple of games."
During coach Claude Julien's tenure in Boston, he's never had an issue with goaltending. The only time he had to answer critical questions about one of his netminders, the subject was politics, not performance, and had to do with a trip to the White House. Other than that, it's been smooth sailing in the crease.
When Rask took over the No. 1 spot from Thomas, the Bruins brought in
Anton Khudobin
as the backup. That tandem was successful during the 48-game, lockout-shortened season in 2013. Last season, it was
Chad Johnson
, who was outstanding in the No. 2 role, posting a 17-4-3 record, 2.10 GAA and a .925 SP in 27 games for the Bruins.
[+] Enlarge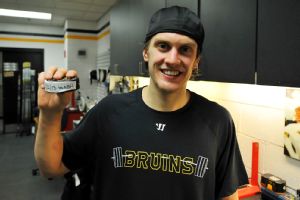 Steve Babineau/NHLI.Getty ImagesNiklas Svedberg earned his first NHL win in his only appearance last season, but now he's looking to earn the backup goalie gig.
Now, it's
Niklas Svedberg
and
Malcolm Subban
battling for that spot.
"There are guys that can certainly battle for that, but it's never been an issue in the past," Julien said. "We feel confident and every guy we've had has come in as a secondary goaltender, a backup goaltender, has always done the job, so we don't anticipate that being an issue again this year."
After he was named the AHL's goalie of the year for the 2012-13 season, with a 37-8-2 record in 48 games, Svedberg's game leveled off last season. He was still solid and posted a 25-15-4 record, with a 2.63 goals-against average and a .910 save percentage.
Once the offseason arrived, the Bruins quickly signed Svedberg to a one-year, one-way deal worth $600,000.
"First of all, I'm happy with the contract. It shows that they believe in me," he said Friday after the first day of training camp. "At the same time, I don't know if it changes my position because I still have to earn my spot and make the team. That's my focus right now."
Team president Cam Neely, general manager Peter Chiarelli and Julien enjoy the internal competition.
"That's how it should be," Svedberg said. "It should always be the guy that plays best should earn a spot. There's a lot of good goalies here, so I just have to focus on my own thing, work hard and do everything I can to earn it. That's the only way I look at it."
Prior to his first pro season, Subban participated in the organization's rookie development summer camp, and it was an eye-opening experience for him. He arrived at training camp last fall with a better idea of what to expect, and throughout the regular season with the P-Bruins, Subban learned what it takes to succeed as a pro.
"Obviously, being professional and taking care of your body away from the rink, and to perform better at the rink and just being more consistent, in terms of in practice and that will carry over into games," Subban said.
[+] Enlarge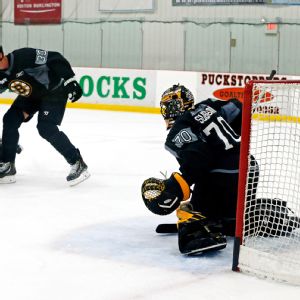 AP Photo/Elise AmendolaMalcolm Subban knows he's likely bound for Providence, but he's competing hard to stick around in Boston.
Last season in Providence, Subban split time between the pipes with Svedberg. Subban posted a 15-10-5 record, with a 2.31 goals-against average and a .920 save percentage.
During the summer, the Bruins inked Svedberg to his one-year, one-way deal, which basically means Subban will be the No. 1 goalie for the P-Bruins in 2014-15. That's not his goal, however, and he plans on doing everything possible to earn the backup role in Boston.
"Obviously I know there's a pretty good chance [of being back in Providence], but anything can happen at camp," Subban said. "You've just got to play well and that's all I can control is my game and not worry too much about the other stuff. Whatever happens, happens, and hopefully it happens for the better. I'm just going to try to play my game at camp."
No matter what happens at camp, he wants to perform well in hopes that will translate into the regular season. His focus is on having more consistent performances.
"Obviously, you want to have a strong start because it usually leads to a strong year," Subban said. "Just trying to start as good as I can right now and get back into the flow of things as quickly as possible, and that will help me going forward."
During his first season as a pro in Providence, Subban kept his mask completely white with no design. He showcased his new mask on Day 1 of training camp and it's pretty nice. It's black and gold with his name on the back and his number on the chin. The Grim Reaper is coming out of the top of the mask, and on the back Subban has Psalm 23:4, which reads: "Even though I walk through the valley of the shadow of death, I will fear no evil for you are with me; your rod and your staff, they comfort me."
Subban is confident. He believes he should be in the NHL. He needs to produce to earn that opportunity, because Rask isn't going anywhere and Svedberg is prepared to be stellar if he wins the backup role.