September, 15, 2014
Sep 15
5:20
PM ET
WILMINGTON, Mass. -- Boston Bruins forward Milan Lucic spent the majority of the offseason with a cast on his left wrist after having surgery last May.
He told reporters Monday at Ristuccia Arena that he will remain limited for training camp as he continues to regain strength in the wrist, which he injured during Game 1 of the second round Stanley Cup playoff series against the Montreal Canadiens.
"It's getting better," he said. "Obviously it was a long summer, having to be in a cast for 12 weeks. I feel like I've turned a corner on it the last week, week and a half. Still working hard to get it up to 100 percent. Just excited to be back here with everyone and getting things going. Camp is right around the corner."
Lucic said he will be "cautious" so he doesn't suffer any setbacks, and believes the injury won't affect his play this season.
"Every time you have surgery, it never really goes back to 100 percent," he said. "But you hope that you can get back to a point where you were feeling as good as before the surgery. For myself, just trying to get mentally healthy and get that out of the way, the mental part of it. That part of it is a big part of it to overcome, as far as shooting and just pushing and just all that type of stuff. It's a lot of hard work when you get injured to get to 100 percent, and that's your main goal is to try to get there."
September, 14, 2014
Sep 14
7:46
PM ET
Bruins general manager Peter Chiarelli said Sunday that he won't be able to sign all of his team's free-agents-to-be and that he may trade a defenseman in the not-too-distant future.
Speaking to reporters at the Bruins' rookie game against the
Tampa Bay Lightning
at Antioch, Tennessee, Chiarelli acknowledged that the salary cap crunch won't allow him to keep everybody on board. While the Bruins recently signed David Krejci to a six-year extension,
Johnny Boychuk
and
Carl Soderberg
are the biggest names entering the final year of their contracts.
"I can't sign everybody, and I'd love to sign everybody, but we can't for the numbers that they want," Chiarelli said, according to WEEI.com. "Some things you have to let play out, and we have to be a little versatile ourselves when it comes to team-building and we're forced to do that this year.
"Am I going to try to sign all these guys? We look at all these guys, we look at different lineups going forward into the year. As the year progresses, we look and I think we're going to take more time."
Historically, Chiarelli has tried to lock his players up before they reach their walk year.
"I've always tried to get the team together signed and get them in place and give them a level of security," Chiarelli said. "I always feel that with that, they will perform. Of course, I've got to see the performance to get to that point. They've seen that we've tried to keep this team together as much as we can; we've had a lot of success with this group of guys. Around the fringes, guys have to go, but they've seen us try and [keep the team together], so they know our intentions are noble, so now it's not quite ideal where we can keep the band together, so to speak."
Chiarelli also addressed the Bruins' abundance of quality defensemen.
"There's a lot of competition, there's a lot of spots, including -- you don't wish one of these D-men to be traded, but we just have too many D-men," he said. "At some point, I'm going to have to do it, and all the teams in the league, most of the teams in the league would like one of these defensemen.
"And I know everyone's waiting, 'What move will [he] make? What move will [he] make?' Well, I have to see what's going to happen, see who fits well with whom, but the uncertainty is something this year that is a byproduct of the cap and a successful team and locking up those guys, and eventually there's other guys that are just going to get too expensive. I don't cast any aspersions on them for being at that level, but that's what it's at."
September, 11, 2014
Sep 11
9:15
PM ET
WILMINGTON, Mass. -- David Pastrnak seems poised to become a fan favorite in Boston.
The
Boston Bruins
' first-round selection (No. 25 overall) in June's NHL entry draft has a colorful personality and genuinely loves the game of hockey.
[+] Enlarge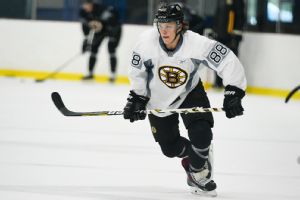 Cal Sport Media/AP ImagesDavid Pastrnak skates on the first day of Bruins rookie camp Thursday.
His long hair is typical of a young hockey player and his wide smile is a true indication of how much fun he's having.
"I love his infectious personality," Bruins assistant general manager Don Sweeney said. "Really, he just shows up wanting to play hockey and get better. He came over early on his own right to get acclimated. He's made a few trips back and forth. We asked him, 'Are you tired at all?' He smiled and [said], 'No way.' This is about wanting to play hockey."
On the ice, his ability stands out. He's a strong, fast skater and is known for his instincts, accurate shot and smooth hands. He communicates well on the ice and is always looking to make the right play.
"His skill set separates him at times, because it's awfully good," Sweeney said. "Now, we've got him playing some center and some wing just to get him comfortable, but he's excited and we are as an organization to have him a part of our group. We've all seen him play an awful lot of hockey and we're excited about where he is now, but also where he could be in the future for us."
The Bruins don't want to place too much pressure on the rookie, but there's a realistic chance Pastrnak could earn a roster spot out of training camp with the Bruins. And, it's obvious that's the only thing on his mind.
On Thursday, the Bruins' rookie camp began at Ristuccia Arena. Pastrnak was among 21 others to participate in the first camp of off-ice testing and on-ice drills. It was his first organized on-ice session with the Bruins, and afterward he said it went well.
"I was working hard all summer and just getting better," he said. "I feel really good on the ice, so I'm happy and just have to keep working."
The group of 22 players will travel Friday to Nashville to participate in the national rookie tournament, Sept. 12-16. The Bruins will play three games against the
Nashville Predators
,
Tampa Bay Lightning
and
Florida Panthers
.
"It's going to be fun," Pastrnak said. "We just have to play the best we can, and it's going to be fun."
When asked if he thinks about anything other than hockey, he quickly answered: "No."
He's also polished with his answers. The 18-year-old native of the Czech Republic learned English at 15 and he speaks it well. He'll say all the right things, but he'll add a bit of humor to his honest answers. One aspect of youth that sometimes bothers veteran players is when a prospect doesn't understand at least some of the organization's history. Pastrnak will admit he's learning about the Bruins, but he's concentrating on one thing.
"I'm focused on hockey," he said with a huge smile. "But I promise I'm going to look into it."
Even when he was pressed about the possibility of realizing his dream of playing in the NHL for the Bruins this season, a confident Pastrnak respectfully dismissed the notion.
[+] Enlarge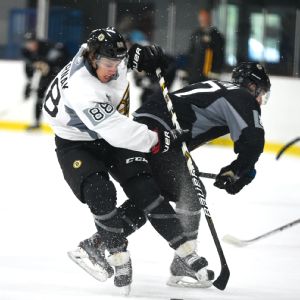 Cal Sport Media/AP ImagesDavid Pastrnak (88) battles Kevin Sullivan for the puck at rookie practice Thursday.
"Oh, I don't know. Really, I'm just trying to play my best," he said.
During rookie development camp in July, Bruins goalie prospect and former first-rounder Malcolm Subban quickly formed a strong competitive bond with Pastrnak. The two went out and purchased a PlayStation and they're in the process of setting of up a tournament for "NHL 15."
"He's a great guy," Subban said of Pastrnak. "Obviously, he's got a lot of character. He's competitive and a lot of fun to be around. When you have two competitive guys, you're always competing for every little thing and we're always going at it, but he's definitely a great guy to have around the room, for sure."
Even after the first day of rookie camp ended, the two remained on the ice for a shooting competition.
"He's a great player," Subban said. "You watch him and he loves to compete and battle on the ice. He's also a skilled guy, too. He's a great player, for sure."
Since arriving back in Boston a couple of weeks ago, Pastrnak has been skating with his future Bruins teammates during captain's practices. He has been skating with the likes of Zdeno Chara, Dennis Seidenberg,
Patrice Bergeron
,
Tuukka Rask
,
Chris Kelly
and
David Krejci
.
"It was great," he said. "I learned a lot. It was a great experience, not just on the ice but off ice, too. I'm happy I practiced with them and I tried to get as much experience out of it as I could."
Learning the style of the North American game along with the culture here will be a crash course for Pastrnak. He's trying to focus solely on hockey, but he admits being away from his family is difficult.
Fortunately, the advice his mother gave him a few years ago is paying off now and could be one of the reasons he makes the team out of training camp. When Pastrnak left the Czech Republic to play junior hockey in Sweden two seasons ago, his mother told him how important that move would be in order for him to one day realize his dream of playing in the NHL.
In Sweden, he learned English and lived on his own. That prepared him for what he's experiencing now in Boston, and since he's already been through a life-changing transition, this time he only has to worry about hockey because he's comfortable.
"It's pretty different. [Compared] to back home, there's a lot more people. I like it here. I don't have any problem with that. It's hard to communicate with my family back home because of the time change, so that's pretty tough. Otherwise, it's all good here."
Added Pastrnak, "I feel like I'm not thinking about it too much, because I'm just playing hockey all the time and practicing, so I don't have too much time to think about it. The worst is my mom is alone back home and she's just waiting for my messages. I can't write her because right now I'm at the rink, so it's pretty tough. I think it's much tougher for her than it is for me."
One of Pastrnak's favorite songs is "Best Day of My Life" by American Authors. The first line of the song is: "I had a dream so big and loud, I jumped so high I touched the clouds."
He's on the verge of realizing that dream and it starts with rookie camp this week.
"One of the many steps," he said with a smile.
September, 11, 2014
Sep 11
11:43
AM ET
WILMINGTON, Mass. -- The
Boston Bruins
begin their rookie camp today at Ristuccia Arena.
The group of 22 players will then travel Friday to Nashville to participate in the national rookie tournament Sept. 12-16. The Bruins will play three games against the
Nashville Predators
,
Tampa Bay Lightning
and
Florida Panthers
.
Here is Boston's rookie roster for camp:
Forwards:
Andrew Aamon, Spencer Asuchak, Anthony Camara, Mitchell Dempsey, Alex Fallstrom, Brian Ferlin, Seth Griffith, Cory Kane, Dawson Leedahl,
Matt Lindblad
, David Pastrnak, Ben Sexton, Kevin Sullivan.
Defensemen:
Linus Arnesson, Bryce Aneloski, Mickael Beauregard, Chris Casto, Lee Moffie, Frankie Simonelli, Mike Young.
Goaltenders:
Adam Morrison
, Malcolm Subban.
September, 11, 2014
Sep 11
11:03
AM ET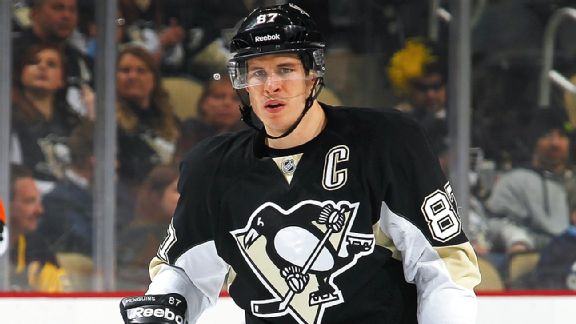 Gregory Shamus/NHLI/Getty ImagesSidney Crosby was the overwhelming favorite among players in the top franchise player voting.
Back in July, we conducted a poll of executives, coaches and a couple players to see which players they would build a franchise around if they were starting a team from scratch. It was an attempt to rank the league's franchise players, and
it led to some fascinating results and debate
.
Jonathan Toews
edged
Sidney Crosby
for the top spot, with the Stanley Cup playoff performance of
Drew Doughty
still fresh in the mind of voters, who put him third on the list.
This week in New York, many of the franchise players who were named by executives gathered for the player media tour, the unofficial kickoff to the NHL season. It was an opportunity to give the players a chance to answer the same question. The same rules applied: Players were asked to list three players they'd want if they were starting a franchise from the ground up.
A few players wanted to add their own ground rules.
Tyler Seguin
felt compelled to pick teammates, so he added a rule that you couldn't pick your own teammates. Some guys followed the rule, others didn't.
Claude Giroux
introduced the idea of picking himself, to which we had no objection.
Henrik Lundqvist
, however, saw a conflict of interest there.
"Am I the GM?" Lundqvist asked. "Then I'm not picking myself."
He quickly identified Sidney Crosby, then paused for a moment. "This is tough."
And with that, here are the results, giving three points to a first-place vote, two for a second and one for a third:
Sidney Crosby (19 points):
Crosby finished a close second to Jonathan Toews when executives voted, but he ran away with it among the players.
September, 9, 2014
Sep 9
12:28
PM ET
NEW YORK -- Given the handshake line seen around the world last spring, you better believe many players on both the Montreal Canadiens and Boston Bruins knew their first encounter this season was Oct. 16.

After a drama-filled seven-game series last spring between the two rivals, capped by Bruins winger Milan Lucic sharing his love for the Canadiens in the handshake line -- we jest, of course; heated words were exchanged with several players -- the Oct. 16 game in Montreal is certainly must-watch TV.

"Absolutely, it's going to be a lot of fun," Canadiens star winger Max Pacioretty told ESPN.com Tuesday during the player tour media event.

"After a series like that, there's tons of emotions. It might have been build up a little bit more than what it really was. But at the same time, they're a great team. That's our measuring stick team. We play against them so many times a year, they're one of the best teams and you really can tell a lot about your team by how you measure up against the Boston Bruins. They contend every year. We get a little bit more of the juices flowing when we play against a team like that. We definitely have a lot to prove when we play a team like that."

Teammate P.K. Subban echoed the respect the Canadiens have for the Bruins, but also said the emotion and intensity between the two rivals is absolutely genuine.

"We don't need to sugar coat it, there was a big deal made about the comments that Lucic made in the line," Subban told ESPN.com Tuesday during his player tour interview. "But I mean, this is hockey, this is professional sports. There's mutual respect between all players. That series got heated. And I think it's good for the game, it's good for the fans to know that these guys are making millions of dollars but it's real, guys want to win. It's competitive. At the end of the day we still want to send kids the message of sportsmanship, but this is professional hockey. I'm not going into that game thinking about was said in the handshake line. We're just trying to win. Lucic is a big enough guy anyway that I'm sure if anyone wanted to justify it, he'd be willing to answer it. But all in all, the rivalry that's rekindled over the last few years has been great for hockey."

Asked about Shawn Thornton no longer being with the Bruins (he signed with the Panthers) to squirt him with a water bottle, Subban didn't miss a beat: "Well, I don't mind him squirting me with water in Florida because it's hot there."

The Habs upset the Bruins last spring in the second round before losing to the New York Rangers in the Eastern Conference finals, a successful season by any measure for a Habs team not picked by most to contend.

And yet, lots of changes in the offseason, the team getting younger after parting ways with veterans such as Brian Gionta, Josh Gorges and Daniel Briere.

Gionta's free-agent departure opens up the captaincy in Montreal, and it's expected head coach Michel Therrien will name his new captain at the end of the training camp or around that time.

Both the names of Pacioretty and Subban have been in the mix from fans and media as far as candidates to be the next captain, along with the likes of Tomas Plekanec, David Desharnais, Andrei Markov et al.

"It's already an honor just to be in the conversation, but I know I have to step up and help lead this team no matter if there's a letter on this sweater or not," said Pacioretty, 25, Montreal's leading scorer last season. "I feel like I'm ready for it. When Gorges and Gio were here, you don't want to step on any toes, you want the leaders to lead and want them to be able to do their thing. But now that they're gone, I think there's a big gap to fill right now. I hope to be able to do so. Whoever does have the 'C' on their sweater, he's going to have a lot of help. We know a lot of guys in the room that can lead, guys who have been on Stanley Cup teams. So I think whoever gets the letter, he'll get help."

Like Pacioretty, Subban didn't hide what it would mean to him if he were ever named captain of the Habs.

"Obviously, I would want that honor," Subban said. "I don't think anybody sees me as a player that would shy away from that type of responsibility. Not more money, not more ice time, but more responsibility given to a player, in my opinion, makes him better. For a player that's going to be in Montreal for a minimum eight years time, to be considered a leader of this franchise and a leader of this team, would be a great deal of responsibility but it's exciting you could be a guy to help lead your team to a Stanley Cup."

Subban recalled a phone call he got after signing his new contract this summer from the wife of Habs legend Jean Beliveau.

"She congratulated me on the new contract, was very complimentary, and very excited to know that she'll be watching me for the next eight years," said Subban. "She spoke on Jean's behalf as well. To me that was very flattering. To be able to wear the 'C' like one of my idols Jean Beliveau, that would be a great honor."
September, 8, 2014
Sep 8
6:55
PM ET
BOSTON -- Late last week,
David Krejci
and the
Boston Bruins
agreed on a six-year contract extension, which means he has seven years to accomplish his goal of winning numerous Stanley Cup championships for the black and gold.
The 28-year-old top-line center has one year remaining on his current deal before his six-year, $43.5 million contract begins in 2015-16.
Krejci's willingness to sign a long-term deal now means he can focus on playing and nothing else. He said his decision to stay in Boston was an easy one, mainly because the organization is dedicated to winning by locking up core players such as
Zdeno Chara
,
Patrice Bergeron
,
Tuukka Rask
to long-term deals. Krejci said he hopes
Milan Lucic
joins the list very soon.
[+] Enlarge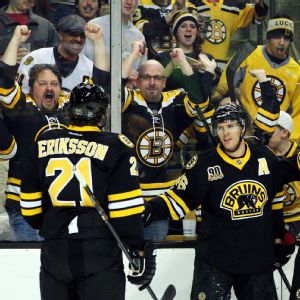 Anthony Nesmith/CSMDavid Krejci looks forward to the possibility of having Loui Eriksson as a regular linemate.
"The core is here and I feel like we still have lots of years left and we can compete for the Cup in the next few years, so that was one of the reasons why I decided to sign now and not wait until next year when I will be a free agent and see what's out there," Krejci said. "I was really happy that the deal happened before the season started and we can just move on, not think about anything and just play hockey."
Krejci could have been a free agent after the upcoming season and likely could have earned a bigger contract elsewhere, especially with the likelihood of the salary cap increasing next summer.
"Yeah, maybe I could get more, maybe less, but money wasn't really the issue. I wanted to play where I could win," Krejci said. "[Bruins general manager] Peter [Chiarelli] and the organization feel I could help them win the Cup and that means a lot. I didn't hesitate and accepted the offer. I'm glad I can be a Bruin for the next seven years."
For years, Chiarelli has focused on keeping the Bruins' core intact. The formula of top-line centers -- Krejci and Bergeron -- along with a true No. 1 goaltender in Rask, and a strong defensive unit led by Chara and
Dennis Seidenberg
is a sign of the organization's commitment to winning.
"It's awesome that they believe in you, that they trust you. It means a lot," Krejci said. "You just go out there and play the game, you don't think about anything else. To have Peter, Cam [Neely], the whole organization behind me, that's awesome. That's perfect. I really feel we have a really good team this year and the next few years as well, so hopefully we can make a run. That's why I signed here. I want to win another Cup and this is the team that can do it."
Krejci and Lucic have been longtime linemates, but the last few seasons they've had some turnover on their right wing.
Nathan Horton
helped the Bruins win the Stanley Cup in 2011 and after he signed with the
Columbus Blue Jackets
as a free agent, the Bruins signed future Hall of Famer
Jarome Iginla
to play alongside Krejci and Lucic.
It's no coincidence both players enjoyed their most consistent season with Iginla on the right side, but now that Iginla is playing for the
Colorado Avalanche
,
Loui Eriksson
will get a look on the team's top line.
"Chemistry you can create pretty fast and if you have the right guy, a guy who listens and knows how you play, then it could be easy," Krejci said. "I played a couple of games with Loui last year and I like playing with him. He's a great player. He can pass the puck and I feel if I play with him I'll have even more goals because he's a great passer. Obviously I'm excited and I would play with him. We'll see how camp goes and go from there."
If that trio works, it will give Boston's top line a different look than it had with Horton and Iginla, both of whom featured a physical presence. Eriksson is more of a two-way, finesse player.
[+] Enlarge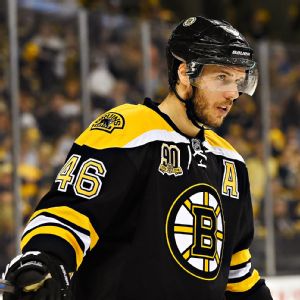 Eric Canha/CSM/Cal Sport Media/AP ImagesDavid Krejci said he's like to finish his career in his native Czech Republic, a move that would be easier if he wins another Cup or two in Boston.
"Don't get me wrong, Milan and Iggy, even Nathan before, they're great passers, especially Milan," Krejci said. "He can see the ice well and people underestimate his passing, but I feel like with Loui, he's a little bit more of a playmaker than a power forward. I'm looking forward to it. I'm excited how camp will go and how we're going to create chemistry."
Krejci has recorded only two 20-goal seasons during his seven years with the Bruins. Last season, he had 19 goals and 50 assists for 69 points in 80 games, but he's hoping to generate more scoring.
"I do want to score more goals, for sure," Krejci said. "Not necessarily because I signed a new deal, but just because I want to get better every year. That's my goal -- get more goals and help the team win more games."
As disappointing as last season's second-round exit from the playoffs at the hands of the
Montreal Canadiens
was, one positive aspect for Krejci was that he would have a long summer to rest and recuperate in preparation for the 2014-15 season.
"I feel great. I took some time off, but after a few weeks I got back in the gym and started to do some stuff. I feel like I'm in really good shape. Only time will tell, but I feel great. I wanted to come into camp in the best shape I could be and I feel really, really close," he said.
Krejci also believes he's ready to add more to the team off the ice. Prior to last season, he was honored when he was named assistant captain. He took pride having the "A" on his sweater but believes he can be a better leader moving forward.
"It was a learning experience for me," he said. "It was new, but I feel like I did an OK job. I don't think I did a great job at it, but it was a learning experience and I know what to expect now. I know how to treat the other guys in the dressing room and I feel I can take on a bigger role."
Krejci is the type of player who focuses on the present and nothing else. But he admitted Monday that if he accomplishes his goal of helping the Bruins win a few more Stanley Cups during the next seven seasons, he would like to return to the Czech Republic and finish his hockey career at home.
"I want to win and I really think we have the team to make a run, not just one year but the next few years," he said. "Seven years from now, if we have what we're trying to achieve, then it's going to be an easier decision to go back home. I've always wanted to finish my career back home and that will be a way easier decision [if we win another Cup]. If not, I would have to think twice about my next move.
"But that's the reason I signed here, I believe we can win, not once, but more times, so it's just up to us. Seven years is a long way from now and I don't want to think too much ahead."
September, 5, 2014
Sep 5
10:25
PM ET
WILMINGTON, Mass. --
Boston Bruins
general manager Peter Chiarelli has created a blueprint for building a perennial Stanley Cup contender with a strong core group of players.
That strategy has paid off with the 2011 Stanley Cup title, plus a return trip to the finals in 2013.
The latest example of the Bruins' dedication to more championships came Thursday, when the team announced a six-year, $43.5 million contract extension for top-line centerman
David Krejci
, a deal that begins at the start of the 2015-2016 season. He joins a strong group of core Bruins who are locked up for the long term, including fellow centerman
Patrice Bergeron
, goaltender
Tuukka Rask
and defenseman
Zdeno Chara
.
On Friday, Chiarelli addressed the state of the team as it prepares for the start of training camp on Sept. 18.
"He's been a real valuable player for us," Chiarelli said of Krejci. "You've seen his performance during the season, you've seen his performance during the playoffs. He's come up through the ranks for us and I consider him one of the pillars of this franchise, so to get him locked up, for fairly reasonable term and value, it speaks a couple of things. One, to him wanting to stay and be a part of us continuing to win and two, obviously our commitment to try to keep this success core together."
Even though Krejci has one year remaining on this current deal, it was important for the Bruins to lock him up now and avoid the distraction of pending free agency.
"It was a priority, and we've been working on it for a while," Chiarelli said. "We've got some other things to take care of now, and we'll peck away at it. But to know that we've got two of the best centers in the league locked up at still a young age is very comforting. I mean you see any of the successful teams are strong down the middle. And now, we've got these two guys that play the way that they play, that showed that they can play tough minutes and playoff minutes. I mean it's a solid step for us."
The other order of business for Chiarelli is signing his entry-level free agents, forward
Reilly Smith
and defenseman
Torey Krug
.
"I want them to be part of this team, and obviously to have a full camp. In my tenure here we've never had anyone not attend. But that doesn't mean that they won't," Chiarelli said.
Chiarelli would not comment further on negotiations with the two players.
"I don't make a practice of commenting on negotiations and I'm not going to start now," he said. "They're both valuable members of this team and I hope they'd be with us when we start playing."
With the Bruins dealing with salary-cap constraints, Krug and Smith may have to settle for one-year deals. Chiarelli admitted at the start of the offseason that both players deserve pay raises at "some point," so they might have to wait.
The trade market remains a possibility for Chiarelli to free up some cap space, too. On Friday, he admitted there are some things he's looking at, but he wants to wait and see how things develop during training camp before making any trades.
Bruins assistant captain Patrice Bergeron admitted Thursday that the commitment by ownership and management to keep the core talent in place for the long term resonates with the players in the room.
"I think they appreciate it," Chiarelli said Friday. "Based on some of the comments that they've said, based on some of my private conversations with them, they know what we're trying to do. It's a fine line keeping the core together and making the right decisions, and we don't always make the right decisions. But, what I've seen in these players that have given us service, and I've seen them in the trenches for a number of years, it makes it easier for me to make the decision."
Chiarelli added that due to the salary cap, there are difficult decisions to be made, but he's prepared to do whatever it takes to secure this core group of players.
"The players know we're trying to build a team, maintain a team that's going to challenge for the Cup, and you just have to make important decisions, key decisions," Chiarelli said. "You see it in other sports. You have to sometimes fish or cut bait. You know, we're going to be in the same boat, we have been in the same boat and we'll be in it again. We have to make the right decisions."
Along with Krejci, Chiarelli also said forward
Milan Lucic
will be a priority to sign to an extension. Lucic has two years remaining on his current deal before he becomes an unrestricted free agent after the 2015-2016 season.
"Well, he's another guy that we like, and obviously I consider him a part of the backbone of this franchise," Chiarelli said. "So, eventually we'll get around to that. We've got a lot of things we have to do and that's the business of hockey, and you know unfortunately, and this doesn't apply to Looch, this is generally speaking, unfortunately when you're in the position of success that we've had and players are at an age that they're commanding, based on their years of service, they're commanding certain salaries, you have to make tough decisions. But, you know, for Looch we'll get him done when his time comes around."
September, 5, 2014
Sep 5
6:37
PM ET
WILMINGTON, Mass. -- The notion of
Boston Bruins
prospect David Pastrnak earning a roster spot with the team out of training camp is not a stretch by any means.
The 18-year-old forward seems to have the skill and ability, and the right mindset, to make such a jump in his first pro season.
The Bruins selected him in the first round (No. 25 overall) in last June's NHL Entry Draft, and he quickly impressed during the organization's rookie development camp in July. Instead of continuing his offseason workout in Sweden, the Czech Republic native was asked to come to Boston to start skating with NHL-caliber players before camp begins.
[+] Enlarge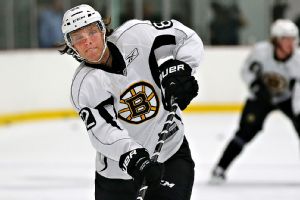 John Tlumacki/The Boston Globe/Getty ImagesPastrnak, 18, impressed the Bruins' brass at rookie development camp in July.
Pastrnak has been here over a week now and he's already fitting in nicely.
He will participate in national rookie camp with the Bruins from Sept. 12-17 in Nashville. He's already impressed the Boston brass, but management won't rush the prospect into unnecessary situations.
The Bruins have two roster spots open at the forward position. It's too early to try to envision where Pastrnak would play if he makes the team, but an interesting idea would be for him to play with
David Krejci
and
Milan Lucic
on the top line.
After top-line right wing
Jarome Iginla
signed with the
Colorado Avalanche
as a free agent last July, Chiarelli and Bruins coach Claude Julien said veteran forward
Loui Eriksson
could be a good fit on the team's top line. But if Pastrnak shines, it will be interesting to see if the Bruins give him a look on the right side with Krejci and Lucic.
The last thing Chiarelli wants is to put any pressure on Pastrnak this early.
"He's going to start the rookie camp, so let's see how he does there," Chiarelli said. "He's obviously a skill and speed package that you see out there [at captain's practice] today. Take it slowly; we don't really want to put him in a high-level spot quite yet. Let's see how he does at rookie camp, the national rookie tournament, and if he lights it up, maybe he gets into the upper lines to start. We'll see."
If Pastrnak does not make the team, he will return to play in Sweden, per his contract.
September, 5, 2014
Sep 5
4:27
PM ET
Bruins general manager Peter Chiarelli announced the team has invited veteran forward and former Buffalo Sabre
Ville Leino
to training camp.
Leino, 30, played only 58 games for the Sabres last season and was held scoreless with 15 assists and a minus-16 rating.
The Bruins also signed veteran defenseman Steve Eminger to an AHL deal with an invite to training camp. The 30-year-old blueliner last season played 25 games for Moscow in the KHL, and 33 games for the Norfolk Admirals of the AHL.
September, 5, 2014
Sep 5
2:38
PM ET
WILMINGTON, Mass. -- The
Boston Bruins
announced Friday that they have come to terms with forward
Matt Fraser
on a one-year, two-way deal for the 2014-2015 season.
"It's nice to get it done and know you have a job, and it gives you a little more incentive to work harder, so it's definitely nice to get it done," Fraser said.
Fraser sparked the Bruins during the Stanley Cup playoffs last spring when he was called up from Providence of the AHL and scored an overtime goal to help Boston to a 1-0 win over the
Montreal Canadiens
in Game 4 of the second-round series.
[+] Enlarge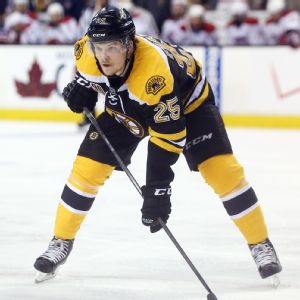 Bruce Bennett/Getty ImagesFraser, who had surgery on a broken foot after the Bruins lost in the playoffs, says he'll be 100 percent ready for training camp.
After the Bruins lost that series in seven games, Fraser admitted he was playing with a broken right foot. He had surgery to repair the displaced fracture and now he has a permanent plate and six screws in his foot.
Fraser was on the ice Friday for the fourth day of captain's practice at Ristuccia Arena. Afterward, he said his foot is feeling better and he'll be 100 percent ready for training camp.
"I haven't had any problems with it. I took all the precautions with it, took my time," Fraser said. "I haven't had any problems, no setbacks."
Fraser is one of the younger prospects in the organization vying for one of the two open forward positions on the Bruins' roster. He's a left wing by nature, but can also play the right side. This summer, he skated with his former junior team and worked on playing right wing.
The Bruins acquired Fraser, along with
Loui Eriksson
,
Reilly Smith
and Joe Morrow, from the
Dallas Stars
in exchange for
Tyler Seguin
and
Rich Peverley
on July 4, 2013. During the 2013-2014 season, Fraser spent the majority of the season with the P-Bruins, but played 14 regular-season games with Boston, posting two goals.
With a full season of experience in the Bruins organization, Fraser said he's comfortable now and his goal is to earn a spot on the NHL roster.
"It's nice to build off and it gives you a little confidence," Fraser said of last season. "Just to be back a little early gives you a little familiarity around here, just to reacquaint yourself with how everything runs. At the same time, the books are closed on last year and I'm coming into camp and I want to make this team. I feel like I've done what I can do in the summer to prepare my body and prepare myself to do that."
September, 4, 2014
Sep 4
4:56
PM ET
WILMINGTON, Mass. -- The
Boston Bruins
officially announced Thursday that they have agreed on a six-year, $43.5 million contract extension with forward
David Krejci
. The new deal begins at the start of the 2015-2016 season.
While it's a smart move for both the Bruins and Krejci, the organization's investment extends into the team's locker room.
It proves to the rest of the players that ownership and management believe in this group of core players and realize how important Krejci's presence on the top line is to the success of the team.
"Yeah, it's huge," said Bruins assistant captain
Patrice Bergeron
, who signed his eight-year, $52 million contract prior to last season. "It's definitely exciting. Any time you see the organization wants to keep the core, keep the same guys for long-term, it speaks volumes and I'm very proud of that. I think [Krejci] feels the same way. It builds stability and trust from management and it makes you want to do it even more on the ice and prove them right. It's well deserved. He's a tremendous player and I'm happy he's going to be with us for the next seven years."
Both natives of the Czech Republic, Krejci is the hockey idol of the Bruins' first-round pick, David Pastrnak, who was selected No. 25 overall in June's NHL Entry Draft. There's a chance Pastrnak, 18, could earn a roster spot out of training camp and it would be a dream come true to finally be considered a teammate of Krejci's.
"It will be fun if we can play together. He signed for [another] six years, so I have seven years to make the team," Pastrnak said with a smile.
September, 3, 2014
Sep 3
11:14
PM ET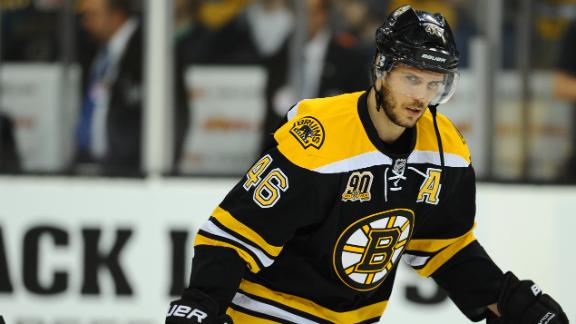 For years, there's been speculation the
Boston Bruins
would trade
David Krejci
.
Many believed it would happen. But you don't trade a talented player such as Krejci. You sign him to a long-term deal -- and that's exactly what the Bruins have done.
Krejci and the Bruins have agreed on a six-year extension worth $43.5 million that will start in 2015-16, a league source confirmed to ESPN.com's Pierre LeBrun.
When WEEI.com's DJ Bean first broke the news of Krejci's new contract on Wednesday, some reaction on social media was that general manager Peter Chiarelli gave Boston's top-line center too juicy of a deal, especially given that Krejci did not produce a single goal during the team's 12 games in the Stanley Cup playoffs this past spring.
Despite his four assists and minus-3 rating in the playoffs, Krejci still was effective, and the numbers aren't a true indication of how well he played.
After the premature exodus after a second-round loss to the
Montreal Canadiens
in seven games, Krejci blamed himself. He didn't blame his teammates or all the posts the Bruins hit.
Krejci was completely dejected. He admitted to sleepless nights and looked forward to forgetting about hockey for a while. When asked about his pending contract talks with the Bruins, Krejci said he didn't want to think about it.
Krejci is known for his big-game qualities. He's at his best when it counts, which is something coach Claude Julien has applauded while trying to get even more out of Krejci over the years.
[+] Enlarge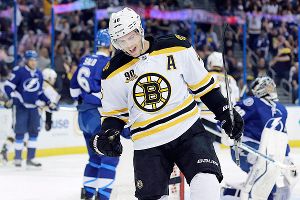 AP Photo/Chris O'MearaDavid Krejci's history of producing in big games made his scoring drought in the latest postseason very surprising.
During Boston's Cup run in 2011, Krejci had 12 goals and 11 assists for 23 points in 25 games. In 2013, the Bruins reached the finals, and Krejci had nine goals and 17 assists for 26 points in 22 games.
That's why this past spring's postseason scoring drought bothered Krejci so much. Before Game 7 against the Canadiens, he guaranteed he would snap out of his slump and lead the Bruins to the Eastern Conference finals -- and possibly beyond.
It didn't happen.
Until the postseason, Krejci had enjoyed the most consistent season of his career. The 28-year-old center finished with 19 goals and 50 assists for 69 points in 80 regular-season games. He also led the league with a plus-39 rating.
After hearing how personal he took the postseason loss, his teammates, specifically longtime linemate
Milan Lucic
, knew it would only motivate Krejci for the 2014-15 season. Now that he can focus on hockey and not be distracted by talks of free agency, expect much of the same -- another big year from Krejci.
The fact is this is a good deal for both the Bruins and Krejci. It keeps Chiarelli's blueprint for a perennial Cup contender intact.
There's no denying the core of this team, built on homegrown talent, is the cornerstone of its success. It was a big reason the Bruins won the Stanley Cup in 2011. It was the basis of the Bruins' return to the Cup finals in 2013, and it's why they will win another championship in the near future, with the likes of Krejci,
Patrice Bergeron
,
Tuukka Rask
and Lucic leading the way.
The Bruins have earned a playoff berth in each of the past seven seasons, and Krejci has been with them since the start of that run. He has evolved into a solid, two-way player with great playmaking abilities. He's also earned the unofficial title of the league's most underrated player.
He loves the game, and he hates to lose.
When the Bruins stitched the 'A' on his sweater prior to the past season, Krejci felt a strong sense of pride. He isn't the most vocal player on the team, but he's one of the most respected, for his leadership skills both on and off the ice. Being named assistant captain was a true indication of his character, and the honor meant a lot to him.
At the start of the offseason, Chiarelli indicated it would be a priority to re-sign Krejci before he reached free agency. Now that the deal is done, the trade rumors can stop because Krejci likely will finish his career as a Bruin, which is the way it should be.
September, 3, 2014
Sep 3
7:41
PM ET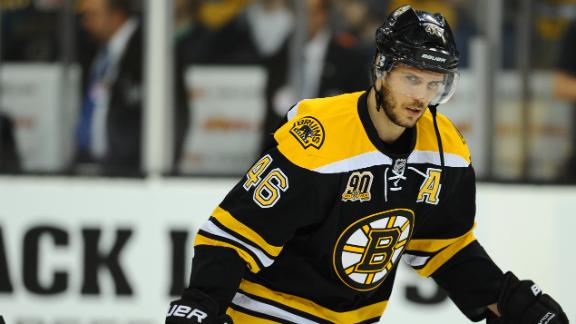 David Krejci and the Boston Bruins have agreed on a six-year deal worth $43.5 million that will start in 2015-16, the team announced Thursday.
Krejci has one year remaining on his current three-year, $15.75 million deal. Bruins general manager Peter Chiarelli indicated at the start of the offseason that re-signing Krejci would be a priority before he became a free agent after this upcoming season.
The 28-year-old top-line center produced one of his most consistent seasons during 2013-14. He finished with 19 goals and 50 assists for 69 points in 80 regular-season games. He also led the league with a plus-39 rating.
During the Stanley Cup playoffs, he was held scoreless, with only four assists and a minus-3 rating.
The Bruins selected Krejci in the second round (No. 63 overall) in the 2004 NHL entry draft.
Information from ESPN.com's Pierre LeBrun was used in this report.