March, 29, 2015
Mar 29
8:10
PM ET
Associated Press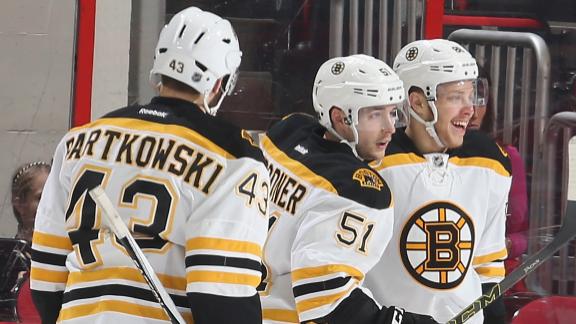 RALEIGH, N.C. -- David Pastrnak scored on a nice centering pass from Carl Soderberg at 4:23 of overtime, giving the Boston Bruins a 2-1 win over the Carolina Hurricanes on Sunday.
The win put the Bruins three points ahead of Ottawa and four up on Florida in their race for the eighth and final playoff spot in the Eastern Conference. Ottawa has a game in hand on both of the teams.
Ryan Spooner scored for Boston early in the first period on Pastrnak's assist.
Nathan Gerbe scored for Carolina late in the second period.
Boston goalie Tuukka Rask, who had left Saturday's win over the New York Rangers because of dehydration early in the second period, had 30 saves.
Carolina's Anton Khudobin, who played for Boston from 2011-13, stopped 28 shots.
Boston, 2-3-3 over its past eight games, is 5-0-1 in its past six games against Carolina.
March, 28, 2015
Mar 28
8:45
PM ET
BOSTON -- New York Rangers forward Tanner Glass has been fined $3,897.85 for butt-ending Bruins defenseman Adam McQuaid, the NHL announced.
After the final buzzer of Boston's 4-2 win Saturday at TD Garden, Glass was assessed a major penalty and a game misconduct for hitting McQuaid in the face with the end of the stick. McQuaid was sporting a huge gash above his left eye after the game.
"He took a bit of a butt end in the face, so I haven't checked him out, but again those are things that if need be the league will look into," Bruins coach Claude Julien said before the fine was announced.
Per the CBA, the fine goes to the Players' Emergency Assistance Fund.
March, 28, 2015
Mar 28
6:31
PM ET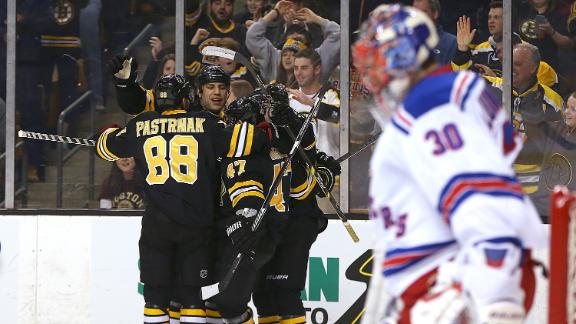 BOSTON -- The Boston Bruins made the hockey world rub its eyes Saturday afternoon.
When everyone's vision was clear, the Bruins had beaten the Eastern Conference-leading New York Rangers 4-2 at TD Garden. Playing with their trademark physical and relentless style, Boston dominated for 60 minutes, and as a result many of the Bruins' players had fresh facial cuts after the game.
It's been awhile since Boston has played this well.
It comes at a crucial time, too, with the Bruins fighting for a playoff spot. This was the type of game that could make or break Boston's season. Beating the Rangers, especially in the manner they did, should give the Bruins some much-needed confidence with only seven games remaining in the regular season.
"You saw today that when we're emotionally involved everyone plays a little bit more on the edge. It's important and today we played a solid 60 minutes and played physical all game and that's what we want," said Bruins defenseman Dennis Seidenberg.
[+] Enlarge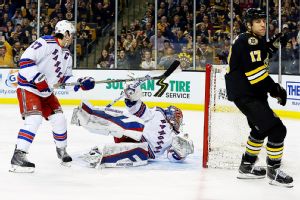 Jim Rogash/Getty ImagesMilan Lucic got two pucks past Henrik Lundqvist on Saturday.
The Bruins have enjoyed perennial success when they play this style of game, but the question remains, why haven't they been able to accomplish this on a consistent basis this season? When asked, even Seidenberg shook his head in disbelief.
"I don't know," he said. "We always talk about it, right? But for whatever reason it hasn't [happened]. We have to hold on to it and keep going from here."
It also helped the Bruins that Rangers goaltender Henrik Lundqvist returned to action for the first time since Feb. 2 (a span of 25 games).
The Bruins' Milan Lucic took the first bite, and he went back for seconds.
Lucic scored only 1:41 into the game, when the puck deflected off his skate and past Lundqvist. The play was reviewed, but it was not ruled a distinct kicking motion and the goal was allowed. It was the type of break the Bruins needed, and they capitalized, scoring twice more in the opening frame for a 3-0 first-period lead.
After the game, Lundqvist disagreed with the call on the first goal, and said it gave Boston the early momentum.
"I tried to stop the puck with my foot and didn't try to kick it. Thankfully the call went our way and right now we'll take anything we get," Lucic said.
Unlike many games this season, the Bruins kept pressuring their opponent. Boston executed on its chances. The Bruins gained a 4-0 lead early in the second period on Reilly Smith's goal, and despite a late pushback by the Rangers, Boston finished with the victory.
"Everything kept rolling after we got that break on the first goal," Lucic said. "It was good to see us step up and play the way that we can play. Right now it's just continuing to recapture what we had here tonight ... and bring this type of emotion to every game from start to finish."
There was some concern, however, when starting goaltender Tuukka Rask exited the game only 10 seconds into the second period. But afterward Bruins coach Claude Julien said it was due to dehydration. Backup Niklas Svedberg entered the game, and despite allowing two goals, he finished with 16 saves.
Rask traveled with the team to Carolina and will be ready to play Sunday against the Hurricanes.
"He's fine," Julien said.
Watching the Bruins play the way they did against the Rangers makes one wonder why Boston hasn't played this way for the majority of the season. Sure, there have been injuries to key players, but that should not affect the team's competitive level.
It's a good sign for the Bruins that they finally showed some fight, bite and urgency, especially with a postseason berth at stake.
"We were playing with a lot of physicality, a lot of emotion," said Bruins captain Zdeno Chara. "We didn't get into taking unnecessary penalties or penalties at the wrong time of the game. We were able to control our emotions and play with a lot of the physical part of our game."
Too many times this season, however, the Bruins have let an effort like Saturday's go for naught. Boston remains a dangerous team, and if it can somehow earn a playoff berth, it's possible the Bruins could face the Rangers in the first round.
So often Julien has said in order for the Bruins to be successful their best players have to be at their best. That was the case Saturday, and it needs to continue for another seven games.
"Everybody needs to respond at this point," Julien said. "Everybody can bring something to the table."
March, 28, 2015
Mar 28
3:58
PM ET
Associated Press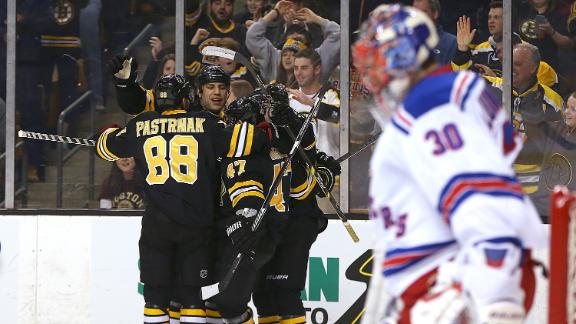 BOSTON -- Milan Lucic scored twice in the first 10 minutes, Carl Soderberg also scored in the first period, and the Boston Bruins spoiled New York goaltender Henrik Lundqvist's return after a long layoff with a 4-2 victory over the Rangers on Saturday.
Reilly Smith added a goal for the Bruins, who snapped a six-game winless stretch (0-3-3) and entered the day tied with Ottawa for Eastern Conference's eighth and final playoff spot.
Boston goalie Tuukka Rask left the game 10 seconds into the second period after stopping shots 14 shots. There was no announcement why Rask left the game and he didn't return to the bench. Backup Niklas Svedberg made 16 saves in relief.
Lundqvist missed seven weeks after a puck hit his neck. He stopped 26 shots in his return.
Rick Nash scored his team-leading 40th goal for New York and Matt Hunwick scored in the final minute.
March, 28, 2015
Mar 28
2:27
PM ET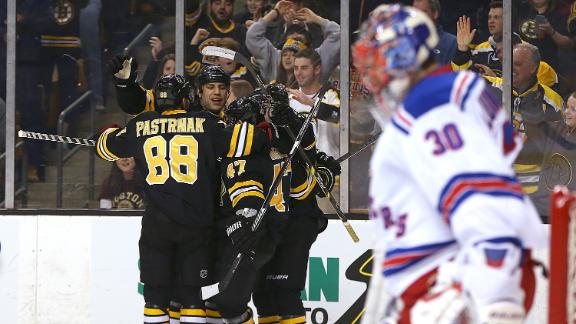 BOSTON -- Bruins goaltender Tuukka Rask removed himself from Saturday's 4-2 win versus the New York Rangers, exiting only 10 seconds into the second period.
The Bruins entered the second period with a 3-0 lead, and Rask had made 14 saves in the opening period. After the first whistle of the second period, Rask spoke with the referee and then skated off the ice and went to the locker room.
Bruins coach Claude Julien briefly checked on Rask as backup Niklas Svedberg entered the game.
Rask did not return to the ice, but after the game Julien said it was likely that Rask was dehydrated. Julien added that Rask will travel with team and should be ready for Sunday's game at the Carolina Hurricanes.
"He's fine," Julien said. "It looks like it might have been a case of dehydration, so he's scheduled to travel with us, he's scheduled to be with us and he should be fine for tomorrow."
During the first intermission, Rask wasn't feeling well, but he started the second period. After the first whistle of the period, Rask exited the ice.
"We just found out at the beginning of the second," Julien said. "He went in there and when he came off that's why I went to him said, 'Are you still having those symptoms?' He said, 'Yeah.' So I said, 'Well, let's get you out of here and put Sveddy in' -- who did a good job, by the way."
Svedberg allowed two goals and finished with 16 saves in the final two periods. It was his 18th appearance of the season.
March, 27, 2015
Mar 27
2:56
PM ET
BOSTON -- Summoning the Bill Belichick deep inside him, Boston Bruins coach Claude Julien told reporters after Friday's practice, "We're on to the Rangers."
After a disappointing 3-2 overtime loss to the Anaheim Ducks Thursday, Boston will host the New York Rangers in a Saturday matinee at TD Garden. Simply put, this game will determine the Bruins' season.
I know, I know. We've talked about benchmark games all season. But since the Bruins are fighting for their postseason lives, and in some cases their jobs, a win over the Eastern Conference's best team would help Boston regain its confidence as it attempts to reach the Stanley Cup playoffs for the eighth consecutive season.
"It's a big game. They're all big. They're playing well. We just need to regroup and get ready for them," said Bruins assistant captain Chris Kelly.
With their convincing 5-1 win over the Ottawa Senators Thursday, the Rangers clinched their fifth consecutive playoff berth, and have reached the playoffs in nine of the past 10 seasons. New York (47-19-7, 101 points) also reached the 100-point plateau for the eighth time in team history.
The Rangers arrive in Boston with victories in six consecutive road games and an 11-1-1 record in their past 13 games on opponents' home ice. Overall, New York is 24-10-2 on the road this season and lead the league with 50 road points.
Goaltending has been key for the Rangers this season. Henrik Lundqvist (25-11-3) could return to the lineup Saturday. He's been sidelined since Feb. 2 due to a serious vascular injury. In his absence, fellow netminder Cam Talbot has been outstanding, posting a 16-4-3 record in his past 23 games. Overall, he's 20-8-4 on the season.
If Lundqvist returns against the Bruins, he owns a 21-10-2 record -- with a 1.85 goals-against average and a .937 save percentage -- in 33 career games versus Boston. He's 9-5-2, with a 1.52 GAA, a .951 SP and three shutouts, in 16 career regular-season games at TD Garden. He's also allowed two or fewer goals in 12 of those 16 games.
Bruins goaltender Tuukka Rask has a 7-4-3, a 1.99 GAA and a .934 SP in 14 career regular-season games against the Rangers.
The Bruins and Senators are tied with 85 points, but Ottawa still has a game in hand. The Florida Panthers remain in the hunt, trailing by only three points. The Senators have the easier matchup Saturday when they play the Toronto Maple Leafs.
Kelly admitted after Thursday's loss that he and his teammates were watching the out-of-town scores on the video board. Failing to earn a crucial two points Thursday makes Saturday's game against the Rangers even more important.
"We're not asking anybody else to do our dirty work right now," said Julien. "It's up to us to play and win our games."
Not only does this game have direct playoff implications, it also could serve as a first-round appetizer. The players will tell you they're not thinking about the playoffs, that they're only taking it one game at a time, but Saturday's game being a possible playoff preview means each team may want to set the tone.
The Rangers reached the Stanley Cup Finals last season and have a good enough team to accomplish that goal again. The Bruins have struggled this season, but if they can earn a postseason berth they have enough ability to be dangerous.
Saturday's game will be the third and final regular-season contest between the teams. Boston defeated New York 3-0 on Jan. 15 at TD Garden, while New York posted a 3-2 win at Madison Square Garden on Feb. 4.
If the Bruins beat the Rangers, it could be a good indication of what to expect from Boston for the remaining seven games of the season. If the Rangers win, then the Bruins could be heading to the offseason, even before it officially begins.
March, 27, 2015
Mar 27
12:05
AM ET
BOSTON -- Bruins forward David Krejci was in the lineup Thursday for the first time since Feb. 20, but his two points weren't enough, as the Anaheim Ducks posted a 3-2 overtime victory at TD Garden.
After missing 15 games due to a partially torn MCL in his left knee, Krejci showed no ill effects from his hiatus, recording a pair of assists and logging 19 minutes, 45 seconds of ice time. Afterward, Krejci said he felt fine.
"It always happens when I miss a bunch of games: When you come back, you're a little bit more careful," Krejci said. "But as the game went along, I felt better and better. Hopefully, the next game all I'm going to think about is the game and not going to worry too much about other things."
Instead of having him center the team's top line, Bruins coach Claude Julien decided it would be best for Krejci to play the right wing on the line with Patrice Bergeron and Brad Marchand.
"I enjoyed it," Krejci said of being back in the lineup. "There are things I still have to work on as a winger. It's a little different, but I thought I had a decent game. I know I can do much more … Hopefully, I'll be better on Saturday."
Julien said he was pleased with Krejci's game.
"The guy's missed the first two months of the season and then five weeks just lately," Julien said. "His pace probably isn't where it should be, but he was a good addition to our hockey club tonight."
Thursday marked only Krejci's 39th game of the season. Prior to his recent absence, he also missed 20 games with a lower-body injury.
Asked how he would describe this season, Krejci said, "Tough. But I've got to stick with it, stay positive, believe in myself, believe in this group that we can do it. That's all I can control."
March, 26, 2015
Mar 26
11:51
PM ET
BOSTON -- Just as the 17,565 in attendance Thursday at TD Garden began one of the loudest "Let's go Bruins" chants of the season, the Anaheim Ducks scored at 3:09 of overtime to beat the Boston Bruins 3-2.
It was another crushing defeat for the Bruins, and despite earning one point, Boston dropped its sixth consecutive game. Fortunately for the Bruins, the New York Rangers defeated the Ottawa Senators 5-1, which means Boston and Ottawa both have 85 points. The Senators, however, have a game in hand on the Bruins.
This loss for Boston is another example of how its entire season can be described.
The Bruins had a 2-1 lead in the final minute of regulation, when the Ducks pulled goaltender Frederik Andersen for the extra attacker. With a faceoff in the Boston end, coach Claude Julien called a timeout. When play resumed, the Ducks' Corey Perry crashed the net and redirected a shot past Bruins goaltender Tuukka Rask with 38.5 seconds remaining in the period to tie the game 2-2.
The building went silent.
In overtime, the Bruins killed off a penalty, and the fans began their chant. It reached a deafening level. Seconds later, Anaheim's Ryan Getzlaf beat Rask with a sniper-like shot from the high slot to give Anaheim the victory.
Again, the fans, the Bruins and their coach were stunned with the turn of events.
Afterward, Julien was not pleased the tying goal was allowed. He felt the officials should have called goaltender interference after Perry appeared to make contact with Rask just before the score.
"It's really disappointing that goal was allowed," Julien said. "There's no doubt there's goalie interference there, and that's why they talk about reviewing those kinds of goals and coaches challenges because you can't allow those kinds of goals. This is a big point we lost tonight on a missed call. Those are the things that are hard to swallow right now."
Rask said he didn't know who collided with him on the equalizer, but he did not get the response he was hoping for when he asked the referee about the play.
"I asked the ref, and he said there was nothing there, so that's what we go by," Rask said. "I haven't seen [the replay] yet, but somebody took my legs out."
The Bruins have only eight games remaining in the regular season, and assistant captain Chris Kelly admitted he and his teammates were watching the out-of-town scores on the video board and knew the Rangers were beating up on the Senators.
These two points were crucial for the Bruins -- and they couldn't hold on.
"We don't play Ottawa again, so we can't look at what they're doing," Kelly said. "We've got to focus on playing these eight games because if we don't come ready to play for our eight games, it doesn't matter what happens with Ottawa. We'll be in a tough spot, regardless."
With the loss, the Bruins are 8-4 in overtime this season. Julien was pleased with how his team responded after Sunday's 5-3 loss to the Tampa Bay Lightning. On Thursday, the Bruins were seconds from beating the top team in the Western Conference. Instead, the Ducks answered and now have 101 points.
"We played hard," Julien. "[Anaheim] is a team that scores a lot. [I] thought our checking game was good tonight. We checked well, as far as not giving them much, and we made it the kind of game we need to make it from here on in. We can't keep giving up four or five goals a game. We've got to keep the puck out of our net, and if we do that, we'll give ourselves a chance, and tonight, in my mind, it should have been a win."
But it wasn't.
"Terrible feeling, obviously," Rask said. "We played a great game. We lost, and it's a tough one to swallow -- again."
Maybe Ottawa's loss will bring the Senators (17-3-2 in their past 22 games) back down to earth for the final stretch. If that's the case, maybe the Bruins can take advantage and win some games to separate themselves for the second wild-card spot in the Eastern Conference.
The Rangers, who clinched the season's first playoff spot with their win over the Senators, did Boston a favor. The Bruins host the Rangers on Saturday, and Boston needs a better outcome because Ottawa is playing the lowly Toronto Maple Leafs.
Thursday's loss hurts. Boston's inability to earn more than just one point could eventually become its downfall if this team does not earn a postseason berth. The Bruins were pleased with their effort, but it wasn't enough.
"At the end of the day, it's a loss, right?" defenseman Dennis Seidenberg said. "Overall, it was a pretty good checking game, a solid team effort, but it's still a loss."
March, 26, 2015
Mar 26
10:26
PM ET
Associated Press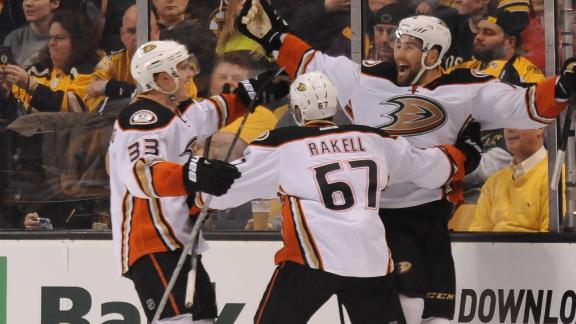 BOSTON -- Ryan Getzlaf scored 3:09 into overtime to lift the Anaheim Ducks to a 3-2 victory over the Boston Bruins on Thursday night.
Getzlaf, who also assisted on Corey Perry's tying goal late in the third period, beat Bruins goalie Tuukka Rask from the slot with a wrist shot over his shoulder to snap the Ducks' two-game skid.
Perry tied it with 39 seconds remaining in regulation when his shot ricocheted in off a cluster in front of the net. Patrick Maroon also scored for the ducks and Frederik Andersen stopped 27 shots.
Loui Eriksson and Ryan Spooner scored for the Bruins, and David Krejci had two assists in his return to the lineup after missing 15 games with a knee injury. Rask finished with 29 saves.
March, 26, 2015
Mar 26
1:23
PM ET
BOSTON -- It's been nearly a month since Brett Connolly arrived in Boston, and he's inching closer to finally playing in a game for the Bruins.
The team acquired the 22-year-old forward from the Tampa Bay Lightning on March 2 in exchange for a pair of second-round draft picks in 2015 and 2016, but Connolly suffered a fractured right index finger during his second practice with Boston. He required surgery, and with only nine games remaining in the regular season for the Bruins, Connolly hopes to return soon.
"I hope so. I'm not too sure yet. My timetable, I know I'm getting closer and I'm expecting to be back for a few games before the [end] of the regular season, but we'll see," Connolly said.
Connolly participated in the team's morning skate as the Bruins prepare to host the Anaheim Ducks on Thursday at TD Garden.
"It was a good first step today," he said. "It's encouraging, obviously. It's been three weeks, so we're trying to transition into getting me on the ice and getting me in shape. It's a step in the right direction."
Connolly was Tampa's first-round pick (No. 6 overall) in the 2010 draft, and the Bruins are expecting him to make an impact now and in the future.
Anaheim forward Nate Thompson spent five seasons with the Lightning and watched Connolly develop. Thompson, who also spent some time in the Bruins' organization early in his career, compared Connolly to former Bruins forward P.J. Axlesson.
"He could be a P.J. Axelsson kind of guy with maybe more of an offensive upside. The Bruins really got a good deal. He's a good player and a good guy and he'll fit in well," Thompson said. "He's a top-10 pick with a lot of ability, but you can see he's rounded out his game. He plays a complete game. He plays hard. He's got a heck of a shot. He finishes his checks. He benefitted by the way Tampa brought him along, letting him develop. He's going to be a really good NHL player for a long time."
March, 26, 2015
Mar 26
12:41
PM ET
BOSTON -- Bruins forward David Krejci is considered "probable" to return to the lineup Thursday against the Anaheim Ducks, according to coach Claude Julien.
Krejci participated in the team's morning skate at TD Garden and will skate in the warmup before a final decision is made.
"If I feel good enough to help the team, I'll be in," Krejci said.
He suffered a partially torn MCL in his left knee on Feb. 20 and has missed the last 15 games. Overall, Krejci has played only 38 games this season due to injury.
If he does play Thursday, Krejci will ease his way back into the lineup playing the right wing, along with Patrice Bergeron and Brad Marchand.
"I'm excited. It's something new," Krejci said. "I'm excited to play with Bergy and Marchy. It should be fun and I'm looking forward to it."
Other than a few games at wing a few seasons ago, Krejci has been a centerman by trade his entire career.
"Probably a little less responsibility for now," Julien said. "He's only played half the season and we shouldn't expect him to be our savior. Who knows how he's going to react if he plays tonight, or how he's going to be able to help us out. We don't know that. When you've been out that long, the pace at this time of the year is pretty quick, and by putting him [at wing] probably takes a little pressure off him, as far as having to do all the dirty work down low. We'll start him off there and see where it goes."
Krejci has seven goals and 19 assists for 26 points this season.
UPDATE: Krejci did indeed play Thursday night, logging 19 minutes, 45 seconds of ice time and assisting on both Bruins' goals in a 3-2 overtime loss to the Anaheim Ducks.