March, 5, 2015
Mar 5
11:54
PM ET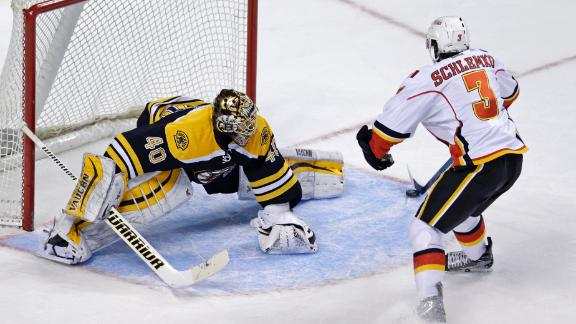 BOSTON -- General manager Peter Chiarelli tried everything he could to improve the
Boston Bruins
prior to Monday's trade deadline.
He worked the phones tirelessly in the weeks leading up to the deadline, but other GMs were either asking for too much in return, and some simply didn't want to deal with the Bruins. Their rationale was simple: Why help Boston improve when it continues to fight for a playoff spot, because if the Bruins reach the postseason they will be a dangerous team.
When the deadline came and went, Chiarelli slightly improved the Bruins, acquiring a veteran leader in
Maxime Talbot
and a prospect in
Brett Connolly
. During Wednesday's practice, Connolly suffered a broken right index finger that will require surgery; he'll miss six weeks.
It's as though someone is sticking pins in a Chiarelli voodoo doll this season.
In their first game since the trade deadline, the Bruins suffered a 4-3 shootout loss to the
Calgary Flames
Thursday at TD Garden. Boston did earn one point, which keeps the Bruins two points ahead of the
Florida Panthers
for the eighth and final playoff spot in the Eastern Conference. The Panthers also lost a shootout Thursday, 4-3 to Dallas.
Suddenly, however, there are more teams breathing down Boston's back.
The
Philadelphia Flyers
scored three goals in the third period Thursday to beat the
St. Louis Blues
, 3-1. The Flyers now have 68 points, one ahead of the idle
Ottawa Senators
and four behind the Bruins.
[+] Enlarge
Bob DeChiara/USA TODAY SportsLoui Eriksson scored once Thursday, but missed on a pair of point-blank chances.
The Bruins have 19 games remaining in the regular season and their upcoming stretch of games -- 10 in 16 days -- is crucial for their playoff chances. It starts when the Bruins host the Flyers on Saturday at TD Garden.
"We realize we have to separate ourselves from the bottom teams and try to gain some ground," Bruins goaltender
Tuukka Rask
said. "We have 10 games in 16 days coming up here and we realize that's very important. Today, our effort was really good and we battled hard. We got three goals and most nights that's enough to win the game, but not today. It'll be a real important stretch for us, and the guys are really up to the task."
With Thursday's loss, the Bruins fall to 2-7 in shootouts this season. Fortunately for Boston, there are no shootouts in the playoffs.
"They suck. They suck," coach Claude Julien said. "Yeah, that's my version of shootouts."
It didn't help that the Bruins had seven penalties, and the Flames scored a pair of power-play goals. Calgary also blocked 37 shots with the Flames'
Kris Russell
leading the way with 15. Still, this was a game the Bruins should have won.
Boston's
Loui Eriksson
scored his 15th goal of the season, but he fanned on a pair of quality scoring chances. Linemate
Carl Soderberg
had a few chances, too, but couldn't convert.
"It was ready to play, played hard, played well," Julien said of the team's overall effort.
"But again, the challenge of our lack of finish is probably the biggest concern right now. We had the better of the game tonight, five-on-five. There's no doubt we played a lot more in their end than they did in ours."
If the Bruins believe that the effort was there, then they're on the right track for the stretch run. But they need more than one point each night to earn a playoff spot. Boston is in a situation where it must win these types of games.
"We know this is our season,"
Milan Lucic
said of the upcoming games. "If we want to be in the playoffs, this is the most important time of the year for us to get our game going and get the points and not give away points, kind of like we did tonight.
"I'm more than confident with the group that we have it's a matter of being confident in those areas where we're creating scoring chances and burying them."
The teams behind the Bruins desperately want to override them. The teams atop the Eastern Conference who could be a potential first-round foe for the Bruins would like to see them implode down the stretch.
"We're in a battle here to make the playoffs. It's as simple as that, and we've got to make it happen," Julien said. "No matter what the challenges are, we've got to make it happen."
For the Bruins to be that dangerous team in the playoffs, they need to start winning games sooner than later. Boston needs to sprint into the postseason, not crawl.
March, 5, 2015
Mar 5
4:09
PM ET
By
Dougie Hamilton
| ESPNBoston.com

Bruins defenseman Dougie Hamilton has been keeping a diary for ESPNBoston.com this season. In his latest installment, he talks about the team's recent struggles, injuries on the team, and how the trade deadline affected him. (As told to Louise K. Cornetta)
A lot of unlucky things happened to us over the past month. I don't think our game slipped too much from how well we played in January. I thought we were working hard but just couldn't get bounces to go our way in games. Hopefully now in March, we can move forward and get back to our winning ways.
One area we've worked on is our power play. It's a little bit different now. We have two different units, same guys but in different positions. It's improved a lot and we've scored a couple of goals with the unit I play on, and the other unit has scored some goals too. We need our power play to do well in order for our team to be successful.
We're moving in the right direction. There is more of a complete effort in the games. We have to keep working hard. We know there is only a little over 20 games left and there are teams behind us who are pushing us. We have to make sure we are focused on every game.
I talked about some unlucky things that have happened and that includes being hit by the injury bug. We lost a goal scorer and a defenseman when
David Krejci
and
Kevan Miller
got hurt. I guess with injury there is opportunity for somebody else to play. We've seen that with
Ryan Spooner
in Krejci's spot and Bart [
Matt Bartkowski
] in Miller's. Both guys are playing well and that's what you need. It shows our organizational depth. It's a credit to the staff for having that so guys can come up and play when needed. I think that's been the story all year. There has been a ton of guys who have played and played well. It just shows how good our depth is.
[+] Enlarge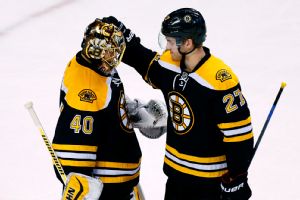 AP Photo/Charles Krupa"As a defenseman, it's great to have the confidence knowing that he's there for you," Hamilton said of goalie Tuukka Rask.
I wanted to bring up the play of our goalie
Tuukka Rask
. As a defenseman, it's great to have the confidence knowing that he's there for you. He's going to stop the pucks that are shot. I think as a defenseman you want to give him the easiest shot. He's going to save pretty much any shot that he sees. It's pretty easy to play in front of him.
As for my own play, it was nice to pass my career high in goals in January. While my scoring touch isn't something I was trying to work on, I felt over the summer I improved my shot. This season, it was more about situational stuff and getting lucky. It's not something I've given a lot of thought to outside of thinking I've definitely improved my shot and I'm shooting more. I guess scoring more is a result of that.
I also got in my first NHL fight against Colorado's
Gabriel Landeskog
. I've gotten more comfortable. I had this fight and tried to stick up a couple of times for guys. Bringing more toughness to my game is not something I'm really thinking about. It's just kind of happening. I need to keep improving that part of my game. My former roommate
Adam McQuaid
didn't give me any tips on the fight, but all my teammates said I did pretty well. I didn't really know what I was doing. It had been a while since I've gotten in a fight. You can always improve on that stuff.
Last month we had our longest road trip of the season and racked up over 10,000 miles in travel. I wish I had a good tip for combatting jetlag other than to just try to go with the flow. I really didn't feel too jetlagged this trip though. It helped that we came home in stages and flew back from Chicago rather than all the way from Vancouver. Flying for seven hours after a practice can be tough, and then having to be ready to play the next day. I think that's just an adjustment you have to make and do your best with.
A long road trip can really help bring a team closer. You're spending so much time with the guys. It's obviously different on the road because you're eating together and all that stuff. It definitely brings a team closer.
[+] Enlarge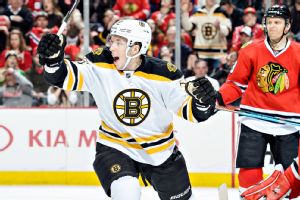 Bill Smith/Getty ImagesThe Bruins' loss of Jordan Caron made the recent trade deadline "a little more real," said Hamilton.
Most recently we just had the trade deadline pass. We didn't talk about it too much because it's out of our control. For me this year, the deadline was a little more real with Jordy [
Jordan Caron
] and my brother [
Freddie Hamilton
was traded from San Jose to Colorado] getting traded as well. In the past, I haven't had to lose a friend or seen a family member traded. This was the first year the deadline showed me the reality of what could happen. I let my brother know that change brings opportunity and you need to make the most of the opportunity.
We didn't end up trading for any defenseman. I think you have to be confident in the group that we have. I think we are and believe in each other. It's about bonding together as a team and playing the last 20 games hard.
We traded for
Brett Connolly
and Max Talbot. It was pretty unlucky what happened to Brett breaking his index finger in only his second practice with us. I feel badly for him. I knew Brett a little bit because I played with him at World Juniors. I've seen him develop since his draft year until now. He's obviously a really good player who is smart and skilled and big. It's going to be exciting to eventually play with him. Me and [Ryan] Spooner knew him and are trying to make him comfortable here. As for Max, I don't know a lot about him yet. I've watched him play over the years and know how good he is as well. Another smart player who shows leadership and skills. I'm excited to see what he can do for our team.
As mentioned, we are in homestretch time. Obviously we want to make the playoffs and to be playing some of our best hockey going into the playoffs. Right now, we need to go game by game. Our schedule is pretty tough coming up. It will be important to take every game one at a time and see what we can do.
I know it's been a long, cold, snow-filled winter. For me, the best way to combat the winter blues is to play hockey. I'm a Canadian boy though. We learned to embrace winter. I actually really don't mind it too much. I will admit it has felt like a long stretch of cold weather. So it would be nice if the snow starts to melt soon. I found it interesting to see how much snow Boston could get and it turned out to be the most ever.
March, 5, 2015
Mar 5
10:08
AM ET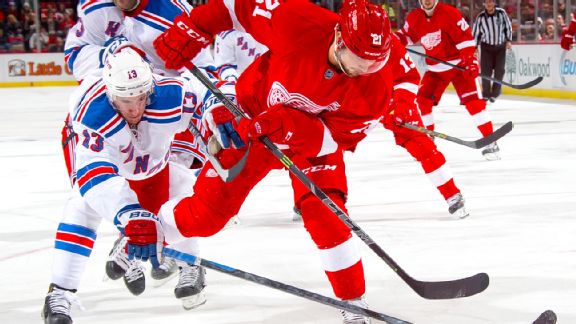 Dave Reginek/Getty ImagesAn epic Red Wings-Rangers battle Wednesday could be a preview of Eastern Conference final.
This may be the most wide-open Stanley Cup chase in the Eastern Conference the NHL has seen in years. Even with a number of Eastern teams making big deals at the trade deadline, nobody created separation.
It's going to come down to health and matchups and, most likely, a lot of luck. It makes the Eastern Conference Stanley Cup race hard to project, but after
analyzing the Western Conference on Wednesday
, here's a look at the East race and awards favorites now that the trade deadline has passed:
The Stanley Cup favorites
1. Pittsburgh Penguins
They've almost become the forgotten team in the Eastern Conference because nobody cares how they perform during the regular season. This is all just a warm-up act for the playoffs, but it's shaping up to be a good one for the Penguins.
March, 4, 2015
Mar 4
10:47
PM ET
WILMINGTON, Mass. -- It didn't take long for
Boston Bruins
newcomer
Maxime Talbot
to make his presence felt.
Acquired just prior to Monday's trade deadline, the 11-year NHL veteran and Stanley Cup winner (with Pittsburgh in 2009) announced Wednesday his intentions for the Bruins -- to beat the
Montreal Canadiens
.
A Quebec native, Talbot grew up just over the bridge from Montreal. He understands the rivalry between the Bruins and Canadiens. He also realizes the Bruins have struggled against the Canadiens the past couple of seasons, including a second-round loss to Montreal in the Stanley Cup playoffs last spring.
Montreal also swept the regular-season series, 4-0. In fact, Boston has only one win in its past 11 games against Montreal, including six straight losses at TD Garden. While it's obvious the Canadiens are messing with the Bruins' psyche, Talbot believes his new team's luck is about to change.
"Hopefully I can help this team turn it around and I would love to play them in the playoffs," he said. "I know they're a great team, obviously, and they've showed it throughout this year and last year, but it's a rivalry that's worth playing in and you remember when your [career] is done. You're like, 'These games were awesome,' and hopefully I can be part of those."
Maybe Talbot's enthusiasm will be infectious, but coach Claude Julien seemed a bit guarded talking about the newcomer's comments about beating the Canadiens.
"It means he's a new guy and hasn't been around much, right?" Julien said with a smile.
When the Bruins won the Stanley Cup in 2011, assistant captain
Patrice Bergeron
brought the Cup home to Quebec, and Talbot witnessed firsthand what it meant to those who attended Bergeron's celebration.
Now Talbot wants to return to Montreal in the summer bragging about a win over the Canadiens in the playoffs.
Talbot followed the Canadiens and the Quebec Nordiques as a boy, but said he was not a die-hard fan of either team. He was 9 years old when the Canadiens most recently won the Stanley Cup, in 1993.
Because tickets were too expensive, Talbot said he attended only one game at the old Montreal Forum, and he has never watched a game as a fan at Bell Centre.
He claims he has never had a true hatred for the Bruins, but he knows all about the rivalry. "There was never really any hatred and now it's certainly love for sure," Talbot said.
During his career he has played for both the
Pittsburgh Penguins
and the
Philadelphia Flyers
, who make up another one of the best rivalries in the NHL.
"Penguins-Flyers is one of the good ones, but Montreal-Boston is the best one around the league," Talbot said.
It was only Talbot's first day with the Bruins, but his new teammates know exactly the type of player he is and how he can help in Boston.
"He's a guy who will give everything he can and he's got a lot of character and personality," Bruins forward
Daniel Paille
said. "In other words, he has that Bruins mentality where he's going to give it everything he can."
March, 4, 2015
Mar 4
10:19
PM ET
WILMINGTON, Mass. -- Coming soon to a theater near you: The Bad News Bruins.
Even Murphy's Law has nothing on these guys. Nothing, or at least very little, has gone right for the
Boston Bruins
during this injury-riddled season. And as this team continues to fight for a playoff spot, it received more bad news Wednesday.
Newly acquired forward
Brett Connolly
suffered
a displaced fracture
of his right index finger and will be sidelined six weeks. It was only his second practice with the Bruins when he was hit in the hand by a shot and exited the ice in obvious discomfort.
[+] Enlarge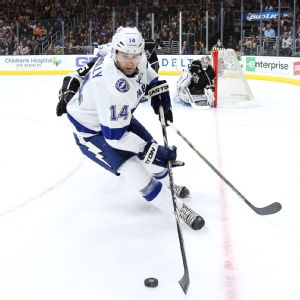 Bruce Bennett/Getty ImagesThe Bruins were hoping for a boost from Brett Connolly but will now have to wait.
Only a few minutes later, team trainer Don DelNegro emerged from the locker room and made his way over to general manager Peter Chiarelli's rink-side office at Ristuccia Arena. As DelNegro delivered the news that Connolly was on his way to be examined by the team's hand specialist, Chiarelli could be seen shaking his head in disbelief.
It didn't take long for the team to receive the results of the X-rays that indicated a break.
In the early-morning hours Monday, Chiarelli sent a second-round draft pick in both 2015 and 2016 to the
Tampa Bay Lightning
in exchange for the 22-year-old Connolly. The Bruins were hoping Connolly, a former first-rounder (No. 6 overall) in 2010, would have an impact this season and beyond.
His Bruins career, at least for now, has been placed on hold.
Connolly's injury could have another effect on the team from a business standpoint. On Jan. 16, the Bruins officially committed to keeping rookie
David Pastrnak
in the NHL for the remainder of the season. Chiarelli said at the time there could be games the rookie would sit out if it seemed like the workload was too much and it was hindering his development. Pastrnak has played 25 games for the Bruins this season, and with only 19 remaining, if he reaches 40 regular-season games, that would allow him to become a free agent one year earlier, per the CBA.
Now that Connolly is injured, Pastrnak will reach that milestone.
Chiarelli, or coach Claude Julien, does not want to make excuses for the team's inconsistent play this season. No matter how this season ends, the abundance of injuries will be the GM's defense during his exit meeting with team president Cam Neely.
Entering Thursday's home game against the
Calgary Flames
, the Bruins have endured 107 man games lost this season, including 72 by defensemen.
Forward
David Krejci
, who is currently sidelined with a partially torn MCL in his left knee, has already missed 24 games with various injuries -- and if he does not return by the finale on April 11, it will mean a total of 44 games missed for the team's top-line center.
Captain
Zdeno Chara
missed 19 games with a knee injury. Defenseman
Kevan Miller
was limited to 41 games due to a right shoulder injury that recently required surgery. Fellow blueliner
Adam McQuaid
(broken thumb) missed 18 games.
Only four players --
Reilly Smith
,
Dougie Hamilton
,
Carl Soderberg
and
Dennis Seidenberg
-- have played in all 62 games so far.
The Bruins don't own exclusive rights on injury excuses this season, because a lot of NHL teams have been hit with the injury bug. It just seems more magnified in Boston because of the team's sudden struggles this season.
If anyone is cursed this season, it's Chiarelli.
He's been criticized for trading
Tyler Seguin
. He's been criticized for mismanaging the salary cap, which forced him to trade
Johnny Boychuk
. Fans have picked and prodded at Chiarelli, and some believe he should lose his job if the Bruins fail to make the playoffs or lose in the first round.
Well, that shouldn't be the case.
We've discussed the Seguin deal time and time again. He would not be producing in similar fashion if he were still in Boston. Like it or not, Seguin's lack of performance and immaturity off the ice forced the Bruins to trade him to the
Dallas Stars
.
As far as Boychuk is concerned, Chiarelli knew the Bruins would not be able to afford the veteran defenseman once he became an unrestricted free agent at the end of this season. He will likely earn in the range of $6 million per year, and that price was too steep for the Bruins. In order to get something in return, Chiarelli dealt him to the
New York Islanders
for a second-round pick in 2015 and 2016 and a conditional third-rounder in 2015.
If the Bruins earn a postseason birth -- and I still believe they will -- Boston then becomes a dangerous team in the Stanley Cup playoffs. The only team that will give them a problem is the
Montreal Canadiens
. Other than that, the East is wide open and the Bruins can beat anyone.
Chiarelli worked for weeks leading up to Monday's trade deadline to improve the team, but a lot of other GMs made it difficult for him because their asking prices were too high. Opposing teams were hesitant to make deals with Chiarelli because no one wants to help the Bruins improve, knowing how dangerous they could be in the playoffs.
The only thing that will help heal the Bruins this season is a Stanley Cup, and that's still a possibility. But if Boston's luck doesn't turn around quickly, this film will be rated F.
March, 4, 2015
Mar 4
3:44
PM ET
WILMINGTON, Mass. -- Newly acquired Boston Bruins forward Brett Connolly broke a finger on his right hand and will be out six weeks.
Connolly was hit in the hand by a puck during Wednesday's practice at Ristuccia Arena. He exited the ice early and was examined by the team's hand specialist.
Bruins coach Claude Julien said Connolly will have surgery to repair the finger.
The Bruins acquired Connolly on Monday from the Tampa Bay Lightning in exchange for a pair of second-round draft picks in 2015 and 2016. The former first-rounder practiced with the Bruins on Tuesday and was participating in drills Wednesday when the shot hit his right hand and broke his finger.
March, 4, 2015
Mar 4
2:46
PM ET
Former
Colorado Avalanche
forward Max Talbot made his debut at Bruins practice on Wednesday.
March, 4, 2015
Mar 4
12:56
PM ET
WILMINGTON, Mass. -- Newly-acquired
Boston Bruins
forward
Brett Connolly
exited the practice ice early after being hit in the right hand by a puck and will be examined by the team's hand specialist.
After practice, Bruins coach Claude Julien had no other update on Connolly's condition.
The Bruins acquired Connolly on Monday from the
Tampa Bay Lightning
in an exchange for a pair of second-round draft picks in 2015 and 2016. The former first-rounder practiced with the Bruins on Tuesday and was participating in drills Wednesday when he was injured.
March, 3, 2015
Mar 3
5:08
PM ET
By
Kyle Brasseur
| ESPNBoston.com
WILMINGTON, Mass. -- While some fans of the Bruins clamored for more as Monday's trade deadline came and went, several players sighed with relief at the way things ended up.
All the core members of the team remain in place.
To get big talent, teams often need to give up big talent, but the Bruins didn't go that route. Instead, the team kept things simple, remaining focused on what they already have in place and adding complementary pieces to enhance that.
As players spoke following the team's practice Tuesday morning at the Ristuccia Arena, the consensus was that the vote of confidence in the team's current group by General Manager Peter Chiarelli has players fired up to get things going for the remainder of the season.
[+] Enlarge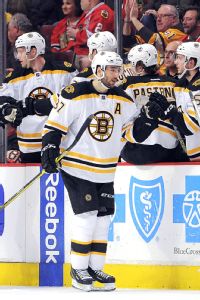 Icon Sportswire/AP Images"We didn't really need any big blockbuster trades, we just needed a couple of little pieces," said forward Brad Marchand.
"The first thing to me that sticks out is that he believes in this team and what we have," alternate captain
Patrice Bergeron
said. "We have to go out there and prove to him that we have what it takes and that we just need a chance to get ourselves in the playoffs and go from there."
"We didn't really need any big blockbuster trades, we just needed a couple of little pieces," forward
Brad Marchand
said. "The guys that we got are phenomenal players so we're very happy with what we have and very confident with our group. I'm sure we're going to be better for it in the long run."
In their acquisitions of veteran forward
Maxime Talbot
from the
Colorado Avalanche
and former first-round winger
Brett Connolly
from the
Tampa Bay Lightning
, the Bruins added experience and depth to the club. Where the two players will fit remains to be seen, but coach Claude Julien is excited with the extra options that he now has on hand.
"There's going to be some good competition," Julien said. "At the same time, I think it's up to me and my coaching staff here with the players to make it work. We have a good team; now it's a matter of going out there and showing it."
Connolly arrived in Boston early Tuesday morning and joined the team's fourth line during practice, wearing No. 14. Despite having a bag with the Lightning's logo on it at his locker after practice, he looked comfortable during his time with his new teammates on the ice, even leading their group stretch.
"It was good, the guys have been great," Connolly said of his first day. "Welcomed me right away."
Connolly is a player the Bruins have seen first-hand in his time with the Lightning, and the team is hoping the best is yet to come for the 22-year-old. For his part, Connolly feels that he had just begun to hit his stride this season and has high expectations for himself. Meanwhile, Julien thinks that freeing Connolly from playing behind the likes of star right-handed shooters
Steven Stamkos
and
Ryan Callahan
could go a long way for his confidence.
"He's got a good shot, good size," Julien said. "We certainly have a shortage of right-hand shots here, so I would expect him to help us immediately. I think there's a lot that can help us right away."
In Talbot, expected to arrive Tuesday night, Julien is hoping for similar locker room leadership to what fourth-line center
Gregory Campbell
provides. Having won a Stanley Cup in his time with the
Pittsburgh Penguins
, Talbot knows what it takes to go all the way, something his new teammates feel the team has needed this season.
"We can definitely use that right now," Marchand said. "We lost a couple of guys with really good leadership. It's great to get another guy back right now that's been through a lot."
Whether the new additions will be enough for the Bruins to at least hold on to the eighth spot in the Eastern Conference standings that they currently hold remains to be seen. For now, the team is happy with what they have and expect a strong push toward the playoffs.
"At the end of the day it doesn't matter what position you finish in, as long as you end up in a playoff spot," Marchand said. "We don't need to run away with the President's Trophy; we did that last year and it didn't work out for us. The big thing is that we play really good hockey from here on out and we're confident in the group we have."
March, 3, 2015
Mar 3
2:31
PM ET
By
Kyle Brasseur
| ESPNBoston.com
WILMINGTON, Mass. -- Boston Bruins forward
Gregory Campbell
returned to practice Tuesday morning after being kept off the ice for a week with an upper-body injury.
Campbell suffered the injury during the team's 6-2 win over the Chicago Blackhawks on Feb. 22 and has missed the team's last three games. Asked whether he would be available for Thursday night's game against the
Calgary Flames
, Bruins coach Claude Julien said he isn't sure, as Campbell has yet to be cleared for contact.
"I haven't talked to the trainers," Julien said. "We'll see what tomorrow brings and we'll figure it out from there."
At the start of practice, Campbell skated on the fourth line between
Chris Kelly
and
Brian Ferlin
.
Newcomer
Brett Connolly
, acquired from the Tampa Bay Lighting on Monday, eventually joined the trio midway through practice. He will wear No. 14 with the Bruins. The team's first three lines remained unchanged.
Julien said he has yet to determine which line Connolly will play on.
As for the team's other trade-deadline acquisition, veteran forward
Maxime Talbot
, Julien said he is expected to arrive in Boston on Tuesday night. A center with the
Colorado Avalanche
this season, Talbot's role in Boston remains to be seen.
"It's good to have some options, it's good to have some center men that are able to take draws and some interchangeable parts," Campbell said. "Whatever they decide, I'm sure they'll do what's best for the team."
Defenseman
Adam McQuaid
was not present for practice Tuesday. Julien confirmed afterward that he was given a maintenance day.
March, 3, 2015
Mar 3
1:23
PM ET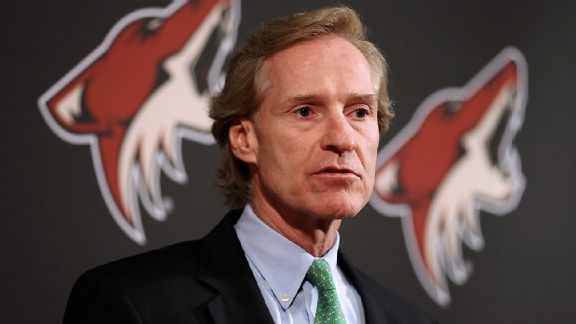 Christian Petersen/Getty ImagesCoyotes GM Don Maloney jump-started his team's rebuild process with shrewd moves at the deadline.
After the dust settled, the buzzer had finished buzzing and those final trades that trickle in after the deadline finally dried up,
Arizona Coyotes
general manager Don Maloney admitted it was good to be done with the process. The trade deadline is a stressful time for a club; it's intense.
It was a ton of work, and now the next couple of months for the Coyotes -- well, they could be miserable.
"I think you're being kind," Maloney said jokingly.
It's not going to be easy winning games without
Antoine Vermette
and
Keith Yandle
. Things weren't going particularly well when they were around, after all.
But during the course of the weekend and through Monday's deadline day, no team did more to improve its outlook than the Coyotes. It was dramatic, and the rebuild in Arizona was absolutely fast-tracked.
"You always hope so, No. 1," Maloney said Monday evening. "It may depend on how this draft goes and where we end up drafting. Obviously, if we draft very high in the top couple slots, that's when you can really jump-start this reset."
Even if they don't, the Coyotes loaded up on picks and prospects to join an organization that already has good young players coming, and a franchise defenseman in
Oliver Ekman-Larsson
.
Add Connor McDavid to Max Domi,
Anthony Duclair
, Maxim Letunov, Brendan Perlini and
Henrik Samuelsson
, and this won't be a five-year process. It may not be a two-year process. In all, the Coyotes added Letunov, Duclair,
John Moore
, a 2015 first-round pick, 2016 first-round pick, 2015 second-round pick and already had an extra third-rounder from the
Devan Dubnyk
trade with the Wild.
The deadline is usually about the contending teams loading up to win a Stanley Cup. That's usually the focus. But the Coyotes won the deadline. It might not have even been all that close.
Here's how the rest of the teams rank in their performance during the last few weeks of the trade season, and for those who missed any of my trade grades,
click here
.
2. Philadelphia Flyers
.
To continue reading this article you must be an Insider
March, 3, 2015
Mar 3
10:44
AM ET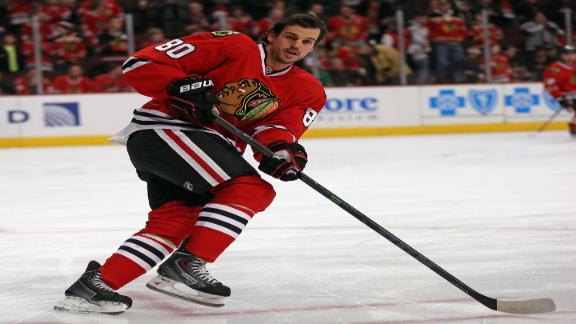 Well, it certainly wasn't for a lack of trying on the part of Boston Bruins general manager Peter Chiarelli.
When you talk to other teams around the league, what they say is that nobody was on the phone more than Chiarelli in the two weeks leading up to Monday's deadline, trying all he could to get the pieces he was looking for.
The toughest pill was probably finishing runner-up to the Chicago Blackhawks in the Antoine Vermette sweepstakes. But Chiarelli also tried on Erik Cole, Chris Stewart and Curtis Glencross, among others.
He even talked to the Anaheim Ducks about Devante Smith-Pelly last week, but saw the rival Montreal Canadiens get him instead because they had the piece the Ducks were looking for in a young, skilled winger (Jiri Sekac).