April, 18, 2014
Apr 18
7:37
PM ET
April, 18, 2014
Apr 18
1:10
PM ET
BOSTON -- Pavel Datsyuk's resume speaks for itself.
The
Detroit Red Wings
veteran centerman has won two Stanley Cups (2002, 2008), three Selke Awards, four Lady Bying Trophies and he's a four-time All-Star. The 35-year-old Russian has compiled 804 points in 824 career games in the NHL.
Safe to say he's one of the best players in the world.
In 13 career games against the
Boston Bruins
, Datsyuk has three goals and eight assists for 11 points. When the puck drops for Game 1 of the Stanley Cup playoffs Friday night at TD Garden, he will be a focal point for the Bruins.
When his line is on the ice, it's a safe bet Bruins coach Claude Julien will send his top two-way player,
Patrice Bergeron
and his linemates, along with defenseman
Zdeno Chara
out against Datsyuk.
Chara has always had great respect for Datsyuk and Boston's captain knows what he needs to do.
"There's no secret," Chara said. "You always have to be aware of him. He's one of the best players in the league, in the world and anytime you give a guy like that time and space he's going to make something happen, so you just have to make sure you take as much as possible away from him."
Bergeron concurs.
"It's always a great challenge," Bergeron said. "He's a terrific player and he's won before, so he's really a great player and he's tough to play against. It's a great challenge for everyone. He doesn't quit on any plays or any pucks," Bergeron said. "You just need to be aware of that when you're playing against him."
April, 18, 2014
Apr 18
1:05
PM ET
BOSTON -- Each of the Bruins' last three first-round playoff opponents have taken them to overtime in Game 7.
In 2011, Boston defeated Montreal 4-3 in overtime. In 2012, the
Washington Capitals
beat the Bruins 201. In 2013, the Bruins defeated the
Toronto Maple Leafs
5-4.
Bruins forward
Milan Lucic
can't explain why they've had so much trouble in the first round each year, but he's hoping that changes against the Red Wings.
"I don't know," Lucic said. "It just seems to be the biggest battle for us and the hardest one to get through. I don't think it's going to be any different heading into this series, so we've got to be prepared to bring our best because you talk about the last three years, the other team hasn't taken us lightly and they've given us their best. Maybe we kind of overlooked the other teams a little too much where we kind of got ourselves in holes and got into a Game 7 overtime situation in the last three years, so hopefully our mindset is where it needs to be in order for us to bring our best."
Earlier this week, Bruins coach Claude Julien was doing his homework and found a stat that he found interesting, saying that 40 percent of the so-called underdog teams have won the first round.
"That's a pretty high number in the first round," Julien said. "So that means there's a lot of upsets going on, so it's not just us. It just means that when you get into the playoffs, you've got sometimes one of the top teams playing against a team that has nothing to lose, and it just goes to show you what pressure does versus we have nothing to lose and everything to gain."
The Bruins played their best hockey in the month of March, posting a 15-1-1 record. In April, however, Boston went 2-2-3 down the stretch and let their guard down a little after they clinched the Presidents' Trophy.
"Just because we had a couple of iffy games there at the end in Minnesota, Winnipeg, doesn't mean we feel like we're limping into the playoffs, or maybe not going at full tilt and let our guard down. I think this year, we've played pretty consistent and we hope that's going to be helpful for us here in the first round," Julien said.
April, 18, 2014
Apr 18
12:36
PM ET
BOSTON -- When asked about the status of Bruins forwards
Daniel Paille
and
Chris Kelly
for Game 1 of the Bruins-Red Wings playoff series, Boston coach Claude Julien simply said: "No updates on those guys."
Paille and ailing defenseman
Adam McQuaid
both skated on their own Friday morning before the team's optional morning skate. It was the first time Paille took the ice since suffering what appeared to be a head injury Saturday against the
Buffalo Sabres
. McQuaid has been sidelined since Jan. 19 with a quadriceps injury.
Kelly missed the final three regular-season games due to back spasms.
Julien would not elaborate on his possible lineup for Game 1 against the Red Wings, but it appears
Justin Florek
could be in the lineup. He was recalled from Providence earlier in the week, and during practice he has been playing on Boston's third line, along with
Carl Soderberg
and
Loui Eriksson
.
Without Paille,
Jordan Caron
would play on the team's energy line with
Gregory Campbell
and
Shawn Thornton
.
April, 18, 2014
Apr 18
12:31
PM ET
BOSTON -- As the Bruins prepared to face the
Detroit Red Wings
in Game 1 of the Stanley Cup playoffs Friday night at TD Garden,
Patrice Bergeron
remembered what it was like to play in his first NHL postseason game.
He was an 18-year-old rookie during the 2003-2004 season when the Bruins faced the
Montreal Canadiens
in the first round. At the time, the Quebec native had played 71 regular-season games and was about to face his hometown team.
Bruins veteran Marty Lapointe pulled Bergeron aside to help the rookie calm his nerves.
"It was a great moment for me playing Montreal and all the family watching," Bergeron said. "I remember the nerves were there but Marty calmed me down by saying that and he was right. I was there all year, so it was just about keeping that going."
Now it's time for Bergeron to play the role of veteran. The Bruins'
Reilly Smith
just completed his first full season in the NHL and Friday will be his first taste of the Stanley Cup playoffs, so Bergeron's advice to Smith, and other less-experienced Bruins players, will be simple.
"Just play their game and there's a reason why they're here. It comes down to playing hockey," Bergeron said. "You can't think too much out there. It's about following your instincts and that's what I'll tell them. They've been great all year and just keep doing what they've been doing."
As Bergeron's linemate, Smith played well this season. He experienced the normal ups and downs of the season. When puck drops against the Red Wings, Smith said he hopes his nerves will be in check.
"We'll see, I guess," he said. "Having the guys around me and playing with Bergeron will help a lot because having leadership around you tends seep off them and you kind of pick it up."
Another aspect Smith will deal with this series is playing against his older brother, Brendan, who is a defenseman for the Red Wings.
"I don't think we're going to talk much throughout the series, though," Smith said with a laugh.
The Smith family will be attending each game, so which one will they be rooting for?
"They'll probably be wearing the jersey sewed down the middle with Boston and Detroit," Smith said. "They're just really excited both of us have this opportunity."
April, 18, 2014
Apr 18
11:28
AM ET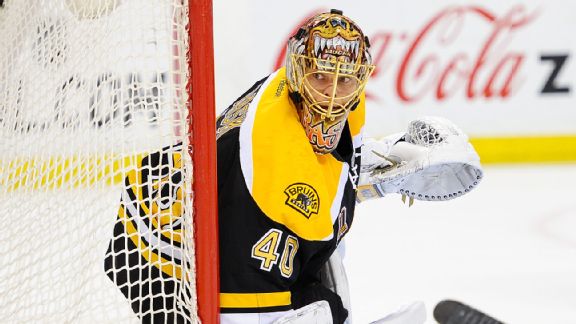 Brian Babineau/NHLI/Getty ImagesConn Smythe Trophy favorite Tuukka Rask has proven solid in past postseason play.
It must have seemed like an eternity, but the wait is almost over for
Boston Bruins
fans, who finally get to see their team make its 2014 postseason debut tonight against the
Detroit Red Wings
. It's the final first-round series to begin, and it has a couple of players who are among our favorites to win the Conn Smythe Trophy -- awarded to the most valuable player during the Stanley Cup playoffs.
The Bruins are ESPN.com's consensus pick to win the Stanley Cup, in part because of their potentially easier path through the playoffs. If it happens, it'll come with recognition for the Bruins' stars. Earlier this week, Bovada released its Conn Smythe odds -- here's a look at some of the most intriguing choices before the betting lines shift too much:
Best bets among the favorites
Tuukka Rask, Boston Bruins
(12-1)
Goalies are always a safe pick when it comes to the Conn Smythe, winning it 40 percent of the time over the last 10 postseasons. Last year,
Patrick Kane
prevented a third straight goalie from winning, although if he had a vote, he would have given it to teammate
Corey Crawford
. You don't win a Stanley Cup without a strong performance from a goalie, and Rask is a proven playoff performer on a team that has the best path to the Stanley Cup finals.
To continue reading this article you must be an Insider
April, 17, 2014
Apr 17
10:54
PM ET
ESPN.com news services
Detroit Red Wings center Henrik Zetterberg (back surgery) and defenseman Jonathan Ericsson (broken finger) are expected to miss the team's first-round playoff series against the Boston Bruins.
"We were always shooting for Round 2," Zetterberg said Thursday. "If it's just before that I will be happy."
The Red Wings' captain had back surgery Feb. 21.
"I think the timeline is eight weeks without contact," he said previously. "That's what the doctors say and that's what we're going to stick with, and then we'll re-evaluate after that."
Ericsson was hit by a shot and suffered a broken finger March 18 against the Toronto Maple Leafs. He had a goal and 10 assists with a plus-2 rating in 48 games this season.
Zetterberg said he felt great when he went to the Winter Olympics. After Zetterberg played his one and only game as Sweden's captain, he woke up in pain because a lingering back problem that became debilitating. He had surgery about a week later in New York.
"This had to be done," he said. "We went in, took away two pieces from my disk that were pushing on the nerve. Once this is healed and properly rehabbed, I shouldn't have an issue again."
Despite not playing for Detroit since Feb. 8, Zetterberg had 48 points this season.
Detroit is in its 23rd straight postseason.
The Associated Press contributed to this report.
April, 17, 2014
Apr 17
10:19
PM ET
[+] Enlarge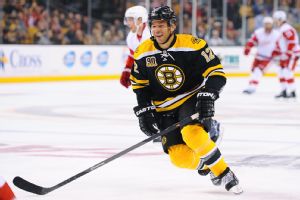 Brian Babineau/NHLI/Getty ImagesJarome Iginla's 17th NHL season -- and first with the Bruins -- might represent his best title shot.
BOSTON -- There are only 2,372 names engraved on the Stanley Cup.
Each one is deserving of its place on hockey's holy chalice. Unfortunately, there are other players who are more than worthy to have their name etched in silver but fell short for one reason or another.
If there's one current NHLer who should have his name on the Cup, it's Jarome Iginla.
Sure, the Cup has eluded other elite veterans around the league, but no one deserves it more than Iginla. The current Boston Bruins forward has accomplished just about everything else in his career, reached lofty milestones and assumed a role as an ambassador for the game.
As a longtime member and captain of the Calgary Flames, Iginla and his teammates came agonizingly close to a Cup championship in 2004 but lost in seven games to the Tampa Bay Lightning in the finals. In his first season in Boston, Iginla has a real chance to finally win a championship, and his teammates are motivated to help him accomplish that goal.
April, 17, 2014
Apr 17
8:20
PM ET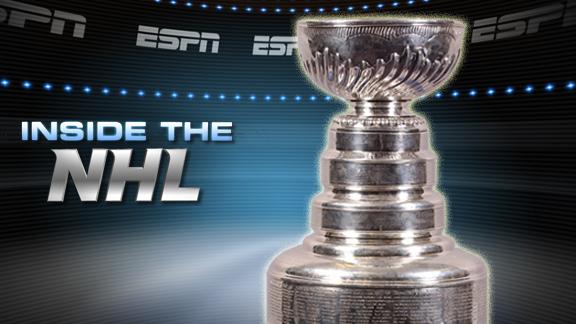 When Detroit Red Wings center Gustav Nyquist attended the University of Maine, the Black Bears' staff conducted on-ice tests to measure just how fast their skaters were.
One was called the Flying 50, where skaters took off from one goal, skated around the far net and came back. Laser timers between the blue lines recorded how long it took them to skate through the neutral zone.
The other was more grueling. The Chicago Three Lap required skaters to skate three laps around the rink, then rest three minutes; skate another three laps around the rink and rest three minutes; then skate three more laps.
When Nyquist arrived at Maine from Sweden as a skinny freshman, his performance in those tests didn't lead you to believe he might one day be in the NHL blowing past Zdeno Chara to score a crucial goal for a team pushing to make the playoffs.
"He was quick, but not fast," said former Maine head coach Tim Whitehead. "Initially, it was quick bursts. Now you see him using those quick bursts of speed and he can really sustain it now."
Watching Nyquist now -- physically filled out, his game matured by three years in college, another 122 games in the American Hockey League and 97 games in Detroit over the last three seasons -- you wonder how it was possible for the hockey world to miss the guy who scored 28 goals in 57 games this season to help lift the Red Wings into the playoffs.
April, 17, 2014
Apr 17
7:02
PM ET
BOSTON -- Bruins defenseman
Dougie Hamilton
still has a long way to go before he reaches his potential.
And there's no better time for that to happen than right now.
On the eve of Game 1 against the
Detroit Red Wings
in the first round of the Stanley Cup playoffs, it appears that Bruins coach Claude Julien will have Hamilton paired with captain
Zdeno Chara
. In the past, when puck dropped on the playoffs, Chara and
Dennis Seidenberg
were a pair, one that is considered the best shutdown duo in the game. But with Seidenberg sidelined with a knee injury he suffered in December, Hamilton has an opportunity.
Hamilton was limited to only seven postseason games last season as he watched from press level as a healthy scratch, so it'll be interesting to see how he reacts to the playoff pressure. He says he's ready.
"I'm more comfortable," he said. "All year I've been more comfortable, especially now going into the playoffs. It was a lot different last year not really playing, so right now it's just trying to win. For me personally, I'm just trying to play my best and make sure I'm ready for the playoffs and that the coaching staff can trust me and my teammates, as well."
[+] Enlarge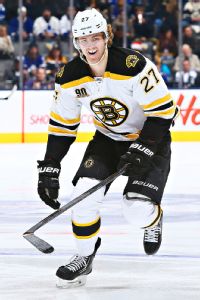 Getty ImagesAfter being a healthy scratch for most of last year's playoffs, Hamilton says he's eager to try to help his team win a Stanley Cup.
Ever since the Bruins selected him in the first round (ninth overall) of the 2011 NHL Entry Draft, the now-20 year-old defenseman has progressed in his development.
"I think he's made big strides from the time he got here for the very first time until today," Chara said. "He's improving. He's learning more and more, so that's a great sign. He's got to continue to do that, just like everybody else."
It's no secret the Bruins are a defense-minded team, especially in the playoffs. When the Bruins are at their best defensively, it equals a potent offense. Hamilton is comfortable jumping up into the play and can contribute offensively with his puck-moving ability, but this spring he needs to be better in the defensive end.
"Defending is so important in the playoffs, and I think that's an area that Dougie's really improved, and he will continue to improve," said Bruins general manager Peter Chiarelli. "But he's just getting stronger as a man, as a young man, he's getting more confident with his body and with his strength."
Chiarelli and Julien have been pleased with Hamilton's defensive work and his ability to quickly move the puck on the breakout. He's finding ways to skate the puck out of trouble and create offensive opportunities in the transition game, too.
"His skating has improved," Chiarelli said. "But for me, the biggest thing is his defending and his strength on the puck, and it's gotten so much better. It still has to get better, because I project him to be a top defenseman, so he's on the right track."
Hamilton had to learn on the fly during his rookie season. After the labor dispute ended in January 2013, the NHL played a lockout-shortened, 48-game season. For the majority of that season, Hamilton was paired with Seidenberg. This season, after the veteran's injury, Hamilton and fellow defenseman
Johnny Boychuk
both played with Chara until Julien was comfortable enough to stay with the Chara-Hamilton pairing.
The hope was that Chara's work ethic and attention to detail would rub off on Hamilton.
In some aspects it has, but Hamilton still has room to hone his skills.
"[Chara's] a good teacher because he is a good example," Julien said. "You know, how he prepares, how consistent he is throughout the year, all the stuff that comes with it, stuff that goes on in the dressing room whether it's off-ice workouts, all that stuff. He's a great example, and Zee talks a lot on the ice, talks a lot on the bench, so he's had a good mentor."
No one on the team respects defensemen more than goaltender
Tuukka Rask
. There have been plenty of times in the past two seasons when Rask has had to bail out his teammates, and on more than one occasion he helped save a victory for the Bruins.
Rask is also an honest goalie. He tells it like he sees it. In terms of Hamilton's play, Rask has seen improvement.
"I think he's taking the steps that everyone wants him to take," Rask said. "He's trying to learn that defensive game and improve on that. He obviously has that offensive ability, jumping into the play and scoring some goals and getting the points, but he's really taking pride in defending the net and getting better at that, so I like it."
April, 17, 2014
Apr 17
2:57
PM ET
BOSTON -- In the moments before the horrific events at the finish line of last year's Boston Marathon, all was quiet inside the TD Garden.
Earlier in the day, the
Boston Bruins
held their normal game-day skate as they prepared to host the
Ottawa Senators
. In the afternoon, the players were home taking their normal game-day naps. The hallway outside the Bruins' locker room was dark. The arena was, too. All of the televisions in the press room were off.
Only a few miles away, at 2:49 p.m., two bombs went off on Boylston Street.
[+] Enlarge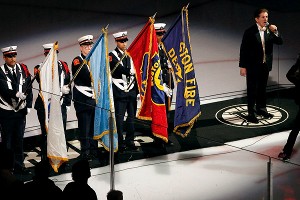 Jim Rogash/Getty ImagesAt Boston's first major sporting event after the marathon bombings, Rene Rancourt started out singing the anthem solo but soon lowered his microphone as the crowd took over.
Within moments of the blasts, the news reached the Garden. The televisions in the press room were switched on and people stood around, watching in disbelief. The images were surreal.
Less than an hour later, Bruins players began to arrive for work. They had heard about the terrorist attacks and many of the players wondered if their game against the Senators would be postponed. Not knowing whether the game would be played, the Bruins tried to go about their normal pregame routines.
It didn't take long, however, for the Commonwealth of Massachusetts, the city of Boston, the NHL and the Bruins to decide to postpone the game. The players left the Garden and returned home to their families.
Bruins forward
Brad Marchand
remained at home all day because he was dealing with a concussion.
"I was taking a nap and my girlfriend came in and told me that some bombs went off. I really couldn't believe it," he said. "I really didn't know what to do. You go in shock and everything's a blur. Obviously, with how tragic things were and how upsetting, you feel helpless and you want to be able to do something. It was just a very, very sad moment."
Two days later, as the manhunt for the bombing suspects continued, the Bruins were the first pro team to play a game in the city.
It was an emotional pregame atmosphere as the Bruins and their fans honored those affected by the tragedy. Rene Rancourt sang a national anthem that he later said he would never forget. The Boston icon stood nervously on the ice, with the Boston Fire Color Guard by his side. As the 17,565 fans in attendance stood, watched and listened, Rancourt began to sing.
Only a few words into the national anthem, Rancourt motioned to the crowd to join in. The atmosphere was electric as Rancourt stepped aside and let the crowd sign the rest of the anthem in unison. The Bruins eventually lost to the
Buffalo Sabres
3-2 in a shootout.
The Bruins subsequently had another game postponed on Friday, the day the city was shut down while the manhunt for the bombing suspects was developing. Current Bruins forward
Jarome Iginla
was a member of the
Pittsburgh Penguins
and remembers what it was like to be in the team hotel, watching the events unfold.
"It was very sad and a scary time," Iginla said. "It puts things into perspective when you're preparing for a game and it's cancelled, and it's obviously on the back burner because there are so many more important things than hockey and how fortunate we are to get to play it. It put things into perspective."
After one suspect was killed and the other captured late Friday night in Watertown, Mass., the decision was made to play the game on Saturday. During pregame warm-ups, players on both the Bruins and visiting Penguins wore "Boston Strong" T-shirts and hats that honored the state police as well as the Boston and Watertown police departments.
"We all recognize the fact that emotionally for a lot of the fans and people that enjoy sports, we can help a little bit with the healing," Bruins coach Claude Julien said recently. "We also understand there's not much you can do except lend your support and have your thoughts and prayers to the direct families. For the people around the whole situation, you just try to do the best you can with the ability you have. ... We represent the city as a hockey team and if you play well, it certainly helps the healing a little bit. But at the same time we know the importance of it all and that's what the guys think of the most."
A year later, the images remain fresh in the players' minds.
"I'm not from here, a lot of guys aren't and after everything that happened this city is like a big family now and you see how close everyone is," Marchand said. "Everywhere you go it seems someone's been touched by it. I think everyone has grown from everything that happened. It was very tragic but has brought everyone a lot closer.
"With how the Red Sox won last year, and we had a long run it seemed like everyone was able to lift each other up and find strength to carry on. It just shows why Boston is such an incredible city."
The Bruins held practice Tuesday morning at TD Garden as they prepare to host the
Detroit Red Wings
in the first round of the Stanley Cup playoffs. Only a few miles away, the city remembered what happened exactly one year ago.
"It's got some good and it's got some bad, obviously," Julien said. "It's sad what happened, but for us, I look at how this city just came together and how everybody helped each other and did everything they could to help one another and that's what sticks in my mind."
April, 17, 2014
Apr 17
2:06
PM ET
BOSTON -- The
Boston Bruins
were still without forwards
Chris Kelly
,
Daniel Paille
and defenseman
Matt Bartkowski
during Thursday's practice at TD Garden.
Boston will host the
Detroit Red Wings
in Game 1 of the Stanley Cup playoffs on Friday, and Bruins coach Claude Julien said he's still unclear on his lineup.
"I don't know if it's official yet on any of that stuff," Julien said. "Again, today was another day we added another player [defenseman
Kevan Miller
], so we'll see what tomorrow brings. It's hard for me to start giving you my lineup when I don't know what's going to happen day-to-day. Hopefully it continues to improve, which it has this week and we'll go from there."
Kelly missed the final three games of the regular season with back spasms. Paille appeared to have suffered a head injury last Saturday against Buffalo. Bartkowski's issue is undisclosed, but Julien explained earlier this week that the flu bug is making its way around the locker room.
Without Kelly's services, the Bruins earlier this week recalled forward
Justin Florek
from Providence of the AHL and he's been on the line with
Carl Soderberg
and
Loui Eriksson
during practice.
"For sure we're missing a really good guy, a good leader, and hopefully [Kelly] will get back soon," Eriksson said. "We can't really do anything about it, so maybe now we have Florek [Friday] and he's a good player. We had a chance to play with him last game, too, so we're going to go out there and try to do the best we can. I think we can do good things out there."
Boston's energy line is affected by the injuries, too. Without Paille, fellow forward
Jordan Caron
has been on the line with
Gregory Campbell
and
Shawn Thornton
during practice this week.
"I've played with him a bunch this year, so we have a pretty good feel for each other," Thornton said. "I know everyone talks about [Paille], we've been with [Paille] for a long time, many years, but Jordan's come in and done a solid job. We've been able to create some energy. When he's in there he's strong on pucks. He's a big body and goes to the net and he's got a good shot. It should be a seamless transition, on paper anyways."
Nothing has been made official, but if Paille did suffer a concussion, it will be his third this season.
"It's an unfortunate occupational hazard sometimes with us," Thornton said. "He's such a good guy and such a big part of this team. I've said it before but sometimes our line is only as good as he is. We're hoping he gets better quickly."
For Eriksson, he hasn't played in the Stanley Cup playoffs since the 2007-2008 season with the
Dallas Stars
. After Thursday's practice at TD Garden, he said he watched some of the Stars' playoff game against the
Anaheim Ducks
Wednesday night on television, but he went to bed before the Ducks posted a 4-3 victory.
"For sure I'm excited to get going tomorrow," he said. "Watching the game yesterday it looked so much fun, so I think everyone is ready to get going."