January, 27, 2015
Jan 27
11:00
AM ET
By
Matthew Coller
| Hockey Prospectus
The difference between a ninth-place team and a playoff team can be a single player who shores up the club's one glaring weakness at the trade deadline. The same goes for the gap between a first-round loss and Stanley Cup run. For example, the Los Angeles Kings could not have won the Stanley Cup in 2014 without offensive dynamo Marian Gaborik, acquired in a deadline deal.
At this point in the season, NHL teams are beginning to assess their playoff chances, including whether they should be buyers at the deadline. Can they fill holes by trading for upcoming free agents? Would they sacrifice taking on a bad contract from another team to take a shot at the Cup? As we begin the unofficial second half of the season, we look at the 10 teams contending for four wild-card spots. What are their weaknesses? How can they solve them?
---
Eastern Conference
Weakness: Lack of goal scoring up the middle
Trade fix: Third-line center
Key stat: 18 total 5-on-5 goals from Derek Stepan, Derick Brassard, Kevin Hayes and Dominic Moore
January, 25, 2015
Jan 25
10:16
PM ET
Associated Press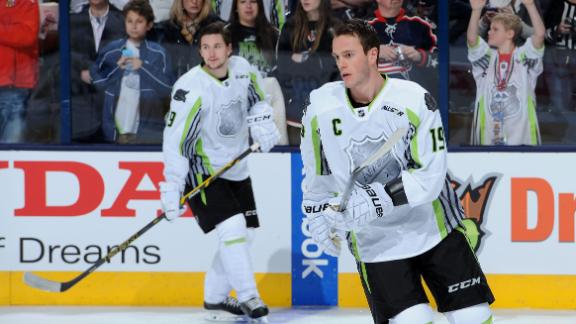 COLUMBUS, Ohio -- Blue Jackets forward Ryan Johansen spent the past few days showing off Columbus to his fellow NHL All-Stars.
On Sunday, Johansen did some showing off of his own by winning an online fan vote to be named the game's MVP.
"It's been really cool. It hasn't hit me yet for sure," he said. "This is something I'll remember for a very long time."
The fourth-year forward, and first-time All-Star won despite being on the short end of Team Foligno's 17-12 loss to Team Toews. Johansen led the team captained by Blue Jackets teammate Nick Foligno with four points (two goals and two assists) and won a new car to go with the honor.
He beat out two Team Toews players -- New York Islanders forward John Tavares and Boston's Patrice Bergeron. The three were announced as the MVP finalists early in the third period, when the vote on Twitter began in the first time fans have determined the winner.
Though the vote amounted to a popularity contest, Johansen's fellow All-Stars called the honor deserving.
"Ryan played great," said Bergeron, who had a goal and four assists. "There were a lot of guys who had great nights."
That included Philadelphia's Jakub Voracek, who had a game-leading six points (three goals, three assists) to tie the All-Star record set by Mario Lemieux in 1988.
"Joey deserved it, the way he handled the weekend overall," Voracek said, referring to Johansen. "Him and Nick Foligno, I'm sure, have been under a lot of the spotlight. They did a great job. It was well deserved."
Tavares, meanwhile, matched an All-Star record in becoming the sixth player to score four goals.
Johansen has emerged as a fan favorite in Columbus after getting off to an uncertain start to the season. As a restricted free agent, he held out the first two-plus weeks of training camp before signing a three-year, $12 million contract in October.
The 2010 first-round draft pick has since delivered on that potential by leading the Blue Jackets with 43 points (17 goals, 26 assists) in 45 games.
On Sunday, Johansen's first goal tied the game at 2 at 11:05 of the first period, when he skated out of the left corner and snapped a shot in off the far post. Johansen scored his second goal 5 minutes later, when he one-timed in a pass from Alex Ovechkin
January, 24, 2015
Jan 24
9:47
PM ET
Associated Press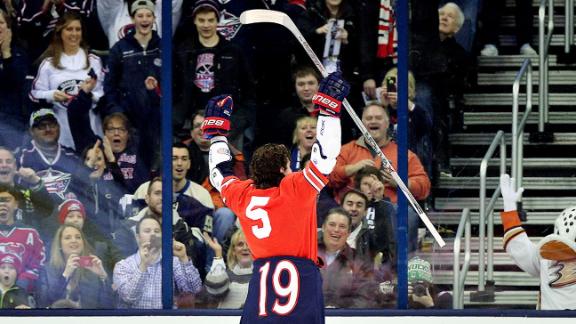 COLUMBUS, Ohio -- Not that they did before, but it's official now: No one wants to get in front of Shea Weber's shot.
The Nashville Predators defenseman fired the hardest shot, at 108.5 mph, at the NHL All-Stars skills competition Saturday night and took advantage of five-time champion Zdeno Chara's absence.
"I knew I got it," Weber said. "But it's tough. You never know how hard it is until it registers on the gun. But it felt like I got pretty much all I could into it, and [you] just kind of hope for the best."
Fighting his nerves (he doesn't practice high-velocity shots), Weber missed the entire net on a 101.8 mph drive with his first attempt. That nullified that try.
Washington Capitals star Alexander Ovechkin, who stole the show at Friday night's draft by pleading to be picked last so he would win a new car, had led the competition with a pair of 101.4 mph drives.
But then Weber stepped into his final shot to win the event.
He said it felt strange with the 6-foot-9 Chara -- who holds the record of 108.8 mph set in 2012 -- not participating.
"Obviously, he's the guy to beat all the time," Weber said. "He's got the big shot. Honestly, I was nervous because there's some guys out there that can rip it."
January, 23, 2015
Jan 23
9:34
PM ET
Associated Press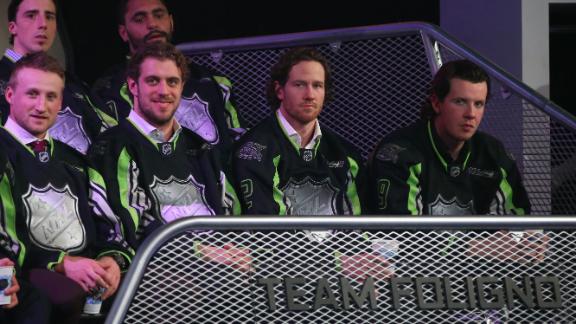 COLUMBUS, Ohio -- Phil Kessel was once again dealt for Tyler Seguin, Columbus Blue Jackets center Ryan Johansen was the No. 1 overall pick and superstar Alex Ovechkin did not get his new car.
In a wild and comic NHL All-Star draft to set the lineups for Sunday's game, almost nothing went the way anyone might have guessed.
The highlight of the evening was Ovechkin, the Washington Capitals' $10 million-a-year goal-scoring superstar, pleading to be taken last in the 17-round draft. Why? To compensate for the embarrassment of being the player no one wanted, the NHL gives the last player standing a new car.
At one point during the evening, a TV interviewer approached Ovechkin backstage and he hid behind a white piece of paper on which he had printed: "I want to be last. Need a car."
Ovechkin, the league's leading goal-scorer last year, came close to getting his wish. He lasted until there were just three players remaining, but then captain Nick Foligno selected him.
Ovechkin slumped in mock dejection in his chair, looked at the ceiling and sighed loudly. Then he looked into the camera and mouthed one word: "WHY?"
Foligno watched Ovechkin slowly walk onto the stage before despondently putting on a black Team Foligno jersey.
"Hey, Ovie, buy a car!" Foligno called out.
As it turned out, Ovechkin barely missed out on a new set of wheels. The two players who went last -- Edmonton's Ryan Nugent-Hopkins
January, 22, 2015
Jan 22
12:42
PM ET
Even before the Boston Bruins' recent string of success, players had already made plans and booked their All-Star break get-a-ways to warmer climates.
A few days of rest and relaxation without thinking, talking or dissecting hockey will help the players recharge, so when they return to practice early next week they'll be ready to continue their strong push for a playoff spot.
Currently, the Bruins are holding on to the eighth and final playoff spot with a 25-16-7 record (57 points). Boston is seven points ahead of the
Florida Panthers
in the wild-card race, and the Bruins are only seven points back of the top-seeded
Tampa Bay Lightning
.
[+] Enlarge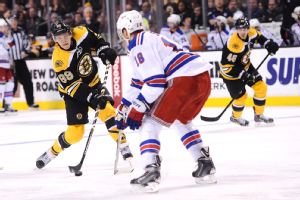 Maddie Meyer/Getty ImagesThe addition of rookie David Pastrnak has helped spark the Bruins' recent surge.
When the suntanned Bruins return from the break, they will have 34 games remaining in the regular season to make their postseason push. Coach Claude Julien will have a healthy and consistent lineup, so there shouldn't be any excuses now if the Bruins fail to reach the playoffs.
The Bruins have shown signs in the last few games that they can, and should, become a playoff threat once again. After Wednesday's 3-2 shootout loss to the
Colorado Avalanche
in Denver, the Bruins have earned points in 11 of their last 12 games, posting a 7-1-4 record in this stretch.
There are a few factors why the Bruins have improved, including a healthy roster, consistent lineup and outstanding goaltending from
Tuukka Rask
. All three will need to continue in order for the Bruins to earn their eighth consecutive trip to the postseason.
Due to the uncertainty regarding injuries, teams are always in need of depth. The Bruins seem to be OK in that area. And they have proven over the years that if Julien can roll four lines consistently with reliable combinations, it usually leads to success. That's what we've seen during the team's recent run.
Milan Lucic
,
David Krejci
and
David Pastrnak
have built a resurgence on the team's top line.
Patrice Bergeron
, the team's lone All-Star representative, and his linemates
Brad Marchand
and
Reilly Smith
make up the Bruins' best two-way line. The third unit of
Chris Kelly
,
Carl Soderberg
and
Loui Eriksson
has been Boston's most consistent line the entire season. Of late, the on-ice chemistry between Soderberg and Eriksson, along with Kelly's hard work, has been a lot of fun to watch.
Over the last few seasons when the Bruins have been perennial Cup contenders, it's been the work of the fourth line -- the energy line -- that has been crucial for the team. For the majority of this season, that unit has been disjointed, but now
Daniel Paille
,
Gregory Campbell
and rookie
Craig Cunningham
are producing at both ends of the ice and Julien has regained trust in that unit.
Earlier this season the Bruins' defense committed too many mental mistakes and it had a major effect on the team's success. Boston has cleaned up its defensive play and it has translated into a stronger offensive output. The Bruins haven't been scoring as much as they would like, but if their defensive zone coverage is where it needs to be, they should be all set.

It's also no coincidence the Bruins are rolling now with rookie David Pastrnak in the lineup. The 18-year-old forward's enthusiasm and drive have become infectious both on and off the ice. He has a genuine love of the game and his talents have helped Boston's top line find its game.
The most important aspect to Boston's renewed success has been Rask. The reigning Vezina Trophy winner struggled earlier this season, to a point where Julien made the comment that Rask "hasn't stood on his head." The goaltender has been tremendous of late and his teammates feed off Rask's confidence. He's the type of goaltender that once he finds his rhythm, he's hard to beat.
In the final two back-to-back games before the break, Rask registered 70 saves total in a 3-1 win over the
Dallas Stars
on Tuesday and a shootout loss to the Avalanche on Wednesday. He's 8-1-4 in his last 13 starts, and no doubt the Bruins will need to rely on Rask the rest of the way.
Even though the Bruins were set back by injuries and inconsistencies earlier this season, there's no reason this team can't earn a postseason berth. No matter whether they finish as the wild card or as the top seed, the Bruins have the ability to make a serious push toward the Cup.
The players should enjoy their brief hiatus, because once they return from the break it will be a sprint the rest of the way.
January, 22, 2015
Jan 22
1:24
AM ET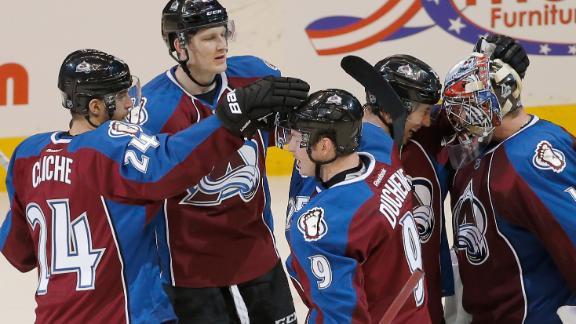 The
Boston Bruins
gained three of a possible four points on their last two games before the All-Star break, but they could have had a better outcome than their 3-2 shootout loss to the
Colorado Avalanche
Wednesday night at Pepsi Center in Denver.
Boston could have prevented both of Colorado's two regulation goals, but the Avalanche scored in the final second of the first period, then tied the game during a 6-on-5 situation at 18:15 of the third period. The Avalanche's
Nathan MacKinnon
scored the lone goal in the shootout to give Colorado the win.

With the one point earned Wednesday, the Bruins remain tied for the eighth spot in the Eastern Conference with 57 points.
Back-to-back Rask:
Bruins goaltender
Tuukka Rask
continues his solid play. Despite the shootout loss, he finished with 34 saves and kept Boston in the game. Coupled with his 36-save performance Tuesday night in Dallas, he has 70 saves in the last two games. There's no doubt the Bruins will need to rely on Rask if they want to climb in the standings and he's been doing his job the last month with an 8-1-4 record in his 13 starts.
It's about time:
Bruins defenseman
Dougie Hamilton
recorded his first NHL fighting major when he dropped the gloves with Colorado's
Gabriel Landeskog
at 36 seconds of the third period. Many in the Bruins organization have been waiting for the 6-foot-5, 212-pounder to show some emotion and fight, and when he finally did Wednesday he served himself well.
Still going strong:
Former Bruins and current Avalanche winger
Jarome Iginla
scored the game's first goal when he beat Rask and the clock with 0.3 seconds remaining in the first period to give Colorado a 1-0 lead. It was Iginla's 574th career goal to surpass Mike Bossy for 20th place on the NHL's all-time scoring list. Next on the list is three-time Stanley Cup champion and former Bruin Mark Recchi, who recorded 577 career goals.
He's back:
In his first game back after serving his two-game suspension,
Brad Marchand
scored his 13th goal of the season to give the Bruins a 2-1 lead at 4:47 of the third period.
January, 21, 2015
Jan 21
12:04
AM ET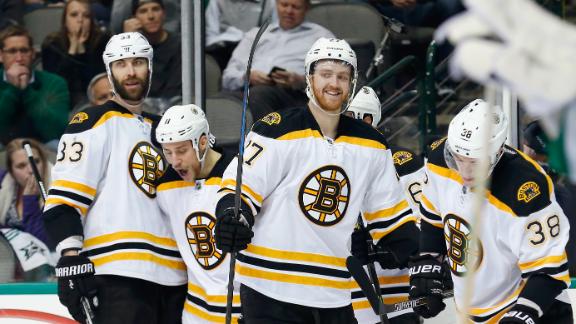 The
Boston Bruins
came away with a highly entertaining 3-1 victory over the
Dallas Stars
Tuesday night at American Airlines Center in Dallas.
The Bruins needed a strong effort after dropping an embarrassing 3-1 loss to the
Columbus Blue Jackets
Saturday at TD Garden.
Against the Stars, the Bruins received goals from
Loui Eriksson
,
Gregory Campbell
and
Dougie Hamilton
.

Boston has one more game before the All-Star break when they face the
Colorado Avalanche
Wednesday in Denver.
No. 1 being No. 1:
Bruins goaltender
Tuukka Rask
continued his strong play of late and finished with 36 saves against the Stars. He's 8-1-3 in his last 12 starts. As solid as he was against Dallas, he also received some help from his friend, the post, as the Stars rang a few shots off the iron. If the Bruins can continue to climb the standings, it will be Rask who gets them there.
Shut down:
The Bruins' penalty-killing unit has been outstanding of late, and it stifled Dallas' power play Tuesday. Boston was a perfect 6-for-6 on the PK as the Stars generated 16 shots during their man-advantages. The Bruins were able to shut down passing lanes and block shots, keeping Dallas to the perimeter on most of its chances. The Bruins are 32-for-34 on the PK this month.
Chemistry 101:
Boston's third line of
Chris Kelly
,
Carl Soderberg
and Loui Eriksson has been the team's most consistent trio for the majority of the season. That line has been playing extremely well of late and is showing its strong chemistry. That was evident on the Bruins' first goal of the game to tie it at 1-1. The line used incredible puck movement that resulted in Eriksson's goal at 14:17 of the second period.
Not tonight:
The Stars'
Tyler Seguin
is atop the league with 28 goals this season, but his former team held him scoreless. He did, however, register seven shots, hit a post and shot a quality scoring chance wide of the net midway through the third period.
Necessary tweaks:
With the Bruins holding a 2-1 lead late in the second period, Bruins coach Claude Julien shortened his bench and tweaked his lines. He replaced rookie
David Pastrnak
on the top line with
Reilly Smith
. Things went back to normal to start the third period, but the coach did the same in the waning minutes to secure the win.
Chipping in:
The Bruins are successful when they get contributions from all four lines. That was the case against the Stars as Boston's fourth line produced the game-winning goal when Campbell scored at 18:27 of the second period to give the Bruins a 2-1 lead. It was Campbell's fifth goal of the season.
January, 20, 2015
Jan 20
2:16
PM ET
The
Boston Bruins
(24-16-6, 54 points) will face the
Dallas Stars
(21-17-7, 49 points) on Tuesday night at American Airlines Center. Here's what to watch for:

What have you done lately:
The Bruins had their five-game winning streak snapped in a 3-1 loss to the
Columbus Blue Jackets
on Saturday at TD Garden. Boston has earned points in nine of their last 10 games, posting a 6-1-3 record. The Bruins are 2-0-1 in their last three road games. The Stars are 5-3-2 in their last 10 games. This is the first of two games between the teams this season.
Masked men:
Since the Bruins have back-to-back games, and are in desperate need of points, it'll be interesting to see if
Tuukka Rask
plays both games. He's 19-11-6 with a 2.40 goals-against average and a .916 save percentage in 37 games this season. He's 15-7-6 in his last 28 starts. The Stars'
Kari Lehtonen
is 19-9-7, including three shutouts in 38 games this season. He has a 7-6-0 record in 13 career games against the Bruins.
Getting Seggy with it:
Former Bruin and current Star
Tyler Seguin
leads the NHL with 28 goals. He also has 24 assists for 52 points in 45 games. He has two goals and two assists in the last two games.
One more:
Bruins forward
Brad Marchand
will complete his two-game suspension tonight. He will return to the lineup Wednesday against the
Colorado Avalanche
in Denver.
January, 20, 2015
Jan 20
10:47
AM ET
WILMINGTON, Mass. -- The Bruins will face a pair of former teammates --
Tyler Seguin
and
Jarome Iginla
-- over the next two games when Boston plays against the
Dallas Stars
and
Colorado Avalanche
.
Before puck drop Tuesday night against the Stars at American Airlines Center in Dallas, it's time for a hypothetical debate: Which player do the Bruins miss the most?
In my mind it's Iginla. It's no coincidence the Bruins enjoyed their most consistent season during 2013-2014 with the future Hall of Famer in the lineup. His veteran leadership both on and off the ice paid dividends for the Bruins as Iginla led by example.
His production -- 30 goals and 31 assists for 61 points -- on Boston's top line with
David Krejci
and
Milan Lucic
is also missed. The Bruins organization knew it had a Stanley Cup contender with last season's team, and that's why general manager Peter Chiarelli went all in, knowing the team's salary cap would be affected with overages this season.
As a result, the Bruins could not afford to keep Iginla, so he signed a three-year deal worth $16 million with the Avalanche.
In 47 games for Colorado, Iginla has 13 goals and 17 assists for 30 points.
Lucic grew up with a poster on his wall of Iginla. He was thrilled to be his linemate last season and Lucic isn't surprised by Iginla's continued success.
"It makes you appreciate him as a player and what he's done over his career," Lucic said. "To be that consistent for this long, and he's doing it again this year, is an amazing thing. At this level it's a really hard thing to do.
"When you're playing with a guy sometimes you take it for granted and you don't appreciate it as much as you do until it's gone. Not only did he make our line better, he made the whole team better just because he brought that consistency in his game, whether it was practice or especially in the games, it helped our team be more consistent and that's what made us the Presidents' Trophy winner last year because we were so good night in and night out with his presence and consistency."
Let's make something else perfectly clear: Seguin would not be leading the NHL in scoring if he played for the Bruins.
The respective teams' systems are completely different. He doesn't have to be as much of a two-way player in Dallas, and he's back to playing his natural center position with the Stars. By all accounts he's matured both on and off the ice after the Bruins traded him, along with Rich Peverley and Ryan Button, to Dallas on July 4, 2013 in exchange for
Loui Eriksson
,
Reilly Smith
, Joe Morrow and
Matt Fraser
.
Seguin enters Tuesday night's action leading the NHL with 28 goals and ranks second in the league with 52 points in 45 games.
"It's not surprising," said Bruins coach Claude Julien of Seguin's success. "I don't think there was ever an issue with his potential. At the same time, there's probably a good chance he would be playing on the wing here right now with [David] Krejci. There was a deal that was done and we've moved on. Right now we're in a playoff spot and they're battling for one. We feel like we're still in good shape here and we have to worry about ourselves."
The Bruins currently sit in the eighth spot in the Eastern Conference, while the Stars are 10th in the Western Conference and four points out of the playoff picture. Boston relies on the team concept more than one or two players to do all the work.
"You knew he was going to be a great player just because seeing him as a young talent and what he had, the confidence that he had and the skill set that he had," Lucic said. "You could see that he was going to be this type of player.
"You're happy for him to have success somewhere else, but we're happy with what we got here and we believe in the guys that we have in this dressing room.
In Boston, Seguin played the wing. There was one brief stint when Julien tried Seguin at center and it didn't go so well.
Despite Seguin's offensive output, Lucic still appreciates his chemistry with Krejci.
"I'd have to go with [Krejci] just because I've played with him for so long and I've had so much success with him," Lucic said. "If you're looking at stats right now, that a pretty easy one to say. I've had a lot of success with [Krejci] and he shows up at big games and he's led the playoffs twice in scoring, so there's my answer."
Ask any player in the Bruins' locker room and the answer is basically the same. They don't deny Seguin's ability, but playing in Boston is completely different.
"This is tough to judge. He's a really good player. He was a really good player when he was in Boston, he just started playing in the NHL," Krejci said. "Now he's establishing himself as one of the best players in the league, so it's good to see him doing well. Who knows how that would be if he stayed in Boston, we play a little different style of hockey.
"He must be happy on one side that he's up there in the scoring race, but on the other hand, at the end of the day you want to accomplish something as a team and that's why you play the game," Krejci added.
No matter the outcome of the next two games, it will be fun to watch both Seguin and Iginla face their former team at this point of the season and their respective careers.
January, 19, 2015
Jan 19
7:30
PM ET
WILMINGTON, Mass. -- The New England region and its sports fans have been spoiled for more than a decade by all the success enjoyed by the Red Sox, Patriots, Bruins and Celtics.
Since 2001, the longest this market has gone without one of its top four pro teams in a championship game is 32 months -- February 2005 to October 2007.
The Patriots won the Super Bowl in 2001, 2003 and 2004. The Red Sox won their first World Series title in 86 years in 2004. In 2005 and 2006, Boston teams rested. The Red Sox won the World Series again in 2007, and the Patriots reached the Super Bowl. The Celtics won the NBA championship in 2008.
After 2009 went blank, the Celtics returned to the NBA Finals in 2010. The Bruins won their first title in 39 years when they won the Stanley Cup in 2011, and again, the Patriots reached the Super Bowl. In 2012, the teams rested again, before the Red Sox won in 2013 and the Bruins reached the Cup finals.
Now the Patriots return to the Super Bowl to face the
Seattle Seahawks
on Feb. 1 in Arizona.
The Bruins have been built as perennial Stanley Cup contenders, but this season has been more of a struggle than anything they've experienced in recent history. All season they've been trying to regain their top form, and believe it or not, they feed off the success of their Boston brethren.
[+] Enlarge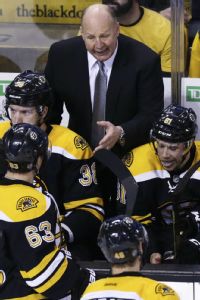 AP Photo/Charles KrupaCan Claude Julien's Bruins turn around their season?
"Definitely, 100 percent," Bruins veteran forward
Milan Lucic
said. "You know the feeling of being there, and you know the feeling of winning and winning it all. You see the Patriots making it back to the Super Bowl again it definitely gives you a little bit of a boost."
The Bruins, like the Red Sox, Patriots and Celtics, want to relive that championship-winning moment when all the hard work and sacrifice pays off. The Bruins had Sunday off, so the players watched as fans as the Patriots were crowned AFC champions.
"As an athlete in the same city you definitely feed off things like that and it definitely gets you excited for the last stretch that we have here, because we know what we're capable of and we want to be in the same spot as the Pats are come playoff time," Lucic said.
Long before he moved to Boston to coach the Bruins, Claude Julien had always said he'd been a Patriots fan since childhood. He's built a relationship with Bill Belichick over the years and both have brought championships to this region. The two occasionally exchange text messages, wishing each other well in their respective endeavors.
Julien watched Sunday's game from the comforts of home and has a genuine respect for the Patriots and Belichick.
"I like their work ethic and their commitment to playing a system that has worked well for them for years. I like the coach because he doesn't talk as much as me and every once in a while I'd like to be just like him," Julien said with a smile.
The ebbs and flows have been more pronounced for the Bruins this season. Injuries and inconsistent lineups are to blame for those struggles. The Patriots had similar struggles at the start of this season, posting a 2-2 record that included a massive 41-14 drubbing at the hands of the
Kansas City Chiefs
.
Some questioned whether or not the Patriots' mystique was coming to an end. Some wondered if Brady had hit a wall.
Well, the Patriots used all of that nonsense as motivation and came out the following week and destroyed the
Cincinnati Bengals
43-17, which began a seven-game winning streak and helped New England finish the regular season with a 12-4 record.
The Bruins have been trying to find motivation, too. Boston recently built a five-game winning streak before losing to the
Columbus Blue Jackets
3-1 on Saturday. The Bruins have two road games remaining against the
Dallas Stars
and
Colorado Avalanche
before the NHL All-Star break. Boston hopes it can regain the momentum it built before Saturday's embarrassing loss.
"Seeing the way they came out against Cincinnati, [New England] went out there and showed that 'We're saving our season and we're doing it right now,': Lucic said. "We have to have that same type of approach, especially with two games left before the All-Star break. If it takes feeding off something like that we need to use whatever we can to build any type of momentum for ourselves."
Lucic, who watched both conference championship games Sunday, should have known better than to send his cousins in Milwaukee a congratulatory text for Green Bay's victory -- before the NFC Championship Game was over. After Seattle mounted its comeback it actually reminded Lucic of the Bruins' historic comeback against the
Toronto Maple Leafs
in Game 7 of the Eastern Conference quarterfinals in 2013.
"Obviously it brings back memories of Game 7 against Toronto," Lucic said. "You kind of know the feeling that [Seattle's] feeling today and how excited they are to pull something like that off."
The momentum the Bruins gained from that comeback created a run toward the Stanley Cup finals, before the
Chicago Blackhawks
defeated Boston in six games.
"It seemed like nothing could go wrong when you're able to come back from something like that. I'm pretty sure the Seahawks are feeling that right now and I think it's going to be a real, real fun Super Bowl to watch," Lucic said.
Lucic, a native of Vancouver, which is only a couple of hours north of Seattle, had been a Seahawks fans until 2009, when he changed his allegiance to the Patriots.
So, who's going to win the Super Bowl?
"I gotta stick with my team now and keep cheering for the Pats," he said.
The Bruins still have a lot of work to do if they want to maintain a playoff spot and move up the standings during the remainder of the season. The most important thing is to earn a postseason berth because anything can happen during spring hockey.
The Patriots have the opportunity to finish the 2014 season as Super Bowl champions. If they can it will be their fourth title since 2001. The Red Sox are early favorites to win the AL East in 2015, and it's obvious the Celtics are continuing to rebuild. Maybe the Bruins can surprise a lot of people and turn their season around, too.
Julien and his players are taking the one-game-at-a-time approach.
When asked if the Bruins were on to Dallas, Julien jokingly attempted his best Bill Belichick imitation, but it didn't have the same effect.
January, 19, 2015
Jan 19
1:36
PM ET
[+] Enlarge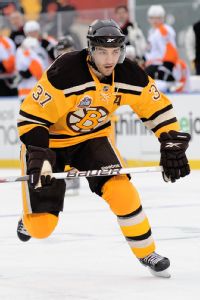 Brian Babineau/NHLI/Getty ImagesPatrice Bergeron is one of only three players on the Bruins' roster to have seen action in the 2010 Winter Classic at Fenway Park.
BOSTON -- The Boston Bruins will host the Montreal Canadiens in the 2016 NHL Winter Classic at Gillette Stadium, a league source confirmed Monday.
The game will be held at the home of the New England Patriots in Foxborough, Mass. The official announcement will be made at this weekend's NHL All-Star Game in Columbus, Ohio.
This season's Winter Classic was held between the Washington Capitals and Chicago Blackhawks at Nationals Park in Washington, D.C.
The Bruins hosted the 2010 Winter Classic at Fenway Park and defeated the Philadelphia Flyers in overtime.
"It would be pretty unbelievable," Bruins defenseman Dougie Hamilton said of the matchup. "There were rumors about it last year that we were going to have it this year, and you kind of get excited when you hear that. I was kind of hoping that really didn't pass by and we'd still have that chance.