September, 22, 2014
Sep 22
4:34
PM ET
WILMINGTON, Mass. -- Brad Marchand has always been the player you want on your team but hate to play against.
His
Boston Bruins
teammates are experiencing the latter during training camp, which is a good sign. During practices he's been chirping, jabbing guys with his stick after whistles, and playing his role as the little ball of hate.
[+] Enlarge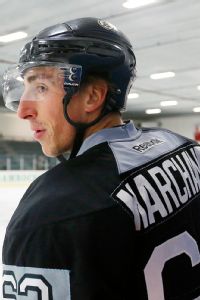 AP Images/Elise AmendolaMarchand is determined to pick up his game after a disappointing 2013-14 season.
When the Bruins held their Black and Gold scrimmage Sunday night at the Dunkin' Donuts Center in Providence, R.I., Marchand was playing against his teammates as though they were wearing a Canadiens sweater.
Bruins management was disappointed with Marchand's performance last season. Marchand was disappointed with Marchand's performance last season. During the team's exit meetings last spring, Bruins general manager Peter Chiarelli spoke with Marchand about his conditioning and how the team wanted him to prepare for the 2014-2015 season.
Less than a week into training camp, Marchand is showing signs that he put in the work and he's motivated to turn things around.
"I feel pretty good. I still want to continue to work on my conditioning and I think that's something I can work on all year," Marchand said. "For the most part, I feel good. I feel strong. I feel quick. I feel more confident than last year, so it feels good."
Chiarelli and coach Claude Julien know that Marchand, 26, is at his best when he is creating havoc on the ice. He's an emotional player. At times, those emotions get the better of him and he's still learning to balance that aspect of his game so he can be more effective on the ice. All of that was on display during the team's scrimmage.
"It shows that the emotions are there and that's what you want. When you're emotionally engaged in a game then you're going to play better. At least that's how I feel and even playing against your buddies it can still come out and it's good when it does," he said.
Through his offseason work, the seven-year pro believes he's quicker and can control the puck better than he has in the past. Too often last season he was getting knocked off the puck and that's one area of strength he worked on during the summer.
"

For the most part, I feel good. I feel strong. I feel quick. I feel more confident than last year.

"

-- Brad Marchand
"I feel like I can already notice a difference," he said.
Chiarelli can see a difference, too.
"Sometimes players just have off years, and we chalked it up as an off year," he said. "He still scored a bunch of goals, but he wasn't entirely happy with his play and we weren't. I know he's a good kid and he'll work hard at it. He said he would work hard at the conditioning this summer and we're seeing a good start to that."
Last season, Marchand played all 82 games for the first time in his career. He surpassed the 20-plus goal mark for the third time in his career with 25, and added a career-high 28 assists for a total of 53 points. His plus-36 rating ranked third overall in the league. On paper, it seems like a strong season, but Marchand and the Bruins weren't satisfied.
He looks good so far in training camp and he always talks a big game. Let's see if he can prove it this season.
"He's been really good," Chiarelli said. "For a guy that scored 20-plus goals last year, and we're telling him it's a bad year, so I think if he keeps that up he's going to have a good year."
Linemate
Patrice Bergeron
agrees. "He's looking great and he's definitely making some great plays. He's very quick on his feet and creating a lot of chances by doing that. We have good chemistry together, so we've got to keep working on it and it's great to see him [playing] like that already."
What impresses Bergeron the most is how motivated Marchand was during the offseason and how it's translated into training camp.
"That's the attitude you want in a teammate, being a professional," Bergeron said. "That's definitely great to see. He wants to get better. He wants to be an elite player in this league and it's by working hard and doing the little things. He's doing that and he wants more, which is a great sign."