September, 17, 2014
Sep 17
9:00
PM ET
BOSTON -- Training camp for the 2014-15 season officially begins Thursday for the
Boston Bruins
with off-ice testing and physicals at TD Garden.
The first on-ice session will take place Friday at Ristuccia Arena in Wilmington, and the Bruins will have only four days of practice before their first exhibition game against the
Montreal Canadiens
on Sept. 23 at Bell Centre in Montreal.
It was those pesky Habs who ended the Bruins' season in the second round of the Stanley Cup playoffs last spring. The Bruins had a long summer to digest why their season ended sooner than they'd hoped and now they're ready to right the wrong.
"Absolutely," Bruins goaltender
Tuukka Rask
said. "You always get that bad taste in your mouth when you finish your season like we did last year and you want to change that ending. It's been a long summer for us, longer than we're used to in past years and I think our hunger has been growing during the summer and everybody looks ready to go. We're really excited about the new season."
As training camp begins, here are 10 things to watch for:
[+] Enlarge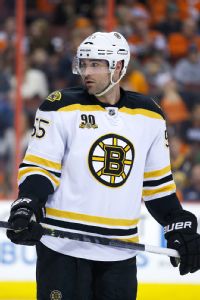 AP Photo/Matt SlocumWith the Bruins having a logjam on defense and a tight salary cap, Johnny Boychuk could be on the move.
• It appears the Bruins will start camp without defenseman
Torey Krug
or forward
Reilly Smith
, who are both entry-level free agents and remain unsigned. Due to salary-cap constraints, Bruins general manager Peter Chiarelli's creativity will be tested in order to sign both players. While both likely want a multiyear deal, they may have to settle for one-year contracts in order to keep the entire roster intact and avoid any early-season trades to create cap space. Because of their status, Krug and Smith are not allowed to negotiate with other organizations. Both are important to the team's success, but Bruins coach Claude Julien said Tuesday he believes there are other players in camp who can fill the void if Krug and/or Smith do not sign. During Chiarelli's tenure as GM in Boston, no player has missed the start of training camp for contractual issues.
• At some point this season, Chiarelli will need to make a trade in order to free up some cap space. If that decision comes during camp, defenseman
Johnny Boychuk
, whose name has been the one spinning the rumor mill, could be the one to go. The veteran blueliner has one year and $3.36 million remaining on his contract before becoming an unrestricted free agent. Losing Boychuk and his relentless style of play would impact Boston's blue line, but Chiarelli and Julien are confident in the team's defensive depth.
• Speaking of defensive depth, if everyone remains healthy and no trades are made, the Bruins will have a logjam on the blue line. It's actually a good problem to have. With
Zdeno Chara
,
Dennis Seidenberg
, Boychuk,
Dougie Hamilton
,
Adam McQuaid
, Krug,
Kevan Miller
,
Matt Bartkowski
and
David Warsofsky
, the Bruins will use training camp and the entire preseason schedule to figure out which pairings work best. The Bruins were uncharacteristically inconsistent defensively during the 2013-14 season. After the Bruins lost to the Canadiens, Boston could blame its inexperience on defense as one reason for the series loss. Moving forward, the Bruins can't make that excuse. Depending on Boychuk's status, the top four will include Chara, Seidenberg and Hamilton. Presuming Krug's status and McQuaid's health won't be issues, there should be a lively competition for the remaining spots.
• David Pastrnak, the Bruins' first-round selection (No. 25 overall) in June's draft, will be given every opportunity to earn a roster spot out of training camp. The 18-year-old forward impressed the organization during rookie development camp in July and during the recent national rookie tournament in Nashville. But now he'll be playing against the big boys and his skills will be tested. So far, there's a lot to like about Pastrnak. For starters, he genuinely loves the game. He seems mature and ready for the challenges of playing in the NHL and in Boston. His progress will be a major storyline during camp, and if he makes the team, he could quickly become a fan favorite.
• Other than Pastrnak, there is a host of homegrown talent that will battle for roster spots. If Smith remains unsigned, there would be three forward positions vacant.
Ryan Spooner
,
Matt Fraser
,
Jordan Caron
,
Justin Florek
,
Bobby Robins
,
Alexander Khokhlachev
and
Matt Lindblad
, along with camp invitees and veterans
Ville Leino
and
Simon Gagne
, all are in the mix. If the offseason plan of having
Loui Eriksson
on the top line with
David Krejci
and
Milan Lucic
works out, and Smith does sign and remains on the second line with
Patrice Bergeron
and
Brad Marchand
, then the bottom two lines could see several different combinations during camp.
[+] Enlarge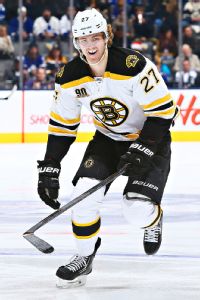 Getty ImagesDougie Hamilton could be poised to have a breakout season on the Bruins' blue line.
• Recently, Julien revealed that he would make a small adjustment to the team's systems play and wants to be "a tad" more aggressive in the neutral zone. He half-jokingly said he didn't want the media -- or the fans -- to make a big deal about the new philosophy, but we wouldn't be doing our jobs if we didn't. Julien will use training camp and the preseason schedule to apply the new system, which will give his defensemen the green light to step up more in the neutral zone if there's a possibility to create a turnover, and if the forwards are strong on the backcheck and are in a position to gain possession in transition. The key is puck possession time and it could work well for the Bruins.
• Expect Hamilton to have a big season. He made major strides during his first full season with the Bruins in 2013-14. He no longer carries that "inexperienced" tag and there's no reason to think he won't be a top-four defender again this season. The 21-year-old blueliner is strong and smooth with his 6-foot-5, 200-pound frame. If he makes the most of his physical presence and combines that with his hockey sense, he could be a dangerous player.
• Another topic this offseason was the departure of veteran leaders
Shawn Thornton
and
Jarome Iginla
. Thornton spent seven seasons with the Bruins, but the team decided not to re-sign him, and he landed a two-year deal with the
Florida Panthers
. Iginla spent one season in Boston and signed as a free agent with the
Colorado Avalanche
. Their absences will leave a small void in the leadership department, but the Bruins are loaded with leaders, both on and off the ice. From Chara, Bergeron, Krejci, Rask and
Chris Kelly
, there's plenty of leadership.
• At the start of the 2013-14 season, Julien and Chiarelli discussed the concept of finding ways to preserve Chara and keep him fresh for the entire season and into the playoffs. But due to a number of key injuries on the blue line, along with the reinforcements' inexperience, Chara was forced to log his normal ice time and played nearly 25 minutes per game. At 37, there's no doubt the team's captain is still a machine. He's in incredible shape, but his 6-foot-9, 255-pound frame isn't getting any younger and he still has four years remaining on his contract. Julien likely will attempt to manage Chara's minutes again this season and it will be interesting to see how it plays out and how much he has remaining in his tank come playoff time.
• With Rask settled into the No. 1 goalie spot for the foreseeable future, he will again have a new partner this season. Since he's established himself as a true No. 1, he's had different backups each of the last two seasons with
Anton Khudobin
and
Chad Johnson
, respectively. While it appears
Niklas Svedberg
will serve in the capacity this season, fellow goaltending prospect Malcolm Subban wants to battle for that spot during training camp. Svedberg signed a one-year, one-way contract this summer worth $600,000, but the Bruins haven't handed him the backup role; he'll have to earn it.