September, 19, 2014
Sep 19
9:12
PM ET
WILMINGTON, Mass. -- There's no denying the talents of Bruins defenseman
Dougie Hamilton
.
He's big. He's strong. He has a keen hockey sense and uses it to his advantage. He also has an offensive element to his game.
[+] Enlarge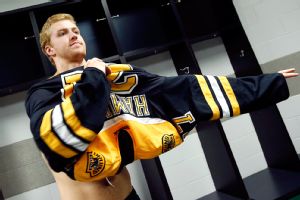 AP Photo/Elise AmendolaDougie Hamilton pulls on his Bruins jersey on Thursday at training camp.
The 21-year-old blueliner has showcased those skills during the first two seasons of his NHL career, but in Year 3, it's this simple: Hamilton needs to have a big season for the Bruins.
His performance in 2014-15 should function as a barometer of how the rest of his career plays out. It's not unusual for younger players to fizzle out after a few good seasons. Some become complacent, or too comfortable.
It will be interesting to see how this season unfolds for Hamilton.
"It's important because he had a great finish," Bruins coach Claude Julien said. "I thought he was really good at the end of last year and his confidence level was up. But, he's still a young player and you've got to stay on top of him and make sure that little bad habits don't creep in, or a comfort level, which sometimes happens to young players. They've got to know they've got to keep pushing themselves if they want to keep improving.
"He still has a lot of room for improvement, which is a good thing, because we already think he's a pretty good player, so he just has to stay on top of his game and keep pushing himself to get better."
Hamilton made his NHL debut during the 48-game, lockout-shortened season in 2013. The Bruins reached the Stanley Cup finals that season, before losing to the
Chicago Blackhawks
. Hamilton played only seven games between the first two rounds and watched the Eastern Conference finals and the Cup finals from press level.
He made significant strides during the 2013-14 season and was relied upon as a top-four defender. When veterans
Dennis Seidenberg
(knee) and
Adam McQuaid
(quad and foot) suffered season-ending injuries midway through the season, Hamilton's ice time increased, and he proved to be up to the task.

"He played great last season, even the year before," Seidenberg said. "He took great strides developing really nicely. He's such a powerful skater and moves really smoothly for a big guy, and he's just really dangerous offensively. His physical presence, he's gotten stronger and better on one-on-one battles. I only see him getting better and more dominant than he has already."
Bruins goaltender
Tuukka Rask
said earlier this week that the team's overall defense needs to be more consistent this season. The reigning Vezina Trophy winner has enjoyed an ice-level view of Hamilton's development.
"I think he just needs to continue where he finished off last year," Rask said. "I thought he took big steps last year and really got better defensively, and he was really showing off his talent offensively, too. He just needs to keep it going and improve overall. He'll be a really good player for us."
The Bruins held their first on-ice session of training camp Friday at Ristuccia Arena. Hamilton looked comfortable and confident.
"Just try to keep getting better," he said at the start of camp. "I really don't set goals for myself but just to keep getting better and keep improving and keep learning. This is the most comfortable I've been coming into camp. Obviously, playing for a year and a half now has helped me, so just knowing the guys, the city and everything makes it a lot easier to come here."
He spent the summer preparing as he normally would. It was a long summer for all the Bruins, but Hamilton is refreshed, recharged and ready to go.
"It was really good. I'm pretty happy with how it went, my development over the summer, and I'm looking forward to camp and seeing how my hard work translates," he said. "I'm excited to get going again."
In 106 regular-season games, Hamilton has 12 goals and 29 assists for 41 points, as well as a plus-26 rating. He has averaged close to 18 minutes of playing time per game.
"I've definitely worked on my defensive game and trying to improve that," he said. "I think I've gotten a lot better at it. From when I first got here until the end of last year, my defense has improved a lot and it needs to keep on improving. I need to focus on that with our team and our system and that's defense first. To be accountable and reliable on the ice is important. The offense, I guess, is just a bonus."
He showed glimpses of a mean streak late last season, and it would be good to see him play with a little more fire. He should use his 6-foot-5, 200-pound frame to wear down opponents. If he can produce that type of physical play on a consistent basis, he could become extremely dangerous.
There's no time like the present for Bruins fans to witness the real Dougie Hamilton.