November, 23, 2014
Nov 23
1:11
AM ET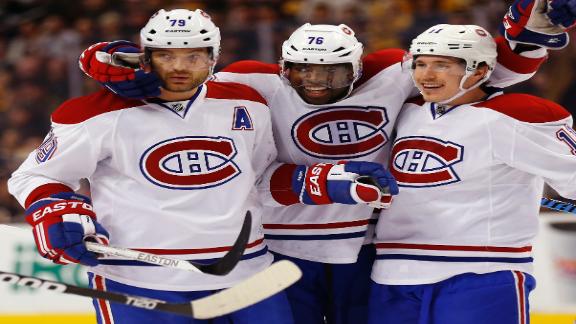 BOSTON -- Ultimately, the players dictate the end result on the ice, but a team's identity and preparation begin with the coach.
Bruins coach Claude Julien has evolved in his eight seasons in Boston, but his coaching ability is really being put to the test this season, as a rash of injuries in the first 22 games has wreaked havoc on his lineup.
It certainly doesn't ease his burden when the Bruins have to play the
Montreal Canadiens
.
With five veteran players --
Zdeno Chara
,
David Krejci
,
Brad Marchand
,
Adam McQuaid
and
Chris Kelly
-- sidelined by injuries, the Bruins had their three-game win streak snapped, when they lost to the Canadiens 2-0 on Saturday night at TD Garden.
Kelly became the team's latest victim Friday, when he suffered an undisclosed injury during a 4-3 shootout win over the
Columbus Blue Jackets
. Julien said Saturday that the extent of Kelly's injury and how long he'll be sidelined are unknown at this point.
[+] Enlarge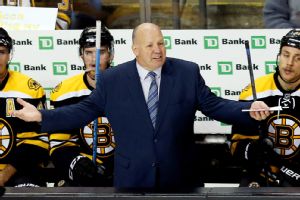 Greg M. Cooper/USA TODAY SportsA rash of injuries to key Bruins has put more of the onus on Claude Julien to guide his team to success.
With so many holes in the team's lineup, the Bruins were forced to recall rookies Alex Khokhlachev and Matt Lindblad from Providence of the AHL in the past two days. Prior to Saturday's game, Julien said he simply wished for a healthy team, but it could be a while before that occurs.
The one thing we've learned about Julien is he thrives on consistency. He believes in chemistry. But the Bruins' synergy has been disrupted by the injury bug.
Meanwhile, Julien and his coaching staff are attempting to keep the Bruins motivated and relatively successful until that time comes.
"It's important for us as a coaching staff to really stay positive and upbeat," said Julien, who coached his 800th career game Saturday. "Having said that, I think our players are doing a really good job of that, as well."
When he looks around the locker room, Julien does not see discouragement among his players, though it's obvious he sees disappointment. Julien added that he needs to focus on coaching and developing the players he has on his lineup sheet any given night, whether that's a completely healthy, veteran team or one relying on a bunch of rookies to contribute.
"Our guys have got a great attitude -- the guys that are playing -- and that's why they deserve a lot of credit," Julien said.
The positives might outweigh the negatives, but things haven't always been perfect for Julien in Boston. There have been times in his Bruins career when his job was in jeopardy. Each time, however, he was able to motivate his team, and the players responded.
Case in point: Montreal had a 2-0 series lead in the 2011 Eastern Conference quarterfinals after Boston lost both games on home ice. But then the Bruins went to Montreal, evened the series at two apiece and eventually won the series. That spring, Boston won the Stanley Cup.
That historic run, along with a return to the finals in 2013, has given Julien job security. If the Bruins keep from drowning this season, earn a playoff berth and make another deep run, it will be just as impressive as what this team accomplished in recent history.
"Obviously, everybody knows what's going on, and we can't start thinking about when [injured players] are coming back because then we're going to lose our focus," Bruins goalie
Tuukka Rask
said. "[Julien's] been really good at just focusing on the game on the ice and working with the guys we have and making sure we keep building our team in the right direction."
With Saturday's loss, the Bruins are 1-7-2 in their past 10 regular-season games against Montreal. That ineptitude alone is brutal enough, not to mention what happened during the second round of the Stanley Cup playoffs this past spring, when the Canadiens defeated Boston in Game 7 on TD Garden ice to advance to the Eastern Conference finals.
This season, Boston is 0-3-0 against Montreal and has one matchup remaining Feb. 8 at TD Garden. These teams could very well face each other in the playoffs again this season, and somehow Julien needs to figure out a way to beat the Canadiens.
When asked if the Canadiens hold some sort of mental barrier over Boston, Rask dismissed such a notion and said that's not the feeling in the locker room.
"We recognize when we play good and when we don't play good," Rask said. "Today, we played a good game and could have easily gotten a point or two. Then again, sometimes we just don't play good at all against them, and it [becomes] psychological."
It must be difficult for Julien to suffer such losses against a team he once coached and one that seems like a thorn in his current team's side. His players realize the job Julien is doing during this tough stretch. Despite Saturday's loss, the Bruins are still 8-3-0 in their past 11 games.
"With our roster right now, it comes down to coaching and getting your guys prepared to play," said Bruins defenseman
Torey Krug
, who also missed four games earlier this season with a broken finger. "Obviously, through our system, there's a lot of guys ready to play in the NHL, so it comes down to management and coaching doing a great job, and it falls on us to perform."
The players have bought into Julien's system. Julien has been dealt a seriously compromised hand so far, but he's not ready to fold. If anything, this adversity should make everyone involved stronger, and that strength starts with the coach.