January, 31, 2015
Jan 31
11:33
PM ET
BOSTON -- Many had written off the
Boston Bruins
earlier this season, and it appeared the team was spiraling out of control.
When they were struggling, the storylines were the same after each game: They were inconsistent and sloppy. They had too many defensive mistakes. The mental breakdowns were mind-blowing. Their goaltending wasn't sharp. Oh, and they had too many injuries.
Boston has done a complete 180.
With their 3-1 victory over the
Los Angeles Kings
on Saturday night at TD Garden, the Bruins have earned points in 13 of their past 14 games, with a 9-1-4 record in that span. In fact, Boston is 8-1-1 in its past 10 games and playing its best hockey of the season.
"We knew that it would be a tough game," Bruins captain
Zdeno Chara
said of facing the defending champs. "They played really hard all over the ice. It was a really tight game, a lot of battles. I think the fans enjoyed it too. It started really physical, and it was just really two hard-working teams battling for the win."
Now, the Bruins are healthy and consistent, and coach Claude Julien is able to roll four solid lines at opponents. It also helps that
Tuukka Rask
is playing extremely well between the pipes. Overall, the Bruins have rediscovered their winning identity -- it's evident on a nightly basis.
"We knew how important this month was to get ourselves back into the playoff picture, and we did just that, winning eight out of 12 games and getting much-needed points and moving up the standings," Bruins forward
Milan Lucic
said. "It's a great January, and we're happy with the way we played. The mind-set has to be that we need to carry this on to February."
From the opening puck drop Saturday, the game had a playoff feel to it. It was a physical contest from both teams, but in the end, the Bruins were able to grind out the victory.
"It's nice to see our team compete for that whole 60 minutes and stay on top of our game," Julien said. "These are the kind of games everybody gets up for, including the coaches. Those are fun games to coach, fun games to play in, and I'm sure the fans enjoyed watching it as well."
The Bruins received a pair of goals (one empty-netter) from
Brad Marchand
, while
Chris Kelly
produced the winner by redirecting a shot in the slot at 14 minutes, 33 seconds of the third period. Rask finished with 30 saves and is 7-1-1 in his past nine games and 10-1-4 in his past 15. He made a season-high 43 saves during Thursday's 5-2 victory over the
New York Islanders
, and there's no doubt he's been locked in for the past month.
"He definitely was our best player in January, the last game, and here tonight he definitely stepped his game up to the level that he's capable of playing," Lucic said. "He's a huge part of our team, probably the most important part of our team. With his ability and his competitiveness, we're grateful to have a guy like that between the pipes. He's starting to get into the groove that we need him to be in."
Marchand also produced one of his better games of the season. He was involved in every aspect and was chirping as usual. Julien described Marchand's game as "tenacious" and said it was a solid outing.
"He seemed real focused," Julien said.
On the eve of Super Bowl XLIX, the Bruins showed their support for their brethren, the
New England Patriots
, by wearing "Do Your Job" winter hats during pregame warmups and afterward in the locker room.
The Bruins were in a good mood after their victory over the Kings, and the focus turned to Sunday's big game. Of course, the Bruins were picking the Patriots to beat the
Seattle Seahawks
. Lucic has New England winning 28-21, with
Rob Gronkowski
the MVP.
If this string of success continues for the Bruins, it's likely they will earn a postseason berth, and they could end up a strong Stanley Cup contender. In that case, maybe the Patriots will reciprocate.
"We're definitely happy with the push we've put on," Marchand said, "but we're not where we want to be, and we've got to play better."
January, 30, 2015
Jan 30
10:46
AM ET
The
Boston Bruins
on Friday morning recalled goaltender Malcolm Subban from Providence of the AHL, assigning backup goalie
Niklas Svedberg
to the P-Bruins for a conditioning stint.
This is Subban's first NHL recall. In 22 games for the P-Bruins this season, first-round pick (24th overall) in the 2012 NHL draft posted a 9-10-2 record, along with a 2.31 goals-against average and a .920 save percentage.
In his past three starts, the 21-year-old netminder is 2-1-0 and allowed only three goals on 91 shots to earn the AHL's player of the week honors.
Svedberg has played 12 games for the Bruins this season, registering a 5-5-0 record with a 2.22 GAA and a .922 SP. He also has two shutouts. Svedberg, 25, last played on Jan. 8 against the
New Jersey Devils
.
January, 29, 2015
Jan 29
11:24
PM ET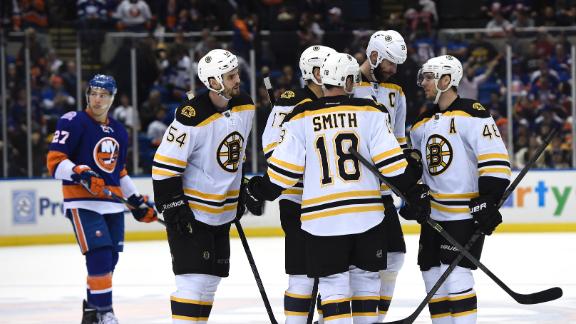 UNIONDALE, N.Y. -- After the six-day All-Star break, the
Boston Bruins
showed little signs of rust and posted an impressive 5-2 win over the New York Islanders Thursday night at Nassau Coliseum.
Bruins coach Claude Julien was pleased with his team's practice on Wednesday, and he kept the players on the ice longer than usual for Thursday's morning skate. Come game time, the Bruins were sharp and beat the best team in the Eastern Conference.
Prior to the break, the Bruins had regained their form, and now they're one of the hottest teams in the league, earning at least a point in 12 of their last 13 games for a record of 8-1-4.
"It was mentioned many times before the game how we need to recapture the confidence we had going into the break," Bruins defenseman
Torey Krug
said. "We were going through quite a stretch there and we were playing well. We were back to our identity."
[+] Enlarge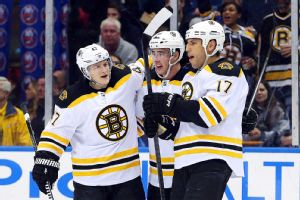 Brad Penner/USA TODAY SportsTorey Krug, Reilly Smith and Milan Lucic all scored in the Bruins' win over the Islanders.
On Thursday, Boston received contributions from nearly everyone in the lineup as
Reilly Smith
,
Patrice Bergeron
,
Kevan Miller
, Krug and
Milan Lucic
(empty-netter) each registered a goal. Smith and
David Krejci
also chipped in a pair of assists apiece.
Bruins goaltender
Tuukka Rask
continued his solid play. He finished with 43 saves, but his best stop of the game -- and so far this season -- came early in the second period when he robbed the Islanders'
Michael Grabner
. Grabner was on the off-post when he collected a rebound and seemed to have an easy tap-in, but Rask reached out with his stick and made an outstanding paddle save to keep the puck from crossing the goal line to secure Boston's 2-0 lead at 5:34 of the period.
"When you're out of position, you've got to make those saves," Rask said with a smile. "It was just a reactionary save. Sometimes [the puck] hits you, sometimes it doesn't. Today it hit me and I hope I make the highlights."
During this stretch of success for the Bruins, it's evident the players are feeding off Rask's performances.
"It's always important when you've got your goaltender holding the fort the way he has. It gives your team a lot of confidence," Julien said. "It's been one of the reasons we really started going in the right direction. He's giving us confidence and the rest of the team has picked up their game because of that, so it goes hand in hand and right now we're relying on him heavily. He's a Vezina Trophy winner and certainly right now he's playing like one."
Only two shifts into the game, Julien didn't like the matchups the Islanders were getting, so the coach tweaked his line combinations, replacing
David Pastrnak
with Smith on the top line. As the game progressed, Julien liked how those combinations were clicking, so he kept them intact.
Julien had
Loui Eriksson
on the second line with Bergeron and
Brad Marchand
, while Pastrnak played the right side with
Chris Kelly
and
Carl Soderberg
.
"You have to adjust to your linemates last minute and you're not expecting [changes], but it seemed to work out tonight," Smith said. "All four lines did a great job getting pucks in deep and really making them work for their breakouts and transition game."
January, 29, 2015
Jan 29
2:56
PM ET
[+] Enlarge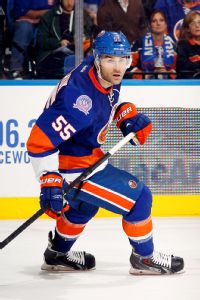 Bruce Bennett/Getty ImagesWith 24 points this season, Johnny Boychuk has already topped his previous season high.
UNIONDALE, N.Y. -- Johnny Boychuk's intangibles have helped turn the once lukewarm New York Islanders into a dynamic and trendy pick to win the Eastern Conference.
His impact in New York was immediate. His absence in Boston has been felt all season.
When Bruins general manager Peter Chiarelli decided to trade Boychuk to the Islanders, in exchange for a pair of second-round picks and a conditional third-round pick before the start of the 2014-15 season, the general manager knew the transaction would not be received well behind closed doors.
Despite knowing Chiarelli was dealing with salary-cap constraints, Bruins players were upset with the trade. Not only did the Boston Bruins lose a reliable, durable, Stanley Cup-winning defenseman, Boychuk's presence off the ice meant just as much to the team.
Boychuk learned accountability during his time in Boston. When he arrived in New York in the fall, he knew there would be more responsibility as the veteran player on the team. The Islanders rely on his leadership both on and off the ice, and it's evident with the team's success this season.
There's no denying the Islanders made out with this deal.
January, 28, 2015
Jan 28
11:39
PM ET
Associated Press
The Boston Bruins have placed veteran forward Simon Gagne on waivers for the purpose of releasing him, a person familiar with the decision has told The Associated Press.
The person spoke on the condition of anonymity because the team has not announced the move made Wednesday.
The decision is regarded a formality. Two weeks ago, the Bruins announced Gagne was placed on their "suspended" list and would miss the remainder of the season following the death of his father in December.
Gagne is a two-time 40-goal-scorer with Philadelphia. The 34-year-old was attempting a comeback with Boston after missing all of last season.
He had three goals and an assist in 23 games with the Bruins this season.
January, 28, 2015
Jan 28
5:23
PM ET
WILMINGTON, Mass. -- The Boston Bruins finally found their game and started to enjoy some success prior to the All-Star break.
Boston had earned points in 11 of its last 12 games, posting a 7-1-4 record in that stretch. The Bruins had six days off before returning to the practice ice Wednesday at Ristuccia Arena, and coach Claude Julien hopes the extended break -- during which many of the players vacationed in warmer climates -- won't have a negative effect on the team's momentum.
"You hope not," Julien said. "The rest is always a good thing. It's a tough enough schedule that you go through during the season, so I don't think it should hurt us. At the same time, it's important we regain that momentum that we had just before the break and that has to start [Thursday]."
[+] Enlarge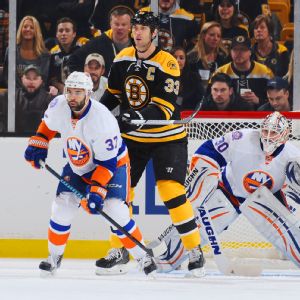 Steve Babineau/Getty ImagesThe Bruins face the red-hot Islanders on Thursday in New York.
Julien conducted an up-tempo, hour-long practice before the team traveled to New York to face the Islanders on Thursday night at Nassau Coliseum. Julien said it went well.
Bruins captain
Zdeno Chara
, who had finally regained his form prior to the break, said he continued to skate during the hiatus to stay sharp.
"I don't think it's about the momentum," Chara said. "It's about taking advantage of those days [off] for your best benefit. We all knew we were going to be away from the ice and we're aware of where we are in the standings and how you need to maintain yourself during those days and be ready when you play."
Bruins defenseman
Dougie Hamilton
stayed local and enjoyed his rest and relaxation. This season, he's already set new career-highs in both goals (eight) and points (26). He even registered his first NHL fight in the final game before the break against
Colorado Avalanche
captain
Gabriel Landeskog
. Hamilton is sporting a blood-shot eye from the bout, and after Wednesday's practice he admitted this recent break felt a bit different due to the length of it.
"It's always a little tough when you're off for six days and when you come back it's a little tougher to get into the rhythm," he said. "We're obviously good enough to be able to [regain momentum] so it was good for us to get a rest. With everyone refreshed a little, it's a good feeling."
The Islanders have already played after the break, defeating the
New York Rangers
4-1 Tuesday night. Islanders goaltender
Jaroslav Halak
made 40 saves in the win, improving his record to 26-9-0. New York's 32 wins through 47 games equal a franchise record set in 1978-79 (32-6-9). The Islanders' 17 home wins in 21 games at Nassau Coliseum also matches a club record.
"They are a talented, young, confident team right now and they've been like that all year," Julien said. "It was only a matter of time before you saw that team become the team that they are, so there's a lot of respect for them. Again, it's about us bringing our best tomorrow against a team like that."
The Bruins have 34 games remaining in the regular season, and a healthy and consistent lineup will help the team's chances of climbing the Eastern Conference standings. Bruins goaltender
Tuukka Rask
needs to remain atop of his game because his teammates feed off his confidence.
The Islanders are one of the best teams in the Eastern Conference and will present a good challenge for the Bruins as they start their sprint toward the playoffs.
"We've had some confidence. We've had some good games. [Thursday] will be a good first test for us," Julien said.
January, 27, 2015
Jan 27
9:23
AM ET
By
Matthew Coller
| Hockey Prospectus
The difference between a ninth-place team and a playoff team can be a single player who shores up the club's one glaring weakness at the trade deadline. The same goes for the gap between a first-round loss and Stanley Cup run. For example, the Los Angeles Kings could not have won the Stanley Cup in 2014 without offensive dynamo Marian Gaborik, acquired in a deadline deal.
At this point in the season, NHL teams are beginning to assess their playoff chances, including whether they should be buyers at the deadline. Can they fill holes by trading for upcoming free agents? Would they sacrifice taking on a bad contract from another team to take a shot at the Cup? As we begin the unofficial second half of the season, we look at the 10 teams contending for four wild-card spots. What are their weaknesses? How can they solve them?
---
Eastern Conference
Weakness: Lack of goal scoring up the middle
Trade fix: Third-line center
Key stat: 18 total 5-on-5 goals from Derek Stepan, Derick Brassard, Kevin Hayes and Dominic Moore
January, 25, 2015
Jan 25
10:20
PM ET
Associated Press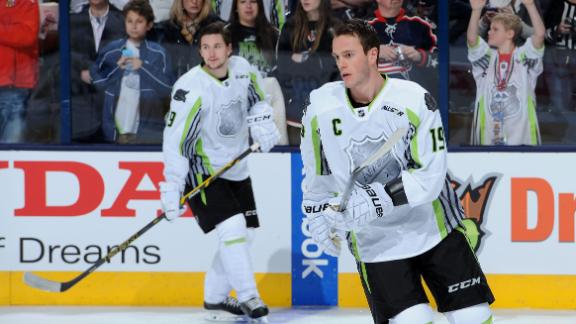 COLUMBUS, Ohio -- Blue Jackets forward Ryan Johansen spent the past few days showing off Columbus to his fellow NHL All-Stars.
On Sunday, Johansen did some showing off of his own by winning an online fan vote to be named the game's MVP.
"It's been really cool. It hasn't hit me yet for sure," he said. "This is something I'll remember for a very long time."
The fourth-year forward, and first-time All-Star won despite being on the short end of Team Foligno's 17-12 loss to Team Toews. Johansen led the team captained by Blue Jackets teammate Nick Foligno with four points (two goals and two assists) and won a new car to go with the honor.
He beat out two Team Toews players -- New York Islanders forward John Tavares and Boston's Patrice Bergeron. The three were announced as the MVP finalists early in the third period, when the vote on Twitter began in the first time fans have determined the winner.
Though the vote amounted to a popularity contest, Johansen's fellow All-Stars called the honor deserving.
"Ryan played great," said Bergeron, who had a goal and four assists. "There were a lot of guys who had great nights."
That included Philadelphia's Jakub Voracek, who had a game-leading six points (three goals, three assists) to tie the All-Star record set by Mario Lemieux in 1988.
"Joey deserved it, the way he handled the weekend overall," Voracek said, referring to Johansen. "Him and Nick Foligno, I'm sure, have been under a lot of the spotlight. They did a great job. It was well deserved."
Tavares, meanwhile, matched an All-Star record in becoming the sixth player to score four goals.
Johansen has emerged as a fan favorite in Columbus after getting off to an uncertain start to the season. As a restricted free agent, he held out the first two-plus weeks of training camp before signing a three-year, $12 million contract in October.
The 2010 first-round draft pick has since delivered on that potential by leading the Blue Jackets with 43 points (17 goals, 26 assists) in 45 games.
On Sunday, Johansen's first goal tied the game at 2 at 11:05 of the first period, when he skated out of the left corner and snapped a shot in off the far post. Johansen scored his second goal 5 minutes later, when he one-timed in a pass from Alex Ovechkin
January, 24, 2015
Jan 24
9:51
PM ET
Associated Press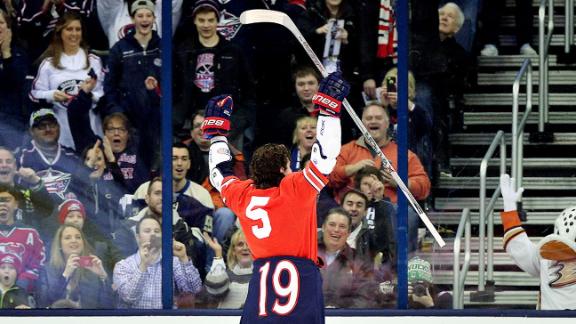 COLUMBUS, Ohio -- Not that they did before, but it's official now: No one wants to get in front of Shea Weber's shot.
The Nashville Predators defenseman fired the hardest shot, at 108.5 mph, at the NHL All-Stars skills competition Saturday night and took advantage of five-time champion Zdeno Chara's absence.
"I knew I got it," Weber said. "But it's tough. You never know how hard it is until it registers on the gun. But it felt like I got pretty much all I could into it, and [you] just kind of hope for the best."
Fighting his nerves (he doesn't practice high-velocity shots), Weber missed the entire net on a 101.8 mph drive with his first attempt. That nullified that try.
Washington Capitals star Alexander Ovechkin, who stole the show at Friday night's draft by pleading to be picked last so he would win a new car, had led the competition with a pair of 101.4 mph drives.
But then Weber stepped into his final shot to win the event.
He said it felt strange with the 6-foot-9 Chara -- who holds the record of 108.8 mph set in 2012 -- not participating.
"Obviously, he's the guy to beat all the time," Weber said. "He's got the big shot. Honestly, I was nervous because there's some guys out there that can rip it."
January, 23, 2015
Jan 23
9:34
PM ET
Associated Press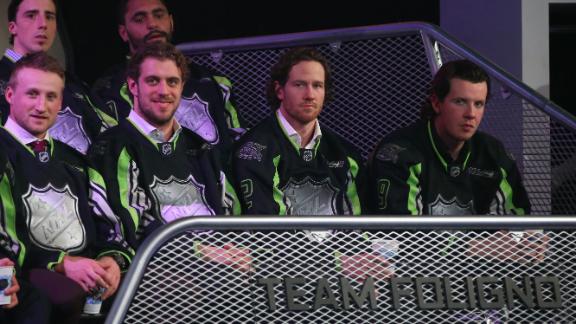 COLUMBUS, Ohio -- Phil Kessel was once again dealt for Tyler Seguin, Columbus Blue Jackets center Ryan Johansen was the No. 1 overall pick and superstar Alex Ovechkin did not get his new car.
In a wild and comic NHL All-Star draft to set the lineups for Sunday's game, almost nothing went the way anyone might have guessed.
The highlight of the evening was Ovechkin, the Washington Capitals' $10 million-a-year goal-scoring superstar, pleading to be taken last in the 17-round draft. Why? To compensate for the embarrassment of being the player no one wanted, the NHL gives the last player standing a new car.
At one point during the evening, a TV interviewer approached Ovechkin backstage and he hid behind a white piece of paper on which he had printed: "I want to be last. Need a car."
Ovechkin, the league's leading goal-scorer last year, came close to getting his wish. He lasted until there were just three players remaining, but then captain Nick Foligno selected him.
Ovechkin slumped in mock dejection in his chair, looked at the ceiling and sighed loudly. Then he looked into the camera and mouthed one word: "WHY?"
Foligno watched Ovechkin slowly walk onto the stage before despondently putting on a black Team Foligno jersey.
"Hey, Ovie, buy a car!" Foligno called out.
As it turned out, Ovechkin barely missed out on a new set of wheels. The two players who went last -- Edmonton's Ryan Nugent-Hopkins
January, 22, 2015
Jan 22
12:42
PM ET
Even before the Boston Bruins' recent string of success, players had already made plans and booked their All-Star break get-a-ways to warmer climates.
A few days of rest and relaxation without thinking, talking or dissecting hockey will help the players recharge, so when they return to practice early next week they'll be ready to continue their strong push for a playoff spot.
Currently, the Bruins are holding on to the eighth and final playoff spot with a 25-16-7 record (57 points). Boston is seven points ahead of the
Florida Panthers
in the wild-card race, and the Bruins are only seven points back of the top-seeded
Tampa Bay Lightning
.
[+] Enlarge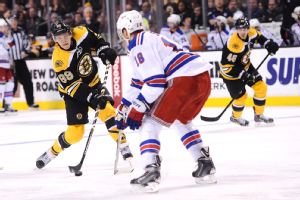 Maddie Meyer/Getty ImagesThe addition of rookie David Pastrnak has helped spark the Bruins' recent surge.
When the suntanned Bruins return from the break, they will have 34 games remaining in the regular season to make their postseason push. Coach Claude Julien will have a healthy and consistent lineup, so there shouldn't be any excuses now if the Bruins fail to reach the playoffs.
The Bruins have shown signs in the last few games that they can, and should, become a playoff threat once again. After Wednesday's 3-2 shootout loss to the
Colorado Avalanche
in Denver, the Bruins have earned points in 11 of their last 12 games, posting a 7-1-4 record in this stretch.
There are a few factors why the Bruins have improved, including a healthy roster, consistent lineup and outstanding goaltending from
Tuukka Rask
. All three will need to continue in order for the Bruins to earn their eighth consecutive trip to the postseason.
Due to the uncertainty regarding injuries, teams are always in need of depth. The Bruins seem to be OK in that area. And they have proven over the years that if Julien can roll four lines consistently with reliable combinations, it usually leads to success. That's what we've seen during the team's recent run.
Milan Lucic
,
David Krejci
and
David Pastrnak
have built a resurgence on the team's top line.
Patrice Bergeron
, the team's lone All-Star representative, and his linemates
Brad Marchand
and
Reilly Smith
make up the Bruins' best two-way line. The third unit of
Chris Kelly
,
Carl Soderberg
and
Loui Eriksson
has been Boston's most consistent line the entire season. Of late, the on-ice chemistry between Soderberg and Eriksson, along with Kelly's hard work, has been a lot of fun to watch.
Over the last few seasons when the Bruins have been perennial Cup contenders, it's been the work of the fourth line -- the energy line -- that has been crucial for the team. For the majority of this season, that unit has been disjointed, but now
Daniel Paille
,
Gregory Campbell
and rookie
Craig Cunningham
are producing at both ends of the ice and Julien has regained trust in that unit.
Earlier this season the Bruins' defense committed too many mental mistakes and it had a major effect on the team's success. Boston has cleaned up its defensive play and it has translated into a stronger offensive output. The Bruins haven't been scoring as much as they would like, but if their defensive zone coverage is where it needs to be, they should be all set.

It's also no coincidence the Bruins are rolling now with rookie David Pastrnak in the lineup. The 18-year-old forward's enthusiasm and drive have become infectious both on and off the ice. He has a genuine love of the game and his talents have helped Boston's top line find its game.
The most important aspect to Boston's renewed success has been Rask. The reigning Vezina Trophy winner struggled earlier this season, to a point where Julien made the comment that Rask "hasn't stood on his head." The goaltender has been tremendous of late and his teammates feed off Rask's confidence. He's the type of goaltender that once he finds his rhythm, he's hard to beat.
In the final two back-to-back games before the break, Rask registered 70 saves total in a 3-1 win over the
Dallas Stars
on Tuesday and a shootout loss to the Avalanche on Wednesday. He's 8-1-4 in his last 13 starts, and no doubt the Bruins will need to rely on Rask the rest of the way.
Even though the Bruins were set back by injuries and inconsistencies earlier this season, there's no reason this team can't earn a postseason berth. No matter whether they finish as the wild card or as the top seed, the Bruins have the ability to make a serious push toward the Cup.
The players should enjoy their brief hiatus, because once they return from the break it will be a sprint the rest of the way.