December, 27, 2014
Dec 27
10:14
PM ET
By
Kyle Brasseur
| ESPNBoston.com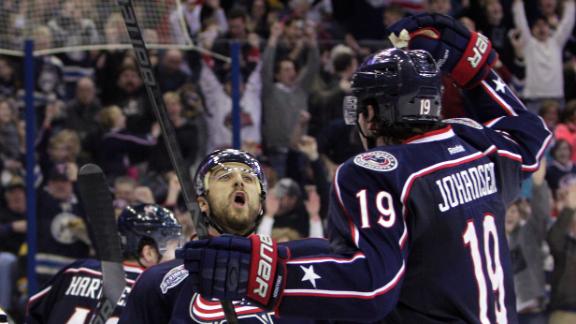 Needing a win to keep pace in the Eastern Conference wild-card race, the
Boston Bruins
fell on their face in a 6-2 loss to the
Columbus Blue Jackets
on Saturday night at Nationwide Arena.
Having finished the first period tied at 1-1, the Blue Jackets scored three unanswered goals in the second period to put the Bruins in a deep hole. Starting goalie
Niklas Svedberg
was pulled after allowing the third goal -- the first hook of his young career. He finished his night with 12 saves on 15 shots faced.
Tuukka Rask
wasn't any better in relief and also made 12 saves on 15 shots faced.

Activated off injured reserve earlier in the day, Blue Jackets winger
Scott Hartnell
scored his first of two goals on a rebound shot at 8:11 in the first. Twenty seconds later, the Bruins answered with
Patrice Bergeron
faking out Columbus goalie
Curtis McElhinney
(26 saves on 28 shots faced) before putting a shot past him to knot the score.
The Blue Jackets received three consecutive goals from Hartnell,
Kevin Connauton
and
Nick Foligno
in the second, with Foligno's coming on the power play. Bruins forward
Craig Cunningham
was able to break up the momentum with a goal redirected in front of the Columbus net, his second of the season.
Matt Calvert
put the Blue Jackets up 5-2 with less than a minute remaining in the period with a controversial goal. The puck bounced out of play without being whistled, which led to play continuing as normal. Skating for nearly two minutes without interruption, Calvert eventually scored on Rask, and it stood without contention.
The NHL offered this explanation on the goal during the third period:
"The puck appeared to hit the spectator netting in the Columbus zone and play continued ... According to Rule 85.1, play shall be stopped when the puck hits the spectator netting, unless it goes unnoticed by the on-ice officials, in which case 'play shall continue as normal and resulting play with the puck shall be deemed a legitimate play.' Since play continued and the puck was not directed into the net as an immediate result of hitting the spectator netting, this is not a reviewable play, and the on-ice decision stands."
Regardless, the Bruins played one of their worst games of the season in the loss, which dropped them to 18-15-3 and kept them out of the playoff picture with 39 points. Columbus' sixth goal came courtesy of
Jeremy Morin
in the third period, as the Bruins ended the game with a lifeless final 20.
Hello again:
To the surprise of no one, Bruins winger
Milan Lucic
and Blue Jackets defenseman
Dalton Prout
renewed acquaintances with a heavyweight bout in the second period. The most recent time these two teams met Nov. 21, Prout landed a punch on Lucic in the closing seconds of overtime, when Lucic hadn't even dropped his gloves or signaled he was looking to fight. A few days after the game, Lucic called the cheap shot "gutless," while practically guaranteeing he would get his revenge. The two were called for roughing penalties on each other in the first, before going toe-to-toe at 2:59 in the second. Each landed big blows before Lucic took Prout down to end the spirited fight.
Unlikely save:
In a game in which both Bruins goalies looked less than sharp, top-line forward
David Krejci
came up with a huge save in the waning seconds of the first period. With the Blue Jackets applying pressure in the offensive zone, Svedberg gave up a juicy rebound on a shot that left the right side of the net open. Krejci sprawled out to cover the open area, blocked a Columbus second-chance shot and kept the score tied at the time.
Adding injury to insult?
As if things couldn't get any worse, Bergeron left the ice in the third period with what appeared to be a minor injury and didn't return. Afterward, Julien said Bergeron's departure was precautionary.
Up next:
The Bruins return to TD Garden on Monday for a three-game stand against the
Detroit Red Wings
,
Toronto Maple Leafs
and
Ottawa Senators
. Things kick off Monday night against Detroit.
December, 24, 2014
Dec 24
12:00
PM ET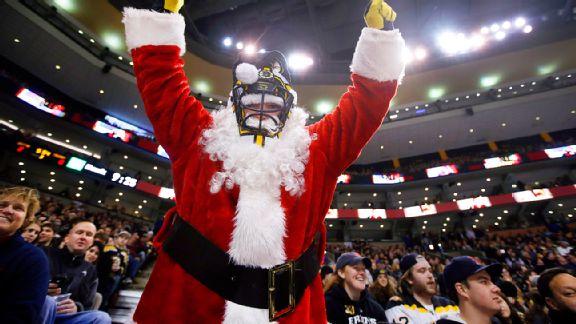 AP Images/Elise Amendola
In the spirit of the Christmas season, the Boston Bruins could use some added holiday cheer. The team has struggled this season with injuries and inconsistencies, and is teetering in and out of playoff contention.
After a 5-3 win over the Nashville Predators on Tuesday night at TD Garden, Boston is ranked 10th in the Eastern Conference and third in the wild card. The Bruins will enjoy a much-needed, three-day holiday break before resuming play against the Blue Jackets on Saturday night in Columbus.
So raise a glass of egg nog, or your favorite holiday libation, as we offer a few Christmas wishes for the Bruins:
Team president Cam Neely: His own "Sea Bass" spin-off called "Beyond the Sea and Behind the Bass."
General manager Peter Chiarelli:
To become the new pitchman for Willy Wooly because of all his different facial hair styles this season.
Coach Claude Julien:
A healthy lineup for the remainder of the season.
Captain Zdeno Chara:
No more trips to the IR.
Assistant captain Patrice Bergeron:
Acting classes paid for by EA Sports.
Assistant captain David Krejci:
A point-producing right winger.
Assistant captain Chris Kelly:
More fan respect.
Tuukka Rask:
An unforgettable first Christmas with his daughter.
Milan Lucic:
An endless career as the Delta Dental spokesperson.
Gregory Campbell:
His own fashion reality television show called "Soupy's Suits."
Simon Gagne:
Thoughts and prayers for his ailing father.
Reilly Smith:
No more questions about playing against his brother, Red Wings' Brendan Smith. Oh, and a contract extension.
Daniel Paille:
More goals and fewer posts.
Loui Eriksson:
No more reminders of how Tyler Seguin is playing in Dallas.
Matt Fraser:
A gift basket of new baseball hats from the Pawtucket Red Sox.
Dougie Hamilton:
Similar to last year, his first NHL fight. Oh, and a contract extension.
Carl Soderberg:
A league-approved designer scarf to wear during games.
Matt Bartkowski:
To bring continued smiles to children at local hospitals.
Dennis Seidenberg:
Gamma radiation Bruce Banner style.
Torey Krug:
Award for most gruesome finger injury. Oh, and a contract extension.
Seth Griffith:
Plenty more highlight-reel goals.
Craig Cunningham:
Less time in the AHL.
Zach Trotman:
His first NHL goal, and make it a game-winner.
Brad Marchand:
A new-found love for the media.
Kevan Miller:
A healthy shoulder.
Niklas Svedberg:
A Guinness world record for staying in his equipment the longest.
To all Bruins fans:
A Stanley Cup playoff victory over the Montreal Canadiens.
December, 24, 2014
Dec 24
10:55
AM ET
BOSTON -- Unlike other professional sports, the NHL does it right and shuts down for three days during the holiday season.
The NHL and NHLPA agreed to the brief hiatus as part of the collective bargaining agreement, so Dec. 24-26 are considered restricted days for all 30 teams. This break comes at the perfect time for the
Boston Bruins
. With Tuesday's 5-3 win over the
Nashville Predators
, Boston is ranked 10th in the conference, and sits third in the wild-card standings.
The NHL, MLB and NBA break for its respective All-Star festivities each season. The NFL has bye weeks, but the NHL is unique in its holiday break. Bruins players couldn't get out of TD Garden fast enough late Tuesday with a variety of travel destinations.
"It's nice any time you get a little bit of a break," said Bruins forward
Brad Marchand
, who scored a pair of goals in Tuesday's win over the Predators. "You get to rejuvenate and get your mind off hockey for a bit, especially with the holidays, and you get to spend some time with your family and when you come back it's exciting to get back at it and hopefully that can help our team."
Bruins defenseman
Torey Krug
didn't realize that the NHL was the only pro league to have such a break.
"It's great. We get to spend time with our families," Krug said. "There's a lot of time when we're on the road and we don't get to spend that quality time, then you get the holiday and you get to hang out with them, so it's awesome. I guess I never really put it together that we're the only sport."
Bruins veteran forward and assistant captain
Chris Kelly
remembers sitting in the NHLPA meetings, discussing whether this sort of break would be warranted.
"The guys without kids would be like, 'Oh, yeah whatever, I'll play' and the guys with kids will say, 'No. I don't want to do that."
Added Kelly, "Christmas is a special time and it would be tough to miss your kids' faces when opening up presents and things like that, so it is nice that we get three days off."
Hockey players are in incredible shape this time of the season, but after a three-day break without any kind of workout, the first time back on the ice is a bit of a challenge.
"It actually is pretty tough," Krug said. "Your wind, your conditioning, you find it after the first skate but that first skate is really tough, so I imagine when we get to Columbus we'll work all the holiday treats off in our first skate and get ready for the game."
The Bruins will travel early Saturday to Columbus for their morning skate to prepare to face the Blue Jackets later that night.
December, 24, 2014
Dec 24
12:11
AM ET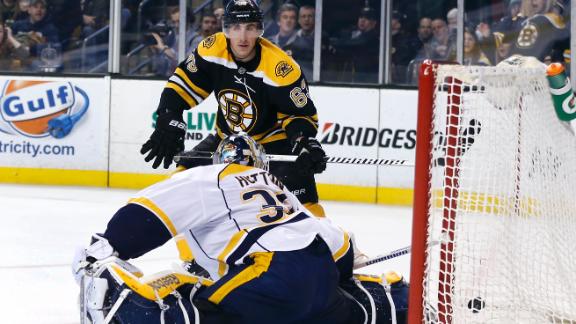 BOSTON -- There are a few different ways one can examine the
Boston Bruins
' 5-3 win over the
Nashville Predators
on Tuesday night at TD Garden.
The Bruins beat one of the best teams in the NHL but accomplished the victory with Nashville's best goalie and early Vezina Trophy candidate,
Pekka Rinne
, on the bench due to the Predators playing the second of back-to-back games.
No matter. The Bruins earned the crucial two points and received contributions from
Brad Marchand
and
Loui Eriksson
, both of whom recorded a pair of goals in the victory.
It is only the fourth time in 35 games this season that the Bruins produced a five-goal effort. Nashville did have a strong, late push as Boston played the third period on its heels, but the Bruins held on and now have a two-game winning streak.
[+] Enlarge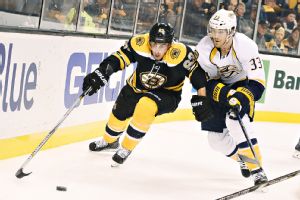 Steve Babineau/Getty ImagesBrad Marchand's third two-goal game of the season gave him 10 points in his last 11 games.
"We all know that if we're going to climb back into the standings, we all need to play our game and do what we're paid to do," Marchand said. "We've got to produce. We all know what we have to do. If we all play our roles the way we're supposed to, then we're a good team, and we know that. It's good to see everybody's stepping up right now."
After the morning skate, the emphasis was to enter the three-day holiday break on a positive note. The Bruins were able to accomplish just that, even though they did not show the killer instinct coach Claude Julien has been looking for.
For Marchand, it's only his third two-goal game of the season, but he does have five goals and five assists for 10 points in his last 11 games. The chip on his shoulder appears to be back, and that's when Marchand is at his best. Indeed, the crafty winger is showing signs of getting his aggressive style back.
Marchand's first goal gave Boston the all-important 1-0 lead. He gained control of a turnover just inside the Nashville blue line and quickly moved the puck to linemate
Patrice Bergeron
, who delivered a perfect give-and-go with Marchand. His shot from the slot beat Predators goaltender
Carter Hutton
to the top left corner at 2:01 of the first period.
"I don't think too many goaltenders would have stopped that," Julien said. "It was a quick release -- quick, hard shot."
Marchand added his second goal at 10:51 of the second period to give Boston a 4-2 lead. With two goals already in his pocket, he wanted the third, because he was well aware of the date. He registered his first career hat trick against the
Florida Panthers
on Dec. 23, 2011.
"It was in my head," he said with a smile. "It would have been nice to get it, but we won, so that's all that matters."
For Eriksson, the confidence is building with every point he earns of late. His first goal gave Boston a 3-2 lead at 5:53 of the second period. It was the end result of hard work and strong passing between Eriksson, linemate
Chris Kelly
and defenseman
Matt Bartkowski
.
Eriksson added his second of the game, an empty-net tally at 19:22 of the third period, for his ninth goal of the season. He now has six goals and two assists for eight points in his last eight games. It was his fifth multipoint game of the season and third in the last four games.
"It's definitely going good," Eriksson said of his confidence. "When you start scoring goals the confidence goes up, and it was nice to get two goals today and get the win before Christmas."
[+] Enlarge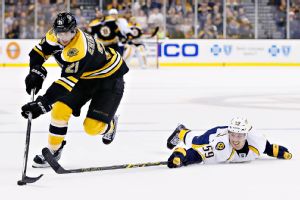 Greg M. Cooper/USA TODAY SportsWith six goals in eight games, Loui Eriksson's confidence is on the rise.
It also is evident that he is comfortable on the line with Kelly and
Carl Soderberg
. That trio has built its chemistry since last season, but it had been sporadic this season until Julien decided he needed to keep the line intact.
When a goal scorer is on a streak like Eriksson's, pucks always seem to find a way onto his stick. And that's how Eriksson is feeling right now.
"I've been feeling good, and we've been creating chances," he said. "When you get on a roll, usually you get on a good scoring streak and it just keeps coming. I'm feeling right now that I have my confidence up. I'm making plays and scoring goals, so hopefully I can continue doing that."
After Tuesday's win, Eriksson mentioned the way he's feeling right now is similar to stretches he had while playing for the
Dallas Stars
.
Speaking of Dallas, ever since Boston acquired Eriksson -- along with
Reilly Smith
, Joe Morrow and
Matt Fraser
from the Stars in exchange for
Tyler Seguin
and
Rich Peverley
on July 4, 2013 -- folks compare Eriksson's success to Seguin's.
In Dallas this season, Seguin is tearing it up, leading the league with 25 goals and ranking second with 42 points. Eriksson and Smith have a combined 38 points this season. Most will argue Bruins general manager Peter Chiarelli made a mistake. But the fact of the matter is he had to make the trade at that time, because Seguin would have continued to underperform in Boston for a variety of reasons.
It may be easy to second-guess the trade, but Eriksson is not paying attention to what Seguin is doing in Texas.
"Obviously, he's scoring a lot of goals over there, but there's not much I can do about it here," Eriksson said. "I'm just trying to play my game and try to help the team as much as I can here. The last couple of games it's been really good, so hopefully I can continue doing that."
The Bruins enter the holiday break with a two-game winning streak. Boston barely beat the lowly
Buffalo Sabres
on Sunday at TD Garden before hanging on to an important victory over the thriving Predators.
The players who should be producing are finding their games. But unlike the majority of the season, those players, especially Marchand and Eriksson, need to continue that play if the Bruins are to climb the Eastern Conference standings.
"It was good to see glimpses of how we know we can play, and we know it's still in here," Marchand said.
We shall see.
December, 23, 2014
Dec 23
9:48
PM ET
BOSTON --
Brad Marchand
and
Loui Eriksson
each scored a pair of goals as the
Boston Bruins
narrowly held on to beat the
Nashville Predators
, 5-3, Tuesday night at TD Garden.
It's the first time the Bruins have won back-to-back games since a three-game winning streak from Nov. 15-21. The win also snapped Nashville's winning streak of three games.

The Bruins'
David Krejci
also scored, while goaltender
Tuukka Rask
finished with 22 saves.
The Bruins didn't get Nashville's best since No. 1 goalie
Pekka Rinne
was given the night off after playing against the
Columbus Blue Jackets
Monday night. Predators backup
Carter Hutton
got the nod and made only his fourth start of the season. He finished with 20 saves.
The Bruins took an early 1-0 lead when they capitalized on a turnover just inside the Nashville blue line. Marchand gained control of the puck and quickly moved it to Bergeron, who delivered a perfect give-and-go with Marchand. His shot from the slot beat Hutton to the top left corner to give Boston a 1-0 lead at 2:01 of the first period. It was Marchand's ninth tally of the season.
Nashville stifled Boston's early momentum when the Predators tied the game at 1-1 at 7:35 of the opening period. The Predators'
Colin Wilson
easily broke in on Rask and beat the goaltender with a backhander to the top right corner.
Bruins coach Claude Julien hasn't been pleased with the team's lack of power-play opportunities this season, but Boston earned two in the first period, capitalizing on the second man-advantage when Krejci scored on a one-timer from the left faceoff circle to give Boston a 2-1 lead at 9:43.
Once again, that lead did not last long as the Predators'
Calle Jarnkrok
tied the game at 2-2 at 11:31. His shot from the left faceoff circle beat Rask under his stick-side arm, a goal he would want back.
Bruins defenseman
Matt Bartkowski
made an impact in the offensive zone, jumping into the play time and again. He was rewarded for his efforts when he served as the late trailer, received the puck from teammate
Chris Kelly
and made a nice pass to record the assist on Eriksson's goal to give Boston a 3-2 lead at 5:53 of the second period.
The Bruins continued to press and created strong pressure in the offensive zone with crisp passing that resulted in Marchand's second goal of the game and a two-goal lead at 10:51. Bruins defenseman
Kevan Miller
made a solid play at the point to get a shot on net before Bergeron redirected to Marchand, who was camped out on the off post for the tally. It was Marchand's 10th of the season.
Nashville cut its deficit to one when
Taylor Beck
scored at 6:48 of the third period. The puck was loose on the Boston blue line when
Zdeno Chara
failed to gain control, and Jarnkrok chipped it to Beck, who ripped a shot short side on Rask.
Nashville kept coming and the Bruins barely contained the pressure to hold on for the win. Eriksson added his second goal of the game, an empty-netter with 37.2 seconds remaining in regulation.
After Tuesday's league-wide action, the NHL will shut down for the next three days due to the mandatory holiday break. The Bruins will resume play Saturday against the Blue Jackets at Columbus.
December, 23, 2014
Dec 23
2:04
PM ET
The
Boston Bruins
(17-14-3, 37 points) host the
Nashville Predators
(22-8-2, 46 points) Tuesday night at TD Garden. Here's what to watch for:

We meet again:
The Predators defeated the Bruins 3-2 in a shootout on Dec. 16 at Nashville. Tonight will be the second and final time these teams face each other during the regular season. This is only the 21st time they have played in franchise history, with the Bruins holding an 11-4-1-4 record. The home team has won eight of the last nine games. Boston is 10-6-2 on home ice this season.
What have you done lately:
The Bruins have earned points in four of their last five games with a 2-1-2 record. Boston narrowly defeated the
Buffalo Sabres
4-3 in overtime Sunday at TD Garden. The Bruins are 3-5-1 in their last nine games and 4-6-2 in the last 12. Boston's last six games have been decided by one goal. The Predators posted a 5-1 win over the Blue Jackets on Monday night at Columbus. Nashville had 11 different players on the score sheet, including a pair of goals from
Craig Smith
. The Predators have won three consecutive games, and five of their last six.
Masked men:
Overall, the Bruins'
Tuukka Rask
is 13-10-3 with a 2.52 goals-against average and a .913 save percentage. He's 2-2-2 in his last six starts. Rask is 1-0-2 in three career games against the Predators. He made 38 saves in last week's 3-2 shootout loss to Nashville. The Predators'
Pekka Rinne
has been outstanding this season and is considered the early favorite for the Vezina Trophy. He's 22-6-1, with a 1.84 GAA and a .934 SP. He made 30 saves, including 14 in the second period, of Monday's win over the Blue Jackets. Rinne leads the league with 22 wins and ranks third in GAA, SP and shutouts (3) in 29 games.
More of the same:
Bruins coach Claude Julien is beginning to see some stability and consistency with his line combinations. Here are the line combinations from Tuesday's morning skate:
Lucic-Krejci-Cunningham
Marchand-Bergeron-Smith
Kelly-Soderberg-Eriksson
Paille-Campbell-Fraser
December, 23, 2014
Dec 23
1:21
PM ET
BOSTON -- With the exception of defenseman
Adam McQuaid
, the once-depleted Bruins lineup is healthy again, and with one game remaining before the three-day Christmas break, coach Claude Julien hopes it stays that way.
The Bruins host the
Nashville Predators
Tuesday night at TD Garden, before the NHL shuts down Dec. 24-26.
"Before tonight's game we're a fairly healthy team, it's a good opportunity for us, and I've [knocked on wood] many times," Julien said. "We just got to go out there and play as well as we can. Our goal is to definitely go on the Christmas holiday feeling a little bit better about ourselves and that comes with hopefully a win tonight."
As far as McQuaid, he had been skating on his own but participated in the team's morning skate Tuesday. He suffered a broken right thumb on Nov. 18 and was slated to miss six to eight weeks.
"He's not ready, obviously," Julien said. "I guess his rehab is on track with what [medical staff] said."
December, 23, 2014
Dec 23
12:03
PM ET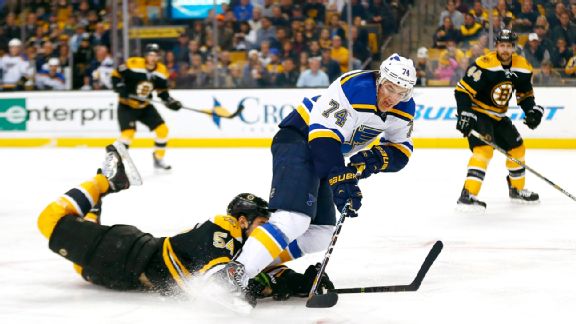 AP PhotoBlues forward T.J. Oshie is among the players who could be moved when the roster freeze is lifted.
On Dec. 27, the NHL's roster freeze is lifted, and general managers can return to trying to address their teams. Moves have been relatively quiet this season, but every day the trade deadline draws closer, the chances we'll see trades increases.
In January of last season, the pace picked up considerably with eight trades that month, twice as many as December. The Rangers did a nice job to pick up
Kevin Klein
for
Michael Del Zotto
last January, a move that's still paying dividends. The Oilers hoped to address their goaltending with a trade for
Ben Scrivens
. The Hurricanes and Maple Leafs swapped defensemen on the same day Toronto was playing in the Winter Classic.
It's quite possible that this January will be just as active.
So what are the needs of each team as GMs have a couple of days to gather their thoughts and formalize their game plans heading into trading season? Here's a look at the top need for all 30 teams:
Anaheim Ducks
We expect GM Bob Murray to aggressively pursue a top-four defenseman before the trade deadline, but what he does at forward may depend on whether or not
Matt Beleskey
stays productive. He currently has a gaudy 17.9 percent shooting percentage and has eclipsed his career high in goals (15). He's provided another scoring option on the wing and the depth up front the Ducks needed in the middle of their injury issues.
His teammate
Francois Beauchemin
thinks it can continue. "I think so," he said. "He has a great release and a great shot. He plays hard, which is what you want."
Arizona Coyotes
The Coyotes need an offer they can't refuse for
Keith Yandle
.
December, 22, 2014
Dec 22
11:36
PM ET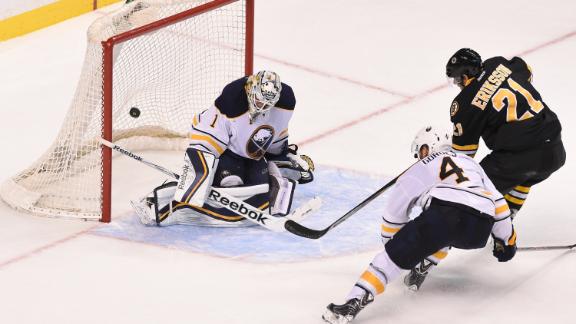 BOSTON -- These are dire times for the
Boston Bruins
.
While management continues to rack its collective brain to find ways to improve the team, the players on the current roster find themselves trying to stay positive, despite inconsistencies and subpar performances. Veteran leadership is frustrated by the lack of success this season and everyone is susceptible to criticism, including
Patrice Bergeron
.
There's a character in the movie "Goodfellas" known as Jimmy "Two Times" because he says everything twice. You know the line: "I'm going to get the papers, get the papers." In the hockey world, Bergeron should be known as "Two-Point Bergy" because all he talks about is the importance of earning two points for the team.
Your team has dealt with injuries all season?

Two points.

Your top producers aren't producing?

Two points.

Your team is struggling to stay in playoff contention?

Two points.
Bergeron is never concerned with personal statistics. When the team is struggling the way the Bruins are this season, he doesn't care how they win as long as they win.
"It is about the two points and I know he's working hard," Bruins coach Claude Julien said of Bergeron.
As the team prepares to host the
Nashville Predators
Tuesday night at TD Garden, Bergeron is tied with teammate
Carl Soderberg
with 23 points in 34 games.
[+] Enlarge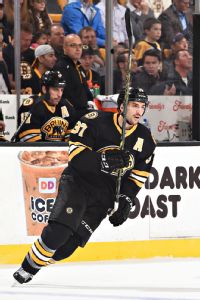 Steve Babineau/NHLI/Getty ImagesPatrice Bergeron's numbers are comparable to last season at this time, except his plus/minus is considerably worse.
"He had a great year last year, scoring 30 goals, and I don't know what he'll end up with this year, but it's still the same Bergy that competes every game," Julien said.
At the end of the 2013-14 season, Bergeron finished with 30 goals and 32 assists for 62 points in 80 games. He also posted a plus-38 rating. When the NHL broke for its annual Christmas break on Dec. 23, 2013, Bergeron had nine goals and 10 assists for 19 points, including a plus-16 rating.
This season, with one game remaining before the three-day break, Bergeron has six goals and 17 assists for 23 points, but has just a plus-3 rating.
"As a coach, it's hard to criticize players that come to play every game," Julien said. "You get disappointed in players that are so good one night and not so good the next, or don't show up and are weak players. With him, it's always been his trait that he comes to play hard. There's no doubt and I'm sure he'd like his numbers to be a little bit better, but right now he's still one of your top scorers anyway."
With the exception of the plus/minus, Bergeron's numbers are on pace with a season ago. In the last 14 games, Boston's assistant captain has only one goal, and while the entire team is trying to generate more scoring, Bergeron wants to do his part.
"Anytime you hear that about the team [struggling], as an individual you always want to bring more and try to contribute more and help in any way you can," Bergeron said. "I wish I could score every game, but you know with the parity in the league now, you know it's unrealistic. At the same time, I'm approaching the game that way and trying to get better every game."
Bergeron never has been the type of player to feel pressure to perform. When he arrives at the rink for either practice or a game, his goal is to be the hardest-working player on the ice. But he's not immune from criticism due to the team's lackluster performance this season and understands he's as much to blame as anyone for the inconsistency.
"I have high expectations of myself and I don't think any of the outside pressures should affect me, and I don't think it's a good thing to do that," he said. "With my past experience, it's helping me now to realize it turns around if you work hard and keep doing the same thing and keep plugging at it. I'm trying to do that and definitely putting emphasis in practice on bearing on my chances and putting the puck in the net."
Until the Bruins rallied late and eventually beat the
Buffalo Sabres
4-3 in overtime Sunday at TD Garden, Boston was on the verge of losing to one of the worst teams in the NHL. There have been too many of those games this season, and if that trend continues the Bruins will find themselves on the outside looking in for the first time in eight years once puck drops for the Stanley Cup playoffs.
"Right now we definitely need to establish some consistency in our game," Bergeron said. "It starts with the details and those things that helped us in the past and realizing we've done it before and going out there and executing the game plan. There's too much of the ups and downs right now. We get on our heels too quickly. We have to stay on our toes and stay hungry."
The Bruins seem convinced they can turn it around. At this point, all they need to do is climb their way back into playoff position and stay there, because once the playoffs begin it really doesn't matter where you're ranked. Boston learned that first-hand last season after winning the Presidents' Trophy as the league's best regular-season team, before losing in the second round to the
Montreal Canadiens
.
Most of the players on this team aren't used to teetering in and out of a playoff spot at this point of the season. It's an uncomfortable feeling for those players.
"You learn in any situation and it's another learning process for me," Bergeron said. "I'm an older leader but the last few years we've always been successful and we haven't had those down years, so this year is definitely a challenge.
"That being said, it's a great [challenge] and it's adversity and we've been through it in the past, so you have to rely on past experiences, and as leaders, you try to step up and find ways to get everyone going."
After the Bruins' practice Monday morning at TD Garden, it was evident in the locker room that players are looking forward to the upcoming break. The much-needed rest and relaxation arrives at the perfect time. Boston lost to the Predators 3-2 in a shootout last week in Nashville, so the Bruins want to rebound and finish strong before the break.
Bergeron believes this team has more to give and he wants it to start with him.
"We need some character to bounce back," he said.
December, 22, 2014
Dec 22
2:05
PM ET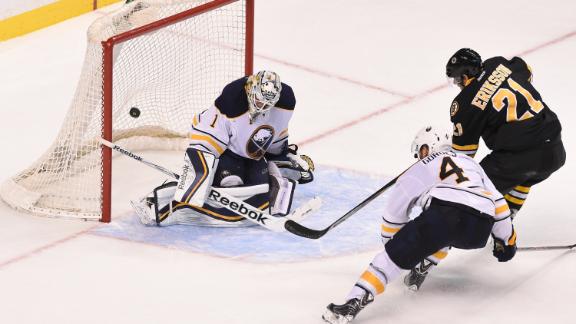 BOSTON -- Bruins defenseman Matt Bartkowski will not face discipline for his check on Buffalo Sabres captain Brian Gionta on Sunday night, according to the league.
Bartkowski was given a game misconduct after he hit Gionta at 14:08 of the first period during Boston's 4-3 overtime win over the Sabres. On the play, Buffalo was attempting to break out of its zone when Gionta failed to receive a pass just inside the blue line. The puck was past Gionta when Bartkowski stepped up and hit him.
Gionta went spiraling to the ice and was tended to by a team trainer before skating off on his own. He was bleeding from the head and did not return to the game.
The NHL department of player safety tweeted that the hit was an example of "incidental head contact on an otherwise full body check." In the league's view, the head was not the main point of contact.
Bartkowski reiterated Monday that he thought it was a clean hit.
"I watched the replay and I didn't see any head contact," Bartkowski said. "It's not like I was trying to hit him in the head or anything. I was just riding the [blue] line and it was just a play in the game."
December, 22, 2014
Dec 22
12:53
AM ET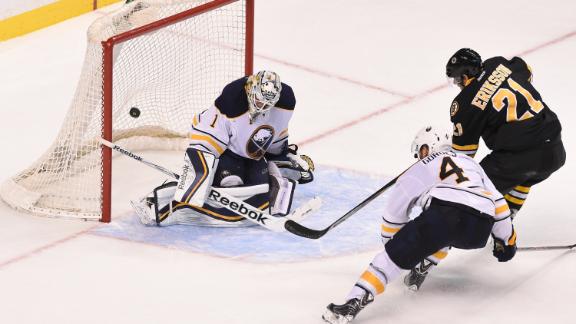 BOSTON -- Don't be alarmed if you're Christmas shopping at a local mall in the next few days and see a 28-year-old man waiting in line to visit with Santa Claus.
If there's one thing on David Krejci's wish list this holiday season, it's a point-producing right winger. The days of having a consistent linemate on the right side, similar to the likes of Nathan Horton or
Jarome Iginla
, is a thing of the past, and Bruins coach Claude Julien is trying everything to find a winger that gels with Krejci and
Milan Lucic
.
It hasn't been easy for Julien or Krejci this season because of the limited games the top-line center has played due to an ongoing, lower-body injury. After missing 11 consecutive games (20 overall) Krejci has played three straight, and too many times for his liking when he looks to his right there's a different teammate on his wing.
On Sunday, Julien decided it once again was time to try
Loui Eriksson
on the top line, but it didn't take long for the coach to abandon that idea.
[+] Enlarge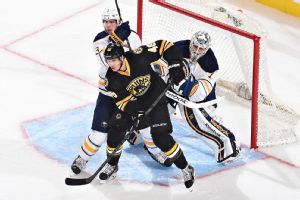 Steve Babineau/NHLI/Getty ImagesBetween injuries and a revolving cast of right wings, David Krejci hasn't been able to get going.
With the obvious lack of chemistry, and in desperate need of scoring, Julien felt it was best to reunite Eriksson with
Carl Soderberg
and
Chris Kelly
-- and that worked. With Boston trailing by a goal, Kelly quickly scored to tie the game at 2-2 when he redirected a
Zdeno Chara
shot past
Buffalo Sabres
goalie
Jhonas Enroth
at 15:36 of the second period.
"Playing with Kells and Carl, we've been playing good together," Eriksson said. "Our first shift we scored a goal right away, so it was kind of nice."
Julien kept that line intact for the remainder of regulation, but ironically, it was Eriksson's goal in overtime that gave the Bruins a 4-3 victory, as Lucic registered the assist and Krejci also was on the ice for the winning tally.
We've learned in the past that Krejci is at his best when he's comfortable with his linemates. It's no coincidence that Lucic has been on Krejci's left side for so long, but the inconsistency on the right side this season hasn't helped Boston's top line.
"It's hard because David's just starting to find his stride," Julien said. "Loui was a really good player tonight, that's all I'm going to say. Wherever he was he was good, so it's something we're trying. We're trying to find some solutions to our lines."
Whether Julien finds a good fit in house or the organization finally trades for a right-handed shooting right winger, Krejci is perplexed why stability has been lacking on his line.
"Honestly, I don't know," he said. "It's just one of those things that you've got to come to the rink every day and work hard. I just wake up, stay positive and basically you never know who you're going to play with. But it is what it is."
After Eriksson was moved back to Soderberg's line on Sunday, rookie
Craig Cunningham
moved up to play with Krejci. At different times this season, rookie
Seth Griffith
has been given an opportunity. If the Bruins don't trade for a natural right winger, Julien should give
Matt Fraser
a longer look on Krejci's line. Given the opportunity, Fraser could be a good fit and fill that role as a power forward.
Julien has been fortunate in recent years to have so much consistency with his line combinations. The coach has been rattled this season with too many injuries and question marks, which is causing too many lineup changes. Overall, Soderberg's line with Kelly and Eriksson has worked well, and it did again on Sunday.
"When you look at it right now, there's no reason to take them apart," Lucic said. "They've been our best line, especially the last three games."
Eriksson has three goals and two assists for five points in the last five games, including a pair of overtime winners. With his goal against the Sabres, Kelly has four points in the past four games. Soderberg recorded an assist Sunday and now has five points in the past five games.
"It's good at least one line is clicking and it's up to the rest of us to find our game," Lucic said. "The importance of being a good team is having every line going and going after teams in waves and line after line. It's up to the rest of us to step up our game and play like the Soderberg line has been playing."
[+] Enlarge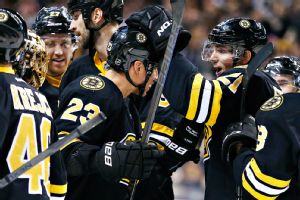 AP Photo/Michael DwyerAfter an aborted stay on the top line, Loui Eriksson reunited with Chris Kelly and scored the OT winner.
Once the Bruins lost Iginla to free agency last July -- the future Hall of Famer signed a three-year deal worth $16 million with the
Colorado Avalanche
-- Julien, general manager Peter Chiarelli and even Krejci talked about how Eriksson would fill the void on the top line. It hasn't worked as everyone thought it would, and it's obvious Eriksson is comfortable with Soderberg and vice versa.
"They are good players and they're going to find it," Eriksson said of Krejci and Lucic. "They just need to keep going and they will find it. I don't know who is going to play on that line, but they've been playing together for a couple of years and they know how to play with each other, so hopefully someone can come in there and help them out and our team can be better in that way."
Lucic said he sees improvement with him and Krejci. Both explained it's only a matter of bearing down and executing better when making plays in the offense zone, and both stressed the need to create better quality scoring chances.
"This is only [Krejci's] 14th game of the season and it's going to take some time," Lucic said. "For the most part, we did a much better job playing with the puck in the O-zone other than a couple of turnovers that ended up costing us. We want to feel good about getting a win, and getting more O-zone time is just a matter of creating more and bearing down when we get opportunities."
When Krejci and Lucic are playing with that consistency and produce, the Bruins have success. When they're struggling, the team does too. Before Dougie Hamilton's tying goal at 18:29 of the third period, and Eriksson's heroics in overtime, the Bruins came agonizingly close to losing at home against the lowly and undermanned Sabres.
The standings are not pretty for the Bruins, who currently sit in third place in the wild card. A loss against the Sabres would have depleted Boston's morale even more.
"It's huge if you don't get the two points and how much further you fall back behind, but getting the two points gets you right back into it," Lucic said.
The Bruins host the
Nashville Predators
on Tuesday night at TD Garden before the NHL shuts down for its annual three-day Christmas break.
"We've got one more game before Christmas break, so hopefully we can get another two points and have a nice holiday," Krejci said.
Maybe Chiarelli will gift wrap a right wing for Krejci after the holiday season is over.