September, 18, 2014
Sep 18
6:20
PM ET
BOSTON -- David Warsofsky is ready for anything. The 24-year-old defenseman has a legitimate chance of earning a roster spot out of training camp this year. But he has some competition.
Barring any trades or injuries, there are eight other defensemen on the Bruins training camp roster, including
Zdeno Chara
,
Dennis Seidenberg
,
Johnny Boychuk
,
Dougie Hamilton
,
Adam McQuaid
,
Torey Krug
(remains unsigned),
Kevan Miller
, and
Matt Bartkowski.
With Krug's status uncertain, that leaves a total of eight defensemen. Normally, the Bruins carry seven on their roster during the season, with one being a healthy scratch, but general manager Peter Chiarelli said Thursday that he could see a scenario with eight defensemen on the roster.
[+] Enlarge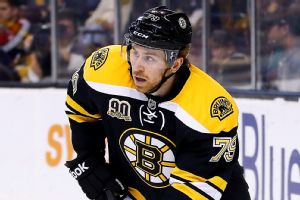 Jared Wickerham/Getty Images"I know I'm ready to play at [the NHL] level," said David Warsofsky. "That's a big step for me mentally."
Chiarelli has said he expects to eventually trade a defenseman, but he wants to see how the internal competition plays out during training camp and the exhibition season. He's also certain that Warsofsky is ready to play in the NHL.
"I think he is. Again, that's my opinion," Chiarelli said. "I thought he had a real strong finish last year in Providence. Every time I saw him, he was one of the best players on the ice and he was doing things we were telling him to. He was moving the puck, he was skating, his escape ability is terrific, like turning the net, and real good vision on the power play. So he's a player that I think is ready. Now, will he be ready for our team? Let's see how things sort out, but he's put his time in and he's a guy to watch, too."
Warsofsky, a product of Boston University, doesn't want to hear his name mentioned in any possible trade.
"The more I think about it, the more it's going to aggravate me, so I try not to even think about it," he said. "No one knows what's going to happen with all the defensemen here. Management knows what they're doing, they've proven that in the past, so let them do their thing and whatever path that takes me, or whatever path that takes the rest of the defensemen here, it's part of the business and you have to go with it."
Warsofsky spent the majority of the 2013-2014 season with the Providence Bruins of the AHL, scoring six goals and adding 26 assists for 32 points in 56 games. Boston recalled him three times and he played a total of six games for the Bruins, recording one goal and one assist for two points. This will be his fourth pro season, and his confidence is at an all-time high as training camp begins.
"It gives me a little more confidence," Warsofsky said. "Obviously, when I came into past camps, I wanted to play in the NHL but I didn't know if I was necessarily ready for it. But coming into this camp and playing a couple of games [for Boston] last year, in my own confidence, I know I'm ready to play at that level. That's a big step for me mentally, getting over that hump and knowing I can play at the next level."
Hearing the organization is confident in his ability also helps.
"It's good," Warsofsky said. "Obviously, I thought I was ready, but to hear the staff say it, and the coaches here, I think, they show a lot of trust in me. I think I'm ready for that situation, so it was a little re-confirmation from them, [which] definitely feels good."
[+] Enlarge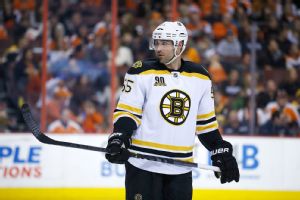 AP Photo/Matt SlocumJohnny Boychuk, who has been mentioned in trade rumors, knows he'll have to bring his 'A' game to training camp.
Listed at 5-foot-9, 170 pounds, Warsofsky still needs to adjust to the NHL level. But Warsofsky believes that if given the opportunity, he will perform.
"I think every young player from Bobby Orr to Ray Bourque made mistakes when they were coming up, so it's one of those things that are going to happen and you just try to limit those as much as you can," Warsofsky said.
The depth on Boston's blue line -- and how Chiarelli and coach Claude Julien make it work to the team's advantage -- will play itself out during training camp.
"That's a good problem to have," Chara said. "No matter how you look at it, to have that many players capable of playing gives you an advantage. It would obviously be a different situation if we were on the other side of it. So sometimes things are out of your control, as far as trades and other things, but as player you can't control them and you have to do your best to make the team, the lineup, and the rest of it is up to management."
Since he has one year and $3.36 million remaining on his contract before becoming an unrestricted free agent, Boychuk's name has been front and center on the trade rumor list. He understands it's a possibility since the Bruins are up against the salary cap, and Chiarelli still needs to sign both Krug and forward
Reilly Smith
, but Boychuk wants to remain in Boston.
"We have so many good defensemen, you have to be on your 'A' game or else somebody can take your spot. You have to be prepared to work your behind off. So it's going to be fun and it's always a healthy competition in training camp," he said.
Earlier in his career, Boychuk was that prospect battling for a roster spot. He eventually earned it, and has been an important part of Boston's blue line.
"I was in that position a little while ago," he said. "Every year there's new, young great defensemen, or great forwards pushing the envelope and working for the spots, and that's what you need. Everybody wants to play in the NHL, but you have to take it away from somebody to accomplish it. It's a hard feat, but it makes for a healthy competition."