March, 7, 2014
Mar 7
10:06
AM ET
By
ESPN Stats & Information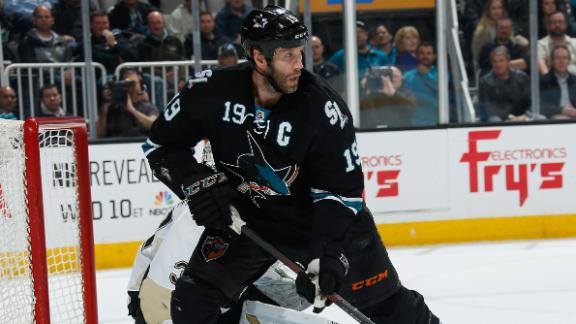 Sharks 5, Penguins 3
* Sharks: Outscored Penguins 4-1 in third period.
* Sharks: At least one point in six of last seven games.
*
Brent Burns
(SJ): Two goals; three goals in last two games following 19-game drought.
*
Olli Maatta
(PIT): First career two-goal game; has four goals in last five games.
Avalanche 3, Red Wings 2 (F/OT)
* Avalanche: Won four straight; 14-5-0 in last 19 games.
*
Andre Benoit
(COL): First career OT goal.
*
Nathan MacKinnon
(COL): Assist on winning goal; 13-game point streak (breaks Wayne Gretzky's record for longest by 18-year-old).
* Red Wings: Ninth home loss this season in OT or shootout (11-11-9 at home).
Coyotes 5, Canadiens 2
* Coyotes: Snap a 14-game winless streak (0-9-5) against the Habs; hadn't beaten Montreal since Dec. 9, 1998.
*
Radim Vrbata
(PHX): Two goals; third multi-goal game of season.
* Coyotes: Most goals since 6-0 win over Flames on Jan. 7; had scored two or fewer in seven straight.
*
P.K. Subban
(MTL): Two assists; Two goals, four assists during four-game point streak.
Sabres 3, Lightning 1
* Sabres: Won four of five games since Olympic break.
*
Tyler Myers
(BUF): Goal, assist; three goals, three assists in last four games.
*
Steven Stamkos
(TB): No points, 5 shots in 21:03 of ice time; returned after missing 45 games with broken leg.
*
Ryan Callahan
(TB): No points, 4 shots in 16:33 of ice time in Lightning debut.
Bruins 3, Capitals 0
* Bruins: Won three in a row; improve to 30-5-1 when scoring first.
*
Tuukka Rask
(BOS): Sixth shutout of season (leads NHL).
*
Gregory Campbell
(BOS): Goal (7); Four goals in past four games after none in previous 12.
* Capitals: Three-game winless (two losses, tie) streak after winning previous four in a row.
March, 7, 2014
Mar 7
12:01
AM ET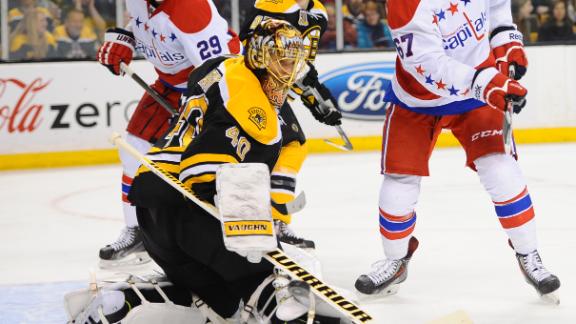 BOSTON -- After
Boston Bruins
general manager Peter Chiarelli acquired two defensemen before Wednesday's trade deadline, it's no coincidence the Bruins produced one of their best defensive games of the season, a 3-0 win over the
Washington Capitals
on Thursday night at TD Garden.
Boston acquired veteran defensemen
Andrej Meszaros
via trade from the
Philadelphia Flyers
and claimed
Corey Potter
off waivers from the
Edmonton Oilers
, and now the Bruins have the blue-line depth they needed. Though both were healthy scratches Thursday night, their presence creates a healthy in-house competition again.
"Having those guys come in, we have eight D now," Bruins coach Claude Julien said. "Now, it becomes a competition within our dressing room and the six best will be in the lineup. Right now that's what we've got and it's a healthy thing to have on a hockey club and that's what we've created right now."
[+] Enlarge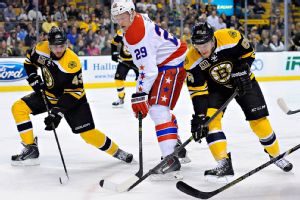 Bob DeChiara/USA TODAY SportsMatt Bartkowski and Kevan Miller contributed to a dominant performance by Boston's defensemen Thursday.
Without
Dennis Seidenberg
(season-ending knee injury) and
Adam McQuaid
(quad) in the lineup, the Bruins have been playing with only six healthy defensemen for a month and a half. Now that the newcomers are in the mix, it should serve as motivation and prevent complacency among Boston's defensive core.
"We have eight D now and you've got to play your best to stay in the lineup, too, so I don't know if that kind of helped us, but we'll see what happens going forward,"
Dougie Hamilton
said.
Meszaros spent his first day in Boston watching from the Level 9 box as a healthy scratch. Earlier in the day, Julien said he wanted to ease Meszaros into the lineup until he learns the team's system, which is completely different than what he has been used to in his career.
Because the Bruins produced a solid defensive effort against the Capitals, goalie
Tuukka Rask
wasn't challenged too often and finished with 16 saves to record his league-leading sixth shutout of the season. He was pleased with the lack of mental breakdowns by the team.
"Today was one of the best in a long time," Rask said. "We kept them to 16 shots and not too many scoring chances. We had layers all over the ice and defended the middle really well. We back checked hard and had all the elements we want to have out there. It was great to see that."
It was a typical defensive game for the Bruins. Not only were the defensemen solid, Boston's forwards were getting back and creating pressure to stifle Washington's attack.
At the start of the season,
Matt Bartkowski
served as a healthy scratch for 12 of the first 16 games. When McQuaid suffered a lower-body injury in earlier November, Bartkowski was inserted into the lineup and has since missed only three games.
Now that Boston's depth is back to eight healthy defensemen, Bartkowski says he's focused solely on doing his job.
"It's nothing I can worry about, or should worry about, or anything," Bartkowski said. "We need more depth, so we got more depth. We got two solid defensemen out of it, which is good and it only makes our team better."
Julien mentioned after the game that he was impressed with Bartkowski's play.
"I thought he was really good," Julien said. "He was physical. He was strong. He was moving the puck well and he skated well, so that kind of play will certainly keep him in the lineup."
March, 6, 2014
Mar 6
9:45
PM ET
BOSTON -- It wasn't much of a challenge, but Bruins goaltender
Tuukka Rask
recorded his league-leading sixth shutout of the season as Boston defeated the
Washington Capitals
3-0 on Thursday night at TD Garden.
Rask finished with just 16 saves, while teammates
Gregory Campbell
,
Loui Eriksson
and
Brad Marchand
(empty net) provided the goals to help the Bruins to their third straight win. Campbell now has four goals in his last four games.

It's also hard to believe this Capitals team defeated the Bruins 4-2 Saturday at the Garden. The Capitals, who have the second-ranked power-play unit in the league, scored two power-play goals that game, so the Bruins knew they needed to stay disciplined and out of the penalty box in order to have success Thursday, which they were able to do.
After a scoreless first period, the Bruins gained a 1-0 lead at 3:05 of the second period. Campbell led the Boston forecheck and did the grunt work before he was rewarded with his seventh goal of the season when he redirected
Patrice Bergeron
's one-timer past Washington goalie
Braden Holtby
.
The Bruins continued their pressure and gained a 2-0 lead at 8:20 of the second. Again, Boston's forecheck proved too much for the Washington defense when Eriksson, who missed the last game due to a heel infection, scored a nifty goal from pointblank range. It was his seventh goal of the season.
With 2:02 remaining in regulation, Capitals coach
Adam Oates
decided to pull Holtby for the extra attacker, but Marchand scored the empty-netter with 1:34 remaining to close out Washington. It was Marchand's 21st goal of the season.
NAILS:
Early in the first period, it appeared Bruins defenseman
Johnny Boychuk
suffered an injury when he hit the boards behind Boston's net. He skated off the ice, favoring his left side and went directly to the room, followed by a team doctor. Fortunately for the Bruins, he returned a few minutes later and finished the game. Five times this season the Bruins have been forced to play with five defensemen in a game due to injuries. Prior to acquiring
Andrej Meszaros
and
Corey Potter
at Wednesday's NHL trade deadline, the Bruins have been playing with only six defensemen on the roster.
UP NEXT:
The Bruins head out on the road for three games, beginning Saturday at Tampa against the Lightning. Boston will face the
Florida Panthers
on Sunday, then the Bruins travel to Montreal for a much-anticipated battle against the Canadiens on Wednesday at Bell Centre.
March, 6, 2014
Mar 6
6:00
PM ET
[+] Enlarge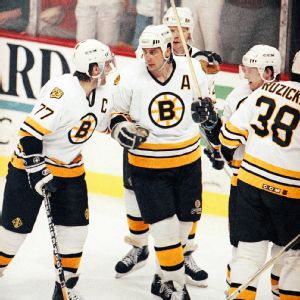 AP Photo/Scott MaguireRay Bourque (left, congratulating Cam Neely on a 1991 goal) often marveled at Neely's skills.
BOSTON -- At 30,000 feet, a pair of future Hall of Fame hockey players would sit in the back of the Boston Bruins charter flight and discuss the talents of teammate Cam Neely.
During his first few seasons with the Bruins in the early '90s, Adam Oates would listen to Ray Bourque marvel about Neely.
Oates arrived in Boston via trade from St. Louis during the 1991-92 season, and at that time Neely was still rehabbing a severe knee injury and attempting to return to game action. No. 8 was limited to only 22 games over two seasons (1991-92 and 1992-93), and Bourque would tell Oates: Just wait until Neely is healthy and you'll see just how good he is.
"I just always remember sitting in the back of the plane with Ray and talking about Cam and Ray saying to me: 'You haven't seen anything, yet,'" Oates said. "Ray got to see Cam before he got hurt and I never did. Ray would say to me, 'You have no idea how good you guys could be.' I always remember Ray saying that. I don't think there's a better compliment than that."
Finally, during the 1993-94 season, Neely's talents were on display and he achieved something only eight other players in NHL history accomplished.
It's been 20 years -- almost to the day -- since Neely scored 50 goals in 44 games.
Now the president of the Bruins and a Hall of Famer, Neely still shakes his head in disbelief on that accomplishment.
March, 6, 2014
Mar 6
2:28
PM ET
The
Boston Bruins
(39-17-5, 83 points) host the
Washington Capitals
(29-24-10, 68 points) Thursday night at TD Garden. Here's what to watch for:

YOU AGAIN:
It's the second time in less than a week that the Bruins will face the Capitals. Washington defeated Boston 4-2 last Saturday at TD Garden. The Capitals'
Alex Ovechkin
scored a pair of goals, including his 800th career point en route to victory. Thursday is the second of three regular-season meetings between these clubs. Ovechkin has five goals and four assists in the last six games.
WHAT HAVE YOU DONE LATELY:
Since suffering that loss to the Capitals, the Bruins have won two straight, beating the
New York Rangers
and the
Florida Panthers
. Boston is 5-1-2 in its last eight games, and 10-2-3 in the last 15. The Bruins are 24-7-2 on home ice, and have a 12-5-0 record against Metropolitan Division opponents. Washington has lost two in a row, dropping a pair of games to the
Philadelphia Flyers
, 5-4 (OT) and 6-4. The Capitals are 12-14-5 on the road this season.
MASKED MEN:
Tuukka Rask
will start for the Bruins, his 46th game of the season, which will be a new single-season career-high. He's 5-3-2 in his last 10 starts. Overall, Rask is 26-14-4 with a 2.18 goals-against average and a .927 save percentage. He also has five shutouts in 45 games. Capitals goaltender Bradne Holtby, who started Wednesday's 6-4 loss to the Philadelphia Flyers and was pulled from the game after allowing four goals on 18 shots, gets the nod against the Bruins. He has a 4-0-0 regular-season record against the Bruins. Overall, Holtby is 19-13-3 with a 3.01 GAA and a .909 SP.
SPECIAL TEAMS:
The Capitals enter Thursday's game with the second-ranked power play in the league. Washington is 8-for-14 on the PP in its last four road games. The Bruins are ranked 13th on the penalty kill and will need to stay out of the box against Washington.
March, 6, 2014
Mar 6
1:36
PM ET
BOSTON -- Newly acquired defenseman Andrej Meszaros participated in the Bruins' morning skate but will not be in the lineup Thursday night against the Washington Capitals, according to coach Claude Julien.

Meszaros was acquired at the trade deadline on Wednesday from the Philadelphia Flyers in exchange for a third-round pick.

Julien said it will take a few practices in order for the veteran blueliner to learn Boston's systems.

"I don't know, we'll have to wait and see," Julien said. "We'll have some practice times, and stuff like that, but I don't think it'll take him that long. [Philadelphia] plays a different type of game, and every once in a while when players come in they've got to adjust a little bit. I think he'll catch on fairly quickly."

Fellow defenseman Corey Potter, whom the Bruins claimed off waivers from Edmonton on Wednesday, is expected to arrive Thursday afternoon in Boston.

The Bruins have gone with only six defensemen for a while now, so having both Meszaros and Potter in the mix will give Julien options. It will also create a healthy in-house competition again.

Once Julien believes Meszaros is ready for game action, the coach is expecting a simple game.

"He's an experienced player and he's proved that over the years," Julien said. "He's a big body, as well. Offensively, he supports the attack well and he's been known a pretty good offensive-type defenseman. With that big body, and the way we play, I'm sure he'll defend well. It'll be a matter of time to see how well he fits with us."

Meszaros understands he's not going to be handed a spot in the lineup.

"It's not easy to crack the lineup," he said. "It's up to the coaches what they're going to do with me and how they're going to use me. I'm just here to help and play good and hopefully go all the way."

During his rookie year with the Ottawa Senators, Meszaros was paired with Zdeno Chara for parts of that season. The two were also partners during the 2010 Winter Olympics in Vancouver. This year in Sochi, they both represented Slovakia but were not defensive partners.

"It's great to play with him again," Meszaros said. "I'm looking forward to it."

Chara was asked about his new teammate but had little to say, telling reporters to talk to Mezeros directly.

How about having a fellow Slovakian on the team?

"I don't look at it that way. I look at it as it's nice to have more depth on the team," Chara said. "That being said, he's a Slovak. Obviously it's nice to have a countryman, but don't look at it what nationality guys are. I just like to have more depth on the team. For sure he brings that dimension."

Chara added, "I think he broke into the league when he was in Ottawa. We had some good chemistry and we used to play together on national teams, but he's just a normal guy. He's nothing that's different than anyone else. He's just a good guy, works hard, is a physical guy. Strong guy, plays the game that way."

Now that the trade deadline is over, the Bruins can focus on the final 21 games of the season. Julien and the players are pleased that Chiarelli added to the roster and did not subtract from it.

"He did a good job, and you have to realize he didn't lose anybody. We like our players here," Julien said. "So, it's just about adding some depth, and that he did."

Prior to Wednesday's 3 p.m. deadline, Bruins players were joking with teammates and making up their own transactions, but there was a sense of curiosity in the locker room after practice. On Thursday, normalcy returned.

"There's definitely a different attitude today," admitted Julien. "As you can see, guys are pretty happy. Yesterday, nobody wanted to see me. Every time they saw me walking around the room they would put their heads down, hoping I wouldn't point the finger at them. Today, for some reason, they seem to be happy to see me.

"That's the kind of impact it has on players on trade deadline day, especially if guys are happy, they don't want to leave. It's pretty obvious the guys came in today and were happy to still be here and part of this group."
March, 6, 2014
Mar 6
1:20
PM ET
BOSTON -- The Bruins'
Loui Eriksson
returned from the Winter Olympics with more than just a silver medal.
The Swedish forward suffered a cut on the heel of his foot while walking into a cold tub in Sochi, and it later became infected. It forced him to miss Tuesday's game against the
Florida Panthers
, and Wednesday's practice. He's been on antibiotics but admitted it's been painful to put his skate on.
Eriksson participated in Thursday's morning skate and will be in the lineup against the
Washington Capitals
at TD Garden.
"It's good. It felt good this morning," he said. "Hopefully I can play tonight, but it's been nice to rest a little bit. I think I'm ready tonight, so that's good."
March, 5, 2014
Mar 5
8:44
PM ET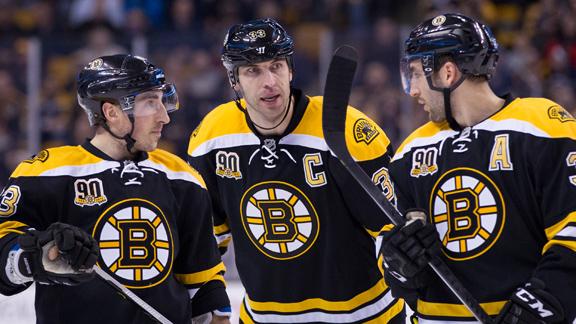 BOSTON -- A new chapter has been added to an already storied rivalry between the Boston Bruins and Montreal Canadiens.
On Wednesday, the Canadiens acquired forward Thomas Vanek in a trade with the New York Islanders that drew the attention of the Bruins. Vanek has dominated Boston during his career, posting 30 goals and 31 assists for 61 points in 53 games, mostly as a member of the Buffalo Sabres.
While Bruins general manager Peter Chiarelli accomplished his goal of adding depth to the team's blue line prior to Wednesday's trade deadline, the Canadiens probably made life a bit more miserable for Boston for the remainder of the season and for a possible Stanley Cup playoff matchup.
Never one to back down from a challenge, Chiarelli made a point of mentioning Montreal's newest addition.
"I know there's been talk about Vanek going to Montreal. They've strengthened their team, and good for them," Chiarelli said. "It never seems that we're an anointed winner of trade deadline day and I'm fine with that. They're a better team and I look forward to facing them."
Vanek's addition gives the Canadiens more depth up front and more options, especially when facing the Bruins. Currently, the Bruins are atop the Atlantic Division with 83 points, with Montreal in second with 75 points.
March, 5, 2014
Mar 5
5:59
PM ET
BOSTON -- Bruins general manager Peter Chiarelli announced Wednesday that defenseman Adam McQuaid has a quad strain and will cease activity for two to three weeks to allow the injury to heal properly.
McQuaid has missed a total of 31 games this season.
"We're going to shut him down for two to three weeks. His injury, while it keeps healing, he has setbacks, so we're going to give him rest two to three weeks and see where he is after that," Chiarelli said.
The Bruins were hoping McQuaid would be able to return after the Olympic break, but he suffered a setback, so the medical staff thought it best to let him completely rest and allow it to heal.
"He's got a quad strain and he was really close [to returning]. You've heard [coach] Claude [Julien] say he's ready to go and he had good sessions over the break, he just re-aggravated it," Chiarelli said.
Also, Chiarelli announced forward Loui Eriksson, who missed Tuesday's 4-1 win over the Florida Panthers and did not practice Wednesday, is dealing with an infection in his heel. But Eriksson is expected to be in the lineup against the Washington Capitals on Thursday at TD Garden.
March, 5, 2014
Mar 5
5:10
PM ET
BOSTON -- The Boston Bruins on Wednesday acquired defenseman Andrej Meszaros from the Philadelphia Flyers in exchange for a third-round draft pick.
Meszaros, 28, is a left-handed shot and has 517 games of NHL experience over nine seasons. He also has played for the Ottawa Senators and Tampa Bay Lightning. He was a teammate of Bruins captain Zdeno Chara and forward Chris Kelly in Ottawa, where Bruins general manager Peter Chiarelli was the assistant GM at the time.
"Mezz skates extremely well, he's got a great shot and he's a big body," Kelly said. "He's a big, big guy. You'll see. He's a big, strong guy."
Meszaros will join the Bruins for Thursday's home game against the Washington Capitals.
"I'm really excited, obviously," Meszaros said. "It's a great opportunity, a great team and a great organization that I'm happy to be a part of. Obviously, I really liked it here in Philadelphia; it was great -- great guys, great organization. But this year wasn't working for me. I wasn't playing much, I was in and out of the lineup, so I'm happy now that I have the opportunity now to play hopefully more consistently and [get] better. I'm happy it will be a new, fresh start for me and I'm really excited."
March, 5, 2014
Mar 5
1:43
PM ET
BOSTON -- In a minor deal Wednesday, the
Boston Bruins
claimed defenseman
Corey Potter
off waivers from the
Edmonton Oilers
.
Potter, 30, has spent the majority of his pro career in the AHL and has 120 games of NHL experience. Potter, along with Bruins defenseman
Torey Krug
, are both products of Michigan State University.
"I've known him for the last couple of years and he's a real steady player," Krug said after the team's practice Wednesday at Ristuccia Arena. "He's not going to blow you away. He does everything well and has a real hard shot. He's a great personality and I think the guys are going to enjoy him in the locker room, and that's what he brings to the table."
This season, Potter has played 16 games for the Oilers and has five assists.
March, 5, 2014
Mar 5
12:25
PM ET
Although
Thomas Vanek
remains one of the top trade chips on the market,
it can he hard to judge what's out there
, as GMs may be trying to downgrade him publicly to lower his value. Some believe that Vanek will be headed out West -- possibly to the Ducks, Kings or Sharks -- but there's also a chance that an Eastern Conference contender ponies up to bring him in from Long Island.
To continue reading this article you must be an Insider
March, 5, 2014
Mar 5
11:55
AM ET
WILMINGTON, Mass. -- As the NHL's 3 p.m. trade deadline nears, the Bruins are on the practice ice at Ristuccia Arena.
Forward
Loui Eriksson
, who missed Tuesday's 4-1 win over the
Florida Panthers
due to a "minor issue," is not skating. On Tuesday, Bruins coach Claude Julien said Eriksson would be back in the lineup against the
Washington Capitals
on Thursday night at TD Garden.
Eriksson said Wednesday he was dealing with a minor lower-body injury.
"No, it's nothing serious, I don't think. We'll see," he said. "I'm probably going to be back soon. We'll get back at it and I've been feeling good, especially in the Olympics, and a little bit before that, so just keep it going."
Since Eriksson has missed the last two days, there has been some speculation that the Bruins are considering a trade. But such a move is unlikely.
At practice, forward
Jordan Caron
was on the team's third line, along with
Carl Soderberg
and
Chris Kelly
.
Defenseman
Adam McQuaid
(hip/groin) remains sidelined.