December, 22, 2013
Dec 22
12:35
AM ET
BOSTON -- Bill Belichick has made a Hall-of-Fame-worthy coaching career out of sweating the details in situational football. But sometimes, things beyond ordinary circumstances crop up. And when those situations arise, a coach has to think on his feet.
Case in point was Claude Julien's handling of a critical 5-on-3 penalty kill during the second period of the Bruins' 4-1 win over the
Buffalo Sabres
on Saturday night.
With
Patrice Bergeron
in the bin for a cross-checking minor,
Gregory Campbell
soon followed with a double-minor for high-sticking at 9:40 of the second. The B's had to brave it out for a minute and 49 seconds without two stalwarts of the PK unit, nursing a one-goal lead.
[+] Enlarge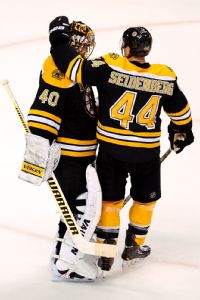 Steve Babineau/NHLI/Getty ImagesGoalie Tuukka Rask celebrates with Dennis Seidenberg after the B's beat the Sabres.
Factor in the already depleted depth of the team's usual cast of penalty-killers, with both
Chris Kelly
and
Daniel Paille
on the shelf due to injuries, and Julien was left with only so many options at forward in a make-or-break juncture of the game.
While also using
David Krejci
and rookie center
Ryan Spooner
as the lone forward on the unit, Julien looked down the bench to defenseman
Torey Krug
to fill in for a spell during the two-man advantage.
"You have to be ready for those types of things," Julien said. "I don't think you can necessarily be prepared for a 5-on-3 with two of our top centermen that kill those 5-on-3s in the penalty box, but you have to react quick and make that decision."
Krug was on the ice for only about 20 seconds of the 5-on-3 play, but the offensive-minded blueliner was able to utilize some of his insight from running the point on the opposite side to help his team shut out Buffalo on the man-up bid.
The Bruins also had a successful kill of Buffalo's abbreviated 5-on-3 power-play chance midway through the third period.
"Obviously, we watch videos on other teams and see what their tendencies are," Krug said. "At the same time, 5-on-3 hockey is simple. It's good for me because I look at it from an offensive standpoint and I look to see where they're going to take chances. And when you get thrown out as a defensive player, you try to take that away."
Julien explained his off-the-cuff decision by saying he saw Krug fitting the mantra of his most successful penalty killers up top. Working the top of the triangle in such a situation calls for both speed and grit.
"We want guys who are smart and quick up top, when those guys were in the box and they did a good job," Julien said. "You have to ad-lib every once in a while and be creative, and that's what we did."
The move took goaltender
Tuukka Rask
(34 saves) aback.
"I saw we had three D's out there, I don't know if we wanted it like that or not, but it paid off," Rask said. "It worked out well."
While Bergeron was in unfamiliar territory, taking a bystander's view of the PK unit, he found Julien's ingenuity to fall in line with the team's next-man-up mentality. With the Bruins struggling with a nasty case of the injury bug, that prevailing logic has held up.
Not only that, they've prospered. The Bruins are undefeated in regulation in their last 14 tilts (12-0-2) at the Garden.
"We have a system we believe in and they did a great job," Bergeron said.
But at times, you just have to make it up on the fly.
"You have to go with what your gut feeling is telling you at that time," Julien said.
December, 22, 2013
Dec 22
12:24
AM ET
BOSTON -- Two days after making his NHL debut in the first leg of the Bruins' home-and-home series with the
Buffalo Sabres
, defenseman
David Warsofsky
made his homecoming debut at TD Garden on Saturday night.
[+] Enlarge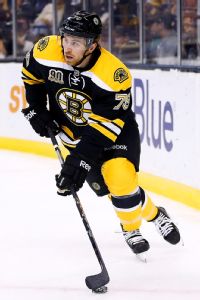 Jared Wickerham/Getty ImagesDavid Warsofsky was happy to contribute on the Bruins' power play during his first home appearance.
Warsofsky, a 23-year-old native of Marshfield, Mass., has been in Providence (AHL) for each of the last three seasons, after coming over in a trade from St. Louis -- in exchange for
Vladimir Sobotka
-- in 2010.
In front of family and friends, Warsofsky was on the ice with the power-play unit as the Bruins claimed a 1-0 lead in the first period of a 4-1 win.
"[It was] just the usual, my brothers and my parents and my girlfriend," Warsofsky said of his contingent on hand. "You have to keep it simple nowadays with everybody that wants to come, so I kind of toned it down a bit."
Warsofsky was a product of Cushing Academy and the United States national team development program before going on to star at Boston University.
A puck-moving defenseman, Warsofsky was happy to step into a familiar role with the big club.
"I've obviously been playing on the power play down in Providence and that's kind of the role I want to come into, so I felt comfortable out there," he said. "
[Ryan] Spooner
made a nice play down low to [
Reilly Smith
], so it was nice to get a goal."
December, 22, 2013
Dec 22
12:10
AM ET
BOSTON -- In terms of demeanor on the ice,
Patrice Bergeron
is more Lady Byng than pugilist.
Entering Saturday night's second string of a home-and-home with the
Buffalo Sabres
, the 10-year NHL veteran had yet to incur a fighting major in a regular-season game.
[+] Enlarge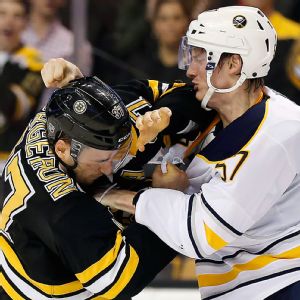 AP Photo/Winslow TownsonPatrice Bergeron took on Tyler Myers in the first regular-season fight of his 10-year career.
Bergeron had let his blood boil over twice previously in the playoffs, taking on Montreal's
Josh Gorges
in 2009 and Pittsburgh's
Evgeni Malkin
in last season's Eastern Conference finals.
But those are isolated incidents.
But there also comes a breaking point, and Bergeron reached it with towering Sabres defenseman
Tyler Myers
. And so Bergeron exchanged some holiday spirit with the 6-foot-8 blue-liner, trading a few blows at 14:07 of the second period of the Bruins' 4-1 victory.
"His last cross-check, he got me in the face, so that got me fired up, but it's part of the game," Bergeron said. "I was trying to get to the front [of the net], so he was trying to keep me away from his goalie. He's a pretty tall guy, so he got me up in the face. It's part of the game, also."
The altercation eventually escalated into fisticuffs, with Myers dealing several shots to Bergeron, including one to his head, before both parties dropped gloves.
"Well, he has to stand up for himself," Bruins coach Claude Julien said of Bergeron, perhaps implying a lack of a penalty call from officials as a factor in the bout.
Still, there was a moment or so before Bergeron agreed to engage, working through last-minute arrangements before having at it.
Of course, it, too, was a gentleman's agreement.
"He asked if I wanted to do it and I was fine with it," Bergeron said. "I asked him, also."
December, 21, 2013
Dec 21
10:02
PM ET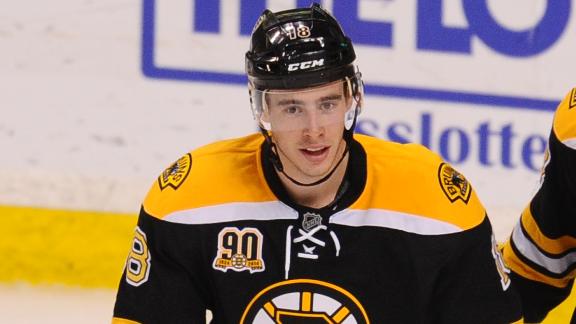 BOSTON -- The Bruins salvaged the second leg of a home-and-home set with the
Buffalo Sabres
, scoring a 4-1 victory Saturday in their last game at TD Garden before the Christmas break.
Boston (24-10-2) claimed the first lead of the game, working some precision passing down low on
Reilly Smith
's power-play tally at 9 minutes, 39 seconds of the first.
Ryan Spooner
set up the goal from the half-wing boards, sliding the puck down to
Carl Soderberg
below the right-wing circle. Soderberg slid across toward the goal and found Smith camped on the far post with the tape-to-tape pass.

However, the Bruins were unable to maintain the lead headed into the first intermission, with
Zemgus Girgensons
finding a small sliver of daylight between
Tuukka Rask
and the short-side post at 18:54. With Rask cheating off the corner, Girgensons found real estate up top in a space between the goaltender's stick and the near post.
Girgensons' goal snapped a streak of 78 minutes, 54 seconds of scoreless play with Rask (34 saves Saturday) in net, including his 19th career shutout against Calgary on Tuesday.
Boston regained the advantage early in the second, with
Jarome Iginla
creating off a rush up the sheet before finding
David Krejci
in the slot for his seventh goal of the season at 1:47.
The Bruins added a pair of insurance markers in the third, when
Milan Lucic
buried a wrister from the slot for his 12th of the season at 5:18 before Smith scored his second of the game with an empty-netter.
Turning point:
After Boston claimed a 2-1 lead, the Sabres (9-24-3) set up shop in the Bruins' end for a good portion of the second, thanks to a 5-on-3 power-play opportunity. With
Patrice Bergeron
already off for a cross-checking infraction,
Gregory Campbell
was given a double minor for high sticking at 9:40.
The Bruins held through 1:49 of 5-on-3 play and the balance of the four-minute penalty to Campbell.
A spell of that 5-on-3 time featured an interesting look to the Boston's penalty-kill unit, as head coach Claude Julien employed three defensemen at once.
Zdeno Chara
and
Johnny Boychuk
patrolled in front of the cage, while
Torey Krug
took the forward's position at the point of the triangle.
The Bruins also killed an abridged 5-on-3 man-advantage in the third.
Saturday night's all right for fighting:
Bergeron picked up his first career regular-season fighting major penalty, dropping the gloves with Sabres defenseman
Tyler Myers
at the 14:07 mark of the second.
Despite Myers' considerable advantage in reach, the B's alternate captain held his own, landing a couple of jabs before the combatants hit the deck.
Although it was Bergeron's first bout in the first 82 of the season, he does have two playoff fights to his card, battling Montreal's
Josh Gorges
in 2009 and Pittsburgh's
Evgeni Malkin
during last year's Eastern Conference finals.
The walking wounded:
The Bruins' injury situation appeared to have gone from bad to worse as
Brad Marchand
was hobbled after going in awkwardly on a check on Sabres defenseman
Christian Ehrhoff
in the corner. Marchand had difficulty reaching the Boston bench on the opposing side as his linemates went off on a change.
After being helped onto the bench by teammates and medical staff, Marchand was escorted to the dressing room. Marchand was back on the ice several minutes later to contribute to the Bruins' first penalty kill of the evening.
Defenseman
Adam McQuaid
was again held out of the lineup with a lower-body injury.
Meanwhile,
Dougie Hamilton
returned to the ice for the first time since dealing with his own lower-body injury, suffered earlier this month in Toronto, participating in the morning skate. Winger
Daniel Paille
was also among the group of Bruins who didn't play but skated Saturday morning.
Happy Festivus:
Rene Rancourt serenaded and led the Garden faithful in a holiday tune singalong during the second intermission.
December, 20, 2013
Dec 20
11:29
AM ET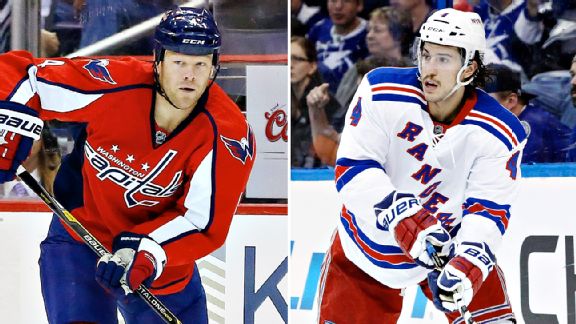 USA TODAY SportsThe Caps and Rangers both face questions on the blue line.
What's the best way for the Capitals to add a defenseman? What should the Kings do in goal? Are
Michael Del Zotto
's days in New York numbered? All this and more in this week's hockey mailbag. If you want to be featured in next week's mailbag, send your questions, hockey ideas and observations
here
.
Not necessarily against ending fighting personally, but my concern is that if a hypothetical ban (whether through stronger penalties like a one-game auto suspension for the first fight and lengthier ones for multiple fights or an all-out ban) were put in place without a better and more strict job by the league in policing the game both in normal infractions and in embellishment, it would result in more cheap shots and more injuries than leaving fighting as it is. Are there any rumblings (on either side, given that it would probably need both league and PA approval to make that significant of changes) of willingness to go that far in penalty enforcement?
Sean, SoCal
At the recent Board of Governors meeting, Gary Bettman said ownership was very pleased with the current performance of
Brendan Shanahan
and the department of player safety. There was no sense that they wanted him to increase the number of games being handed out through suspension. But you raise a good point. If fighting is ultimately banned in some form, then it's almost completely on the league at that point to do the policing. If that becomes the case, I think that a ban on fighting would have to be accompanied by harsher penalties from Shanahan and company. And like you mentioned, Sean, it's not a one-sided conversation. The NHLPA has a say in this and, considering the appeals we've seen for the longer suspensions, you get the sense that it is not too eager to sign off on the league hammering its players, even if it is for the ultimate protection of its members.
I'm surprised you're in favor of banning fighting. For me, fighting is something that, by rule, should be spontaneous. No "staged fights," but I definitely still want it to be a part of the sport. If there are no fights, how will players be held accountable for cheap hits? Don't you think things will get uglier without consequences if fighting is removed from the game? Not to mention that it's one of the more exciting things that happens if it happens during a game. I was at the Blues/Leafs game and Roman Polak and David Clarkson got into a spontaneous, spirited fight after the whistle, and it was great. I'd hate to see that go away. Thanks.
Jay, St. Louis
I'm in favor of banning fighting or making the punishment for fighting much more severe but it comes from a realistic place. I realize you'll never get rid of fighting in hockey and I'm fine with that. There isn't a sport where fighting doesn't occasionally break out over the natural course of events that take place. If baseball players think a pitcher is taking liberties, they charge the mound. They still police extreme circumstances themselves and I'm OK with it in that context. The staged fights between two heavyweights have to go. It's well past time for harsher consequences for fighting in the NHL.
As a longtime Caps fan, I'm pretty frustrated with the lack of good defensemen signed and/or traded for over the last few years. Fans react to another team getting a player they like if the price seems right, myself included. What I'd like to know is how difficult is it really? Say GMGM wants a top-four defenseman, what does he have to do or is it even in his hands?
Max, NYC
Adding a top four defenseman through trade or free agency isn't an easy proposition.
To continue reading this article you must be an Insider
December, 20, 2013
Dec 20
10:07
AM ET
By
Rico Longoria
| ESPNBoston.com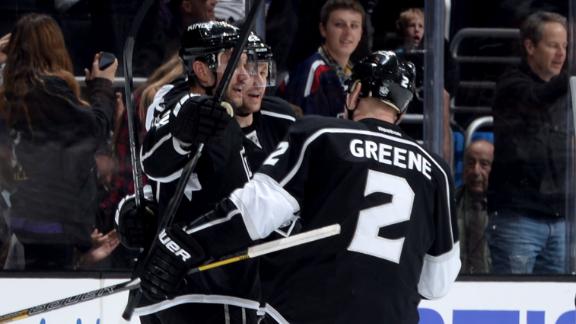 Kings 4, Sharks 1
* Martin Jones made 31 saves to improve to 7-0 in his NHL career. Jones has allowed a total of six goals in those seven games.
* The Kings have won four straight home games vresus the Sharks.
* The Sharks are 2-6-0 in their last eight road games.
Avalanche 4, Oilers 2
* The Avalanche snapped a four-game losing streak versus the Oilers.
* Colorado's Maxime Talbot scored his third goal in his last eight games. He had just one in his first 26.
* The Oilers now have their fourth five-game losing streak of the season, but they have yet to lost six straight.
Stars 4, Canucks 1
* The Canucks suffered their first regulation loss in their last nine games.
* Erik Cole of Dallas had a season-high three points (goal, two assists).
* Kari Lehtonen of Dallas stopped 27 of 28 shots after allowing multiple goals in each of his previous seven starts.
Blues 5, Canadiens 1
* The Blues now have a five-game winning streak versus the Canadiens.
* Alexander Steen of St. Louis had two two goals, and now has four goals and two assists in his last five games played. Steen's 24 goals this season are second only to Alex Ovechkin (28).
* The Canadiens have lost four of their last six, after winning nine of the previous 10.
Flyers 5, Blue Jackets 4
* Claude Giroux of the Flyers scored his 99th and 100th career goals, and his fourth game-winner of the season (career-high is five).
* It was Giroux's first four-point game since Feb. 2012.
* The Flyers scored five goals in the third period for the first time since March 2010.
* From Elias: The Flyers trailed Columbus, 3–0, through two periods but they outscored the Blue Jackets, 5–1, in the third period and recorded a 5–4 win over their Metropolitan Division rival. Excluding a shootout victory over Carolina in December 2008, it was only the third time in franchise history that the Flyers won a game in which they trailed by three goals or more entering the third period.
Penguins 5, Wild 2
* The Penguins have won nine straight home games, and their 16 home wins are most in NHL this season.
* Sidney Crosby had two assists, and has at least one point in 18 of 19 home games this season
* The Wild are 1-5-1 in the last seven road games, and have scored two or fewer goals in all seven games.
Sabres 4, Bruins 2
* The Sabres have won consecutive games for the second time this season, and this marks their first time winning back-to-back regulation games.
* Buffalo's Marcus Foligno had a Gordie How hat trick, recording a goal, assist and fight.
* The Bruins have lost two of their last three after winning six of the previous seven.
December, 19, 2013
Dec 19
7:30
PM ET
December, 18, 2013
Dec 18
10:02
PM ET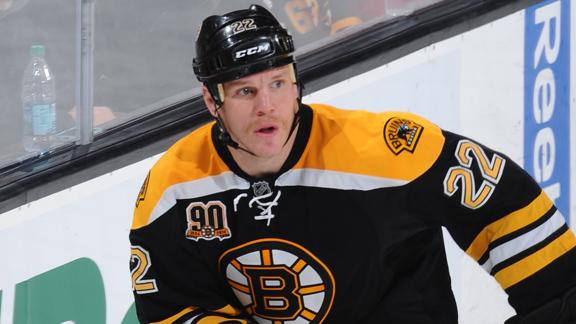 Here are some pre-holiday ramblings for your reading pleasure:
Thornton's suspension:
The
Shawn Thornton
suspension saga will continue to make news as the rugged Bruins winger has opted to appeal the 15-game ban for hunting down and attacking Pittsburgh defenseman
Brooks Orpik
. Will this be the test case for the new independent arbitrator added in the last collective bargaining agreement? We'd be shocked if commissioner Gary Bettman reduces the suspension, so the case could be sent up the procedural ladder, something that hasn't happened since the new CBA came into being. We were critical of the league not necessarily for the time it took to render the Thornton decision -- eight days -- but rather the timing of the announcement. We understand there were travel issues with the Bruins on the West Coast and the league wanted to take its time to get the ruling right. But we questioned releasing the suspension late on a Saturday afternoon, traditionally a slow point in the news cycle, a time when it might be argued (as we did) the league was trying to bury its news. League officials insist, however, that their studies show Saturday evening is a lively time for them in terms of viewers on their various media platforms and that they weren't running from the news they were creating. Agree to disagree that there was a better way for the league to promote what was, in our view, the most important supplemental discipline decision in recent memory.
Shanahan working overtime:
By the way, is there a single day that goes by that doesn't bring with it some form of egregious, reckless and/or dirty play that requires the attention of
Brendan Shanahan
and his overworked staff in the department of player safety? Tuesday, just for starters, there was
Kyle Quincey
ramming
Ryan Getzlaf
face-first into the boards, leaving the Ducks' star center bloodied and shaken and Quincey ejected from the game. In Philadelphia,
Brayden Schenn
was sent sprawling into the boards after a questionable hit from Washington's
Tom Wilson
. Getzlaf returned to the Ducks' victory after getting stitched up, but Schenn did not return to for the Flyers' victory, which was aided by two power-play goals scored on the major penalty Wilson was assessed. Just wondering when, if ever, will we hear from someone at the NHLPA about the responsibility of players in laying waste to their union brethren? Or when will we see someone from the union representing the victims in these hits lobbying for longer suspensions instead of the standard association support for the accused in these matters?
Smith vs. Harding for Team Canada:
We have from the outset been a supporter of
Mike Smith
as a Canadian Olympian. Love his compete level, love what he did back in 2012 when the upstart
Phoenix Coyotes
advanced to the Western Conference finals before losing to eventual Cup winners the
Los Angeles Kings
, love how he has fought to stay an NHL netminder. But with
Carey Price
and
Roberto Luongo
seemingly locked into the top two spots for Canada's Olympic team, at what point does
Josh Harding
get some love? All the
Minnesota Wild
netminder does is lead the league in goals-against average at 1.51 and is second with a .939 save percentage. Not to put too fine a point on it, but the Minnesota Wild are nowhere without Harding in net. Yes, his resume is short on NHL playoff and international experience, but some of the decision-making has to be about being rock-solid in the face of adversity, so doesn't Harding have that in spades given his battle with multiple sclerosis? This isn't a knock on Smith, but he ranks 16th among Canadian netminders with a 2.94 GAA and 13th with a .911 save percentage. It'll be a shock if Harding does make this team, but here's saying he's more than earned a place on the Canadian squad.
Panthers streaking:
What looked for all the world like a lost season has suddenly become a season of, well, maybe something else for the
Florida Panthers
. Since firing head coach
Kevin Dineen
, oddly enough hired this week to coach Canada's women's team at the Sochi Olympics, and trading veteran
Kris Versteeg
back to Chicago, the Panthers' youth brigade has suddenly taken a step forward and vaulted the team back to the edge of the playoff discussion in the Eastern Conference. Their 3-1 victory over Toronto Tuesday was their fourth in a row and sixth in their past seven outings. It's not rocket science, GM Dale Tallon told ESPN.com this week. Under new coach Peter Horachek there is more structure, the players are playing hard and the youngsters (like second overall draft pick
Aleksander Barkov
and
Nick Bjugstad
) are hitting their stride offensively. Defensively,
Dylan Olsen
, drafted (28th overall pick in 2009) by Tallon when he was in Chicago and acquired in the Versteeg deal, has been a revelation with eight points in 11 games; a feat made more impressive by the fact he does not play on the power play. Another young talent
Dmitry Kulikov
has rebounded after being a healthy scratch and the subject of trade rumors. Although
Tim Thomas
has been sidelined with a groin injury,
Scott Clemmensen
has held the fort in goal and the youngsters "have given our team a little identity," Tallon said. Reminds Tallon a bit of his time in Chicago as GM before the Hawks became an NHL power and perennial Stanley Cup contender. "We talked a blue streak in Chicago about our kids but nobody believed us," he said. "Til they got on the ice."
Winter Classic:
Has HBO lucked into some drama or what with its "24/7: Road To The Winter Classic" reality series? Both the
Toronto Maple Leafs
and the
Detroit Red Wings
are playing like junk and the Red Wings especially are in a terrific funk at home having been blasted Tuesday night by Anaheim 5-1 to fall to 5-9-6 at Joe Louis Arena. That win total is tied for lowest in the NHL at home. Meanwhile, the buzzword around the Leafs these days is "panic." As of Wednesday morning, the two teams occupied the two wildcard spots in the Eastern Conference. Can't wait to see what the cameras uncover. Watching the opening segment last week was a reminder of how much we missed the series a year ago when the lockout scuttled half a season, including the Winter Classic. It has become appointment television for hockey fans -- hard core or not. Yes, we read some of the reviews that were a bit tepid but that's hockey, no one eats its own like the hockey media. For us, HBO continues to synthesize the essence of the game in a way that appeals to a wide cross section of viewers, something the game has been trying to do with varying degrees of success for years and years. Although both head coaches -- Mike Babcock and Randy Carlyle -- were on their best behavior in the first episode, we're guessing the strain of losing will reveal something other in coming episodes. The one curious aspect of the series is that decision-makers opted to have the original segments air on Saturday night. Yes, they are rebroadcast on HBO throughout the week and lots of folk have the capability of recording the segments or watching through on-demand functions, but Saturday has always been the NHL's big night for live action. Why force fans, hardcore or not, to choose between watching their favorite teams and watching the HBO production? Just asking.
December, 18, 2013
Dec 18
9:34
PM ET
ESPNBoston.com
Two days after telling reporters he was the victim of an unprovoked attack at a nightclub in his hometown of Vancouver, British Columbia, and saying he had "no reason left to defend" the city, Boston Bruins forward Milan Lucic softened his stance.
"This has been a very difficult week for me given the recent events that took place in my hometown of Vancouver," he said in a statement released by the team Wednesday. "As I have had more time to think I want to make it clear that regardless of what has happened, I am still -- and always will be -- proud to be from there. It is home.
"While the actions of a few individuals have deeply upset me and will impact the time I spend downtown going forward, I will not let those incidents diminish the love and pride I have for the city as a whole. This will be my final comment on this subject."
Lucic, 25, said the incident happened Saturday night, following his team's 6-2 loss to the Vancouver Canucks at Rogers Arena. He said he was attacked twice by the same man and is pursuing legal action.
"I have no reason left to defend my city and the people in my city," Lucic said Monday. "I'm disgusted and outraged that it had to come to something like that. As far as that goes, other than being at Rogers Arena, no one will ever see me in downtown Vancouver ever again."
This was not the first time Lucic faced off-ice issues in Vancouver because he plays for the Bruins.
After Boston won the Stanley Cup by defeating the Canucks at Rogers Arena in 2011, Lucic's grandparents, parents and other family members were harassed, he said, and the church his family belongs to was vandalized.
December, 18, 2013
Dec 18
3:12
PM ET
The
Boston Bruins
have recalled defenseman David Warsofsky from Providence, and assigned forward
Craig Cunningham
and defenseman
Kevan Miller
to the P-Bruins.
Bruins general manager Peter Chiarelli met with reporters after the team's practice Wednesday morning at Ristuccia Arena and explained the transactions.
Miller has played nine games this season; if he reaches 10 and then is sent to the minors, he would need to clear waivers, so the Bruins did not want to take that chance.
"He's coming up on his 10th game and we don't want to risk losing him to waivers," explained Chiarelli. "We felt Kevin would probably be a waiver pickup by somebody and we didn't want to risk it."
Chiarelli spoke with Miller about the situation and told the defenseman he's happy with the way he's played.
"Probably the next time we bring him up will be for good," Chiarelli said.
Warsofsky, 23, a native of Marshfield, Mass., and a product of Boston University, has played parts of four seasons with the P-Bruins. This season, he's been one of the team's best players, posting two goals and 14 assists for 16 points in 26 games, including a plus-10 rating.
"He's played very well," Chiarelli said. "He's a little undersized (5-foot-8) but a very good skater and moves the puck well. He's had a real good year. He got dinged up a little on Friday but he's good to go."
Since
Adam McQuaid
remains sidelined with a lower-body injury, Warsofsky will make his NHL debut with the Bruins on Thursday night in Buffalo.
Cunningham made his NHL debut Tuesday night against the
Calgary Flames
at TD Garden.
Notes:
* Chiarelli also gave an update on forward
Loui Eriksson
, who is out with a concussion. He suffered the head injury on Dec. 7, which was his second concussion in a five-week span. Eriksson did show up at TD Garden on Tuesday morning, which was the first time since the injury. Since he's had two concussions in a short period, the Bruins are taking their time with his rehab.
"We're careful with that. I talked to Loui a little bit yesterday. He's coming along but he's still experiencing some symptoms," Chiarelli said. "With that type of injury you see slow improvement and that's what Loui's going through right now, so I don't know what the time period would be."
* Bruins forward
Brad Marchand
has raised some concern with his recent play, specifically for his antics during Saturday's loss to the
Vancouver Canucks
at Rogers Arena. He mockingly kissed the Stanley Cup and his ring, gesturing toward the Vancouver players.
"I've talked to Brad and that's all I'll say," Chiarelli said. "I wasn't happy with it and he understands."
Marchand was also called for boarding during Tuesday's 2-0 win over the Calgary Flames.
"I saw that hit and it was a penalty. I don't anticipate any disciplinary stuff," Chiarelli said. "That stuff happens. We're a physical team and it results in body contact maybe more so than other teams, so we're under the microscope that way. You don't like anything like what Shawn did but you're going to have altercations and that's going to happen, so that doesn't surprise me."
* Bruins coach Claude Julien did not attend Wednesday's practice because he's dealing with the flu, but he will travel with the team to Buffalo.
December, 17, 2013
Dec 17
11:46
PM ET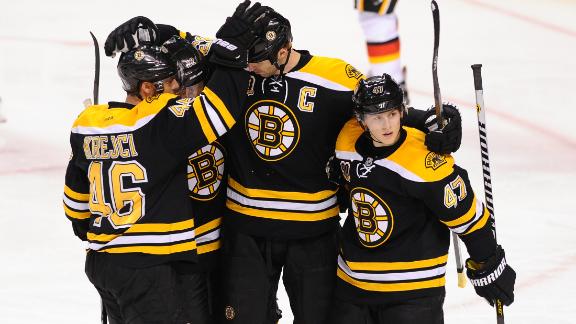 BOSTON -- It doesn't happen often, but when Boston Bruins captain Zdeno Chara gets a sense that too many distractions are affecting the team, both on and off the ice, he'll address his teammates.
During the team's recent road trip through Canada, the Bruins dealt with numerous lineup changes due to injuries, along with a nasty flu bug that wreaked havoc in the locker room. Boston's captain decided to speak his mind.
"Yes, I did," Chara admitted after Boston's 2-0 win over the Calgary Flames Tuesday night at TD Garden. "But it's just one of those things and at the same time you don't want to put too much pressure on the team when you know there's already enough with whatever we were facing. At times, yes, it's my job to go by what I feel is right and I obviously have to take charge."
So, what exactly was his message to the team?
"Oh, I'm not going to say what I said," Chara said with a smile.
At times during his Bruins career, Chara's captaincy has been called into question by fans and the media alike. But behind closed doors, his teammates and coach Claude Julien respect Chara's leadership abilities.
When the team returned home from the road, Julien admitted after Monday's practice that it can be a challenge for a coach to keep his team in check when it appears things could go south in a hurry. So Julien appreciated Chara doing what he did.
"I don't know what he said, but a lot of times what Zee does is he'll reinforce the message we're trying to give," Julien said. "You hear it from the coaches and when you hear it from your captain it means it's in the room from the leadership and it reinforces the message."
December, 17, 2013
Dec 17
11:42
PM ET
BOSTON -- Bruins forward
Brad Marchand
was called for boarding at 15:28 of the second period during Boston's 2-0 win over the
Calgary Flames
Tuesday night at TD Garden.
Marchand, who's had a difficult few days after his on-ice antics Saturday night in Vancouver, hit the Flames'
Sean Monahan
from behind and was penalized. After the game, Bruins coach Claude Julien thought it deserved only a two-minute penalty.
"I look at that hit and it's a two-minute penalty. And I don't think he was going in there looking to injure the guy," Julien said. "He was going to hit and the guy turned and how he got him deserved a two-minute penalty but that's as much as it is.
"I don't want us to start thinking that everything Brad does is bad. It's a two-minute [penalty] like a lot of other two minutes. Not any worse than all the high sticks our guys took to the face tonight. So he took the two minutes, went to the box and served it."
During Boston's 6-2 loss to the Canucks Saturday night at Rogers Arena, Marchand mockingly kissed and hoisted an imaginary Stanley Cup, and kissed his phantom Stanley Cup ring during the game, which did not go over well with the Canucks players and fans, or Boston's coach. The Bruins defeated the Canucks in the Cup finals in Vancouver in 2011.
Julien said he would deal with Marchand's antics internally.