Bruins:

Bruins preseason questions
January, 18, 2013
1/18/13
9:25
AM ET
As part of our preview heading into the lockout-shortened 2012-13 season, we've asked Joe McDonald and James Murphy to answer
nine big questions
(one per day) facing the
Boston Bruins
. Here's our final question:
How far will the Bruins go this season?
Joe McDonald:
The
Boston Bruins
are a talented team and have the core group of players that should make the lockout-shortened, 48-game season an interesting run.
Since the team won the Stanley Cup in 2011, there's been little turnover in the roster, which means there's no reason why this club shouldn't compete for another title in 2013.
[+] Enlarge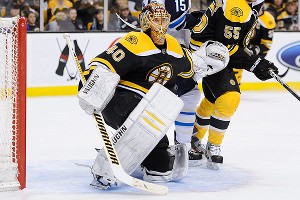 Bob DeChiara/US PresswireTuukka Rask had a 2.05 goals against average last season in 23 games.
The only new additions to the lineup at this point look to be rookie defenseman
Dougie Hamilton
and forward
Chris Bourque
. Besides a new goaltending tandem of
Tuukka Rask
and
Anton Khudobin
, there's little change in the Bruins roster.
The Bruins suffered through the Stanley Cup hangover last season, struggling early and then losing in the first round of the playoffs. But there's no reason why they shouldn't be one of the top teams in the Eastern Conference. They should win the Northeast Division title. After that, however, the Bruins could be in a battle for Eastern Conference supremacy.
The conference is loaded with talented teams, including the
New York Rangers
,
Pittsburgh Penguins
and
Philadelphia Flyers
. Based on goaltending and the strength of the team, I've picked the Rangers to win the conference and the Stanley Cup.
The Bruins aren't too far behind and should give the Rangers an epic battle for the Eastern Conference title. If I'm wrong, and the Bruins can prevail and return to the Cup finals, that means Rask has emerged as a true No. 1 netminder.
The Bruins are poised to be one of the best teams in the Eastern Conference and it will be fascinating to see how they finish the season.
James Murphy:
The last two seasons I had the Bruins making it to the Stanley Cup finals. In 2011, I picked them to win the Stanley Cup and they made me look pretty smart. Last season, I penciled them in for a date with the Kings but had them losing to the eventual Stanley Cup champions. Well, at least I had the Kings right?
Well, for the third straight season I'm predicting that the Bruins will be one of the final two teams standing, and just as I did prior to the 2010-11 season, I'm predicting the Bruins will lift the Cup. I also believe they will do so by once again beating the
Vancouver Canucks
.
As many have pointed out, the Bruins just may be one of the best prepared teams for a shortened season like the 48-game one they're about to embark on. They have their core intact and the only significant change in the lineup is that
Tim Thomas
is gone and Tuukka Rask is a starter once again. Given that Rask was in that role for most of the 2009-10 season, that isn't really a dramatic change. They also have the same coach, so the players are familiar with the system. On top of that, 13 Bruins played during the lockout and are close to game shape. Combine all those elements with the fact that such a young core has already won a Cup and the Bruins are poised for another Cup parade.
January, 17, 2013
1/17/13
2:36
PM ET
As part of our preview heading into the lockout-shortened 2012-13 season, we've asked Joe McDonald and James Murphy to answer
nine big questions
(one per day) facing the
Boston Bruins
. Here's our Day 8 question:
What are your point predictions for the following: David Krejci, Milan Lucic, Nathan Horton, Dougie Hamilton?
Joe McDonald:
Nathan Horton
,
David Krejci
and
Milan Lucic
are all talented players with different, but complimentary skill sets.
It's going to be interesting to watch the team's top line produce in the lockout-shortened, 48-game season because it will be a sprint to the playoffs. First and foremost, in order for that line to produce, it will need to stay healthy. Krejci was the only one of the three to play overseas during the lockout, while Lucic and Horton remained in North America.
Krejci has the ability to dominate when it counts, so he should thrive in a shorter season. Look for him to notch
12 goals and 20 assists for 32 points
.
Horton hasn't played in a NHL game since Jan. 22, 2012 after he suffered his second concussion in a seven-month span. He's completely healthy now and in great shape. He hasn't avoided contact during training camp and looks strong on the ice. He may get off to a slow start, but once he gets going he could easily score
19 goals, add 17 assists for 36 points
.
Despite some early talk that Lucic is out of shape, the power forward is ready for the season. Since he did not play during the lockout, it will take him a bit more time to shake the rust off his game and that could hurt his offensive production from a statistical standpoint. He'll finish the season with
10 goals and 15 assists for 25 points
.
Now let's focus on rookie defenseman
Dougie Hamilton
. The 19-year-old blueliner will make the team and will be given every opportunity to succeed. During training camp, Bruins coach Claude Julien has the rookie paired with veteran
Dennis Seidenberg
. The pair is not set in stone, but Hamilton should get plenty of ice time once he gets used to the speed of the NHL game. He's also been working on the second power-play unit which should give him a chance to produce on offense.
I actually picked Hamilton as my Calder Trophy winner as the league's top rookie. While his
goals (two), assists (15) and points (17)
may not be eye-popping, I see an impressive plus-20 rating at the end of the season.
James Murphy:
Here are my predictions for Krejci, Horton, Lucic and Hamilton:
Krejci:
With his three-year contract that will pay him $5.2 million set to begin this season, and his name still a regular on the trade rumor circuit, one could say the pressure is on Krejci to produce. Since the 2008-09 season when he had 73 points, Krejci has had some inconsistent stretches and never become the 80-point player that many believe he can be. It obviously has to be noted that he was an absolute beast in the 2011 Stanley Cup run with 23 points in 25 games, but still, Krejci has yet to take that next step over the course of a full regular season. With a 48-game season upon us, we won't really be able to tell if that will happen, but expect Krejci to still put up some solid numbers this season. Maybe t pressure of the rumors, his contract and the short season, will be motivation for him to perform at the same level he did in the 2011 playoffs?
Prediction: 15 goals, 31 assists -- 46 points
Horton:
In 46 games last season -- albeit while still recovering from the concussion he suffered in the 2011 finals -- Horton had 17 goals and 32 points. Now, with a 48-game season, but a longer recovery period from the concussion he suffered last season in January, the belief here is that if healthy, Horton can be better than that. Horton is in top shape at camp and his timing appears to be there. The big test will be that first huge hit he takes in a real game and how the condensed schedule affects his durability. But if he passes those tests, Horton should be able to get back to being the power forward that helped the Bruins to the Stanley Cup in 2011.
Prediction: 22 goals, 15 assists -- 37 points
Lucic:
Lucic is another player that comes to camp armed with a new contract, though his begins next season. Still, the fact that the Bruins gave him $6 million per season for the three seasons after this one will put extra pressure on a player that has been inconsistent at times -- most notably in the playoffs the last two seasons. Factor in that there was plenty of buzz recently about
Lucic not being in game-shape
and the rugged winger could be in for a season full of scrutiny. But that being said, Lucic has delivered in both of the last two regular seasons with 30 and 26 goal seasons respectively so we know he can perform. I'd expect a slow start from Lucic based on the fact that he didn't play at all during the locktout, but I think he'll get stronger as the season goes on, and hopefully for the Bruins he peaks in the playoffs.
Prediction: 15 goals, 13 assists – 28 points
Hamilton:
Hamilton enters his rookie season with plenty of hype and high expectations. The 2011 No. 9 overall pick has the potential to be a superstar defenseman with his 6-foot-5, 200-pound frame, and his puck-moving skills. But the question really is how will he handle the rigors of the NHL. Can he adjust to the speed of the NHL? Will a shortened 48-game season help or hurt him in that area? I believe if the Bruins approach his development the way they seem to be in camp and continue to pair him with a solid veteran like Dennis Seidenberg, Hamilton should handle the transition well and have a solid season. I also believe he will become an important part of the power play, an area the Bruins desperately need help in.
Prediction: 4 goals, 14 assists -- 18 points
January, 16, 2013
1/16/13
10:55
AM ET
As part of our preview heading into the lockout-shortened 2012-13 season, we've asked Joe McDonald and James Murphy to answer
nine big questions
(one per day) facing the
Boston Bruins
. Here's our Day 7 question:
Will the Bruins make any big in-season moves? If so, any ideas on players they might target (and players they might trade)?
Joe McDonald:
Bruins general manager Peter Chiarelli likes his current roster and I would be surprised if he makes any changes during the shortened season.
There's been little change since the team won the Stanley Cup in 2011 and the core is still young. Plus, there's plenty of depth in the organization if the Bruins need help from Providence on an emergency basis. If the Bruins can remain healthy, they're built with four strong lines, a solid defensive unit and good goaltending.
If Chiarelli does make any sort of deal during the season, maybe he'll move a player like forward
Jordan Caron
, who has played in Providence during the lockout but is currently sideline with an upper-body injury. That scenario could work itself out, especially if
Chris Bourque
fits well on the Bruins' third line with
Chris Kelly
and
Rich Peverley
.
There's been speculation that the Bruins would consider moving top forward
David Krejci
, but that's another scenario that's unlikely, especially given his upside in a shortened season. It's also a long shot that Chiarelli trades suspended goaltender
Tim Thomas
at the April 3 deadline.
Plan on the Bruins keeping the current roster largely instact for what remains of the 2012-2013 season.
James Murphy:
While I think the Bruins are a very solid team heading into this shortened season, I do believe if a deal is there to improve his team for the playoffs, Bruins general manager Peter Chiarelli won't hesitate to pull the trigger. He has proven in the past -- as he did acquiring
Tomas Kaberle
,
Rich Peverley
and
Chris Kelly
for the 2011 Stanley Cup run -- that he is not afraid to go into win now mode. With the ability to gain an extra $4 million against the $70.2 million cap by placing
Marc Savard
on long-term injury reserve, Chiarelli could have some money to play with. If (and this is a big if) he is able to entice a team to take
Tim Thomas
by sprinkling in some draft picks, Chiarelli will gain another $5 million. That's at least $4 million and possibly $9 million to play with come trade deadline time in April.
As for who the Bruins may target, the names
Bobby Ryan
and
Keith Yandle
have been regulars on the rumor circuit and the Bruins always seem to be interested. Of course
David Krejci
has always been mentioned as trade bait for either of those players because Anaheim and Phoenix could use another center. While I don't doubt that Ryan and Yandle are on the Bruins' radar and believe that Krejci's cap friendly $5.2 million hit per season for the next three seasons would be attractive, the question is do Phoenix and Anaheim really want to trade star players like Ryan and Yandle? I tend to think Yandle is more likely since Phoenix is so deep in young blue line talent, but getting Yandle might take even more than Krejci,
One name -- and it may not be for Yandle or Ryan -- that keeps popping up when I talk to scouts around the league as possibly being available is
Milan Lucic
. However, Lucic recently signed a three-year extension for $6 million per season that starts in 2014, which might be hard to sell in the trade market. I'd also keep an eye on
Andrew Ference
as trade bait as his contract is up next season. I wonder with his heavy involvement in CBA talks and the NHLPA if Bruins owner Jeremy Jacobs may not want to throw more money at him.
January, 15, 2013
1/15/13
11:08
AM ET
As part of our preview heading into the lockout-shortened 2012-13 season, we've asked Joe McDonald and James Murphy to answer
nine big questions
(one per day) facing the
Boston Bruins
. Here's our Day 6 question:
Can Tyler Seguin follow up his breakout season with even more in 2013?
Joe McDonald:
Bruins coach Claude Julien understands that Tyler Seguin possesses "unlimited potential" and the more confidence he gains, the better he gets in all aspects of the game.
[+] Enlarge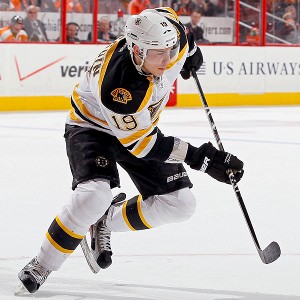 Jim McIsaac/Getty Images Tyler Seguin jumped from 22 points as a rookie to 67 in his second season.
The talented, 20-year-old forward enters his third season in the NHL and should have another breakout season. He helped the Bruins win the Stanley Cup during his rookie season in 2010-2011, and last season he led the team in scoring with 29 goals and 38 assists for 67 points in 81 games, including a plus-34 rating.
There's no reason to think those numbers won't increase in 2013.
No doubt he's a talented player with his speed, puck-handling abilities, play-making skills and sniper-like shot. It also helps that he's on the same line with centerman
Patrice Bergeron
, who is considered the best two-way player in the league, along with crafty winger
Brad Marchand
.
Seguin also adds an important aspect on the team's power play with the ability to score with his big one-timer.
During the lockout, Seguin was able to stay sharp by playing in Switzerland, where he registered 25 goals and 14 assists for 40 points in 29 games. Once the puck drops on the shortened 48-game schedule on Saturday, when the Bruins host the
New York Rangers
at TD Garden, Seguin should be one of the best players on the ice.
James Murphy:
The sky is the limit for Tyler Seguin as he enters his third NHL season.
After having his breakout season in 2011-12, Seguin continued his torrid scoring ways over in Switzerland. While the level of play there was clearly not that of the NHL, the initiative Seguin took was a good sign for the Bruins and their fans. This is clearly a player that loves hockey and wanted to be in the best possible game shape when the NHL lockout ended. With his natural skill, that can only mean good things.
I expect Seguin to surpass his offensive performance of last season. I also expect Seguin's defensive game to improve. He learned the hard way in his rookie season just how important it is to be good in your end of the ice as it is to be on offense, and that is especially true if you're playing for Claude Julien. As Julien preaches, the best offense is a great defense, and that translated into Seguin's game last year.
As long as Seguin doesn't get caught floating or not working hard, he should continue to be a rising superstar.
January, 14, 2013
1/14/13
11:29
AM ET
As part of our preview heading into the lockout-shortened 2012-13 season, we've asked Joe McDonald and James Murphy to answer nine big questions (one per day) facing the
Boston Bruins
. Here's our Day 5 question:
What do you expect from Dougie Hamilton this season?
Joe McDonald:
The Boston Bruins have high expectations for rookie defenseman Dougie Hamilton, as the team prepares for the lockout-shortened 48-game schedule in 2013.
The 19-year-old blue-liner was the organization's top pick (ninth overall) in the 2011 NHL Entry Draft and he's in camp with hopes of earning a spot on the roster. Even before the lockout began last fall, Bruins general manager Peter Chiarelli felt that Hamilton would make his NHL debut in 2012-2013. During the work stoppage, Hamilton remained with his junior team and posted eight goals and 33 assists for 41 points in 32 games for the Niagara IceDogs of the OHL.
He's a highly skilled player, but it will take him some time to transition to the NHL game because of its size and speed. Once he gets comfortable, however, he will make an impact for the Bruins.
Bruins coach Claude Julien decided to pair Hamilton with veteran defenseman
Dennis Seidenberg
for the start of training camp. Hamilton also worked on the team's power-play unit. Don't be surprised to see him paired some with
Zdeno Chara
, too.
Hamilton is capable of being successful in his rookie season, given his talent and abilities. He'll likely make a smooth transition once he gets used to the style of play in the NHL.
James Murphy:
Expectations are high for Bruins prized rookie Hamilton. It's rare that a 19-year-old rookie will come into training camp with the coaching staff and management already saying he has made the team, but that's just how good he is. The question, though, is how will his raw talent translate on the ice at the NHL level?
Hamilton has ripped it up at the junior level for Niagara of the OHL, with 187 points in 213 games. But can the 6-foot-5, 200-pound rearguard do the same in the pros?
The guess here is that he won't be totaling as many points in his rookie season, but with a cast of skilled veterans like captain Zdeno Chara and Dennis Seidenberg surrounding him on the blue line, his transition should be a smooth one. Hamilton has the size and talent to become an elite defenseman in the NHL and we should see that potential on display this season. But don't be surprised if he's not an automatic Calder Trophy candidate for rookie of the year. The Bruins will throw him into all sorts of situations, but with caution, and if he struggles they will pull back.
Hamilton should be able to have a 25-30-point season or maybe even more, but we all have to remember he is only 19 and still has plenty of development ahead of him.
January, 13, 2013
1/13/13
12:05
PM ET
As part of our preview heading into the lockout-shortened 2012-13 season, we've asked Joe McDonald and James Murphy to answer nine big questions (one per day) facing the Boston Bruins. Here's our Day 4 question:
The performance of ____ will be the biggest surprise this year?
[+] Enlarge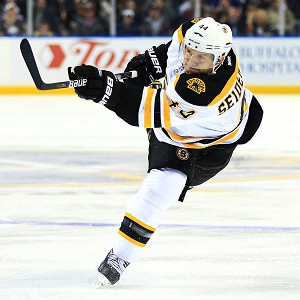 Kevin Hoffman/USA TODAY SportsDennis Seidenberg averaged over 24 minutes of ice time per game last season.
Joe McDonald:
When choosing which player could have a breakout performance in any season, it's simple to pick an offensive-minded forward. The
Boston Bruins
have many of these types of players on their roster, but this season I'm going with a defenseman as my breakout player. Bruins blueliner
Dennis Seidenberg
is a steady and consistent player. He's a solid defender. He's physical and logs many minutes of ice time along with partner
Zdeno Chara
. With the addition of rookie defenseman Dougie Hamilton this season, Seidenberg could be called on to help mentor to young blueliner. The two of them were paired together Sunday at the first day of training camp. During the lockout, he played in Germany, and when he returned to Boston last week, he said he's healthy and in great shape. He played 80 games during the 2011-2012 season and recorded five goals and 18 assists for 23 points, including a plus-15 rating. I'm not saying his statistical production will greatly increase, I just believe he'll be one of the best players on the ice for the Bruins during this lockout-shortened 48-game season.
James Murphy:
For the first time in his NHL career,
Chris Kelly
scored 20 goals last season as the pesky winger known for his defensive prowess gave the Bruins some offensive depth many didn't expect. Until then Kelly's highest goal total was 15 which he achieved in 2006-07 and 2009-10. But the versatile forward did have 13 points in 25 playoff games during the Bruins' 2011 Stanley Cup run and he carried that offensive momentum into last season. Expect that trend to continue as Kelly will most likely anchor the third line centering
Rich Peverley
and a yet-to-be-determined left wing. Kelly was arguably one of the most valuable players on the Bruins last season because of his improving offensive skills and his tenacious game on both ends of the rink. He was a mainstay on the penalty kill, but also proved that he can be used on the power play from time to time as well. This means more playing time, and with that, more opportunity to light the lamp. I'm going to predict that Kelly pots 20-25 goals this season and proves his worth on the four-year $12 million contract he signed last July.
January, 12, 2013
1/12/13
5:21
PM ET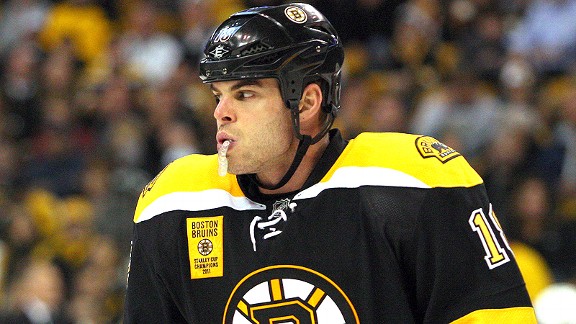 Anthony Nesmith/AP PhotoNathan Horton hasn't played in nearly a year, but said Thursday he feels great and back to normal.
As part of our preview heading into the lockout-shortened 2012-13 season, we've asked Joe McDonald and James Murphy to answer nine big questions (one per day) facing the
Boston Bruins
. Here's our Day 3 question:
How will Nathan Horton fare in 2013?
Joe McDonald:
After he suffered a pair of concussions in a seven-month span, Boston Bruins forward Nathan Horton is happy and healthy.
It's been almost a full calendar year since he last played in an NHL game, on Jan. 22, 2012, and he can't wait to cut some grooves in the Garden ice once the lockout-shortened season begins Jan. 19 when the Bruins host the New York Rangers.
Unless Bruins coach Claude Julien decides to change the line combinations, Horton should be back on the top unit with
Milan Lucic
and
David Krejci
. Horton is a major contributor offensively when he's playing his type of game. Before the injury last January, he had recorded 17 goals and 15 assists for 32 points in 46 games, and he wasn't even playing his best hockey.
He participated in the team's captain's practice this week and showed no ill effects from the concussions. He said he's feeling the best he's ever felt and will not change his game or shy away from any contact. His teammates also know how important Horton's contributions will be for the success of this team.

It will take Horton a few games to get his timing back, but once he does, he should be on track for a solid season. That's his goal, and, as long as he can remain healthy, there's no reason to think he can't achieve that in 2013.
James Murphy:
There are two ways to look at how the lockout affected Nathan Horton: Either the extra rest benefited him, or not playing for nearly a year created rust he will not be able to shake off fast enough in a 48-game season.
Although I believe that rust definitely will hamper Horton as the season gets under way, I also believe that would've been the case in an 82-game season that should've begun in October. There was going to be rust no matter what, and the fact that his body has had that extra time to condition will benefit him in my eyes.
Horton feeds off his physical game, and that definitely will be the telltale sign of whether he has fully recovered. But if he does pass the first few tests, I believe Horton can be the tenacious scorer he was in the 2010-11 season, when he netted 26 goals and had 53 points in 80 games and then eight goals and 17 points in 21 postseason games in the Bruins' Stanley Cup run.
His skill and size are still there, and that doesn't just go away. Concussions are always hard to come back from, but I expect a solid season from Horton. He'll help on the ice, and his presence around the team will be key to chemistry, too. His teammates are thrilled to have him back. That support can only help him work back to being the power forward who helped the Bruins win the Cup two seasons ago.
January, 11, 2013
1/11/13
10:58
AM ET
As part of our preview heading into the lockout-shortened 2012-13 season, we've asked Joe McDonald and James Murphy to answer nine big questions (one per day) facing the Boston Bruins. Here's our Day 2 question:

Will Tuukka Rask make Bruins fans forget about Tim Thomas?

Joe McDonald: Now that the starting job is his, Boston Bruins goaltender Tuukka Rask needs to be that elite player the organization has always hoped he could be.

He's shown it in spurts as the backup for Tim Thomas, but Rask hasn't achieved the level of consistency that a goalie needs to help his team be successful. He has that chance this season.

Ever since the Bruins acquired him in a trade with the Toronto Maple Leafs in exchange for netminder Andrew Raycroft in June of 2006, Rask has been patiently waiting for the opportunity to be the No. 1 goaltender in Boston.

For the better part of the previous three seasons, Rask as served as the backup for Thomas, a two-time Vezina Trophy and Conn Smythe winner. During that time, coach Claude Julien repeatedly described his goaltending status by saying the Bruins had two No. 1 goaltenders, even though it was clear who the main starter was.

When Thomas decided last June that he would sit out the 2012-2013 season in order to spend more time with his family, it didn't take long for Bruins GM Peter Chiarelli to show his support for Rask as the team's starting goaltender. The Bruins signed Rask to a one-year deal worth $3.5 million last June, a deal that satisfied both sides. Basically, if Rask wants a long-term deal in Boston, he'll have a shortened 48-game schedule to prove his worth.

The support Rask is receiving from his teammates has been outstanding. They all believe he has the ability and the talent to lead this team in the post-Thomas era. Sure, Rask has the ability, but he has yet to prove it on a constant basis.

During the 2010 playoffs, he was the starting goalie because Thomas had a hip injury that would require surgery to repair a torn labrum in May of 2010. Rask outdueled the Buffalo Sabres and goaltender Ryan Miller in the Eastern Conference quarterfinals to advance to the semifinals against the Philadelphia Flyers.

The Bruins held a 3-0 series lead with Rask between the pipes, but the Flyers mounted one of the greatest comebacks in NHL playoff history and won the series in seven games.

The following season, Thomas was healthy and played 57 regular-season games, then another 25 in the playoffs, to lead the Bruins to the Stanley Cup. He played a total of 59 games during the 2011-2012 season, as Rask was limited to 23 games.

Rask made it no secret that he wanted more playing time, but the reason the Bruins have been successful in recent history was largely due to the chemistry between he and Thomas. Rask said recently he and new goaltending partner Anton Khudobin get along well, too, and there won't be any drop-off in success between the pipes.

This is Rask's opportunity to finally prove he can be an elite goalie on a consistent basis in the NHL.

James Murphy: I'm not sure anyone can forget about Tim Thomas based on everything he did as a Bruin -- mostly positive, but some negative, too. But I do believe Rask will erase doubts anyone has about whether he can assume the No. 1 goalie spot.

It's easy to forget that Rask was the team's No. 1 goalie for the second half of the 2009-10 season before Thomas reclaimed the job early in the 2010-11 campaign. Having your job seized from you and knowing all you can do is wait for your opportunity can either crush or motivate you. Seeing the passion Rask has for the game and the determination he has to be the best, I believe the latter is the case with him.

But the only question -- and I'm sure it's one many have -- is whether he's durable enough to handle the starting role. Rask has had some groin issues and other injury problems over the last year, and groin injuries are especially worrisome for goalies. He also appeared to wear down in the 2010 playoffs after going 22-12-5 with a 1.97 GAA and .931 save percentage in the regular season. After building a 3-0 lead against the Flyers in the conference semifinals, Rask and the Bruins lost the next four games. But Rask has the mental fortitude and the skill to be a stud between the pipes, and the 48-game schedule could help from a durability standpoint. I expect Rask to be the least of the Bruins' problems this season.
January, 10, 2013
1/10/13
11:59
AM ET

Murphy

McDonald
As part of our preview heading into the lockout-shortened 2012-13 season, we'll ask Joe McDonald and James Murphy to answer nine big questions (one per day) facing the Boston Bruins.
1. Will the Bruins benefit from the shortened season?
Joe McDonald:
The
Boston Bruins
will benefit from the shortened schedule for a few reasons, but mainly because there's been little turnover on their roster since the team won the Stanley Cup in 2011. Even before the NHL's lockout this season, the Bruins were favored as one of the top teams in the Eastern Conference because the core is young, healthy and has already known success. That's also one of the main reasons why general manager Peter Chiarelli hasn't made any changes because he realizes the potential this club has. Unlike many other teams in the NHL, the Bruins don't have to worry about learning new coaches, teammates or systems because everything is already in place in Boston. The only real change for the Bruins is that
Tuukka Rask
will be the No. 1 goalie. The lines should all be largely the same and so should the defensive unit. Coach Claude Julien's job shouldn't be that much of a challenge at the start of the shortened season. The one aspect the Bruins need to be aware of is consistency. There's no time for lulls because of the small number of games they'll play in a short period of time. There shouldn't be any excuses for the Bruins this season and they should be one of the top teams in the conference.
James Murphy:
The biggest danger to a shortened season or really any season for that matter is a slow start. Obviously with only 48 games and playing only teams within your own conference, every point is magnified. So recovering from a slow start is going to be much harder. But as
Cam Neely
pointed out to
ESPN Boston recently
, the Bruins have basically the same team (players and coaches) coming back, which should help. Neely also made the point that the Bruins went through a slow start last season coming of their Stanley Cup championship, so they know from experience how important it is to start strong. One thing that should help is that so many (13) Bruins played overseas during the lockout. Yes, the level of hockey they were playing certainly isn't as high as the NHL, but playing is always going to get you in better game shape than simply training. Sprinkle in the bitter taste from last season's first round exit to the Capitals -- and even though it was nine months ago it still stings -- and the Bruins should have plenty of motivation right out of the gate. This team knows they're better than what they showed in that loss to the Capitals and they'll want to prove that. Based on all those elements, I see the Bruins coming out strong out of the gate and expect big things from them this season.