January, 16, 2014
Jan 16
11:58
AM ET
The
Boston Bruins
(29-15-2, 60 points) will face the
Dallas Stars
(21-18-7, 49 points) Thursday night (8:30 ET) at American Airlines Center. Here's what to watch for:
RIVALRY RENEWED:
The Stars host the Bruins in their second and final meeting of the regular season. A rivalry was born between these two teams on July 4 when the organizations completed a seven-player trade. The Bruins sent forwards
Tyler Seguin
and
Rich Peverley
and defenseman Ryan Button to Dallas in exchange for forwards
Loui Eriksson
,
Reilly Smith
,
Matt Fraser
and defenseman Joe Morrow. So far, the deal has worked for both sides. When the puck drops tonight, the Bruins will try to avenge a 3-2 shootout loss to the Stars on Nov. 5 at TD Garden.
WHAT HAVE YOU DONE LATELY:
The Bruins are coming off a 4-3 loss to the
Toronto Maple Leafs
Tuesday night at TD Garden. Boston is 1-3-0 in its last four games and 5-5-0 in the last 10. The Bruins are 11-10-0 on the road this season. Boston is 3-1-2 against Central Division opponents and 9-4-2 against Western Conference teams. The Stars posted a 5-2 win over the
Edmonton Oilers
Tuesday night at American Airlines Center. Dallas is 5-3-1 in its last eight home games and has registered points in 10 of its 14 games on home ice.
MASKED MEN:
Bruins goaltender
Tuukka Rask
is in a bit of a slump right now, winning only twice in his last six starts. Overall, he's 22-12-2 with a 2.11 goals-against average and a .928 save percentage. In two career starts against the Stars, he's 1-0-1. If
Kari Lehtonen
gets the nod for the Stars, he's 17-12-7 with a 2.63 GAA and a .916 SP in 37 starts this season. He made 31 saves against the Oilers on Tuesday night. He's 7-5-0 with one shutout in 12 career starts against the Bruins.
SPECIAL TEAMS:
The Bruins' special teams have struggled of late. In the past seven games, Boston has allowed 10 power-play goals on 27 opportunities. On the power play, the Bruins are 1-for-23 in the past eight games. Overall, Boston still has the 10th-ranked PP in the league, while the Stars are 29th in that category. Despite the Bruins' recent lack of success on the penalty kill, they're still 12th overall in the league. The Stars are ranked 21st on the PK.
WELCOME BACK:
Both Eriksson and Smith return to Dallas for the first time since the trade that brought them to Boston last summer. They've already played against their former team on Nov. 5 in Boston, but being back in Dallas will be a bit different.
"It would be nice to get a win for the team, but they beat us last time, so it would be nice to get the two points back and get back going in the right direction as a team," Smith said. "Personally, it doesn't change too much. It'll be good to see some of the faces that I know there, but other than that it's all business."
Smith has been outstanding for the Bruins this season. The right wing has 15 goals and 18 assists for 33 points in 46 games for Boston. Eriksson, who has missed a total of 20 games this season due to a pair of concussions, has five goals and 10 assists for 15 points in 26 games for the Bruins.
November, 5, 2013
11/05/13
10:11
PM ET
BOSTON -- The boos were louder than the cheers for former Bruins forward
Tyler Seguin
, who returned to Boston for the first time since he was traded to the
Dallas Stars
on July 4.
Even before the Stars' 3-2 shootout victory over the Bruins Tuesday night at TD Garden, Seguin was booed during pregame introductions. He was booed again when he first touched the puck during his first shift.


Seguin, along with forwards
Rich Peverley
and Ryan Button, were traded to Dallas in exchange for forwards
Loui Eriksson
,
Reilly Smith
,
Matt Fraser
and Joe Morrow last summer.
During a TV timeout in the first period, the Bruins recognized Seguin and Peverley on the video board by showing each of them hoisting the 2011 Stanley Cup. But almost every time Seguin touched the puck, the majority of the 17,565 showed their displeasure for Boston's former No. 1 pick (second overall) in the 2010 draft.
Oh, and there was a game being played, too.
Seguin and Peverley scored in the shootout to lead Dallas to victory.
Milan Lucic
and
Torey Krug
scored for the Bruins, while goalie
Tuukka Rask
made 34 saves.
The Stars gained the early lead when
Jamie Benn
ripped a snap shot from the right faceoff circle and beat Rask to the top left corner at 3:38 of the first period.
Boston responded when Krug received a nifty pass from Smith and beat Stars goalie
Kari Lehtonen
at 4:16 of the opening period. The tally was Krug's fifth of the season. The Bruins outshot the Stars 18-10 in the opening period as the game remained in a 1-1 tie after the first 20 minutes.
There was no scoring in the second period, but the Stars gained a 23-22 advantage in total shots.
Early in the third, the Stars were awarded a four-minute power play when Smith was given a double-minor for high-sticking. The Bruins were able to kill off the penalty. That stop proved crucial as Boston gained a 2-1 lead on Lucic's goal at 11:39 of the third period. It was his seventh of the season, as he redirected
Dougie Hamilton
's shot from the blue line.
With the Bruins holding the one-goal lead in the final five minutes, the fans once again began to chant "Seguin, Seguin, Seguin."
But the Stars were awarded a penalty shot with 2:34 remaining and Dallas'
Vernon Fiddler
beat Rask to tie the game at 2-2.
LOUI, LOUI:
After missing five games due to a concussion, Eriksson returned to the lineup and was back playing with
Patrice Bergeron
and
Brad Marchand
. After the team's morning skate, Eriksson said he was pleased with how quickly his recovery went.
OH, BOY:
After missing Saturday's game due to a back injury, Bruins defenseman
Johnny Boychuk
returned to the lineup. He made his presence felt in the first period when he ran over Dallas forward
Erik Cole
with a clean hit while the Stars were attempting to break out of their zone at 7:13. Fiddler took exception to the hit and went at Boychuk, who was prepared and landed on top of his opponent. Both were handed roughing penalties.
ALL PRESENT AND ACCOUNTED FOR:
With everyone healthy, Julien needed to make a couple of lineup decisions, so forward
Jordan Caron
and defenseman
Matt Bartkowski
were healthy scratches.
IN THE HOUSE
: During a TV timeout in the second period, Red Sox first baseman Mike Napoli was shown on the video board, and the fans went nuts when he tugged on his beard. It was fitting he attended the game since he spent the previous two seasons playing for the Texas Rangers. Also attending Tuesday's game was Jim Craig, the 1980 Olympic gold-medal winning goaltender for Team USA. The fans chanted "USA, USA, USA" when he was shown on the video board.
UP NEXT:
Tuesday's game against the Stars began a five-game homestand for the Bruins. Boston will host the
Florida Panthers
on Thursday, the
Toronto Maple Leafs
on Saturday and the
Tampa Bay Lightning
on Monday before finishing up against the
Columbus Blue Jackets
next Thursday at TD Garden.
November, 4, 2013
11/04/13
11:32
PM ET
BOSTON --
Tyler Seguin
returned to the TD Garden ice for the first time since Game 6 of last year's Stanley Cup finals Monday, the day before he faces his former
Boston Bruins
teammates. He wore a
Dallas Stars
practice jersey and centered a line between
Jamie Benn
and
Valeri Nichushkin
.
On the spectrum of his career, Seguin is somewhere between the trajectory of his linemates. Benn, at just 24, is the Stars' captain. Nichushkin is an 18-year-old phenom and, like Seguin, a top-10 pick -- the 10th overall selection in the 2013 draft.
"When I saw him [Nichushkin] in the preseason, when I first got to Dallas, I was blown away with him," Seguin said after Monday's practice session. "I thought he was going be a next [Evgeni] Malkin. He's got a good skill set."
[+] Enlarge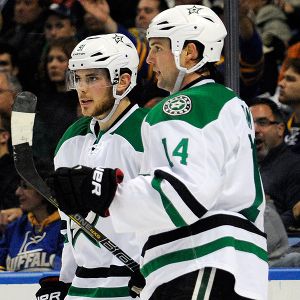 AP Photo/Gary WiepertTyler Seguin (left) is centering a line with Jamie Benn, a 24-year-old captain whose leadership may yet rub off on Seguin.
While the Malkin comparison doesn't exactly fit, everything else Seguin used to describe his rookie teammate were modifiers that were tossed around in describing Seguin around the time the Bruins made him the No. 2 overall selection in 2010.
The billing still fits for Seguin, but he never became in Boston what Benn has developed into for the Stars. And so, for the first time since the Bruins and Stars pulled off their own Fourth of July fireworks display with a seven-player deal that sent Seguin to Dallas, he's returning as an opposing player.
"It's a little weird pulling into the city," Seguin said, encircled by a deep pool of reporters. "It's definitely a little awkward, I guess you could say."
So, too, are breakups of any kind.
About midway through Seguin's media engagement in the Garden's bowels, Bruins coach Claude Julien strode through the concourse, accompanied by assistant
Doug Houda
while leaving ice level. Julien didn't break stride and cast his eyesight at the floor tile, avoiding the mongering scrum to his left.
Once the relationship's over, you never look back.
"Give me something else?" Julien responded -- only half-jokingly -- when asked if he was looking forward to coaching against Seguin to open his post-practice news conference Monday morning.
He added, "It's not my job to keep in contact with a player that's no longer with us."
Julien's follow-up elaboration on his view of Seguin's three seasons in Boston was something short of glowing.
"He's a good player," Julien said. "I didn't mind him here at all as a player."
In the early going with Dallas, Seguin has shown the flashes of offensive prowess he did in his sophomore season with the Bruins, when he fell one goal shy of 30. He's been a point-per-game player (6-9—15 totals through 14 games), leading the team in scoring.
"I'm trying to find an all-around, complete game," Seguin said, "and I think with my type of game, it does come with points. I'm competing with my feet and creating offensive chances."
The evolution has come with a move from the wing to center. It has come with growing pains, evidenced by Seguin's putrid performance in the faceoff circle against Ottawa on Sunday. In the Stars' 4-3 shootout win, Seguin won just one of 14 draws.
"He's had good nights and he's had some tough ones," Stars coach Lindy Ruff said of Seguin's time at center. "There's some nights, like last night, where I'd like to see him cheat more -- maybe get lower, maybe battling and get kicked out [of the circle]. He's had some tough nights, but he's had some good ones. It's the tough ones he has to battle through."
Ruff also indicated, in no uncertain terms, the plan is to keep Seguin at center.
"He's been at center ice and he's going to stay at center ice," Ruff said. "It might be a little bit of a growing process, but that's where we want to play him."
Seguin also addressed the heart of the speculation about what truly led to his exit from Boston. From social media gaffes to other alleged off-ice predilections, Seguin danced around the issues he "faced up to" in his B's career.
"I think I was just growing into a pro," he said. "I was the youngest guy here for a while before Dougie [Hamilton] came in. But any decisions I made never really affected my job."
To that point is what more likely influenced the Bruins' decision to push the launch button. Now famously delivered during the first installment of the "Behind the B" series on NESN, Scott Bradley, Bruins director of player personnel, uttered the indictment:
"He's a star player -- there's no doubt. But does he fit with our culture?"
Though a small sample size, it appears as though Seguin has assimilated to Dallas' culture in the room, a place where he might yet seize a leadership role, as his linemate, Benn, has early in his career.
It's all there in Seguin's game. Sometimes it just comes down to the details, just as Ruff commented on Seguin's need to get down and dirty in the faceoff circle.
"Sometimes you're going to have to get low, you're going to have to get real hard."
July, 4, 2013
7/04/13
10:39
PM ET
BOSTON -- Now that
Tyler Seguin
is no longer a member of the
Boston Bruins
, general manager Peter Chiarelli isn't about to call out the character of the 21-year-old forward just because he was traded to the
Dallas Stars
as the centerpiece of a seven-player deal on Independence Day.
Less than a week ago, Chiarelli told reporters after the NHL draft that Seguin needed to be a better pro. After the trade was complete, Chiarelli reiterated his comments but added nothing but praise for the former No. 2 overall pick in 2010.
"I think what's important to remember about Tyler is that he came here with much pomp and circumstance and he played very well for a young player," Chiarelli said. "This year wasn't his best year, but it was a trying year and a weird year to assess players. Tyler's a real good kid. I know I see the Twitter-verse, whatever it's called, and a lot of these reports about his extracurricular stuff, and I've made comments that due to his professionalism and acting more like a professional, but what has to be remembered in all this is that he's 21 years old. He's a good kid, and he's a terrific player. He's probably better suited for center. He was very good for us as a winger."
Chiarelli made it a point to say this trade had nothing to do with any off-ice issues the Bruins were concerned about, but he did seem to question Seguin's preparedness.
[+] Enlarge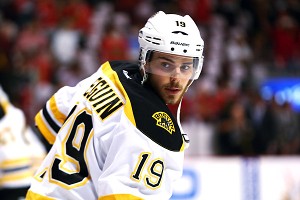 Bruce Bennett/Getty Images"I'm definitely excited to get back into my natural position at center," said Tyler Seguin, who's still only 21 after three seasons in Boston.
"I don't want to really play that up too much. He's a 21-year-old that played as an 18-year-old, and I think he was just a 21-year-old kid. He was maturing and growing up, and he liked to have fun like the rest of them. I don't really think it was such a big deal. But when I said earlier about focus, just about little things, about preparing to play, it was nothing about extracurricular activities."
Chiarelli was asked whether this was strictly an on-ice decision.
"There are no strict on-ice decisions on any decision you make with a hockey player. So no, it's not a strict on-ice decision," he said.
Asked whether the Bruins were fed up with Seguin's so-called off-ice issues, Chiarelli again downplayed it.
"I don't think so. I mean, we're talking about a good player. Our job -- my job as a manager, our coach's job, we have to get the best out of our players. ... No player is perfect, either as a player or an individual. His -- all his stuff mushrooms into a proliferation of items on social media and I get overwhelmed by the number of stuff that comes out. Maybe some of it is true, but I know not all of it is true.
"And this kid -- Tyler is a 21-year-old, he is a good kid, he's got a good heart and he is going to continue to grow up."
The Bruins had been shopping Seguin before the draft, so when the trade was announced Thursday afternoon, it did not come as a shock.
"I definitely heard the rumors," Seguin said during a conference call. "When the trade was announced, I don't know if I was surprised. As far as the professional comments, I talked with Peter about it right after the trade happened. I come to the rink every day and act professional and work my hardest. My first three years so far have been a big learning curve, and I look forward to getting better every day, and I'm more motivated coming to a great city like Dallas.

"I'm very excited. I'm looking forward to the opportunity. I'm definitely excited to get back into my natural position at center, and I'm looking forward to the experience."
Chiarelli was also asked whether the condition of Seguin's hip factored into why the Bruins wanted to trade him.
"No. That's really a condition that's troubling a lot of players. He's managed it, and the doctors talked. There's no issue," Chiarelli said.
After the Bruins lost to the
Chicago Blackhawks
in Game 6 of the Stanley Cup finals, Seguin acknowledged that a physical ailment was bothering him during the playoffs and said he would have it checked out by medical staff. That ailment was believed to be his hip.
As far as what the Bruins are getting in return for Seguin and
Rich Peverley
, Chiarelli believes this deal works well for both teams. Dallas GM Jim Nill sees Seguin as a pure center and will use him as such with the Stars. Chiarelli believes Seguin could thrive in that role with the Stars.
"Tyler was quiet for most of the playoffs. He's a tremendous package of skill and speed, so yes it will go north," Chiarelli said. "His game is more conducive to that. The ice on both sides of them, when he's in the middle, he will have to play defensively there as he did here. Lindy [Ruff] likes to take care of his own end, so that won't change, as far as that responsibility. In fact it'll be more, as a center man you have more defensive responsibility down low. Jimmy likes Tyler. Loves Tyler as a player. He's followed him a long time being in Detroit when Tyler was in Plymouth, so it was a good fit for them."
Seguin's offensive production drastically declined during the Stanley Cup playoffs. He had only one goal in 22 games in the postseason. When asked how he felt about playing in Dallas and what he learned during his time in Boston, Seguin said: "It's a refreshing feeling I get to go and start from scratch with a new organization, a new home. Whether it's on or off the ice I definitely want to succeed in the expectations that are given towards me."
Joining Seguin in Dallas will be Peverley, who was also part of the deal.
"I think Tyler was under the microscope here in Boston and I've heard a lot of things in the past 24 hours about Tyler that I don't think is true and it's unfortunate that it's coming to people talking like that," Peverley said. "He works very hard. He's gotten a lot more mature in the years I've known him. He commits himself to the game and getting better. I don't see any reason why he can't continue to improve all the time. He works very hard and he's a committed individual and it's going to be no different going forward. For Boston to let him go at a young age, I'm sure he's going to be really motivated to do well. I'm excited for him because it's new start, a fresh start and I'm sure he's excited."
As far as what the Bruins received in return, Chiarelli likes the addition of winger
Loui Eriksson
and prospects Joe Morrow,
Reilly Smith
and
Matt Fraser
.
"Well, he's a good two-way player," Chiarelli said of Eriksson. "He knows where to find the spots to score. Has a good shot, good release from either side, can play on the PP. ... He can play the right side, and he has left-shot skill. He spreads out your power play. He's a fast and a good two-way player. There's a lot of his game that fits into how we play."
July, 4, 2013
7/04/13
9:43
PM ET
BOSTON -- Along with
Tyler Seguin
, former Boston Bruins forward
Rich Peverley
was also traded to the
Dallas Stars
on Thursday.
Bruins general manager Peter Chiarelli acquired Peverley from the Atlanta Thrashers at the trade deadline in 2011, and Peverley ended up being an integral part of Boston's Stanley Cup team that season.
This season, his third with the Bruins, Peverley struggled offensively. He had six goals and 12 assists during the regular season and registered a team-low minus-nine. In the Stanley Cup playoffs, he had only two goals and was a minus-eight.
"When you're judging these players, on both sides, this year was a tough year to judge," Chiarelli said. "You really have to be careful, and Rich is no different. I know he was back and forth, three times when he was playing overseas prior to the start of the season. He was playing in Finland, and he never really got going for a number of reasons. But the year before, the two years before, he was a terrific piece to our depth puzzle when we won. He could move up and down the lineup. He could move across the lineup, any position. Terrific on faceoffs. He moved up when
Nathan [Horton]
got hurt two years ago. So he's a really useful, really good player. I don't judge him; good hockey people don't judge him by maybe a down year this year. They know what they're getting there."
Peverley said he's excited about his new opportunity.
"I'm incredibly motivated to bounce back and have a great year," Peverley said. "It's a new beginning and I'm looking forward to it."
He's projected to be a second-line center for the Stars, a role he's looking forward to returning to.
"I'm pretty excited about having that opportunity. It's an opportunity I've had in the past when I was in Atlanta and I'm looking forward to more responsibility on the ice and whichever way Lindy wants to use me I'm open to, center or wing, I'm really looking forward to it."
July, 4, 2013
7/04/13
5:01
PM ET
So,
Boston Bruins
general manager Peter Chiarelli wasn't just sending a message to
Tyler Seguin
after all.
Instead, he sent the 21-year-old forward packing and shipped him to the
Dallas Stars
, along with forward
Rich Peverley
and defenseman Ryan Button, in exchange for forward
Loui Eriksson
and prospects Joe Morrow,
Reilly Smith
and
Matt Fraser
.
The blockbuster deal ends Seguin's subpar three-year career in Boston. He never really lived up to expectations while in a Bruins sweater, and now, his $5.75 million cap hit per season is off the books.

Seguin, the No. 2 overall pick in 2010, struggled to produce offensively on a consistent basis. In 203 regular-season games for the Bruins, he scored 56 goals and added 65 assists for 121 points. In 42 playoff games, he had six goals and 12 assists for 18 points.
He helped the Bruins win the Stanley Cup in 2011 with a big series against the
Tampa Bay Lightning
in the Eastern Conference finals. This spring, though, he struggled and had only one goal and seven assists in 22 games as the Bruins lost to the
Chicago Blackhawks
in the finals.
Seguin had a hard time using his speed to his advantage, and opponents controlled him by keeping him to the perimeter, which made his shot useless.
The Bruins are moving him while he's young and relatively healthy, and Chiarelli was able to get a good deal in return.
Chiarelli criticized Seguin last weekend at the NHL draft, saying the forward needed to become a better pro. Bruins assistant captain
Patrice Bergeron
had his former linemate's back, but understood what the GM meant.
"I think Tyler's a young guy still and he's got a lot to learn," Bergeron said. "At the same time, he's improved a lot. At that stage, when you're learning like that, that's going to happen, you need to make sure you learn from it and find a way to get better. That's the main thing with him, it's about him finding ways to battle through it, find ways and build some character out of it. He's a terrific player, a terrific person, but sometimes you need to have some lows to get back up and feel better and play better.
"I thought he was really good the way he helped us. He found a way even though he wasn't scoring as much as he would like to. He was still battling hard and doing things, the little details that you don't always see on the score sheet, but it wasn't going unnoticed from us as players and teammates. He's a terrific young player, so he's going to learn."
As for the other players in the deal:
Eriksson, 27, is a solid left winger and posted 12 goals and 17 assists for 29 points in 48 games for the Stars this season.
Smith, 22, can play either wing and posted three goals and six assists for nine points in 37 games.
Morrow, 20, is a solid, puck-moving defenseman and spent this past season at the AHL level.
Fraser, 20, is a left winger and spent the majority of the season in the AHL, but did play in 12 games for Dallas.
July, 4, 2013
7/04/13
4:53
PM ET
At the heart of Thursday's blockbuster deal between the
Dallas Stars
and the
Boston Bruins
is not just patience but the belief in the overarching power of time to transform potential into productivity.
At the end of the day, the Bruins did not believe enough that time was going to transform
Tyler Seguin
, the second overall pick in the 2010 draft, into a core member of their team, so they sent the 21-year-old packing to Dallas along with
Rich Peverley
and prospect Ryan Button in exchange for the undervalued
Loui Eriksson
and prospects
Reilly Smith
,
Matt Fraser
and defenseman Joe Morrow, whom the Stars acquired from Pittsburgh in the
Brenden Morrow
deal at the trade deadline.
Seguin has showed flashes of the promise that saw him in a neck-and-neck race with
Taylor Hall
for the first overall selection in 2010. He helped the Bruins win a Stanley Cup as a rookie in 2011 and scored 29 goals in 2011-12 but did not fully become part of the Bruins community. Still a boy, he acted like it at times.
There were questions about his focus and commitment. This spring, Seguin scored only once in 22 postseason games as the Bruins were defeated by Chicago in six games in the Stanley Cup finals.
After failing to trade him before the end of the draft, GM Peter Chiarelli was blunt in saying Seguin needed to focus on being a pro.
Now Seguin will get to focus on that task in Dallas, where he will carry a $5.75 million cap hit through 2018-19. Clearly, new GM Jim Nill believes such a transformation can be accomplished. For a team that has missed the playoffs five straight years, Seguin represents an important piece of the foundation with the expectation he will contribute both immediately and down the road.
While Seguin was part of a deep, veteran group in Boston, he will face significant expectations in Dallas. It's hard to believe that
Mark Recchi
, who is an adviser for the Stars and has a long relationship with owner Tom Gaglardi, did not vouch for Seguin, with whom he played in Boston when the Bruins were Cup-bound in 2011.
Coach Lindy Ruff will likely return Seguin to his natural position at center, a position at which the Stars have been woefully thin, although it will take a certain leap of faith for Ruff to make such a move and will take some restoration of Seguin's confidence to make it work to the Stars' benefit.
Boston coach Claude Julien declined to make such a move during the playoffs when injuries necessitated a shuffling of the Bruins' forward lines. Julien chose for the most part to leave Seguin as a third-line winger as opposed to giving him a shot as a second-line center.
The Stars also will get a useful, versatile player in Peverley, who saw his role change from the Bruins' Cup-winning team in 2011 to this season, when he played mostly fourth-line minutes, although he did chip in on the Bruins' second power-play unit.
If there is more risk financially and in terms of fit for the Stars, there is certainly more long-term upside with Seguin given his significant offensive skill set.
The Bruins were clearly OK with that kind of trade-off, and there could hardly be a more Bruins-friendly acquisition than Eriksson. The native of Goteborg, Sweden, and former Olympian doesn't address the team's gaping hole on the right side created by the departures of
Nathan Horton
and
Jaromir Jagr
to free agency, but Eriksson is all business and should be an instant favorite of Julien.
At 27, Eriksson is a solid two-way player who has a $4.25 million cap hit through 2015-16. He is a four-time 20-goal scorer who had 36 goals in 2008-09, and one wonders if he will make Bruins fans quickly forget Seguin. The question will be whether Stars fans will embrace the young center in a like fashion or end up lamenting Eriksson's loss.
April, 2, 2013
4/02/13
6:22
PM ET
What will Jaromir Jagr do for the Boston Bruins? ESPN.com's Scott Burnside and ESPNBoston.com's Joe McDonald debate the finer points.
BURNSIDE:
Well, Joe, you and I chatted in this forum last week after
Jarome Iginla
made his last-second decision to eschew the Boston Bruins and orchestrate his trade from Calgary to the
Pittsburgh Penguins
. We talked at the time about how GM Peter Chiarelli would move on and continue to search for ways to ready his team for what he hopes will be a long playoff run. Tuesday he made a significant move by bringing in five-time scoring champ Jaromir Jagr from the
Dallas Stars
for a conditional second-round draft pick -- which becomes a first-round pick if the Bruins win two rounds this spring -- and two prospects, winger Cody Payne, who was the 145th overall pick in last June's draft, and
Lane MacDermid
, also a winger and the 112th overall pick in 2009. Now, comparing Jagr to Iginla is a little like comparing pucks to tennis balls: They're made of very different stuff. But what do you make of the Czech legend's acquisition? I know he was much beloved in the Philadelphia locker room a year ago and there's no question his absence has been a factor in the Flyers' disappointing season. And he was a big hit with the Stars for the brief time he was there. How do you see him fitting in the B's?
McDONALD:
Scotty, I have heard that Jagr's reputation behind closed doors has improved the past few years, but I'm still a little wary about how he'll fit into Boston's room at this point. After all, he's no
Mark Recchi
. Speaking of Rex, since he's currently working for the Dallas Stars, maybe he had some words of advice for the newest member of the Bruins in that aspect. Bruins forward
David Krejci
told me this morning that he admitted to having Jagr's poster on his wall as a young kid in the Czech Republic, calling him his "hockey idol," so maybe the veteran forward could make a seamless transition in Boston. On the ice, I can see Bruins coach Claude Julien putting Jagr on the third line along with
Rich Peverley
and
Jordan Caron
until
Chris Kelly
(broken left tibia) is ready to return. As far as Boston's power play, Jagr's presence will be a major help. The Bruins have scored a total of only 14 power-play goals this season, while Jagr recorded six on the PP for Dallas. The other thing here, Scotty, you have to give Chiarelli credit for quickly pulling the trigger on this deal after Iginla chose the other team that wears black and gold.
BURNSIDE:
I agree that on first blush Jagr might not be your prototypical Bruin forward, but I thought the same when he signed with Philadelphia after leading the Penguins to the altar at the outset of the free-agency period in the summer of 2011. The one thing, having covered the Flyers in the first two rounds of the playoffs last spring, is that by then Jagr was broken down and not particularly effective. He had one assist in the Flyers' five-game loss to New Jersey in the second round. Now, in a short season, that shouldn't be as much an issue for either Jagr or the Bruins. You mentioned your thoughts on where he might fit in with the Bruins, and I think one of the benefits, as it might have been had Iginla become a Bruin, is that you can move him up and down the lineup. But Jagr is not Iginla nor
Brenden Morrow
in that he's not going to give you those dirty minutes in the corner or kill penalties. So does this suggest to you that Chiarelli isn't done yet? It doesn't look like
Ryane Clowe
is on the Bruins' radar right now, but is there someone out there who might fill that need for a forward with some more sand?
McDONALD:
The other thing I'll say about Jagr, based on the lockout-shortened season, he will be motivated for his duration with the Bruins. I agree he could handle playing on any of Boston's top three lines, and it could be fun to watch him play with fellow Czech Krejci, but given Jagr's age, and not knowing how much he has remaining in the tank, let Peverley do the dirty work. And, no, I don't think Chiarelli is done. We all know he's in search of help on the back end, but adding a player such as Clowe is still in the mix. I'm still interested in a player such as the Islanders'
Brad Boyes
, too. With Jagr likely on the Bruins' top power-play unit, having Boyes on the second unit would be a big help, too. While I'm not completely sold on the addition of Jagr, I do see the Bruins being able to make a deep run in the playoffs, which means we'll be working together more very soon.
BURNSIDE:
Hard to imagine the
New York Islanders
would trade Brad Boyes given how close they are to the postseason, and especially given that the two teams could actually meet in the first round. But I agree, Joe; I don't think Chiarelli is done. But here's the question I think many people will be pondering after the dust settles Wednesday afternoon: Have the Bruins or anyone in the East done enough to close the gap on the Penguins? If the Penguins get healthy by the postseason, can the Bruins stay close? And more to the point, does Jagr balance the spreadsheet with Iginla or no? One thing I'm looking forward to is that tilt in Boston on April 19. Save me a seat in the press box.
McDONALD:
Oh, Scotty, that gap (at least in the Bruins' mind) closed when Iginla picked Pittsburgh over Boston. Sure, all the Bruins players said all the right things publicly, but you can be sure they've circled April 19 on their calendar for when they host the Penguins at the Garden. It's actually a toss-up as to who's hated more right now: Iginla in Boston or Jagr in Pittsburgh? While Jagr's addition is not the answer this season, his presence will help Boston and I just hope these teams meet in the playoffs because it would be a dramatic series. Bostonians would rather see you here, Scotty, than Mr. Jagr but it's going to be interesting.
March, 26, 2013
3/26/13
2:09
PM ET
All eyes are on the
Boston Bruins
now after fellow Eastern powerhouse Pittsburgh upped the ante with a pair of additions.
But it doesn't change what Boston had planned to do, really.
The plan all along for the B's was to try to improve both their forward group and their defense corps before the April 3 trade deadline, and that remains the case regardless of what the Penguins did.
"I certainly don't gauge our strategy on what other teams are doing, but Pittsburgh is a very good team and they've made themselves better," Bruins GM Peter Chiarelli told ESPN.com Tuesday morning. "It doesn't accelerate anything, you can't force anything; you try to find a fit and you try to improve your team. The Penguins made themselves better. We'll see in the coming week in a bit how other teams make themselves better, and we plan on doing the same thing."
The Bruins are believed to have made an offer for
Brenden Morrow
but lost out to the Penguins. The big fish remains
Jarome Iginla
, the Flames' captain in play, with the likes of Boston, Pittsburgh, Chicago and Los Angeles showing interest.
It's believed the price for Iginla is a first-round pick plus two young assets, a hefty sum, but one I believe the Bruins would be willing to pay.
Regardless, if they can't get Iginla, there are other possibilities. Keep an eye on
Ryane Clowe
in San Jose, a pending UFA the Sharks will likely move. He'd fit well in Boston. And while the
Dallas Stars
are trying to re-sign
Jaromir Jagr
to keep him for next season, if those talks fail, he'd be another possibility.
Either way, the Morrow deal on Sunday helped loosen up the trade market.
"Certainly, there was a lot more chatter on Monday morning," said Chiarelli. "But that's how it goes every year. There's an ebb and flow."
What's up, Mike Smith?
An under-the-radar story in some ways has been the situation of
Mike Smith
in Phoenix.
The 31-year-old netminder, coming off a sensational 2011-12 season, is slated for unrestricted free agency in July. Sources say there have been talks between Smith's camp and Coyotes management, but I'd be pretty surprised if Smith signs before he has a clearer idea of the ownership situation in Phoenix.
Which puts the Coyotes in a bit of a pickle come April if the team continues to fall out of the playoff race. The team has gone winless in six games to fall four points behind the eighth and final playoff spot in the Western Conference. If the Coyotes get to April 3 and Smith remains unsigned, what do they do if teams are calling about him? Do they recoup assets or hang in with him, hoping to get him signed before July 5?
It'll be interesting to monitor.
A pending pursuit of Clarkson
Alexander Semin's signing Monday night further depleted what will be a meager-looking UFA crop come July 5.
But some intriguing names are still left out there, including two of the game's premier power forwards.
We've talked before about Ryane Clowe and how contract talks with the Sharks haven't produced an extension, so he's looking likely to be dealt before April 3, and thus perhaps will be free-agent bound July 5.
But another name to keep an eye on is
David Clarkson
. A source told ESPN.com Monday night that the Devils and Clarkson's camp have not talked once this season about an extension, which isn't surprising because veteran GM Lou Lamoriello has often shown he's content to wait until after the season to get that going with his UFAs. And Lamoriello told ESPN.com recently teams should know better than to phone about Clarkson because he's not available.
However, if Lamoriello can't get the center re-signed after the season, there won't be many more desirable players on the market than Clarkson, a top-six goal scorer with toughness and grit. Can you say Edmonton, Montreal, Toronto, Minnesota? So many teams are looking for that kind of player. It's a good year to be David Clarkson.
Semin rewarded for stepping up
The
Carolina Hurricanes
certainly raised some eyebrows when they signed winger
Alexander Semin
to a $35 million, five-year extension Monday night.
But the Hurricanes had seen enough of him in this lockout-shortened season to keep him on board long-term. Signed to a one-year, $7 million deal last summer, Semin has produced a point per game, meshing well with
Eric Staal
and
Jiri Tlusty
on the top line.
"He's given the Hurricanes a dominant first line," veteran Carolina GM Jim Rutherford told ESPN.com Tuesday. "All three of those guys on that line have played well and all deserve credit in their own way as a contributing factor. Alex is an elite player who can put points up, which is always hard to find. Our experience with Alex has been very good, so we're pleased we could retain him."
Fact is, while some team executives around the league wondered about the term given to Semin, you can't blame Rutherford for wanting to keep the winger. It's a thin free-agent crop this summer, and Semin would have been very difficult to replace. In fact, the Hurricanes had been looking for that kind of scoring winger for a few years before finally adding him last summer. So they wanted to keep him.
No doubt, there are those who will say Semin is a bad gamble, that the reason Washington kept him on those one-year contracts is because the Capitals didn't trust him enough to stay motivated under a long-term deal.
Well, he's been terrific in Carolina and his teammates like him. Furthermore, nobody batted an eye when Anaheim signed
Ryan Getzlaf
to an eight-year extension earlier this month, and it just so happens that while the Ducks' captain is on fire this season, he had a pair of disappointing seasons (at least by his standards) before this season.
High-end, offensive talent costs money to keep around. Carolina has no qualms about its decision to retain Semin.
A day after signing Semin, the Hurricanes placed forward
Jussi Jokinen
on waivers Tuesday. In part it's because the Hurricanes feel good about
Riley Nash
as their third-line center -- Nash was recalled from the AHL on Monday -- but also in part so the Hurricanes can hopefully get another team to scoop up Jokinen's contract. He's got one more year left on his deal at $3 million next season.