July, 1, 2013
7/01/13
12:27
PM ET
Ryan Fitzgerald became the second generation of his family drafted into the NHL on Sunday night when he was selected by his hometown Bruins in the fourth round (120th overall).

Following in his father's footsteps (Tom Fitzgerald was drafted by the New York Islanders in the first round in 1986), the Boston College-bound North Reading native realized a childhood dream, joining the team his father finished his NHL career with in 2006. He also got to share the moment with his dad, who was working the Pittsburgh Penguins' draft table in his capacity as the team's assistant general manager.

The family connections don't stop there. His uncle, Scott, is the Bruins assistant director of amateur scouting, so it truly was a family affair.

Fitzgerald, who skated last year with the Valley Junior Warriors of the Eastern Junior Hockey League, graduated from Malden Catholic and, while skating with the Lancers, was part of back-to-back MIAA Super 8 tournament championship teams in 2010-11 and 2011-12.

We caught up with Fitzgerald Monday morning to get the wrap on his draft night experience:

On waiting to hear his name called: "It's a long night. I was sitting there with my brother, Casey, and his friend, Andrew Brandano (player at St. John's Prep). My dad was on pin and needles all night, definitely a little nerve-wracking for him. He stayed on the floor the first round, and then came up to sit with us for the second, third, fourth rounds. When it finally happened, it was a big sigh of relief for him."

On whether he knew Bruins would be destination: "With my uncle, I'm pretty familiar with organization. It's a team that I talked to a lot during the process. I thought they might be a team that was interested in me. I met with them at the draft combine and met with a bunch of their local guys. I came out and trained with them one time, so I knew they were interested. My uncle told me they had a close eye on me. It's really a great honor."

On the draft day experience: "When you walk into the rink, it's amazing. You've seen it on TV, but it's completely different in person. It's just a great atmosphere. You wouldn't think that it'd be that rowdy at a draft, but the fans show up and they get into it. It's great."

On what his brother, Casey (also a BC commit), means to him: "He's been great. He's a great brother and he was really supportive through everything. He always is. His draft is coming up soon, so he got to sit back and take it all in. I'll be there for him when he goes through it, too."

On which team he was rooting for in Eastern Conference final: "You're always a Bruins fan, growing up here, but you're a part of the Pittsburgh family with my dad working for them. But when they played the Bruins, it was a stressful time in the Fitzgerald house. After the Bruins won, it was tough, but we wanted the Bruins to win [the Cup] because of my uncle. We were rooting for the team and for him to win it."
January, 6, 2013
1/06/13
1:22
PM ET
BOSTON -- Bruins veteran forward
Shawn Thornton
is ready to go.
With news that the NHL has resolved its lockout and a shortened season will begin soon, Thornton is satisfied that the 2012-2013 campaign has been saved, but he wishes it never went this long.

"I'm happy it's finally resolved," Thornton said. "It's been too long and I don't think it should have gone this long. But it's here and I'm excited to get going as soon as possible. I don't have any details when we'll get started or how many games, but whatever it is I'm ready to go and I've been ready to go for a while."
Bruins owner Jeremy Jacobs was seen as one of the hard-liners on the owners' side of negotiations. Asked what he thinks of Jacobs in the wake of the 100-plus day lockout, Thornton said, "Can't get emotional. It's a business.
"The business side of the game sucks and I'm happy to be playing again."
Whether there's a 50- or 48-game scheduled has yet to be determined, but either way the hockey will be fast and furious.
"It's going to be a sprint," Thornton said. "It'll be a grind too. There's going to be a lot of games, but guys usually practice like it's a game anyway. Timing will take a little bit the first few games, but guys get it back pretty quickly, so I think it'll be back to being exciting hockey as always."
Thornton knows the league will have to win back some of its fans.
"Fans will be pissed and I don't blame them but I know we're lucky to have the best in Boston," he said.
The Bruins are in a good situation since the majority of their roster hasn't changed the last few seasons, especially with the core group from the 2011 Stanley Cup team still intact. Thornton believes that will help moving forward in 2013.
"You hope that's going to help us out in the shortened season, that we're very familiar with each other and most of our lines will stay the same," Thornton said. "Things on paper and things on ice are two different things, but I'm optimistic with the fact that we've been pretty much all together for the last couple of years. That will definitely help our chemistry at the start."
June, 23, 2012
6/23/12
2:01
PM ET
[+] Enlarge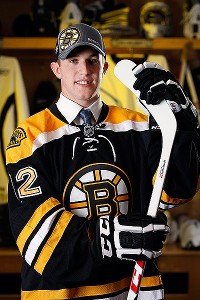 Gregory Shamus/NHLI/Getty ImagesBruins draft pick and Charlestown native Matt Grzelcyk will play at Boston University next season.
After making waves with their first-round pick on Friday night, the Boston Bruins kept things close to home for their third-round selection in the NHL entry draft.
With the 85th overall selection, the Bruins tabbed United States National Team Development Program U-18 (USHL) defenseman Matt Grzelcyk. The 5-foot-9, 171-pound, puck-moving blueliner is a Charlestown, Mass., native who grew up a stone's throw away from the TD Garden.
Being drafted by the Bruins isn't Grzelcyk's only link to the Bruins. His father, John, is a longtime member of the "bull gang" at the Garden.
The 18-year-old will bring his hockey game back to Boston next season when he joins Boston University. Grzelcyk was also a member of the gold medal-winning Team USA squad that claimed its fourth straight title at the IIHF World Men's Under-18 Championship in April.
• Here's a snippet of Grzelcyk's reaction to being taken by the hometown team today, courtesy of the Bruins communications staff:
On whether he had any indication from the Bruins that they might draft him
: "I met with them, so I mean I kind of had a rough idea, but you know I didn't really come in with high expectations. So, it's kind of a shock, but I couldn't be happier."
On whether 84th was where he hoped and expected to be picked:
"Not really, no, to be honest. You know I wasn't ranked that high, I'm kind of a smaller guy, so it was pretty unexpected, but what can you say, you can't go wrong."
On going through the draft with so many New England players:
"It's great to see. I've known these kids ever since I was young, so it's kind of a surreal feeling to be here with them and I'm just happy to share it with them."
On how his time with USA Hockey has helped him develop as a player:
"It was probably the best two years of my life, you know I feel like I really needed the development and that's exactly what I got. Being a part of that gold-medal team was just the best feeling I've had in hockey so far and couldn't be happier that I stayed and had my time there in Ann Arbor."
On whether he's ready to handle the pressure of playing for his hometown:
"Yeah, definitely. I mean obviously there's going to be a lot of people like my family and stuff, but I've always had this dream to play for the Bruins and hopefully that comes true one day."
• Bruins general manager Peter Chiarelli touched on Grzelcyk's game earlier this week during his pre-draft conference call with the media. Here's what
Chiarelli had to say
:
"The Grzelcyk kid's a very good, mobile defenseman. He's later on down but he's got a good head on his shoulders."
• Here's what Bruins director of amateur scouting Wayne Smith had to say on Grzelcyk's selection today:
"Well he's the type of kid that plays much bigger than he is. He's got a Bruin mentality. He plays to win; he plays hard; he's hard to play against; he plays a virtually mistake-free game. His decision-making and his ability to move the puck is second-to-none in this draft. Obviously, it's a great story that his father has worked at the Garden for [45] years. We brought him in to Boston in particular because we had keen interest in him, and after meeting with him, we just feel that he could be a part of helping us win another Stanley Cup."
April, 10, 2012
4/10/12
11:36
PM ET
The Bruins signed Boston College defenseman Tommy Cross to an entry-level contract and the 6-foot-3, 215-pounder with report to Providence and make his pro debut on Friday.

"It's special," Cross said at the Eagles' on-campus celebration of their national championship. "It's a great organization. It's an honor to sign [with them]. I think right now it hasn't really settled in -- my mind is still here at BC. I've had four unbelievable years here. It's sad to see it come to an end, but when one door closes another one opens."

Cross set career highs in games played (44), assists (19), points (24) and penalty minutes (66) during the regular season in winning his second national title at BC. A native of Simsbury, Conn., he was originally drafted by the Bruins in the second round (35th overall) of the 2007 draft.

July, 14, 2011
7/14/11
11:32
AM ET
By
Brendan Hall
| ESPNBoston.com
WILMINGTON, Mass. -- In years past, Tommy Cross has limped his way through Bruins Development Camp. But now healthy, the defenseman and Simsbury, Conn. native is showing the talents that made him a second-round draft choice of the Spoked-B back in 2007. Paired with last month's top draft choice Dougie Hamilton during scrimmages, the 6-foot-3, 210-pound Cross used his combination of size and strength to his advantage, while showing his skating ability in joining the rush.
[+] Enlarge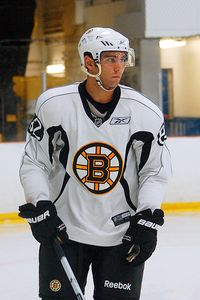 Brendan Hall Tommy Cross of Simsbury, Conn., took top draft choice Dougie Hamilton under his wing at the Bruins' development camp, to positive results.
But moreover, it's his leadership skills at the five-day prospects camp, which concluded last Monday at Ristuccia Arena, that had the front office buzzing. And the journey has been unique since being named the
Hartford Courant
's Connecticut Player of the Year as a sophomore at Simsbury (Conn.) High in 2006. He subsequently transferred to nearby Westminster School, and pulled double-duty with the U.S. Under-18 National Team and the USHL's Ohio Junior Blue Jackets. Now with Boston College, where he helped the Eagles win a national title in 2010, Cross will be a captain next season.
Following an on-ice workout last weekend at Ristuccia, Cross sat down with ESPNBoston.com to discuss his journey.
Q: Going from Simsbury to the prep school ranks, what was the biggest adjustment you had to make?
A:
"The biggest adjustment I had to make was not even with hockey. It was more just going from school to school, different lifestyle. But I mean hockey-wise, I think the players are just older at prep school, there's some P.G.'s (post-graduates) and older seniors with more experience. That was about it."
Q: What kind of goals did you set for yourself going into high school?
A:
"I just wanted to be a good player for my team. In high school it was just kinda, that's when I started to develop. I just wanted to get up on the rush, and be one of the best defensemen on my team, and one of the best defensemen in the state."
Q: When did you first start playing hockey, and who did you look after growing up?
A:
"I was about three or four years old, in the backyard. Bourque, Lidstrom, guys like that. Willie Mitchell, because I watched him a lot when he was in college. My dad was a defenseman, so mostly players like that."
Q: What's it like playing for a coach like Jerry York?
A:
"I love it. He's a great guy, great coach and he's fun to play for. He's demanding, but he's honest, and you know what you have to give. It's a fun place to play."
Q: Best high school game you played?
A:
"Probably my sophomore year at West Haven. I had a shorthanded goal that kinda turned the game around. Our coach took a bench minor, then I scored a shorthanded goal, so I bailed him out. I think we won 5-4."
Q: What do you do when you're back home?
A:
"Just hang out at my house, by the pool, I go to the golf course a lot, and the weight room. I like to play a lot of golf, but I'm not a scratch (laughs)."
Q: This is your fourth time in Development Camp, how has it differed from your first experience?
A:
"Completely different experiences. You know, the first one you're young, you don't know what to expect. Now, you kinda know the routine, you know the schedule, you know a lot of the staff, trainers, coaches, so you're a little more comfortable."
Q: Tell me about your experience playing with Dougie Hamilton this week.
A:
"It's been great. Obviously, he's a real good player, first rounder this year, and a young guy, but he's real mature for his age. We're roommates this week too, so we got to know each other pretty well. It's been fun to get to know him, he's a good guy and obviously a real good player."
Q: There has been a lot of talk this week about your leadership qualities with this group. What have you learned over the years in that department that you apply now?
A:
"Yeah people have talked about it, and it's just leading by example, I think. If guys follow you, they follow you, and if they don't, they follow someone else. It's just kinda natural. I think I've been around a lot of good leaders, guys at Boston College that I learned a lot from like Ben Smith and Matt Lombardi. Those are the kinds of guys you can learn from and emulate them, you see how guys follow them. You want to give a good example, so that guys will follow you."
June, 27, 2011
6/27/11
9:08
AM ET
Milton Academy junior Rob O'Gara didn't have to wander far to find his NHL team as the Stanley Cup champion Bruins selected him 151st overall in the fifth round of the NHL Entry Draft.

The Massapequa, N.Y. native was at home, watching the draft unfurl via the computer. He received a message from his advisor saying, "Great pick."

Then, there was confusion.

"My dad was like, 'Wait a minute, what's going on?'" O'Gara said. "Because we hadn't refreshed the computer screen yet and we saw that I was picked by the Bruins.

"And I can't describe how happy I was."

A few minutes later, the 6-foot-2, 185-pound blue-liner received a phone call from Bruins assistant general manager Don Sweeney confirming the pick.

O'Gare scored two goals with seven assists for nine points in 30 games in his junior season with the New England champion Milton Academy squad. He said he plans to stay on with Milton Academy for another year before matriculating to Yale.

The only thing that will have to change is his rooting interest.

"I've been an Islanders fan since I was born, mostly as a result of my dad," O'Gara confessed. "I've been watching games since I was five probably and I've loved [hockey] ever since."