Bruins:

Johnny Boychuk diary
May, 28, 2011
5/28/11
4:29
AM ET
By
Johnny Boychuk
| ESPNBoston.com

Bruins defenseman Johnny Boychuk has been keeping a diary for ESPNBoston.com throughout the season and playoffs. After winning the Eastern Conference Championship, he reflected on the series with the Lightning, how fans motivated them in Game 7, what to expect from Vancouver and why this particular Stanley Cup finals match-up might mean more to a couple of Bruins. -- As told to Louise K. Cornetta)
The series with Tampa certainly had a lot of emotional ups and downs to it. Frustrating at times but then happiness when we were winning and doing good things. I can tell you this, we gave everything we had in this series. I'm exhausted right now, but will be rested and ready for Vancouver.
Let's go over some keys to the series win over the Lightning. First, I have to say goaltending. Timmy [Thomas] played so well. He is amazing. The stick save he had in Game 5 was unbelievable. Next, I'd say working past their system and timely goals. I know our power play wasn't clicking on all cylinders but we were able to battle through that by sticking to our system by scoring when we had our chances and making sure to bear down when we did have those chances.
Another key was getting Bergy [
Patrice Bergeron
] back. He helped out a lot because he was a very good faceoff man. Winning faceoffs is so important. Tyler [Seguin] played really well when he stepped in for Bergy. Those first two games Tyler got a bunch of points, which helped us get a win. For him to step up and fill that void really helped our team out. It's hard being a first-year player in the league. I know that, I've been there. You just have to make sure to bring it every game. He's a very skilled player and when he has that speed that he has and the hands and the scoring ability, nobody can stop him.
Something I won't say we learned because we learned this last year was a three-goal lead is never enough. After Game 4, we were reminded about it a lot. Even ourselves, we remind ourselves about it. You just have to bear down when you have that lead.
I don't know if this is a key to our winning the series, but it is definitely an element of the playoffs: playing through pain. You probably saw me get hit by [Steve] Downie. What happened with the Downie hit was I got the puck and I didn't see him coming from my right side. I passed it over to [Andrew] Ference and then while I knew he hit me, I didn't see him coming. My head was a little fuzzy, that happens when you're blind-sided like that. But nothing was wrong with me so I was happy about that. At this point unless you have a broken leg, you play through it. As you can see from what happened in Game 7 to [Steven] Stamkos with the unfortunate puck from me that went off his face, you come back and play.
That brings us to Game 7 and there is nothing quite like winning one. I'd say winning a Game 7 is obviously key to winning a series! [Nathan] Horton came through for us again. The crowd was unbelievable and we needed them to be like that tonight. They gave us boosts when we might have felt tired. They cheered loud almost to the point where you would have put earplugs in if you could. It was an intense game. You could hear the crowd all the way from the dressing room stomping their feet and yelling. It was unbelievable. We worked hard in the regular season to get home ice in the playoffs as much as possible. It made a difference tonight but next series we don't have home ice advantage. But I'm sure when we come back here for our games against Vancouver, the crowd will somehow be even louder.
May, 8, 2011
5/08/11
8:16
PM ET
By
Johnny Boychuk
| ESPNBoston.com

Bruins defenseman Johnny Boychuk kept a diary for ESPNBoston.com all season. In his second postseason installment, he looks at how to prepare for the Lightning, what it was like to get the go-ahead goal in the decisive game against the Flyers, why the fans deserve this playoff run, and how the power play has started working again. (as told to Louise K. Cornetta)
Before the third period started for Game 4, we were very calm in the dressing room. Then we went out and I was fortunate to be able to score to give us the go-ahead goal. At the time, I didn't know it would be the winning goal. They have a good team and could have come back and scored one. But then Looch [
Milan Lucic
] scored a goal and then we got another couple insurance goals after that, it was a great to see.
On my goal, I just know that the puck came back to me and I wanted to get it past that first Flyer, and I did. I don't know if it hit anything or it curved or did something, but it went top corner. It was a really good feeling and it ended up being the game-winner.
Everyone knows a year ago we were up 3-0 to the Flyers and how they beat us four straight to advance. I think we did a good job not thinking about what happened last year. We learned from it. Obviously, we knew what happened but we wanted to put it behind us. We did that. Especially being able to end the series in front of our hometown crowd in four games is huge. The fans really deserved it considering what happened last year. I knew it had been a while, but I didn't realize just how long it had been since we made it to the Conference finals. [Editor's note: The last time the Bruins played in the Eastern Conference finals was in 1992, when they lost to the Penguins.] Our fans really deserved this and we are happy we could deliver for them.
I think the difference this year versus last with the Flyers was we stuck to our game plan and didn't stray from it too much. We really worked it on defense when they were in our zone. We tried to save as much as we could when they were there. If you look, they only scored seven goals all series. And what can you say about the play of Timmy [Thomas] in goal? I have one word: Amazing. The 52-save night was unbelievable. He was amazing all series, all playoffs actually.
OK, let's talk power play. I know people were wondering what was going on there. It was Game 3 when [
Zdeno Chara
] scored our first power-play goal of the playoffs on a five-on-three. We finally got one in Game 4 with Looch that was a five-on-four power-play goal. Looch actually scored two goals in Game 4, which was great to see. He's a great player, one of the best, if not the best on the team.
It's good to see him and his line contributing. It was nice to have the power-play going now. Once we got the one from Z, it really helped us out by building a little bit of confidence on our power play. We were doing a good job moving the puck on the power play, we just had to be able to bury the puck in the net with a goal and we did it.
We've had a few guys get hurt this past round. [
Adam McQuaid
's injury] kind of made you sick to your stomach when you see one of your teammates, or anyone actually, go into the boards like that head-first. We're just lucky that he's OK. I know it was scary to see and I was worried for him, everybody in the dressing room and probably every fan in hockey was.
With Bergy [
Patrice Bergeron
suffered a mild concussion in Game 4] I didn't even know he was hurt until the media told me after the game. I didn't see that one, and as soon as he got hurt, I scored that goal. Obviously, he's a big part of our team and we hope to have him back on the ice as soon as possible.
Tampa Bay is who we will be facing next. They've got [Vincent] Lecavalier, [Martin] St. Louis and [Steve] Stamkos. Obviously, those guys are great players. We'll have to be on the lookout for those guys, especially keep our eye on Stamkos, that guy is close to a 50-goal scorer [he had 45]. In St. Louis, you have a guy who is a really good passer for him.
I'm very familiar with their goalie [Dwayne] Roloson. I remember him when he played with Edmonton, which is where I'm from. He basically took the team under his wing. He's a great goalie. We've got to make sure to put the puck past him when we have the chance because he doesn't give up. He may be 41 but he doesn't play like it, that's for sure.
What we need to do is stick with our game plan this series. The same game plan we've had the whole playoffs, which is continue to play good D in front of Timmy, and we're fortunate to have big, skilled forwards too. It's also going to be key to score on the power play. But I know Tampa has a good power play and we need to make sure we kill penalties when we have the chance as well.
In the regular season I was told we took three out of the four games we played with them. What can I take from that for this series? I'm not sure I can even remember those games they were so long ago! So what we'll do to prepare is go over video. We'll take a look at the system they play and prep for that.
Our hometown crowd has been great for us and we're happy to have home-ice advantage for this round. They've been doing a great job cheering for us and being behind us the whole playoffs. We'll have a little time to rest here between rounds, but it's not really an advantage because they'll have the same amount of rest as us. The rest will be good for the guys that have bumps and bruises to get them cleared up.
The hockey playoffs, besides playing in them, have been great to watch. I think our whole team has been watching all the games. These games have been great, with exciting finishes and lots of overtimes. Sometimes you have to go to bed because of the time difference even though you want to see what the outcome is going to be. It's fun watching hockey, especially in the playoffs.
I'll end this one answering a fan question like I usually do. Bruins-Unite asked if I knew my nickname on the streets is Johnny "Demolition" Boychuk? They said it's because many of them noticed the crazy hits during the Philly series and how I've been able to get some goals and keep the momentum going in games. As far as the nickname, I had no clue! I've never heard that one before, but it's not bad.
May, 2, 2011
5/02/11
1:09
PM ET
By
Johnny Boychuk
| ESPNBoston.com

Bruins defenseman Johnny Boychuk kept a diary for ESPNBoston.com all season. In this postseason edition, he talks about overtime goals, what he did immediately after the game seven win against the Canadiens, tweets from opposing teams, and what he expects from the Flyers.
- (As told to Louise K. Cornetta)
I'm in Philadelphia getting ready for Game 2. Game 1 against the Flyers was a game where we got guys to the net and the pucks were bouncing our way. We did have some really good plays by our forwards to get those pucks to the net. Coming off the Montreal series, it was nice to have a game like this. It helps that the Flyers and Canadiens play the same type of physical game with big offensive plays, which is very similar to how we play.
If there is one memory I will carry with me from our series with Montreal it's Nathan's [Horton] overtime goal in Game 7. What a relief that goal was for our team. It had all the drama you could imagine being Game 7 in overtime. You know if you make a mistake that the puck is going to end up in the wrong net. Luckily that didn't happen.
Looking back on the Montreal series, let's start with Game 2 where Z [
Zdeno Chara
] was out because of dehydration. At this point, we were down in the series 0-1. We knew with him out, everyone had to come together. While you couldn't do his job, you knew you had to elevate your game. Everybody had to elevate their game. We all know what a big part of our team he is. Unfortunately we couldn't get the puck to the net enough and lost 3-1 and headed to Montreal down 0-2 in the series.
Before game three, Rex [
Mark Recchi
] gave a talk to the team. He had experienced being down 0-2 to Montreal when he was with Carolina and went on to win the Stanley Cup that year [2005-6 season]. He talked to us about that experience and it kind of helped us to realize that this is the whole year on the line. We have to come together to face this challenge and we did.
I was interested in seeing what Montreal's crowd would be like in the playoffs. It wasn't too that bad. It certainly wasn't as hostile as we thought it would be. Everyone was actually pretty nice, there weren't too many fans who went overboard. I mean, they were obviously cheering for their team and wanted them to win, but they weren't threatening us or anything.
After Game 3, we went and practiced in Lake Placid, N.Y.. I liked it there. Lake Placid is kind of a low key town. The scenery was really nice with the lake and the mountains around there. I liked getting away to Lake Placid in between games.
Game 4 was quite a game. Even though we went down three goals to one, we could kind of sense that things were going to turn because we were playing good. We knew if we could keep playing the same way that everything would come together. We came all the way back and this game went to overtime and Michael Ryder tied the series up.
We were back in Boston for Game 5, which ended up going to double overtime. You could see in everybody's eyes on both teams that everyone was very tired. Even watching Saturday's double overtime game where Nashville beat Vancouver, you see everyone had the same look like we did. This was also the game where
Max Pacioretty
tweeted about [Brad] Marchand [Editor's note: @MaxPacioretty 67 tweeted: "This game is longer than Marchands nose." He deleted the tweet soon after and later tweeted an apology.]. We heard about it after the game. You don't hear about anything like that during the game. It didn't really bother us and we didn't really pay too much attention to it. This was also the game where Nathan [Horton] scored the first of his two overtime game winners. Two overtime game winners in one series is unbelievable.
Game 6 was the game Looch [
Milan Lucic
] got the misconduct, but luckily nothing further happened with that. We played really well in this game five on five. It was the two five-on-three situations that hurt us. It's hard because you know you are playing so well at even strength. Then they get one five on three opportunity and score. Then you play well again at even strength and they get another five on three opportunity and score. It was kind of disheartening because we know we could have won that game if we didn't take those penalties.
So we had a Game 7 back in Boston and I got to contribute to the scoring right away, with a goal that put us up 1-0 in the first period. It was a pass back from Brad [Marchand] and I was able to shoot it on net while there was a lot of guys around it, so I had a good screen for me and it went in. This game also went to overtime and Nathan did it for us again with the game winner. As soon as the puck went into the net I got on the ice and waited for Timmy [Thomas] because I know the last couple of overtime celebrations Timmy was left out. Everyone always goes to the goal scorer when they score in overtime but I decided to wait for Timmy because he deserved it and was such a big part of why we were heading to round two. I guess we are the first Bruins team in our history to come back from an 0-2 deficit. To come back from an 0-2 deficit isn't easy, but we believed that we could do it and we did.
Now we're getting ready for Game 2 against the Flyers. They're a good team. They have a really good first line that is physical and can score. It's kind of like our team. I'm looking out for [Danny] Briere's line this series. They compete hard. They've got that scoring touch that you have to be aware of. They're big playmakers. We're feeling pretty good so far. We're not focused on Game 1 because we know that they're going to be coming out really hard. We just have to be ready for the challenge against them.
Philadelphia fans have been pretty nice to us so far. They don't even notice us. It's not as crazy as Montreal, that's for sure. Oh and my playoff beard has been successfully achieved. It grew in pretty quickly. Now it's getting pretty bushy.
April, 12, 2011
4/12/11
10:47
AM ET
By
Johnny Boychuk
| ESPNBoston.com

Bruins defenseman Johnny Boychuk has kept a diary for ESPNBoston.com all season. In the final regular season installment, he evaluates their first round opponent and who he'll be looking out for on the ice, what he learned from last year's playoffs, and tells us why an 80's windbreaker is a hot commodity in the Bruins dressing room. (As told to Louise K. Cornetta)
Before we get to hockey let's talk about the Red Sox. Everyone should know by now that I'm a big Sox fan. Glad to see they won on Friday [and Sunday]. I know they started out bad but at least they got that first win under their belt. I didn't go to the home opener but I was walking around and every time I passed by a pub, I would look inside to see how they're doing.
The last month we've had a lot going on as we get ready for the playoffs. I scored a goal against the Blackhawks at the end of March that gave Rex [
Mark Recchi
] the assist- That was pretty special because it moved him to twelfth place on the NHL All-Time scoring list passing
Paul Coffey
. I got a picture inside the dressing room that I'm going to get him to sign. It was nice to be able to part of that.
Recchi is my go-to guy to talk to when I have a hockey question. He's full of knowledge. He's been around for a while. He's still outperforms the young guys. You just can go up to him and whatever you ask him, he usually has a pretty solid answer. Someone else I've learned from is Z [
Zdeno Chara
] since I got to play with him so much this year. Playing with him has taught me to keep my feet moving and I've got a lot more time than I think.
What else has been going on this past month? Andy [Ference] bought an 80's Bruins windbreaker on eBay for $35. After each win a player on the team is picked to wear it. They wear it in the dressing room during media access and it hangs in his stall until the next win. Looch [
Milan Lucic
] was the first to get the jacket when we started doing this in late March. I'm hoping to one day wear it. It's for the unsung hero of the game I guess you would say.
We've been playing pretty well. There's been a couple periods where we were lulling, but overall we've been playing pretty good. I think as we head into the playoffs that our strength is our size and our ability to win battles along the boards and forecheck. Coach [Claude Julien] said he's glad there aren't shootouts in the playoffs because that has not been our strength. We haven't had that many this year. So we haven't really practiced it. Maybe it really is a good thing there isn't shootouts in the playoffs because we know we can do the job in overtime.
We have a good, strong team. We've got goaltending with two goaltenders on this team that can do the job. We know that. With how hot Timmy [Thomas] has been this whole year, you can see how confident he is. It just makes the whole team more confident. We have good D and good forwards. We have strong big forwards and skilled forwards as well. It's kind of like the whole package.
We clinched our division and finished in third place in the Eastern Conference. The focus is now on the playoffs and not where we finished the regular season. We just want to make sure to do our best. Topping the hundred point mark as a team was pretty special. To get to a hundred points, you have to be one of the elite teams in the League. We showed that we are an elite team.
We're facing the Canadiens in the first round. Montreal has skilled fast forwards. They've got good goaltending, but I guess everybody has good goaltending now. The player I'll be on the lookout for is [Mike] Cammalleri. He just seems to get lost and he knows where to be to get the puck. The rivalry with Montreal is no secret. I'm looking forward to seeing the playoff atmosphere there. It's going to be absolutely nuts there. I didn't care who we played though because it's just fun playing in the playoffs.
With playoffs starting up, I'm growing a playoff beard starting immediately. A lot of guys on the team shaved their heads last week for Cuts for a Cause, which along with the Bruins Foundation, helped raise money for charity. Next year I'll shave my head. The reason I didn't this year is, now that I'm engaged, we need to take a bunch of pictures and stuff like that. So we didn't really want me to have a shaved head for that.
Growing up, the playoffs are something you always looked for and you wanted to achieve winning the Stanley Cup. It's one of those things where you would put anything on the line to make your team win. The intensity level goes up so much and the battle level goes up times two. Everybody is paying attention to small details. When you don't, the puck usually ends up in the back of your net because the other team makes sure to capitalize on it. The whole situation feels different. You can tell when you're in the playoffs when you're going to the rink to practice, you can feel it. I can't really explain it, but you can definitely feel it. Having been in the playoffs last year taught me when we're up a couple goals on a team to keep going at them and not to think the game is over. The Bruins will win the Stanley Cup if we win every game! No, seriously, if we play together as a team, that will be the key.
Time to answer some fan questions. Nicole1575 asks what's my favorite thing to do in the offseason (I know everyone says playing golf)? Well, I do play golf and really like to. I do also like fishing. But my family doesn't have a lake property, so I don't get to go fishing too much. Nickbite21 asks who the most vocal guy on the team is with regards to motivation? Mark Recchi because everything he says is basically bang on. He knows he has a lot of respect out of everybody on our team. Everybody listens to him. Well, everybody listens to everybody, but it's just different when he talks because he has so much experience.
March, 6, 2011
3/06/11
8:29
PM ET
By
Johnny Boychuk
| ESPNBoston.com

Bruins defenseman Johnny Boychuk has been keeping a diary for ESPNBoston.com all season. In his latest entry, Boychuk talks about why being benched was good for him, what he thinks of the Bruins' trade for another defenseman, and why the B's have been so good on the road. (As told to Louise K. Cornetta)
Being scratched was probably a blessing in disguise for me. In our February game against the Leafs, coach [Claude Julien] told me I was scratched and not going to play. I knew I wasn't playing as well as I should have been. I went up to the press box and it was good to go up there and watch and see the time, the space and how not to be forcing plays. I think it was a blessing just because of the time of year with playoffs coming up soon. Everybody wants to be at their best. Maybe this happened to me to put a little fire in me. It just showed me how much time and space I have out there rather than rushing passes or forcing plays.
In our game against the Lightning last week, I felt like everything came together. It was nice to be named the second star of the game. I'm not usually a star even when I think I've played my best game. I don't know what got into me this game. I didn't prepare anything different really. I just had a couple nice hits. I tried to keep everything simple and try to get shots on net.
It was nice going 6-0 on this last road trip. I don't think I've done that in my career. Going 6-0 on the road is a pretty tough feat to do. We did it and we're still trying to keep things going by playing well. The reason why I think we're so good on the road is we don't put a lot of pressure on ourselves when we're not home. We know we're not there to play fancy or make tic-tac-toe passes. We just try to keep it simple and get pucks and bodies to the net, which is how we should play.
We had a rare three days off when we were in Vancouver. I went and spent time with my family. I have family there. My brother and his girlfriend came down and my mom and dad came down and we went out for a nice dinner.
I'm from Edmonton and surprisingly when we played the Oilers, I didn't have to get too many tickets. I didn't know how many I could get from the team and it sells out in Edmonton. I only got about 15, but there was about 50 people that came down afterward and over a hundred there to watch. You know what was strange though? I was in warm-up and I was looking around to see where all my family was and I didn't see anybody. I was thinking maybe they didn't get their tickets. I was looking around trying to find them and I didn't recognize not even one person in the building. I thought that was weird. It was like I was in Atlanta or something. Fortunately, they all came down after warm-ups.
When the trade deadline passed I was surprised leading up to it how I couldn't feel that much tension in the room. It's just part of the game. If someone gets traded, you wish the guy well. You can't really control it unless you have a no-trade clause.
I will say it was hard to see [Blake] Wheeler and Stewy [
Mark Stuart
] go. They went together to Atlanta. It's kind of nice when you go somewhere with someone and they have [former Bruins assistant coach Craig] Ramsay as the coach, who is a familiar face. I'm sure they have other friends on the team. I'm happy that they're together, but sad to see them leave because I played with them for quite sometime now.
We've got some new faces in the dressing room now.
Chris Kelly
is one. He's a good forward and penalty killer. He can score and is a good tipper who works really hard. We also traded for
Rich Peverley
. He's a good centerman. Both Chris and Rich work extremely hard and they're on a line together that meshes well. They scored against the Lightning and it won't be long until they continue to put a lot more goals in the net because they're both extremely good players that work hard.
We also traded for another defenseman,
Tomas Kaberle
. He's great at setting up Z [
Zdeno Chara
] for one-timers as you probably noticed in the last couple of games. He's very patient with the puck. He's good on the power play and he's good five-on-five no matter what. He always seems to make the right play. Since I'm also a defenseman, it's fun to watch because then I might learn something from him. It's just nice to see how much time and patience he has with the puck. You might be able to look at him and try to do the same things he does, but you probably won't do it like he can.
I also have a new lockermate with [Shane] Hnidy, who we signed. Don't let the H in his name fool you, it's pronounced NIGHT-tee. He's been here before, but has been out for the whole year because of his shoulder injury. He's getting back into shape. Once he does get back in the lineup, he's going to be fun to watch because he's another gritty defenseman who brings playoff experience to this team. He's a great team guy in the locker room as well.
Speaking of lockers, I put a piece of tape above my locker about a month, month and a half ago with "Move your feet, Play physical, Shoot the puck" written on it. It's a little reminder for me of what I need to do when I get out on the ice.
What else has been going on around here? Well, how cool of a nickname is Darth Quaider [for
Adam McQuaid
]? Well, it's cool but also nerdy. It's actually kind of a weird nickname. If you think about it, how would someone ever think of that? Who ever thought of that one? I don't have a Darth Quaider T-shirt. The only person that has one is Andy [Ference] and maybe Quaider if Andy made him one.
Tough to see Andy out now for a few weeks. He brings a toughness and that grittiness to our team. He's a steady defenseman that is one of our team leaders even though he doesn't have an A or a C on his jersey. We have good guys that will fill in for him when he's gone for now.
We're getting to the final stretch here. I'd like to see us go to the top of the whole league before the regular season is over. It's a goal, but we're just trying to worry about things game by game. You can't worry too much about being at the top of the league. You just have to try to play a full 60 minutes every game. For me, personally, I want to keep playing like I have been the last couple of games and how we played on the road trip. If I and the whole team do that, then we're probably going to win more times than not.
It's hard to say who our team MVP has been so far. I'd say Looch [
Milan Lucic
] has been one of our top guys for the whole year. It's not just one guy, everybody's been playing really well. We're getting goals from everybody, but Looch has been scoring a lot more than the other guys. So I guess we might say he's been the team MVP.
Time to answer a fan question, keep the comments coming! Reneeanne69 asks if there has ever been a fan's sign I liked so much that I went and talked to that fan? No, but you do notice the signs in warm-ups. Other than that, whether the sign is good or bad, you block it out. You don't need any distractions. Well, I don't at least. You do notice it, but you don't talk to the fans about their signs because most of the time you don't see them. There was one sign about Brad [Marchand] that was very clever, but that's all I'm going to say on that.
Second question was what team would I play on if I weren't a Bruin and please don't say the Habs. No, it wouldn't be Montreal. I'd say it would probably be Edmonton because I'm from there. I grew up watching them.
February, 7, 2011
2/07/11
12:20
PM ET
By
Johnny Boychuk
| ESPNBoston.com

Bruins defenseman Johnny Boychuk has been keeping a diary for ESPNBoston.com all season. In this installment he talks about the second-half goal for the team, how he feels about another concussion to Marc Savard, whether Thursday's game against Dallas felt like old-time hockey to him and more (as told to Louise K. Cornetta).
Over the All-Star break I went to New York. We were supposed to go to Florida, but our flight was canceled because of the weather. We took the train there and went and saw "Wicked." It was really good. I don't usually like musicals, but I thought it was pretty good actually. Believe it or not, seeing "Wicked" was my idea and not the fiancee's. I hadn't seen a Broadway show before, so I wanted to see what one was like. I did watch some of the All-Star festivities. When they picked the teams I was actually at the play, but I did hear all about it. I think doing the picks like the old schoolyard way was interesting and fun for the fans. I wouldn't want to get picked last like [Phil] Kessel. But at least he got to give some money to a charity for getting picked last and he probably gave the car away as well. So at least something good came out of being the last one picked. Then Z [
Zdeno Chara
] wins the hardest-shot contest with his 105.9 mph shot. I wasn't surprised. He does have a hard slap shot. What can't Z do? He breaks the record with the hardest shot at the All-Star Skills. He gets a hat trick against Carolina [Jan. 17]. I'll tell you what he can't do. He can't fit in a tight spot, that's for sure. He is big.
I got my first goal this season against Carolina [Jan. 18]. It felt really good and now I just want to get another one. The guys on the bench told me, "Nice shot," and "Keep shooting." Look, I know I was the guy who had the most shots on goal [82] this season without a goal. It obviously felt like a weight had been lifted. It was nice to get the first one out of the way. I like not having that in the back of my mind anymore. [Nathan] Horton also was someone who wanted to score badly. I was happy for him when he scored against Carolina [Feb. 1]. He's had a lot of opportunities where goalies have just made good stops on him. He just needed that and hopefully there are many more to come. Maybe we should just play Carolina all the time. I score against them. Horton does. Z gets a hat trick on them. Yes, I think that would be nice because we seem to do good against them.
We're a little past the midway point of the season. If I look back on the first half, we had a couple of hiccups throughout the way, but that's what every team does. So far the season has been going well and we want to continue to do well in the second half and push on. The goal for the second half is to move up in the standings. We'd like to be at the top. Someone who has impressed me the first half of the season is Greg Campbell. He's a silent kind of player on the ice. He likes to mix it up. He does a good job penalty killing. He doesn't get the recognition that he deserves.
Thursday was a game with a lot of fights. Dan [Paille] ended up getting a four-game suspension. He had just gotten into the lineup and had been playing really well actually. It's too bad. He was back checking and the guy [
Raymond Sawada
of the Stars] didn't see him. Well, that's the rules and I guess you can't really break any rules without getting punished. It's too bad but I'm pretty sure Zach [Hamill] will do a good job in his place. People have been saying the Dallas game felt like an old-time hockey game. It didn't really for me. Right off the bat we see one fight and then we thought we'd play, then there's two more fights that followed right after that, then we scored, then [Andrew] Ference started another fight. It didn't feel like old-time hockey to me, but now that I'm thinking about it I guess I can see at times how it did.
I wanted to talk about Savvy [Marc Savard] getting another concussion. It's sad but he can take as much time as he needs. We're all here to support him. We want him back but the first concern is his health and well-being. It's just too bad because he's an excellent player and a team player. I talked to him Friday night and a few times over the past few days. He's not doing so hot. He just wishes everybody good luck.
Another one of my teammates I wanted to bring up is defenseman
Mark Stuart
. I know he's back healthy now but hasn't been playing [healthy scratch]. I've been there. The beginning of last season I wasn't playing. It's hard to do that. Everyone just happens to be healthy right now on defense. It's just too bad because if he didn't get hurt, he'd probably be in the lineup right now. It's a tough situation for him, but I guess it's part of the game. A lot of guys have gone through this. Once somebody does get hurt or plays badly, he's going to get his shot and we know he's going to do well.
This time, I'm going to answer a question from Jackie_83, who left this comment:
How do you feel when a player is traded away? Do you or any of the other guys feel that the next trade might be you?
It's just part of the game and you learn how to deal with it. As you are part of this team and organization, you just learn to deal with it and wish the guy that got traded well. You never know if you're going to get traded or not. You just have to play to the best of your ability.
Keep sending those questions and comments as I like answering them.
I thought I'd end this time going over some of my firsts that I can remember. OK, here we go:
-- The first NHL game I attended as a fan was an Oilers game. I don't even remember the actual game or who they played, but I remember going into the building and looking at all the stuff they had in the arena. I remember the [Wayne] Gretzky statue, which is kind of like the [Bobby] Orr statue we have out in front of the Garden. I remember being in awe there.
-- The first time I switched from forward to defenseman was when I was in Pee Wee and Bantam. I was a forward and then I switched to defense. Then my first year pro when I was in Hersey, I was a forward and then it was back and forth until I came to the Bruins and I fully became a defenseman. I wanted to be a defenseman because I felt more comfortable there.
-- My first NHL shift I don't even remember because I was nervous.
I just wanted to make it short and I didn't want to make a mistake. I wanted to get that first one out of the way and then I felt more comfortable as the game went on.
-- My first NHL fight was in the preseason in Detroit, I was 18. I don't really remember much of it except it was a short fight and I won.
-- The first time I played on the same line as Z I was just happy to be playing with him. You watch him on the TV and he's a great player. So I just wanted to make him happy.
-- My first big purchase when I got my first signing bonus was a house, which I still have, and then I paid off my parents' mortgage.
-- My first NHL goal was a nice pass by [David] Krejci against Toronto. I came off the bench and Krejci pulled up and gave me a nice pass that I shot as hard as I could. It went in glove-hand side.
All good memories.
January, 16, 2011
1/16/11
10:16
AM ET
By
Johnny Boychuk
| ESPNBoston.com

Bruins defenseman Johnny Boychuk continues with his season long diary for ESPNBoston.com. In the latest installment he talks about why the final minute of a period can be the game changer, what he predicts for Zdeno Chara at All-Star Weekend and also shares some good news. (as told to Louise K. Cornetta)
Right now I'm wearing a vintage Bobby Orr Bruins jersey because he stopped by our locker room before our game against the Penguins. Does it seem like we've been playing a lot of games lately? For me, it seems like every second day we're playing a game. We left December 26, we came back after New Year's and we've been playing almost every second day since or at least that's how it seems. With so many games lately, I'd say the one that's stood out was our game in Pittsburgh, where we came back and won in the third period.
Another game that stands out was against Minnesota. I got a puck off the foot, then I got one in the kneecap and then I got hit in the face with a puck, but everything is okay. All that happened in one game too! It was a pretty bad night afterwards. Ice bags were my friend. We've had a few guys beat up lately with Looch [Milan] and [Andrew] Ference out of the line up. They're a major part of our team, but then again, we have guys stepping up at a time we need them to.
We didn't see
Sidney Crosby
this time around when the Penguins came here. That's just the way it goes, I guess. He's a great player. Everybody has a lot of respect for him. He's a good player and a leader on their team. We were hoping it would be an advantage for us not having him play. When he's out of the line up, you want to make sure to capitalize and get those two points, which we came up just short of doing today.
After losing that game in Montreal, which was very unfortunate, I've got to say it's nice to be back home. I think the team has been playing really well lately. There's a couple little tweaks we have to make but we're working on that. Some of the tweaks are learning the little things that each team does and what our team does in response. You watch video and go over their systems and things you ought to be aware of.
Last time we talked about the importance of the first five minutes of a game, this time I want to talk about the last minute of a period. The final minute can either change the momentum for the next period or you can carry the momentum you already have over. It can either make or break a game. The power play is another thing we've talked about. It's something we work on. We work on it every chance we can. So we work on the power play and trying to get shots to the net and create opportunities to score.
Obviously, there was no one more deserving than Z [Zdeno Chara] to be an All-Star. He's got to be there. He's our Captain and our leader. I want to see him win the hardest shot contest. I'm going on record as saying he's going to. If he doesn't, he's going to hear it from me. Timmy [Thomas] is another well deserved All-Star. When he's hot in goal, he gives us wins. He's been playing outstanding and that's the Timmy we need. We're fortunate because we have two goalies [
Tuukka Rask
] back there that get the job done. It makes our lives easier, but as a defenseman, you're just trying to take away scoring opportunities. If the other team does get a scoring opportunity, not that you want that, but you have confidence knowing that Timmy's going to come up and make a save for us.
I was thinking about some things hockey fans may want to know about. I came up with what do we talk about in a timeout? It depends on the game situation. If you just got three goals scored on you, it's a timeout just to regroup and clear your head. If it's a timeout before the end of a game and we're winning, we go over a play the other team is going to draw up. We go over what we want to do if we win the draw and what we have to do if we lose the draw.
Another thing people might want to know about is how shooters are picked for shootouts. First of all, I can tell you I'm on the bench! They can be chosen by who's hot but also we practice it. Who does well in the practice shootout is who gets the nod. If a guy scores five times in a row in the practice shootout, I'm pretty sure he's going to be one of the top three to go for that next game.
Someone was telling me how the Penguins have a mustache boy for whoever doesn't score on their goalie after a practice of shootouts -- the last person left not to score has to grow a mustache. I didn't watch that HBO series 24/7 on the Penguins and Capitals, but I guess the Capitals give out a hard hat, sort of like a game ball after games. We don't do anything like either of those things here. In Providence we did, but since I've been here we haven't had anything like that. In Providence, we also gave out a hard hat after games.
I wanted to share some news. I got engaged over Christmas time. The morning of the 24th, because I didn't want the ring to be her Christmas present. I proposed right in front of the Christmas tree and she said yes. Then we opened presents the next day. And I told you guys I would reveal my New Year's Resolution if I broke it. Well, I broke it. I was trying not to drink diet coke. There was one day I broke down and had like ten of them. One more thing, I am not going to speak for the whole team, but I am rooting for the Patriots. Most of the guys do -- I'm not saying we have a Jets fan on this team because for me that is not allowed!
Time to answer a fan's question, keep the comments coming! nickbite21 who lives in Florida asked how many sticks do I go through a year? Wanting to know if they broke often like wooden baseball bats, which are more common down in Florida and do graphite sticks break easier? Sometimes you get a bad batch of sticks and you'll break like six in a row. You will get pretty ticked when that happens because you take the time to do up your sticks and then they break. It all depends on if the sticks are durable or not. Usually I go through about fifteen to twenty a year.
December, 19, 2010
12/19/10
4:52
PM ET
By
Johnny Boychuk
| ESPNBoston.com

Bruins defenseman Johnny Boychuk is keeping a diary for ESPNBoston.com this season. In his most recent diary he talks about Christmas shopping, his fighting talents and more. (As told to Louise K. Cornetta)
First things first, how awesome is the Red Sox getting Adrian Gonzalez and Carl Crawford?! I'm actually excited to start up a Fantasy League again. I'm going to be picking those guys, that's for sure.
As for us, this three game homestand we are playing now came at a good time [
Editor's note: The homestand started with a 3-2 win over the Capitals
]. We lost two games on the road. We've been playing fairly well at home. It's always nice to be back at home and have our crowd behind us. For me, Bruins hockey means never giving up. From what I see, we never give up. When we do get off to a good start, which we want to do every night, we usually take control of the game. If we don't get off to a good start, we battle back and make it a game no matter what. Sometimes we win and sometimes we lose. But if we come out with a good start we're probably going to win 90 percent of the games. The first five, first ten minutes of a game is what sets the tone for the whole game. It really helps out when we come out and we play that first period well and come in with the lead. With this team, when we're up a goal or two after the first period, we've established we're a tough team to beat.
People have been asking about what's wrong with our penalty kill lately. It just seems like that there have been bounces that have gone the other team's way, which wasn't happening before. Our game against Montreal, there were a couple of goals that went off our players and went in the net. The other one was against Buffalo where the puck hits Timmy [Thomas] and goes right to the guy's stick. Maybe it's just that we've been unlucky.
Having Savy [
Marc Savard
] back has been awesome. I get to drive with him to the rink sometimes. Usually we ride together once or twice a week. Whichever one of us is driving is the one that gets to control the radio. It's nice that we get to hear him talking in the dressing room again. Our games against Montreal and Buffalo he played really well. It's just good to have him back because he adds that little extra fire power and nice passes.
But we get Savy back and lose Stewie [Marc Stuart] with a busted hand which means we lost a good strong defenseman. It's too bad but we have Adam [McQuaid] stepping up and playing more minutes. We also have Kam [Steve Kampfer] called up and he's been taking a lot of minutes as well. It's good to see that the guys are stepping up. It will be nice to see Stew come back though that's for sure.
I was worried that I was hurt when we played the Sabres last week. I blocked a shot and it hit me right on the bone of my right wrist. It was really sore. I woke up the next day and was like, "Oh my God," because I couldn't move my wrist. But then the training staff put a little magical touch to my wrist and for some reason it doesn't even hurt anymore. It's maybe just like a bruise or something like that. I was going to snap if I broke another wrist.
About two weeks ago against Buffalo I got in a fight (Dec. 7). The Sabres guy [Steve Montador] came after me, so I had to drop the gloves. I used to fight a lot in the AHL but no one really knows that. I also have a visor now because I took that puck in the face last year. I kind of stuck with the visor because I don't want to lose my eyes or anything like that. Usually guys don't want to fight guys with visors because they don't think they can fight, but I can. What do you think? Of course I think I did okay. All my teammates told me good job but they all knew I could fight, just maybe the fans don't know.
The team's been making some moves.
Matt Hunwick
got traded to the Avalanche then Marco Sturm got traded to the Kings. Both guys are good guys. Huny was a good skating defenseman. Sturmy has been out for a while and was just trying to get back into our line up. He's just about back then we see him leave. He's been here for a while. He's kind of been like a role model for the younger guys- Just to be a pro and see what it takes. It's just sad to see a guy like that leave Boston.
What else can I tell you? How about what coach is like. I'll tell you Coach Claude Julien is not a rah-rah guy. I mean sometimes he does, but not often. He usually come in and prepares us well. He makes sure we have all the tools that we need to get to the game to do it for ourselves. He gives us guidance on what to do. My relationship with him hasn't changed now that I'm playing full time compared to the start of last year.
Guess what? I'm all done with my Christmas shopping. I sent all my presents back home for the family. Yup, all done. I haven't been with family on Christmas for the last six years. Maybe once or twice, but usually I'm with friends. Here is my advice for all those guys out there looking to get that perfect gift for their significant other: Jewelry. You can't go wrong buying jewelry. Girls love jewelry. Next up after Christmas is New Year's. One thing I like is resolutions. I make them and then try to keep them. I'll make one but I'm not revealing it yet. I'll reveal it after it's broken.
Some answers to these questions you guys sent in after my last diary: From chrisrotary12, he wants to know if I ever suggested to Z [
Zdeno Chara
] to use a shorter stick so that he might be able to control the puck better. My answer is no. You need that reach. He's got that reach down that he can poke away pucks and it gives him an extra little whip to his slap shot.
Another question from ejallis1 who asked if I feel Chara and I have the hardest two shots in the League. I say yeah probably close to it because his is a hundred and five and mine is a hundred and two miles per hour.
November, 21, 2010
11/21/10
6:22
PM ET
By
Johnny Boychuk
| ESPNBoston.com

Bruins defenseman Johnny Boychuk is keeping a diary for ESPNBoston.com this season. Today he discusses how he found out he was going to play in a game again, gives his thoughts on Marc Savard skating with the team, shares what Zdeno Chara told him when he came back, and reveals why his stick is covered in tape? (As told to Louise K. Cornetta)
It feels great to be back on the ice. It's way better than sitting out, that's for sure. I'm close to a hundred percent now, more or less. I wasn't even expecting to play in Thursday's game against the Panthers. Right before the game they told me. I was actually feeling pretty good. I knew I was a game-time decision. We had warmed up and I still didn't know I was playing. It wasn't until 15 minutes before the game that I saw they were talking to Adam [McQuaid]. ... When I saw him getting undressed that's when I figured out I was playing. As soon as I got out there I just was worried about doing my job. I remember thinking, "Alright finally, I get to get back in the lineup."
I tried to keep things simple in my first game back. It was hard to adjust to actually playing the game. There are certain transitions that you don't really get in practice that you get in the game and positional play I have to get used to still. It's also getting used to the tempo again. It was so great to be skating with Z [Zdeno Chara] again, even if I'm not skating with him full time. It's great skating with everybody and being back with the whole team. I did appreciate Z telling me it was nice having me back, which he told me as soon as he saw me practicing with the team.
When I wasn't playing I was working out with Savy [Marc Savard] and Sturmy [
Marco Sturm
]. Working out with them was much better than by myself. It was great to see Savy skate on Saturday. It felt like our first practice of the season, like finally you get to play with the guys again. When I wasn't playing, I was up on the ninth floor of the Garden watching the home games with Savy, Krec [
David Krejci
] and Sturmy. In New York last week, I watched the first and second periods in the press box. But the third period I decided I'd rather watch in this room where there was a TV because I didn't really like watching in the press box in New York. New York was the only road game I traveled to when I was hurt.
[+] Enlarge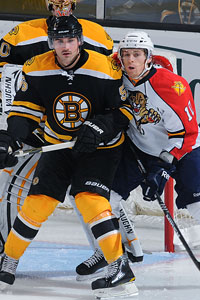 Steve Babineau/NHLI/Getty ImagesBoychuk returned to action Thursday against the Panthers after missing 10 games with a fracture in his left forearm.
When I was watching the games, what I look for is what the defense is doing. I look how the penalty kill is handled by us. Looking for how far we're going up to the dot or how far we're going towards the board. I also look for when we're pressuring on the power play and what kind of penalty kill the other team has. How we're trying to break them down, just different things like that.
I will say, watching the games this year is different from the beginning of last year when I wasn't playing at all. I knew last year that I was still healthy to play and I wasn't playing. Rather than this year where I was injured and I couldn't really help the team even if I wanted to. So that's different. There was one game I really was dying to be in, the game against New York. I really wanted to be on the ice that night because I got to be on the ice for warm-ups. I was excited just to be around the guys again.
Since I didn't really travel with the team very much, I spent my time back here in Boston. I feel like I didn't do a whole lot, though. I walked around and shopped some. I did see one movie, Saw "3D". It was terrible. I didn't like it at all. It wasn't scary and I don't recommend it at all.
I think the team did really well in my absence. We battled hard and played well. The defense did well and our goalies were making good saves too. We didn't win every game but we had a chance to. Timmy [Thomas] has been on a hot streak, which has been nice to see. I like seeing that Timmy is doing really well this year. It's also good to see Tuukka [Rask] get his first win and shutout last Thursday [4-0 win against Florida].
I know for a stretch over the past month the guys were having trouble scoring, especially at home. Lately things have turned around and I think the difference is just bearing down and getting shots on the net. We're making sure we bury chances when we have one. Working hard and just maybe getting the bounces too has helped.
So here's a fun fact about me: I guess people have been remarking that I have really long feet when they see me in skates on the ice. I wear a size 12 skate and usually 13 shoe. I believe I have bigger feet than Z.
I'm trying to think what's been going on in hockey news lately that I can comment on. Well, I know the NFL changed their rules in the middle of the season about helmet-to-helmet hits. The NHL changed some of their rules at the beginning of the year to try and cut down on concussions as well. There's penalties now for blindside headshot hits and stuff like that. I like it and think it's a good thing.
Also in the news, I just heard how the All-Star reserves will be picked by the captains, kind of going back to school yard pick-up game rules. Tell you what, if I was the last one picked I wouldn't be upset about being picked last, I'd actually think that was great. It probably won't happen but it would be fun to be an All-Star no matter how you get on the team.
In the last diary, I had a comment from JohnnyH_Bruins who wrote, "I sat next to the stick rack at the 10/19 game against the Caps in DC, and noticed that you have a really interesting grip on your stick. Any chance you might be able to let us know what you feel its benefit is, and how you started using it?"
I think what he's talking about is how I have tape all over my stick. I used to put sticky stuff all over my stick and then it was getting too wet. So then I switched it to just putting tape around the shaft of my stick because it was too wet and I couldn't shoot because my hand would be slipping when I'd go to shoot because of the wetness. I don't even remember when I started doing this, it's been that long. I'll just say I started doing this a long time ago.
Keep the questions coming, happy to answer whatever you want to throw at me!
October, 26, 2010
10/26/10
1:31
AM ET
By
Johnny Boychuk
| ESPNBoston.com

Bruins defenseman Johnny Boychuk continues his season-long diary by touching on the slight wrist fracture he suffered during Saturday's game against the New York Rangers, how he had been playing on the same line with Zdeno Chara, the team's trip to Europe, the message being delivered to the rookies and a little advice for Halloween.
(as told to Louise K. Cornetta)
I remember getting slashed by [Rangers winger]
Brandon Dubinsky
and that it was really painful. I went straight to the bench and then the ref asked to see me again for some odd reason. I don't know why because it's not like he was going to give Dubinsky a five-minute penalty when there was no cut on the wrist. Then I came back out to play and finished the period. I think it was just my second shift when the injury happened. We hadn't even played 10 minutes yet.
So I finished the rest of the period and then I went to get my wrist X-rayed in between periods at the rink. That's when they told me I couldn't play anymore, I knew anyway because I could see a little break in the wrist, just a small one. I have no idea how I was able to continue playing the first period. I remember the first shift that I went back there was more or less nothing that I could see on my wrist, it just felt pretty sore.
So I just got it taped up after that shift. Then I finished the rest of the period with just my wrist being taped. I didn't think anything of it until after we got it X-rayed and I was told I can't play anymore. I was just like, 'Oh, OK.'
Mentally, I'm OK, I guess. I'm happy I don't have to have surgery or anything like that where I have to be out for a long, long period of time, but I'm not happy that I got hurt. Monday I got the cast put on, a black one for the Bruins. I've never had a cast before. I think I am able to get the cast changed once a week, so it shouldn't be too bad. I can shower with it on and work out with it. Luckily, I am right-handed and it's the left wrist.
I'm not in any pain even now. What I can do now is just try and stay positive. I will be cheering my teammates on watching from high above the rink like I did last year when I wasn't playing to start the season. If I see anything, I'll let them know. I'm pretty sure I can still skate, but I don't know when I will be able to. So I think for the first couple of days, I'm just going to ride the bike. Starting maybe next week, I don't know when, but I hope to start skating. I know I can work out and do everything else, but it's just going to be hard to do anything with my stick.
I expect to be out approximately four weeks. It is frustrating, but I know it could be way worse. I'm just happy it's not as bad as it could have been. You see some guys having to have surgery right at the start of the season and that's terrible. Me being out for four weeks is better than it could have been.
[+] Enlarge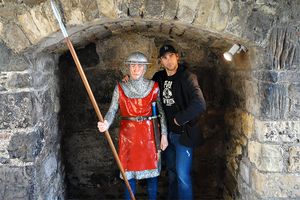 Johnny Boychuck Johnny Boychuk had fun and made new friends during the Bruins' trip to Europe.
On a happier note, the trip to Europe was awesome. [Editor's note: Here's the
photo gallery

we promised] We got to see a lot of places and experience different foods and cultures. I enjoyed seeing a different part of the world. We got to Belfast and the first thing we did was eat in a private room, which I've never done before. We walked around for a bit and had a team dinner and then went to bed as soon as possible.
The next day we went on a tour. A bunch of us did the Black Taxi tour that was more or less the whole day, then we had another team dinner. This dinner was with the mayor of Belfast, I believe they call him Lord Mayor.
The third day we had a game, but I didn't play. Those of us who didn't play instead went and checked out out Carrickfergus Castle. It was great to go and check out things like a castle. Beats sitting around the hotel room and taking a nap like we normally would do on the road.
Then in Prague all we really did was walk around the Old Town Square. It was a good place to look around because there was a lot to see and do there. The last day we were there, about 10,000 Scottish soccer fans were in the square to watch the Scottish team play. They were having fun kicking around a soccer ball and just drinking and having a good time. It was pretty funny to see 10,000 people drunk in that square chanting and trying to kick around the soccer ball.
The games were fun over there. As I said, I didn't play in Belfast, so I don't know about that one. The one against HC Liberec in the Czech Republic was pretty interesting because all the fans were chanting and there were drums being played throughout the whole game. The ones in Prague were really cool too because there was chanting. It was like a soccer game more or less over there. It really felt like a different atmosphere. After we lost that first game, it was nice to get the win the next game. At least we got a split.
We're starting to click and it's nice to see us scoring a lot of goals. Having five days in between games when we got back from Europe really helped. As soon as we got home, I went to bed at 9:30 every night for three nights then I woke up between 4 and 6 in the morning. It took a while for me to get back to a normal sleep schedule, which I'm on now.
Last time, I said my goal was to make the team. Before everything happened Saturday, I was on the team and it felt great because I had been playing with Z [
Zdeno Chara
]. I was happy because we were playing really well. I really enjoy playing on the same line with Z. We get to shut down the first line the opponent sends out there, well, try to at least. He's a great competitor and captain. It's fun playing with him because I've played with him enough now to know more or less where he's going to be the whole time if I need to pass over to him. I like that Z brings it every game. He likes to play physical and throw his body around. He also has that big shot too.
I got my contract this summer, so it was absolutely great to see Z and Bergy [
Patrice Bergeron
] get theirs recently. For those two guys, they are the epitome of being a Boston Bruin. They've been here for a while. They are the cornerstones of this team. It was great to see they will be back here for a while to come.
What is hard to see is Savy [
Marc Savard
] being out. He's a great guy. I just can't wait to see him back on the ice in a game. He brings that aspect of his game that we don't really have from anyone else. There's no one like him on our team that can pass to anybody at any time, anywhere you're on the ice. He also makes you smile when you're in the dressing room. He's a great player and a great teammate. Seeing him do the light skating is encouraging, just seeing him smiling and being around the guys is also good. I just like hanging around with him because he's my friend.
We have a new line called the "Energy Line" with [Gregory] Campbell,
Brad Marchand
, and [Shawn] Thornton. They've been doing really good because they get in deep, work the puck down low great and they can score goals. It's not like we just look to them for energy, we look to them for energy and goals. They really bring it every night. The reason they've been dubbed the "Energy Line" is because they get the puck in deep and try to hit guys, they fight, they create plays, they also do create energy.
Some others doing well are rookies
Tyler Seguin
and
Jordan Caron
. They've just been trying to get used to the NHL level of game and have been doing a great job. They both can make plays and shoot the puck. Since they both already have their first goal, they obviously can score too. They deserve to be here. We tell the rookies to just play their game. We don't expect, say Tyler, to get a point or two every night. We just want him to play his game and feel comfortable here. When he has a chance to make plays, then make plays more or less.
My own rookie year [2009-10 season], what I remember about it is not playing the first 20 games. Nah, really it's starting out not playing and then getting a chance to play and never looking back. Finally, getting to play with Zdeno at the end of the year. The people that influenced me as a rookie were the coaching staff, family, girlfriend. The coaches helped me out quite a bit when I wasn't playing. All of them helped me to keep it positive.
We've had
Tim Thomas
get off to a great start for the us in net,
Tuukka Rask
as well. It's good to see Timmy playing extremely well right now. We need him to be playing like that. It gives us a chance to win with either goalie now. For the team, we don't prepare any differently because of who the goaltender is. I hadn't heard until recently that the media was fooled for our home opener and most thought Tuukka was starting. He never told them he was, but many just assumed it after our game-day skate. That was great, too funny.
Personally, before everything happened Saturday I had been enjoying having my brother in town. I've gotten to hang out with him the last couple of days. Him and his girlfriend are staying at my place. My brother is like me and likes playing video games. Yes, I can still play video games even with the bad wrist. I just have the cast on the wrist, so I still have mobility with my fingers and thumbs.
Oh, and I also wanted to answer Keith1074, who sent in a comment after my last diary asking if I play Modern Warfare online. Yes, I do. He also asked if I play SOCOM Cold Front online? No. But thanks Keith1074, I appreciate you drafting me on your fantasy team.
Halloween is coming up and I have some advice. Please, if you are giving out candy, give the full-size chocolate bars, none of these ittty bitty ones. When I think about my best costume ever, it had to be when I was Johnny Damon about five years ago. I had my long hair and grew out my beard. I'm sure the team will have a Halloween party again this year. It was actually pretty low-key last year. Nothing too crazy, just a way to get together and meet all the new guys and their families.
September, 20, 2010
9/20/10
12:09
PM ET
By
Johnny Boychuk
| ESPNBoston.com

Bruins defenseman Johnny Boychuk will be taking over the Bruins diary this year from his teammate Milan Lucic. Coming off a strong postseason, Johnny signed a two year contract this offseason to remain with the Bruins. Here the avid Red Sox fan talks about what to expect this season after a disappointing end to last year, his initial impression of rookie Tyler Seguin and what keeps him motivated. (as told to Louise K. Cornetta)
The way we lost in the playoffs [to the Philadelphia Flyers] was disappointing. To be up 3-0 [in the series and in the first period of Game 7], it was a tough ending. I thought about it at least once a week. The loss kind of sticks with you. I felt good about the way I played but I wasn't really concerned about that. I know I tried to leave it all out there on the ice. But now we look to this season and I can tell you this team will be all about excitement and fun. The same goes for what I expect of myself, to be fun and exciting! I want to keep playing this year the way I ended off last year. I hope I don't miss a beat.
We're going to be awesome this year. We're going to be great. We have some new faces and some younger guys on this team. There is a lot of enthusiasm around this team. It's fun to be here when there is a lot of excitement going around the dressing room. Tyler Seguin [No. 2 overall pick in the recent draft] is one of the new faces. I've seen him on the ice. He looks like he can make some plays and score and any team needs that.
[+] Enlarge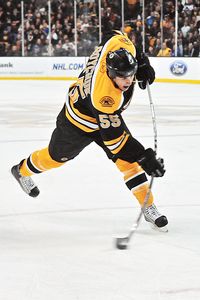 Michael Tureski/Icon SMIJohnny Boychuk played over 26 minutes per game for the Bruins during the playoffs.
So what did I do this summer? Well, I did try and enjoy summer. One of the things I did is I went on vacation. I went to Atlantis with Milan Lucic. Another thing I did was bought a house. I also golfed a lot. I made sure to stay in shape by working out every day. Well, okay, not every day, but five times a week and I skated probably two times a week.
Something else that happened this summer was I got a new contract [two year deal]. The Bruins contacted my agent and we talked for a week or two. Then we met in the middle. It was actually pretty easy and pretty nice to have that little bit of security but it's not too secure yet. I still need to make the team and work as hard as possible. I'm not taken it as a given that I'm making this team. Anybody can take a spot from you at any time. You've just got to be ready. That's the business -- anybody can take your spot just like that. It absolutely helps motivate me. I've been trying to break into this league for a long time. I know how hard it is to get here. I don't want anybody to take it away from me.
I know what life in the minors is like. The biggest difference between life there and here is flying instead of busing everywhere. Also, the pregame meals are a tiny bit better here -- by that I mean a lot better! Longest bus ride I ever took was when I traveled from Moose Jaw, Saskatchewan to Portland, Oregon, which was a twenty hour trip. What we did to occupy the time is we had a poker game going in the back. We had a roulette table as well in the back. It was like a little casino going on back there. We didn't bet much, but it helped pass the time. We watched movies. We slept at nighttime until the sun came up. It was more like you tried to sleep. When I was a rookie, I had to sleep underneath the seats. As you can imagine, that wasn't very comfortable.
It's not all bad in the minors. I won the Eddie Shore Award for the 2008-09 season. For those that don't know, it's for being the top defenseman in the minor leagues. It actually meant a lot to me. I had been playing in the minors for quite a while and I saw the previous winners and the kind of players they were. At the beginning of the year, it was a goal for me to be a contender for that award, because I knew it was in me. When I got it, that meant I reached an accomplishment.
Since we're talking about defensemen, I got a chance to catch up recently with Hall of Famer Ray Bourque at a golf tournament. He's someone I've met a few times. This time he was congratulating me on the new contract. Then it was mostly chit-chat, like what I did this summer. Any time you can get any type of advice or be able to talk to someone who played at his caliber, it's always good day.
We open the season in Prague, Czech Republic. It's going to be nice to go over there and see Ireland and Prague. I've been to Slovakia once when I was in the Junior Leagues. It's a beautiful place and I can't wait to see it and go and play there. While I'm over there I'll try and take some picture to share with you the next time.
So what do you need to know about me? I'd say I'm the guy that's always smiling in the dressing room. That's my personality on the team. I don't have a nickname or anything, not really. If you think of something good, let me know. I like to play Xbox a lot. My favorite game is Modern Warfare 2. I love to play golf. I'm not very good at it, but it's improving. I've played the guitar since I was eight. I play acoustic guitar. Whatever I want to learn, I just learn it, doesn't matter what kind of music it is. I guess I'm a mixture of a bunch of stuff.