April, 25, 2013
4/25/13
1:29
PM ET
There's no other way to put it: The Northeast Division is a train wreck with the playoffs just around the corner.
That may end up meaning nothing once the second season begins, but I doubt the way the
Boston Bruins
,
Montreal Canadiens
,
Toronto Maple Leafs
and
Ottawa Senators
have played of late comforts any of their fans as the postseason approaches.
The Bruins host the
Tampa Bay Lightning
on Thursday night having dropped five of their past six games, unwilling to cement a division title the Habs have tried to hand them on a silver platter. Bruins coach Claude Julien was incensed after the team's road loss to the
Philadelphia Flyers
on Tuesday night, saying among other things in a terse dressing down of his team: "We're running out of time to get this stuff going."
The Bruins should be able to beat a tired Tampa team Thursday night (the Lightning played at home Wednesday night) before visiting the
Washington Capitals
on Saturday, then closing out their season Sunday night at home against the Senators. Odds are the B's should win the beleaguered division, with the emphasis on
should
as a word that doesn't imply certainty.
The Canadiens? Mercy, they've fallen apart worse than any other club in the division -- and not just because, like Boston, they've lost five of their past six games. Rather, it's the manner in which they've lost: clobbered in most of those games and looking nothing like the juggernaut that surprised everyone this season. The team's defensive coverage has been porous and star netminder
Carey Price
has looked downright shaky.
Having said all that, I think the Canadiens finally showed some promise in the final 30 minutes against the
New Jersey Devils
on Tuesday, and perhaps that's what they build on heading into Thursday night's road game against the
Winnipeg Jets
. Maybe.
Otherwise, if Montreal loses again Thursday and the Maple Leafs beat the
Florida Panthers
, the Habs could lose home-ice advantage in the first round if Toronto beats them in regulation in Saturday night's season finale (the Leafs own the tiebreaker on the Canadiens).
Of course, the fact that the Leafs could end up with the fourth seed (and possibly the division title) would also have to suggest they have a clue right now. They've been outshot a whopping 183-114 over their past five games. They've won two of those five, but even in those wins, they were outshot 32-13 by New Jersey and 50-22 by the Senators.
On Wednesday night, with a golden chance to cut the gap to two points on both idle Boston and Montreal, the Leafs fell 5-2 in Tampa against a Lightning team that sits 14th in the Eastern Conference.
Combined with losses to the
New York Islanders
and Capitals last week, Toronto is mired in a mediocre stretch that mirrors that of the Habs and Bruins.
"There's things we have to shore up for sure," Leafs blueliner
Cody Franson
told TSN.ca on Wednesday night after the game in Tampa. "The last thing we're going to do is just hit the panic button over it. We know the mistakes we're making, and it's just a matter of paying attention and shoring them up."
A win in South Florida on Thursday night against the last-place Panthers would make a lot of people in Leaf Nation breathe a little easier. But just a bit.
And finally, what of the Senators?
A five-game losing streak earlier this month had people thinking perhaps the injury-riddled club had finally hit a wall. But four straight wins again made believers out of Sens fans. Then came a demoralizing home loss to the hated Leafs on Saturday, followed by another home loss to a
Pittsburgh Penguins
team missing
Sidney Crosby
and
Evgeni Malkin
, a game Senators players said was one of their most uninspired efforts in a while.
All of which has left the Sens just one point ahead of ninth-place Winnipeg, although with Ottawa having two more games to play than the Jets -- who wrap up their regular season Thursday night -- you have to think the Sens will get in without a problem.
Perhaps the game-changer Ottawa has been waiting for will arrive in the form of
Erik Karlsson
. The reigning Norris Trophy winner is on the verge of returning from what was supposed to have been a season-ending Achilles injury, taking a regular shift at practice Wednesday alongside normal partner
Marc Methot
, which had people in Canada's capital buzzing. Word is Karlsson and the Senators will decide after the morning skate Thursday in Washington whether it's a go that night or if he'll wait for Saturday's game against the Flyers.
The Sens will take any boost they can get, that's for sure.
Frankly, so would any playoff-bound team in the Northeast. It's ugly right now in this grouping. Somebody show the way!
March, 21, 2013
3/21/13
11:09
PM ET
Dennis Seidenberg
scored the game winner with 1:04 left in regulation as the Boston Bruins snapped a two-game losing streak with a 2-1 win at Ottawa on Thursday night. Letting one fly from the blue line, Seidenberg somehow found a way through a crowd of players in front and beat Ottawa Senators goalie
Robin Lehner
(27 saves) to help the Bruins win a tightly contested match.


Daniel Paille
tied the game late in the second period after
Kaspars Daugavins
gave Ottawa the lead earlier in the middle frame.
Anton Khudobin
made 27 saves for the Bruins to earn his sixth win of the season.
Khudobin gives B's a chance to win:
After taking a loss he really didn't deserve when his team collapsed in front of him for a 3-2 loss at Pittsburgh on March 12, Khudobin has bounced back with two solid wins. He made 32 saves in the 4-1 win over the Capitals on Saturday and then gave his team a chance to win again Thursday. Ottawa had the pressure on early and late in the first period, but Khudobin made three huge stops to keep the game scoreless headed to the second period. Khudobin also had a brilliant save on
Jakob Silfverberg
late in the second period to keep the game tied at 1. He held down the fort with seven saves in the third and continues to prove he will be ready when
Tuukka Rask
needs a break.
Seidenberg finally lights the lamp at the perfect time:
Seidenberg's game winner was his first goal in 30 games, and it couldn't have come at a better time. The gritty rearguard had seven helpers coming into the game but hadn't scored since April 21 in the Bruins' first-round playoff loss to the Capitals. When he scores clutch goals like this, the length between goals might be forgiven.
[+] Enlarge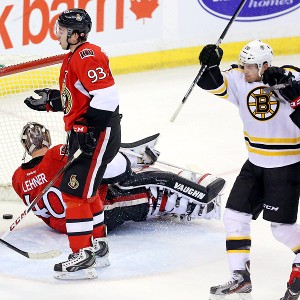 AP Photo/The Canadian Press/Fred ChartrandDaniel Paille's fifth goal of the season got the Bruins all square at 1-1, setting the stage for a comeback win in Ottawa.
Bruins need more of Paille's grit and hustle:
The vote here for the Bruins' unsung hero award so far this season would have to be Paille. The versatile winger has proven to be more than just a brilliant penalty killer and speedy defensive forward. Paille accentuates that speed with grit and hustle, and if he had a bit more finishing skill, he might be a 20-goal scorer. But make no mistake, his snipe to tie the game at 1-1 18:38 into the second period was reminiscent of a goal scorer's goal.
Krejci battles through but can't get his linemates going:
David Krejci
returned from a knee injury earlier than expected and didn't quite look like he was fully healed from the
Johnny Boychuk
shot he took to the knee in Pittsburgh on Sunday, which kept him out of the lineup in the 3-1 loss at Winnipeg on Tuesday. Krejci almost had the go-ahead goal late in the third period before Seidenberg's winner but was robbed by Lehner. Krejci also made some nice passes and did his best to create for
Milan Lucic
and
Nathan Horton
, but the wingers couldn't convert.
Peverley scratched; Johnson in for McQuaid:
With Krejci returning to the lineup, the thought was that rookie
Ryan Spooner
would be a healthy scratch, but it was veteran
Rich Peverley
who sat up top in the press box Thursday in a surprise move by coach Claude Julien. Peverley has struggled this season with just four goals and five assists in 28 games. It could just be a wake-up call from Julien, but with the trade deadline less than three weeks away and rumors persisting that Peverley is being shopped, this is a situation to watch going forward.
Also in the lineup for the first time since March 14 and for only his fifth game this season was defenseman
Aaron Johnson
, who replaced
Adam McQuaid
, who's out for the three to four weeks with a shoulder injury. Here's what the lineup looked like:
Forwards
Milan Lucic-David Krejci-Nathan Horton
Brad Marchand
-
Patrice Bergeron
-
Tyler Seguin
Jay Pandolfo
-Ryan Spooner-
Jordan Caron
Daniel Paille-
Gregory Campbell
-
Shawn Thornton
Defense
Zdeno Chara
-
Andrew Ference
Dennis Seidenberg-
Dougie Hamilton
Aaron Johnson-Johnny Boychuk
Goalies
Anton Khudobin
Tuukka Rask