Bruins:

Patrice Bergeron diary
December, 7, 2013
Dec 7
4:24
PM ET
By
Patrice Bergeron
| ESPNBoston.com

Bruins center Patrice Bergeron is keeping a diary for ESPNBoston.com this season. In this installment he discusses why he doesn't like the Canadiens, his thoughts on the young guys on the team, life on the road and who is the best Secret Santa gift giver on the Bruins. -- As told to Louise K. Cornetta
I think we've been playing pretty good hockey, especially in November. Lately, we had a couple of games we would have liked to play better. But I liked seeing after the Detroit game that we responded pretty well. Hopefully we can continue to respond well after a bad game. I'd like to see our consistency be something we work on. We've been up and down a little bit too much. We'll have a good first period and then a bad second and then a good third. I think we have to make sure to be more consistent throughout games.
My line with Marchy [
Brad Marchand
] and
Loui [Eriksson]
was improving as the month of November went along. I think we can always be better. Especially when you don't get the wins that you want as a team, it's important for our line to contribute in any way we can. I think we've been doing that on both sides of the rink and we need to find more ways to keep improving and be better as the year goes along.
As you know, the Canadiens are our rival. It's huge every time we play them. It's always tough to play in their building. There is so much history between the teams that it's special to be a part of it. It's always a fun game. This year was a little different as we had to wait until December to play them. Usually we play them a lot earlier than that, but we didn't in part because now we have the new conferences and divisions.
What wasn't fun was seeing
Johnny Boychuk
go down like he did on Thursday in Montreal. That is tough to see. It's the last thing you want to see for anyone, but when it's one of your friends or your teammate, it's hard. It took the momentum away from us right away and put a dent in the start of our game. The good news is that he seems to be doing better and hopefully he can be back as soon as possible.
[+] Enlarge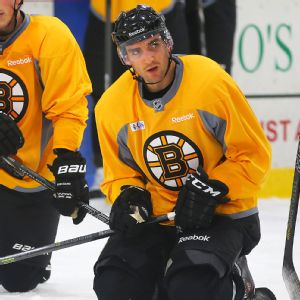 John Tlumacki/The Boston Globe/Getty ImagesPatrice Bergeron has never been a fan of the Canadiens, preferring the Nordiques in his youth.
I've never been a Canadiens fan. When I was growing up, I was in Quebec City and was a Nordiques fan. It was always a rivalry for me growing up against them because of the Nordiques. Now that I'm in Boston that notion carried on. It's the same thing here. While I respect them and their history, I've never been a fan of them.
Growing up a Nordiques fan, I always would pretend when I was a kid that I was
Peter Forsberg
or
Joe Sakic
. They were great players in Quebec. Joe Sakic was the captain. So he was one of the guys I was always looking up to. He was humble and nice and contributed in the community. They were definitely two of the guys I liked to try to be like.
We have a lot of young guys on our team this season, and a few of them got to experience this rivalry for the first time this past week. Let's talk a little about some of the rookies and younger guys on the team. All of them are doing well, to be honest with you.
Reilly [Smith]
has stood out to me as someone who has raw talent. He's developing really well into a great player which is great to see for us. With
Torey [Krug]
, the way that he is composed and poised on the ice and making plays really doesn't look like a rookie. Bart [
Matt Bartkowski
] is pretty fast and pretty slick. I think it's great to have these guys jumping in and being good right away.
So that's some thoughts on the younger guys on the ice, but if you asked me who stands out off the ice it's got to be Bart. He's the personality, for sure. He's a guy who is not afraid to talk. He's pretty funny also. He's vocal and lightens up the mood once in a while. He hasn't been very shy to talk, that's for sure.
After our Penguins game, we're headed out on the road for the next week. On the plane, I sit next to
Daniel Paille
and we watch movies. When there are long trips like that we try to go through a couple of movies or TV shows. It's a good way to spend the time. Oddly, we don't really have any video game players on this team. Some guys used to play. Johnny Boychuk plays once in a while on his iPad and
[David] Krejci
used to but now he doesn't anymore.
Gregory Campbell
or Johnny Boychuk are our guys that take care of the music. I like their tastes in music. Soupy [Campbell] is more hip-hop and Johnny is a little more dance and techno.
Back when I first started playing, you used to have to have a roommate on the road. Who that was changed a lot but I had
Chuck Kobasew
and
Matt Hunwick
and
Brad Boyes
. So I had a few but now I'm on my own. It's kind of nice not sharing a room with someone anymore.
We'll have a lot of dinners together when we're on the road. Every team needs an organizer for things like that. For us, it's Dan Paille. He's an organized guy who likes things set up in advance. He always takes care of making reservations. When the check comes sometimes we split it and sometimes we play credit card roulette where everyone throws their card in and one is selected. Little factoid about our credit card game: If your card gets selected once you may think you're off the hook to pay for future dinners but not true, your card still goes back in. You just have to cross your fingers the next time.
We're a pretty close group. I don't have one guy I always go to lunch with or anything. I do like going with
[Dennis] Seidenberg
. We're kind of on the same schedule. So we'll go together. But it's pretty much anyone, to be honest with you.
We bring a horseshoe that is hanging in our dressing room with us on the road. It's our lucky charm. We try to bring some luck with us. Yes, we need to work hard and all that but luck is also something we need on our side.
The holidays are upon us. We usually do a Secret Santa on the team. We haven't talked about it yet for this year. I don't know if we will or not because
Andrew Ference
was our organizer for that. We'll have to talk about that now that Ference isn't on the team anymore. Each year always seemed to have a little different spin on it. Sometimes it would be a gag gift, other times nice gifts. It was never really the same. One year we did bad sweaters.
I think guys liked pulling Marchy's name to be his Secret Santa because he's pretty funny and a few guys would like to get him back. I would like to say, though, that I would not like to get Marchy because I like him. You know who I would like to have as my Secret Santa is Loui. He seems like a pretty generous guy.
What do I want for Christmas is a good question. I don't want anything, to be honest with you. My family is coming down. So I'm just happy about that. What do I want for the team for Christmas? That is easier to answer as I want us to keep improving. Hopefully by the end of the month we stay up in the standings, around that first spot. We'd like to stay there and that's our goal. We want to be at our best consistently.
November, 9, 2013
Nov 9
5:06
PM ET
By
Patrice Bergeron
| ESPNBoston.com

Bruins center Patrice Bergeron is keeping a diary for ESPNBoston.com this season. In this installment he talks about what his line needs to do to get better and reveals some of his off-ice personality, including who his first celebrity crush was. --As told to Louise K. Cornetta
It's been crazy with how I can't seem to stay away from hurting myself. On Thursday someone shot the puck and it got deflected off my stick and hit my right eye. Everything is good now but at first it was a little scary because it got blurry for a few minutes. Luckily as time went on, I started feeling better. The vision was back to normal and I was able to get back on the ice. This one was basically nothing but a freak accident. I was fine. So it was good news this time.
Before I get too much into how we've been doing, I wanted to congratulate the Red Sox on winning the World Series. The parade looked amazing and was great for the city and people of Boston. They deserved a championship and something to cheer for. Unfortunately, while we tried hard, we couldn't do that last year. It was great to see the Red Sox accomplishing that. All the guys were really happy for them. It's something we've talked about in the last diary how we support the other Boston teams as they do us.
[+] Enlarge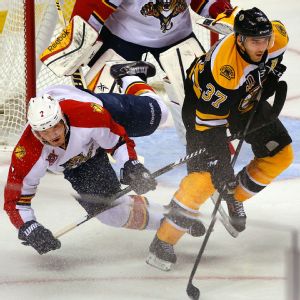 John Tlumacki/The Boston Globe/Getty ImagesA few bumps and bruises haven't kept Patrice Bergeron out of the B's lineup.
For those of you that were wrapped up in watching baseball for the past few weeks, I'll try to fill you in on what you've missed over here. We've been a little up and down the last few games. We're trying to right the ship right now. The Florida game Thursday was a good step forward for us. We had gotten away from playing our system and playing the way that gets us the success we've had in the past. We have enough experience to realize that we just need to go back to basics and play the right way.
If I had to describe the identity of this team I'd say we're hard to play against. We work hard and make it hard on the opponents by forechecking and playing together as a team. Our team defense as a whole has been successful for us. If we stick to the system, we'll do the job right.
My line is still trying to click. We've had some good games but we've had games we can be better. We obviously have some great players on the line. All of us can bring some good things to the club but also to our line. We just need to get a feel for one another. The chemistry is still not completely there because of the fact the line has changed so many times with Loui [Ericksson] missing time with a concussion and Reilly [Smith] was on the line for a little bit and Marchy [
Brad Marchand
] is back on the line again. Really we just need to play our game, play together, have fun with it and bring some help to our teammates.
I've played with Marchy for a few years now. I think he's playing with some more confidence lately. He's more assertive with the plays that he makes, which is great to see. He's such a great player when he's playing with confidence and makes the plays that makes him successful and doesn't hesitate. It helps the line a lot. Seeing him score that goal on Thursday against the Panthers was great and it was a pretty funny celebration when he mimed taking the monkey off his back. It definitely goes along with his personality.
This past week I've seen a lot of familiar faces on the opposing teams with
Tyler Seguin
,
Rich Peverley
and
Tim Thomas
coming to town. When the game is being played you don't think about it. But after, it gives you time to say hi and wish them all the best. I didn't have a chance to actually meet them in person but I sent some text messages and wished them all the best in their future. Obviously it's a new lifestyle for all of them and hopefully they enjoy it, but we have to keep pushing forward and playing well.
I thought for both occasions with Dallas and Florida in town it was a class act by the Bruins to play video montages of these players who helped us win a Stanley Cup. It was a great way to show that we respect what they've done for us and wish them all the best.
[+] Enlarge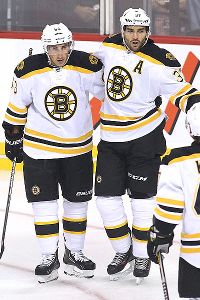 Marianne Helm/Getty ImagesBrad Marchand and Bergeron are starting to find their groove.
Since I'm doing this diary, I thought maybe people would like to get to know a little bit of what I'm like off the ice. Here are some questions you might be interested in:
•
How did I learn English?
Just by talking to guys. Back home it's all French but at school I had some basic English classes and started learning there. My first year here in Boston, when I was 18, was the first year I was really put to the test and I had to learn it quickly. In the past 10 years, I learned English just by talking with people. I'm always trying to get better at it.
•
Do I think in French?
Not when I am talking in English. It depends though. If I'm just by myself and thinking on my own like things to do that day, I think in French.
•
Do I dream in French?
I dream in both. Some are in French and some are in English.
•
Which goal meant the most to me?
The Stanley Cup goal in Game 7 in 2011. I do have the puck from that one. It's somewhere safe. I still haven't done anything with it but I'll try to put it in a nice frame since it has so much meaning to it. I'm still thinking about what to do with it.
•
Best advice for being successful with face--offs?
I think just taking a lot of pride in it. Obviously repetition and working on it as much as possible is something very important. It's not going to happen overnight. It's about working on it and getting better at it. There isn't just one key piece of advice that's really going to change everything. It's about practicing it and making sure you take a lot of pride in it.
•
What's the No. 1 thing fans say to me?
"Nice to meet you," is usually what they say. People are pretty nice to me and say they don't want to bother me. Sometimes they say, "Thank you," after the playoffs last year or after any playoffs and that's something I thought was really nice of them to say.
•
If I could be on any game show, which one would I pick?
"The Price is Right." I want to be in the showcase showdown, but just being there would be pretty cool.
•
Movie I can watch over and over?
I love "The Hangover." I'll watch that over and over and it never gets old for me. Any kind of funny movie for me hits the spot. I can watch "Dodgeball" over and over too. I think I watched it 20 times and I still laugh. "Billy Madison" is the same thing.
•
First celebrity crush?
The Olsen twins ... I mean when they were older, not the "Full House" years of course!
•
Most embarrassing song on my playlist?
I probably have a Celine Dion song on there.
When I check back in next month, I hope the story of this team is that we've righted the ship. I hope we've taken advantage of this stretch of home games. This is a huge month because we have 10 home games this month. One of the things we've talked about is improving our home record. We want to capitalize on this stretch and keep climbing in the standings. We have to do the job at home because it will go a long way.
October, 5, 2013
Oct 5
5:37
PM ET
By
Patrice Bergeron
| ESPNBoston.com

Bruins center Patrice Bergeron is keeping a diary for ESPNBoston.com this season. In this second edition, Bergeron talks about what his line needs to work on, thoughts on Tim Thomas' return and what he thinks of the Red Sox beards. --As told to Louise K. Cornetta
I still get first night jitters. Every year I do. I think it's something special to wear the spoked-B. Opening night is always a great atmosphere. It's been fun to be back on the ice at the Garden. Thursday was my first game here [this season] as I didn't play any exhibition games in Boston. It was good to be back playing in front of our fans. I had worked hard to get back and it took me some time to get fully healthy. Even in training camp, it took me a little bit of time to get back at it. I feel good. It was rewarding to be back on the ice.
It was nice to get my first goal of the season on opening night. It was a great play by
Adam McQuaid
to force the puck in the corner there and give me the opening to get on a two on one. It was nice to get that first one out. I will continue to look forward to helping my team night in and night out.
[+] Enlarge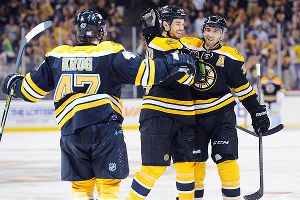 Brian Babineau/NHLI/Getty ImagesPatrice Bergeron's goal gave the Bruins a 3-1 lead in their opening win.
If you asked me whether I take more pride in my offense or defensive play, I'd have to tell you that's hard to answer. For me, I try to be sound on both sides. It's hard to pick one. I'm as happy defending a goal and blocking a chance for them to score a goal as I am to assist or score a goal myself. I can't really pick one.
As I talked about in the last diary, [Brad] Marchand and I have a new linemate with
Loui Eriksson
. I think what's been working is the way all three of us compete and work hard and also Loui is very aware defensively. We have to play both sides of the rink because usually we're playing the big lines. So far it's been going well. We've got to communicate a lot, keep talking, and keep improving. As a line we need to work on chemistry probably. Getting to know a little bit more of where we are going to be on the ice and some more automatic knowing that the guy is going to be there instead of guessing. Once we get that, I think things will fall into place.
I like our line. I like the way we're playing. If we keep talking , we'll keep improving. Loui and I play a very similar type of game. The way we read plays and our willingness to play on the defensive side as well as the offensive side. I think those are the two biggest things that are similar in our play.
My goal for the season is always about pushing my limits, trying to get better and improve as much as I can. My goals for myself are always team goals. It's about doing well as a team and going as far as we can. When you push your limits, you always want to achieve greater things. I will also use last year as motivation this year. I think you have to. I mean, you have to learn from previous experiences good or bad. Last year was a perfect example of when you're resilient you can achieve some good things, but we didn't finish it. When I'm talking about being resilient, I'm talking about the Toronto series. We found a way to get the win and built some character as we pulled through. But when you fall short, you're hungrier to make it happen the next year.
As a team, so far, I think we're a great team. We have a lot of guys who are back from past years. We have a good core of leaders but also a group of new guys that are coming in who fit in well. I think our chemistry so far has been very good. If we keep that going, it's going to translate on the ice.
You probably saw that
David Krejci
will be sharing the A with
Chris Kelly
this season. Kelly used to share it with
Andrew Ference
. Ference was named Captain of his new team the Oilers. I was really happy for him. It's well deserved. I'm not surprised at all. I think he is a great leader. I'm going to miss him. He's a terrific guy and someone I used to hang out a lot with. I texted him about it wishing him the best. He seems very happy over there which is good for him. Same thing for Krejci, it's very well deserved. The way he led us last year in the payoffs speaks for itself. That's what a leader is all about, making your actions speak louder than your words. He did that.
I also wear the A. I was given the A in 2006. It meant a lot. It was a huge honor. There is so much history behind the Bruins. To be an assistant captain for this team is something very special. The duties of being an assistant captain are about leading by example on and off the ice. I think the way you carry yourself off the ice carries over to how you are on the ice. You need to make sure you do the right thing on and off the ice. Sometimes when you think your team is flat or needs a little talk, you have to step up and say something. Sometimes you have to wake the guys up or just let the guys know what I feel.
I've learned a lot from previous leaders in
Mark Recchi
and
Martin Lapointe
and guys like that. You can't really change. You have to be yourself when you're a leader. It's not like I'm ordering the rookies around or anything. I was a rookie once and I know I learned a lot more when the older guys were nice to me and helping and teaching me. I'm trying to do that with them. I'm trying to make them feel as comfortable as they can. They're doing a great job.
We faced one Florida team to start the season and later this month will face the other in the
Florida Panthers
who have
Tim Thomas
as their starting goalie. I was surprised that he was coming back this year. But at the same time, if there was one guy who could do it, it would be Timmy. He's got such character, when he puts his mind to it he can achieve great things. I wish him all the best in Florida. I haven't spoken to him in a long time. It's going to be like playing any other former teammate when we face him. It's always different but at the same time you have to play your game.
I see the Red Sox have hockey playoff beards going except they've had theirs all season long. I've never seen a beard that long on a hockey player like they have, but that's because they've kept it going for a long time now. I've got to give it up to them. They have some great beards going.
I am a Red Sox fan now because I've been here in Boston for so long. It's such a huge thing here in Boston. I follow them as much as I can. I'm not the biggest baseball fan, but I wish them all the best obviously. Thorty [
Shawn Thornton
] and Johnny [Boychuk] are the diehard Red Sox fans on the team. I don't know if he did, but I would suspect Thorty got to Game 1 on Friday. Tuukka [Rask] also gets to a few games during their season. He likes soccer better but he also likes baseball.
I'm not friends with any of the Red Sox but I've had a chance to meet players in the past when Josh Beckett would have his Beckett Bowl or other charity events. But my favorite player is David Ortiz because he's the guy who's been there the longest.
I think it's great that every Boston team is very supportive of one another. I think that's what you need in a city. Fans are the same way. It's a sports town. They're behind every team, which is great to see. Same thing for the players, I think it's nice to have. Last year in our playoffs, we saw a couple players like Ortiz come for a game or two. It's nice to see. Obviously we're going to cheer for them as well and hope for the best.
I hope they go all the way and win the World Series. It would be awesome. It would be great for the city. I think the people deserve it in Boston. Last year, we fell short as we were trying to win for them. Even though it's not going to erase everything that happened with the Marathon bombings, it's going to hopefully help some of the people to try and forget for a little bit.
September, 15, 2013
Sep 15
9:22
PM ET
By
Patrice Bergeron
| ESPNBoston.com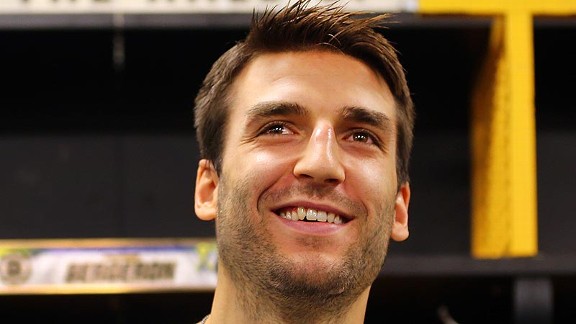 John Tlumacki/Getty ImagesPatrice Bergeron had a lot to smile about this offseason, including his marriage and a new contract.
Patrice Bergeron is keeping a diary for ESPNBoston.com this season. In this preseason edition, he reveals how he is not as perfect as some have described him, whether he could have played in a Game 7 of last season's Stanley Cup finals, what his big splurge was after signing an offseason contract extension, and expectations for himself and the team as we head toward a new season. (As told to Louise K. Cornetta)
I know Marchy [
Brad Marchand
] has kept the diary the past two seasons. He's a character. I think he's very funny and always in a good mood. He keeps us all on our toes about what we say or what we do. He's the type of guy that chirps a lot, but in a good way. He's the type of teammate you want on your team. He just lights up the mood every day. On the ice, he works extremely hard. He wants to get better every time he's on the ice. He's like a sponge with the coaches and even with his teammates in wanting to learn. He's a winner too. He's proven himself. He wants to win and we need that.
I heard he described me as perfect. I'm here to set the record straight that no, I am not. Obviously no one is and I'm not myself. To prove it, I'll tell you a bad habit and that is I'm messy. I leave my stuff in the kitchen. I don't clean up much and leave stuff around the house.
So before we look forward to this season, why don't we take a quick look back at last year. By now you know I suffered a separated shoulder, broken rib, torn rib cartilage and a punctured lung. It all started in Game 4 of the Stanley Cup finals and got worse in Game 5. Then the separated shoulder happened in Game 6 and I also punctured my lung in that game. So all that happened in the span of three games.
I don't think I would have played had there been a Game 7. I don't think the doctors would have let me. Because my lung was collapsed 30 percent, I don't think I would have been able to play. Games 5 and 6, I was in a lot of pain. It just kept increasing also with getting hit, trying to hit and getting involved physically. Game 5 was very painful and I couldn't finish the game. Game 6, I got a nerve block to kind of manage the pain, but still it was there and got worse as the game went on with my shoulder. Those last two games were pretty painful.
[+] Enlarge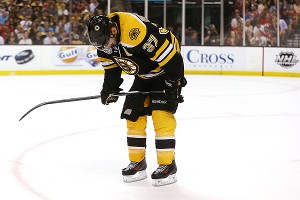 Bruce Bennett/Getty ImagesThe 2012-13 season had a painful finish, both physically and emotionally.
Getting over losing in a Stanley Cup final like we did in Game 6 took me a few weeks. At first it was tough to swallow because you work all this way and work so hard to give yourself a chance. Then you get there and you don't get it. It's hard to go through that and live with that feeling. At the same time, I was at the hospital for three or four days. I had to worry about my health first. I guess it kicked in when I got back from the hospital and I realized everything that happened. That's when I started feeling very disappointed and it was tough for a couple of weeks.
When I look back on last year's team, I am most proud of our fight and character throughout the playoffs. Game 7 against Toronto is something I will always be very proud of the way we competed and found a way to win. I think it propelled us to have the run we had. I was proud to be a part of that team and to be able to give this city something positive after everything that had happened with the tragedy at the marathon.
I had a good offseason with three big events that happened. First, I got married. The ceremony was great. It was a very small ceremony back home. It was great to have it with the people we wanted with our family and close friends. It was a fun day. My wife was worried about my health when everything happened to me, but things went along pretty good. I was able to enjoy the day without having to go through too much pain.
Second big event was signing an eight-year deal with the Bruins. It's great to be fortunate to have security. It's definitely something you look for in life. Having a chance to get that security is something that I appreciate a lot and am very happy about. I'm very thankful to be able to stay in Boston to finish my career. I am lucky and blessed that the Bruins felt the same way. I did have one big splurge item that I purchased once I got the new deal. I got a brand new car. I got an Audi R8 that's white with some black.
The third event was being invited to Team Canada player orientation camp. I had company with [
Milan Lucic
] and Marchy with me this year. It was great to have them with me but, like them, it was a first for me too as I didn't go to the orientation camp last time I went to the Olympics. It was good to see them there. It's always better when you know people when you head into camps like that. It was a fun five days.
There's something else that happened over the summer. I got my first tattoo. I spent seven hours in the chair getting it. It was long but wasn't too bad. The tattoo is a protector, like a guardian that looks after me. It says "master of your destiny" in French. You can translate it as "control your own destiny" or "master of your fate." It means to me that you have to believe in yourself. You're the only one who can dictate your future. If you believe in something and if you have dreams or something that you're aiming for, you go out there and work hard to achieve it and to get it. That's how it speaks to me. I've been thinking about getting it for a while. I wanted to have something that looks out after me and is on me and a part of me.
[+] Enlarge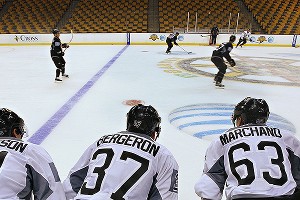 Wendy Maeda/Getty ImagesBergeron and Brad Marchand take in some of practice with new linemate Loui Eriksson (left).
Now we're here at camp and I have a new linemate in
Loui Eriksson
. I was surprised like everyone else when Tyler [Seguin] was traded. He was obviously a good player, someone that we'd created some chemistry on the ice with. But at the same time, I guess it's just the nature of the business. You can't really control these things. We have to move on since it did happen. You wish him all the best, but at the same time, I look forward to playing with Loui. I think he's a great player and a very smart player. It's going to be exciting.
We talk about building chemistry on my line with Loui and Marchy. So far it's just about talking and communicating. It's about getting to know one another on the ice and where he wants the puck and whatnot. It's just about reading off each other. You can't really change your game either. After a while, you just know where he's going to be.
Another new face here is
Jarome Iginla
. I'm pretty excited that he's with us now. It speaks volumes that he wanted to come here. He's the type of person that's a guy who wants to win. He realized we're a good team. You can't really be mad at him for the choices he made last season. [Editor's note: Iginla chose to be traded to the Penguins over the Bruins at last season's trade deadline.] He's a proven leader and winner by the way that he's played his whole career. He wants to compete every night and that's the type of team we are.
My expectations for this team this season are the same. It's about winning. We're a great team. You can't look too far ahead. We have to refocus on this year. Last year is in the past. We have to learn from what happened and obviously it gives you some extra motivation to try and get there again. We want to at least have the opportunity to get there and go from there. I think it's about taking it a game at a time. It's a long season, but I think our expectations should be high.
As for me, the ribs are still tender. It's getting a little better. I haven't seen any setbacks in the last four days. It's a good sign. My goal for myself is to try to get better every year. To me, that's my motto to go beyond my limits and try to be the best I can as long as I help my teammates and my team to win. It's not always about goals and assists for me. It's about details on the ice. I'm trying to do that.
I can't believe I am the senior member of this team. It goes by so fast. Now I can try and help the young guys coming in the way that I was helped in my first and second training camps. The last 10 years have been a blast. I learned a lot. Hopefully there are many more years ahead of me.