BOSTON -- First-line left wingers are not supposed to go 29 games without scoring a goal.
To be fair, Steve Begin has only been a part of the Bruins' top unit with Marc Savard and Marco Sturm for a little more than a week. And with just 49 goals in his career of more than 400 games entering Wednesday night's game against the Atlanta Thrashers at TD Garden, Begin isn't exactly relied upon as a sniper.
Nonetheless, when his knee deflected Derek Morris' blast from the right point 16:50 into the first period, Begin gave the Bruins a 3-0 lead, chased Atlanta goaltender Ondrej Pavelec to the bench and snapped a goal drought that had lasted since Oct. 22.
[+] Enlarge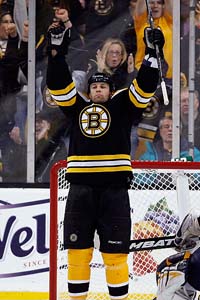 Elsa/Getty Images
It took the puck bouncing off his knee, but Steve Begin wasn't complaining after scoring his first goal in 29 games.
"It's about time," Begin said after the Bruins' 4-0 win. "It feels good too. It was an ugly one, but it doesn't say anything at the end of the season. I just went to the net, the puck hit me and it went in. I almost got a second one too on that [penatly kill]. I got surprised it got put on my stick."
Begin didn't get that second goal, but Patrice Bergeron, Marco Sturm and Byron Bitz (snapping a nine-game drought) managed to find the back of the net to give the Bruins some momentum heading into Friday's Winter Classic at Fenway Park.
Despite his lack of production on the score sheet, Begin's play hasn't floundered. When it comes to grinding in the corners and causing havoc on the forecheck, he is the Bruins' best weapon. He hasn't changed his game just because he's moved up the depth chart and coach Claude Julien wouldn't want it any other way.
"I've known him for quite a while and I know his personality and you don't have to draw him a picture," Julien said. "He knows. He's been in the league long enough and he knows what's given him success."
Begin didn't even know how long his goal-scoring drought was. After he was informed that he hadn't scored since autumn, Begin was confident he wouldn't slump that long again.
"That's why I got excited. The meter is back to zero, so I'm going to try not to go that far this time," he said.
Sizzling Sturm
After a fortuitous bounce of a Marc Savard shot, Sturm shoveled the puck into the net for his fourth goal in five games. The hot streak has followed a slump in which he failed to score in five games.
"We talked about it. It's just how it is. A couple of good bounces and it comes right to your stick. That's funny how it works," he said.
Sturm was named to the German national team for the 2010 Olympics earlier in the day. It will be his third Olympic Games.
Loose pucks
Johnny Boychuk was high-sticked in the nose by Evander Kane in the first period. The collision drew blood from both nostrils but only a single minor was called. "[Andrew Ference] passed me the puck and I couldn't see. Both nostrils were gushing," said Boychuk, who somehow avoided a broken nose & The Bruins will practice at Fenway Thursday in preparation for the Winter Classic. A few Bruins players have competed in outdoor games in the past, so they know the drill. "We need to go there and make sure we know what kind of ice we're going to skate on and most of us, most of the guys, haven't skated outside. The last time they probably played outside was when they were a kid," said Begin, who was with Montreal for the 2003 Heritage Classic in Edmonton. "It's different. So we have to make sure everyone knows what they're going to be skating on." Forward Daniel Paille played in the first Winter Classic two years ago for Buffalo. "Just getting to know the ice and the wind and weather condition there. Tomorrow is all about enjoying it because the next day obviously is all about business."