B's look on bright side of layoff
May, 28, 2013
5/28/13
4:19
PM ET
WILMINGTON, Mass. -- The
Boston Bruins
have experience when it comes to extended time off between series in the Stanley Cup playoffs, and coach Claude Julien hopes it will serve them well as they wait for the puck to drop on the Eastern Conference finals against the
Pittsburgh Penguins
.
The schedule has not been made official, as the league is waiting for the Western Conference series to conclude. But according to reports, Game 1 between the Bruins and the Penguins could be Saturday at CONSOL Energy Center in Pittsburgh. If that's the case, it would be a full week between games for the Bruins, who dispatched the
New York Rangers
with a 3-1 win in Game 5 of the conference semifinals this past Saturday at TD Garden.
[+] Enlarge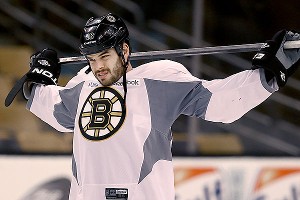 Jonathan Wiggs/The Boston Globe/Getty ImagesClaude Julien said his team had a lively, productive practice today and he's not worried about his players getting rusty. Above, Nathan Horton stretches before practice last week.
The Bruins have seen positives and negatives when dealing with long playoff waits in the past.
In 2011, the Bruins swept the
Philadelphia Flyers
in the semifinals and had to wait seven days before facing the
Tampa Bay Lightning
in the conference finals. Of course, Boston went on to win the Stanley Cup.
"Our team has matured a lot more in regards to that," Julien said. "We had a long break, too, when we swept Philly in four straight a few years ago and we handled it well. Based on today's practice, I thought we practiced really well; we had lots of energy and worked hard. The focus is still there."
During the 2009 season, the Bruins swept the
Montreal Canadiens
in the quarterfinals but had to wait nine days before facing the
Carolina Hurricanes
in the second round. Boston eventually lost that series in seven games.
"That was a lot and somehow we slipped out of it, and by the time we got back into it we were in deep trouble against Carolina. That was something hopefully we learned from," Julien said. "But right now I don't sense that, to be honest with you. I think our guys are pretty focused right now. I liked our intensity and our focus and our jump in practice today."
After Julien gave his players the last two days off, Tuesday's practice at Ristuccia Arena was a quick and intense one-hour session. When the players came off the ice, they were all dripping with sweat.
"Any playoffs, you don't have control when you're playing, so I think it's about making the most of it, and the last two days have been good for us to rest, not only physically but mentally. And now it's about getting back at it and making sure we're sharp for Game 1," said Bruins assistant captain
Patrice Bergeron
.
Since the Bruins and Penguins have been two of the top teams in the Eastern Conference in the last six years, it's amazing they haven't played in the Stanley Cup playoffs.
The fact that this series won't start probably until Saturday gives the players on both teams time to rest and recuperate. So players can see the advantages from both sides.
"It is and it isn't," said Bruins forward
Milan Lucic
. "It was kind of nice to have a couple of days off here and kind of sit back and enjoy what you've accomplished, but also look forward to what you need to do in this next series. It's something to look forward to, and I think the anticipation is going to build as the week goes along. I think the emotions are going to get higher and higher as the week goes along just because of the anticipation of getting this series started."
The Penguins actually have a longer break between games since their series against the
Ottawa Senators
concluded on Friday.
"You have to practice hard," said Bruins veteran forward
Jaromir Jagr
. "You want to rest, but on the other side you have to work really hard during the practices, almost as hard as you're going to play, so it won't be any different during the games. That's very important to be able to do it. It's not easy because it's practice, but somehow you have to push yourself to do the best in practice."
Jagr, who has 192 games of Stanley Cup playoff experience, went through a similar break between games last spring when he played for the Philadelphia Flyers. The Flyers beat the Penguins in the quarterfinals in six games and had to wait for their next opponent, the
New Jersey Devils
, to outlast the
Florida Panthers
in seven games.
"I remember last year we had the same thing, but New Jersey played seven games and I thought that was the reason they beat us," recalled Jagr. "We had one week off and we weren't ready for them, so sometimes, and I'm not saying all the time, but sometimes it's better when you play because you've got the rhythm of games. But this is different because both teams are in the same situation."