No love lost between Bruins, Canadiens
April, 30, 2014
4/30/14
5:34
PM ET
BOSTON -- Bring on the hatred.
When the puck drops Thursday night on Game 1 of the second-round Stanley Cup playoff series between the
Boston Bruins
and
Montreal Canadiens
, the entire hockey world will be watching. The NHL has been salivating over the possibility of these organizations meeting in the playoffs ever since the league implemented a new bracket-style postseason prior to this season.
[+] Enlarge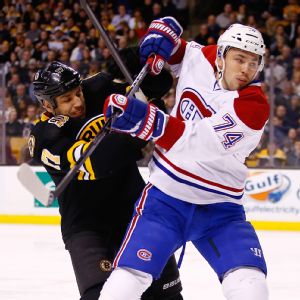 Jared Wickerham/Getty ImagesThere's only enmity between the Canadiens and Bruins winger Milan Lucic (left, battling Montreal's Alexei Emelin for position on March 24).
The hockey gods answered the league's wish. This series will be intense, emotional, exciting and should be another classic in this storied rivalry. There's no denying the disdain between the teams. Leading up to this series, players on both teams have been talking about it.
After Boston's practice on Wednesday at TD Garden, Bruins forward
Milan Lucic
was asked if he hated the Canadiens.
"Yeah, I do," Lucic said with a smile. "If you ask them the same question I'm sure they'll give you the same answer about if they hate us. It's just natural for me, being here seven years now, and being a part of this organization you just naturally learn to hate the Montreal Canadiens and the battles that we've had with them over the last couple of years has definitely made you hate them. This being the first time meeting them outside the first round, I think it's going to go up another level."
This is the fourth time since 2008 these teams have played in the Stanley Cup playoffs, and the Bruins have won the past three series. This season, the Bruins are seen as the odds-on favorites to win the Cup, and of all the remaining teams in the playoffs, the Canadiens might be Boston's biggest challenge.
While the Canadiens swept the
Tampa Bay Lightning
in the first round, Boston defeated its first-round opponent, the
Detroit Red Wings
, in five games. Detroit and Montreal play similar styles, but the Canadiens present bigger challenges for the Bruins.
"We have a lot of respect for Detroit, it was a tough series and they're a good-skating club," Bruins winger
Jarome Iginla
said. "We felt we're a good-skating club, too, and we were able to get our forecheck going and be physical and those are the same things we want to do now. Each time you [advance] we expect it to be tougher, but at the same time our focus is on the things we've done all year and want to continue doing."

That means playing physical, being strong on the forecheck and creating havoc in front of Montreal goalie
Carey Price
. Discipline will be a huge factor for the Bruins, too. Montreal has always done a solid job of getting Boston to cross the line at times. In the four meetings during the regular season, Montreal drew 17 penalties on the Bruins (versus 13 called on the Canadiens).
That emotion will only intensify this series.
"It's a longstanding rivalry and it goes back so far, so many years," said Bruins forward
Brad Marchand
, the chief agitator. "The fans love it, the media loves it and obviously we love being out against them, but we can't let that get in our way of the real goal and we need to make sure we have a really good game every time we step on the ice."
This series should come down to goaltending.
Tuukka Rask
hasn't had the best of luck in his career against the Canadiens, posting a 3-10-3 record, along with a .908 save percentage and a 2.63 goals-against average. This season, he posted a 1-2-1 record, along with a 1.94 goals-against average and a .932 save percentage in four games against Montreal.
Meanwhile, Price played only one game against the Bruins this season and posted a 2-1 win on Dec. 5 at Bell Centre. Overall, he's 17-8-3 with a 2.50 GAA and a .919 save percentage in 29 career games against the Bruins.
"The playoffs are always a new season," Rask said. "You never know who you're going to face, and if you want to be the champion you have to beat everybody. We're focused on a series at a time, and now it's Montreal and we're focused on them and trying to get our game where it needs to be in order to advance."
Bruins coach Claude Julien has been on both sides of this rivalry. He spent the early part of his coaching career in the Canadiens' organization, and coached Montreal for parts of three seasons. In Boston, he has helped the Bruins become a perennial winner and has won a Stanley Cup in 2011 and advanced to the finals in 2013 before losing to the
Chicago Blackhawks
.
This season, if the Bruins want to advance to the Eastern Conference finals, they will first need to beat their bitter rivals.
When asked if he hates Montreal, Julien said: "I hated Boston when I was in Montreal and now I hate Montreal because I'm in Boston, so hopefully that answers your question."