Mental mistakes, bad bounces prove costly
May, 12, 2014
5/12/14
11:25
PM ET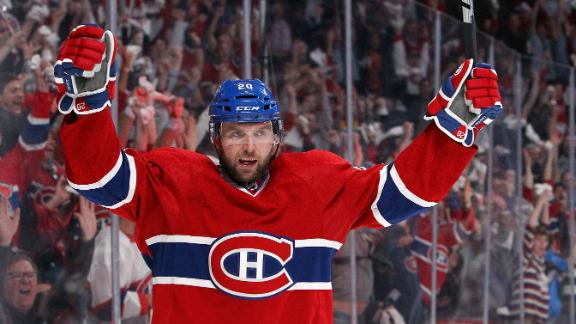 MONTREAL -- The
Montreal Canadiens
staved off elimination with a 4-0 victory over the
Boston Bruins
in Game 6 of their second-round Stanley Cup playoff series Monday night at Bell Centre.
Game 7 will be played Wednesday (7 p.m.) at TD Garden.
Once again, mental mistakes and unfortunate bounces cost the Bruins, and the Canadiens took advantage of the miscues. Montreal received a pair of goals from
Thomas Vanek
(one empty-netter), while
Lars Eller
and
Max Pacioretty
contributed a goal each. Montreal goalie
Carey Price
finished with 26 saves to post the shutout.


Game 6 opened as expected, with the Canadiens buzzing. They capitalized on a sloppy defensive play by the Bruins and gained a quick 1-0 lead at 2:11 of the first period. Boston had control of the puck behind its own net when defenseman
Torey Krug
made a backhand pass to partner
Kevan Miller
, who misplayed the puck off the boards, and it ricocheted out front. Eller collected the loose puck and beat a sprawling
Tuukka Rask
, who nearly made a spectacular save but the puck slipped under his paddle.
"It took the energy out of us when they got that goal in the first couple of minutes," Rask said.
Montreal nearly gained a two-goal lead during a mad scramble a few minutes later, but this time Rask slammed the paddle across the goal line and denied the Canadiens'
Brendan Gallagher
.
The Bruins have hit plenty of iron during this series, and it continued in Game 6. With Boston trailing to get the equalizer, forward
Loui Eriksson
's point-blank attempt rang off the crossbar midway through the opening period.
Boston made a major push in the second period to no avail. The Bruins created sustained pressure early and often. On one shift, Boston was threatening and kept the puck in the offensive zone for more than a minute when
Milan Lucic
had a quality scoring chance to tie the game but missed an open net.
After the missed opportunity, the Bruins kept pushing but still couldn't convert. Then Montreal took advantage of another defensive miscue by Boston that led to the Canadiens' second goal.
[+] Enlarge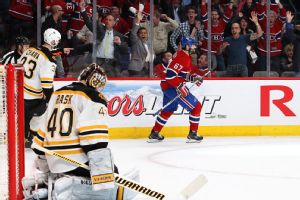 Francois Laplante/Freestyle Photography/Getty ImagesTuukka Rask and Zdeno Chara got crossed up and Max Pacioretty took advantage for the Canadiens' second goal.
A loose puck was bouncing toward Rask, and he hesitated in deciding whether to play it and got caught flatfooted when Pacioretty beat
Zdeno Chara
to the puck. Pacioretty beat Rask 5-hole for a 2-0 lead at 15:24 of the period.
"I was trying to figure out where the puck was bouncing," Chara said. "Obviously, he had position on me."
The Canadiens gained a 3-0 lead when they scored on the power play at 17:39 of the second period. With the Bruins'
Gregory Campbell
, one of the team's best penalty killers, in the box for a high stick, Montreal created a scramble in front of Rask, and he couldn't recover as Vanek pumped it in.
The bounces continued to go Montreal's way in the third period. With 8:55 remaining in regulation, it appeared Boston finally scored when a Chara slap shot was blocked but went up and over Price and landed on the goal line. Montreal center
David Desharnais
swept the puck and kept it from trickling over the line.
"I'm not taking anything away from that team, they played well tonight," Bruins coach Claude Julien said. "When you look at the first goal, they stole the puck. The second goal is a goal that probably hurt us the most because I thought we were spending a lot of time in their end and we had some great chances to tie the game, but that kind of turned the tide around. The third goal was a power-play goal.
"I didn't like the way they got their goals tonight. We could have been better in regards to that, but from our end, I thought we had more lines going tonight than we've had this whole series. We spent a lot of offensive zone time, had some chances. Again, if you hit posts and miss open nets, you've got to bury those chances and tonight they came back to haunt us."
Trailing by three, the Bruins pulled Rask with just less than four minutes to play, and Vanek scored an empty-netter at 16:04 for a 4-0 lead.
The Bruins fell to 0-5 in Game 6s on the road under Julien.