It's finally over.
The weight that is finally off the shoulders of the Boston Bruins is the 180 pounds of Phil Kessel (without pads and skates) and his contract impasse. After a summer of more trade rumors than contract talks, Kessel was dealt to Toronto on Friday night for two first-round picks and a second-round pick.
Quiet off the ice, lethal with a stick in his hand, and possessing an awesome combination of speed and a flair for the dramatic (who can forget all those shootout-clinching goals), Kessel priced himself out of Boston's plans and now he's headed to Toronto, where he'll have a chance to victimize the division rival Bruins six times a season.
[+] Enlarge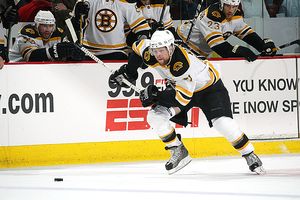 Gregg Forwerck/NHLI/Getty Images
A look at the Bruins' recent track record has to make you feel confident they made the right decision in dealing Kessel.
However, the Bruins team Kessel will be squaring off against in the next six months won't be one left wanting by his departure. If a lineup without Kessel could not contend for the Stanley Cup, general manager Peter Chiarelli would have had no choice but to make the necessary moves to his current roster to clear room for Kessel and what turned out to be a $5.4 million-per-season contract.
Just one week into camp, the Bruins already have glanced at how they're going to be able to go on without Kessel. With a healthy Matt Hunwick and a rejuvenated Derek Morris around, Boston's transition game will be improved and its power play will be even better than last season. Up front, Patrice Bergeron is looking more like his old self; Marco Sturm -- who missed most of last season after knee surgery -- has been returning to his speedy form; and David Krejci is ahead of schedule in recovering from offseason hip surgery.
The same talent evaluators who tabbed Kessel in the first round of the 2005 draft have provided the club with a solid talent pool below the NHL level, starting with 2007 first-rounder Zach Hamill, who could be ready to make the NHL leap at some point this season.
Now this isn't to say the Bruins will be better than or even equal to the team that finished second in the NHL in total goals last season. It just means there will still be plenty of offense. But when you have the stingiest defense in the league with the Vezina Trophy winner (Tim Thomas) returning to play goal, you can afford to suffer a slight drop-off in your offensive game.
Although some will say dealing Kessel without getting a player for the here and now is a tragic mistake, those folks have to look at the Bruins' stockpile of draft picks as a commodity teams are going to want when it comes time for Chiarelli to fine-tune his club during the season. By my count, the Bruins now have two first-round and three second-round picks in next June's draft. They also have two first-round picks for 2011. That's a real position of strength for Chiarelli if and when he determines he needs to bolster his crew.
There's no doubt that Kessel is a gifted offensive player who showed he could be motivated to play a three-zone game last season. He will be missed. If healthy, he's going to go to Toronto and score bundles of goals, although the predictions of 50 a year are a bit exaggerated (there have been only seven players to score 50 goals in a season since the lockout, and Kessel isn't in their class if you ignore that Jonathan Cheechoo miracle year).
The Bruins are gambling that they are a championship team even without Kessel or an equal replacement, and their recent track record says they have a pretty solid gauge on such matters. In the grand scheme, that's all that matters.