Boston Bruins netminder Tim Thomas set a new NHL postseason record for total saves (798) and recorded the most stops in a Stanley Cup finals (238). He was the epitome of cool, never appearing overwhelmed by the stage or the fact that he had put his team on his shoulders during a run to Boston's first Cup victory in 39 years, which culminated with him making 37 saves in a 4-0 triumph over the Vancouver Canucks Wednesday night in Game 7.
But after hoisting both the Conn Smythe trophy and Lord Stanley's Cup, Thomas copped to a persistent case of butterflies late in the finals.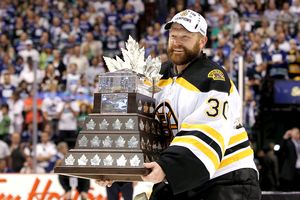 Bruce Bennett/Getty Images
Tim Thomas holds up the Conn Smythe trophy after Game 7."Yeah, to be completely honest with you, Game 6 at home," Thomas said when asked if he ever worried about losing his confidence. "Right off the opening face-off there was a guy that whacked it backhand from the outside blue line right off the opening face-off and I just lost it. It was up in the air and I went into full panic mode in my mind. Then Vancouver put the pressure on and whizzed the puck around the crease four or five different times, shot just wide. And I was on my heels there for a second, and that was the first time that I'd gotten nervous during the finals.
"So, yeah, I was scared. I won't lie. I had nerves yesterday and today. I faked it as well as I could, and I faked my way all the way to the Stanley Cup."
The 37-year-old Thomas talked briefly about his journey just to get to the NHL and admitted that, while the Cup victory ensures his legacy, he'll never stop trying to prove he belongs at this level.
"I know the game, and I know the way that it is," Thomas said. "Winning the Stanley Cup is huge. It's the biggest accomplishment of my career thus far. But everybody knows in this game that you have to continuously prove yourself. I'm sure if I were to, for example, start out the season bad next year, that I probably, with the Cup, would have bought myself a little bit of leeway. But it won't last forever unless I turn my game around."
But he can always bust out that Smythe trophy if anyone gives him too much grief.
"It's quite an honor," Thomas said. "The Stanley Cup is the biggest one. That's the one that you're shooting for. Conn Smythe is completely an honor. I just sat down here and started to read some of the names on it and it's an honor to be mentioned in the same maple leaf. Patrick [Roy], Ron Hextall, Ken Dryden, those are the three goalies that I can see on this side facing me, it's amazing."
Coach Claude Julien offered some lofty praise of his own for Thomas.
"I certainly would not think about saying anything negative about the goalies that I've had because I've had some great ones, Marty Brodeur and others," Julien said. "But Tim Thomas in these playoffs just totally dominated. That's the sign of a great goaltender. He was on top of his game from start to finish, and especially in this final round. He was outstanding every game. I know everybody expected him to have an average game at some point. Never came. He was in the zone, focused, never let anything rattle him and never questioned his style of play. What's happened to him right now is so deserving, and [I'm] so proud of him and obviously the rest of the team."