Bruins:

2013 NHL Playoffs
May, 16, 2013
5/16/13
2:25
PM ET
BOSTON -- The Bruins didn't play their best until it counted most in their dramatic seven-game series win over the Maple Leafs that propelled them into a second-round matchup with the Rangers that starts tonight. But while some are pointing out the negatives in that series and saying the Bruins need to be better against the Rangers if they are to advance, coach Claude Julien is approaching it differently.
When asked if this series is a chance for a fresh start for some of his players, Julien seemed a bit defensive and stressed the character his team showed in the first round, specifically in their miraculous comeback win in Game 7.
"It depends who you are," Julien said. "For some reason, this last series seems to have been looked upon as negative for some people. For us, it was a great character win, we're looking forward to moving ahead and we're not looking at it the way a lot of people are looking at it. It's not a chance to redeem yourself, because we're in the second round -- we don't have to redeem ourselves for anything. What we have to do here is look forward to this series and do whatever we can to move ahead. The character win that this team showed in Game 7 should be looked upon as a positive. That's the way I look at it."
One player who has repeatedly acknowledged he can be better is
Tyler Seguin
, who had just an assist in the Toronto series. While Seguin and his teammates will try to build off the momentum of that comeback win in Game 7, they realize a new opponent and series is upon them and they can't rest on their laurels.
"You try to take the momentum [from Game 7], but I think our team does really well trying to keep an even keel game to game," Seguin said. "Obviously you can't look past how much emotion was put into the last game but walking out of here [Monday] we wanted to make sure we enjoyed it but we knew that we had to turn right around here and get ready for tonight."
Seguin and the Bruins also know that they can't expect to pull off a comeback like that every game. While the Bruins have been able to dig deep, use some luck, and come back to win after tough starts, he says things would be a lot easier if they used their desperation mentality earlier in the game.
"Well, we seem to win when we do it that way," Seguin joked of the slow starts. "But of course you don't want to play that way and be inconsistent. It'd be nice to go out there and pop a couple goals in early and play our game. We need to not always get down two goals and have to fight back. I think if we can find that team that we are when we get down two goals in a game but not be down two goals, and stay consistent with that, we'll be a lot better."
May, 3, 2013
5/03/13
7:13
PM ET
BOSTON -- It's only Game 2 of the Eastern Conference quarterfinal series between Boston and Toronto, and already the Bruins are facing a bit of adversity.
The NHL announced Thursday that Bruins defenseman
Andrew Ference
would serve a one-game suspension for his illegal hit to the head of Maple Leafs forward
Mikhail Grabovski
in Boston's 4-1 win in Game 1 Wednesday at TD Garden.
The Bruins had played arguably their best game of the lockout-shortened season, a full 60-minute effort that saw contributions from everyone in the lineup. Now, coach Claude Julien will have to tweak his defensive pairings without Ference on the ice.
During the team's practice Friday morning, Julien had
Zdeno Chara
and
Adam McQuaid
together;
Dennis Seidenberg
-
Johnny Boychuk
and
Wade Redden
-
Dougie Hamilton
were the other two pairs.
Julien would not comment specifically on Ference's suspension, but the coach realizes the team has the depth to make up for the veteran's absence.
[+] Enlarge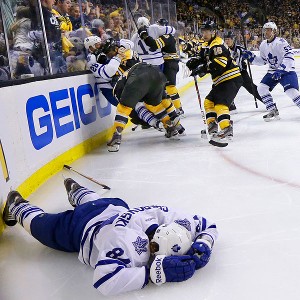 AP Photo/Elise AmendolaLeafs center Mikhail Grabovski after the hard hit by Andrew Ference on Wednesday.
No doubt Ference's actions were unjustified, and he was punished accordingly. Fortunately, Grabovski was not injured on the hit. These types of incidents are not foreign to the NHL, especially in the Stanley Cup playoffs. There's a lot at stake, and players compete with a high level of emotion. The players who handle that emotion best usually hoist the Cup in June.
"It's not easy to describe," Ference said of the charged atmosphere in playoff hockey. "It's a hard experience, and having tasted both success and defeat, you gain a lot of experience in what it takes. Honestly, I don't know how to put it into words. You prepare the same way and it's not like you completely modify [your game], it's just that time of the year. Some people embrace it, and some people hate it."
"I love it," he added.
He was first introduced to the Stanley Cup playoff experience as a 21-year-old defenseman for the
Pittsburgh Penguins
in the 2000-01 season. The Penguins, a team that featured
Jaromir Jagr
, reached the Eastern Conference finals but lost that series to the
New Jersey Devils
, 4-1.
Ference played a total of 18 postseason games that spring and produced three goals and seven assists.
"I had a wonderful playoff stretch and I was on a team with a lot of older guys, so I saw firsthand how they prepared," Ference said. "I had great teachers right off the bat, and that helped."
Ference was traded to the
Calgary Flames
before the 2003-04 season, and again that season he found himself in the midst of a special playoff run. The Flames reached the Stanley Cup finals but lost to the
Tampa Bay Lightning
in Game 7.
Ference and the Flames returned to the playoffs in the 2005-06 season, but they lost in the first round to the Mighty Ducks of Anaheim.
The Bruins acquired Ference via trade the next season on Feb. 10, 2007, and he has helped Boston reach the Stanley Cup playoffs in each of the past six seasons. His presence was one of the turning points for the Bruins en route to the franchise's first Stanley Cup championship in 39 years.
In the Eastern Conference quarterfinals against the
Montreal Canadiens
, the Bruins were trailing 2-1 in that series with Game 3 at Bell Centre in Montreal. Boston was down 3-1 in the game when Ference scored a second-period goal to cut the deficit. During his celebration, Ference made an obscene gesture to the 21,273 in attendance. (He denied it after the game, calling it a glove malfunction.) After the Bruins' Cup win over the
Vancouver Canucks
, many of Ference's teammates pointed to that moment in Montreal as a rallying cry for the Bruins.
"It's a footnote," Ference said Friday afternoon of his gesture to the Montreal fans in 2011. "It's part of the makeup of that team. It was a very emotional team. It's almost contradiction; it was a very emotional team, as far as being engaged, but it was one of the most controlled teams I've ever seen, as well. So we had explosions of emotions, but did a good job of having a cap on it -- at times. Like I said, it was a footnote of one of the many things that happened throughout those playoffs that really showed a lot."
[+] Enlarge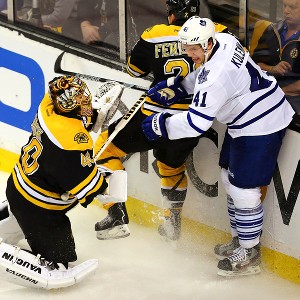 John Tlumacki/The Boston Globe/Getty ImagesFerence stepped in on Wednesday when Bruins goalie Tuukka Rask -- way out of his net in the second period -- tried to swipe at a loose puck and ended up jousting with Toronto's Nikolai Kulemin.
Now, two seasons later, Ference finds himself in more hot water after his hit on Grabovski. Ference will serve his one-game suspension Saturday night, then it'll be back to his normal playoff style of hockey.
"It's a decision the leagues makes. As a player, you deal with it, but as far as having a public opinion, I don't think it benefits any player to express any opinion about it," Ference said. "As a player, you accept it and move on to the next game."
Although Ference will be watching Game 2 from press level, the alternate captain is confident rookie Hamilton will get the job done.
"He'll be fine," Ference said. "He stepped up for his first NHL game and did great. He's stepped into every situation that he's been thrown into and did great. He's a very mature young guy, so I don't think he'll have any problem whatsoever."
Hamilton was a healthy scratch for Game 1.
"I've had my rest, and I just want to go in and help the team," said Hamilton, who is 19. "I think I've gotten a lot better as a player and I've gotten stronger over the 42 games [five goals and 11 assists for 16 points, including a plus-4 rating]. I've learned the systems, and the NHL games, and, as everyone says, the games are a lot more intense in the playoffs and I'm looking forward to that."
Hamilton likely will be paired with veteran defenseman Redden. The Bruins acquired Redden at the trade deadline, and he's been a valuable asset. He scored a goal and added an assist in Game 1 against the Maple Leafs, and he believes Hamilton will do just fine in his Stanley Cup playoff debut Saturday.
"I don't think he's being thrown in because he's played all year and has done well," Redden said. "I think he'll be excited. It's hard to believe the youth in this league, and he's not even 20 years old yet. He's got a lot of these ahead of him, but I'm sure he's excited for the first one."