September, 18, 2013
9/18/13
6:56
PM ET
BOSTON -- After Boston's top four defensemen of
Zdeno Chara
,
Dennis Seidenberg
,
Adam McQuaid
and
Johnny Boychuk
, it will be a true competition between
Dougie Hamilton
,
Torey Krug
and
Matt Bartkowski
for the final two spots on the blue line.
Hamilton, Krug and Bartkowski have all played well in the first week of camp and into the preseason exhibition schedule. But one of those three will serve as the healthy scratch once the season starts, so the competition should be intense and healthy.
"We don't have to spell that out to them," said Bruins GM Peter Chiarelli. "I spoke openly to the group about competition. I'm really looking forward to seeing the competition at all levels, at all positions.
"Common sense would dictate right now that it would be those three guys for those two spots. They've embraced it and they've played well. I thought Dougie had a good game [Tuesday night]. He was strong on the puck and made some good plays and closed well as the game progressed. Torey and Bart, the other night in Montreal, they both played well."
Chiarelli added that no spot is guaranteed, but when asked if he would be comfortable seeing Hamilton play for the P-Bruins at some point instead of watching from press level as the healthy scratch, the GM said: "My goal is to have him in the NHL."
* With two exhibition games in the books, all four goalies have each played half of a game.
Tuukka Rask
and
Niklas Svedberg
played Tuesday night against the
Washington Capitals
, while
Chad Johnson
and
Malcolm Subban
played Monday at Montreal. The latter three are competing for the backup role behind Rask.
"We're all competitive and we all want to be out there," Rask said. "I haven't paid too much attention to that yet but I'm sure as the camp keeps going further and further I'll get to practice with the other goalies and see how they're doing."
Camp has been split into two groups, so Rask has been on the ice with Svedberg all week.
"I thought he made some key saves out there," Rask said of Svedberg's performance Tuesday night. "I thought he was solid."
* Bruins forward
Daniel Paille
did not practice Wednesday, but both Chiarelli and coach Claude Julien said it had nothing to do with hockey, simply saying Paille was ill and expected back on the ice Thursday.
* While it's a possibility
Gregory Campbell
could return to game action Thursday night against the
Detroit Red Wings
at TD Garden, teammate
Patrice Bergeron
still needs more time, according to Julien, but the coach added it's a possibility Bergeron could play Saturday at Detroit.
* Rask's spirited temper is in midseason form. During the last drill of Wednesday's practice, he took a couple of shots up high and had a few goals scored on him. He stormed off the ice, smashed his stick into pieces against the boards and threw his gloves down the hallway. Afterward, he was fine, saying he's not a fan of the neutral zone scrimmage.
* The Bruins made their first round of cuts Wednesday afternoon. Camp invites Scott Campbell,
Jack Downing
, Steven Spinell and Ben Youds will join the Providence Bruins training camp, while
Tyler Randell
and
Adam Morrison
have been assigned to Providence.
June, 28, 2012
6/28/12
8:14
PM ET
WILMINGTON, Mass. -- The
Boston Bruins
agreed in principle with goaltender
Tuukka Rask
on a one-year, $3.5 million contract, Pierre Lebrun of ESPN.com confirmed Thursday afternoon via a team source.
The 25-year-old Rask will now enter training camp as the team's top goalie after
Tim Thomas
decided to forgo the final season of his contract with the Bruins and not play in 2012-13.
Anton Khudobin
, 26, is likely to serve as Rask's backup.
Heading into the NHL entry draft, Bruins general manager Peter Chiarelli acknowledged that while he and his staff are comfortable with a Rask-Khudobin tandem, there has been a renewed emphasis on adding depth between the pipes. That depth is on full display at the Bruins' development camp, which began Thursday with six goalies showcasing their skills.
[+] Enlarge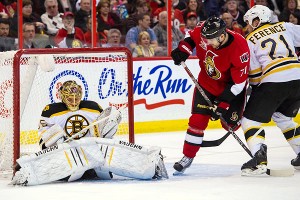 Marc DesRosiers/US PresswireThe Bruins are counting on Anton Khudobin to thrive as Tuukka Rask's backup.
"It's unique that we have six goaltenders. There's no other way to describe it, to be honest with you," said assistant general manager Don Sweeney, who has run the camp since its inception in 2007. "But I think some of that is just the timing. Peter wanted to address organizational depth in net. We feel very comfortable as to how, certainly Anton has developed in our system, and Tuukka. We're still wondering [about] the Thomas thing ... but that is for another day."
In late May, the Bruins signed Swedish free-agent goalie Niklas Svedberg. At the draft in Pittsburgh last week, they used their first selection on another goaltender in Belleville Bulls (OHL) goalie Malcolm Subban with the 24th overall pick. They also decided to invite Boston College star goaltender Parker Milner -- who is a free agent and has one more season left at the Heights after helping the Eagles to a national championship last season -- to development camp. In addition to Svedberg, Subban and Milner, goalies Zane Gothberg, Adam Morrison and Lars Volden are also attending camp. Sweeney sees nothing but positives out of the sudden logjam between the pipes.
"I think that the fact that we've created some internal competition is really healthy," Sweeney said. "Niklas Svedberg coming in with the pro experience and the successes he's had overseas, I think is going to be helpful for
Michael Hutchinson
who's trying to emerge as the go-to guy in Providence so that'll be healthy competition there. Lars will go back and play in Finland and he's made that next step to go up to the elite league there and play, so you can see the steps that each and every one of these kids go through to get to that next level and gain that experience.
"Morrison will do the same thing too, come in and push those two guys and see if he can knock them out of Providence and if not, there's the
Jonathan Quick
story that has so often been told. Go down and probably play at that [ECHL and AHL] level because the pro game is different. Milner is one, he's right in our backyard and I think it was important for us to get to know him and see whether or not that winning attitude translates to the next level. So we wanted to get to know him too."
As for the newest addition, Sweeney acknowledged how raw the 18-year-old Subban is and the work he will need to do in this camp and in the future. But Sweeney was impressed with the natural skill and passion Subban showed in his first development camp.
"The athleticism you see right away and how quick he is in the net," Sweeney said. "The next thing he'll understand is that the shooters are better at the next level as well. So, our goalie coach
Bob Essensa
will go to work on some of the things he's already seen in his game that he wants to identify and improve upon. But he competes for every puck and every save even in the first day in this environment. Most goalies don't like to be scored on and he's no different in that regard. But the athleticism I think and the push across the net is very impressive."
With Rask taking over the reins as the No. 1 goalie, some of these younger goalies may not see a future in Boston. But the Bruins still want them to reach for the stars and push through the ranks.
"I think you have to be aware of where they kind of see themselves on that trajectory as well, because some kids might look and see a roadblock there as opposed to an opportunity," Sweeney said. "I think you have to get them to understand, go through the process and dictate."
As Sweeney pointed out, if these goalies win and do their jobs where they're playing now, they will advance.
"It comes down to winning. It really does," Sweeney said. "Goaltenders can have great statistical things to back it up and it might work in an arbitration setting, but the bottom line is, it's about winning. The teams that win, I think the goaltender's a big, big part of that. I mean, I haven't seen too many Stanley Cup champions that their goaltender hasn't been either 1 or 1A at the end of the run."
The Bruins are hoping that Rask goes from that 1A to a 1 and Khudobin becomes 1A this upcoming season. But it's also clear they are looking to develop a plethora of future netminders.
Your request cannot be processed at the current time. Please check back as we will work to correct the problem as quickly as possible.
Please feel free to send us any comments or feedback.
Your request cannot be processed at the current time. Please check back as we will work to correct the problem as quickly as possible.
Please feel free to send us any comments or feedback.