April, 27, 2012
4/27/12
7:39
PM ET
BOSTON -- On Friday morning, the
Boston Bruins
cleaned out their dressing room stalls, had their exit interviews with coaches and management and headed into a summer they never expected to come so early.
Instead of practicing and preparing for the second round of the Stanley Cup playoffs, they were still scratching their heads and wondering what happened. Did the defending Stanley Cup champions really just lose a seven-game series to the seventh-seeded
Washington Capitals
?
"To be honest I woke up yesterday and even again today feeling like it was just a dream," said winger
Brad Marchand
. "It's really weird to be done so early after how far we went last year. I think we're all still pretty shocked and wondering how that happened."
[+] Enlarge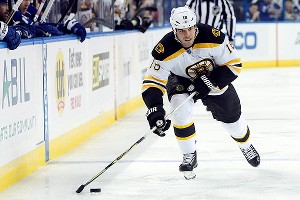 Kim Klement/US PresswireThe Bruins hope Nathan Horton makes a full recovery from his concussion in time for next season.
But it's no dream. There will be no Duck Boats rides through the streets of Boston with the Bruins hoisting the Stanley Cup and Conn Smythe Trophy for adoring fans, as the Bruins did on a hot summer day last June. The reality is the Bruins didn't become first to repeat as Stanley Cup champions since the 1998
Detroit Red Wings
.
Instead, it's time to regroup and look ahead to the 2012-13 season. On Friday, Bruins general manager Peter Chiarelli was already doing that, promising that while this team may have underachieved, he has no intentions of breaking up a core that won the Stanley Cup last June and has had only two first-round exits in the past five seasons.
"We obviously have some guys to consider whether we sign them or not," Chiarelli said. "From the makeover perspective, certainly we're not going to do anything to makeover this team. You hear me talk about the parity in this league and our first-round loss in seven games this year can be another Stanley Cup Final next year, it's that close. You saw the number of teams in the West; you kind of see the new four teams in the West and you see some different teams in the East so you just have to be prepared."
Chiarelli has seven unrestricted free agents in forwards
Brian Rolston
,
Chris Kelly
,
Gregory Campbell
and
Daniel Paille
and defensemen
Joe Corvo
,
Greg Zanon
and
Mike Mottau
. The Bruins also have two restricted free agents with goalie
Tuukka Rask
and forward
Benoit Pouliot
. Chiarelli said he intends to sign Rask, and didn't rule out Pouliot. The GM said he remains in negotiations with Kelly, Paille and Campbell. Corvo told ESPNBoston.com that he is set on testing the free-agent market and doesn't expect to be back next season. Zanon and Mottau are still very much possibilities as depth defensemen, depending on how ready the Bruins believe their blue-line prospects like Dougie Hamilton,
Torey Krug
and
Matt Bartkowski
to be.
In addition to addressing his unsigned players, Chiarelli could look for help via trades or free agency. The Bruins could add some bodies up front for depth scoring after struggling to put the puck in the net against the Capitals.
"I'd like to maybe look at a forward to bolster our top nine, but that doesn't mean I'm going to not look at signing Pouliot," Chiarelli said. "It doesn't mean we're not going to consider [Jordan] Caron up there. I just want to look at the trade market and the free-agent market. And we got a couple of good, young players coming too. We got a good defenseman that I think will challenge for a spot like Dougie Hamilton. We got Torey Krug, Matt Bartkowski, and you've seen some guys that are going to challenge but on the major change front, I'm not looking at doing anything on that front. But I would like to add some pieces."
There are two things that Chiarelli must consider as he balances his salary cap while constructing the 2012-13 lineup: 1. the expiration of the current collective bargaining agreement on Sept. 15, and 2. the health of winger
Nathan Horton
, who suffered his second concussion Jan. 22 (the first was in last year's Stanley Cup finals Game 3). After originally being diagnosed with just a mild concussion, he was never able to recover enough to return to the lineup.
"From an operational standpoint, for my perspective you throw 10 percent on your cap for summer cap accounting," Chiarelli pointed out. "There's going to be a bump in the cap by all accounts because of the growth and revenues and I have to be careful, and I have to try and look in crystal ball-gaze a little bit where we think it will end up. So I have to be cautious as far as summer additions."
Leading into the trade deadline on Feb. 27, Chiarelli was still under the impression that Horton would return shortly. The GM is on record as saying he did search for depth scoring, but there was not as much urgency since he believed Horton was coming back. On Friday Chiarelli was asked if that approach would change in the offseason because of uncertainty.
"I approach it as he's going to be back and healthy, and in a month that may change, but based on the information given now that's my approach," said Chiarelli. "Based on my observation I'm making, that's my approach. Based on what Horton has told me, that's my approach. I consider him an active player for us and when we make our assessments and when we make our decisions that's how we approach it."
So while players, fans and media alike remain stunned at the Bruins' early exit from the 2012 Stanley Cup playoffs, it appears the GM is once again remaining calm and keeping things in perspective. Chiarelli surely didn't want to be holding his end-of-season news conference on April 27. But if he didn't blow up a team that blew a 3-0 series lead to the Flyers in the 2010 Eastern Conference semifinals, don't expect him to blow up the core of a team that is only a year removed from a Stanley Cup.
February, 29, 2012
2/29/12
12:48
AM ET
BOSTON --
Brian Rolston
wore the spoked B from 2000-2004 before signing with the
Minnesota Wild
after the NHL lockout wiped out the 2004-05 season. On Tuesday, as game time neared and he pulled the Bruins jersey on once again after being traded to Boston with
Mike Mottau
on Monday, Rolston admitted he was flooded with memories of his first stint in Boston and anxiety took over a bit.
[+] Enlarge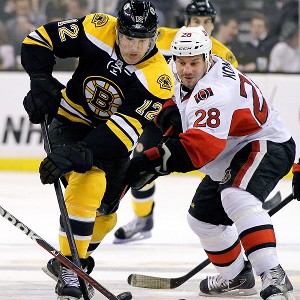 AP Photo/Elise AmendolaBrian Rolston appreciated the warm reception he received in his return to the Bruins.
"Your emotions, you're thinking about all those things all day pretty much," Rolston acknowledged after the Bruins' 1-0 loss Tuesday night. "It almost kind of exhausts you at times. I'm glad it's behind us now and we can move on and be a little more comfortable on the ice. You get a little nervous, especially coming in, but I think [Mottau] and I both got that one behind us, and we'll move on and be better next game."
Make no mistake, Rolston is very excited to be back and appreciated the warm welcome from the fans when he stepped onto the TD Garden ice.
"It was great. I'm very happy to be here. Obviously I got a warm reception from the crowd, which means a lot to me," Rolston said. "It was a lot of fun. And like I said, I got my legs under me a little bit. I hadn't skated in a couple of days, so that'll be good to get another practice in and start feeling more comfortable."
Mottau, a Quincy, Mass., native, has said playing for the Bruins was a dream come true and he was happy to get his first game under his belt.
"It was a great feeling for me early on, going out there for warmups," Mottau said. "Playing in the first game, it's good to get the first game out of the way. Disappointing outcome, but we have practice tomorrow and a lot of games this coming month."
Mottau is thrilled that those games will be meaningful and serve as a tuneup for what he, Rolston and the Bruins hope is a long playoff run.
"That's the exciting part about being traded here," Mottau said. "We kind of made a push on the Island and now the boys here are already in it. It's a change of pace, but as a group we're looking forward to it. I talked to [Rolston] quite a bit, and having the system in place, guys that have been here before and being part of this group is really exciting."
November, 15, 2010
11/15/10
5:39
PM ET
BOSTON -- Devils forward and former Bruin
Brian Rolston
says he always loves coming back to Boston, where he spent four-plus seasons with the Bruins from 2000-2004.
"It was a great time here," Rolston said after his team's skate Monday prior to its game with the Bruins. "I have so much respect for the organization and the fans here and have nothing but fond memories of my time here."
Rolston was part of two very promising Bruins squads that had Stanley Cup aspirations only to see them crushed by the team's archrival, the
Montreal Canadiens
. In 2001-02, Rolston scored 31 goals to help lead Boston to first overall in the Eastern Conference regular-season standings. But the eighth-seeded Habs upset the Bruins in six games in the opening round of the Stanley Cup playoffs.
Then in 2003-04, after the Bruins made some big trade-deadline acquisitions, landing
Michael Nylander
and
Sergei Gonchar
, and with then-captain
Joe Thornton
coming into his prime, Boston finished second in the East but once again fell to the Canadiens in seven games after blowing a 3-1 series lead.
"That was tough and I wish we could've done more with those teams," Rolston recalled. "When you have a team as good as that 2004 team was -- and that's probably one of, if not the most talented teams I've played on -- it's hard not to look back and say what happened or what if? But it's a fine line between being successful in the regular season and to be successful in the playoffs."
Rolston was an unrestricted free agent following the 2003-04 season and after the lockout in 2004-05, he signed with the
Minnesota Wild
, where he scored 30 goals or more in three straight seasons before signing a four-year deal with the Devils in 2008.
Things haven't gone as well for Rolston since then as he has only cracked the 20-goal plateau once. This season he already has missed 14 games with a sports hernia. That combined with his $5 million cap hit this season and next, along with the Devils' salary cap issues, have made Rolston a regular on the rumor mill to be traded or demoted to Albany in the AHL. The Devils' horrid start (5-10-2 entering Monday's game) hasn't helped matters either.
"It was difficult to watch and I just want to stay healthy and help the team," Rolston said. "We've still got a lot of talent here when we're healthy and hopefully we can turn it around.
"I feel like I can still produce the way I did here. But right now I'm just getting back into the lineup really after coming back from an injury, and I'm trying to get a feel for the room here and on the ice. I feel 100 percent now."
As for the trade rumors surrounding him, Rolston's dealt with that before and if a change of venue happens, he will deal with it like a pro.
"It goes with the business," Rolston said. "It's not my first time around and I've been traded before so I can deal with it. It probably weighs harder on the younger guys than on the veterans. I just block it out and just do my job. Whatever happens, happens. It's out of my control."