January, 25, 2010
1/25/10
2:32
PM ET
WILMINGTON, Mass. -- Boston Bruins center Marc Savard and forward Byron Bitz were back in Boston and had nothing to do with the team's disastrous visit to Raleigh Sunday.
That didn't excuse them from taking part in a hard-working 75-minute practice at Ristuccia Arena on Monday, as the Bruins tried to exorcise their demons after the 5-1 debacle extended their losing streak to five games.
"It seems like when it rains it pours ... but that's what it seems is happening right now," said Savard about watching his teammates struggle. "Maybe we've just got to get the first goal of the game to get going now. We've got a good week of preparation here. It was a tough day today, but at the same time we got a lot of out of it."
After the requisite odd-man rush drills and battle drills, the team skated some laps in 10-second intervals for three minutes Monday.

"It's not really a punishment, it's more we need to work our way out of this and today was an important day for us to start that," said head coach Claude Julien.
The Bruins aren't scheduled to play again until Friday night in Buffalo, where Savard hopes he'll get back into the lineup for the first time since Jan. 7, when he suffered a slight MCL tear in his knee.
"I felt great," said Savard about Monday's practice. "It was long, so that was a good test for it. I got a little tired toward the end, but I felt strong."
"I felt good skating, my hands felt good," he continued, "and hopefully this time around I can be more of a presence when I get back, too."
Savard's current injury absence is his second of the year. When he got back into action after missing 15 games with a broken foot, he sputtered a bit offensively.
"I think this time around I'll be a little bit more prepared than last time. Last time I worked hard when I was off but it'd been a long time since I was off like that," he said. "I didn't know what to expect. I thought I was going to come back in and contribute the first game, maybe put a little too much pressure on myself."
With less fanfare than the Bruins' No. 1 center is receiving, Bitz is also hoping to be back healthy for Friday night's game. He has missed the last four games with an undisclosed injury. He skated for the first time since leaving the lineup before Saturday's game for 30 minutes. He upped that to 45 Sunday and made it through the entire practice Monday.
As for the rest of the Bruins' wounded warriors, winger Marco Sturm said he's feeling better and should be back skating at some point this week. Sturm confirmed to ESPNBoston.com that he did not suffer a setback with his leg injury before leaving last Wednesday's practice early. Sturm hasn't skated since and has missed the last five Bruins games.
Steve Begin, out the last four games with an undisclosed injury, remains day-to-day and could skate at some point this week, according to head coach Claude Julien.
January, 20, 2010
1/20/10
1:05
PM ET
WILMINGTON, Mass. -- Winger Marco Sturm made an unplanned exit from Bruins practice Wednesday at Ristuccia Arena after about 45 minutes of the hour-long session.
Head coach Claude Julien said that Sturm, who has already missed two games with a leg injury, is questionable for Thursday night's game against Columbus.

Defenseman Matt Hunwick took a puck to his left eye during battle drills and was bleeding. He left the ice but returned to finish up the drill and should be fine for the Blue Jackets game.

While Sturm at least got on the ice, injured forwards Steve Begin and Byron Bitz didn't practice and remained day-to-day.
January, 9, 2010
1/09/10
12:46
PM ET
Bruins head coach Claude Juilen said that Byron Bitz (back) would miss the Rangers game Saturday and is classified as day-to-day. There's a chance Bitz could be available for Boston's game with Anaheim Wednesday.
Defenseman Mark Stuart (broken sternum) also continues to progress and is scheduled to make the team's upcoming road trip.
December, 16, 2009
12/16/09
7:39
PM ET
"We are going to have to do something. [Marc Savard] is a guy that should lead our team in points and somehow you have to get him some guys that can put the puck in the net and we have a lot of guys that are not consistent in that area."

-- Bruins coach Claude Julien, after his team's 3-1 loss to Philadelphia Monday, when asked about making line changes

WILMINGTON, Mass. -- As he does after most practices, Bruins forward Byron Bitz stayed on the ice Wednesday afternoon at Ristuccia Arena after most of his teammates had left so he could take passes and fire shots on net.


Most of Bitz's attempts at the vacated net found the mesh. Unfortunately for the second-year forward, only one of the shots that count on the score sheet lit the lamp during his nine games skating alongside Bruins star center Marc Savard on Boston's No. 1 line. Similarly, Blake Wheeler's seven-game stint as the Bruins' top left winger on a line with Savard and Bitz produced just one goal.

It seems that trio's days together are over. Coach Claude Julien made good on his threat to shake things up Wednesday during practice by switching Marco Sturm and Michael Ryder to Savard's flanks and placing Wheeler and Bitz on a line centered by David Krejci. Odds are those two units will be the Bruins' top two lines when Boston visits Chicago to start a three-game road trip Friday night.

"We talked about it and he sent a message to everybody that we've just got to bear down on the chances that we have and it seems the last couple games we had some chances but just couldn't finish," Sturm said after practice.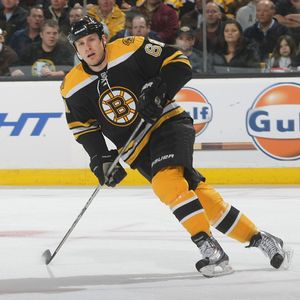 Bruce Bennett/Getty Images
Byron Bitz had just one goal in nine games playing alongside Marc Savard on the Bruins' top line.
After the loss to the Flyers, Julien was visibly frustrated with an offense that scored just twice in two games against Philly and the New York Islanders (not exactly the '90s Devils when it comes to defense). Julien talked about the need for his players to "not be content with just driving the net and getting the tip" but instead scoring the goal. While he didn't call out Bitz and Wheeler by name, Julien didn't do much to divert attention from those two players. Bitz missed a wide-open net with a tip during the Bruins' loss to Philly.

It'd be easy to say that matching Bitz, who has played mostly fourth-line minutes since ascending to the NHL last winter, with Savard was asking a little too much of a guy who hasn't displayed much finishing ability as a pro to begin with. And maybe using Wheeler, who so far in his NHL career has applied his offensive gifts enough in the trenches, wasn't the perfect choice to complete the triumvirate. But with Milan Lucic out, and Sturm and Ryder seemingly a lot more comfortable with other centers, Julien had little choice.

But other than the 7-2 win over Toronto Dec. 5, when Savard scored a hat trick, the "Savard and the second-year guys" line didn't produce the necessary results for this offensively challenged team. The pressure to score while on the No. 1 line, along with the increased scrutiny of opposing defenses, can be a lot to handle for young players like Bitz and Wheeler. But neither made any excuses after practicing with Krejci Wednesday.

"To be honest, I felt like I had a number of chances. I don't really recall too many wide-open net, backdoor tap-ins that I missed the net on. But it's part of the job," Wheeler said. "When you're playing with a guy like Savvy, you're role is to score and I think that if you asked Marc he'd say the same thing. I think if you put the onus on Bitzy and I, it's not fair because I think our line as a whole had a lot of chances. We obviously recognize that they need to go in and when they don't, you're frustrated.

"It's something that we're working on in practice more than anything, getting that puck to go in the net. We're more than capable of doing it, it's just that if it happens it happens and then I guess it'll be just an afterthought."

Bitz wasn't hanging his head.

"I did OK," he said. "I had some chances and it wasn't for lack of trying, they just didn't go in for me. So you just continue to work in practice on shooting the puck and stay with it and hopefully they go in."

Sturm (nine goals) and Ryder (eight) have greatly underperformed through the Bruins' first 32 games, but their track record argues that they're the Bruins' two best snipers, both capable of scoring close to 30 goals. That's the type of scoring the Bruins were betting on when they dealt Phil Kessel to Toronto for draft picks instead of making a deal that brought a proven scorer in return. By putting arguably his best offensive performers at their respective positions together, Julien is hoping for some lightning in a bottle.

"Both those guys are known for being able to score some goals. Although they have, they probably still haven't to the extent that we think they can," said Julien. "And I think that's probably the bigger issue right now of our hockey club, is that from that part of it we have a lot of guys that haven't scored probably at the rate they should be scoring.

"We also talked about our back end, we had better production from our back end [last year]. So it's really an overall team thing that everybody has to kind of pick it up a little bit. So in Savvy's case he's got some guys now, that hopefully if they can finish around the net, he's going to find ways to get them the puck and that helps us a little bit and hopefully the other lines contribute in some way."

With the season more than one-third gone, it's time for the Bruins' offense (26th in the NHL at 2.47 goals per game) to carry its weight, especially with the defense corps being hit by injuries and Vezina Trophy-winning goaltender Tim Thomas still trying to find his groove. As in all sports, other aspects of the game get a lot easier when there are points on the board and everyone can exhale.
Lucic on schedule
Some help might be on the way for the Bruins' forwards as Lucic is on schedule to start skating next week, according to Julien. Lucic suffered a high ankle sprain Nov. 25 at Minnesota and was predicted to miss up to four weeks.
November, 12, 2009
11/12/09
1:36
PM ET
BOSTON -- A visit to TD Garden by the Florida Panthers isn't met with the same hype that comes with Montreal, Toronto, or even Washington.
But to Bruins winger Byron Bitz, the sight of the team from South Florida brings back memories of one of his greatest nights in the NHL thus far. Last Feb. 24 in a 6-1 over the Panthers, Bitz scored twice -- his second and third career goals.
That game was punctuated by an evening-ending chant of "We Want Bitz" by the Garden faithful, who wanted to witness a hat trick.
"I'll always remember that night. It was a fun night and we had a good night and got the win, and it's something that'll stick with me always," Bitz said after Thursday's morning skate in preparation for another matchup with Florida.
Bitz had scored just once in his first 19 games, but he had earned a regular spot in the lineup by bringing the requisite tangibles of a third- or fourth-line player to the table. Despite creating some scoring chances and having little to show for it, Bitz felt his confidence building and that night against the Panthers was a culmination of that process.
"I remember a couple games before that, I was getting chances and I hit the crossbar one night. And I was kind of wondering, maybe one of these nights I'll get some breaks. And I did that night," said Bitz. "So it had been building for a while and that was one of those moments that was definitely a building block."
When the Bruins were completely healthy last spring, including for most of the playoff run, Bitz found himself scratched. This season, he's 14-for-14 as far as playing when healthy (he missed three games because of a groin injury). His confidence is continually on the rise, and you can trace that back to the night last winter when everyone "wanted Bitz."


More Marchand

Judging by the extended time that center
Trent Whitfield
stayed on the ice after Thursday's skate, it appears rookie
Brad Marchand
will be back in the lineup and Whitfield will be a healthy scratch against Florida. Tuesday against Pittsburgh, Marchand was relegated to the press box. Coach Claude Julien was quick to defuse the idea that Marchand's two ill-advised third-period penalties against Buffalo had anything to do with the winger's removal from active duty.
"A lot of people seem to think it was a disciplinary reason and it wasn't. That part we've talked about -- that fine line with his edge in regards to getting under players' skins or staying away from being under referees' skins. But that had nothing to do with my decision (Tuesday). It's more about the guy who not only can kill penalties well but can play with more intensity and create and score some goals as well," said the coach. "He's got to have the confidence to bring his whole game to this level here and do it. Sometimes when you let a guy take a step backwards it really helps him progress because he watches from up top and then he comes back and has a better idea what he needs to do the next game."
If Marchand plays, expect him to be on right wing with Vladimir Sobotka at center and Daniel Paille on the left side.