Bruins:

Carolina Hurricanes
January, 17, 2011
1/17/11
4:11
PM ET
BOSTON -- The Bruins bounced back from that tough 3-2 loss to the Penguins on Saturday in a big way Monday afternoon as captain
Zdeno Chara
notched a hat trick in a 7-0 rout of the
Carolina Hurricanes
.
Tim Thomas
got his seventh shutout of the season with 31 saves and the Bruins defense was a major factor on offense as it accounted for seven points.
The Hurricanes will try to avenge the embarrassing loss when they host the Bruins on Tuesday night.
Chara makes up for penalty with hat trick
-- After taking a slashing call that nullified a
Milan Lucic
goal at 9:15 of the first period, Zdeno Chara immediately made up for it by coming out of the box and scoring 15 seconds after his penalty ended to give the Bruins a 2-0 lead at 11:28 of the opening frame. Chara wasn't done, though, as he padded the lead to 3-0 with a power-play goal with 4:02 left in the first period and then scored another power-play goal at 14:04 to complete his first career hat trick. Chara now has eight points in his last six games.
Thomas gets another shutout
-- And the beat goes on for Bruins goalie Tim Thomas. Thomas made 31 saves to get his second shutout within the last week and seventh of the season. Thomas didn't really face too many quality scoring chances but when called upon he got the job done. He is clearly the leading Vezina Trophy candidate as the all-star game approaches.
Bruins lighting lamp and defense chipping in
-- The Bruins have been generating plenty of offense lately with 20 goals in their last four games. One of the major factors in this recent offensive outburst has been that the defense is chipping in. On Monday, the blue line accounted for seven points. Zdeno Chara had a hat-trick,
Adam McQuaid
had two assists,
Dennis Seidenberg
had an assist and Steven Kampfer also had a helper.
Stuart and Lucic return
-- The Bruins got a boost to the lineup Monday with defenseman
Mark Stuart
returning from a broken finger and Milan Lucic coming back from an undisclosed injury. For Stuart, it was his first game since Dec. 7 and he didn't miss a beat, as he scored his first goal of the season to give the Bruins a 1-0 lead at 7:56 of the first period. Lucic almost had a goal in his first game back after a three-game absence when he beat Hurricanes goaltender
Cam Ward
at 9:15, but the goal was waved off due to a Zdeno Chara penalty. Lucic did register on the score-sheet, though, as he got a helper on Zdeno Chara's third goal of the game.
Bergeron keeps rolling
-- If there are any injuries to the already-elected all-stars, Bruins center
Patrice Bergeron
should get the nod as a replacement. Bergeron had two points with a goal and an assist Monday and now has 10 points in his last seven games and 21 points in his last 16 games. Bergeron leads the team with 36 points with 15 goals and 21 assists.
Ryder riding high
--
Michael Ryder
has the hot stick right now. On Monday, the Bruins winger stretched his goal-scoring streak to three games as he scored his 14th of the season 2:24 into the final frame. Ryder is not only scoring right now but he is forechecking and skating, and that's why he is finding the twine.
McQuaid making case to stay in lineup
-- With Mark Stuart returning to the lineup Monday and
Andrew Ference
expected to come back either Tuesday in Carolina or Thursday back home against Buffalo, there will be an odd-man out on the blue line soon. Known for his rugged play, Adam McQuaid is showing he can do more than just knock bodies around and drop the gloves as he did with Troy Brodie at 14:40 of the third period. McQuaid had two helpers Monday and now has three assists in his last three games. Claude Julien will have a difficult but welcome decision to make when Ference returns.
Ward pulled as shutout streak against Bruins ends
-- The last time Cam Ward came to town, he stoned the Bruins with 37 saves in a 3-0 shutout. Ward actually carried a shutout streak into Monday's game but that was quickly snapped at 106:00 when Mark Stuart scored 7:56 into the game. Ward then let a Milan Lucic shot by him at 9:15 that was waved off and then a Zdeno Chara goal at 11:28. That was enough for Canes coach Paul Maurice to determine it just wasn't Ward's day as he was pulled in favor of
Justin Peters
.
Recchi reaches another milestone
-- It seems like every game reporters need to check the notes and stats sheet to see what milestone
Mark Recchi
is reaching. On Monday, the "Recching Ball" reached another one as he surpassed
Larry Murphy
for seventh all-time in games played with 1,616 games played.
November, 26, 2010
11/26/10
4:31
PM ET
BOSTON -- The
Boston Bruins
played their annual noon matinee the day after Thanksgiving, and when it was over, it was the
Carolina Hurricanes
who were thankful.
The Hurricanes scored three power-play goals en route to a 3-0 victory at TD Garden. It was the first time this season the Bruins have allowed three PP goals. They entered the game having killed off 18 straight man-advantages.
The Hurricanes'
Jeff Skinner
,
Tuomo Ruutu
and
Jussi Jokinen
each had a power-play goal. Boston goaltender
Tim Thomas
suffered only his second loss of the season, dropping his record to 11-2-1. It was the first shutout of the season for Carolina goaltender
Cam Ward
, who made 37 saves.
The last time the Bruins allowed three power-play goals in a single game was against the
Montreal Canadiens
on April 9, 2009.
IF IT WORKS:
Bruins coach Claude Julien decided to tweak his lines a bit late in the team's last game, a 3-1 come-from-behind victory over the Panthers Wednesday in Florida, so he kept them that way against the Hurricanes.
Patrice Bergeron
was back on the top line, centering
Milan Lucic
and
Nathan Horton
.
David Krejci
was between
Blake Wheeler
and
Michael Ryder
.
Gregory Campbell
centered
Brad Marchand
and
Mark Recchi
, while
Tyler Seguin
was in the middle between
Daniel Paille
and
Shawn Thornton
.
With the Bruins trailing by two goals in the third, Julien changed things up a bit, flip-flopping Paille and Marchand on their respective lines.
BIRD FLU:
The Bruins were without the services of rookie forward
Jordan Caron
due to the flu. He has 3 goals and 4 assists for 7 points in 19 games, along with a plus-4 this season. Paille was inserted into the lineup against the Hurricanes. A turnover by Paille during a shorthanded bid late in the first period led to Carolina's first goal of the game, a power-play tally at 19:44 to give the Hurricanes a 1-0 lead. After the goal, Paille was clearly upset and slammed his stick on the ice.
REX WORTHY:
Bruins forward Mark Recchi, who is the oldest player in the NHL at 42, reached the 1,500-point plateau Wednesday against the Panthers at Florida. During a TV timeout at the Garden on Friday, a brief tribute was shown on the video board, recognizing Recchi's accomplishment. In a classy move, players on both benches stood and banged their sticks against the boards. Recchi stood and waved his stick to the fans.
"At this stage of his career, I don't think he's playing so much for the money," Julien said prior to the game. "I honestly feel he's playing for the love of the game, because he enjoys being around the players and wants to continue to play as long as he can."
UP NEXT:
The Bruins travel to Atlanta to face the Thrashers on Sunday evening (5 p.m.). Boston then plays at Philadelphia on Wednesday in its first meeting with the Flyers since the Bruins' devastating implosion during the Eastern Conference semifinals last May.
April, 10, 2010
4/10/10
4:52
PM ET
BOSTON -- Now that the Bruins have clinched a postseason berth with a 4-2 victory over the
Carolina Hurricanes
on Saturday at TD Garden, Boston still has one regular-season game remaining against the Capitals tomorrow in Washington.
Where the Bruins finish in the Eastern Conference standings can still change.
The Bruins currently occupy the sixth playoff spot in the Eastern
Conference with 89 points and can finish no lower than seventh in the standings. The Bruins can finish sixth if Montreal loses tonight to Toronto. If the Canadiens beat the Maple Leafs, the Bruins will need a win or overtime loss against the Capitals to finish sixth.
The team has a 5 p.m. flight to Washington, and Bruins management will pay close attention to that Montreal game before making decisions on tomorrow's lineup.
Boston goaltender
Tuukka Rask
has become the go-to guy in the net for the Bruins and it'll be interesting to see whether he plays tomorrow against the Capitals or if coach Claude Julien decides to give the rookie a rest and goes with veteran
Tim Thomas
.
Also, does Julien give certain players a rest? It all depends on the Canadiens.
"As an organization we want to finish as high as possible," said Julien. "We'll have to wait and see here and do what's right for the organization and for our team."
April, 10, 2010
4/10/10
4:25
PM ET
The Bruins currently occupy the sixth playoff spot in the Eastern Conference with 89 points after beating the
Carolina Hurricanes
, 4-2, Saturday at TD Garden. Boston can finish no lower than seventh in the standings and will finish sixth if Montreal loses to Toronto tonight. If Montreal wins tonight, the Bruins will need a win or overtime loss against Washington tomorrow to finish sixth.
April, 10, 2010
4/10/10
3:36
PM ET
OUTCOME:
The
Boston Bruins
have earned a postseason berth in this season's Stanley Cup Playoffs with a 4-2 victory over the
Carolina Hurricanes
at TD Garden.
Daniel Paille
,
Blake Wheeler
and
Steve Begin
all netted shorthanded goals on the same penalty in a span of 1:04 to lead Boston to victory.
Milan Lucic
contributed an empty-net goal.
SPECIAL TEAMS:
Fortunately for the Bruins, their penalty-killing unit accomplished what the power play couldn't. Boston scored three shorthanded goals, while the power play remains in hibernation. The Bruins have failed to score on the power play in the last seven games and is now 0 for their last 22 while on the man advantage.
SAVE OF THE GAME:
Doesn't go to a goalie this time. The Bruins'
Patrice Bergeron
received a much-deserved standing ovation from the sellout crowd at the Garden when he saved what could have been the game-tying goal only three minutes into the third period. With a delay penalty, Boston goaltender
Tuukka Rask
was on the bench for the extra attacker when the puck ricocheted off the board in the Carolina end and trickled all the way back into Boston's zone. The puck was heading for the center of the net when Bergeron hustled back and prevented the six ounces of vulcanized rubber from crossing the goal line. The play was reviewed but it stood as no goal.
UP NEXT:
The Bruins close out the regular season at noontime on Sunday against the Capitals in Washington.
April, 10, 2010
4/10/10
3:00
PM ET
BOSTON -- The Bruins appeared to have scored their first power-play goal in seven games with 1:36 remaining in the second period when
Patrice Bergeron
knocked in a loose puck.
That wasn't the case.
Hurricanes goaltender
Cam Ward
had stopped a shot from the point, but couldn't hold on to it as it trickled off to his right side. Just as Bergeron was ready to put it in, the referee whistled the play dead. After two periods, Boston is now 0 for its last 20 on the power play.
April, 10, 2010
4/10/10
2:24
PM ET
BOSTON -- The Bruins' anemic power-play unit (0 for its last 19) just got a huge boost from its sibling.
Boston's penalty-killing unit has scored three shorthanded goals -- all on the same penalty -- against the
Carolina Hurricanes
this afternoon.
With Bruins defenseman
Matt Hunwick
in the box to start the second period, Boston's
Daniel Paille
,
Blake Wheeler
and
Steve Begin
all netted shorthanded goals in a span of 1:04.
Boston entered the game with only three SHG all season. The Bruins last scored a pair of shorthanded goals on an opponent's power play on Jan. 9, 1985 against Toronto.
April, 10, 2010
4/10/10
12:25
PM ET
BOSTON -- Before the Boston Bruins can even think about the playoffs, they need to get there first.

The team can clinch a postseason berth in the Stanley Cup Playoffs if it earns one point in its final two games, today against the Carolina Hurricanes or tomorrow at Washington. Only one point separates the remaining four teams still in the hunt for the final three spots in the Eastern Conference. The Bruins and Canadiens are tied with 87 points with Boston in the sixth spot having played one less game than Montreal, which is in seventh. The Flyers and Rangers are tied with 86 points with Philadelphia holding the eighth position over New York by a 40-38 advantage in wins.

"We're not there yet, but this is an opportunity for us to control our own destiny," said Bruins coach Claude Julien. "It's not going to get any easier after tonight, so I think it's important for us to be ready."

As expected, rookie goaltender Tuukka Rask is in net for Boston. He has played in 14 of the last 15 games (11 starts) and is 7-4-1 during this stretch.

Don't expect Julien to give some sort of legendary pregame speech to his players because he feels they know what the deal is.

"Everybody knows what's at stake here," he said. "Our team has competed hard in the last little while. Basically, we need to stay the course and try to improve in those areas we're trying to improve on. We definitely want to keep going in the right direction and that's us being more consistent and obviously competing hard."

M*A*S*H UPDATES: Bruins defenseman Mark Stuart continues to battle an infection in his hand and there's no timetable when he'll be able to return, according to Julien. Stuart has been receiving medial attention on a daily basis. It was first thought he could be back in two weeks, but the team doesn't know at this point. Stuart hasn't been able to workout due to the infection.

* Julien also made it clear that the team is not holding Andrew Ference (groin/hernia) out of the lineup. The veteran defenseman simply isn't ready to play. "He's just not ready and for us to put him in now would be a very high risk and definitely prudent or the right decision to make."

* Bruins defenseman Dennis Seidenberg, who had surgery earlier in the week to repair a lacerated tendon in his forearm, is out for at least three weeks. He's sporting a cast on his left arm and will need to keep it immobilized for the next three weeks.
March, 16, 2010
3/16/10
11:07
PM ET
It's not necessarily how you start, it's how you finish. That was certainly the case for the
Boston Bruins
as they finished their seven-game road trip with a decisive 5-2 victory Tuesday night over the
Carolina Hurricanes
.
[+] Enlarge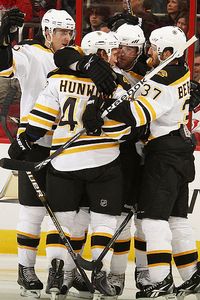 Scott Pilling/NHLI/Getty ImagesWith the victory, the Bruins moved three points clear of the Rangers for the eighth spot in the Eastern Conference.
The win gives the Bruins a 3-3-1 record on the trip as they return home to face the
Pittsburgh Penguins
on Thursday at TD Garden.
Boston is hanging onto the eighth and final playoff spot in the East with 13 games remaining in the regular season.
The Bruins dominated the first and third periods against the Hurricanes, as Boston was able to get pucks to the net, took advantage of turnovers and received solid goaltending en route to victory.
Key to the game
: Scoring early was a major factor for the Bruins. Boston was able to carry over its late-game momentum from Monday's 3-2 loss to the Devils. A strong forecheck resulted in the Bruins' first goal just 23 seconds into the game when
Patrice Bergeron
tipped home a
Dennis Seidenberg
shot from the point for a 1-0 advantage. That early goal set the tone.
Biggest concern:
In the waning minutes of the game, Bergeron was drilled on the inside of his right knee by a
Mark Stuart
slap shot. It was obvious Bergeron was in pain and was taken to the locker room. X-rays taken at the RBC Center came back negative and it's believed Bergeron only suffered a bruise. He's been solid all season, especially of late with
Marc Savard
out of the lineup with a concussion, so losing Bergeron for any length of time could have a detrimental effect on the Bruins' playoff hopes.
Defense equals offense:
After the Bruins completely dominated the first 20 minutes of the game, the Hurricanes were equally as good in the first 10 minutes of the second period. Boston's defense stepped up at both ends of the ice to stifle the Hurricanes attack and resulted in a Bruins goal. Carolina produced a quality scoring chance with a 2-on-1 break but it was broken up by Boston defenseman
Matt Hunwick
. The Bruins quickly transitioned and finished the play when defenseman
Johnny Boychuk
jumped up into the play, took a pass from Hunwick and beat Carolina netminder
Manny Legace
to the 5-hole to give Boston a 2-0 lead.
Special teams
: With the Bruins holding a 1-0 lead in the first period, Carolina had two men in the penalty box as Boston had a two-man advantage for 1:41 but the Bruins were not able to capitalize. Boston had another man advantage soon after and again couldn't score. The Bruins were able to sustain pressure in the offensive zone during the power play, but couldn't light the lamp. Boston went 0-for-4 on the power play and will need to improve in this area down the stretch.
Saves of the game:
It's tough to pick just one for Bruins goaltender
Tuukka Rask
, who finished the night with 30 saves. He came up big time and again.
His first big save came midway through the second period with the Bruins holding a two-goal lead. Carolina was on the power play and had a quality scoring chance before Rask stopped
Joni Pitkanen
with a blocker save, then Rask flashed a pad save on the rebound, stopping
Ryan Whitney
.
The Hurricanes did convert a power-play goal on the same man-advantage to cut their deficit to one.
Rask came up huge again early in the third as the Hurricanes began the period on the power play. Rask made a point-blank save on
Jussi Jokinen
and the stop turned into a goal as Bruins winger
David Krejci
grabbed the rebound and fed
Mark Recchi
, who was just stepping out of the penalty box. The veteran raced in and beat Legace to the short side to give Boston a 3-1 advantage.
Up next:
Unless you've been living in the penalty box, you know exactly whom the Bruins play next -- the Pittsburgh Penguins. Pittsburgh's
Matt Cooke
dealt Savard a grade 2 concussion on a blindside hit on March 7 in Pittsburgh. Cooke did not receive a penalty on the play and was not suspended by the league for the hit. Savard most likely is lost for the season. As much as fans want to see retribution, the Bruins desperately need the points. It will be interesting to see how it all plays out.
October, 2, 2009
10/02/09
5:07
PM ET
WILMINGTON, Mass. -- Other than goaltender Tim Thomas, no one on the Boston Bruins had a better view of Scott Walker's game-winning overtime goal in Game 7 of last spring's Eastern Conference semifinal series with Carolina than Patrice Bergeron and Dennis Wideman.
One would figure that watching replays of Walker batting the rebound of Ray Whitney's shot into the back of the net to end Boston's season would be a painful experience, but Bergeron found it was impossible to avoid. In the days after the game, the goal was shown over and over on the local news.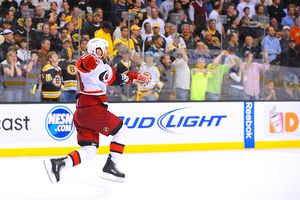 Brian Babineau/NHLI via Getty Images
Carolina's Scott Walker celebrates after ending Game 7 of last season's Eastern Conference semifinals -- and the Bruins' season.
Bergeron, known for his courage, didn't wear out his remote control trying to avoid the pain.
"I was watching it, and it was tough," Bergeron told ESPNBoston.com after Friday's practice at Ristuccia Arena. The teams reunite Saturday night at TD Garden.
The agonizing memory is enough for Wideman without ever watching the replay.
"You think about it for a while," he said, "but I wasn't sitting at home on my couch haunted. Obviously it was upsetting. But there's always going to be a time, unless you win the Cup, you're going to lose every year. Guys play 20 years without winning [the Cup].
"Obviously to get the chance to play them again right away after the first game of the season, it's kind of nice."
Although Saturday night's contest is just Game 2 out of 82, it obviously has more meaning, particularly for the fans, because of the way last season ended. Walker, who many thought should have been suspended (rather than just fined) after he laid out Boston's Aaron Ward with a punch late in Game 5 of the playoff series, sent the Bruins home a lot earlier than the top-seeded team in the Eastern Conference expected. Not that Boston should need any extra motivation after its lackluster loss to Washington in Thursday's season opener.
"If anything, we can feed off the fact that they're the ones that knocked us out," said Shawn Thornton."So, we should have a little bit of a burr coming into this. It wasn't that long ago, that's for sure. I sat here all summer and heard about it. It's tough to forget."
Thornton was vocal in his displeasure over Walker's punch last season and even hinted during the playoff series that retribution might come this year. But now that Ward and Walker are teammates with Carolina, it makes little sense for Thornton to dole out any punishment. For obvious reasons (fines and suspensions, if you're not familiar with how the NHL operates), Thornton declined to comment on the situation with Walker. But the Garden crowd surely wouldn't mind some fireworks.
"There's always that sense that this is the team that pushed us out," said coach Claude Julien."At the same time, we have to look a little further and look at ourselves better and what we need to do to win hockey games more than the revenge. It's got to be a little bit of both, but the focus should always be on your team."
Julien said that he hasn't watched Game 7 in its entirety but has looked at that final play. While it was the type of goal that no amount of coaching or better defensive positioning could've prevented, Julien thinks his players can learn from it.
"It's more of making guys realize that any time you put a puck on the net, anything can happen," said Julien. "But you've got to get net drive. We keep telling guys, this is not about trying to be pretty here. It's about doing it and doing it right and putting pucks on the net and outworking, outhustling. This is how they scored that winning goal, they threw it at the net and a guy driving the net, out of the air, pushes it in."
October, 1, 2009
10/01/09
5:17
PM ET
Let's get this out of the way right off the top.
Carolina defenseman Aaron Ward sees no purpose in Boston Bruins forward Shawn Thornton or anyone in a black-and-gold sweater exacting any type of revenge on Hurricanes tough guy Scott Walker Saturday night at TD Garden during the first meeting between the teams that staged a classic seven-game conference semifinal series last season. Walker flattened Ward, then a Bruin, with what many Bruins felt was a "sucker punch" in Game 5 of the conference semifinals last season.
Ward and Walker became teammates when the Bruins dealt the veteran to the Canes on July 24.
"It's irrelevant at this point. So much has changed in terms of the makeup [of the teams]," Ward told ESPNBoston.com by phone earlier this week. "If you're deciding to make a statement by sticking up for a teammate, I'm not a teammate anymore. I think both teams have taken on a new face. So I think it would be a waste of time to do anything about it. And to be perfectly honest, it would serve no purpose.
"There is nothing for him to do. For him [Thornton], I respected him as a teammate. He's got a lot of skill. He should just go out and play the game and let it happen, let the game come to him -- not think about it."
Much to the disgust of Ward and his Boston teammates, Walker was let off with only a fine following the Game 5 incident last spring. Walker went on to score the overtime game-winner in Game 7, and then -- ironically -- Ward was traded to Carolina two months later. Ward and Walker buried the hatchet long ago. They even sat down for a TSN interview together earlier this week.
"We joked that we had to draw straws to see who would sit in the other's lap," Ward said.
Beyond the Walker sideshow, it should be an emotional return -- both for the former Bruins blueliner and the Boston fans -- Saturday night. During his 2½ years with the Bruins, Ward endeared himself to Boston fans with his gritty play and determination on the ice and his charisma with the media, including his frequent television and radio appearances. Ward personified the resurrection of old-school, hard-working Bruins hockey as much as anyone. But in an effort to upgrade the offensive dynamic of his back end, general manager Peter Chiarelli wanted to import Derek Morris. In order to add Morris, someone had to be traded to clear cap space, and Ward was dealt to Carolina, where he won a Stanley Cup in 2006 and still makes his offseason home.
"It's a little weird. As much as it's the same group of core guys, you don't want to step into the locker room and become vocal. There's a balance, so it's a process," Ward said about fitting back in with the Canes.
Ward isn't the only 2008-09 Bruin now skating in a Canes sweater. Stephane Yelle joined Carolina in August as an unrestricted free agent when he signed a one-year, $550,000 deal. As in Boston and every other place he's played, Yelle is killing penalties and playing a vital role on Carolina's lower lines.
"He's doing great. He's fitting in on the team real well," Ward said. "You play with that guy and until you start seeing him in games, you really don't know what intangibles he brings to the table. He has a natural inclination to block a puck with his face. … He has total disregard for his own safety. … He's a bargain. He's one of these guys that I shake my head that in the economics of the game, he had to take a pay cut. His experience, what he brings to the table, you start to wonder how he got in the position that he did.
"When it came time to sign him, I was the first guy to grab a soapbox and jump on it and laud the benefits of having Stephane Yelle as a teammate."
We won't know until Saturday night what type of reception Ward will receive when he takes the Garden ice in enemy garb. Nor do we know how he'll react, although days before the game he was certain he'd be able to keep it together and approach it as just another game in his 17-year pro career. But anything could happen.
"The other funny thing is you're there and you're very familiar, you're fresh off that team and all of the experiences were great and you went through a lot with that team," Ward said. "So it'll be interesting. I'm sure I'll learn a little bit about myself and how I felt about that experience."