March, 7, 2013
3/07/13
1:13
PM ET
BOSTON --
Boston Bruins
general manager Peter Chiarelli announced that the team has placed forward
Chris Bourque
on waivers.
Other teams have until noontime Friday to make a claim on Bourque. If he clears, the Bruins will assign him to the Providence Bruins, where he played during the NHL work stoppage earlier this season.
Bourque participated in the Bruins' morning skate Thursday at TD Garden in preparation for Thursday's game against the
Toronto Maple Leafs
. After the skate, Bruins coach Claude Julien said he expected lineup changes after two straight losses. With Bourque out, veteran forward
Jay Pandolfo
will be in the lineup.
In 18 games with the Bruins, Bourque has one goal and three assists for four points, while posting a minus-6.
February, 12, 2013
2/12/13
4:56
PM ET
BOSTON -- Last season, the Bruins' normal third line of
Benoit Pouliot
,
Chris Kelly
and
Rich Peverley
combined for 46 goals, with Kelly leading the way with 20 lamplighters. It was welcome scoring depth for the Bruins, as the line depended on for their defensive play gave opponents another threat to worry about. But with Pouliot traded to Tampa Bay in the offseason and
Chris Bourque
now on the left wing and still trying to find his way, the third line has yet to find its stride offensively. Kelly hasn't scored yet, and Peverley and Bourque have just one goal each.
But while the trio is trying to kickstart their offense, Kelly believes they're at least getting better at what they're counted on for, and that's keeping the other team off the scoreboard.
"Our line was to contribute more offensively and I think we're getting better with generating more time in the offensive zone," Kelly said. "I think we've been pretty good in our own end. The offense will come, but when it's not there, you need to do other things throughout the game that helps the team. Right now, I think we're doing those little things that are helping the team."
Kelly acknowledged, though, that just like the media and fans, he and his linemates expected to generate more offense by now. But they said they must be careful not to force it at the expense of letting up on their defensive game.
"It's a fine line not pushing it and not getting away from our game," said Kelly. "I think we're a defense-first team and especially our line is too. We don't want to give up on our defensive part of the game to cheat to get some offense. When you're not contributing like you have in the past, the tendency is to do that. But at the end of the day, that doesn't help the team."
Coach Claude Julien didn't seem too worried about his third line, and pointed out that players are still shaking off rust after the lockout.
"They started with a new player again, and Chris [Bourque], as you know, has been feeling his way through," Julien said. "Also, 'Kells' [Kelly] probably hasn't had the start he had last year. He had a really good start last year where he scored a lot, and that'll come. I think you look at how that line is getting more chances now, and Peverley's getting some really good looks, and I think it's just a matter of time before that line starts to produce. There's lines that will start producing a little bit more, and we'll be a better team down the road, but there's still some guys that aren't at the peak of their game, and that can be said about every player on every team in the league, around the league. Not everybody's going at 100 percent yet."
February, 2, 2013
2/02/13
10:25
PM ET
The
Boston Bruins
' goal during this lockout-shortened, 48-game season is to avoid consecutive losses, especially when they're playing a string of games like this week's stretch of four games in six nights.


The Bruins were able to avoid back-to-back losses with a 1-0 win over their Northeast Division rival the
Toronto Maple Leafs
Saturday night at Air Canada Centre. Boston had lost to the
Buffalo Sabres
7-4 on Thursday night at TD Garden.
With the victory, Boston finishes the week with a 3-1-0 record.
Boston's
Chris Bourque
scored the lone goal of the game at 8:54 of the first period. He crashed the net with reckless abandon and scored his first goal as a Bruin. His goal celebration was similar to the one his father, Ray, used to employ during his Hall of Fame career.
Bourque was a healthy scratch Thursday against the Sabres. Linemates
Rich Peverley
and
Chris Kelly
assisted on the goal.
[+] Enlarge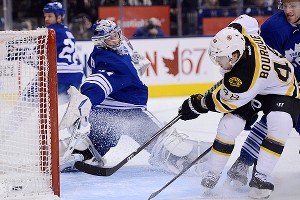 AP Photo/The Canadian Press/Frank GunnChris Bourque made Bruins fans, and presumably father Ray, proud on Saturday.
"I'm just happy to contribute," Bourque told NESN's Naoko Funayama during the first-period intermission. "Pevs and Kelly made a hell of a play, and I just put it in the net."
After ungodly defensive breakdowns during the Sabres game, Boston played soundly in all three zones against the Maple Leafs. Boston goaltender
Tuukka Rask
earned his first shutout of the season with 21 saves.
The Bruins' penalty kill has been solid all season and it needed to be once again in the third period on Saturday. With Boston holding a 1-0 lead, defenseman
Dennis Seidenberg
was called for interference at 11:24. The Bruins killed off that penalty, but
Tyler Seguin
was called for slashing at 17:35 with just more than two minutes to play in regulation. Toronto pulled its goalie for a two-man advantage, but the Bruins stifled the Maple Leafs' attack and held on for the victory.
Boston continued its dominance over Toronto. After sweeping the six-game series in 2011-2012, the Bruins are now 7-0-0 in their past seven meetings against the Maple Leafs. Also, Boston is 24-5-5 in the past 34 games against Toronto. At Air Canada Centre, the Bruins are 13-2-3 in the past 18 games.
INJURED:
Bruins forward
Brad Marchand
fell hard into the end boards behind the Toronto net late in the second period and was clearly shaken up on the play. He skated to the bench on his own and was able to finish the period. When the third period began, however, Marchand was not on the bench and did not return for the remainder of the game. It appeared to be a left shoulder injury.
Gregory Campbell
played the final 20 minutes of regulation in Marchand's spot alongside
Patrice Bergeron
and Seguin.
WAVED OFF:
With the Bruins holding a 1-0 lead with 8:28 remaining in the first period, it appeared as though the Maple Leafs had tied the game when defenseman
Cody Franson
rifled in a shot, but it was disallowed as the referee called goaltender interference. The Bruins were also denied a possible tally when Seguin was called for incidental contact with Toronto goaltender
James Reimer
at 6:30 of the second period.
[+] Enlarge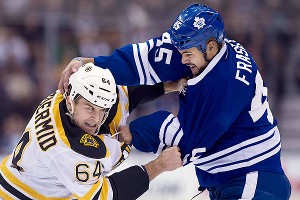 AP Photo/The Canadian Press/Frank GunnLane MacDermid proved adept at dropping the gloves, taking on Mark Fraser twice.
HOMETOWN BOYS:
A pair of Bruins rookies played in front of their hometown fans as
Dougie Hamilton
and
Jamie Tardif
made their Air Canada Centre debuts Saturday night. Their respective paths are quite different. Hamilton, 19, was Boston's top draft choice (ninth overall) in the 2011 draft. Tardif, 28, has spent the majority of his eight-year pro career in the AHL. He's spent the past two seasons with the P-Bruins, and he was recalled from Providence late Thursday night to make his NHL debut against the Leafs. Given his long road to the NHL, his Bruins teammates wanted Tardif to lead the team out prior to the game.
MERLOT-LESS:
Without the presence of Thornton (concussion) and
Daniel Paille
(upper body) in the lineup, Tardif and
Lane MacDermid
served as the wingers for centerman Gregory Campbell.
TEAM TOUGHNESS:
With Bruins enforcer
Shawn Thornton
back in Boston resting from a concussion he suffered in a fight with the Buffalo Sabres'
John Scott
last Thursday at TD Garden, MacDermid was more than willing to drop the gloves for Boston Saturday night. At 2:42 of the first period, the rookie went toe to toe with
Mark Fraser
in an even bout. The two went at it again at 15:21 of the second period, only this time MacDermid got the best of Fraser.
UP NEXT:
After four games in six nights, the Bruins finally get a decent break. The team will have Super Bowl Sunday off before being back on the practice ice Monday and Tuesday in preparation for Wednesday's game against the
Montreal Canadiens
at Bell Centre in Montreal.
January, 31, 2013
1/31/13
3:53
PM ET
BOSTON -- Bruins forward
Chris Bourque
was one of the last players off the ice Thursday, and it was pretty clear and later confirmed by coach Claude Julien that Bourque would be watching the Sabres-Bruins battle at TD Garden from the press box as a healthy scratch. Bourque has gone pointless in his first six games with the team that his Hall of Fame father, Ray, played for.
When asked on Thursday what was wrong, the answer was pretty simple: "I'm not scoring," Bourque said with a smile.
Bourque racked up 93 points for the
Washington Capitals
' AHL affiliate the Hershey Bears last season, and had shown promise in Providence with 28 points in 32 games. The Bruins are hoping he'll provide an extra scoring punch to the third line with
Chris Kelly
and
Rich Peverley
, or boost the power play. Neither has occurred thus far, and Bourque thinks he may be putting too much pressure on himself.
"I don't know if it's the pressure that I'm putting on myself ... I just want it to happen so bad," Bourque said. "I always put a lot of pressure on myself and when I'm not producing the pressure mounts. I just need to stop thinking about it so much and go out there and play. When I was racking up those points I was just going out there and having fun and playing my game. Right now it's not fun and I need to just focus and maybe stop being so hard on myself."
Julien agreed that Bourque, who, at 27, still hasn't found a way to stick at the NHL level, has let the pressure seep into his game.
"I had a good talk with Chris this morning," said Julien. "I think he's putting a lot of pressure on himself right now, certainly not the Chris that we know. I've seen him enough to know that he's a really good skater, he's a really good playmaker, but I think right now he's putting way too much pressure on himself. Hopefully, we can help him through that and once he takes that extra weight off his shoulders you're going to see a player that can certainly be a much more efficient player than he's shown so far."
Bourque did joke, though, that if he has to be a healthy scratch, tonight's Adams Division battle between the Sabres and Bruins was a good time for it.
"I'm thinking this is a good one to sit out for a guy my size," the 5-foot-8 Bourque said. "I'm guessing the only guy I may be able to take would be [Nathan] Gerbe."
January, 25, 2013
1/25/13
2:11
PM ET
BOSTON -- When the
Boston Bruins
host the
New York Islanders
tonight at TD Garden, it will be the first time the Bruins'
Chris Bourque
and the Islanders'
Keith Aucoin
will play against each other in the NHL. The two are close friends and were teammates in the AHL for the Hershey Bears, and won two Calder Cup titles together.
They stood in the hallway between locker rooms Friday morning and caught up on things.
Even though the 34-year-old Aucoin is eight years older than Bourque, the Massachusetts natives have had similar pro careers, always having to prove they weren't too small to play in the NHL.
"He's worked hard," Aucoin said. "To get the chance playing with the Bruins where his dad played, and grew up watching, I'm sure it's a great experience for him. He deserves it and I'm happy for him."
The two dominated at the AHL level when both were in Hershey, especially on the power play. Now that both are trying to remain in the NHL with their respective teams, their friendship won't vanish just because they're playing against each other.
"We became friends fairly quickly and he's definitely a player I looked up to when I was playing with him," Bourque said. "He makes the game look so easy. He's such a good passer and such a good playmaker, he usually doesn't get the credit he deserves.
"Being out there against him will be fun," he added. "He's a great guy and he deserves everything that he's getting."
Aucoin expressed similar sentiments.
"It's going to be weird," he said. "He can be a little rat out there and he's not going to play like he's my friend. I'm sure we'll have fun with it, but he'll play hard, I'll play hard and hopefully we don't play against each other too much."
January, 19, 2013
1/19/13
1:03
PM ET
BOSTON -- Rookie defenseman
Dougie Hamilton
is not the only player making his
Boston Bruins
debut Saturday night at TD Garden.
Chris Bourque
, son of former Bruins legend and Hall of Famer
Ray Bourque
, will don a No. 48 Bruins sweater tonight against the
New York Rangers
.
During his one season as a Boston University Terrier, Bourque played in the Beanpot on Garden ice in 2005, but the only professional game he has played here was an exhibition game when he was a member of the
Pittsburgh Penguins
in 2009.
"I'm happy I'm on this side now," Bourque said.
He's also trying to treat this like any other game. He'll take his normal game-day nap before coming to the rink.
"I'm really looking forward to it but I'm trying to treat it as normal as possible because you don't want to get too high or too low," Bourque said. "I'm just trying to stay focused and only worry about the things I can control out there and just play my game."
When asked how many friends and family will be in attendance tonight, Bourque said: "Too many to count. I'm not too worried about that. I talked to my dad late last night and they have a crew up from Montreal and friends and family from around here. I know my dad has a box, and I've got a couple of tickets to give out to a couple of buddies of mine, so it'll probably be close to 30, maybe 40. I'm sure I'll know some other people in the crowd."
Bourque played 32 games for the Providence Bruins during the lockout and now that he's with the Bruins, the crafty forward has an opportunity to stick with the team on the third line with
Chris Kelly
and
Rich Peverley
.
January, 15, 2013
1/15/13
12:15
PM ET
BOSTON --
Chris Bourque
is no stranger to the
Boston Bruins
locker room at TD Garden. He basically grew up in the old FleetCenter while his father, Ray, was the captain of the Bruins.
On Tuesday, following the team's morning skate, Bourque sat in the Bruins' locker room as he prepares to don the hometown sweater in the annual Black & Gold intersquad game tonight at the Garden.
The 26-year-old forward has a solid chance of making the team, and he's been lined with
Chris Kelly
and
Rich Peverley
during camp this week. If he does make the team, Bourque will wear No. 48.
He chose that number because it represents his two favorite Bruins of all time -- Bobby Orr and
Cam Neely
.
"Two legends right there," Bourque said. "I've rarely seen that number before, but it's starting to grow on me and I really like it. Hopefully it sticks. When I came here I really didn't have too much of a choice, but it's kind of a unique number. Growing up my favorite player was Cam Neely. I even liked him more than my dad because I was a forward and Cam was a forward. He's just one of the best Bruins of all time."
Other former Bruins who have worn No. 48 include
Graeme Townshend
(1990-1991),
Jozef Stumpel
(1992),
Fred Knipscheer
(1994-1995),
Steve Staios
(1996-1997),
Randy Robitaille
(1997),
Joe Hulbig
(2000-2001),
Chris Kelleher
(2002),
Jay Leach
(2006) and
Matt Hunwick
(2008-2011).
January, 14, 2013
1/14/13
5:36
PM ET
WILMINGTON, Mass. -- It's rare to say a pro hockey player is getting his last shot at age 27, but that's how Bruins hopeful
Chris Bourque
(who turns 27 on Jan. 29) is approaching Bruins training camp this week. After being drafted 33rd overall by the
Washington Capitals
in 2004 and then playing just 33 NHL games in six pro seasons since, the son of former Bruins great and hockey Hall of Famer
Ray Bourque
realizes this may be his last chance to stick with an NHL club.
"What I do with this opportunity is up to me," said Bourque, who was acquired by the Bruins last May. "I just want to run with this and keep going and not look back. This is a big moment in my career where I really think I have a chance to crack a lineup, and hopefully I can and I stick. This is probably the best opportunity for me given the role I'll have and playing with guys like [Chris] Kelly and [Rich] Peverley on the third line, they're such good hockey players that it's going to hopefully be an easy transition to take that spot and I gotta get it done."
Bourque admittedly has always been an offense-first type of guy, and he showed he has the skills to play that type of game with a 93-point season in Hershey of the AHL last season. But if he wants to make this Bruins team, he has been told that he will need to be a better two-way player and fill the vacant left-wing slot on the third line. He will get some power-play time, as he did at practice Monday, but he knows he has to be a more complete player in order to remain in Boston.
But for Bourque, knowing his role is making things easier this time around.
"When someone tells you right away what your role is, it makes it a lot easier," Bourque said. "You don't have to always ask 'What do you want me to do here' or ask yourself if you're doing the right thing and then maybe hesitate. I know what they want me to do and it's just up to me to do it."
Bourque, who had 28 points in 32 games with Providence this season, is thrilled to be playing with versatile players such as Peverley and Kelly, as well as simply being part of a forward group he believes is one of the best in the NHL.
"They bring a little bit of everything," Bourque said of Peverley and Kelly. "They're both really good skaters. Peverley can really shoot the puck and Kelly is such a smart player. Both of them got 20 goals last season and it really shows you the depth this team has. This team can score and is one of the best in the league. Even the fourth line seems to always have the puck in the offensive zone and that comes from hard work. That's what I plan on doing to fit in is work hard like them."
But while playing with Kelly and Peverley will be a great experience should he make the team, there's no doubt what the biggest thrill of all will be: putting on a Bruins uniform just as his dad did for 20-plus seasons.
"It's an honor," Bourque said of wearing the spoked 'B'. "It was a dream come true when I got traded here, and to know I would get a chance to pull this jersey over my head. I really take a lot of pride in being a Bruin. I grew up wanting to be a Bruin and it seems pretty close to becoming a reality. I grew up going to the old Garden and now I really have a chance to make this a reality."
January, 9, 2013
1/09/13
2:54
PM ET
According to Mark Divver of the Providence Journal,
Boston Bruins
assistant general manager
Don Sweeney
attended practice for the organization's AHL affiliate, the Providence Bruins, and informed players of their invite to Boston's upcoming training camp.
Forwards
Chris Bourque
, Ryan Spooner,
Lane MacDermid
, and Jamie Tardif, along with defensemen
Matt Bartkowski
and David Warsofsky, were invited to camp.
Bruins camp is expected to begin Sunday at Ristuccia Arena in Wilmington, Mass.
May, 26, 2012
5/26/12
6:30
PM ET
The Bruins have acquired forward
Chris Bourque
, the son for Bruins legend
Ray Bourque
, from the
Washington Capitals
in exchange for center
Zach Hamill
, the teams announced.
Bourque, 26, whose father played 21 seasons on the Bruins blue line, registered 93 points (27 goals, 66 assists) in 73 games with the Hershey Bears of the AHL this past season. In 33 career NHL games with Washington and the
Pittsburgh Penguins
, he has one goal and three assists. He is scheduled to become an unrestricted free agent on July 1.
Hamill, who was drafted eighth overall by the Bruins in 2007, had eight goals and 13 assists in 41 games with Providence of the AHL this season and had two assists in 16 games with Boston. He had 139 points in 256 games with Providence.