November, 20, 2010
11/20/10
11:30
PM ET
BOSTON -- When your father is the vice president of hockey operations for the NHL, and he's involved in a scandal with one of your teammates, it can't be an easy situation to handle.
But both
Gregory Campbell
and
Marc Savard
have been true professionals, while Colin Campbell is being criticized for e-mails he wrote three years ago in which he called Savard "a little fake artist."
When those e-mails became public recently, Savard made it a point to reach out to his newest teammate.
"I've talked to Soupy, he's a great kid and we have no hard feelings against each other," Savard said after finally practice with the team Saturday morning as he continues his rehab from post-concussion syndrome. "I can't wait to get back and play with him and get that opportunity."
Campbell scored his second goal of the season for the Bruins in their 4-3 loss in the shootout to the
Los Angeles Kings
on Saturday night at TD Garden. Afterward, Gregory Campbell spoke with a small group of Bruins beat writers about the situation that involves his dad and his teammate.
"It shows a lot of professionalism on his part," he said of his conversation with Savard. "Savvy and I, there's been no problem at all. He's been great and I support Savvy 100 percent. That situation is totally separate from him and I, and my place on this team. My job is to play and help this team. I support Savvy 100 percent."
Gregory Campbell had not talked about the situation until Saturday night. Meanwhile, he's been playing extremely well despite the distractions.
"It's my job. I support Savvy and the situation [post-concussion syndrome] that's going on with him," he said. "When that [
Matt Cooke
hit] happened, he wasn't my teammate, and now he's my teammate. I'm thrilled to be playing with a player like that."
Campbell also has his dad's back.
"I support my dad as well," he said. "He has a tough job and is put in a tough position on every call. But at the end of the day, the job that he does and the job that I do are completely different worlds. I have to focus on playing hockey."
This isn't the first time the league's top disciplinarian has been criticized, but Gregory Campbell is used to dealing with it and he won't let his father's position effect the way he plays the game.
"It's something I've dealt with my whole life," he said. "I choose to play hockey. Nobody forced me to play hockey, and it comes with the territory. I do my best to try to block that stuff out and focus on what's really important. None of that stuff, in my mind, is important. We have hockey games to win here and that's the important thing."
This time around, however, it's a little bit different.
"When somebody in your family is getting attacked it's not easy," he said. "I support him and I support the decisions he makes. They're not my decisions, but he's pretty thorough at what he does. He has a lot of passion and a lot of pride and he works hard at what he does. For him to take it on the chin like he has, he's in a tough position, but that's the job he chooses to do. He expects the criticism that comes along with it.
"I think, in a situation like this, it's more important to be supportive of both sides."
Gregory Campbell said he'll allow this situation to pass, and in the meantime, he's focused only on doing his job.
When asked if he has talked with his father about this situation, Campbell said: "We try to separate that stuff. He's supportive of me, too. When it comes to my career, my game, he enjoys watching me just like any other dad does. I'm in a different world right now -- he's up in Canada and I'm sure there are a lot of things, a lot of heat on him. To be honest, I've tried to ignore what's going on. It's really not my place to get involved in that kind of stuff."
November, 20, 2010
11/20/10
3:18
PM ET
Boston Bruins forward Marc Savard (post-concussion syndrome) rejoined his teammates on the ice for Saturday's morning skate, and afterward did his best to defuse a recent situation with NHL vice president Colin Campbell.
STORY
.
October, 3, 2010
10/03/10
8:40
PM ET
When forward
Gregory Campbell
was traded to the Bruins this offseason, he was excited to be coming to a team that has Stanley Cup aspirations and could help him reach the playoffs for the first time. But there were some bittersweet feelings because Campbell would be playing in front of Boston fans who, well, let's just say who aren't too fond of his father.
"I don't expect a warm reception at first until I show them what I can do on the ice and that I'm excited to be here," Campbell said last month at captain's practices prior to training camp.
[+] Enlarge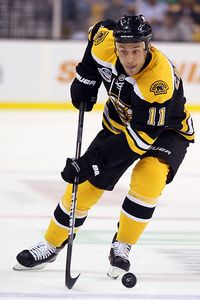 Elsa/Getty ImagesNew Bruin Gregory Campbell hopes Boston fans don't hold his father's disciplinary decisions against him.
Last March, Campbell's father, Colin, the NHL's senior vice president and director of hockey operations and the league's principal disciplinarian, decided that the open-ice hit by Penguins forward
Matt Cooke
to the head of Bruins center
Marc Savard
did not warrant a suspension. Savard suffered a Grade 2 concussion from the hit, missed nearly two months before returning for the Eastern Conference semifinals series against the Flyers, and is still suffering post-concussion symptoms, leaving his status for this season unclear.
That incident was one of the main factors behind the NHL unanimously approving a rule this past offseason prohibiting "a lateral, back-pressure or blindside hit to an opponent where the head is targeted and/or the principal point of contact."
Gregory Campbell, who was dealt with
Nathan Horton
from Florida for defenseman
Dennis Wideman
and first-round draft pick, said he already has received some jeers he figures are the result of the Savard-Cooke incident, but he's rolling with it.
"Yeah, I've heard it a bit already but it's no big deal," Campbell said with a laugh prior to leaving with his team for Europe; the Bruins open the season with two games against Phoenix on Saturday and Sunday in Prague. "I'm used to this so it's all good. I understand that that's my father's job and I've got a job to do as well. It doesn't effect how I feel for him or the situation I'm in. It really has nothing to do with me, but sometimes people forget that. It's OK."
The elder Campbell feels for his son because he realizes it's inevitable that their jobs will intertwine. As his son pointed out, his father's job has affected him and sometimes fans and opposing players forget that Gregory isn't the one making the disciplinary decisions.
"Doing this job hasn't been a pleasant experience as a hockey player for Gregory. I realize that and I know it's tough for him," Colin Campbell said. "He's gotten lots of flack over my decisions and the things I do so, I feel bad from that aspect. It's totally separate and it's got nothing to do with him, but he certainly feels it because we're related. There are positive aspects to this, but there can be negatives."
The positives the elder Campbell alluded to are the positive influences growing up in hockey can have.
"There are kids who grow up in hockey and I think they have an inside track on making it because they know what it takes to make it," the elder Campbell said. "They're around the dressing room and they see the work the players are participating in.
"When I was coaching the Rangers, my son used to live in the dressing room and hang out with the trainers. He would see everything that goes and needs to go on to be an NHL player and survive at this level. He went on road trips with me. He saw the energy and the dedication that the players need and understood what the life was like being the son of a coach -- he was too young to remember me as a player -- and I think that's reflective in all the players that have had similar upbringings."
Colin Campbell was an assistant coach for the 1993-94
New York Rangers
, who gave the Big Apple its first Stanley Cup since 1940. Gregory had the pleasure of riding in the victory parade through Manhattan and it's something both he and his dad will treasure forever.
"That was a special memory for both of us," said Colin Campbell. "It was great for Gregory to experience that at such a young age. He got to see the ultimate reward for an NHLer and that sticks with you."
As far as not suspending Cooke last March effecting his son's career, "The Sheriff," as he is known around the league, expressed some regret over the incident.
"For the most part, 75 percent of the players we're dealing with are repeat offenders and that was probably the aggravating part about the Savard situation was that Cooke was a repeat offender and you wish you could've found some way to nail him, but it was hard," Campbell said. "That's why the rule has changed. There were some aspects to that incident that just weren't right and that's why it initiated a rule change."
Campbell said the Savard-Cooke decision was one of his toughest he's made and one on which it was hard to remain objective.
"It's hard because when you deal with something like that from my position, you're supposed to move on to the next case. But I'm also a father and I've seen Gregory go through that, getting concussed twice recently," Campbell said. "I also coached Marc Savard when he came into the league and trust me that was one of the more difficult ones to decide on."
To prevent conflict of interest issues, in the event the Bruins or any of Gregory's current or former teams is involved in a potential disciplinary incident, NHL vice president of hockey operations
Mike Murphy
takes the case. Such was the case last season, when
Mike Richards
laid a blindside hit to the head of Panthers forward
David Booth
. Murphy didn't see enough evidence under the rules to suspend Richards, just as Colin Campbell ruled in the Savard-Cooke incident.
Colin Campbell hopes neither situation arises again.
"That's the point of the new rule and you hope the players respect that and each other," the disciplinary czar said.
Campbell the proud father also hopes that Gregory can make fans forget the actions of his father by being the player the Bruins saw when they traded for him. He also believes that fans may be surprised by his son's offensive potential. Gregory Campbell led the Kitchener Rangers to the 2003 Memorial Cup with 15 goals and 23 points, and his dad thinks that skill is ready to emerge in the NHL.
"He's a great two-way player and he's very good defensively, but that's probably osmosis because I was a defenseman and I won't lie, I was no Bobby Orr," the former NHL blueliner said with a laugh. "I always projected that to be a strength for Gregory, but he still has some offensive flair."
March, 17, 2010
3/17/10
2:28
PM ET
NHL senior executive vice president of hockey operations Colin Campbell will be in attendance when the Boston Bruins host the Pittsburgh Penguins Thursday night at TD Garden to ensure the game does not get out of hand.

Why?

Because the last time these two teams played on March 7 in Pittsburgh, Penguins' Matt Cooke issued a hit on the Bruins' Marc Savard that resulted in a Grade 2 concussion. Savard is likely lost for the remainder of the season, while Cooke was not suspended for the hit.

Campbell appeared on NHL Live Wednesday afternoon and spent almost 15 minutes talking with hosts Rob Simpson and Stan Fischler about the league's attempt to crack down on hits to the head.

Simpson, a former Bruins rink side reporter for NESN, asked Campbell why he would be attending Thursday's game in Boston, and where he would be sitting.

"I'll be sitting on the Boston bench," Campbell joked.

"Anytime we have things like this, we do some things to ensure that hopefully things don't get out of hand, and they do what they have to do and keep things civil," added Campbell.

Is that possible?

The Bruins have received a ton of backlash for not retaliating on Cooke after the hit on Savard. Campbell will likely speak with each team and coaches before Thursday's game.

In another reflection of the league's concern over what might happen Thursday night, a veteran officiating crew has been assigned to work the game: referees
Stephen Walkom and Bill McCreary and linesmen Brian Murphy and Tony Sericolo.

Walkom is a former NHL director of officiating and McCreary is one of the longest-tenured refs in the league.

Last updated: Thursday, March 18, 10:30 a.m.