July, 11, 2014
Jul 11
12:38
AM ET
WILMINGTON, Mass. -- Hockey can be equated to a classic Disneyland ride.
"It's a pretty small hockey world," Boston College forward and Massachusetts native Ryan Fitzgerald said Thursday after skating in the second day of Bruins development camp, "to be this far down the line and still be playing with kids that I played with when I was 10."
It's been a common occurrence for the Bruins in the last several years.
Boston has drafted a Massachusetts-born player in each of the last three drafts. The organization hasn't really seen a bumper crop of New England-born players from the region's secondary schools since the period from 1984 through 1992 -- a span that also happens to coincide with what many view as the zenith of high school hockey in Massachusetts.
Many of the recent draft picks have ties to the team. Both Fitzgerald and Ryan Donato, this year's second-rounder, have fathers (Tom and Ted, respectively) who donned the spoked B. Charlestown native and current Boston University defenseman Matt Grzelcyk, who was selected out of the United States National Team Development Program in the third round in 2012, is the son of John Grzelcyk, longtime member of the "bull gang" at TD Garden.
In addition, the Bruins drafted defenseman Robbie O'Gara out of Milton (Massachusetts) Academy in the fifth round of the 2011 draft. Although O'Gara is a native of Long Island, he and 2013 fifth-rounder Wiley Sherman (Hotchkiss School/Greenwich, Connecticut) add further New England roots.
All are in attendance at development camp this week.
"I think half the guys here are from Massachusetts," Providence Bruins head coach Bruce Cassidy quipped after Thursday's skating session.
It underlines one of two recent trends in the Bruins' draft philosophy.
In the same years the organization has increasingly pulled from its backyard, the Bruins are also looking to Sweden. Boston has taken five players from the country's junior ranks in the last two years, headlined by the Bruins' first picks in each of those years -- 2014 first-rounder David Pastrnak and 2013 second-rounder Linus Arnesson.
The Bruins also have beefed up their presence in the area, adding former fan favorite
P.J. Axelsson
as a European scout, in addition to Svenake Svensson, who also is based in Sweden and has been with the team for 24 years.
It points to the evolving nature of hockey at home and across the pond -- one that has brought two schools of philosophy closer together.
"I think the game's becoming more centralized," Cassidy said Thursday. "The North American game has gone more toward the European game -- with puck possession and the way the lineups are filled out. And the European game has moved a little bit toward the North American styles. Some of these Swedes that are coming over here and they're gritty, they're hard on the puck, they're hard to get the puck from, they compete for it, whereas in years past you might not have said that."
It should come as no surprise that the Bruins' assistant director of amateur scouting is a local as well. Scott Fitzgerald, brother of
Tom Fitzgerald
and uncle to Ryan, is part of the brain trust that has charted a course to familiar waters.
"It's pretty special putting on the black and gold, but it's awesome to be able to do it with a couple of Mass. guys as well," Ryan Donato said Thursday. "It shows how good Mass. hockey is. I think it just shows that Mass. hockey is getting better."
There might just be a symbiotic relationship to hockey in the area. For all the rinks and hockey careers Bobby Orr inspired, the same might be able to be said of the Bruins' most recent Stanley Cup victory.
"You watch [Donato's] family realize how exciting it is, both Ryans for that matter [Donato and Fitzgerald], and Grizz's [Matt Grzelcyk] family is a great story," Bruins assistant general manager
Don Sweeney
said on Wednesday. "They weren't drafted because of the story, but the best part about it is they get to add another chapter. And if they do go on to fulfill their dream, then it becomes that much better, that much more rewarding for everybody involved because the Bruins are part of the fabric of this community."
While tight-knit, there are six degrees of separation sometimes in the hockey community.
Despite growing up in the same state, having fathers who played for the same team and being separated by only a couple of years in age, the younger Donato and Fitzgerald had never met until joining the team at Ristuccia Arena this week. The centers have more in common than not. Besides their first name, they share the same outlook regarding the name on the back of their sweaters.
"He'll probably say the same thing, we've had it our whole life," Ryan Fitzgerald said about the pressures of growing up in an NHL family. "It's something that we've dealt with. We don't feel that much pressure to be honest with you."
Donato reflected on the impact he and his fellow local Bruins could have on the younger generation. It's also possible that Massachusetts could produce next year's overall No. 1 draft pick in Chelmsford's Jack Eichel -- a former teammate of Donato's at the youth level -- in addition to several potential first-rounders in a rich draft class.
"Little kids will look up to them and a bunch of the guys here and want to be like them," Donato said. "That's a pretty special thing."
A world of hockey that's pretty small, after all.
July, 10, 2014
Jul 10
5:15
PM ET
WILMINGTON, Mass. -- David Pastrnak's experience in the United States has consisted of a trip to Philadelphia for the NHL Draft and a visit to Massachusetts this week for Bruins development camp.
But the 18-year-old native of the Czech Republic is making his case to stay in North America. In fact, the Bruins' first-round draft pick might not have any choice in the matter for some time. He told reporters on Thursday that he lost his passport.
His agent told him that he might have "lost it on purpose" in an attempt to stick in Boston.
At 6 feet and 173 pounds, it's a bit premature to imagine this year's 25th overall selection sticking in Boston, but he's turned heads in his two-day stint thus far.
"He's fast, he plays at a very high rate of speed," Bruce Cassidy, the head coach of the Providence Bruins, said after Thursday's camp session at Ristuccia Arena. "He's got great one-on-one ability, body control. He's a high-end skill player. It's hard to evaluate his overall skill at this point, obviously, because it's mostly one-on-one, but you can see why he's a high pick."
[+] Enlarge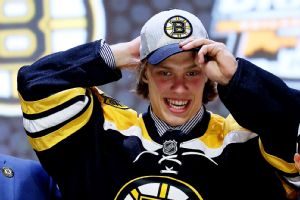 Bruce Bennett/Getty ImagesDavid Pastrnak has already impressed Providence Bruins coach Bruce Cassidy at development camp. "He's got great one-on-one ability, body control. He's a high-end skill player," said Cassidy.
Pastrnak played in 36 games with Södertälje (SSK) in Sweden last year, posting eight goals and 16 assists with its Allsvenskan (juniors) league squad. He also was a part of the Czech Republic's bronze-medal-winning U-18 team at the Ivan Hlinka Tournament. Pastrnak made the move to the Swedish junior ranks for the 2012-13 season after playing with AZ Havirov in his homeland.
"There is a time when I changed my game," Pastrnak said of his time with SSK. "I think I'm a two-way forward now. It's important, you have to be a two-way forward if you want to make not just the NHL but any big league."
The decision came with much debate, after considering coming to play junior hockey in North America. Pastrnak said the move away from home was difficult enough and admitted to being home sick.
If he'd come to North America earlier, Pastrnak added, "They would have crushed me here."
Another benefit to playing in Sweden -- and aiding his potential move to the Americas -- was Pastrnak learning a new language. He took it upon himself to learn English, in order to talk with this teammates.
There's another part of Pastrnak's game that translates as well.
"If you can skate, you can play anywhere," he said.
While Pastrnak's raw skill is apparent, he's only begun his physical development.
"You're playing against men -- violent, angry men a lot of nights," Cassidy said of life in the NHL.
However, the Bruins are depleted in a category Pastrnak can satisfy: right-hand-shot forwards. And that, in addition to his eye-popping skill that had him ranked fourth among European skaters in the NHL Central Scouting's midterm report last year, could bolster his odds to stay.
"That's an area of need," Cassidy said of the Bruins' depth on the wing, "so he has that going for him as well."
Pastrnak wasn't looking past this week's camp.
"It's hard to say, you never know," he said of his chances for making the big club out of the chute.
"I just want to show them they made the right decision.
June, 28, 2014
Jun 28
3:19
PM ET
The
Boston Bruins
made five selections in the 2014 NHL draft this weekend at Wells Fargo Center in Philadelphia.
The Bruins selected forward David Pastrnak in the first round (No. 25 overall), forward Ryan Donato in the second round (56th overall), forward Danton Heinen in the fourth round (116th overall), forward Anders Bjork in the fifth round (146th overall) and defenseman Emil Johansson in the seventh round (206th overall).
[+] Enlarge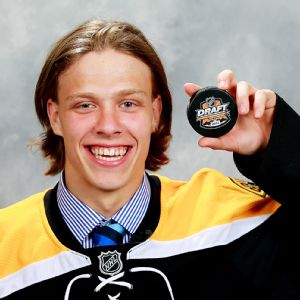 Jeff Vinnick/NHLI/Getty ImagesFirst-rounder David Pastrnak headlines the Bruins' 2014 draft class.
"It's unbelievable," Pastrnak told reporters in Philadelphia. "I was getting nervous after every pick more and more, and I'm really proud that Boston believed in me, and they picked me and I like them. They're a good organization and great people."
Pastrnak, 18, is a 6-foot, 198-pound Czech native who played for Sodertalje SK in Sweden the past two seasons. In 38 games this past season, he posted eight goals and 16 assists for 24 points, including a plus-7 rating.
Chiarelli told reporters it's likely Pastrnak could return to Sweden for another season.
"I don't mind him staying there another year," Chiarelli said. "We'll have to sit down with the agent."
Keith Gretzky, Boston's director of amateur scouting, compared Pastrnak to
David Krejci
, the Bruins' top-line center and a fellow Czech native.
"I believe that," Gretzky told reporters. "He plays hard. He competes on the puck. He's not going to run over guys, and that's one thing that we love. He can handle the puck. It's something nice -- at pick 25 -- that we got. We're excited."
Added Gretzky, "He competes, and he's got skill, and we thought we needed some more skill. He handles the puck real well, he protects the puck real well, and he's full of energy. You gravitate to him."
In the second round Saturday morning, the Bruins stayed local and selected Donato, an 18-year-old Boston native. In 1987, the Bruins drafted his father,
Ted Donato
, who is now the head men's coach at Harvard, in the fifth round (98th overall), and he eventually played nine seasons for the Bruins.
[+] Enlarge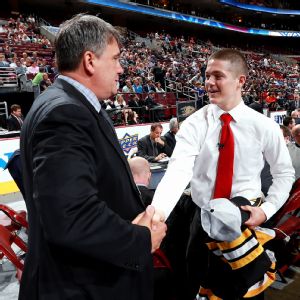 Dave Sandford/NHLI/Getty ImagesBruins president Cam Neely greets second-round pick Ryan Donato on Saturday.
In an interview with the NHL Network, Ryan Donato said he grew up a Bruins fan, and it's a dream come true for him and his family. Donato recorded 37 goals and 41 assists for 78 points in 30 games for Dexter School this past season. He plans on playing for his father at Harvard starting in fall 2015, but he still needs to decide whether he'll return to Dexter for his senior year or play for the Omaha Lancers of the USHL this coming season.
"I'll talk to [the Bruins] and see what they think, and now that the draft's over, I got a weight lifted off my shoulders, and I think I can make a clear decision soon," he told reporters.
In the fourth round, the Bruins selected Heinen, a 6-foot, 165-pounder who turns 19 on July 5. This past season, he posted 29 goals and 33 assists for 62 points in 57 games for Surrey of the BCHL.
"They're obviously a great organization," Heinen said. "Original Six team, competitive, been competitive every year the past few years, so definitely an honor to be drafted by them."
In the fifth round, the Bruins selected Bjork. The 18-year-old Wisconsin native played for the USA U-18 team last season and posted 17 goals and 18 assists for 35 points in 53 games. He's listed at 6-foot, 182 pounds.
"I'm just ecstatic," Bjork told reporters. "It's obviously great to be drafted by such a great organization and a successful organization, and it's just an honor."
In the seventh round, the Bruins selected Johansson with the organization's final pick. A native of Sweden, the 5-foot-11, 194-pounder played for the Swedish U-18 team this past season.
Now that the draft is complete, free agency opens at noon on Tuesday.
Despite cap constraints, Chiarelli told reporters in Philadelphia that he's still trying to re-sign
Jarome Iginla
.
"I'm concerned, but I think it's a challenge we can overcome," Chiarelli said. "If we can't sign Jarome, we're going to find a good player. We feel all our young guys are going to get better."
Chiarelli met with Iginla's agent, Don Meehan, during the draft, as did other organizations.
June, 27, 2014
Jun 27
10:20
PM ET
The
Boston Bruins
selected right wing David Pastrnak in the first round (No. 25 overall) in 2014 NHL draft on Friday night at Wells Fargo Center in Philadelphia.
[+] Enlarge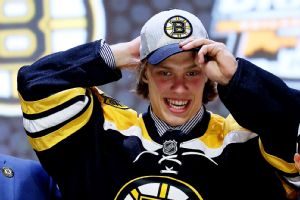 Bruce Bennett/Getty ImagesThe Bruins selected David Pastrnak with the 25th pick of the first round Friday.
Pastrnak, 18, is a 6-foot, 198-pound Czech native who played for Sodertalje SK in Sweden the past two seasons. In 38 games last season, he posted eight goals and 16 assists for 24 points, including a plus-7 rating.
The NHL draft concludes Saturday with Rounds 2 through 7. Boston has four remaining picks, in the second (56th overall), fourth (116), fifth (146) and seventh (206) rounds.
Also, the Bruins announced a few promotions Friday morning, along with a new hire for the hockey operations staff. The Bruins promoted Scott Bradley to assistant general manager and Ryan Nadeau to director of hockey operations/analytics. Boston hired John Ferguson as executive director of player personnel.