July, 24, 2014
7/24/14
1:20
PM ET
The
Boston Bruins
have signed defenseman
David Warsofsky
to a one-year, two-way contract, the team announced Thursday.
The deal is worth $600,000 at the NHL level.
Warsofsky played six games for the Bruins last season and registered his first NHL goal against the
Ottawa Senators
on Dec. 28. He played in 56 regular-season games for the Providence Bruins of the AHL and posted six goals and 26 assists.
The Bruins acquired the Marshfield, Mass., native and Boston University product via trade with the
St. Louis Blues
in exchange for forward
Vladimir Sobotka
on June 26, 2010. He has played 190 games for the P-Bruins.
Bruins general manager Peter Chiarelli recently said Warsofsky is ready for the NHL and will compete for a job during training camp.
Warsofsky is eager to prove that he belongs.
"It definitely gives me a little bit of confidence," he said of Chiarelli's comments. "I think when the management and the coaches say that about you, it pushes you even more. You know that they think you're capable, and I think I am capable of it also, so I kind of want to go out there and prove them right. And every kid's dream is to move up from the AHL to the NHL on a regular basis, so that's what I'm shooting for this year."
February, 3, 2014
2/03/14
11:25
AM ET
WILMINGTON, Mass. -- The
Boston Bruins
announced Monday morning that defenseman
David Warsofsky
has been recalled from Providence of the AHL. He's likely here since veteran defenseman
Zdeno Chara
will miss the final two games before the Olympic break due to his participation in the Opening Ceremony. Chara will serve as captain for the Slovakia team and also will carry his country's flag.
Warsofsky played in four games for the Bruins earlier this season and scored his first NHL goal on Dec. 28 against the
Ottawa Senators
. A product of Boston University, he's played in 42 games for the P-Bruins this season, recording three goals and 23 assists for 26 points, including a plus-12 rating.
After having Super Bowl Sunday off, the Bruins were back on the practice ice at Ristuccia Arena this morning. Coming off a 4-0 win over the
Edmonton Oilers
on Saturday at TD Garden, the team is preparing to host the
Vancouver Canucks
on Tuesday night.
December, 22, 2013
12/22/13
12:24
AM ET
BOSTON -- Two days after making his NHL debut in the first leg of the Bruins' home-and-home series with the
Buffalo Sabres
, defenseman
David Warsofsky
made his homecoming debut at TD Garden on Saturday night.
[+] Enlarge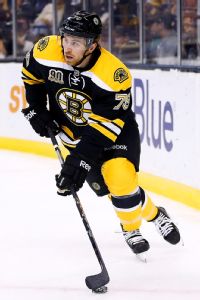 Jared Wickerham/Getty ImagesDavid Warsofsky was happy to contribute on the Bruins' power play during his first home appearance.
Warsofsky, a 23-year-old native of Marshfield, Mass., has been in Providence (AHL) for each of the last three seasons, after coming over in a trade from St. Louis -- in exchange for
Vladimir Sobotka
-- in 2010.
In front of family and friends, Warsofsky was on the ice with the power-play unit as the Bruins claimed a 1-0 lead in the first period of a 4-1 win.
"[It was] just the usual, my brothers and my parents and my girlfriend," Warsofsky said of his contingent on hand. "You have to keep it simple nowadays with everybody that wants to come, so I kind of toned it down a bit."
Warsofsky was a product of Cushing Academy and the United States national team development program before going on to star at Boston University.
A puck-moving defenseman, Warsofsky was happy to step into a familiar role with the big club.
"I've obviously been playing on the power play down in Providence and that's kind of the role I want to come into, so I felt comfortable out there," he said. "
[Ryan] Spooner
made a nice play down low to [
Reilly Smith
], so it was nice to get a goal."
March, 24, 2011
3/24/11
5:56
PM ET
BOSTON -- The Bruins have agreed to terms with Boston University junior
David Warsofsky to an entry-level contract. He will report to the Providence Bruins of the American Hockey League.

The 20-year-old defenseman appeared in 34 games this season for the
Terriers and posted 7 goals and 15 assists for 22 points. In three seasons with the Terriers, Warsofsky had 22 goals and 46 assists for 68 points and 122 PIM in 113 games.

The 5-foot-9, 170-pound native of Marshfield, Mass., was originally selected
by the St. Louis Blues in the fourth round (95th overall) of the 2008
NHL Entry Draft. His rights were acquired by the Bruins on June 26, 2010
from the Blues in exchange for Vladimir Sobotka.

During his freshman season at BU in 2008-09, Warsofsky won a National
Championship, Hockey East Championship, and Beanpot Championship. Prior
to BU, he captained the US National Under-18 team in 2007-08.
July, 10, 2010
7/10/10
2:09
AM ET
By
Brendan Hall
| ESPNBoston.com
WILMINGTON -- Marshfield native David Warsofsky has done things before his 20th birthday that most kids can only dream about: getting drafted by the NHL, scoring a goal at Fenway, winning a Beanpot, winning a gold medal.
And now the 5-foot-9, 170-pound puck-moving defenseman can cross another item off his list: suit up for his hometown team. On June 26, less than a month after he turned 20, the
St. Louis Blues
traded their rights to Warsofsky to the Bruins, in exchange for energy-line fan favorite
Vladimir Sobotka
.
Warsofsky is in town this week for the Bruins' Player Development Camp at Ristuccia Arena, where packed crowds have lined up to watch Tyler Seguin, Joe Colborne and the like. ESPNBoston.com caught up with Warsofsky to talk about his New England roots.
Who was your favorite Bruin growing up?
Growing up, it was definitely
Ray Bourque
and Bobby Orr. Me being a defenseman, and the way I play, I looked after the way those guys grew up around the game. So when I'm out there, I try to take as many aspects of their game and include it in mine.
How did you find out you were being traded to the Bruins, and what was your reaction?
I was actually just sitting at home, watching the World Cup with my brothers and nephews, and my advisor called me and told I got traded. I actually had no idea St. Louis was even thinking of trading me, or that Boston was interested. It was a big surprise. I was kinda speechless when it first happened, but once it sank in I realized this is an unbelievable opportunity.
What do you feel like you represent when you put on that sweater? Some people who've answered this question say their city, their community, their family.
I'd probably say my family. Obviously, where you come from is really important. Everything I've learned has come from my parents and brothers (Adam, 29; Jarod, 27; Ryan, 23), every time I put on the jersey I think it represents them and how far I've come, how far they've helped me come.
When you were a freshman at Marshfield High School (in 2004), what goals did you set for yourself?
I mean, when I was a freshman at Marshfield, I think my No. 1 goal was to go to prep school. And then from there, I went to college to the NHL. Every year it's just been setting my goals higher and higher. So far, I've been able to achieve them and hopefully I can stay on track.
You've scored a goal at Fenway Park, won a Beanpot, and won a gold medal. Did you ever think you'd be taking these kinds of steps?
No, definitely not. I mean, I always wanted to play at BU, and I obviously knew about the Beanpot, but Fenway wasn't even in the question five years ago. And then obviously winning the World Juniors was an unbelievable opportunity, so I think I'm just taking all of that in and using it to the best of my ability.
Where are you staying?
I'm actually staying at the hotel. Everyone else on Monday, they were all talking about flying in, and I had a nice short drive up the highway, so it was nice. It's nice to have all of family here supporting me.
What are some of your favorite memories from growing up in Marshfield?
I have three older brothers, so you can imagine how competitive that gets, just playing street hockey and out on the pond. Then I went to Marshfield High and I played with one of my older brothers; that was really good, that was the first time my parents got to watch two of their kids play together. Most of my memories just come from family. We're really close and we've helped everyone along the way.
What kind of lessons did you learn at Cushing Academy from (former head coach) Steve Jacobs that you still hold with you now?
He's a good friend of our family, and I still keep in touch with him. When you go to prep school, it's a whole different experience. You're living on your own. He taught me so many lessons just about living on your own and making the right decisions. You're not always going to have your parents there to make the decision for you, so not so much as a hockey player but he made me a better person.
Up there, we had Ray Bourque as an assistant, his son Ryan is one of my good friends and my roommate there. I think when you have the two of them there ... I mean, he [Jacobs] is an unbelievable coach, but when you have Ray Bourque out there running your practices, it's like ... you just take in everything. He's an unbelievable teacher, and the both of them together just made an awesome pair.
How much has size been a motivating factor for you throughout your career?
Yeah, I mean, growing up it was a motivating factor, everyone always made excuses for me like that. But whenever people tell me I'm not big enough, I just stick that in my back pocket and use that to get to the next level and prove everyone wrong.
What are the places to be seen in Marshfield?
I think Marshfield's known definitely for the beach. Whenever you talk about Marshfield, people are definitely going down there to see the beach. Rexhame Beach, Brant Rock, obviously the water's really nice down there. It's a great town, great place to grow up, and I wouldn't rather be from anywhere else.
Best place to eat on the South Shore?
Haddad's, over in Brant Rock, is pretty good. Depends on what you're in the mood for -- subs, seafood. Anywhere down there that's local, they're going to have the freshest seafood. But if you're looking for the best seafood, that's the place to go.
Last month, we asked Max Quinzani, a Duxbury native, where the best beach on the South Shore was, and he didn't hesitate to say Duxbury. Would you like to make a case for Marshfield?
Marshfield and Duxbury, those are big rivalries, but Duxbury has that beach where you can drive your cars on, so I'm sure the college kids like that a lot more. But I mean, if you're looking for a family experience, I think Rexame, Humarock [in Scituate], Brant Rock are definitely the places to go.
July, 9, 2010
7/09/10
9:51
PM ET
Just as many young prospects have to put their rivalries aside and play together with their respective national programs, the same can be said for the Bruins prospects who have participated at the Bruins development camp this week. Many of the players at camp face each other regularly in their junior or college leagues, but when they're here in Boston playing for the team that drafted them, with possible future teammates, they must maintain that competitive spirit but also put their bitter rivalries aside.
"I think they put it aside," Bruins assistant general manager and camp director
Don Sweeney
said. "Now they're all on the same team so I think they kind of walk on those eggshells and that will change when they go back and play each other again."
But Sweeney believes the rivalries can also serve as a motivator and incentive to beat out their regular opponents during the season for a spot with the Bruins.
"I believe there will be a little extra incentive because the bottom line is that while you're on the same team here, you still want to compete against each other for quite possibly the same job," he pointed out. "So there's a fine line in that dynamic and there's a balance. But I would expect there's incentive to be better than the guy lining up against you because there should be in this sport."
A perfect example of that this past week was seen with Boston University junior defenseman David Warsofsky (acquired recently from St. Louis in a trade for
Vladimir Sobotka
) and Boston College junior blue-liner Tommy Cross, a 2007 second-round draft pick of the Bruins. The rivalry between the Terriers and Eagles is one of the oldest and fiercest in any sport. In fact, Warsofsky and Cross demonstrated this when they got into a physical clash that almost led to fisticuffs during the "Battle Of Comm. Ave." at Fenway Park this past January.
But now that they're both playing with a spoked B on their chest, the normal hatred must be quelled and the two rear guards are finding a new respect for each other.
"It's different, first of all," said Cross of playing with Warsofsky. "But I think you come to realize that he's obviously a good guy and that's usually the case. You have mutual respect for each other and even on opposite sides you have that respect for each other. You do go at each other pretty hard and there's some dislike there, but it's a different setting here. Like I said, he's a good guy and that respect is still there."
Cross had to go through the same transition with former Terriers forward Jason Lawrence, who was a camp invite last summer. But just as he did then, he is learning to play with Warsofsky.
"Last year Jason Lawrence was here and he actually sat next to me so it's a little better that he's [Warsofsky] on the other side," Cross joked. "No, I'm just kidding! It's all good and we respect each other a lot. We're on the same side right now and we'll do whatever we can to help each other out. But come October it's a little different story."
And what if they ever became teammates in Boston?
"If it's up here, I would love it," Cross said with a big smile. "I'd absolutely love it."
Spooner Looking To Follow In Footsteps Of Another Kanata, Ontario Native
Ryan Spooner, who was selected in the second round of the 2010 NHL Entry Draft (45th overall) last month, is known to be quite the creative playmaker by many NHL scouts. The Kanata, Ontario, native, who scored 112 points for the Peterborough Petes (OHL) over the last two seasons, has not shied away from his game this week.
Spooner tried to make something out of nothing and utilize his vision and creativity during scrimmages Thursday and Friday. When asked if he was afraid some of the Bruins brass or fellow prospects may take that as showboating, Spooner didn't seemed worried.
"You just want to be yourself, and no matter where you go, you have to play to your strengths," Spooner said. "You come to a camp like this, everyone is a lot better than you're used to whether because of skill or experience. So it's more challenging and you have to go out there and try different things. Sometimes they work and sometimes they don't, but you want to play your game."
Not surprisingly, the 5-foot-10 175-pound crafty center likes to emulate his game after the Bruins star pivot
Marc Savard
, who is the same height but doesn't let his size impede him and also shares another important similarity.
"Savard is a great player and if I was to try and play like someone, it would be him because he's a smaller guy yet he's great with the puck," Spooner said. "He was also born in the same town I was so I have to like him!"
James Murphy has covered the Bruins and the NHL for the last eight seasons. He has written for NHL.com, NESN.com, Insidehockey.com and Le Hockey Magazine. Murphy also authors a blog, Drop Puck Murphy.
June, 26, 2010
6/26/10
5:43
PM ET
LOS ANGELES --
Boston Bruins
general manager Peter Chiarelli just announced the trade of forward
Vladimir Sobotka
to the St. Louis Blue in exchange for defenseman David Warsofsky, who is playing at Boston University.
Chiarelli said the Bruins have no plans to take Warsofsky out of school, but the organization really likes the way he plays.
Sobotka was a sparkplug for the Bruins and played a total of 134 regular-season games for Boston in the last three seasons, recording six goals and 16 assists for 22 points. The 22-year-old can play both center and wing and posted a minus-16 rating.
"He's a wrecking ball, a real competitive kid," Chiarelli said. "We acquired Greg Campbell [earlier this week] and we've got some other centers coming in. Vlady, on the wing and with his size, it's not that he has difficulty, but he's had trouble adjusting. I talked to Vlady and he's happy that we're giving him a chance somewhere else. He's a good kid and I like the way he plays, and moving to another organization he'll get a better chance."
Warsofsky, 20, is a junior at BU and is a native of Marshfield, Mass. He's played 79 games for the Terriers, posting 15 goals and 31 assists for 46 points and 75 penalty minutes. During the 2009-2010 season, he played 34 games and scored a career-high 12 goals, while tying his career-high with 23 points.
He also played for the United States National Development team in 2007-2008. The 5-foot-9, 170-pounder was originally drafted in the fourth round (95th overall) in the 2008 draft by St. Louis.
The 5-foot-10, 183-pound Sobotka was Boston's fourth-round pick (106th overall) in the 2005 draft.