July, 1, 2010
7/01/10
2:30
PM ET
As a result of former Bruins blueliner
Derek Morris
re-signing in Phoenix for four years worth $11 million, Boston will receive a 2011 third-round pick from the Coyotes.
When the Bruins dealt Morris to Phoenix at the trade deadline, Boston acquired a conditional fourth-round pick that would become a third-rounder if the defenseman re-signed with the Coyotes.
March, 3, 2010
3/03/10
12:11
PM ET
WILMINGTON, Mass. -- Furthering the notion that Bruins general manager Peter Chiarelli isn't shy about handing out no-trade clauses, defenseman
Derek Morris
said he had been asked about waiving his four days before he was dealt to Phoenix for a fourth-round pick Wednesday.
Chiarelli has been hampered in his efforts to make moves by no-trade clauses he also gave to
Michael Ryder
,
Marco Sturm
and
Tim Thomas
. Morris, whose career trajectory had dropped a bit last season while skating for Phoenix and the
New York Rangers
, was signed in the offseason to a one-year, $3.3 million contract. He said he would waive it for only one team, the Coyotes.
"I'm really excited for Phoenix, obviously," he said after departing Ristuccia Arena. "I think they have an amazing coach [
Dave Tippett
] there. A coaching staff … you've got three of the best coaches that I feel probably are in the game and that's probably why those guys are winning."
Reports say that Morris thought he had been traded over the weekend but then the deal was off. Morris wouldn't confirm that, but he did say that Wednesday morning he thought he wasn't going to be traded. He found out when he arrived at Ristuccia and Chiarelli called head coach Claude Julien's office with the news.
Morris was brought in to be a puck-moving upgrade on
Aaron Ward
. In 58 games with Boston, Morris posted three goals and 25 points. But the Bruins have floundered after starting the year with Stanley Cup aspirations and are now battling just to stay among the conference's top eight.
As Wednesday unfolded, Chiarelli -- who will address the media in an afternoon press conference -- obviously determined that Florida's
Dennis Seidenberg
was an upgrade on Morris.
Morris was asked if he was stunned the Bruins asked him to waive his clause.
"You never say stunned, because I think we expect things like that to happen in the game," said Morris. "Every day I went home, with the way the season's went, and just wondered if it had been my fault or whatever. As a player, you have pride and think about things. … And then we got back in it and I was excited about the way things were going and I'm excited to go where I've got to go."
Morris spent parts of five seasons with the Coyotes before he was traded to the Rangers at last year's trade deadline. Teammate
Keith Yandle
is now living in his former house, so Morris said he'll find a new place to live in Phoenix.
While he's eager to get back in the thick of the playoff race with his former team, Morris said he leaves with a sour taste caused by the Bruins' unmet expectations.
"It's really disappointing. I met these guys in this room for the first time when I came in after I had signed, my first skate with them. You take to these guys. This is a good group of guys in here that really get along, really enjoy each and really like each other a lot. It was a fun locker room to come into. It's a tough one to leave."
January, 6, 2010
1/06/10
4:38
PM ET
WILMINGTON, Mass. -- What started out as a way for Bruins head coach Claude Julien to work Derek Morris back into the lineup after a three-game injury absence has turned into a permanent defense pairing with Matt Hunwick that has allowed the Bruins to sport three balanced duos.
"It was one of those things where we thought 'let's ease him in.' And at the same time, it gave Matt an experienced defenseman to play with," said Julien, as his players worked out at Ristuccia Arena on Wednesday. "We thought it was a win-win situation. Dennis [Wideman] had played well with Zdeno [Chara], and even Johnny Boychuk and Andrew [Ference] have played well together. So we kind of liked our pairs, I guess, the way we had them and it turned out well.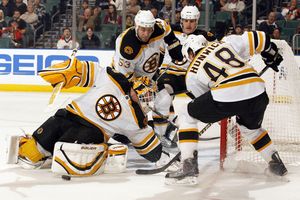 Eliot J. Schechter/NHLI/Getty Images
Derek Morris and Matt Hunwick help goaltender Tim Thomas defend the net during a recent game against the Florida Panthers.
"Right now, I think Matt's game has really taken off," said Julien. "It's good to see because we know he's a good defenseman. He's one of those guys that we rely on a lot to support the attack because he's such a good skater. And getting his confidence and knowing that he's got a guy back there that's pretty reliable has certainly helped."
Hunwick has come alive, with a two-point night (including a shorthanded goal) in New York Monday and three points in the six games he has skated with Morris. And while plus/minus is never a dead-on gauge of a player's performance in the defensive end, Hunwick is a plus-2 over that same stretch. He's come a long way less than a month removed from being a healthy scratch for three of four games when Boychuk was getting his first opportunities to play.
"I feel a lot better. I feel a lot more comfortable out there with Derek," said Hunwick, who is a minus-3 with 5-6-11 totals in 39 games this season. "He's a guy that can really move a puck up the ice and allows me to get up the ice and support the rush and be that fourth guy, or even that third guy at times. His puck-moving ability, maybe coupled with my skating, has been good for me and I think it's been good for him too."

Except for the three games he missed, Morris has been a legit No. 2 defenseman for the Bruins. It was getting obvious that having Morris paired with Chara, the Bruins' top two scoring defensemen, was kind of like putting all your eggs in one basket. Morris' injury might've caused the lineup shift, but now Morris, the 31-year-old veteran, gets to aid his partner rather than just be a sidekick to the Norris Trophy winner.
"I like playing with younger guys," said Morris. "My whole career I've played with younger guys. I like it when they do well. I'm not the type of guy that really cares about my own stats. I like what he's doing. He's skating with the puck, he's using his speed and he's getting up in the play. And he's getting his confidence back."
"It was confidence," continued Morris when asked about why Hunwick had been struggling. "We're supposedly confident guys, but it's easy to lose it in this game. He was losing it a little bit. All I've ever done is just tell him to do what he can do, go join the play, I'll stay back. He's got such good speed and is so good offensively. He wasn't using that. He's been doing that; he's been playing good. And it's good because he has a bright future and he's going to be a huge part of this team."
December, 13, 2009
12/13/09
3:13
PM ET
It's time to break up a marriage, and I'm not talking about the one that's dominating the sports world's attention.

I'm talking about the one at the top of the Bruins' defensive depth chart, where Zdeno Chara and Derek Morris -- Boston's best two all-around defensemen -- have been playing as a pair for the entire season. The Chara-Morris combination has been, Chara's offensive drop-off aside, everything Boston wanted it to be at both ends of the rink. Morris has been the offensive upgrade over Aaron Ward the Bruins' brass thought he could be, while not giving up much in the defensive zone. When the time has come to shut down opposing top lines, Chara and Morris have gotten the call and for the most part done the job.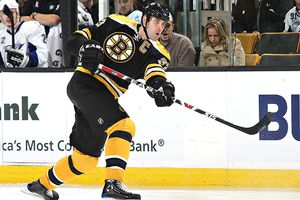 Bruce Bennett/Getty Images
Playing next to Zdeno Chara seems to turn pedestrian defensemen into top-flight blueliners.

The Bruins rank sixth in the NHL with 2.36 goals allowed per game -- a far cry from the first couple weeks of the season when it looked like the defensive fortress they built over the last two seasons was crumbling. A lot of the credit for salvaging Boston's goal prevention goes to the emergence of Tuukka Rask as a Calder Trophy-worthy goaltender and the tightening up of the penalty kill in the aftermath of Daniel Paille's arrival. Boston's defensemen, obviously, have also done a formidable job in their own zone. But -- as the coaches and players never fail to point out -- there's always room for improvement.

Boston's defense could be even more suffocating with crisper passing and better decision making on breakouts and smarter positional play on the attack. In order to achieve those improvements, the Bruins have to consider splitting the Chara-Morris pair in order to provide more balance to their back end.

While Mark Stuart and his rotation of partners (Andrew Ference, for a time, and Matt Hunwick and Johnny Boychuk recently) have provided the Bruins with a reliable third pair that rarely hurts the team in its limited minutes, the pair of Ference and Dennis Wideman has struggled to find the form that made it a positive for the Bruins last winter. Wideman, who also did not fare well when paired for a time with Hunwick, has struggled mightily. He's become more like the high-risk-no-reward Wideman of two years ago than the potential No. 2 defenseman he resembled last season. An early-season shoulder injury and a recent undisclosed lower-body ailment might have taken a toll on the Wideman, but that provides all the more reason to juggle the pairs. A move has to be made to put Wideman with a partner that protects him or relegates him to fewer minutes.

The cure for the Bruins' ills could be just as simple as switching Morris and Wideman. Playing next to Chara seems to make even the most pedestrian defensemen (remember Andrew Alberts and Matt Lashoff actually resembling top-four D-men?) into top-flight blueliners. Of course, removing Morris from Chara's side could advance the clock to midnight on his Cinderella-like return to top-four form, but his play taken separate from his partner's identity makes you think he's regained his confidence and desire (which he admitted before the season his stay with Phoenix had sapped from him) and he could become the primary orchestrator on a Chara-less pair.

A more drastic maneuver could see Boychuk moved up to Chara's pair and Wideman dropped to the third pair, where his ice time would no longer rank him second (that's right, second) on the club. Considering head coach Claude Julien's love for Wideman, the type of love that often earns him more minutes than Chara, we're not likely to see a major slice of Wideman's role.

There are other permutations, both involving Chara and Morris staying together or splitting up, which could be sampled but would probably not cause much of an improvement. With Hunwick out of the picture, the Bruins have three lefties and three righties, so asking someone to play their off side isn't necessary.

The proof is in the play, most egregiously when the Islanders turned a turnover into an overtime game-winner Saturday and when Montreal made Boston pay for a sloppy line change last week. If Ference and Wideman are the Bruins' No. 2 pair for the long haul, Boston will not be a Stanley Cup contender. Barring a trade, these are the six or seven defensemen Julien has to work with. Breaking up his No. 1 pair of Chara and Morris is a risk that could leave the Bruins with a less spectacular top duo but, in the long run, could allow the Bruins to boast a legit, championship-caliber top four.
December, 10, 2009
12/10/09
1:14
PM ET
Boston Bruins defenseman Dennis Wideman is scheduled to be in the lineup Thursday night at TD Garden against Toronto. Wideman missed the third period of the Bruins' previous game, last Saturday also against the Leafs, with what was termed a lower-body injury. He did not practice with his teammates this week but did skate on his own under the watch of strength and conditioning coach John Whitesides.
"As far I know, I'm playing tonight. I feel good," said Wideman after the Bruins' morning skate
In 26 games this season, Wideman has posted 2-7-9 totals and a minus-2 rating.
Defenseman Derek Morris also missed some practice time this week but returned to action Wednesday and skated Thursday morning. He is also expected to play against the Leafs.
November, 11, 2009
11/11/09
2:33
PM ET
WILMINGTON, Mass. -- Bruins defenseman Derek Morris was the only active player not on the ice for practice Wednesday at Ristuccia Arena.
Coach Claude Julien said the decision was made Tuesday night to give Morris the day off after the veteran blueliner missed Tuesday's morning skate due to flu-like symptoms. Morris still had a solid game Tuesday night with four blocked shots and a plus-1 rating in 22:07 of ice time.
The Bruins are obviously hypersensitive right now to the risk of H1N1 in light of David Krejci's departure from the lineup with the virus last week.
Boychuk ready
Should Morris or any of the other regular six defensemen need to miss a game soon, Johnny Boychuk is prepared to play. The former Eddie Shore Award winner as the best defenseman in the AHL has played in only three games this season.
A sure sign that practice or morning skate is over comes when Boychuk gets off the ice after putting in extra work.
"They're doing a good job of skating me, keeping me in shape," Boychuk said about the coaching staff. "I'm not really that tired. Of course, you're going to get tired if you get bag skated every day. But they're good with it here. They do enough to keep me game-ready without really hammering me. There's a difference and they know it.
"If they just skate you really hard and then you get in the game, it's probably even worse for you," he continued. "They're doing a good job of keeping me sharp -- doing not only skating drills but skill drills, keeping me game-ready."
There's always the possibility that Boychuk could join Providence (AHL) on a conditioning assignment. But general manager Peter Chiarelli said earlier this week that's not something he's contemplating.
Panthers perspective
Winners of two in a row for the first time this season, the Bruins could start to get cocky, especially with the 5-9-1 Florida Panthers next on the docket Thursday at TD Garden (7 p.m.). That's something Julien is going to address with his club.
"We've got to make sure we don't start looking at who we're playing and continue to prepare ourselves," said Julien, whose team has knocked off division leaders in Buffalo and Pittsburgh its past two times out. "We have to understand that the points are important to climbing to the position we'd like to be in."
November, 10, 2009
11/10/09
1:25
PM ET
BOSTON -- Bruins center David Krejci is ready to return to game action on Monday night against Pittsburgh after missing two contests with the H1N1 virus and winger Michael Ryder should be on his right side after missing Monday's practice with a stomach bug.
Both players took the morning skate Monday morning at TD Garden.
Head coach Claude Julien is hopeful that defenseman Derek Morris will be able to play. Morris was the only Bruins player missing from the skate and Julien said the blueliner was sent to the doctor just to make sure he's just being bothered by a bug and not something more serious.
Goalie matchup
Based on who was off the ice first after their teams' morning skate,
Tim Thomas
should be in net for Boston, while
Marc-Andre Fleury
should be in for the Penguins.
Line changes
With Krejci and Ryder healthy and ready to go, it looks like either
Brad Marchand
or
Vladimir Sobotka
will be the healthy scratch for Boston. ... A two-game losing streak has Pittsburgh juggling things a bit. It looks like the Pens will skate
Sidney Crosby
between
Ruslan Fedotenko
and
Matt Cooke
, while
Jordan Staal
will skate in Crosby's usual slot between
Bill Guerin
and Matt Cooke.
October, 2, 2009
10/02/09
3:10
PM ET
WILMINGTON, Mass. -- It was just 2:55 into Thursday night's 4-1 season-opening loss to Washington when Boston Bruins forward Blake Wheeler crunched Capitals defenseman Brian Pothier behind the net on the forecheck.
In an otherwise forgetful game, the hit served notice that Wheeler may be ready to get more physical in his second NHL season. Wheeler totaled just 49 hits in 81 games last season, 15th on the club or about one fifth as many as Milan Lucic, who played 10 fewer games.
"You've got to pick your spots," Wheeler said after Friday's practice at Ristuccia Arena. He was credited with three hits against the Caps. "If you have a chance to finish a guy like that, it's real important to do that. It's energy, momentum for your team. A few times [Thursday] night, just by skating hard at the defenseman, our line created some turnovers and created some scoring chances just by having us kind of skate at him and finish him.
"The minute defensemen start hearing those footsteps, they start to think a little bit quicker and maybe get it off their stick a little bit faster than they want to. That's how you create turnovers and scoring chances."
Some might have expected the 6-foot-5-inch winger to make a bigger impact with his body last season as a rookie. But some guys just take longer to add that aspect to their games. This season, Wheeler might be better equipped for the rigors of being a physical presence; he reported to training camp at 205 pounds, about 10 pounds heavier (most of it muscle) than he weighed last season. And, unlike some players who bulk up and struggle to harness that extra strength in a positive way, Wheeler has started this season seamlessly.
"I don't think it's been really an adjustment at all," said Wheeler, who scored 21 regular-season goals last year but was scratched late in the playoffs after failing to score in eight games. "I think if you look at my body, it doesn't really look like I put any weight on. My body's structured that way. It's been a real positive for me in terms of just being able to handle the bumps and bruises and whatnot out there. I feel like I've gained a step as well and it's just all about utilizing that to your advantage out there."
Wheeler and his extra step combined with center David Krejci and right wing Michael Ryder to put heat on the Caps. But not enough shots made it on net and none found the back of the goal.
"We had chances," Wheeler said. "You want to be able to say that we created chances, that's a good thing, but you've got to be able bear down and bury some, especially when our team hasn't been scoring much.
"We've got to take it upon ourselves because we know we're capable of scoring. We want to go out and contribute to the team, and the best way to do that is compete all over the ice. That's how you get scoring chances, by creating those turnovers."
Drilling during drills

The Bruins went through a spirited practice Friday with a lot of players seemingly letting out their frustrations from Thursday night's loss. There was some particularly solid body contact in one 1-on-1 drill. Center Marc Savard took the ice 10 minutes early to fire some slap shots & After full-squad drills, four of the forwards who figure to get a chance to play on the second power-play unit --Patrice Bergeron, David Krejci, Mark Recchi and Chuck Kobasew (Recchi and Kobasew rotated in and out) worked on passing without a defender in order to build up some chemistry & Defenseman Derek Morris sported a bright red lump on the inside of his left foot courtesy of Washington's Alexander Ovechkin, but didn't look encumbered during the practice ... The Bruins announced Friday that the club has assigned goaltender Adam Courchaine to the Sarnia Sting of the Ontario Hockey League, signed forward Lane MacDermid to a standard player contract (SPC) and signed defenseman Alain Goulet to an American Hockey League contract. MacDermid was the Bruins' third-round pick last June. Goulet was selected in the seventh round in 2004.