July, 3, 2012
7/03/12
2:04
AM ET
WILMINGTON, Mass. -- The Bruins' sixth annual development camp concluded with Team White beating Team Black 4-2 on Monday. But it was a Team Black player who stole the show with Ryan Spooner scoring two goals and flashing some highlight-reel moves.
Spooner, whom the Bruins took 45th overall in the second round of the 2010 draft, showed the skill that has the organization very excited about his potential. Spooner, along with Jared Knight -- who was the team's other second-round pick (32nd overall) in the same draft -- and 2011 first-round pick Dougie Hamilton (ninth overall) stood above the rest and appear ready to challenge for roster spots at the Bruins' training camp in September.
"We call them 'the usual suspects,'" general manager Peter Chiarelli said. "I think Spooner and Jared Knight are going to challenge. I think Dougie is going to challenge. I don't want to leave anybody out, but that's who I like to call 'the usual suspects.'"
This trio exemplifies what the Bruins hope development camp does for all their prospects and invitees each year. While their skill and stature among their peers may have given them an advantage coming into their first development camp, they need to continue to develop a pro mentality and work ethic.
Assistant general manager
Don Sweeney
, who has been in charge of this camp since its inception, used Spooner's performance Monday and throughout camp as an example of how the camp can help players.
"I think both on and off the ice maturity has been a big factor," Sweeney said. "He's gaining in strength and understanding of the level of play going up and the stronger guys are going to be there. His time in Providence has certainly helped in that regard.
"There's a pro mentality that's starting to seep in there, which is what we need all these guys to do. It's not something you wake up with or you do by osmosis. You have to really go through it and understand it, and they're building blocks. You just can't go from A to Z; there's a period of time and transition that you go through, and you see the skill, obviously, comes out."
On the opposite end of the spectrum is a player like Malcolm Subban, an 18 year-old, who showed up at development camp only six days removed from being drafted. Sweeney wanted Subban and the other prospects to get a taste of what it takes to compete at the pro level.
"He literally just went from the excitement of being drafted in the last weekend to being thrown into this environment, which can catch anyone off guard especially when you're 17 or 18 years old," Sweeney said. "So I think that's great. That's really where the expectation part goes. We realized that even when Tyler [Seguin] missed a meeting last year and the repercussions of that. That's the pro mentality we want to start to seep in. We want them to realize that you can't get that overnight. You have to go through it and realize it and be around other guys. They'll see [Jared] Knight and some of the other guys, Tommy [Cross], that they're further along in that process and all of a sudden they're like, 'Whoa, that's how I'm supposed to react.'"
July, 2, 2012
7/02/12
7:37
PM ET
WILMINGTON, Mass. -- After watching Boston College goaltender Parker Milner basically put his Eagles teammates on his back and lead them to a national championship this past April, the Bruins -- who already had five goalies coming to their 2012 development camp as they attempt to build depth between the pipes -- decided to add Milner to the mix and get a closer look at the unrestricted free agent who is garnering loads of interest as he prepares for his senior season at the Heights.
[+] Enlarge
AP Photo/Winslow TownsonA 29-5-0 record with a 1.66 GAA at BC earned goaltender Parker Milner an invite to the Bruins' developmental camp.
"Well, he's won," Sweeney said bluntly earlier in camp when asked what prompted the invite of Milner. "You can throw out all the statistics that you want, if your team doesn't win, the chances are your goalie's been a part of that.
"We've also had Tommy Cross at Boston College for four years and watched him develop and they've had a lot of success over there. I think their goaltending has been a big part of it, and watching Parker play, the bigger the game was, it seemed, the better he played. I think everybody likes that and it piques everybody's interest.
"He's local and he was around this summer. We felt like, even with a crowded camp in the goaltending position, we and he still felt strongly to have him come in and be a part of our group, which again speaks to his confidence and what he thinks of his own abilities, and I like that."
Cross isn't surprised the Bruins wanted to give the Pittsburgh native a closer look.
"He's proved his worth this past season and he would be a great pickup for any NHL team," said Cross, the Bruins' second pick (35th overall) in 2007. "He was absolutely not human this past season, especially in the Hockey East playoffs and the NCAAs. We don't even come close to winning the title without him."
Milner was excited to get a look from the team he has learned more about playing in Boston the last three seasons.
"It's great being here and I'm honored that the Bruins invited me," Milner said. "Obviously I watch a lot of them here playing at BC and got to see the Cup run and the buzz that created. I grew up a Penguins fan, but over the years I've enjoyed watching the Bruins and obviously they had great goaltending with [Tuukka] Rask and [Tim] Thomas. If I got the chance to be a goalie here too that would be quite the honor."
While Milner is getting plenty of attention from NHL teams after going 29-5-0 with a 1.66 GAA and .937 save percentage this past season, he is not resting on his laurels. He saw development camp as a chance to continue to prove himself to the Bruins and other NHL teams and aims to do the same in his senior season at BC.
"Whenever you're in a position of free agency, you want to prove yourself to everyone and play your best," Milner said. "So this was a good chance to do that and then I have to continue it with another year at BC."
June, 27, 2012
6/27/12
6:10
PM ET
The Bruins will kick off their development camp Thursday at Ristuccia Arena in Wilmington, Mass. The camp runs through Sunday and will showcase some of the team's top prospects as well as some camp invitees. There will be plenty of spotlight surrounding 2011 first-round pick (ninth overall) defenseman Dougie Hamilton as well as this year's selections, including goaltender Malcolm Subban, whom the Bruins selected 24th in the first round of last Friday's draft.
Speaking of goaltending, that may be the position to watch the closest as the Bruins recently put a heavy emphasis in building depth between the pipes as they move on from the
Tim Thomas
era. Thomas, who plans to take the 2012-13 season off and recently waived his no-trade clause, will not play for the Bruins again and while
Tuukka Rask
is set to take over as the team's No. 1 goalie, there will be six possible future netminders on hand in Subban, Zane Gothberg, Parker Milner, Adam Morrison, Niklas Svedberg and Lars Volden.
Defense will be another focal point since Hamilton is the only real blue-chip prospect on the blue line. It will be interesting to see what recently drafted Matt Benning and Matthew Grzelcyk have to offer, as well as
Torey Krug
, whom the Bruins signed as a college free agent out of Michigan State last spring and gave a look at the pro level for two games. Krug got an assist in those two appearances and the 2012 Hobey Baker finalist will look to get another taste of the NHL in the 2012-13 season.
Here's the roster for development camp:
Forwards:
Darik Angeli, Anthony Camara, Colin Campbell, Daniel Carr, Justin Courtnall, Brian Ferlin, Justin Florek, Seth Griffith, Colton Hargrove, Alex Khokhlachev, Jared Knight, Cody Payne, Ben Sexton, Wayne Simpson, Ryan Spooner
Defensemen:
Matt Benning, Chris Casto, Tommy Cross, Matthew Grzelcyk, Dougie Hamilton, Torey Krug, Robbie O'Gara, Zach Trotman
Goaltenders:
Zane Gothberg, Parker Milner, Adam Morrison, Malcolm Subban, Niklas Svedberg, Lars Volden
July, 11, 2011
7/11/11
7:22
PM ET
By
Brendan Hall
| ESPNBoston.com
WILMINGTON, Mass. -- Bruins general manager Peter Chiarelli spoke with the media following the final scrimmage on the final day of the team's Development Camp at Ristuccia Arena and offered a few observations on the players obtained in last month's draft.
On top draft choice and highly touted defenseman Dougie Hamilton:
"Obviously Dougie Hamilton is a tremendous, tremendously skilled player. He has to get stronger, but you can see, as each day went on, his skill came out and his confidence came out."
On second-round Russian import Alexander Khokhlachev:
"Again, very skilled. He arrived in not the greatest shape but I know he's going to take care of that as the year progresses, as the summer progresses."
[+] Enlarge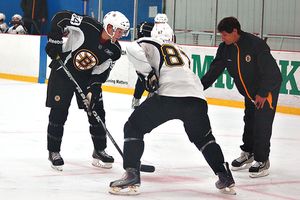 Brendan HallRyan Spooner (in black) faces off against Jared Knight during Monday's scrimmage.
On third-rounder Anthony Camara:
"I think a couple of these guys' eyes were opened at the speed and strength, but he's a robust player."
On fourth-rounder and Jacksonville, Fla., product Brian Ferlin:
"I thought Ferlin was good; good stick, protects the puck, you put him on that line, that line was good with [Justin] Florek, [Ryan] Spooner and Ferlin."
On fifth-rounder and Milton Academy defenseman Rob O'Gara:
"I think he's going to be a good player, provided he gets some strength and gets his feet under him. He's got a good head, good stick, good sense."
On sixth-round goaltender and Norwegian youngster Lars Volden:
"Big kid. Again, I don't know much about him so I can't really comment about him. Those young guys, I thought, acquitted themselves well."
Chiarelli noted a significant jump in progress from Jared Knight as well as the forward line of Florek, Spooner and Ferlin, while also commenting on the depth of quality defensemen this year.
If this week's camp is a snapshot of things to come, the Bruins' farm system looks replenished at the blue line going forward, after some lean years. Tommy Cross has taken charge, while skating noticeably crisper now that he's healthy. The undersized but sturdy David Warsofsky put in a solid showing this week, not overcompensating and staying the course. Chiarelli called the Marshfield native "an incredible stretch passer."
Meanwhile, Marc Cantin showed some life toward the end.
"Cantin I thought played well," Chiarelli said. "And he's one of those guys that's maybe a little bit older than the rest of the crew, but as the days progressed, I thought he was strong out there today. I'm probably missing a couple here but we've got quite a few, and [Matt] Bartkowski and [Steven] Kampfer weren't even here, of course. So we're happy with the defensive depth right now."
Chiarelli said that new power skating coach Besa Tsintsadze -- a former figure skating champion who has previously worked out with stars like
Sidney Crosby
and
Evgeni Malkin
, and at times was the attraction here with his world-class ability -- will work mostly with the Providence club this year, but will be called upon in Boston as well.
"He's going to spend time with [the NHL club], whether it's one-on-one or one with a small group," Chiarelli said. "He'll spend some time with our big club. He's good, very good; you saw, he's dynamic. It's all about edges with him and that's important. I talked to a few of the guys after the first session and their groins and their rears and their lower back were all really, really sore. And to me, that's good, when those things are pushed."
Asked if he's had any more contact with restricted free agent
Brad Marchand
or his agent, Chiarelli said flatly, "We continue to talk and we've had some discussion and I'll leave it at that."
July, 11, 2011
7/11/11
6:45
PM ET
By
Brendan Hall
| ESPNBoston.com
WILMINGTON, Mass. -- Sunday's intrasquad scrimmage during Day 4 of Bruins Development Camp brought a wave of pop from the capacity crowd at Ristuccia Arena.
Monday's camp-closing scrimmage? More pop, but of a different kind.
There were no nifty one-timers or Justin Florek snipes from the circle. But scrappy forward Anthony Camara drew a gasp as he whiffed on a body check on Alexander Fallstrom along the visiting bench and ran into the stanchion -- a scary sight, if only for a split-second, based on recent history.
Camara laughed about it later in the Bruins locker room, chalking it up to another learning experience.
"I've just been trying to soak up everything this week, be a sponge," he said.
[+] Enlarge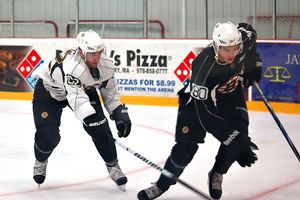 Brendan HallTommy Cross (in white) stays close to Brian Ferlin during a scrimmage on the final day of the Bruins' development camp.
Things were sluggish at the start of the scrimmage, which concluded the five-day camp and didn't have quite the offensive luster of Sunday's game. But players like Camara showcased the kind of spunk the front office was hoping for.
"It didn't surprise me that it was him because he likes to hit," Bruins general manager Peter Chiarelli said of Camara's face plant off the stanchion. "He's got a sturdy body. I think under normal game circumstances, I think you might have seen his gloves off his hands at some point, because that's the way he plays. But I like what I saw in him.
"Again, he's a robust player, he can make a play too and he skates well. So I wasn't surprised. He and [Zach] Trotman were going at it too for a couple of days, so it was good to see."
Play on the ice Monday was more physical, and a little chippy -- demonstrated by Tyler Rendell and Trotman -- as players sought to make a lasting impression.
Much of the talk coming out of this camp will center on Dougie Hamilton's raw potential, Tommy Cross' maturation and the scoring touch seen from the Justin Florek-Ryan Spooner-Brian Ferlin line, but Jared Knight's tenacity from close range also drew attention. At 5-foot-11 and 202 pounds, Knight is built like a hydrant and was tough to push around. He also demonstrated a willingness to get in the dirty areas and put his body on the line.
"I love going to the net and taking that post of the goalie out," Knight said. "You can't be going out there and playing hockey scared. You've got to be fearless. Hockey's not a soft sport, you've got to be tough to play this."
Bruins assistant general manager Don Sweeney said that overall he was pleased with the camp and encouraged by what the organization will have to work with going forward. That holds especially true for top draft choice Hamilton. At times, the 18-year-old and No. 9 overall pick backed up his reputation as a plus-skater with an accurate shot; other times, he got taken for a ride, like in Sunday's scrimmage when Ferlin left him in the dust after he mishandled a puck at the blue line.
"Where it goes will really be up to him," Sweeney said. "You know he won't know that until he gets on the power plays at the next levels. He knows he can do certain things at the junior level. And you know his physical stature helps him get away with some of that stuff. I would say at this point in time, the decision-making is really what it will come down to as to where his impact will be.
"And really, a lot of times, you don't get that until you go through these experiences and play against guys that will expose you when you do run around."
July, 10, 2011
7/10/11
10:47
PM ET
By
Brendan Hall
| ESPNBoston.com
WILMINGTON, Mass. -- Nary a speck of real estate along the concrete bleachers at Ristuccia Arena was left vacant for the fourth day of Bruins Development camp, as the team engaged in the first of two intrasquad scrimmages.
At one point, the front doors were locked as spectators were turned away, the rink already over capacity with nearly 1,000 gathered in attendance. Many in the crowd stood and applauded at the conclusion, as players engaged in a post-game stretch, but there was certainly a balance of positive and negative to be weighed with this one.
Early on, goaltenders Michael Hutchinson, Zane Gothberg and Lars Volden were getting ahead of the forwards, with Anthony Camara the only scorer; but come the second half of the scrimmage, the offense got going at both ends for some nifty plays.
The line of Justin Florek, Ryan Spooner and Brian Ferlin generated a handful of scoring chances throughout the second period, including a Florek snapper from the left circle that beat Gothberg to his far side and a one-timer from Florek to Ferlin -- creating on two goals to give the Black team a 3-1 win over the White.
"I felt great today," Florek said. "Pucks were just bouncing our way. It was great playing out there today with Ferlin and Spooner, two great players, setting each other up. Things were just going our way today."
Their opportunities also exposed some of the areas of improvement needed for touted first-round draft pick Dougie Hamilton. The lanky defenseman, the ninth overall pick in last month's draft, demonstrated his shooting ability from far out, and his stick handling when given the opportunity to join the rush. But early in the second half, after fumbling away a kick-out pass at the point, he was left in the dust by Ferlin, who broke away only to get robbed by Gothberg's glove.
"You know, like I talked about yesterday, Dougie's looking to get up ice," Bruins assistant general manager Don Sweeney said following the scrimmage. "He's comfortable on the power play, he's looking to be physical. You know he's going to be a well-rounded player with a two-way component.
[+] Enlarge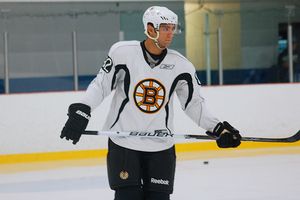 Brendan Hall for ESPN.comBruins development camp veteran Tommy Cross of Boston College has been a "calming influence" for newcomer Dougie Hamilton, said assistant GM Don Sweeney.
"Where that fits in on the high side, one or the other, we won't worry about that today, that's for sure. We just continue to work with him and get him to understand and process the game, you know, as speeds go up."
In between the halves, the team practiced breakaways, with Spooner and Zach Trotman beating Gothberg under the armpits at one end, and Brett Olson and Marc Cantin both going five-hole at the other end.
But the niftiest move might have come from promising young Russian Alexander Khkloachev. The 17-year-old second-round pick tapped the ice with a flurry of small forehand-to-backhand dekes, and slipped the puck under the goalie's right pad, drawing some pop from the crowd.
Overall, Sweeney said he was pleased with the potential on display, while noting some needed improvements.
"I thought the Ferlin line created an awful lot, did a real good job on the cycle, and obviously Florek had the one opportunity and buried it," Sweeney said. "I thought all of our D moved the puck pretty well today, to tell you the truth, got involved in the offensive flow, which we're going to continue to encourage. Obviously, Camara scored a goal, so you like to see that from a guy who plays with a lot of bite, that he can play on both sides of it."
Follow the leader
Hamilton and camp veteran Tommy Cross of Boston College have been paired as roommates in camp this week, and were put together on one of the defensive pairings in Sunday's scrimmage. Between the long and lanky Hamilton and the sturdy 6-foot-3, 210-pound Cross, it was one of the bigger pairings on the ice.
Both have shown flashes of exceptional offensive skill with the puck. But more importantly, off the ice Sweeney feels that Cross, the Bruins' 2007 second-round pick in his fourth development camp, has been "kind of a calming influence for Dougie."
"He's been patient about staying in school, and he's a captain, which obviously speaks volumes," Sweeney said of the Simsbury, Conn., native, who will enter his senior season with the Eagles this fall. "Boston College runs a hell of a program, so that's a credit to Tommy in a leadership capacity.
Cross called Hamilton "a fun guy" and "real mature for his age," and acknowledged the tutelage of former Eagles teammates like Ben Smith and Matt Lombardi in helping him become a leader.
"If guys follow you, they follow you, and if they don't, they follow someone else," Cross said. "It's just kinda natural. I've been around a lot of good leaders, guys at Boston College, guys you can learn from and emulate. You see how guys follow them, and you want to give a good example so that guys follow you."
Ferlin has room for growth
Ferlin made history last month when he became the first prospect from Florida's First Coast region to get picked in the NHL Draft, going in the fourth round (121st overall) to the Bruins after his first season with the Indiana Ice of the USHL.
His father is a native Chicagoan, and hence a lifelong Blackhawks fan, but Ferlin grew up following the Vincent Lecavalier and Martin St. Louis-led Tampa Bay Lightning teams of the early 2000s. And unlike some other top prospects in non-traditional markets across the Sun Belt and Southern California, Ferlin has rarely taken to rollerblades, preferring the indoor rinks.
"It's a lot of travel, but there are rinks, you'd be surprised," he laughed. "It's difficult to play, obviously, but you can do it. It's getting a lot bigger [in Florida] than people think around the country."
With his sturdy 6-foot-1, 200-pound frame, the Jacksonville, Fla., resident has shown some flashes of promise so far with his skating ability and heavy shot. He was also on the tipping end at the far post of Florek's one-timer in the scrimmage.
In yesterday's conference with the media, Sweeney took note of the amount of room for growth with Ferlin.
"He's got tremendous upside athletically," Sweeney said. "I think he'll continue to get more and more comfortable on the ice as he plays more and more hockey.
"He's got good speed, he's got good size, he's got good skills, he'll understand now in terms of how to utilize those even better as he plays with better players and moves forward. We're excited. I think he's a nice project and a nice piece to have to continue to go to work with and then see where he takes it."
July, 10, 2010
7/10/10
4:22
PM ET
WILMINGTON, Mass. -- Don Sweeney was promoted to assistant general manager of the Bruins last September after spending three seasons as the team's director of player development and director of hockey operations. While taking over the role as assistant GM was obviously a proud moment for Sweeney, the Bruins' development camp, which he started in 2007, has become a labor of love for the former Boston defenseman.
The fourth installment of the camp concluded Saturday at Ristuccia Arena, and Sweeney is happy with the way the camp has evolved each summer, helping the team's prospects learn about what it takes to play in the NHL as well as the organizational philosophies of the Bruins.
"I've tried to continue to allow it to evolve and find something new each year to tweak it and get better at it," Sweeney said. "We want to learn from it each and every year so that the kids coming back -- the returnees -- I don't want them thinking 'same old story.' So I think we've tried to do that. We meet with our staff and find different things that they'd like to see. We talk to the players about what worked and what didn't so that we can continue to be fresh about it and have a more proactive approach."
Each camp has emphasized team building, and part of that area this past week was having the players work with Marines. By all accounts from players and staff, the experience was a success and Sweeney is happy that he and his colleagues decided to bring in the men in uniform.
"You have to have a little risk and try different things to see whether or not it works," Sweeney said. "That was part of the thing with bringing in the guys from the [Marines] program this year, to see whether or not it would jive. I'm a believer of this and luckily we have a tremendous amount of support from Peter [Chiarelli] and the organization with financial support to implement a lot of these things."
Development camp also serves as a chance for Sweeney to do something he truly loves: coach. While Sweeney doesn't impose or intrude on what the organization's coaches try to accomplish, he helps out whenever he can, something he also does with the Providence Bruins during the season.
"The natural comfort for me is down on the ice and I love being out there," Sweeney acknowledged. "But we have a lot of coaches here that work with these kids on a daily basis and they have to have the primary role and responsibility to do that, and they do. But you like to be down there. That's why I get down to Providence as much as I do.
"I use the analogy that any of us can sit up in the balcony like the Muppets and point out what's wrong. But really, go down to the ice and realize how fast the game is and also acknowledge to these kids that, guess what, I made the same mistakes that you guys are making currently, but I had people help me along the way and you recognize, you learn from it and you apply that knowledge going forward because that's really what it's all about."
Sweeney is a big believer in positive reinforcement, especially during development camp, and he does his best to remind the prospects that they wouldn't be in the camp if the team didn't believe in them.
"Sure, I'm going to identify the mistakes, but also tell them, 'We've recognized the good things that you do as a player and that's why you're here and part of this organization. Don't forget those things either.' "
James Murphy has covered the Bruins and the NHL for the last eight seasons. He has written for NHL.com, NESN.com, Insidehockey.com and Le Hockey Magazine. Murphy also authors a blog, Drop Puck Murphy.
Your request cannot be processed at the current time. Please check back as we will work to correct the problem as quickly as possible.
Please feel free to send us any comments or feedback.
Your request cannot be processed at the current time. Please check back as we will work to correct the problem as quickly as possible.
Please feel free to send us any comments or feedback.