May, 14, 2014
May 14
1:37
PM ET
BOSTON -- When the Bruins and Canadiens face off in Game 7 on Wednesday night (7 ET) at TD Garden, it will be an epic battle, another chapter in an already storied history. This will be the ninth Game 7 between the organizations, which is the most in all of the major pro sports.


"I expect us to win, simple as that," said Bruins coach Claude Julien, whose team lost 4-0 in Game 6 in Montreal on Monday night. "Our team has been resilient at rebounds with losses, it's done that all year. So it's about having confidence in your group, and that I have lots of."
The winner will face the
New York Rangers
in the Eastern Conference finals, which will likely begin Saturday afternoon.
"I'm excited, for sure," said Montreal coach Michel Therrien. "But for us, Game 6 in Montreal was the same thing. It's a matter of attitude. I believe we've got the right frame of mind, and the right mindset for Game 6. The attitude was there and I saw a bunch of guys yesterday with the same attitude, and this morning again. ... It was a huge challenge for us back home [in Game 6], and it's another huge challenge for us tonight."
Here's what to watch for in Game 7:
Cash in:
Too many times in this series the Bruins have been on the receiving end of a few unlucky bounces. Too many times they hit a post or crossbar, or missed an open net. The Bruins need to keep creating those chances ... and bury them this time.
"When you win the Stanley Cup, you have played some of your best hockey, but you have also had the breaks," Julien said. "I'll be the first one to tell you, if we don't have a little bit of luck when we want it, then we don't win the Cup [in 2011]. So it all comes with the package here. We have to play our best. We have to get some breaks and a little bit of luck. If you get all of those things, your chances are good but most importantly is control what you can control. I think our effort and our game tonight is something that is in our own hands and then you just have to hope that the other things follow."
Boston's third liners, specifically
Carl Soderberg
and
Loui Eriksson
, have tested the iron more than once in this series, so look for either one of them, or both, to sneak one past Montreal goalie
Carey Price
.
K.O. P.K.:
The Bruins need to hit Montreal defenseman
P.K. Subban
early and often. Bruins forward
Shawn Thornton
did exactly that during Game 7 between these two teams in 2011, and it set the tone. Subban has been arguably the best player in this series and he's confident Montreal can win Game 7 on TD Garden ice. Boston needs to be in his face as much as possible tonight.
"P.K. Subban's been phenomenal since the playoffs started, even at the end of the season," Therrien said. "He's a gamer. He's a guy that will bring his team to a new level, another level when the games count. He's been a leader on the ice."
The Canadiens have fed off Subban's energy. That needs to end Wednesday night.
Masked men:
The team that will win Game 7 will be the team whose goalie plays better. It sounds elementary, but it's true. The Bruins'
Tuukka Rask
is 1-1 with a 3.87 goals-against average in two career Game 7s. Price is 1-1 with a 1.91 GAA and one shutout in two career Game 7s. While both have played well in this series, Price's play has stood out. But if Rask plays his best game, the Bruins will win.
May, 13, 2014
May 13
4:20
PM ET
BOSTON -- Desperation was the buzzword in the Bruins' dressing room Tuesday as this Stanley Cup playoff series between Boston and archrival Montreal nears its apex: Game 7.
Prior to Monday night's elimination game at the Bell Centre, the Bruins clinging to a 3-2 series lead, coach Claude Julien stressed the need for urgency, saying "there's one team that's desperate tonight," referring to the Habs. "There's a team on the other side," he continued, "that has to be just as desperate, because you don't want a Game 7."
[+] Enlarge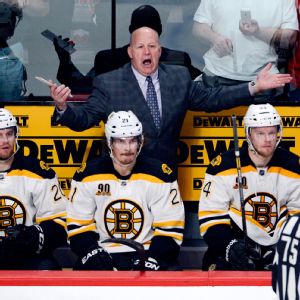 AP Photo/The Canadian Press/Ryan RemiorzWhen asked after Game 6 what he expected in Game 7, Bruins coach Claude Julien answered abruptly: "I expect us to win."
That desperate team played like a stick of dynamite, outhitting and outshooting the Bruins, who after falling behind seemed resigned that Wednesday's Game 7 was inevitable.
One goaltender, Montreal's
Carey Price
, looked terrific in posting a shutout. The other,
Tuukka Rask
, struggled behind a defense that looked lost at times.
"Whether it's on the forecheck or going back for pucks and talking to Tuukka to make sure we're breaking out pucks efficiently, that jump was missing, so we've got to make sure we have that back tomorrow," defenseman
Torey Krug
(who was a minus-2 in Game 6 ) said following an optional skate early Tuesday afternoon at TD Garden.
And how do you find that sense of urgency?
"It's Game 7," he smiled. "If you don't have it, there's something wrong with you."
A handful of players participated in the optional skate, most notably veterans
Patrice Bergeron
and
Milan Lucic
. In the dressing room, the mood was subdued (at times drowned out by jackhammer noises from arena construction) as fourth-liners and young defensemen spoke of embracing this winner-takes-all contest and going all-in.
Winger
Shawn Thornton
, a veteran of six Game 7s, characterized these moments as "awesome."
"You can let it tighten you up or you can really feed off the fact that this is what you trained your whole life for, these situations," Thornton said. "That's kinda the way I've approached it. This is awesome. This is the best time of year."
Conceding a more noticeable jump in Montreal's step Monday night, defenseman
Matt Bartkowski
was hesitant to characterize the mood as a sense of desperation, noting that could be taken as a positive or negative. However, this talk of "puck luck" -- or the Bruins' supposed lack of it -- is no accident.
"If it is a little puck luck for them, I mean, they earned it," said Bartkowski, who has played in one Game 7. "A couple of the goals, call them lucky or not, you come out hard and good things are going to happen. This next game, we need to come out the way we did in Game 5. Just take from last game, fix what we can, and go from there."
Asked about matching the Canadiens' sense of urgency visible Monday night, Bartkowski said, "I don't even know if they were all that urgent, or whatever it was. Next game, we've just got to set the pace. That's about it."
For Julien, this is the time of year you're supposed to go for broke. If you're not putting it all on the line, you're losing it.
"I think desperation is going out there and giving it the best shot you can," Julien said. "The last thing you want is regrets. And if you hold back the things you know you can do, and you don't leave it all out on the ice, then you have regrets. So, that's what desperation is all about, leaving it all out on the ice and you can walk away knowing you gave it your best shot."
But as always, with desperation must come control.
"I think it's kind of how we played in Game 5," said defenseman
Dougie Hamilton
, a veteran of one Game 7. "I thought we were playing pretty desperate in that game, and it isn't about changing our game, it's about focusing on the details and working hard and focusing on the things we're good at. It's about having a good start again, obviously, and not having to try to come back and to try to play with the lead."
April, 26, 2012
4/26/12
1:49
AM ET
BOSTON -- The 2011-12
Boston Bruins
' season came to an abrupt and stunning end Wednesday night as they lost Game 7 of their Eastern Conference quarterfinals series, 2-1 in overtime, to the
Washington Capitals
.

The seventh-seeded Capitals gave the second-seeded Bruins all they could handle and more throughout the series, as every game was decided by one goal. But in some ways this series encapsulated the Bruins' entire season.
The Bruins entered the season as defending Stanley Cup champions and quickly found out how hard it would be to defend the title. It was a season-long learning process and, as Claude Julien pointed out after Game 7, more of a mental test than a physical one after a shortened summer. But what seemed like a blur is now over and the Bruins will have a more normal offseason to prepare for 2012-13 campaign.
With that in mind, here are five things the Bruins must address in the offseason.
1. Clutch scoring:
Yes, the Bruins' offense improved drastically this past season, as they were second overall in overall scoring. But when it counted most, they couldn't get the big goals. They scored 15 goals in this seven-game series, but they did not generate enough quality scoring chances and did not bury enough of the ones they had. That was the difference in the NHL's first playoff series that saw every game decided by one goal.
Chris Kelly
and
Tyler Seguin
came through with overtime winners in Games 1 and 6, respectively, but not enough of the Bruins' big guns -- such as
David Krejci
,
Milan Lucic
and
Brad Marchand
-- delivered when the team needed them most.
[+] Enlarge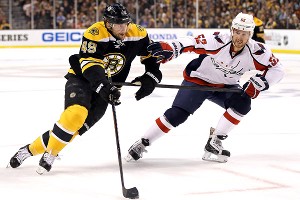 Elsa/Getty ImagesMike Green, right, and the Capitals' defense made life tough for Rich Peverley and the Bruins' goal scorers.
2. What to do with Tim Thomas?
It sounds almost inconceivable to imagine the Bruins trading Thomas only a year removed from his Vezina Trophy, Conn Smythe Trophy and Stanley Cup winning season. Thomas was by far the backbone of that Cup run last season and has been a very good goalie during his tenure here in Boston, but he is 38 and entering the final year of a five-year deal that will see him paid $5 million against the salary cap. Thomas had a decent season at 35-19-1 with a 2.36 GAA and .920 save percentage, but he -- just as his team did -- struggled through January and February, and in this series Thomas was not the Thomas we saw in the 2011 Stanley Cup playoffs. He wasn't bad, but he wasn't good enough. With
Tuukka Rask
ready to be a No. 1 goalie and only 25, and under contract as a restricted free agent, it may be time to part ways with Thomas for a scoring forward and/or high draft pick and then take the money and put it toward Rask and other free agents. It should be noted too that Thomas' no-movement clause expires June 30.
3. Address 2012 and 2013 free agents:
As mentioned above, the Bruins need to sign Rask and they are on record as saying they will. But they also have to decide whether to sign seven unrestricted free agents in
Brian Rolston
, Chris Kelly,
Gregory Campbell
,
Daniel Paille
,
Joe Corvo
,
Greg Zanon
and
Mike Mottau
, and another restricted free agent in
Benoit Pouliot
. The guess here is that Kelly, Campbell, Mottau and Pouliot are all re-signed. But the Bruins need to start thinking about the following summer as well, when
Nathan Horton
,
Andrew Ference
, Thomas (if he's not traded) and goalie
Anton Khudobin
are unrestricted free agents and Milan Lucic, Tyler Seguin, Brad Marchand and
Jordan Caron
are restricted free agents. Will they extend any of them this summer?
4. Try to figure out the health of Nathan Horton:
The Bruins player personnel moves when addressing scoring will definitely be affected by the health of Nathan Horton, who never returned from a concussion suffered Jan. 22 (his second in one calendar year) and was unable to even attempt a legit comeback for the playoffs. Where he is in his recovery process and whether he can ever be the Horton he was last season -- when he played a major role in the Bruins' Cup win -- will be hard to gauge but has to play a role in what trades and signings the Bruins make.
5. Fix the power play:
The Bruins somehow won a Stanley Cup in 2011 without a power play that could score, but it finally caught up to them in this series with Washington and may have been the reason they're hitting the golf courses early. The Bruins were 0-for-3 in Game 7, failing to convert on a power play with less than two minutes left in regulation. They were 3-for-21 in the series, and this has to be addressed in the offseason -- whether with new players or a new power-play coach.
April, 25, 2012
4/25/12
11:45
PM ET
ESPN NHL analyst Barry Melrose says
Braden Holtby
was the key to the Capitals' upset over the Bruins.
"This kid has got ice water in his veins," says Melrose, who goes on to give some of the credit for the Caps' Game 7 win to their stars
Alex Ovechkin
and
Nicklas Backstrom
.
April, 25, 2012
4/25/12
11:13
PM ET
Rapid reaction after the
Washington Capitals
ended the
Boston Bruins
' Stanley Cup defense with a
2-1 overtime win
in Wednesday's Game 7:


Ward the unlikely hero:
After scoring just six goals in 73 regular-season games, Capitals forward
Joel Ward
notched his first goal of the playoffs just 2:57 into overtime to catapult Washington into the second round. He earned first-star honors for his decisive strike.
One-upmanship:
The Capitals' 2-1 win marked the seventh straight game to be decided by one goal, setting a playoff series record that can obviously only be tied in the future. Game 7 was the fourth of the series to extend to overtime.
Seguin's resurgence not enough:
After his gritty OT goal won Game 6 for the Bruins,
Tyler Seguin
followed it up by banging home their lone Game 7 tally. He crashed the net hard and pounced on the rebound from
Johnny Boychuk
's slapper, knotting the game at 1-1 with 5:33 left in the second period. Seguin won't have a chance to continue his hot streak after struggling in the early part of this first-round series.
Holtby holds on:
The Caps'
Braden Holtby
was the last man standing in an epic goalie duel with the Bruins'
Tim Thomas
. The future is bright for Washington's rising 22-year-old star. Meanwhile, the Bruins will have to decide what to do with their goalie situation. Thomas, 38, has one year remaining on his contract, but 2012-13 could be the season in which backup
Tuukka Rask
beats him out for the starting role.
April, 25, 2012
4/25/12
10:17
PM ET
BOSTON -- For the second straight season the Bruins will have to win in overtime to advance to the second round. The Caps and Bruins are tied 1-1 headed to the extra frame and here's three keys from the third period.


Seidenberg MVP of series:
Braden Holtby
has made a name for himself in this series and is a main reason the Capitals are headed to overtime in Game 7, but
Dennis Seidenberg
is the MVP of the series, win or lose. Seidenberg was everywhere both defensively and offensively. His block on
Alex Ovechkin
's seemingly certain goal on a third-period power play epitomized what Seidenberg means to this team and its defense.
Status quo for power play:
The Bruins once again failed to convert on the power play and finished regulation 0-for- 3 and they're now 3-for-21 in the series. They got two more chances in the third period on the man-advantage including one with under two minutes left and still couldn't score.
Bruins miss Bergeron on faceoffs:
In Game 6,
Patrice Bergeron
-- the Bruins best faceoff man -- was limited to just one faceoff due to an undisclosed injury he is battling. Luckily, he won that faceoff but the Bruins clearly missed him at the dot and they did so again in Game 7. Bergeron hasn't taken a faceoff as the Bruins were beat on the dot 31-26 in regulation.
April, 25, 2012
4/25/12
9:25
PM ET
BOSTON -- The second period came and went and the
Boston Bruins
were able to tie Game 7 of the Eastern Conference quarterfinal series against the
Washington Capitals
, 1-1.


The Bruins'
Tyler Seguin
, who scored the overtime goal to give Boston a 4-3 win in Game 6 in Washington on Sunday, scored the grittiest goal of his pro career with 5:33 remaining in the second period.
The Bruins had sustained pressure in the offensive zone when Bruins defenseman
Johnny Boychuk
unloaded a slap shot from the right faceoff circle. Capitals goalie
Braden Holtby
made the initial save, but left the rebound at the top of the crease.
Seguin, with two defenders draped on his back, reached out and poked the puck through traffic and snuck it in.
The Garden fan base erupted and the Bruins had life once again.
Body talk:
After the goal, the Bruins began to play their style more, bodying up and getting in the Capitals' faces. In the final minute of play, Holtby cross-checked the Bruins'
Rich Peverley
from behind, right in front of the net. Peverley took exception, swinging his stick like a baseball bat and stopping at the goalie's chest. Holtby never flinched.
Buckle up:
With the score tied at 1-1 and advancement in the Stanley Cup playoffs on the line, the third period -- and maybe overtime(s) -- should make for entertaining hockey, no matter which team wins.
April, 25, 2012
4/25/12
8:31
PM ET
BOSTON -- The first period is over and the underdog
Washington Capitals
are once again giving the
Boston Bruins
all they can handle, taking a 1-0 lead on
Matt Hendricks
' goal at 11:23. Here's a quick look at Game 7's early action:


Chimera continues to be thorn in Bruins side:
While he didn't score the first goal of the game,
Jason Chimera
assisted on it as his grit and hustle continue to pay off for the Capitals. Chimera also got under the skin of Bruins captain
Milan Lucic
, who went after him by the benches.
Lucic's errant clear leads to Caps goal:
Milan Lucic had a great Game 6 in setting up
Tyler Seguin
's overtime winner, but Game 7 did not get off to a good start for the rugged Bruins winger. He made an errant pass that led to the Hendricks goal. Lucic seems a little too pumped up and hopefully can calm down for the second period.
Power failure:
The Bruins will still have 10 seconds left on their first power play of Game 7, but so far the man-advantage has been status quo: They look to be skating in quick sand. The Bruins spent most of this power play in their own end and need to jump-start it in the second.
Rookie Holtby outshines veteran Thomas:
If anyone wondered if
Braden Holtby
would finally show his human side and have some Game 7 jitters, that's not happening. The Caps netminder continued to shine, outdueling
Tim Thomas
in the opening frame while making 11 saves to Thomas' 4. However, it should be noted that the Capitals goal was by no means Thomas' fault.
Thornton and Corvo stay out; Mottau and Caron in:
Claude Julien went with the same lineup he had in Washington for Game 6 as
Shawn Thornton
was a healthy scratch again and
Joe Corvo
remained sidelined with an undisclosed injury he suffered in Game 5.
Jordan Caron
took Thornton's spot up front again and
Mike Mottau
was on the blue line for Corvo. Here's what the lineup looked like:
Milan Lucic-
David Krejci
-Tyler Seguin
Brad Marchand
-
Patrice Bergeron
-
Rich Peverley
Benoit Pouliot
-
Chris Kelly
-
Brian Rolston
Daniel Paille
-
Gregory Campbell
-Jordan Caron
Zdeno Chara
-
Dennis Seidenberg
Andrew Ference
-
Johnny Boychuk
Greg Zanon
-Mike Mottau
Tim Thomas
Tuukka Rask
April, 23, 2012
4/23/12
11:58
PM ET
Game 7 of the Bruins' first-round playoff series against the Washington Capitals on Wednesday at TD Garden will start at 7:30 p.m., the NHL announced Monday night.

Check out the video below to see what Claude Julien, Zdeno Chara and Patrice Bergeron had to say on Monday about the do-or-die matchup:


Your request cannot be processed at the current time. Please check back as we will work to correct the problem as quickly as possible.
Please feel free to send us any comments or feedback.
Your request cannot be processed at the current time. Please check back as we will work to correct the problem as quickly as possible.
Please feel free to send us any comments or feedback.