February, 18, 2011
2/18/11
6:14
PM ET
BOSTON -- It was a long and arduous process, but
Boston Bruins
general manager Peter Chiarelli finally got his man.
The Bruins acquired veteran defenseman
Tomas Kaberle
from the
Toronto Maple Leafs
in exchange for Boston's own first-round pick in the 2011 NHL Entry Draft, forward prospect Joe Colborne and a conditional second-round pick in 2012. If the Bruins reach the Stanley Cup Finals this season, or they're able to re-sign Kaberle after this year, then the Maple Leafs will receive the Bruins' second-round pick in 2012.
Kaberle, 32, has spent his entire 12-year NHL career in Toronto and he will be an unrestricted free agent following this season. Now that the Bruins have him, Chiarelli wants to keep him.
"I would like to try to re-sign him," said Chiarelli after Friday's press conference at TD Garden. "I think we would re-sign him, but we wouldn't do anything until after the season."
Chiarelli attempted to acquire Kaberle on draft day two years ago, but the deal fell through. Chiarelli has been persistent and has kept in contact with Toronto GM Brian Burke about the possibility of completing the deal.
Discussion this time around began nearly four weeks ago and was finally completed on Friday, Chiarelli said.
Chiarelli doesn't like to disclose too much of the inner workings of any deal, especially one as complex as this one, but he did admit that Kaberle has been on his radar for quite some time.
"It was publicized well enough that we obviously tried to acquire Tomas at the draft two years ago, and he's a player we always felt would help us," Chiarelli said. "We've had on-again, off-again discussions with the Leafs over the course of these two years.
"He's a UFA [unrestricted free agent], so from the Leafs' perspective, I would imagine that they wanted to maximize their return. They weren't going to re-sign him, and they maximized their return, but we got the player we wanted."
Even when Chiarelli and Burke weren't exchanging e-mails or text messages, internally the Bruins were still formulating a plan and discussing what the organization would do if the deal were brought back to life.
"With a deal of this magnitude, and when you put in the prospect [Colborne] that we did, there's a lot of internal discussion and debate. Sometimes you go in different directions, so it took some time that way."
Even this time around, there were times when Chiarelli thought this deal would fall through again.
"Sure, there are times when you maybe think it's off the rails a little bit, but that applies to every deal. There're ebbs and flows to the deal, but I think when you have two motivated parties you'll get a deal done."
The fact it finally got done, and Boston got what it believes to be a much-needed component for a strong push for the Stanley Cup, not even Bruins pugilist
Shawn Thornton
could have knocked the smile off Chiarelli's face on Friday.
September, 16, 2010
9/16/10
10:02
PM ET
BOSTON -- Bruins prospect Joe Colborne received some encouraging news Thursday morning when he was informed he did not break his nose or suffer a serious concussion after being hit in the face with a stick during a rookie game Wednesday night at TD Garden.

He had a CT scan taken and it showed no serious cartilage damage, but general manager Peter Chiarelli said Colborne had a "mild concussion." Colborne said he received "26 or 28" stitches and spent the day icing the injury, and as soon as he stopped with the treatment, it would swell back up on him. He also said the breathing is the most difficult to deal with. His nose is plugged, and he should have that removed before he gets back on the ice.

He watched Thursday's rookie game from the ninth floor at TD Garden, and prior to the game, he watched the replay of the of the third-period incident in the 5-2 win against the Islanders rookies that led to his getting a stick in the face.

"After seeing that and how I got up, to have no damage, I feel pretty fortunate," Colborne said. "I'm glad I got it out of the way before the games mean anything.

"I was kind of scared I would wake up today hurting pretty bad, but I woke up and other than this general area [pointing to his nose], the head felt fine. And if they would have let me, I would have been playing today."

Management and the medical staff told Colborne since it's Thursday's game is only a rookie game, there's no need to rush back. Colborne plans on being ready for the first official day of full training camp on Saturday.

The 20-year-old forward had his parents in town and admitted his mom wasn't too happy about the injury.

"It's not the first time I've been cut," he said. "Worse things could have happened. It could have been a knee or a shoulder that would keep me out for a long time. One of my friends this summer, his mom got the call that they're going to have to cut his two legs off after a car accident. So I told [my mom], and it really puts things into perspective. We have the best doctors here and they looked after me. I feel real confident I'll be back just fine really soon."

When he does return to the ice, Colborne is planning to wear a full mask until he's healthy.

"Right back to my college days," he said. "I thought I was done with that, which is kind of frustrating. But I get to skate, so I'm feeling pretty fortunate right now."

Colborne made his pro debut with the Providence Bruins last April and played a total of six games. During his brief stint in the AHL last season, he also received a cut on his right cheek.

"In seven games, I've got over 40 stitches now," he said. "Hopefully that trend stops pretty quick."

September, 16, 2010
9/16/10
12:34
PM ET
BOSTON -- Bruins prospect Joe Colborne returned to the hospital this morning to be examined after he suffered what was first thought to be a broken nose during Wednesday's rookie game against the
New York Islanders
at TD Garden.
Providence Bruins coach
Rob Murray
, who is behind the bench for rookie games, said Colborne was doing better this morning.
"Joe's a little more positive from what it looked liked last night," Murray said. "He's feeling good. At first they thought he broke his nose, but he might not have. I'm not positive on that one. Overall, it's looking better than it did last night. It's not as bad as everyone thought."
After Wednesday's game, Colborne told Murray he wanted to play tonight.
"He was lucid enough to say, 'I'm OK to go' but obviously it looked bad on the ice," Murray said. "He'll be OK."
The 20-year-old forward is one of the top prospects in the Bruins organization and was hit in the face with a teammate's stick in the third period and required stitches to his upper lip and also chipped a tooth. Colborne will not play in tonight's rookie game.
April, 3, 2010
4/03/10
2:27
AM ET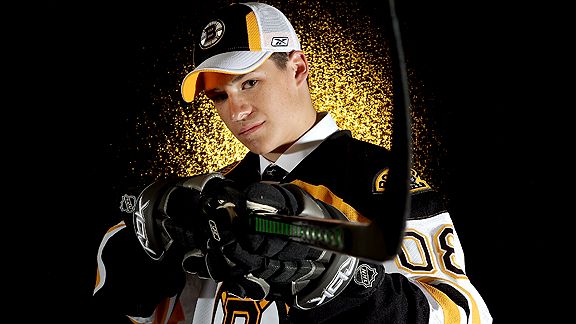 Andre Ringuette/Getty ImagesJoe Colborne was one of three Bruins top prospects who made their pro debuts Friday.
PROVIDENCE, R.I. -- The future of the Boston Bruins was on display Friday night and it looks really good.
Prospects Joe Colborne, Maxime Sauve and Steven Kampfer all made their professional debuts with Boston's AHL affiliate, the Providence Bruins, and all contributed in a 3-1 victory over the Worcester Sharks at the Dunkin' Donuts Center.
Sauve scored two goals and Colborne assisted on both, while Kampfer was solid defensively and played like a seasoned veteran.
Bruins assistant general manager Don Sweeney attended the game and was very pleased with what he saw from the organization's top prospects, who all signed contracts this week. Colborne and Kampfer just concluded their collegiate careers, while Sauve finished his junior career.
"We're not getting ahead of ourselves; it's one game," said Sweeney. "As I've always believed, because maybe I did it so many years ago, you come out of school and you get that leg up, getting an opportunity to play at this level and understanding what it takes to turn pro. I just think it accelerates the learning curve all the way around. These guys will hopefully down the line, if they make it to the NHL, will appreciate this and look back on it and know it was a really good opportunity."
If Friday's performance is any indication of what's to come, it's a safe bet all will play in the NHL sooner rather than later.
Even though there's been a lot of attention paid to Colborne, the Bruins' first-round pick (16th overall) in the 2008 NHL draft, Kampfer stood out on Friday. The 21-year-old defenseman, a University of Michigan standout, was fundamentally sound on the ice. He moved the puck very well and played a physical game. In the third period, he broke up a 2-on-1 in his own zone and the P-Bruins transitioned quickly and scored their third goal of the game.
"Out of the three guys, he looked awful comfortable," said Sweeney. "Being a former defenseman, that got me a little more excited than anything to realize this kid has an edge to his game and a good feel for the game. He has a lot of good things built in already."
Providence coach Rob Murray put Kampfer in all situations and he responded very well.
"I'd have to say the first couple of shifts I was really nervous," said Kampfer. "Playing with Jeff [Penner] settled me down a little bit. The talk on the bench, the guys were great. I just tried to play simple, get the pucks out and get the pucks in."
He was expecting a different game than he'd been used to in college, but he was a bit surprised by the speed and physical play.
"I think the guys are a lot stronger than in college," he said. "That was something I noticed. You go into the corners and I'm used to pushing the guy off the puck, but these guys are big men and going into the corner, you have to be a lot stronger. That's something I've got to work on."
Sauve made his presence felt too. At a time when both the Bruins and P-Bruins are having trouble scoring goals, the 20-year-old quickly lit the lamp with a pair of goals.
"Our team down here, like Boston, hasn't scored a heck of a lot of goals and Max comes in and scores two in his first game," said Sweeney. "I told him it's not going to be that easy going forward, but it's just good to see."
Sauve arrived in Providence this week from the Quebec Major Junior Hockey League, where he recorded 13 goals and 22 assists in 25 games for Val d'Or.
"I feel very excited to play here and win," said Sauve. "That's the goal. I was a little bit nervous, but that's the game."
Sauve and Colborne played on the same line and clicked as if they'd been linemates longer than just one game. The two were roommates during Bruins training camp last September and they're living together in Providence.
"He's deserves all the press he's getting right now," said Colborne. "He's a such a good player and he made me look really good out there. I was just feeding him passes and he was doing the rest."
Colborne, 20, signed with Boston earlier this week after playing two seasons at the University of Denver. He's big and strong (6-foot-5, 215 pounds) and was winning races to the puck and using his body.
"It was definitely a learning experience and it was great to get the win," he said. "It was great getting that first point pretty quick and it took a lot of the pressure off.
"I had quite a bit of nerves in the warmup, but once you get the first check in, you get into the game and you just go back to what I've been doing my whole life. It was everything I thought it would be and getting the win made it that much nicer."
A natural center, Colborne played the wing for the majority of this past season for Denver after suffering a broken finger in November. The Bruins want him back in the middle and that's where he played Friday night. He looked really good.
"It felt great," he said. "I hadn't been there for a while and I was a little rusty on my faceoffs. It felt good, it felt natural."
Colborne's parents made it to the game just in time for the opening drop and when Colborne checked his cell phone after the game, they had sent him a congratulatory text message.
"It was pretty special to have them come all the way across the continent to see me. My sister drove in from Yale too, so she got to see it, which is special too. I can't thank them enough for what they've done for me my whole life. For them to show the support was pretty nice."
The Bruins have created organizational depth with the players they have drafted the last few years, and will continue to do so. The results were on display here on Friday and based on the early returns, Boston should be excited about the future.
"They actually looked very good," said Murray.
March, 31, 2010
3/31/10
11:12
PM ET
Joe Colborne wasn't the only prospect the Boston Bruins signed Wednesday.

General manager Peter Chiarelli also announced the organization signed forward Jordan Caron, goaltender Michael Hutchinson and defenseman Steven Kampfer to entry-level contracts.

Kampfer arrived in Providence on Tuesday, practiced with the P-Bruins on Wednesday and will remain with the team for the remainder of the season. Colborne will practice with Providence on Thursday and both will make their pro debuts on Friday against the Worcester Sharks at the Dunkin' Donuts Center.

Kampfer, 21, just completed his collegiate career at the University of Michigan, where he led the Wolverines with a plus-18 rating in 45 games as a senior. In four seasons, he recorded seven goals and 54 assists for 60 points. He was originally selected by the Anaheim Ducks in the fourth round (93rd overall) of the 2007 draft. He was acquired by the Bruins from Anaheim on March 2 in exchange for a condition fourth-round draft pick.

"I'm ecstatic," he said. "It's a dream come true, especially to sign with an organization like the Bruins. I'm really happy and I'm excited to start my professional career. I'm just looking forward to playing good hockey, to have great teams. Hopefully I can contribute with Providence this year and make the best out of my pro career."

Caron, 19, was the Bruins' first-round selection (25th overall) in the 2009 draft and is playing for Rouyn-Noranda in the Quebec Major Junior league playoffs. He also played for Team Canada and won a silver medal at the World Junior Championships in January.

"It's a dream come true. It's my first NHL contract and it's great," said Caron. "I knew it was going to happen one day, and today is a special day to finally have an NHL contract with the Bruins."

Hutchinson, 20, played in 46 regular-season games for the London Knights of the Ontario Hockey League, recording a .913 save percentage and a 2.86 goals-against average. The Knights are playing in the second round of the OHL playoffs. He was drafted by Boston in the third round (77th overall) in the 2008 draft.

"I'm completely excited," he said. "It's always been my dream to play in the NHL and signing's one step closer to reaching that dream."
March, 31, 2010
3/31/10
7:07
PM ET
Boston Bruins 2008 first-round draft pick Joe Colborne officially became a pro when he signed a three-year deal with the organization Wednesday.

The 20-year-old forward just completed his sophomore season at the University of Denver and will join the Bruins' AHL affiliate in Providence for the remainder of the season. Denver, a No. 1 seed, was eliminated in the first round of the NCAA tournament.

"I'm extremely excited about this opportunity," said Colborne. "I'd like to thank [general manager] Peter [Chiarelli] and the Bruins organization for giving me the opportunity to join this team.

"It's a bittersweet time. I had two unbelievable years at Denver and I can't say enough about what the program has done for me.

"It was a disappointing end to the season. I wish I wasn't having this talk for another couple of weeks after we had won the national championship. We fell short of our goals this year, but with that said, this has been a dream of mine for my entire life and I'm just excited about getting going."

More to come. . .
March, 29, 2010
3/29/10
6:35
PM ET
BOSTON –- The rumor mill has been churning today with reports that Joe Colborne, the Bruins' No. 1 draft pick (16
th
overall) in the 2008 NHL Entry Draft has turned pro.
The sophomore from the University of Denver just concluded his collegiate season, but there's no official word on whether the 6-foot-5, 190-pound center has signed with the Bruins. In fact, general manager Peter Chiarelli said just before the Bruins-Sabres game that there's "nothing going on" and "we'll see" about Colborne.
It's believed the Bruins are working on a possible deal with the 20-year-old Calgary native. Denver reached the NCAA tournament, but lost to RIT in the first round.
http://www.denverpost.com/breakingnews/ci_14779655