February, 7, 2013
2/07/13
3:22
PM ET
WILMINGTON, Mass. --
Shawn Thornton
, who met with the media for the first time since suffering a concussion in a fight with Sabres enforcer
John Scott
in a 7-4 Bruins loss Jan. 30, said he is now cleared for contact and practice but unsure whether he will play in either of the Bruins' back-to-back games Saturday (vs. Tampa Bay) and Sunday (vs. Scott and the Sabres).
"I feel good and I've felt good all week," Thornton said. "I'm happy to be around. I was a little bit tired on Friday but I might've been anyway because there was a lot of hockey going into that game last Thursday. Saturday I was out walking around, Sunday I rode the bike and have been back skating ever since."
After discussing his condition at length, the conversation naturally turned to the debate about whether fighting belongs in the game and if maybe he's thought twice about the line of work he finds himself in. Thornton hasn't lost many fights the way he did to Scott, and while this was what he believes to be his third concussion, he defended his profession.
"I don't like when people like to take advantage of situations to further their agenda," Thornton said. "There's fighting in hockey; it's in the game, and I think it's a necessary part of the game. I don't think it's going anywhere, and there's no point in really dwelling on it. But listen, I'm a big boy and I know what I'm getting into."
Thornton then was asked about whether staged fights occur more than fights that break out spontaneously or to avenge a wrong.
"There's usually some rhyme or reason to when I'm doing it," Thornton said. "Some may look staged, but there's usually something that happened that led to it. Sometimes momentum and all the stuff that happens can lead to it. I like the fights in the heat of the battle and those are definitely part of the game, and people appreciate them more. But there are times that it's necessary at other points in the game, too. But just two guys going out and doing it for no apparent reason, you don't see me doing that too often."
As for the fight with Scott, Thornton said he has no regrets.
"Obviously with Buffalo they brought him in because of our team, and it's my job to make sure that I'm available for that so it's not one of our star players that has to do it," Thornton said. "That's part of my role, and I accept it fully. Like I said, I wish it went differently but I knew it was going to happen and it was better to get it out of the way early. I mean, would you rather that or wait until he does something stupid and I have to deal with it? So the other way it was a nonfactor after that."
Thornton dismissed suggestions that 6-foot-9
Zdeno Chara
should have retaliated against the 6-foot-8 Scott.
"I don't even know where that [expletive] comes from," Thornton said. "Listen, Zee's our best player and arguably the best defenseman in the league. There's no reason for him to have to fight my battles. I've done this for a long time, and it's on me. Listen, if I knocked him out, I wasn't expecting somebody to come grab me the next shift. It's part of it. We're both men, and it happens."
January, 31, 2013
1/31/13
11:32
PM ET
[+] Enlarge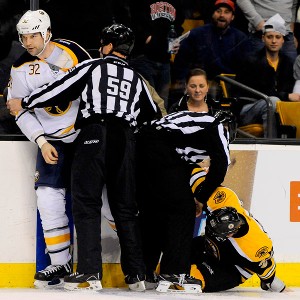 Cal Sport Media via AP ImagesShawn Thornton, right, took the brunt of the damage in a fight with 6-foot-9, 270-pound John Scott.
BOSTON -- Bruins coach Claude Julien said that
Shawn Thornton
would be re-evaluated Friday after getting knocked out of Thursday's loss by Sabres enforcer
John Scott
.
Scott and Thornton dropped the gloves just 2:53 into the first period. Thornton took numerous fast and furious punches to the head from Scott and appeared to be dazed and wobbly as he headed to the penalty box. After serving his 5:00 major for fighting, Thornton immediately headed to the Bruins dressing room. He did not return.
Tyler Seguin said, "I saw him after and he looked OK. We know he is a tough guy and he did his job."