May, 8, 2014
May 8
9:58
AM ET
MONTREAL -- The
Boston Bruins
on Thursday morning recalled forward
Matt Fraser
from Providence and demoted forward
Justin Florek
.
Fraser will join the team at the morning skate at Bell Centre as the Bruins prepare for Thursday night's Game 4 of a second-round Stanley Cup playoff series against the
Montreal Canadiens
. The Canadiens lead the series, 2-1.
Fraser, 23, played 14 games for the Bruins this season, posting two goals. He recorded 20 goals and 10 assists for 30 points in 44 games for the P-Bruins of the AHL. Providence is in the midst of the Calder Cup playoffs and Fraser already had three goals and two assists.
Florek skated in six postseason games for Boston and recorded his first NHL playoff goal in the first round against the
Detroit Red Wings
. He was a healthy scratch for Games 2 and 3 against the Habs.
Florek spent the season with the P-Bruins and posted 19 goals and 19 assists for 38 points, including a plus-17 rating.
April, 20, 2014
Apr 20
8:34
PM ET
BOSTON -- Organizational depth is a big part of the Bruins' success, and it was once again on display during Boston's 4-1 win over the
Detroit Red Wings
in Game 2 of the teams' first-round series of the Stanley Cup playoffs Sunday afternoon at TD Garden.
Rookie forward
Justin Florek
scored the Bruins' first goal, which gave Boston the momentum it desperately needed after suffering a 1-0 loss in Game 1.
[+] Enlarge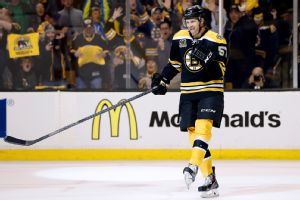 Greg M. Cooper/USA TODAY SportsJustin Florek reacts after getting the Bruins on the board in Game 2.
On Sunday, Florek and the Bruins took advantage of a Detroit miscue to gain a 1-0 lead at 7:28 of the first period. Red Wings goaltender
Jimmy Howard
came far out of the crease to play the puck and attempted to move it to
Brendan Smith
, but the puck ricocheted off the defenseman's leg.
The puck came to Florek, who was in the right place at the right time, took a shot from the left faceoff circle and scored with Howard out of position.
"It felt great," Florek said. "Just great to get the fans into it and get everyone going, especially the team. So I think it was a good start for us, and hopefully, we can carry that out through the rest of the series."
Since Bruins forwards
Daniel Paille
(head) and
Chris Kelly
(back) were both questionable earlier in the week, Boston recalled Florek from Providence of the AHL. The 23-year-old forward has been promoted three times this season, and this time Bruins coach Claude Julien showed trust and placed Florek on the team's third line with
Carl Soderberg
and
Loui Eriksson
.
Florek was solid in Boston's Game 1 loss, and even saw time on the penalty kill. In Game 2, his goal provided a major boost.
"It was great for him," Julien said. "It was also great for the team, I think, to give us that early lead and really get that confidence going, that energy that we were looking for. That was a big goal for us, so it was great to see him stay on it and react well and quick enough so that it ended up being a good goal for us."
After the game, teammates around the room understood just how important Florek's contributions have been in Kelly's absence.
"Getting that first one was huge, especially after not being able to get one past [Howard] last game," Bruins forward
Milan Lucic
said. "Sometimes all it takes is a lucky bounce like that to kind of turn the tide and get some confidence and momentum in the goal-scoring department. It was a great job by [Florek] pouncing on the puck and getting that first goal."
During his time with the P-Bruins this season, Florek posted 19 goals and 19 assists for 38 points in 69 games.
In Game 1, Florek logged 13:08 of ice time. In Game 2, he played 10:08.
"You've got to always be ready," he said. "So you're sitting on the bench, you've just got to keep your legs loose and everything, and when you get the chance you've just got to be ready, so that was a big part of it."
After Boston's win, Julien said he's still not sure when Paille or Kelly will be back in the lineup. They will travel to Detroit, but if neither are cleared to play Florek has proven reliable.
April, 18, 2014
Apr 18
10:18
PM ET
BOSTON -- Three days into the Stanley Cup playoffs, the postseason hockey hasn't disappointed.
The
Boston Bruins
and
Detroit Red Wings
continued the excitement in Game 1 of their first-round series. The game remained scoreless until Detroit's
Pavel Datsyuk
scored at 16:59 of the third period to give the Red Wings a 1-0 win to take a 1-0 series lead.


The lone goal of the game came in the ensuing action after the Bruins'
Milan Lucic
nearly redirected a shot past Detroit goalie
Jimmy Howard
, but Howard was able to get a glove on it. Datsyuk's shot from the high slot beat Bruins goalie
Tuukka Rask
to the glove side.
The game was back and forth with both teams playing well defensively, limiting shots and scoring chances early.
Rask finished with 23 saves, while Howard had 25 to earn the shutout.
The Bruins entered the playoffs with a different lineup than they've had for the majority of the season. With forwards
Daniel Paille
and
Chris Kelly
and defensemen
Matt Bartkowski
and
Kevan Miller
sidelined, reinforcements were needed. On the defensive end,
Andrej Meszaros
and
Corey Potter
were inserted.
Justin Florek
and
Jordan Caron
played on the third and fourth lines, respectively. It was the first career playoff game for Potter and Florek.
The Red Wings gained early control of the series, but the rest of it should be a tough test.
Save of the game:
With the game scoreless after two periods, the Red Wings had a golden opportunity to score early in the third period. Less than three minutes into the third, Detroit's
Darren Helm
collected a loose puck in front of Rask and nearly stuffed it in, but Boston's netminder sprawled out and made a critical right-pad save to keep the game scoreless.
January, 4, 2014
Jan 4
6:40
PM ET
BOSTON -- Prospect Justin Florek on Saturday became the sixth player to make his NHL debut with the
Boston Bruins
this season, joining
Craig Cunningham
,
Kevan Miller
,
Niklas Svedberg
,
Zach Trotman
and
David Warsofsky
.
[+] Enlarge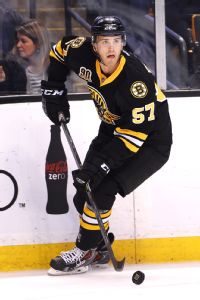 Brian Babineau/NHLI/Getty ImagesJustin Florek's solid debut Saturday could lead to another opportunity with Boston.
The Bruins recalled Florek from Providence of the AHL prior to Saturday's 4-1 win over the
Winnipeg Jets
at TD Garden after Boston forward
Jordan Caron
arrived at the rink in the morning with a stiff back, according to coach Claude Julien.
Florek, a 23-year-old forward, played well in his debut and finished with 10:14 of ice time. After the game, Julien explained that Florek is scheduled to return to Providence and play for the P-Bruins on Sunday, but there's still a possibility he could join the Bruins on their upcoming three-game road trip to the West Coast.
"He played well," Julien said. "He's a good skater and he's got good size. Obviously, on one of [Torey] Krug's goals it was [Florek] doing a great job in front of the goaltender. He had a really good game for us, no doubt."
With Florek in the lineup, it forced Julien to move
Daniel Paille
to the right side, which is his off wing.
"You have to give credit to Dan Paille, who I thought looked really good on the right side," Julien said. "That was a reason that line was good because he was able to make that transition to the other side and he had a great game, too."
After the game, Florek spoke about his NHL debut.
"It felt great," he said. "I got the call this morning, [assistant general manager] Don Sweeney woke me up, so it was just the best way I could wake up and drive right up here and play the game. It kind of made it easy for me not to think too much about it and just get out there and play my game."
January, 4, 2014
Jan 4
11:40
AM ET
BOSTON -- The Bruins have recalled forward Justin Florek on an emergency basis from Providence of the AHL.
He's eligible to play Saturday against the
Winnipeg Jets
at TD Garden. This is his first NHL recall and comes after forward
Jordan Caron
came to the rink Saturday morning with a stiff back, according to Bruins coach Claude Julien.
Florek, 23, has played 34 games for the P-Bruins this season, recording nine goals and 11 assists for 20 points, including a plus-11 rating.
The Bruins drafted Florek in the fifth round (135th overall) in the 2010 NHL entry draft. He played four years (2008-2012) at Northern Michigan University.
June, 26, 2010
6/26/10
3:51
PM ET
LOS ANGELES -- With the 97th pick in the 2010 NHL Entry Draft, the Bruins selected Craig Cunningham, a winger out of Vancouver with the WHL.

With the 135th pick, Boston selected forward Justin Florek out of Northern Michigan.

And with the 165th pick, the Bruins selected Zane Gothberg, a goalie out of Thief River Falls High School in Minnesota.