July, 11, 2014
7/11/14
1:20
PM ET
WILMINGTON, Mass. -- Malcolm Subban completed his first season as a professional with the Providence Bruins of the AHL in 2013-14, but there's a reason he's among a group of amateurs at the Bruins' annual rookie development camp this week.
For example: The 20-year-old goaltending prospect was nearly 45 minutes late getting onto the ice for the first day of camp Wednesday at Ristuccia Arena. After the session, Subban explained he experienced leg cramps after the dry-land running drills and needed to ice down before he put his equipment on to join the others on the ice.
[+] Enlarge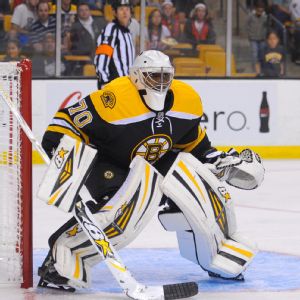 Bob DeChiara/USA TODAY SportsMalcolm Subban is focused on making the most of his opportunity at Bruins development camp.
"Well, we told him to drink a little bit more water on a hot day," said Bruins assistant general manager
Don Sweeney
with a laugh.
There's still plenty Subban needs to learn about being a pro, and that's why he's here.
"As a young goaltender, we felt that the time he would be able to spend with [goalie coach] Bob [Essensa] would be very, very instrumental in continuing his development," Sweeney said. "So, he had a really good first year, had some ups and downs, had to fight through some things, and try and try and battle for the net. It's healthy for him to be around kids really his own age, to be honest with you, even as a first-year pro. So we're happy that he's here and going to be able to take advantage of that extra time."
The Bruins selected Subban in the first round (24th overall) of the 2012 NHL entry draft, and he spent the entire 2013-14 season with the P-Bruins, posting a 15-10-5 record and a 2.31 goals-against average, with one shutout in 33 games. Sharing the net (with
Niklas Svedberg
) was something Subban was not used to doing in his career.
"I'm used to playing a lot of games and being the go-to guy, so it was kind of tough being the secondary guy," Subban said. "I just tried to stay focused mentally, and that was the hardest thing for me mentally was to stay focused and earn my way. You don't play as much, so when you get a chance to play you got to play well, and that's what I tried to do."
Added Subban: "Last year was huge for my development I felt, adjusting to the game and seeing where you belong and what kind of style you have to play. Obviously, you don't want to change too much, but I felt I needed to make a couple of adjustments coming into the AHL. I thought it went really well, to be honest."
The Bruins recently signed Svedberg to a one-year, one-way contract worth $600,000 to serve as
Tuukka Rask
's backup.
If that plays out during training camp and Svedberg earns the backup role, Subban will see plenty of rubber in Providence next season. Subban said he's prepared for anything, so when the Bruins informed him that he would participate in development camp, the response was typical. He told Sweeney, "Hey, man, whatever you want," explained the assistant GM.
"He's very easygoing that way," Sweeney said. "Great nature, and really wants to be on the ice. [I] felt that he would be able to take advantage of it as I described it, and [he] was very, very receptive."
With Rask locked up through the 2020-21 season, where do Subban and Svedberg fit into the Bruins' plans, beyond having depth at the goaltending position and a healthy internal competition?
"I think the book on goaltending is that you should be patient to allow them to go through some ups and down and experiences," Sweeney said. "Tuukka is a great example of that, spending time in the American League, coming up, having an apprenticeship, so to speak, then getting the net."
Now that Rask is the true No. 1 goaltender for the Bruins, Svedberg and Subban find themselves as the so-called apprentices.
"[Svedberg] is going to try and go in and be that backstop, the complementary piece to Tuukka," Sweeney said. "The other guys are going to move along the path that they're supposed to be."
Subban doesn't lack for confidence, but he understands his role in the organization and will prepare this summer to compete for the backup role in Boston or be ready for another season in the AHL. So the fact that he's back at development camp does not bother Subban or ruffle his ego.
"It's good," Subban said. "It keeps you sharp for the rest of the summer, and it's good to get back on the ice and see the guys. It's a fun camp, besides the run test."
Subban is disappointed about one thing: He left his Xbox at home. David Pastrnak, Boston's first-round pick (No. 25 overall) in this June's draft, has an extremely outgoing personality and is already chirping that he's better than Subban at NHL14.
"I wish I brought it, but we might go get one," Subban said with a smile.
Realistically, Subban needs more time to develop at the pro level. He knows he has to be outstanding in order to earn a spot and play in the NHL for the Bruins. That progress began last summer at development camp, and it continues now.
"I'm just focused on getting better this summer and competing for a spot in September," he said, as he took a drink of water.
January, 24, 2014
1/24/14
12:58
PM ET
BOSTON -- A few times this season, former
Boston Bruins
goaltender
Hannu Toivonen
has been the topic of conversation. The reason: Current Providence Bruins goaltender Malcolm Subban was involved in a goalie fight earlier this season, which reminded many of the time Toivonen, while playing for the P-Bruins in 2004, dropped the gloves at center ice with opposing goalie
Peter Budaj
of the Hershey Bears.
"Hopefully he did better than I did," Toivonen said during a phone interview.
On Wednesday, Budaj, now a backup for the
Montreal Canadiens
, tried to fight
Pittsburgh Penguins
goalie
Marc-Andre Fleury
, but the referees stepped in before the two could tussle.
[+] Enlarge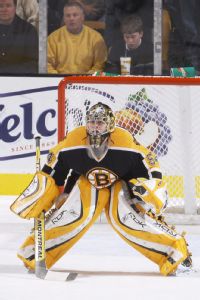 Steve Babineau/SA/Getty ImagesFormer Bruins goalie Hannu Toivonen watches the play against the New York Islanders at the TD Garden on Jan. 11, 2007
Toivonen saw the highlights and laughed.
"Yeah, that was pretty funny," he said.
On Nov. 12, 2004, the P-Bruins were hosting the Bears at the Dunkin' Donuts Center in Providence when a fight broke out between the P-Bruins'
Jay Henderson
and Hershey's
Jeff Finger
. It wasn't much of a fight, but since there was less than five minutes remaining in the second period, both players went to their respective locker rooms.
In the hallway, the two got into it again and both benches emptied into the lower concourse. The only two players remaining on the ice were Toivonen and Budaj. They began to pass the puck back and forth before they decided to meet at center ice and drop the gloves.
"I got my ass handed to me," Toivonen said of the first and only fight of his career.
"It was just me and him on the ice," Toivonen remembers. "Me not knowing any better how tough a customer he was, and everybody was going at it, he asked me to go so I tried to do my best and it was basically hang on because I had no idea what I was doing. Sometimes you've got to step up to the plate and defend your teammates and try to do your best in any given situation. Obviously, he knew what he was doing and it's a funny moment in my career. It's not like I'm looking for anything like that, but it's a good story and something to be still laughing about."
Speaking of his career, Toivonen, 29, is currently playing for the Milwaukee Admirals, the AHL affiliate of the
Nashville Predators
. The Bruins drafted the Finnish native in the first round (29th overall) of the 2002 NHL Entry Draft. He was supposed to be
Tuukka Rask
before Tuukka Rask. Toivonen spent five seasons in the Bruins organization and played a total of 38 games. On July 23, 2007 the Bruins traded Toivonen to the St. Louis Blue in exchange for
Carl Soderberg
.
Reflecting on his career with the Bruins, Toivonen doesn't focus on the what-ifs.
"Obviously, it would have been nice if it worked out better for me at that given stage and maybe it could've been me, but you just can't live your life that way," he said. "You've just got to face what's ahead of you and unfortunately it didn't work out.
"I'm happy for [Rask] and how well he's doing and handling the task there. It's not an easy task, either. It's a great place to play and the fans are knowledgeable and demand the best. He's done great and obviously going deep last year, carrying the team and it's the same this year. You don't put up those numbers with lucky breaks here and there, you obviously have to be talented and work hard every day and he's doing that. I'm happy for him that he's been able to do that and obviously it's a great place to play and a great organization. It's a great hockey town with great fans and he deserves all the credit in the world for the way he performs."
Toivonen hasn't played in the NHL since the 2007-2008 season with the Blues, but he's hoping to return soon.
"It's good to be back on the map," Toivonen said.
September, 19, 2013
9/19/13
11:02
PM ET
BOSTON -- In the final five minutes of Boston's 8-2 loss to the
Detroit Red Wings
on Thursday night at TD Garden, some of the 16,839 in attendance began to chant: "We want Tuukka."
It was unwarranted given that
Malcolm Subban
, who was in net for the Bruins, was in his first full preseason game. The rookie and former first-round pick (24th overall in 2012) received plenty of encouragement from coach Claude Julien after the game despite the tough performance.
[+] Enlarge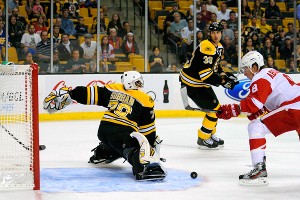 Bob DeChiara/USA TODAY SportsMalcolm Subban makes a save on Justin Abdelkader, but let eight shots get past him.
"It was one of those nights, unfortunately, our guys in front of him certainly left him out to dry a little bit," Julien said. "We made some real bad mistakes. It's easy to point the finger at him, but if anything we all have to take the blame for that and that's for leaving him out to dry."
Subban made his debut Monday in Montreal, playing the final 30 minutes against the Canadiens, and earned the win with his 12-save performance.
Despite the number of bad goals Thursday against the Canadiens, Julien wanted Subban to fight through it and finish the game.
"This is a good learning thing for a goaltender," Julien said. "This is what he's going to be facing and he's got to fight through these situations."
It was evident Subban was not happy with his performance.
"No matter what I did, the puck just found its way in. Some bad bounces, but I didn't do my part tonight," he said.
Julien didn't have to explain much because Subban realizes the team he faced Thursday night is one of the best in the league with talented veterans.
"They're a good team and it can only get better from here. I'm not looking at it that way. I'm looking at it a positive way," Subban said. "It's probably a good thing, now I can be more focused obviously and start the game better. Going down 2-0 pretty early like that didn't help."
The Red Wings gained a 2-0 lead in the first period.
Justin Abdelkader
scored a power-play goal at 5:01, before Dave McIntyre gave Detroit a two-goal advantage at 16:07 when he scored during a delayed penalty.
The Red Wings gained a 4-0 lead with a pair of second-period goals by
Henrik Zetterberg
(3:28) and
Danny DeKeyser
(9:17).
The Bruins'
Jarome Iginla
scored his third goal in two games when he notched Boston's first tally. He was camped out in front when a shot by Bruins defenseman
Matt Bartkowski
hit his skate and beat Detroit goalie
Jimmy Howard
at 11:47 of the second period.
Speaking of three goals in two games, Bruins'
Nick Johnson
accomplished the same feat when he made it 5-2 at 11:32 of the third period. However, that was all the offense the Bruins were able to produce.
Detroit added three more goals to pull away.
"I guess when you let in eight goals, focus probably isn't there all the way," Subban said. "I guess I thought I was focused, but obviously not. I've got to be better the next opportunity I get."
September, 16, 2013
9/16/13
10:26
PM ET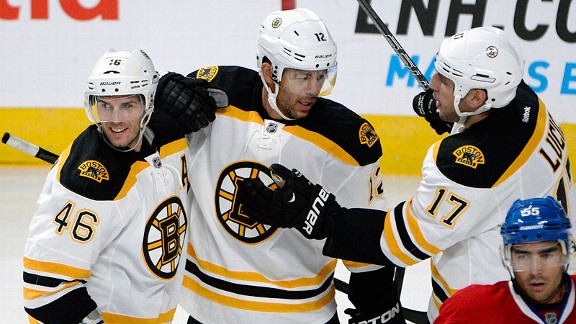 Eric Bolte/USA TODAY SportsJarome Iginla celebrates one of his two goals with his new linemates David Krejci and Milan Lucic.
The Bruins can move on from
Nathan Horton
and let him enjoy playing under the radar for the
Columbus Blue Jackets
because, after one exhibition game at least, his replacement in Boston,
Jarome Iginla
, fit perfectly on the team's top line along with
David Krejci
and
Milan Lucic
.


After Horton's surprise departure from Boston during the summer as a free agent, Bruins general manager Peter Chiarelli signed Iginla in hopes the future Hall of Famer would have an impact in Boston.
During the first four days of training camp, the chemistry between Lucic, Krejci and Iginla was evident. It continued during the Bruins' first preseason game against the
Montreal Canadiens
Monday night at Bell Centre.
Iginla scored a pair of goals as the Bruins defeated the Canadiens, 6-3, as Lucic added three assists and Krejci contributed a goal.
VERY SPECIAL:
Boston's power play, which has struggled the last few seasons, was tremendous against Montreal. Sure, it's only a preseason game, but Boston went 4-for-6 on the PP and showed quick puck movement and quality goals. The top unit Monday night of Iginla, Lucic, Krejci,
Carl Soderberg
and
Torey Krug
was outstanding.
KRUG IMPRESSIVE:
The phenom rookie defenseman doesn't want to be a flash in the pan, and by the way he played in the first preseason game, that won't be the case. He provided three assists to help Boston to victory. He burst onto the scene for the Bruins last spring during the Stanley Cup playoffs and made significant contributions to help Boston reach the finals. He entered camp in great shape and with one goal: to earn a roster spot. Krug, who has shown an ability to get his shot from the point through on a consistent basis, assisted on Iginla's second goal of the night. Krug also quarterbacked the power play. So far this preseason, he's been paired with veteran blueliner
Adam McQuaid
.
IN GOAL:
The Bruins had goaltenders
Chad Johnson
and
Malcolm Subban
split net time against the Canadiens. Johnson started and played the first 30 minutes and allowed three goals. Subban made his NHL preseason debut and did not allow a goal in his 30 minutes of action. Early in the third period, however, Subban learned he's no longer playing junior hockey. He mishandled the puck to the left of his net, then was penalized for playing the puck outside the trapezoid. Subban played against his older brother, Canadiens defenseman
P.K. Subban
, for the first time in their respective careers. Malcolm picked up the win with his 12-save performance, while P.K. scored a goal for Montreal.
BATTLING FOR A SPOT:
There are two forward positions up for grabs in Boston's lineup this season, and while the young homegrown prospects in camp are all in the mix, newcomer
Nick Johnson
made his presence known in the first preseason game, scoring a pair of goals. Johnson has 104 games of NHL experience with the
Pittsburgh Penguins
,
Minnesota Wild
and
Phoenix Coyotes
. Boston signed the 27-year-old forward as a free agent in July.
LINED UP:
Here are the lines used against the Canadiens:
FORWARDS
Milan Lucic-David Krejci-Jarome Iginla
Matt Fraser
-Carl Soderberg-
Craig Cunningham
Anthony Camara
-
Ryan Spooner
-Nick Johnson
Daniel Paille
-Alex Fallstrom-
Shawn Thornton
DEFENSE
Torey Krug-Adam McQuaid
Matt Bartkowski
-
Kevan Miller
Tommy Cross
-
Zach Trotman
GOALTENDERS
Chad Johnson
Malcolm Subban
UP NEXT:
With the first of seven preseason games in the book, the Bruins travel to Baltimore on Tuesday and will face the
Washington Capitals
.
September, 15, 2013
9/15/13
7:19
PM ET
BOSTON -- There are four goalies in Bruins camp battling for the backup role behind starter
Tuukka Rask
.
Chad Johnson
,
Niklas Svedberg
and
Malcolm Subban
are all vying for that job in a healthy competition.
"It's been good," coach Claude Julien said. "I think when you look at the candidates, we've got some pretty good depth. From the fact that Chad Johnson has looked really good and Svedberg, who proved himself in the American League last year, and your first-round pick, Subban, who obviously is a little young and may not be ready right away but who knows when he'll be ready as far as it could be sooner than later.
"So we've got some good competition back there and the competition has probably better depth than what most people think, so I'm comfortable with what I've seen and I think they understand that. Those guys that are battling for that backup spot understand what's at stake. They're certainly trying to be at their best here."
Svedberg, 23, was outstanding for Providence last season, recording a 37-8-2 record with a 2.17 goals-against average and .925 save percentage in 48 regular-season games.
Johnson, 27, has spent the majority of his career in the AHL and has 10 games of NHL experience between the
New York Rangers
and
Phoenix Coyotes
. He signed a one-year, one-way contract worth $600,000 in July.
Subban, 19, enters his first professional season and is expected to be the starting goalie for the P-Bruins.
Adam Morrison
, 22, also is in camp. He spent the majority of the 2012-13 season in the ECHL.
Svedberg has played well during camp and he's looking forward to the challenge of the preseason games.
"It's been good," Svedberg said. "It's good intensity and guys are competing hard. It's really nice to start off the season and get going right away. It's been fun."
Since Rask will play the majority of the games during the season, the backup's ice time will be limited. Still, it's a position all four candidates would rather play than getting more playing time in the minors.
"You want to play, but at the same time you want to come up to the highest level," Svedberg said. "My only mindset now is to make the team here and to be in the NHL. That's all my focus goes to now and we'll see how well I play and see what happens after that. But at this moment I'm just focused on being here and staying here."
Svedberg served as the Bruins' black ace goalie during the final two rounds of the Stanley Cup playoffs last spring. It was a valuable experience, and even though he's still developing and honing his skills, Julien believes if the young goalie is ready for the NHL level, then that's where he'll be.
"That remains to be seen. I think if he's ready, he's ready. It's as simple as that," Julien said. "If we feel he's ready to be a backup here, we'll make him a backup here. I think if he earns a job I have no issues with him being here even if he's got one year in the American League. He had a great year last year and if we feel he's ready, then make that jump."
July, 10, 2013
7/10/13
5:27
PM ET
WILMINGTON, Mass. -- With goaltender
Tuukka Rask
agreeing to an eight-year contract extension worth close to $56 million with the
Boston Bruins
, any young netminder in the organization might see that as a roadblock to being a No. 1 goalie in the NHL.
Case in point: Former Bruins backup
Anton Khudobin
knew his chances of playing time for the Bruins dwindled by the way Rask performed during the lockout-shortened 2013 regular season. Then to witness Rask follow it up with another strong performance in the playoffs and help the Bruins reach the Stanley Cup finals, along with a contract extension on the horizon, Khudobin wanted out, so he signed with the
Carolina Hurricanes
.
If the natural course of progression takes shape, Providence Bruins goaltender Niklas Svedberg should earn the backup role in Boston. Also, Bruins goaltending prospect and former first-round pick Malcolm Subban is set to turn pro and should be playing in Providence next season.
Subban is focused on his own career path and not Rask's long-term contract.
"No, because I'm not playing there, yet," Subban said. "I'm not even in the AHL yet, so I still have a lot of work to do to get there before that even enters my mind. Right now it's about getting ready to contend at that level. I feel like I have a big summer coming up ahead. Coming from the OHL to the AHL or NHL is a huge step, so that's my focus right now."
Subban, along with 23 other Bruins prospects, participated Wednesday in Day 1 of development camp at Ristuccia Arena. This is Subban's second development camp since the Bruins selected him 24th overall in the 2012 NHL Entry Draft, and Bruins assistant general manager
Don Sweeney
is pleased with the goalie's progression and mindset.
"All players and goaltenders have to understand that there are no road blocks in anybody's way here," Sweeney said. "You look at Tuukka, he's been patient at times to be sort of the understudy and understand it. He's had some ebb and flows as well as some successes and then all of a sudden some steps back. That's all healthy in a person's development. A lot of guys think about goaltenders hitting their strides and then they play a lot longer in their careers.
"Some goaltenders have won Stanley Cups and taken steps back because it came early for them and they had some success. I don't think [Subban] is in a rush and nor should he be. He should embrace what's in front of him at that moment and he does a good job of that. He's a really competitive guy, so he's going to want the net and you love that in a goaltender."
Subban completed his third full season in the OHL this year and helped the Belleville Bulls reach the Eastern Conference finals.
"Obviously, didn't go all the way so I'm not too satisfied," Subban said. "We made it to the conference final and lost in Game 7 to a pretty good team. Obviously you can't complain about that. Our team was really happy with our success throughout the year and we had a pretty good team that could have made it."
The 19-year-old netminder finished the regular season ranked first among all OHL goaltenders in goals-against average (2.14) and save percentage (.934).
"He played a lot of hockey this year," Sweeney said. "The experience he went through, being challenged and having a little bit of disappointment, really sets him up well for that next phase of his career.
"He's such an athletic goaltender that has so much promise," added Sweeney. "You look at Tuukka's path to where he is right now, and it takes time for a goaltender to be in those situations and go through them and experience them."
Subban paid close attention to the Stanley Cup playoffs. He watched Rask perform well and finish the postseason as one of the Bruins' most consistent players. Boston came up short of its second Cup title in a three-year span, beaten in the finals by the
Chicago Blackhawks
in six games.
"I felt bad for him," Subban said. "He played so well and he deserved a bit more, maybe the Conn Smythe or something, a Stanley Cup ring, obviously. It's tough because things happen like that. A couple of bad breaks and just like that it's over. I don't think there's much else he could've done, just some bad luck if you watch the last few minutes. I thought he played really well. I thought the whole team played well."
Since the Bruins drafted him, Subban has focused on improving his maturity, flexibility, strength and routine as a goalie.
"I felt like I was always naturally flexible, but after my groin injury and my ankle injury [two years ago], I felt as I'm getting older I'm hearing a lot of stuff about taking care of your body," Subban said.
Subban's brother,
P.K. Subban
, is a defenseman for the
Montreal Canadiens
and won the Norris Trophy this past season. The
Vancouver Canucks
drafted their younger brother, Jordan, earlier this month.
"It's pretty surreal," Malcolm said. "We're truly blessed as a family. We couldn't be happier right now. All three [of us] are in unbelievable organizations. Obviously, P.K. is there already and me and Jordan still have a lot of work to do and we're looking forward to the opportunity."
March, 27, 2013
3/27/13
12:32
PM ET
BOSTON -- With the NHL's trade deadline a week away,
Boston Bruins
general manager Peter Chiarelli publicly put the untouchable tag on goaltending prospect Malcolm Subban on Wednesday morning.
During his weekly appearance on 98.5 The Sports Hub's "Toucher and Rich" show, Chiarelli said he will not trade the organization's 2012 first-round pick (24th overall).
"I can tell you this: I'm not trading Malcolm Subban," Chiarelli said. "He's young. He's a very good goalie prospect and I see him in our future and being a big part of our future. We've got some goalie depth, but I'm telling you I'm not trading Malcolm Subban. There are other players, and we've got a fairly well-stocked cupboard of prospects, but I'm not trading Malcolm Subban."
Chiarelli added that it could be "two to three years" or "might be sooner" before Subban is ready for the NHL.
The Bruins still hope to sign current No. 1 goaltender
Tuukka Rask
to a contract extension before the end of this season, but Chiarelli said that is not his priority right now.
The Bruins do have goaltending depth with Rask,
Anton Khudobin
, and Niklas Svedberg in Providence.
Chiarelli and the Bruins are reportedly in talks with the
Calgary Flames
about veteran forward
Jarome Iginla
.
January, 3, 2013
1/03/13
6:12
PM ET
Bruins prospects
Malcolm Subban
(2012 first round, 24th overall), Dougie Hamilton (2011 first round, 9th overall), and Anthony Camara (2011 third round, 81st overall) won't be playing for gold at the World Junior Championships on Saturday as Canada lost to the United States
5-1 in the semifinals
.
Team Canada's Subban, Hamilton and Camara will now be facing fellow Bruins prospect Alexander Khokhlachev (2011 second round, 40th overall) and Russia -- who lost 3-2 in a shootout to Sweden in the other semifinal -- in the bronze-medal game.
Subban -- who had found his stride in the previous two games -- and Canada fell victim to a USA offense finding their stride at the right time. The Americans scored seven goals in their quarterfinals win over the Czech Republic and exploded for five more in the semis.
"It wasn't anyone's fault, they just caught us in bad positions," Subban told TSN. "It's tough to lose like this, but it happens. ... They're a good team, you got to give credit where credit is due."
Subban was not to blame for at least the first three U.S. goals; he was completely screened on all of them. After he gave up another goal, he was pulled in favor of Jordan Binnington with 7:16 left in the second period. Subban stopped 12 of 16 American shots, and he is now 4-1-1 with a 2.64 GAA and .908 save percentage. Hamilton has a goal and an assist in five games while Camara has two helpers.
Khokhlachev didn't garner a point in the shootout loss to Sweden and has two goals and two assists in six games.
January, 2, 2013
1/02/13
1:51
PM ET
Bruins prospect Alexander Khokhlachev was the team's only prospect in action Wednesday at the World Junior Championships in Ufa, Russia, and the crafty center helped Russia advance to the semifinals with a goal in his team's 4-3 shootout win over Switzerland.

The Bruins' second-round pick in the 2011 NHL draft lit the lamp on the power play 6:07 into regulation to give Russia an early 1-0 lead. He now has a goal and an assist in four games. Khokhlachev and Russia will continue their title defense in the semifinals against Sweden on Thursday.

Also in action on Thursday will be Bruins prospects Dougie Hamilton and Malcolm Subban, who will do their best to help Canada beat USA in the semifinals. Subban has been getting better game-by-game, as the goalie drafted 24th overall in the 2012 NHL Entry Draft is now 4-0-0 with a 2.00 GAA and .930 save percentage. Hamilton (ninth overall, 2011 NHL Draft) has been sharp on the blue line with a goal and an assist in four games.
June, 28, 2012
6/28/12
8:14
PM ET
WILMINGTON, Mass. -- The
Boston Bruins
agreed in principle with goaltender
Tuukka Rask
on a one-year, $3.5 million contract, Pierre Lebrun of ESPN.com confirmed Thursday afternoon via a team source.
The 25-year-old Rask will now enter training camp as the team's top goalie after
Tim Thomas
decided to forgo the final season of his contract with the Bruins and not play in 2012-13.
Anton Khudobin
, 26, is likely to serve as Rask's backup.
Heading into the NHL entry draft, Bruins general manager Peter Chiarelli acknowledged that while he and his staff are comfortable with a Rask-Khudobin tandem, there has been a renewed emphasis on adding depth between the pipes. That depth is on full display at the Bruins' development camp, which began Thursday with six goalies showcasing their skills.
[+] Enlarge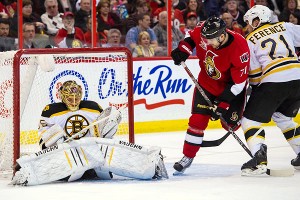 Marc DesRosiers/US PresswireThe Bruins are counting on Anton Khudobin to thrive as Tuukka Rask's backup.
"It's unique that we have six goaltenders. There's no other way to describe it, to be honest with you," said assistant general manager Don Sweeney, who has run the camp since its inception in 2007. "But I think some of that is just the timing. Peter wanted to address organizational depth in net. We feel very comfortable as to how, certainly Anton has developed in our system, and Tuukka. We're still wondering [about] the Thomas thing ... but that is for another day."
In late May, the Bruins signed Swedish free-agent goalie Niklas Svedberg. At the draft in Pittsburgh last week, they used their first selection on another goaltender in Belleville Bulls (OHL) goalie Malcolm Subban with the 24th overall pick. They also decided to invite Boston College star goaltender Parker Milner -- who is a free agent and has one more season left at the Heights after helping the Eagles to a national championship last season -- to development camp. In addition to Svedberg, Subban and Milner, goalies Zane Gothberg, Adam Morrison and Lars Volden are also attending camp. Sweeney sees nothing but positives out of the sudden logjam between the pipes.
"I think that the fact that we've created some internal competition is really healthy," Sweeney said. "Niklas Svedberg coming in with the pro experience and the successes he's had overseas, I think is going to be helpful for
Michael Hutchinson
who's trying to emerge as the go-to guy in Providence so that'll be healthy competition there. Lars will go back and play in Finland and he's made that next step to go up to the elite league there and play, so you can see the steps that each and every one of these kids go through to get to that next level and gain that experience.
"Morrison will do the same thing too, come in and push those two guys and see if he can knock them out of Providence and if not, there's the
Jonathan Quick
story that has so often been told. Go down and probably play at that [ECHL and AHL] level because the pro game is different. Milner is one, he's right in our backyard and I think it was important for us to get to know him and see whether or not that winning attitude translates to the next level. So we wanted to get to know him too."
As for the newest addition, Sweeney acknowledged how raw the 18-year-old Subban is and the work he will need to do in this camp and in the future. But Sweeney was impressed with the natural skill and passion Subban showed in his first development camp.
"The athleticism you see right away and how quick he is in the net," Sweeney said. "The next thing he'll understand is that the shooters are better at the next level as well. So, our goalie coach
Bob Essensa
will go to work on some of the things he's already seen in his game that he wants to identify and improve upon. But he competes for every puck and every save even in the first day in this environment. Most goalies don't like to be scored on and he's no different in that regard. But the athleticism I think and the push across the net is very impressive."
With Rask taking over the reins as the No. 1 goalie, some of these younger goalies may not see a future in Boston. But the Bruins still want them to reach for the stars and push through the ranks.
"I think you have to be aware of where they kind of see themselves on that trajectory as well, because some kids might look and see a roadblock there as opposed to an opportunity," Sweeney said. "I think you have to get them to understand, go through the process and dictate."
As Sweeney pointed out, if these goalies win and do their jobs where they're playing now, they will advance.
"It comes down to winning. It really does," Sweeney said. "Goaltenders can have great statistical things to back it up and it might work in an arbitration setting, but the bottom line is, it's about winning. The teams that win, I think the goaltender's a big, big part of that. I mean, I haven't seen too many Stanley Cup champions that their goaltender hasn't been either 1 or 1A at the end of the run."
The Bruins are hoping that Rask goes from that 1A to a 1 and Khudobin becomes 1A this upcoming season. But it's also clear they are looking to develop a plethora of future netminders.
June, 23, 2012
6/23/12
7:22
PM ET
Longtime NHL scout Grant Sonier and ESPN Insider Craig Custance graded all 30 NHL teams' performance at the 2012 entry draft.
Here's what they had to say about the Bruins:



The Bruins made a minor deal in sending winger Benoit Pouliot to the Lightning in return for winger Michel Ouellet and a fifth-round pick. GM Peter Chiarelli isn't interested in shaking up his roster too much this summer so it was a quiet weekend for the Bruins. They started to move on from Tim Thomas by drafting Malcolm Subban with their first pick of the weekend. Chiarelli also met with Tuukka Rask's agent, Bill Zito, to talk contract and neither side anticipates any issues getting a deal done.

Sonier's prime picks: Subban was considered a top goaltender in this year's class. The most exciting thing about him is his athleticism. The fact that he started being a goaltender at a late age illustrates how his talent could take him to a starting role if he continues on this upward curve. He had the numbers this season to back it up (.923 SV% in Belleville). Matthew Grzelcyk is a Massachusetts kid who projects as a small, skilled puck-moving defenseman.
To read the full breakdown of every NHL teams' draft moves,
CLICK HERE

June, 23, 2012
6/23/12
12:52
AM ET
Longtime NHL scout Grant Sonier is contributing to ESPN Insider's NHL draft coverage, and here's what he has to say about Malcolm Subban, whom the Bruins selected with the 24th pick of the first round:
We tried to make the point in our mock draft that just because a franchise has its franchise netminder in the fold, it won't be deterred from taking a goalie. Well, here we see a great case of it. With Tim Thomas likely out the door in some way, shape or form, the B's still had Tuukka Rask and Anton Khudobin. However, the B's snag Subban for the future, and it's a solid pick.

Subban is one of the best athletes, not just among goalies, but among all draft-eligible players. He has impressive numbers (.923 save percentage) and has been the starter for two seasons now in Belleville. And he didn't even start playing in the crease until he was 12, which speaks to his upside.

He's one of the goaltenders on the radar for Canada in the World Junior Championships.

His no-quit attitude will lead to many second and third saves. And, with his brother P.K. suiting up for Habs, I'm sure it will also make for some lively debate in the Subban household whenever rivals Boston and Montreal clash.
To read the full breakdown of Subban and all of Friday's first-round picks,
CLICK HERE

June, 22, 2012
6/22/12
10:35
PM ET
The
Boston Bruins
drafted Bellville (OHL) goalie Malcolm Subban with the 24th pick overall in the 2012 NHL entry draft Friday, adding some spice to the Bruins-Canadiens rivalry. Subban is the younger brother of Montreal defenseman
P.K. Subban
.
"The rivalry is just about to begin," the 18-year-old Subban said. "I don't know if he's gonna like me too much, but to be honest, I never liked him that much."
Subban was 25-14-0 with a 2.50 GAA and .923 save percentage for Belleville in 2011-12. He is expected to be returned to Belleville next season.
"I'm just so happy just to get drafted," Subban told TSN immediately after being drafted. "I've worked so hard in the OHL just to get a shot and just to be here. I couldn't be happier right now. Yeah I've heard it (playing against his brother in the Bruins-Habs rivalry) a few times and I couldn't be more excited for that. I'm just going to work as hard as I can and hopefully be a part of that."
Even with Tim Thomas out of the picture, the Bruins seem set at goalie with 25-year-old Tuukka Rask expected to take over the No. 1 job. Bruins general manager Peter Chiarelli that the Subban pick was made with the future in mind.
"Tremendous athlete,'' Chiarelli said at the draft in Pittsburgh. "Incredible leg thrust post to post. He's a real good kid, solid character. This draft is more long-term. Goalies take a little bit longer to develop. Happy to get him. We had him high. We're happy to get him.''
Subban was the only goalie taken in the first round.
Longtime NHL scout Grant Sonier called Subban
one of the best athletes among all draft-eligible players
.