May, 16, 2014
5/16/14
8:29
PM ET
BOSTON -- Bruins forward
Chris Kelly
suffered a herniated disk in his back in the fourth to last game of the regular season at Minnesota. He said he will likely need surgery, but he was trying everything he could to return to action before undergoing the procedure.
[+] Enlarge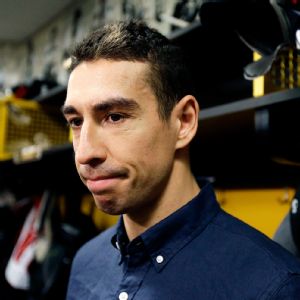 AP Photo/Steven SenneChris Kelly spoke with reporters Friday in the Bruins locker room.
"My back seized up on me, and I thought I caught it soon enough, but after that I was pretty sore for a while there and it's still sore," he said. "A lot of the muscle and it's a nerve thing so it shoots right down my leg, so some days are better than others, but hopefully I'll get it fixed and it'll be fine."
Kelly will have another MRI taken before deciding on when to have surgery. He has been told the rehab time is four to six weeks, and Kelly is confident he'll be ready for training camp in September.
Fellow Bruins forward
Matt Fraser
was sporting crutches and a walking boot on his right foot Friday. He has a displaced fracture and will probably need surgery. He suffered the injury while playing for the Providence Bruins in Game 1 of their Calder Cup playoff series against the Springfield Falcons. He finished that five-game series and then played four games with the Bruins with the injury.
"I would rather cut my foot off than be taken out of the lineup because you never know when you're going to get a chance to play for the Stanley Cup," Fraser said. "You look at the guys around the room and everyone's banged up, everyone's hurting. It's something you just deal with and that's the way we're wired."
He admitted the pain was intense but didn't want any injections to relieve the pain.
Bruins forward
Milan Lucic
was sporting a brace on his left wrist and was scheduled to have an MRI taken at MGH on Friday afternoon. He said he first felt the discomfort in Game 1 against the Canadiens.
May, 14, 2014
5/14/14
4:13
PM ET
BOSTON -- Last Wednesday,
Matt Fraser
was sitting at a Chipotle restaurant in Providence, R.I., when he received a phone call from Bruins assistant general manager
Don Sweeney
, who informed the 23-year-old forward he was being promoted to Boston. Fraser quickly put down his double-chicken burrito with guacamole and no cheese, and before packing his things for his flight to Montreal he still had time to grab a frozen yogurt.
The next night, Fraser provided the game-winning goal in overtime to help the Bruins to a 1-0 win over the
Montreal Canadiens
in Game 4 of this second-round Stanley Cup playoff series. Now, he's preparing for his first career Game 7.
"You grow up watching games like this, you're sitting at home on the couch and you're watching it. Obviously, the difference now is you're involved in it and it's definitely exciting," Fraser said. "It's something that every kid probably dreams about to play, and this rivalry itself is pretty exciting."
Fraser has given the Bruins a youthful spark in the last three games, playing on the third line along with
Carl Soderberg
and
Loui Eriksson
. Bruins coach Claude Julien has been impressed with the left-winger and believes Fraser will handle this Game 7 situation just fine.
"I mean, there's players on all teams that can be facing [their first Game 7]," Julien said. "I'm sure [Montreal] have a few as well. If they put in [Nathan] Beaulieu, it will be his first time, too. So that is just the way it goes and you have to handle it the best way you can."
Fraser has been trying to absorb all he can since his promotion. The thing that has stood out the most, he said, is the professionalism of the team's veteran players, specifically
Patrice Bergeron
and
Zdeno Chara
.
"You see Bergy and you see Zee, you see all these guys that carry themselves on a professional manner, not just at the rink but everywhere they go," Fraser said. "That's part of being a professional and that's part of being a good person. To see them do it, and they've got all the accolades and they've done it all. Yet, they come to the rink and they're the hardest-working guys."
May, 10, 2014
5/10/14
1:08
AM ET
BOSTON -- The first thing
Matt Fraser
wanted to do was call his parents.
The 23-year-old forward had just scored at 1:19 of overtime to help the
Boston Bruins
to a 1-0 win over the
Montreal Canadiens
in Game 4 of their second-round Stanley Cup playoff series Thursday night at Bell Centre in Montreal, and he couldn't wait to call his dad, Maurey.
"Hopefully my dad was impressed with this one," Fraser said after the game.
His parents were thrilled by their son's accomplishment.
[+] Enlarge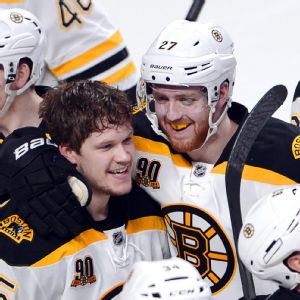 AP Photo/The Canadian Press/Ryan RemiorzAfter scoring in OT to beat the Canadiens in Game 4, Matt Fraser celebrates with Bruins teammate Dougie Hamilton.
"I was so excited for him and for the team," Maurey Fraser told ESPNBoston.com in a phone interview from his home in Red Deer, Alberta. "Obviously, it's a team game and to see the Bruins win and him get the overtime goal, and be successful, it was exciting. He played a strong game all night with his linemates. It was very nice to watch, quite exciting, very exciting."
As far as being impressed, Maurey Fraser said: "That was kind of a neat quote. I hope he didn't make me out as the grumpy old man, but I got a kick out of that, as well."
Matt Fraser became an instant sensation in Boston with his timely goal. Called up from the Providence Bruins of the AHL on Wednesday, he was thrust into the lineup Thursday for his first NHL playoff game.
After he scored the winner, Fraser stood in the lower concourse outside the Bruins' locker room and was surrounded by a media horde. His voice was cracking and his hands were shaking in a genuinely emotional moment.
His family felt the same way while watching his goal and ensuing celebration on television from their home in Western Canada.
"It's a fantastic opportunity for Matt," his father said. "For Boston to give him that opportunity, he just worked so hard and he's a dedicated individual and he puts the team first in all situations and for him to be given the opportunity to come up and play in that atmosphere of Montreal, in the Bell Centre with the storied rivalry between Montreal and Boston for all these years, the emotions involved in the rink, it is something to behold and I understand his emotions and how excited he was for everything. I was feeling that, every bit, at this end as well."
Maurey Fraser was watching Game 4 by himself, while his wife, Sharon, locked herself in the family's garage and listened to the game on the radio.
"She has a little superstition where she thinks things might go a little bit better for Matt and the hockey team if she's not watching it," Maurey Fraser said. "It's a superstition she has on her part, but she came bouncing in right after he scored the goal and saw all the celebrations on television."
It's a superstition she's had for quite a while, Fraser said.
"We've got two kids, Matt and his sister, Kelsey, and for important games where there's a lot riding on it, as an example [Thursday] night with NHL playoffs, [Sharon is] just up and down and moving around all the time, so it's a whole lot easier if she's in another building outside the house somewhere. She's done it for many, many years."
Even though it was last-minute, the Frasers looked into going to Montreal for Game 4, but it was unknown at the time whether Matt would actually be in the lineup.
"It would have been a long way to go to Montreal, sit in the stands and watch the game if he's in the press box, and then the [team] flight leaving Montreal an hour [after the game], I wouldn't even get a chance to see him," Maurey Fraser said. "I understand that it was coach's decision at game time, so it didn't make any sense to do that not knowing if he was going to be in or out."
Fraser's heroics have gained the attention of the entire hockey world. With Game 5 between the Bruins and Canadiens on Saturday night at TD Garden, the "Hockey Night in Canada" crew visited the Fraser family Friday night.
After Game 4, Matt Fraser spoke about playing in a friend's backyard rink as a boy and imaging what it would be like to score a goal in the Stanley Cup. His father explained that all of Matt's friends, both boys and girls, would play on the outdoor rinks, and when Matt would return from his junior team for Christmas break, all the friends would lace up their skates.
"He exactly did what he said he did, all the time pretending that he did what he did [Thursday] night," Maurey Fraser said.
Before his overtime goal against the Canadiens, Fraser was known as one of the prospects the Bruins acquired from the
Dallas Stars
last summer. On July 4, 2013, Boston sent forwards
Tyler Seguin
and
Rich Peverley
along with prospect Ryan Button to the Stars in exchange for
Loui Eriksson
,
Reilly Smith
, Fraser and Joe Morrow.
Fraser was undrafted before the Dallas signed him as a free agent on Nov. 18, 2010. He spent the majority of his time in the organization with its AHL affiliate, the Texas Stars, and played a total of 13 games for Dallas in the NHL.
"Dallas gave Matt an opportunity and that's something we'll always be thankful for, but being professional sports you're with somebody one day and you're gone the next for whatever reason," Maurey Fraser said. "It can be business reasons, playing reasons, salary cap and all that sort of stuff.
"I think Matt was happy when he was dealt to Boston. It's a cliché, but it's an Original Six team and everybody likes that who has grown up in the hockey world. The people of Boston, and the team there, the Providence team, he has nothing but respect for all of those folks involved there. They're treated like genuine pros there in Boston, from the trainers, to the coaching staff, to the media and most importantly the fans are very important.
"Boston is a tough lineup to crack and he might've had more opportunity to play in the NHL with the Dallas organization versus the Boston organization, but that's hindsight now. There's no hard feelings what Dallas did. It was a business move and you just move forward and hopefully Boston gives him an opportunity and he can play there as a full-time NHLer soon."
Matt Fraser was emotional after Game 4.
"Words can't even describe how I feel," he said. "I just watched the replay of it and I don't even want to begin to try to explain it because that's something I wish every kid could feel."
When his dad heard it, he was proud of his son.
"Isn't that a great line? I love that he said that," Maurey Fraser said. "And he means it, too. He really does when he says something like that. He thinks about it and it was very nice."
May, 9, 2014
5/09/14
4:48
PM ET
BOSTON -- Maybe Claude Julien is clairvoyant, but it's hard to believe anybody could have seen Matt Fraser's overtime game-winning goal coming.
Perhaps there were signs, though.
While Fraser's whirlwind journey from Chipotle, to a frozen yogurt stand, to Montreal is now part of Boston sports lore, his hockey journey from undrafted free agent to skating at the Bell Centre in Game 4 took a less direct path. Still, Julien saw enough in Fraser to place him in the heat of the Bruins' second-round Stanley Cup playoff series.
[+] Enlarge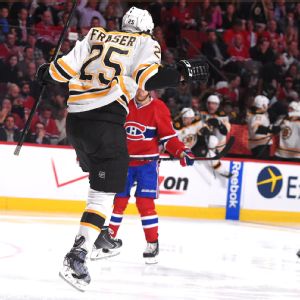 Francois Lacasse/NHLI/Getty ImagesMatt Fraser celebrates after scoring the winning goal against the Canadiens in Game 4 on Thursday night.
Julien could have looked all the way back to the 23-year-old's career in the Western Hockey League, when he scored 17 goals in 19 games for the Kootenay Ice in the 2011 playoffs. There's a more recent example of Fraser's postseason prowess, as the Red Deer, Alberta, native scored an overtime game-winner in the Providence Bruins' American Hockey League playoff series against the Springfield Falcons.
But, ultimately, what compelled Julien to insert Fraser on the Bruins' third line beside Carl Soderberg and Loui Eriksson was simple familiarity.
"Because they have played together before," Julien said after Friday's team skate at TD Garden. "When Matt Fraser was up [earlier in the season], he played with Soderberg on that line, so it's not like it was a new thing for him. There was a little bit of, I shouldn't say chemistry, but knowledge of playing with those guys. So he knew him fairly well and, to me, Carl and Loui seem to have real good chemistry and I thought Matt fit in really well."
Aside from providing Game 4's only goal and other scoring chances, the third unit provided quality minutes for the Bruins, as both Soderberg (18:32) and Eriksson (19:32) logged more time on ice than first-line wingers Jarome Iginla (17:42) and Milan Lucic (18:18).
The calculus of the third line came into formation during Fraser's 14 regular-season games, in which he scored two goals and had an even plus-minus rating. During that stint, Fraser gained familiarity playing on Soderberg's wing.
That, in turn, gave Julien a trusted line as the Bruins' top line continued its struggles.
"

That line, when it does well, it supports each other. Every time it has the puck, there is close support and that really helps. [Matt Fraser] has just seemed to fit in well and I just thought that was the right place and the right spot for him.

"

-- Claude Julien, on Fraser and the Bruins' third line
"That line, when it does well, it supports each other," Julien said of his third line. "Every time it has the puck, there is close support and that really helps. [Fraser] has just seemed to fit in well and I just thought that was the right place and the right spot for him."
As for the first line, only Lucic participated in the optional team skate on Friday.
In this series against the Canadiens, the Bruins' top line has a combined 5 points and is a cumulative minus-4. David Krejci, the NHL's regular-season plus-minus rating champion (+39), stands at minus-3 for the postseason.
Despite a flurry of pregame tinkering with line combinations, Julien remained true with his top-line trio for Game 4. He maintains his faith that they'll turn the corner.
"They just have to find their rhythm again," he said Friday. "I think right now they're working hard, it's just a matter of time here. Certainly, we have seen them at their best, and a little bit of adversity is what they're facing now. They've been as steady as we could have asked this year, so to me it's just a matter of time and they will find their groove again."
For now, Fraser's insertion gave his team a temporary lift, fitting in with the organization's belief in depth and a next-man-up mentality -- and in the process, creating another viable line for the Bruins.
"They're fantastic," Fraser said of his linemates. "I think you can go with any player on this team, and everybody's so good here, everyone buys into the system, this is a team that's built for the playoffs. These are guys that know how to win. They know how to work together and they know their roles."
That's coming from a player who worked his way there, seizing the opportunity after being included as part of a six-player offseason trade that sent Tyler Seguin to Dallas.
"For myself, you want to be a guy that wants to contribute every night and brings something to the lineup," Fraser said, "so when the coaches in the pregame skate wonder who they should put in, they can look at me and know that I will do my part."
May, 8, 2014
5/08/14
10:46
PM ET
MONTREAL -- The
Boston Bruins
evened their second-round series with the
Montreal Canadiens
at two games apiece when minor league call-up
Matt Fraser
scored at 1:19 of overtime to give the Bruins a 1-0 win.
The scoreless first period was intense and entertaining. The Bruins finished with 13 shots in the opening period, while Montreal had 10. Boston created some quality scoring chances, especially late in the period, but
Carey Price
either made the save or was helped by the pipes behind him.
Tuukka Rask
made some timely saves too.


The Bruins had two solid chances in the waning minutes of the first, but couldn't capitalize. At the 19-minute mark, the Bruins created a two-on-one but
P.K. Subban
made a strong defensive play, sliding across and blocking a would-be centering attempt by the Bruins'
Carl Soderberg
.
Then, with 45 seconds remaining, Boston's forecheck created a turnover behind the Montreal net and Soderberg had another chance but his shot hit the crossbar.
In the second, the teams were trying just about everything -- good and bad -- in order to finally score, but the period ended in a stalemate. The Bruins had 12 shots in the period, while Montreal managed nine. Rask made a sharp left-pad save at the 6:17 mark when the Canadiens'
Lars Eller
took a slap shot from the top of the left faceoff circle.
Montreal's
Rene Bourque
created a quality chance midway through the second when he used a burst of speed to get around Boston defenseman
Johnny Boychuk
. Bourque cruised through the crease and attempted to stuff the puck far side, but his attempt hit the side of the net.
Late in the period, the Canadiens'
Michael Bournival
received a pass in the high slot and had plenty of room to move in, but decided to shoot and Rask made a glove save after a clean look.
The third period has been kind to the Bruins in this series. In the first three games, Boston scored eight of its 10 goals in the third period.
That theme did not continue in Game 4. Boston had seven shots in the third, while Montreal generated 14.
However, during Boston's second power play of the game eight minutes into the third, the Bruins controlled the play in the offensive zone when Reilly Smith's shot from the left faceoff circle made its way through traffic and rang off the left post.
Both goalies continued to make big saves and this one needed overtime to decide the winner.
SPECIAL TEAMS:
The Bruins went 0-for-2 on the power play. Montreal went 0-for-1.
LINEUP CHANGES:
Fraser, who was recalled Thursday from Providence of the AHL, was inserted onto Boston's third line, along with Soderberg and
Loui Eriksson
. The Bruins' energy line was reunited with
Daniel Paille
, who had been playing on the third line, rejoining the group. Forward
Jordan Caron
was a healthy scratch. Defensively,
Matt Bartkowski
returned to the lineup after being a healthy scratch the past two games. Defenseman
Andrej Meszaros
did not play.
May, 8, 2014
5/08/14
1:59
PM ET
MONTREAL -- The
Boston Bruins
had just completed their morning skate in preparation for Game 4 of the second-round Stanley Cup playoff series at Bell Centre when a giant media horde surrounded Bruins forward
Matt Fraser
at his locker.
"Just like Providence," said Fraser, who was recalled from the Providence Bruins and could be in the lineup for Boston on Thursday night. He had not been told whether he'll play, and coach Claude Julien said his lineup would be a game-time decision.
Bruins assistant general manager
Don Sweeney
called Fraser on Wednesday afternoon and informed him of his promotion.
"I don't know if words can really explain it," Fraser said. "As a kid, you play for the Stanley Cup a thousand times on the streets and on the outdoor rinks, but not in this environment. It's exciting. I'm not trying to downplay that at all, but at the same time once you get out there you've got to find your groove and play your game."
Fraser, 23, played 14 games for the Bruins this season, posting two goals. He recorded 20 goals and 10 assists for 30 points in 44 games for the P-Bruins of the AHL. Providence is in the midst of the Calder Cup playoffs and Fraser already had three goals and two assists.
When he was called up to Boston earlier this season, Fraser made a strong impression.
"We had a long look at him. He's certainly a guy that can score after seeing what he's done in Providence," Julien said. "He's been good enough and he's done well enough to have him back here."
When he was sent back to Providence, Fraser took it as an opportunity to hone his skills in order to return to Boston sooner than later.
"It's never fun going down," he said. "I've always said whether you're going north or south on 95 it can really make your day a lot better, or a lot worse. This is definitely where you want to be. Different players take different time in the American League and you just take it as a blessing in disguise and work on your game and do what you can to get back here."
Bruins players were happy to see him at the rink Thursday morning and they trust his abilities to contribute if given the opportunity. There's no need to give him any advice, they said.
"At this point of the year, there's not much to say," said Bruins veteran
Daniel Paille
. "He knows what's at stake and he knows what to do. He's a solid player. He was good for us when he was up, so there's not much that you have to say to him."
Fraser said he's never experienced anything like the atmosphere at Bell Centre. When asked how he'll try to keep his emotions in check, he said with a smile, "Take some deep breaths. I'm not too sure. I guess I'll figure that out at game time."
May, 8, 2014
5/08/14
9:58
AM ET
MONTREAL -- The
Boston Bruins
on Thursday morning recalled forward
Matt Fraser
from Providence and demoted forward
Justin Florek
.
Fraser will join the team at the morning skate at Bell Centre as the Bruins prepare for Thursday night's Game 4 of a second-round Stanley Cup playoff series against the
Montreal Canadiens
. The Canadiens lead the series, 2-1.
Fraser, 23, played 14 games for the Bruins this season, posting two goals. He recorded 20 goals and 10 assists for 30 points in 44 games for the P-Bruins of the AHL. Providence is in the midst of the Calder Cup playoffs and Fraser already had three goals and two assists.
Florek skated in six postseason games for Boston and recorded his first NHL playoff goal in the first round against the
Detroit Red Wings
. He was a healthy scratch for Games 2 and 3 against the Habs.
Florek spent the season with the P-Bruins and posted 19 goals and 19 assists for 38 points, including a plus-17 rating.
September, 28, 2013
9/28/13
1:30
PM ET
The
Boston Bruins
made four roster transactions Saturday, sending forwards
Ryan Spooner
,
Matt Fraser
,
Matt Lindblad
and goaltender
Niklas Svedberg
to Providence of the AHL.
Currently, the Bruins have 14 forwards, eight defensemen and two goaltenders remaining on the training camp roster as the team prepares for the season opener against the
Tampa Bay Lightning
on Oct. 3 at TD Garden.
With Svedberg bound for Providence,
Chad Johnson
is in line to be No. 1 netminder
Tuukka Rask
's backup. Johnson, 27, has spent the majority of his career in the AHL and has 10 games of NHL experience between the
New York Rangers
and the
Phoenix Coyotes
. He signed a one-year, one-way contract worth $600,000 in July. Svedberg, 23, is still on an entry-level contract with the Bruins, but if he plays in Boston he'll count for nearly $1 million against the cap.
The Bruins are one over the 23-man limit for the active roster, so GM Bruins Peter Chiarelli still has a decision to make. Forwards
Jordan Caron
and
Nick Johnson
would need to clear waivers if sent to Providence, so it's possible Chiarelli would consider a trade in order to get something in return.
If the Bruins decide to go with eight defensemen that means it will be
Zdeno Chara
,
Dennis Seidenberg
,
Johnny Boychuk
,
Adam McQuaid
,
Torey Krug
,
Dougie Hamilton
,
Matt Bartkowski
and
Kevan Miller
.
As far as the four cuts that were made, Spooner, Fraser, Lindblad and Svedberg were all impressive during camp. From a development standpoint, it's better for all to get the necessary ice time with the P-Bruins in order to continue to hone their skills.
There's no doubt all could contribute in Boston at some point this season if needed. Chiarelli has created a wealth of depth in the organization and the P-Bruins should have an impressive season, too.
July, 4, 2013
7/04/13
5:01
PM ET
So,
Boston Bruins
general manager Peter Chiarelli wasn't just sending a message to
Tyler Seguin
after all.
Instead, he sent the 21-year-old forward packing and shipped him to the
Dallas Stars
, along with forward
Rich Peverley
and defenseman Ryan Button, in exchange for forward
Loui Eriksson
and prospects Joe Morrow,
Reilly Smith
and
Matt Fraser
.
The blockbuster deal ends Seguin's subpar three-year career in Boston. He never really lived up to expectations while in a Bruins sweater, and now, his $5.75 million cap hit per season is off the books.

Seguin, the No. 2 overall pick in 2010, struggled to produce offensively on a consistent basis. In 203 regular-season games for the Bruins, he scored 56 goals and added 65 assists for 121 points. In 42 playoff games, he had six goals and 12 assists for 18 points.
He helped the Bruins win the Stanley Cup in 2011 with a big series against the
Tampa Bay Lightning
in the Eastern Conference finals. This spring, though, he struggled and had only one goal and seven assists in 22 games as the Bruins lost to the
Chicago Blackhawks
in the finals.
Seguin had a hard time using his speed to his advantage, and opponents controlled him by keeping him to the perimeter, which made his shot useless.
The Bruins are moving him while he's young and relatively healthy, and Chiarelli was able to get a good deal in return.
Chiarelli criticized Seguin last weekend at the NHL draft, saying the forward needed to become a better pro. Bruins assistant captain
Patrice Bergeron
had his former linemate's back, but understood what the GM meant.
"I think Tyler's a young guy still and he's got a lot to learn," Bergeron said. "At the same time, he's improved a lot. At that stage, when you're learning like that, that's going to happen, you need to make sure you learn from it and find a way to get better. That's the main thing with him, it's about him finding ways to battle through it, find ways and build some character out of it. He's a terrific player, a terrific person, but sometimes you need to have some lows to get back up and feel better and play better.
"I thought he was really good the way he helped us. He found a way even though he wasn't scoring as much as he would like to. He was still battling hard and doing things, the little details that you don't always see on the score sheet, but it wasn't going unnoticed from us as players and teammates. He's a terrific young player, so he's going to learn."
As for the other players in the deal:
Eriksson, 27, is a solid left winger and posted 12 goals and 17 assists for 29 points in 48 games for the Stars this season.
Smith, 22, can play either wing and posted three goals and six assists for nine points in 37 games.
Morrow, 20, is a solid, puck-moving defenseman and spent this past season at the AHL level.
Fraser, 20, is a left winger and spent the majority of the season in the AHL, but did play in 12 games for Dallas.