July, 11, 2014
Jul 11
12:38
AM ET
WILMINGTON, Mass. -- Hockey can be equated to a classic Disneyland ride.
"It's a pretty small hockey world," Boston College forward and Massachusetts native Ryan Fitzgerald said Thursday after skating in the second day of Bruins development camp, "to be this far down the line and still be playing with kids that I played with when I was 10."
It's been a common occurrence for the Bruins in the last several years.
Boston has drafted a Massachusetts-born player in each of the last three drafts. The organization hasn't really seen a bumper crop of New England-born players from the region's secondary schools since the period from 1984 through 1992 -- a span that also happens to coincide with what many view as the zenith of high school hockey in Massachusetts.
Many of the recent draft picks have ties to the team. Both Fitzgerald and Ryan Donato, this year's second-rounder, have fathers (Tom and Ted, respectively) who donned the spoked B. Charlestown native and current Boston University defenseman Matt Grzelcyk, who was selected out of the United States National Team Development Program in the third round in 2012, is the son of John Grzelcyk, longtime member of the "bull gang" at TD Garden.
In addition, the Bruins drafted defenseman Robbie O'Gara out of Milton (Massachusetts) Academy in the fifth round of the 2011 draft. Although O'Gara is a native of Long Island, he and 2013 fifth-rounder Wiley Sherman (Hotchkiss School/Greenwich, Connecticut) add further New England roots.
All are in attendance at development camp this week.
"I think half the guys here are from Massachusetts," Providence Bruins head coach Bruce Cassidy quipped after Thursday's skating session.
It underlines one of two recent trends in the Bruins' draft philosophy.
In the same years the organization has increasingly pulled from its backyard, the Bruins are also looking to Sweden. Boston has taken five players from the country's junior ranks in the last two years, headlined by the Bruins' first picks in each of those years -- 2014 first-rounder David Pastrnak and 2013 second-rounder Linus Arnesson.
The Bruins also have beefed up their presence in the area, adding former fan favorite
P.J. Axelsson
as a European scout, in addition to Svenake Svensson, who also is based in Sweden and has been with the team for 24 years.
It points to the evolving nature of hockey at home and across the pond -- one that has brought two schools of philosophy closer together.
"I think the game's becoming more centralized," Cassidy said Thursday. "The North American game has gone more toward the European game -- with puck possession and the way the lineups are filled out. And the European game has moved a little bit toward the North American styles. Some of these Swedes that are coming over here and they're gritty, they're hard on the puck, they're hard to get the puck from, they compete for it, whereas in years past you might not have said that."
It should come as no surprise that the Bruins' assistant director of amateur scouting is a local as well. Scott Fitzgerald, brother of
Tom Fitzgerald
and uncle to Ryan, is part of the brain trust that has charted a course to familiar waters.
"It's pretty special putting on the black and gold, but it's awesome to be able to do it with a couple of Mass. guys as well," Ryan Donato said Thursday. "It shows how good Mass. hockey is. I think it just shows that Mass. hockey is getting better."
There might just be a symbiotic relationship to hockey in the area. For all the rinks and hockey careers Bobby Orr inspired, the same might be able to be said of the Bruins' most recent Stanley Cup victory.
"You watch [Donato's] family realize how exciting it is, both Ryans for that matter [Donato and Fitzgerald], and Grizz's [Matt Grzelcyk] family is a great story," Bruins assistant general manager
Don Sweeney
said on Wednesday. "They weren't drafted because of the story, but the best part about it is they get to add another chapter. And if they do go on to fulfill their dream, then it becomes that much better, that much more rewarding for everybody involved because the Bruins are part of the fabric of this community."
While tight-knit, there are six degrees of separation sometimes in the hockey community.
Despite growing up in the same state, having fathers who played for the same team and being separated by only a couple of years in age, the younger Donato and Fitzgerald had never met until joining the team at Ristuccia Arena this week. The centers have more in common than not. Besides their first name, they share the same outlook regarding the name on the back of their sweaters.
"He'll probably say the same thing, we've had it our whole life," Ryan Fitzgerald said about the pressures of growing up in an NHL family. "It's something that we've dealt with. We don't feel that much pressure to be honest with you."
Donato reflected on the impact he and his fellow local Bruins could have on the younger generation. It's also possible that Massachusetts could produce next year's overall No. 1 draft pick in Chelmsford's Jack Eichel -- a former teammate of Donato's at the youth level -- in addition to several potential first-rounders in a rich draft class.
"Little kids will look up to them and a bunch of the guys here and want to be like them," Donato said. "That's a pretty special thing."
A world of hockey that's pretty small, after all.
June, 23, 2012
6/23/12
2:01
PM ET
[+] Enlarge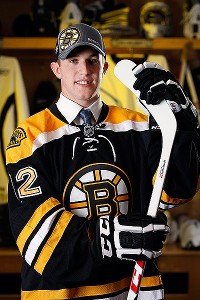 Gregory Shamus/NHLI/Getty ImagesBruins draft pick and Charlestown native Matt Grzelcyk will play at Boston University next season.
After making waves with their first-round pick on Friday night, the Boston Bruins kept things close to home for their third-round selection in the NHL entry draft.
With the 85th overall selection, the Bruins tabbed United States National Team Development Program U-18 (USHL) defenseman Matt Grzelcyk. The 5-foot-9, 171-pound, puck-moving blueliner is a Charlestown, Mass., native who grew up a stone's throw away from the TD Garden.
Being drafted by the Bruins isn't Grzelcyk's only link to the Bruins. His father, John, is a longtime member of the "bull gang" at the Garden.
The 18-year-old will bring his hockey game back to Boston next season when he joins Boston University. Grzelcyk was also a member of the gold medal-winning Team USA squad that claimed its fourth straight title at the IIHF World Men's Under-18 Championship in April.
• Here's a snippet of Grzelcyk's reaction to being taken by the hometown team today, courtesy of the Bruins communications staff:
On whether he had any indication from the Bruins that they might draft him
: "I met with them, so I mean I kind of had a rough idea, but you know I didn't really come in with high expectations. So, it's kind of a shock, but I couldn't be happier."
On whether 84th was where he hoped and expected to be picked:
"Not really, no, to be honest. You know I wasn't ranked that high, I'm kind of a smaller guy, so it was pretty unexpected, but what can you say, you can't go wrong."
On going through the draft with so many New England players:
"It's great to see. I've known these kids ever since I was young, so it's kind of a surreal feeling to be here with them and I'm just happy to share it with them."
On how his time with USA Hockey has helped him develop as a player:
"It was probably the best two years of my life, you know I feel like I really needed the development and that's exactly what I got. Being a part of that gold-medal team was just the best feeling I've had in hockey so far and couldn't be happier that I stayed and had my time there in Ann Arbor."
On whether he's ready to handle the pressure of playing for his hometown:
"Yeah, definitely. I mean obviously there's going to be a lot of people like my family and stuff, but I've always had this dream to play for the Bruins and hopefully that comes true one day."
• Bruins general manager Peter Chiarelli touched on Grzelcyk's game earlier this week during his pre-draft conference call with the media. Here's what
Chiarelli had to say
:
"The Grzelcyk kid's a very good, mobile defenseman. He's later on down but he's got a good head on his shoulders."
• Here's what Bruins director of amateur scouting Wayne Smith had to say on Grzelcyk's selection today:
"Well he's the type of kid that plays much bigger than he is. He's got a Bruin mentality. He plays to win; he plays hard; he's hard to play against; he plays a virtually mistake-free game. His decision-making and his ability to move the puck is second-to-none in this draft. Obviously, it's a great story that his father has worked at the Garden for [45] years. We brought him in to Boston in particular because we had keen interest in him, and after meeting with him, we just feel that he could be a part of helping us win another Stanley Cup."