October, 10, 2011
10/10/11
6:04
PM ET
BOSTON -- Former Bruins defenseman
Matt Hunwick
was a healthy scratch for the Avalanche in his team's 1-0 win Monday afternoon, which just meant more time for Hunwick to think about what could have been. Hunwick played 22 games for the 2010-11 Bruins before being traded to Colorado last January for defenseman
Colby Cohen
.
Hunwick said that while he watched Monday's game from press level he was definitely thinking of his time in Boston, and while he is happy with his new teammates, he knew that his former ones had the potential to go all the way.
"You know I was up there today thinking back to that series with Philly and blowing that 3-0 lead and I just knew even after that, those guys had the tools to do it," Hunwick said. "I knew we had a good team then and that experience only made us stronger, so I knew that they were destined for something big. I was happy for them for sure, but obviously coming back here it's bittersweet because I could have been part of that."
Watching the Bruins' Stanley Cup run was so bittersweet for Hunwick, he said, that decided to go on a 10-day canoeing trip in the middle of the Eastern Conference finals and made sure he shut down all sources of communication.
"Honestly, I didn't care to watch really," said Hunwick, who per league rules did not get a ring or his name on the Cup. "I took off for western Ontario for a canoeing trip and had no cell phone or Internet for 10 days. When I got back, it was already Game 3 of the Stanley Cup finals and I saw the Bruins had won. I watched some of that series but it was hard. Like I said, I knew they could do it. But I am so happy for those guys and I called the guys I keep in touch with to wish them my best. They have a great team and they will be tough again this season."
February, 28, 2011
2/28/11
2:50
PM ET
Despite reports to the contrary, former Bruins defenseman
Matt Hunwick
said early Monday afternoon that he is unlikely to return to Boston.
The Boston Globe had reported Monday morning that Hunwick could be reacquired by Boston prior to the 3 p.m. ET NHL trade deadline as the Bruins are reportedly still looking for depth on the blue line. But Hunwick, who was dealt to Colorado for prospect
Colby Cohen
in November, said that while he had heard the same whispers, he had been told the club's recent signing of defenseman
Shane Hnidy
most likely meant no return to Beantown for Hunwick.
"I've only heard that from my agent but we think with the signing of of Hnidy, it won't happen," Hunwick said.
Bruins GM Peter Chiarelli also repeated to Bostonbruins.com around lunch time that he was only working on some "small" deals and informed the team that they shouldn't expect any big trades from the Bruins today.
"We may do something depth wise but we're just working on a couple small things," Chiarelli said to team website writer John Bishop. "I've told the team we're not making any major moves."
January, 22, 2011
1/22/11
10:42
AM ET
When the bruins take to the ice at Pepsi Center in Denver on Saturday for their game with the Avalanche, they will see a familiar face on the opposing side. Defenseman
Matt Hunwick
, who was dealt to Colorado on November 29 for prospect
Colby Cohen
is patrolling the Colorado blue line now and is excited to face his old teammates.
"It's going to be weird for sure," Hunwick told ESPNBoston.com Friday night. "I mean it would be even weirder if it was in Boston for sure but still it's always interesting playing your old teammates for the first time. I'm excited to hopefully catch up with the guys after or before."
Hunwick, who was drafted by the Bruins in the seventh round of the 2004 NHL Draft, grew up in the Bruins organization finding his niche as a puck-moving blueliner for the last two seasons in Boston. He had a breakthrough season in 2008-09 with 21 points in 58 games and then faded a bit in 2009-10 with 14 points in 76 games last season. While he showed signs of blossoming more this season, he struggled with only three points in 22 games. The Bruins, facing a salary cap pinch with
Marc Savard
and
Marco Sturm
due to return from injured reserve, felt Hunwick was expendable and traded him to create some cap space. The rise of Steven Kampfer in Providence also made easier to make the move, as Kampfer presented a similar skill set.
Hunwick held no hard feelings for being a cap casualty and treasures his time as a Bruin and living in Boston.
"You know I have nothing but great memories of being a Bruin and living in Boston," Hunwick said. "I love that city and love the fans. And then the guys in that dressing room were great. We really had a great bunch and I think a skilled bunch too. I was sad to leave but it's a business."
Now Hunwick is getting used to the more laid back lifestyle of Denver and Colorado as well as finding his role on a young Avalanche squad.
"It's a different lifestyle for sure here," Hunwick said of living in Denver. "The people are nice and it's easy going but you miss that passion of the Boston fan for sure. But it is beautiful waking up, looking out the window and seeing the Rockies. I will get used to it. On the ice, things are the same really. They want me to move that puck out and create offense from the back end so I know my job and I'm fitting in OK."
Hunwick has only three assists in 23 games with the Avalanche and is a minus-9, but the team as a whole has dealt with some injuries and he thinks once everyone gets back in sync things will turn around.
"I could be better for sure but we've been as a team up and down and I think as guys get healthier we'll get in sync," said Hunwick. "I like the enthusiasm here. We're a young team and it's an upbeat group. We've got some really skilled guys so I'm excited."
November, 29, 2010
11/29/10
8:18
PM ET
When
Matt Hunwick
woke up from his afternoon nap on Monday, he noticed he had many missed calls from his agent and from people within the Bruins organization.
He figured something had happened on the trade front, and it was just a matter of finding out where he was going.
The defenseman is heading to Colorado.
Bruins general manager Peter Chiarelli traded the 25-year-old blueliner to the Avalanche in exchange for defenseman, and former Boston University standout,
Colby Cohen
.
In a phone conversation, Hunwick told ESPNBoston.com he understands the situation, but will miss Boston.
"It's tough. It's disappointing leaving the team I was drafted by, and the team I've spent my entire time as a pro," Hunwick said. "But at the same time, it's a new opportunity and I'm excited to have that chance."
Hunwick will be on a plane early Tuesday morning to Colorado, and he's expecting to be in the lineup for the Avalanche against the Blues on Tuesday night.
The Bruins drafted Hunwick with their sixth pick (224th overall) in the 2004 entry draft. The former University of Michigan star began his pro career with Boston's AHL affiliate at Providence in 2007-2008, and also made his NHL debut that season.
"It's an Original Six team with great fans," he said. "I grew up watching the Bruins. Growing up in Michigan I had a chance to watch the Bruins on Hockey Night in Canada, and from the time I was drafted until today, I've loved every minute of being a part of this organization.
"It's been great. The city is phenomenal and I love living downtown. It's been a great experience overall, and that's what makes it so disappointing."
With the Bruins facing a cap issue once forwards
Marc Savard
(post-concussion syndrome) and
Marco Sturm
(knee) are able to return to the lineup, Chiarelli had to clear some space, and today Hunwick experienced the business side of the game.
"I didn't think that I wouldn't be traded," he said. "It's a possibility for everyone in that locker room, with the exception of a few guys. I knew it was a possibility. Obviously, you hope that wouldn't be the case, but everyone knew a move had to happen before Savvy could come back in the lineup. It's me."
October, 19, 2010
10/19/10
10:54
PM ET
Five thoughts and observations after watching from afar as the Bruins defeated the
Washington Capitals
3-1 Tuesday night at Verizon Center:
[+] Enlarge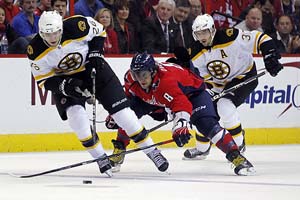 Geoff Burke/US PresswireZdeno Chara kept Washington star Alex Ovechkin bottled up; here Blake Wheeler and Patrice Bergeron have him surrounded.
MATCHMAKER:
Almost every time the Capitals'
Alex Ovechkin
stepped onto the ice, Bruins defenseman
Zdeno Chara
was there to meet him. Boston's captain completely dominated that matchup as he held Ovechkin to only five shots and a minus-2. Meanwhile, Chara was a plus-1.
BACKSTOPPING THE BRUINS:
Tim Thomas
does it again. The veteran netminder made 35 saves to help Boston to its third consecutive victory. The last time the Bruins played the Capitals, Thomas thought he had played one of his best games. It was the last regular-season game of last season, and Thomas made 34 saves en route to a 4-3 victory. That was the last game he played as then-rookie goaltender
Tuukka Rask
played every game in the Stanley Cup playoffs. Thomas entered training camp motivated and in good shape following hip surgery, and with Tuesday's win, he has won all three of his starts this season and has allowed only two goals during this stretch.
Bruins coach Claude Julien said after practice on Monday that since the Bruins have three games this week, he would give both goaltenders playing time. Despite Thomas' three-game winning streak, Julien likely will give Rask the nod in Thursday's home opener. The Bruins don't want to push Thomas after his surgery.
PICKUP LINE:
When the Bruins acquired forward
Nathan Horton
during the offseason, the expectation was he would become a big-time goal scorer in Boston. Turns out, he's been a major playmaker. The Bruins' top line of Horton,
David Krejci
and
Milan Lucic
has combined for 17 points in the first four games of the season. Krejci and Lucic each posted a goal and assist against the Capitals, with Horton providing an assist on Krejci's goal. Horton has posted at least a point in each of the Bruins' first four games.
SWEETER THAN HONEY:
Bruins defenseman
Matt Hunwick
tallied his first goal of the season at 2:08 of the third period to give Boston a 3-1 advantage. If the Bruins want to be successful, the defensive corps needs to chip in offensively. Hunwick gained control of the puck at the blue line and, with his quick release, put a wrist shot on net. Teammates
Patrice Bergeron
and
Jordan Caron
were setting the screen as the puck beat Capitals goaltender
Semyon Varlamov
.
HOME SWEET HOME:
The last time the Bruins played at home they left the ice to a stunned TD Garden crowd after the
Philadelphia Flyers
completed an historic comeback from a 3-0 series deficit to beat Boston in Game 7 of the Eastern Conference semifinals last May. The Bruins' training camp was cut short because of their European trek through Belfast and Prague. Since being back in North America, the Bruins have played two road games, and they finally return home, with a 3-1 record, and host the Capitals on Thursday.
February, 3, 2010
2/03/10
2:48
PM ET
BELMONT, Mass. -- In the minds of Bruins general manager Peter Chiarelli and head coach Claude Julien, it was time to shake things up a bit without altering the makeup of the team.

So instead of reporting to Ristuccia Arena in Wilmington, Mass., the Bruins hit the Olympic-sized sheet at the Jordan Athletic Center at Belmont Hill Academy on Wednesday morning. The players actually boarded a chartered bus and headed over as a team to the school Chiarelli's son attends.
Then the team went through its usual practice routine in front of close to 100 members of the student body.

"We're hoping it can [help]. It's just a change of scenery and something a little different and something Peter thought might be good for our team," said Julien, whose team lost its eighth in a row Tuesday night.
The players were all for a change in scenery.
"Maybe that was the plan behind today, just try something different, have some fun," said center Marc Savard. "We're keeping our spirits up, and like we said in the past, we just have to stick with it."
The question came up whether the Bruins have to adopt Belmont Hill as its new practice rink if they beat Montreal Thursday night. That won't happen, but goaltender Tim Thomas is hoping the change of venue will pay off.
"After we win [Thursday] night, we can say it was all because of this," he said.
NOTES:
* Defenseman Matt Hunwick and forward Steve Begin were excused from practice for "maintenance days," according to Julien. Hunwick was leveled by a Tom Poti hit Tuesday night. The Bruins backliner returned to the game after heading to the locker room to check out an undisclosed injury.
* Andrew Ference practiced again Wednesday but said he didn't add anything more strenuous to his workout. The defenseman said that Friday he might be able to add some hard stops and starts, and some contact as he attempts to return from a groin injury.
January, 20, 2010
1/20/10
1:05
PM ET
WILMINGTON, Mass. -- Winger Marco Sturm made an unplanned exit from Bruins practice Wednesday at Ristuccia Arena after about 45 minutes of the hour-long session.
Head coach Claude Julien said that Sturm, who has already missed two games with a leg injury, is questionable for Thursday night's game against Columbus.

Defenseman Matt Hunwick took a puck to his left eye during battle drills and was bleeding. He left the ice but returned to finish up the drill and should be fine for the Blue Jackets game.

While Sturm at least got on the ice, injured forwards Steve Begin and Byron Bitz didn't practice and remained day-to-day.
January, 6, 2010
1/06/10
4:38
PM ET
WILMINGTON, Mass. -- What started out as a way for Bruins head coach Claude Julien to work Derek Morris back into the lineup after a three-game injury absence has turned into a permanent defense pairing with Matt Hunwick that has allowed the Bruins to sport three balanced duos.
"It was one of those things where we thought 'let's ease him in.' And at the same time, it gave Matt an experienced defenseman to play with," said Julien, as his players worked out at Ristuccia Arena on Wednesday. "We thought it was a win-win situation. Dennis [Wideman] had played well with Zdeno [Chara], and even Johnny Boychuk and Andrew [Ference] have played well together. So we kind of liked our pairs, I guess, the way we had them and it turned out well.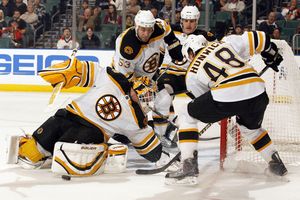 Eliot J. Schechter/NHLI/Getty Images
Derek Morris and Matt Hunwick help goaltender Tim Thomas defend the net during a recent game against the Florida Panthers.
"Right now, I think Matt's game has really taken off," said Julien. "It's good to see because we know he's a good defenseman. He's one of those guys that we rely on a lot to support the attack because he's such a good skater. And getting his confidence and knowing that he's got a guy back there that's pretty reliable has certainly helped."
Hunwick has come alive, with a two-point night (including a shorthanded goal) in New York Monday and three points in the six games he has skated with Morris. And while plus/minus is never a dead-on gauge of a player's performance in the defensive end, Hunwick is a plus-2 over that same stretch. He's come a long way less than a month removed from being a healthy scratch for three of four games when Boychuk was getting his first opportunities to play.
"I feel a lot better. I feel a lot more comfortable out there with Derek," said Hunwick, who is a minus-3 with 5-6-11 totals in 39 games this season. "He's a guy that can really move a puck up the ice and allows me to get up the ice and support the rush and be that fourth guy, or even that third guy at times. His puck-moving ability, maybe coupled with my skating, has been good for me and I think it's been good for him too."

Except for the three games he missed, Morris has been a legit No. 2 defenseman for the Bruins. It was getting obvious that having Morris paired with Chara, the Bruins' top two scoring defensemen, was kind of like putting all your eggs in one basket. Morris' injury might've caused the lineup shift, but now Morris, the 31-year-old veteran, gets to aid his partner rather than just be a sidekick to the Norris Trophy winner.
"I like playing with younger guys," said Morris. "My whole career I've played with younger guys. I like it when they do well. I'm not the type of guy that really cares about my own stats. I like what he's doing. He's skating with the puck, he's using his speed and he's getting up in the play. And he's getting his confidence back."
"It was confidence," continued Morris when asked about why Hunwick had been struggling. "We're supposedly confident guys, but it's easy to lose it in this game. He was losing it a little bit. All I've ever done is just tell him to do what he can do, go join the play, I'll stay back. He's got such good speed and is so good offensively. He wasn't using that. He's been doing that; he's been playing good. And it's good because he has a bright future and he's going to be a huge part of this team."
December, 11, 2009
12/11/09
4:38
PM ET
WILMINGTON, Mass. -- Matt Hunwick knew that after he was a healthy scratch Saturday against Toronto, only hard work and solid practices would earn him a spot back in the Bruins' lineup. He just didn't know how soon that opportunity would come or that when it arrived he'd be asked to play out of position.
But Thursday night in Boston's 5-2 win over Toronto, Hunwick was not only suited up but skating at forward alongside Shawn Thornton and Steve Begin on the Bruins' energy line. He responded with two hits, two shots on net and a plus-1.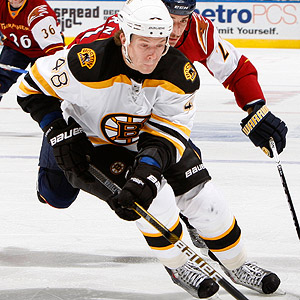 Kevin C. Cox/Getty Images
Hunwick skated at forward alongside Shawn Thornton and Steve Begin in the Bruins' 5-2 win over Toronto on Thursday.

"Starting last year, I got some chances to play forward. I'm always excited to get in there, especially as a forward where you're able to skate a little bit more and play a little bit different style of game," he said after he practiced back in a black defensemen's sweater at Ristuccia Arena on Friday morning. "It's all thinking the game. I know our systems, I know where our forwards should be. When I go out there, it's an easy transition for me. I think it'd probably be harder for a forward trying to switch back to defense."
Last year, Hunwick skated in a handful of games up front when the Bruins had injury problems. Playing mostly with Marc Savard and Phil Kessel, Hunwick even scored a goal from his unfamiliar perch. Playing with Begin and Thornton, after Byron Bitz's illness caused a game-day lineup shuffle, obviously brought with it different responsibilities. But he adapted well.
"No matter what line you're playing on -- obviously things were a little different last year when I was playing with Savvy, maybe you're a little bit more offensive-minded just because you know that he's going to make good plays and you can go to the net and create things a little bit more," said Hunwick, who has posted 4-3-7 totals in 29 games this season. "But probably the biggest thing is, when you're playing on a checking line, you want to be smart, make the sure play."
There's no telling if Hunwick's play up front will earn him a chance to get back into the mix along the blue line, especially with his replacement, Johnny Boychuk, more than holding his own back there. If it's any consolation to Hunwick, coach Claude Julien appreciated what he saw out of his versatile second-year player.
"Matt has always done a good job at the wing ... but [Thursday] night on that line, he was good on the boards," said the coach. "He made the simple plays. He did what he had to do. He is a good skate, so he is a guy you can easily put up there and know he is not going to hurt you."
Rotating the A
Julien said before the season that he would rotate the Bruins' second alternate-captain A month to month. So it looks like someone will probably replace Steve Begin on Saturday.
"Somebody will see it on their jersey tomorrow. ... We'll see," Julien said. "There's a little bit of thinking I have to do before I decide or we decide. We'll discuss it with the coaches. There are some guys worthy of it but we'll make that decision probably before the game."
Loose pucks
Dennis Wideman (maintenance) and Bitz (illness) did not practice Friday but were scheduled to make the road trip to Long Island for Saturday night's game, according to Julien. ... While we're still at least days away from seeing injured forward Milan Lucic (high ankle sprain) back on the ice, he'll be appearing on the "VH1 Top 20 Video Countdown," which will air Saturday at 9 a.m.
December, 7, 2009
12/07/09
1:19
PM ET
WILMINGTON, Mass. -- The Bruins took a day off Sunday in the aftermath of their 7-2 rout of Toronto the night before, so Monday morning's practice at Ristuccia Arena was defenseman Matt Hunwick's first chance to get onto the ice after his first healthy scratch of the season.
Although Hunwick's intensity level was just as high as it usually is -- his 1-on-1 battle behind the net with David Krejci during one drill proved that fact -- it was a reassuring sign that his work ethic had not headed in the other direction in light of his removal from the lineup. There's no head-hanging for Hunwick, just battling.
"I certainly want [the coaches] to know that I'm ready to compete and that I'm not going to just take this and sit quietly," Hunwick said after practice. "I mean, I'm working my ass off to get back in the lineup and do everything that they ask for me to do. I just look at it as a little bit of a challenge."
Hunwick's quality of play had been sinking a bit before the Bruins landed in Montreal on Friday. In that 5-1 loss, things hit rock bottom. One turnover led to a Canadiens 2-on-1 that Tim Thomas stopped. Another actually deflected off Thomas and out to Michael Cammalleri for one of the forward's three goals on the night. And those were just the two most egregious gaffes off Hunwick's stick.
"Some nights you don't have it. Some nights you don't feel comfortable and that happened to me that night," said Hunwick.
When asked whether his confidence had been waning as head coach Claude Julien mentioned when talking about the benching Saturday, Hunwick responded: "To be honest with you, I didn't at the time. Obviously, that was a tough game in Montreal. We'd like to play better in those situations. But overall, I hadn't questioned my confidence."
Julien on Monday was quick to spin his lineup move as one that gave Johnny Boychuk (who responded with his first NHL goal) a chance to play rather than a removal of Hunwick. Left unsaid was that after that Montreal game, any of the Bruins' six blueliners could've been a candidate for a seat in the press box and the decision was made to give Hunwick the boot.
"Our team played great on Saturday night, so you can't argue with the decision," said Hunwick. "But I'm going to go out and I think all those times I was scratched last year, I always bounced back well and that's what I'm looking to do this year."
In fact, Hunwick was a healthy scratch 23 times for the Bruins last season. This time around, however, things are a little different. Instead of a rookie waiting his turn, Hunwick is a second-year player who started the season with a spot in the top six. Missing the Leafs matchup also kept Hunwick from getting a shot to play on Hockey Night in Canada -- appointment viewing for him as a kid growing up in Michigan -- and to face former Montreal nemesis Mike Komisarek. You'll remember that in the same game that Hunwick suffered his ruptured spleen in last year's playoff series with the Habs, Hunwick was also eye gouged by the then-Habs defenseman during a postgame scuffle.
Saturday would've been the first chance for the two players to match up since that incident.
"It's a new year and obviously there's not really much to do," said Hunwick, who played down that aspect of not dressing for the game. "He's a huge guy. It's not like I'm going to go out and fight him the first shift or something. It's always fun to have a little bit of a rivalry and compete against great players and it would've been fun to do."
At least with Julien, players young and old always know where they stand. Players with more established pedigrees, be it Shane Hnidy or even Shawn Thornton in last spring's Carolina series, have had to accept the coach's decision to sit them in the past. They were able to take solace that Julien's dog house doesn't usually stay filled very long -- a fact that can keep Hunwick focused on the right goal.
"He lets me know exactly where I stand and within the team right now and what I need to do to get back in the lineup," said Hunwick, who said he had a long talk with Julien before Saturday night's game. "So the lines there are drawn pretty clearly and it's a matter of me going out and doing it."
Loose pucks
Neither
Derek Morris
nor
Dennis Wideman
practiced Monday because of "maintenance." Wideman missed all of the third period Saturday, while Morris missed a couple of shifts. Julien had no update on Wideman's status other than to say the veteran could be ready to play by Thursday. ... The Bruins worked on a number of different aspects of their game Monday , including some 4-on-4 play, which had recently slipped a bit according to Julien. The coach said that the three days of practice before Thursday night's game would be used to fine-tune everything. ... Want a sure sign the Bruins are back to playing hard-nosed hockey? Marco Sturm's sporting a bloody scab the size of a quarter on his chin,
Zdeno Chara
has a closed gash above his upper lift, Marc Savard's face has a few colorful decorations and -- my personal favorite -- Andrew Ference's left eye now features a shiner so blue it actually looks like movie makeup.
October, 10, 2009
10/10/09
11:37
PM ET
BOSTON -- If the Bruins go on a lengthy winning streak following Saturday night's 4-3 comeback win over the New York Islanders at TD Garden, defenseman Matt Hunwick's tying goal through traffic late in the third period might earn a catchy nickname.
But for now it will just be known as the goal that prevented a demoralizing defeat. Hunwick's wobbly wrister eluded Islanders goaltender Dwayne Roloson with 2:34 left in the third period to tie the game, 3-3, after the Bruins trailed, 3-0, heading to the last stanza.
"I just tried to change my angle and wrist one through, just get it near the net or on net for a possible rebound," Hunwick said. "Basically it had eyes and found its way to the back of the net."
David Krejci, who was creating traffic between Hunwick and Roloson, had to show quick reflexes to get out of the way of the puck.
"I knew that we always have to have a third guy high, and I was there," said Krejci. "So I just tried to go in the shooting lane to make sure the goalie didn't see the puck. I knew [Hunwick] shot it and I knew in the air it was a looking good. If I get out of the way, it can get in because there was a bit of traffic."
Hunwick finished the night with two points and a plus-1 rating in a season-high 19:21 of ice time. All the Bruins' defenseman had to pick up the slack for the missing Dennis Wideman, who left in the second period with what coach Claude Julien called "an upper-body injury" and did not return.
Rally time

The Bruins won just twice all of last year when trailing after two periods, and were ranked 20th in win percentage in that situation.
October, 8, 2009
10/08/09
11:18
PM ET
BOSTON -- Last season the Bruins asked their third defense pair of Mark Stuart and Shane Hnidy to keep things simple and basically not put the team in a jam.
With Hnidy now with Minnesota, Stuart is paired with Matt Hunwick but the job remains the same. Through the first two games of this season, it was mission accomplished. But in Thursday night's 6-1 loss to Anaheim at TD Garden, the bottom fell out on the young duo.
Hunwick was a minus-2 and committed a momentum-turning penalty in the second period, and Stuart was a minus-1 with no hits.
"The first period, I felt good," Hunwick said. "There were certain plays that I obviously would like to have back, just little things. But that's where consistency comes in. I think you can feel good for the majority of the game and one shift can kind of change your whole night."
That shift came early in the middle stanza, with Stuart and Hunwick squaring off against Anaheim's third line of Evgeny Artyukhin, Todd Marchant and Joffrey Lupul. With the Ducks cycling with the puck in the Boston end and darting behind the net for what seemed an eternity, Hunwick pulled down Artyukhin next to the Bruins' net after the forward had passed the puck and was called for interference. Less than a minute later, Marco Sturm's hooking penalty put the Ducks on a 5-on-3 advantage. Anaheim -- specifically Teemu Selanne -- cashed in on both penalties, erasing a 1-0 Boston lead for good.
"They had us in there for a period of time and it was a bad penalty," said Hunwick.
Added Stuart: "They were cycling on us pretty good. I don't think they really got a good chance, they just kind of got us running around a little bit. Unfortunately we had the penalty and then another one, so it was 5-on-3, and then the two goals. That was the turning point."
Things didn't get any better for Hunwick, as he was beaten 1-on-1 on an Artyukhin goal in the third period.
Coach Claude Julien, who called out everyone on his club but the fourth line, didn't single out Hunwick or Stuart, but said they "both had tough nights." But when you play the fewest minutes among the defense corps, every needless penalty, every missed opportunity to clear the puck is magnified. Thursday night, Stuart and Hunwick were ants burning under sunlight shining through a magnifying glass.
October, 5, 2009
10/05/09
2:35
PM ET
WILMINGTON, Mass. -- With Milan Lucic not practicing with his Boston Bruins teammates Monday at Ristuccia Arena, there were some concerns that he might have a physical issue.
But Bruins coach Claude Julien laid those to rest after his team's hour-long session, saying the first-line left winger was excused from practice for a"non-hockey-related personal issue."
Julien said Lucic is scheduled to rejoin the team for Tuesday's practice session in preparation for Thursday night's home date with Anaheim.
Hunwick thinking forward

With Lucic not around and the Bruins carrying the minimum 12 forwards on their active roster, defenseman Matt Hunwick skated in Lucic's spot alongside center Marc Savard and right wing Marco Sturm during drills. Hunwick played forward a few times last season, including an overtime loss to Washington that had him on a line with Savard and Phil Kessel. That night, Hunwick tallied a goal and an assist. "You just try to do the opposite," Hunwick said about practicing at forward. "As a defenseman, you're trying to take the puck away. As a forward I try to make it as game-like as possible, just trying to be strong on the puck. I think a lot of the other stuff, line rushes and stuff, those aren't too bad to make the transition. "Things where there are competitions and battles, that's where I have to bear down and make sure I kind of try to emulate Looch as best as possible," Hunwick said with a chuckle.
Obviously it would be difficult for the 5-foot-11-inch, 190-pound Hunwick to fill the 6-4, 220-pound Lucic's skates, jersey or anything ... With the exception of the Hunwick-for-Lucic swap, the practice lines were the same as they were the first two games.