October, 28, 2010
10/28/10
6:40
PM ET
BOSTON -- Listening to Milt Schmidt talk about hockey is a privilege. Having him tell you Bobby Orr is the greatest player ever is a treat.
The
Boston Bruins
honored the patriarch of the organization prior to Thursday's game, and the former player, coach and general manager of the Bruins has always talked fondly of No. 4.
"So far, the good Lord has kept me on this earth for 92 years, which I am very pleased about," Schmidt said. "I have often said this: As far as Bobby Orr is concerned, if someone better than he comes along, I hope the good Lord keeps me on this earth to see him. So far, I haven't met that man. He's the best -- ever. He always will be as long as I'm on this earth."
October, 28, 2010
10/28/10
6:39
PM ET
BOSTON -- Former
Boston Bruins
player, coach and general manager Milt Schmidt is a lot of things.
He's a four-time Stanley Cup champion. He's a Hall of Famer. He's a four-time NHL All-Star. He's a scoring-title winner (1940). He a Hart Trophy winner as the league's MVP (1951). He's a World War II veteran.
And, Milt Schmidt is 92.
Listening to him talk about his career, the game of hockey, his family and Bobby Orr, you would never believe Schmidt was born in 1918.
"To be honest, I didn't know how old he was because he doesn't look as old as he is," said current Bruins goaltender
Tim Thomas
.
Schmidt was at TD Garden on Thursday night as the Bruins honored him in a pregame ceremony. The Sports Museum, located on Levels 5 and 6 at the Garden, also unveiled an exhibit dedicated to his career.
"There's not a better game in the world than hockey," Schmidt said. "That's the only way I can put it."
Schmidt's best memory was winning a pair of Stanley Cup titles in 1939 and 1941 as a player, and as a general manager in 1970 and 1972.
"The first Stanley Cup team in 1938-39 was by far the best thing that ever happened to me," he said. "We all know there are great hockey players in the National Hockey League today but who were never on a Stanley Cup team. I had the privilege -- not as many as the
Montreal Canadiens
, but I was on four of them, which I am very highly privilege to be."
October, 27, 2010
10/27/10
3:55
PM ET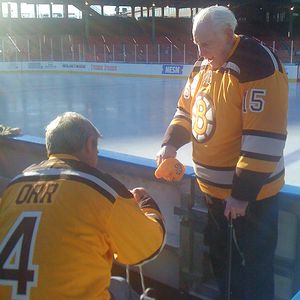 Joe McDonaldBobby Orr and Milt Schmidt at the Winter Classic at Fenway Park in January.
BOSTON -- The
Boston Bruins
will honor legend Milt Schmidt with "Milt Schmidt Night" during Thursday's game against the
Toronto Maple Leafs
at TD Garden. Prior to the start of the game, Schmidt will attend the Sports Museum's unveiling of the special exhibit dedicated to him.
In addition to the Sports Museum dedication, the Bruins will hold an on-ice ceremony honoring Schmidt and all of his contributions to the organization.
Schmidt's No. 15 is retired and hangs from the rafters at the Garden. He was inducted into Hockey's Hall of Fame in 1961. He is the only member in the team's history to serve as a player, captain, coach and general manager. He's figured into four of the team's five Stanley Cups -- as a player in 1939 and 1941, and as the team's GM in 1970 and 1972.