May, 16, 2013
5/16/13
11:21
PM ET
BOSTON -- The Bruins won their second consecutive overtime game in the Stanley Cup playoffs, taking a 3-2 decision over the
New York Rangers
to take a 1-0 series lead in the Eastern Conference semifinals.
Brad Marchand
scored 15:40 into the extra frame to get his first of the playoffs and send TD Garden into hysteria for a second straight game.


Torey Krug
had tied the game, 2-2, 2:22 into the third period after the Rangers took a 2-1 lead on a
Derek Stepan
goal 14 seconds into the third.
Zdeno Chara
also scored for Boston and
Ryan McDonagh
scored for the Rangers.
Tuukka Rask
(33 saves) and
Henrik Lundqvist
(46 saves) began what should be a great goalies' duel.
Marchand breaks through at right time
-- Maybe Marchand should leave the morning skate with an injury more often. After having to be helped off the ice at the team's skate Thursday morning, Marchand ended up playing and finally found the twine with his first goal of the playoffs. While he hadn't scored, Marchand has been playing better and utilizing his speed. That speed played a major role in his overtime goal as he and Bergeron connected for the winner.
Mr. OT comes through again
-- Bergeron is starting to build a reputation as an overtime player. After scoring the winner in overtime of Game 7 in the Eastern Conference quarterfinals series against the
Toronto Maple Leafs
, Bergeron, along with Chara, jump-started the breakout that led to Marchand's overtime winner and gave Marchand a beautiful feed.
Chara letting it rip, racking up minutes
-- One of the hot topics heading into this series was how the Bruins would get shots through the Rangers, who block shots with the best of them. Well, that's what Chara's 108 mph shot is for, right? Chara used that blistering shot to open the scoring 12:23 into the middle frame. Chara let one rip that Lundqvist couldn't handle and the puck was then inadvertently knocked into the net by a Rangers player in front. Chara now has two goals in the playoffs and even if he doesn't score with his shot, the more he lets it rip, the better the chances the Bruins will score. Chara also assisted on Marchand's game winner. In addition to providing offense, Chara once again racked up the minutes on ice with three regulars on the blue line out with injuries. Chara finished with an astonishing 38:02 of ice time.
Blue-line rookie trio gets job done
-- Already depending on two rookie defensemen, the Bruins welcomed another rookie rearguard to the blue-line corps to help fill in for veterans
Andrew Ference
,
Dennis Seidenberg
and
Wade Redden
. Torey Krug was called up on Tuesday and wasted no time in making his presence felt, tying the game on a power-play goal 2:22 into the third period. It was Krug's first NHL goal. Meanwhile,
Matt Bartkowski
and
Dougie Hamilton
continued to fill in admirably, with Hamilton picking up a helper on the Krug goal.
Depleted defense gets scare
-- The Bruins -- already hurting on the blue line -- got another scare.
Johnny Boychuk
appeared to suffer an upper-body injury when he was the recipient of a high hit from Rangers forward
Taylor Pyatt
early in the second period. But Boychuk quickly returned after a trip to the training room.
Seguin and Jagr switch spots again
-- Coach Claude Julien had
Tyler Seguin
back down on a line with
Chris Kelly
and
Rich Peverley
and had
Jaromir Jagr
riding shotgun with Marchand and Bergeron to start the game. Here's what the forward lines looked like:
Milan Lucic
-
David Krejci
-
Nathan Horton
Brad Marchand-
Patrice Bergeron
-Jaromir Jagr
Rich Peverley-Chris Kelly-Tyler Seguin
Daniel Paille
-
Gregory Campbell
-
Shawn Thornton
January, 21, 2012
1/21/12
12:43
PM ET
By Joe McDonald

BOSTON – Bruins coach Claude Julien has decided to give Tuukka Rask the nod between the pipes against the Eastern Conference's top team, the New York Rangers, Saturday afternoon at TD Garden.

Rask is 11-4-1 with a 1.61 goals-against average and a .946 save percentage. He will face the Rangers' Henrik Lundqvist, who is 20-10-4 with a 1.93 GAA and a .936 save percentage. Rask is 2-3-0 with a 1.62 GAA and a .946 save percentage with one shutout in five career games against the Rangers. Lundqvist is 16-5-2 with a 1.50 and a .947 with five shutouts in 23 career games against the Bruins.

March, 26, 2011
3/26/11
5:31
PM ET
BOSTON -- To err is human. But when an NHL referee clearly makes a mistake, he's called everything but human.
New York's lone goal in a 1-0 win over the Bruins Saturday afternoon at TD Garden came under scrutiny by Boston coach Claude Julien as soon it was scored by the Rangers'
Derek Stepan
at 6:39 of the first period.
On the play prior to the whistle that led to an offensive zone face off for the Rangers, it was clear New York was off sides, but it was not called. Then, on the ensuing face off, the Rangers' Vaclav Prospal jumped into the circle early, collected the puck and dropped it back to defenseman
Michael Sauer
. His shot from the point was tipped past Bruins netminder
Tuukka Rask
for what turned out to be the only goal of the game.
"It's unfortunate the only goal that was scored maybe was a little bit of a controversial goal, but we had lots of opportunities to make up for it," Julien said.
After the goal Julien was livid on the bench, and when asked after the game whether or not he was arguing the non-off-sides call, or the face off, Julien said both.
"It was a missed off-sides," Julien said. "They make mistakes, but then the guy jumps in and passes it to the point, so it should have been blown down. At one point there's one mulligan, but I didn't feel like they needed two."
Rask said he wasn't concerned with any non-calls in the game.
"No matter what, [Stepan] made a good tip," Rask said.
March, 26, 2011
3/26/11
3:42
PM ET
BOSTON -- For all the talk that it could be the
Boston Bruins
and
Montreal Canadiens
in the first round of the Stanley Cup playoffs, there's also a strong possibility the Bruins could face the
New York Rangers
.
The Bruins currently hold the No. 3 seed in the Eastern Conference, while the Rangers are battling for the sixth seed with the Canadiens. After Boston dismantled Montreal 7-0 Thursday night at TD Garden, New York gave the Bruins a tougher time Saturday afternoon behind the solid goaltending of
Henrik Lundqvist
.
The Rangers'
Derek Stepan
netted the lone goal as New York posted a 1-0 margin of victory over Boston. Lundqvist, playing in 400th career game, recorded his league-leading 11th shutout of the season. He made 26 saves.
It was the sixth time this season the Bruins were shutout, and the fifth on home ice, but the first with
Tuukka Rask
between the pipes. Rask played well and made 22 saves.
The Bruins and Rangers are similar teams and play a comparable style. Both clubs are big, physical and gritty and Saturday's result was an indication of how a playoff series would be between Boston and New York.
"They're a big team. They're a hard-working team, they're a grinding team," said Bruins coach Claude Julien prior to Saturday's game. "They play with a lot of passion and I think it makes for some interesting match-ups. They've got a great goaltender that keeps them in every game. So it should make for an interesting match-up with us all the time."
Thomas gets day off:
After posting his eighth shutout of the season in a 24-save performance over the Canadiens on Thursday night at the Garden, Bruins goaltender
Tim Thomas
was given Saturday off. Julien has said that he wants to keep Thomas fresh for the playoffs, but at the same time, the coach wants to keep Rask sharp, too.
Campbell drops in:
It wasn't much of a fight, but the Bruins'
Gregory Campbell
proved once again that he's not afraid to drop the gloves as he went with the Rangers'
Sean Avery
in the first period.
Scratches:
Forward
Daniel Paille
and defenseman Steven Kampfer were both healthy scratches against the Rangers on Saturday.
Up next:
The Bruins completed a three-game homestand and there's no time to rest as Boston travels to Philadelphia to face the Flyers Sunday night. Philadelphia is currently the top team in the Eastern Conference.
November, 17, 2010
11/17/10
10:17
PM ET
Five thoughts and observations after watching from afar as the
Boston Bruins
defeated the
New York Rangers
3-2 on Wednesday night at Madison Square Garden:
The Bruins received goals from
Milan Lucic
,
Tyler Seguin
and
Mark Recchi
, while
Tim Thomas
made 34 saves to improve to 10-1-0 this season. Boston is 7-1-0 on the road in 2010-11. The Bruins host the
Florida Panthers
on Thursday night (7:05) at TD Garden.
[+] Enlarge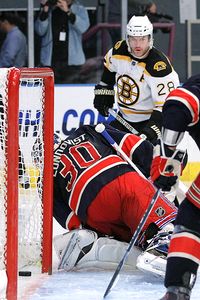 Al Bello/Getty ImagesMark Recchi squeezed the puck past Henrik Lundqvist to score the game-winner for the Bruins.
SHORTHANDED PROWESS:
Once again the Bruins' penalty-killing unit came up big. With Boston holding a 3-2 lead late in the third period, the Rangers were given a two-man advantage for 1:45. Thomas made some solid saves to stifle New York's attack as the Rangers showed why their power play is ranked 20th in the league. Thomas made his biggest save of the game when he stopped a redirect by the Rangers' Ryan Callaghan during New York's two-man advantage.
FORE!
With Boston trailing by a goal, and on the heels of a tremendous pair of saves by Thomas in the second period, the Bruins knotted the game at 1-1, a result of a solid forecheck by
Patrice Bergeron
. His relentless pursuit in the offensive zone forced a turnover.
Nathan Horton
, positioned perfectly, collected the puck and quickly fed Lucic, who pumped home his seventh goal of the season.
BACK TO THE FUTURE:
Seguin proved why he's in the NHL as an 18-year-old rookie. He's had his growing pains, but has shown flashes of what's to come in his career. He showcased his tremendous speed against the Rangers, resulting in Boston's go-ahead goal in the second period. He took control of the puck from inside Boston's blue line and took it the length of the ice before snapping off a laser to beat Rangers goalie
Henrik Lundqvist
and give Boston a 2-1 advantage. It was Seguin's fourth goal of the season, and another example of his natural abilities. It was the type of play you should expect to see a lot more of once he completely adjusts to this level.
500 AND COUNTING:
Bruins bench boss Claude Julien coached his 500th career NHL game Wednesday night as Boston earned the victory. Julien, who has also coached the
Montreal Canadiens
and
New Jersey Devils
, has a 262-169-10-59 career record. With the win over the Rangers, Julien surpasses Tom Johnson for sixth place on the Bruins' all-time coaching wins list. The Bruins have won 143 games during Julien's tenure in Boston.
JOHNNY DANGEROUSLY CLOSE:
Bruins defenseman
Johnny Boychuk
remained out of the lineup Wednesday night as he continues to rehab a fractured left forearm. There was a strong possibility he would return to action against the Rangers, but a game-time decision kept him off the ice. He suffered the injury on Oct. 23 when he was on the receiving end of a slash by the Rangers'
Brandon Dubinsky
. Boychuk has missed 10 games, but he could return to the lineup against the Panthers on Thursday night.
October, 23, 2010
10/23/10
1:52
PM ET
BOSTON -- The Boston Bruins held an optional skate Saturday morning at TD Garden in preparation for their game against the New York Rangers at 7 p.m. Afterward, Bruins coach Claude Julien talked about their opponent and why his team's penalty-killing unit has been so good.


October, 23, 2010
10/23/10
1:25
PM ET
BOSTON -- When the
Brad Marchand
blocked a shot by the Washington Capitals'
Alex Ovechkin
on Thursday night,
Boston Bruins
forward thought the worst.
His foot went numb; he thought it was broken.
Fortunately, it's not. Marchand did not practice with the team on Friday, but he was back on the ice for the Bruins' optional morning skate on Saturday at TD Garden as they prepare to host the
New York Rangers
(7 p.m. ET).
"I feel good," Marchand said Saturday. "It was nice to have the day off to rest my foot. It felt good when I was out there today."
After Marchand blocked the shot Thursday, he couldn't put any pressure on his foot, and his teammates were telling him that when feet or hands go numb, they're likely broken.
"I was kind of panicking at that point," Marchand said. "When I got back to the room, I started to get more feeling back as time went on. I was just more scared that it was broken."
Marchand spoke with coach Claude Julien on Saturday morning, and it appears the crafty forward will be in the lineup.
"Obviously, we'll make the final decision after warm-up, if there's an issue," Julien said. "If not, he'll be in the lineup.
Boston's fourth line of Marchand,
Shawn Thornton
and
Gregory Campbell
has been solid. That line has brought energy and has shown the capability to match up well against the opposition's top lines.
"We've talked so much about [Marchand] because he's had such a good start," Julien said, "but he adds a slot to that line because he can be probably even a little more dangerous than he's shown so far."
March, 21, 2010
3/21/10
5:33
PM ET
BOSTON -- While not much has gone right for the Bruins all season, their penalty kill has been a power-play-wrecking monster since about four weeks into the season.
Boston's man-advantage extermination, which entered the game ranked No. 1 in the NHL, was at its best in the team's pivotal 2-1 win over the
New York Rangers
Sunday afternoon, with a 6-for-6 performance against the Rangers' middle-of-the-road power play.
"Usually we do a pretty good job and today we really did the things we wanted to do," said goaltender
Tuukka Rask
, who anchored the perfect outing. "We scout them, of course, so we know what they're going to do, or what they usually do, and what we want to do. And sometimes we just let things slip and let them make the plays they want, but today we didn't. So it's good for us."
In a game between two of the league's worst offenses, everyone knew power plays were going to make a difference. It became particularly crucial for Boston to take care of business when
Zdeno Chara
and
Dennis Wideman
went to the box consecutively, resulting in 11 seconds of 5-on-3 for the Rangers late in the first period.
And then close to the midway point of the second period, with the game still scoreless, Chara high-sticked
Marian Gaborik
and earned four minutes of penalty time. Almost miraculously, without their top penalty-killer, the Bruins kept the Rangers off both the score sheet and the shot counter.
"I think the penalty kill obviously was important, because they had a few chances," said defenseman
Andrew Ference
, who had to increase his ice time to make up for Chara's misdeeds. "But that four-minute one and that little bit of a two-man advantage we had, those are really big momentum-builders for us. You could hear the guys on the bench rallying behind those, so it was good because we didn't have a whole lot as far as power play to get our team all fired up."
The Bruins forwards played as big a role in snuffing out New York's power plays as the defensemen and goaltender.
"It was solid," said Ference. "I think that sometimes you're kind of just hanging on the penalty kills. But I think the forwards did a good job up ice distracting their breakout, and when they do that that allows us to be a little more aggressive when they're trying to enter our zone."
Defenseman
Dennis Seidenberg
also had to carry some extra work on the back end of the penalty kill. He continues to be impressed by the shorthanded efforts of the team he joined just three weeks ago.
"I think they're smart positionally. They force you into the right spots where you don't really have much," he said. "They kind of give you the outside, but once you have that you only have a bad-angle shot. Things like that, it's hard to play against. And on the forecheck they're aggressive in interrupting the breakouts."
March, 21, 2010
3/21/10
4:05
PM ET
OUTCOME: From here on out, every game will be a must-win for Boston. The Bruins treated it as much against the Rangers on Sunday at TD Garden with a 2-1 victory. The Bruins now have 76 points and hold sole possession of the eighth and final playoff spot in the Eastern Conference. Atlanta has 73 points and the Rangers remain at 71. Miroslav Satan and Dennis Wideman scored the goals for Boston.

TURNING POINT: Boston's penalty kill has been solid of late. The Bruins have killed off 20 of their last 23 penalties, including a double-minor against captain Zdeno Chara in the second period on Sunday. Boston's sustained pressure did not allow the Rangers time to set up their power play effectively, and it proved to be a major momentum boost for the Bruins. "It helped a lot," said head coach Claude Julien. "On the bench, everybody was kind of yelling, 'Let's build on this.' It was a big kill for us and it could have changed the outcome of the game. Today, our 5-on-5 play was definitely better, but our penalty kill was outstanding."

SAVE OF THE GAME: With the game in a stalemate in the first period, the Rangers created a 3-on-2 when New York's Marian Gaborik blasted a one-timer from the slot. Bruins goaltender Tuukka Rask was positioned perfectly and made the save at 8:15 of the period. Rask made a total of nine stops in the first. Not bad for someone who almost didn't get to play because he was drilled just under the mask by teammate Marco Sturm during the pregame warmup. Rask finished with 23 saves.

PENALTY SHOT: The Bruins' Miroslav Satan hasn't scored a goal since Feb. 9. He created a golden opportunity when his breakaway hustle resulted in a penalty shot. He attempted to go top right corner, but Rangers' goalie Henrik Lundqvist made the easy glove stop. Daniel Paille missed the penalty shot. He's 0-for-2 in his career on those. Lundqvist also stopped Sturm on a penalty shot the last time these teams played on Jan. 9 in Boston.

UP NEXT: The Bruins travel to Atlanta to face the Thrashers on Tuesday.
March, 21, 2010
3/21/10
12:14
PM ET
BOSTON – There's no time for anymore excuses for the Boston Bruins.

The New York Rangers are in town for today's matinee at the Garden, and suddenly there's an all-out battle for the eighth and final postseason berth in the Eastern Conference. Entering today's game, the Bruins have 74 points, the Atlanta Thrashers are one point back with 73 and the Rangers have 71.

After today's game the schedule doesn't get any easier for the Bruins. They will travel to Atlanta to face the Thrashers on Tuesday, so a victory against the Rangers is imperative.

Bruins coach Claude Julien was asked this morning if his team is healthy and free from the flu bug that made its way around the locker room this week.

"We're fighting for our lives here, and fighting to be in the playoffs," said Julien. "You have to rely on everybody to step up and to their job – it's as simple as that."

Bruins defenseman Dennis Seidenberg, who missed practice on Saturday for precautionary reasons due to a bout of intestinal turmoil, is playing today.

Today is the fourth and final meeting of the season between these two teams, and for Julien, the previous matchups don't mean a thing because it's all about gaining two points this afternoon.

"We can talk about [previous games], but the thing is really about today and show up and not worry about what has happened in the past against them," Julien said. "The win is all we should be talking about right now. I'm sure the other team is thinking the same way."