October, 11, 2012
10/11/12
4:26
PM ET
Bruins prospects Jared Knight and Ryan Spooner, both drafted by Boston in the second round of the 2010 NHL Entry Level draft, arrived back in Boston as the summer winded down ready to attend the Bruins' 2012-13 rookie and training camps. With their junior hockey careers completed and some solid showings at the Bruins' summer development camps, they were ready to embark on their pro career in the AHL with Providence and, if they had impressive training camps, quite possibly in the NHL with Boston.

But due to the current NHL lockout, Knight, Spooner and other prospects never got the chance to break camp with the big club. Instead, they were sent straight to Providence to develop their pro game under the tutelage of head coach Bruce Cassidy and his staff. And while NHL regular-season games are being wiped from the calendar, Knight and Spooner will continue to pursue their dream while playing for the P-Bruins as they open their 2012-13 season against Manchester in Providence on Friday.

Instead of letting the lockout delay their growth as pro players, the two prized prospects are taking this time in Providence to improve their game and learn the difference between pro and junior hockey.

"This is still a good opportunity for me and the other young guys to gain experience and play with veterans," said Knight recently. "I played four years in the OHL so coming here there's bigger and stronger guys. It's good to get the feet wet and I'm ready when the time comes in Boston."

With Bruins general manager Peter Chiarelli and head coach Claude Julien -- as well as other team brass and coaches -- in attendance at most practices and games now, Knight, Spooner and other prospects are getting the chance to impress them firsthand. And they're paying closer attention to detail.

"It's definitely more motivation to know those guys are watching you," said Spooner, who had 259 points in four seasons of junior hockey in the OHL with Peterborough, Kingston and Sarnia. "You have to make sure even more that you go out there and play your best. I think the most important thing -- and it always should be -- but with them there, you make sure you go out there and make sure every shift is your best."

Knight, who had 209 points in four seasons with London (OHL), concurred. He said that with so many Boston management and coaches regularly on hand, a player in his situation doesn't want to be the one to make that lazy pass at center ice that goes back the other way for a goal.

"We know they're up there and it's definitely in the back of your mind," Knight said. "You don't want to screw up or give up that goal by putting that puck in the middle of the ice. I try not to focus on it. We know they're there but we're professionals and we know just to block that out and play our game."

Another thing Knight and Spooner are trying to block out is the bad news coming from the CBA negotiations. They simply tell themselves their chance at the NHL will come someday soon and focus on the task at hand.

"I don't really pay attention because if you do that you get sidetracked a little bit," Spooner said. "Things will hopefully get resolved, but for now I just need to focus on what's going on here."
October, 21, 2011
10/21/11
12:53
AM ET
BOSTON --
Bruins
wingers
Nathan Horton
and
Milan Lucic
knew they had let their team down in Tuesday's 4-1 loss to
Carolina
and also knew their games weren't up to par. After that frustrating performance, they chose not to address the media postgame, but they did face the music Wednesday after practice, when both accepted blame and acknowledged that they need to get back to what makes them effective -- using their size, skating and being an overall presence on the ice.
[+] Enlarge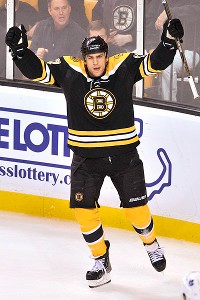 Brian Babineau/Getty ImagesBruins winger Milan Lucic celebrates his first goal of the season Thursday night.
In Thursday's 6-2 win over the
Toronto Maple Leafs
, that's exactly what they did. Horton had a goal and an assist and Lucic had a goal and two assists.
Horton -- who took a costly double-minor that led to a third-period power-play goal by the Hurricanes Tuesday -- wanted to deliver on his word that he would make up for that mishap against the Leafs.
"Well, definitely yesterday and the game before, I mean, I don't want to hurt my team," Horton said. "It was a mistake but I just try to work hard and forget about it and just work hard for my teammates. I mean that's why we're here, to try to get back to playing good and winning games."
Playing on a new line with the speedy
Patrice Bergeron
and
Brad Marchand
, Horton knew he had to be skating hard all night.
"It felt good. I mean, good things happen when you move your feet, and especially playing with those guys," Horton said. "They're so fast and they make such good plays cycling and I just try to move my feet so I can keep up with them."((
Lucic was active as well and credited his teammates for being similarly involved.
"I think a big reason why especially in the first period and the third, not just myself but the whole team, we had success because we were moving the puck forward, we were moving our feet and we were making good, short crisp passes," Lucic said. "And when we're doing that, when we're supporting each other coming up the ice as a five-man unit, that's when we get our most opportunities and that was evident tonight."
Lucic's hard work helped him get a big monkey off his back, as he scored his first goal of the season. But he seemed more satisfied that he turned his words from Wednesday into action.
"Obviously it's good to break that, get that first one of the year and I think today, my focus wasn't on scoring and like we talked about (was more about) just playing that straight-line type of game," Lucic said. "And moving my feet and I think that's why everything else kind of fell into place like usual."
October, 19, 2011
10/19/11
8:02
PM ET
BOSTON -- Following the
Boston Bruins
' ugly 4-1 loss to the
Carolina Hurricanes
on Tuesday night,
Milan Lucic
and
Nathan Horton
were unavailable to the media. While the rest of their teammates faced the music, admitting fault and not blaming the referees for the 72 minutes in penalties they took and the nine power plays they let the Hurricanes have, Lucic and Horton were nowhere to be found, after both took costly third-period penalties and succumbed to their frustrations moments earlier.
But following a spirited practice Wednesday -- as well as a 25-30 minute wait to meet the media, an interim when Bruins general manager Peter Chiarelli was seen walking into the dressing room -- Lucic and Horton were front and center waiting and talking to each other before they proceeded to address the media.
As the media circled around Horton, a clearly frustrated Lucic took time to explain himself as well and admitted that he didn't want to face the media Tuesday night for fear his temper and frustration would cause him to say something stupid or that he may regret.
"Yeah, that was basically it and nothing more than that," Lucic told ESPNBoston.com.
Lucic has scored only five goals in his past 40 games (including playoffs) since March 22, when he scored his 30th goal of 2010-11 season. Lucic, who hasn't lit the lamp in six games this season, acknowledged frustration has settled in, but was still willing to accept blame for his poor start this season. Lucic knows he isn't doing what he needs to do to be the player he can be.
[+] Enlarge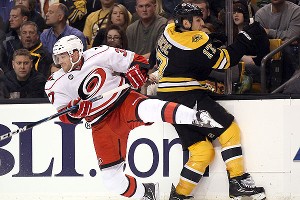 Elsa/Getty ImagesBruins winger Milan Lucic has yet to get his feet set under him this season, and admitted his frustration is starting to boil over.
"It's not fun when you're not helping your team and not producing and I think that's the frustrating point from my side," Lucic said. "I think it's not even about goals and assists right now. You just look at shots on net and I think I only have 12 or something like that, which is an average of two per game and that's just the first part I should look at. I need to work harder to get myself more opportunities. Get shots and scoring opportunities. It all starts with moving my feet and it kind of feels watching video of my game that there's a bit of hesitation in my game and I just need to look at that and completely get that out, getting back to that north-south type of game that I find success with."
While Lucic believes he was in shape to start this season, he did acknowledge that the mental focus needed for him to play his game was not there and he is still trying to find it six games in.
"I think I was physically but maybe mentally I wasn't as ready as I maybe should've been," Lucic admitted. "But that's my own fault. I have to take that upon myself that I am ready for the start of the season. I wish there was just a switch you could turn on but I think for myself if I start thinking about too many things that's when I can't do anything. But if think about one thing to focus on, everything else seems to fall into place. That's where I'm at right now. I just need to focus on one thing and everything else will come together."
Horton also believes he isn't where he needs to be yet. The winger didn't point to the shoulder injury or concussion he suffered in the playoffs last season but rather to the fact that he isn't doing what made him so successful in that playoff run when he scored two series-winning goals and three game-winners overall.
"I think having a little more confidence with the puck and wanting the puck and holding onto it," Horton told ESPNBoston.com. "That's how you make plays and that gets me more involved in the game."
But like Lucic, Horton has let his frustrations take over and that cost the Bruins in a big way Tuesday night. In the third period, Horton took a 4-minute roughing call and 10-minute major only 31 seconds after
Rich Peverley
had pulled the Bruins to within one goal of the Hurricanes. Horton wrestled Hurricanes defenseman
Tim Gleason
to the ice and then proceeded to pummel Gleason, who wasn't interested in fighting.
"I do obviously," Horton said when asked if regretted losing his cool at that point, "and I didn't want to take a 4-minute penalty but when I got slashed from behind and I turned around, I thought he wanted to fight me.
"But again that was probably the wrong time to do it and out of frustration I did do it. If I could change it now, I would, but unfortunately I can't and I really put my team in a hole."
Horton's frustration was still seething after the game Tuesday night and, like Lucic, he chose not to let that cause him to say something he would regret.
"It was a frustrating night for a lot of people and I just wanted to turn page and forget about it," Horton said. "I don't want to be out there hurting my team like that, I just got to get back to playing the way I can and help my team."
January, 24, 2011
1/24/11
12:29
PM ET
Boston Bruins
goaltender
Tim Thomas
has been named the NHL's First Star of the Week for the week ending Jan. 22.
Tampa Bay Lightning
forward
Steven Stamkos
and
New Jersey Devils
goalie
Martin Brodeur
are the second and third stars, respectively.
Thomas posted a 3-0-0 record, including one shutout, and allowed only four goals on 106 shots. He currently leads all NHL goalies in goals-against average (1.83) and save percentage (.945), and is tied for the league lead with seven shutouts.
November, 20, 2010
11/20/10
3:18
PM ET
Boston Bruins forward Marc Savard (post-concussion syndrome) rejoined his teammates on the ice for Saturday's morning skate, and afterward did his best to defuse a recent situation with NHL vice president Colin Campbell.
STORY
.
September, 20, 2010
9/20/10
3:54
PM ET
BOSTON -- The National Hockey League sent out a video to all 30 clubs, describing the new headshot rule that was instituted toward the end of last season.

The Boston Bruins have not had a chance to watch it yet, but coach Claude Julien said his team would before the first exhibition game on Wednesday in Montreal.

"I have an idea of what they're going to be showing, but I haven't had a chance to look at it," Julien said. "I wouldn't mind answering questions after I've looked at it and elaborate more on it."

The coach did explain there has also been a change to players' shoulder pads, too.

"I think everybody is pretty unanimous with that stuff," he said. "It's all been agreed by the players' union, the NHL and everybody involved. I think there's a real effort made in trying to help minimize those injuries, whether it's front the blindsided hits, and also from the equipment side of it. I like the efforts that being made from all sides."

March, 28, 2010
3/28/10
1:11
PM ET
BOSTON –- Bruins coach Claude Julien has not heard from the league whether or not defenseman
Johnny Boychuk
will be suspended for his elbowing penalty and subsequent game misconduct against the
Calgary Flames
on Saturday at the TD Garden.
Since Julien has not heard either way, the coach believes that's good news.
"We haven't heard a thing," said Julien after the team's practice this morning at Ristuccia Arena. "That's the one thing I can tell you, and when you don't hear from the league it's normally a good sign -– I hope so anyway. Normally you hear from them sooner than later, and we haven't heard anything."
Boychuk received the penalty and a game misconduct at 7:21 of the third period. He was racing to the corner to retrieve the puck in his own end when he collided with the Flames'
Rene Bourque
. Boychuk went down and the play continued. When he got to his skates, the puck was still in the corner and he got back into the play and hit Bourque, dropping the Calgary winger to the ice.
"I just went to finish my check and I saw a couple of sticks in the air," said Boychuk after the game. "I thought I got my glove in his face, not an elbow."
Boychuk said he was surprised he received a game misconduct and hopes the penalty won't result in something further due to the new head shot rule that was put into place last Thursday. Bourque was hurt on the play and needed to be attended to by the trainer, but he was able to continue playing.
"I don't think I should suspended, but we'll see what they have to say," Boychuk said.
October, 15, 2009
10/15/09
12:39
PM ET
WILMINGTON, Mass. -- Bruins head coach Claude Julien confirmed the obvious Thursday when he announced defenseman Dennis Wideman would not make the team's upcoming road trip to Dallas and Phoenix.
Wideman, out since suffering an "upper-body" injury (thought to be his left shoulder) last Saturday, did not practice again Thursday at Ristuccia Arena. As of noon, the Bruins planned to head west with just six defensemen at their disposal.
When asked if Wideman's absence changes anything about his overall defense corps, Julien said, "I think the one thing Dennis brings to our team, when he's on his game, he's a great puck-moving defenseman. But I don't think we can say he's a real physical defenseman because that's not really his makeup. But he certainly can move the puck well. He's a great power-play person. And even killing penalties, when he's on his game, he clears the puck well. I would just say you're missing a pretty good defenseman."
Still lined up

Other than Wideman, the rest of the team practiced for more than an hour Thursday. Special teams, shootouts and break-ins were the focus points. The same lineup tweaks from Wednesday (Michael Ryder and Milan Lucic now lining up next to centers Marc Savard and David Krejci, respectively) were in effect. Those lines should face the Stars Friday night in the Bruins' first road game of the season.