December, 21, 2012
12/21/12
8:28
PM ET
BOSTON -- Here's a New Year's prediction: The puck will drop for the NHL in 2013.
This lockout has been frustrating for the league, the players' association, the fans and the business communities around the rinks. People want hockey. Even though it's been a nasty battle on both sides, there's an optimistic feeling that cooler heads will prevail and the NHL season won't be a total loss.
There are a lot of moving parts in this situation, and while he can't speak specifically about any of the negotiations,
Boston Bruins
general manager Peter Chiarelli is one of many who believe there will be a season.
[+] Enlarge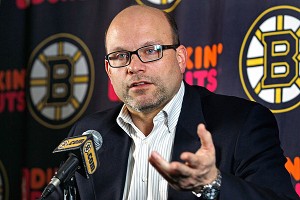 AP Photo/Charles Krupa"Part of my business, part of my skill set, is to make deals, so you hear, you see what either side is proposing and you're like, 'Why can't there be a deal?'" Peter Chiarelli said Friday.
"I think there still will be a deal," Chiarelli said while appearing on Boston.com radio Friday. "I feel confident. I know we've had the ups and downs over the last four months, and believe me, I've lived them to the highest and to the lowest. Every time you think there's a deal coming around the corner, there's not. But I do firmly believe there will be a deal. I think both parties are rational enough, despite what you read and hear. I think they're rational enough and they've done deals before and at the end of the day it's in the best interest of the league and the players to have a deal."
The sides haven't met since Dec. 13 and there are no meetings planned at this point.
In fact, on Thursday the NHL announced the
cancellation of games
through Jan. 14. If an agreement can't be reached in the next couple of weeks, the league's next decision would likely be to forgo the entire 2012-2013 season.
As ESPNNewYork.com's Katie Strang
reported Friday afternoon
, the NHLPA voted to authorize its executive board to decide whether or not to file a disclaimer of interest, which would disband the union.
Chiarelli was a player agent during the lockout in 1994-95, and then worked as the assistant GM for the
Ottawa Senators
when the entire season was shut down in 2004-05. So this is his third time dealing with a work stoppage.
"They are highly, highly frustrating," Chiarelli said during the interview with The Boston Globe's Bob Ryan. "Part of my business, part of my skill set, is to make deals, so you hear, you see what either side is proposing and you're like, 'Why can't there be a deal? It's so easy. Saw it down the middle, a little to the left, a little to the right.'
"It's something that you think it's going to be over quickly. It's not and day-to-day seems to drag it down even more and you get these false starts where we have to get the ice down and get the players ready and it's a real tough experience and I feel for the fans, too.
"We've got a good team and we've got some momentum and we've got our guys coming into their own, and this is after having won a year ago, so it's a real frustrating exercise."
When the sides come to an agreement, and all the players return from playing in Europe (the Bruins have 13 members overseas), there will be a seven-day training camp before a shortened season begins.
After the 1994-95 lockout ended, a 48-game schedule began on Jan. 20, 1995. The hockey was thrilling in that compressed season. It was a race to the playoffs, which ended with the
New Jersey Devils
hoisting the Stanley Cup with a four-game sweep of the
Detroit Red Wings
on June 24.
Current Bruins president
Cam Neely
played that season and remembers exactly what it was like.
"It was like a sprint towards the playoffs," explained Neely last week. "So it'll be just that, I don't know how many games if we do end up playing how many we'll be able to get into the schedule, but it'll be a sprint to the playoffs and everybody will know that. It's just a matter of what kind of condition the players are going to be in because it's going to start off fast and furious."
At this point we need to forget who's to blame for this and just settle the dispute. The game and its fans have suffered enough. Hockey fans care about their sport and they want it back. So give it to them.
November, 29, 2012
11/29/12
9:32
PM ET
While mediation
failed to make progress
in the NHL lockout, an interesting subplot emerged: Commissioner Gary Bettman has apparently suggested that he and NHLPA chief Donald Fehr step aside, and let players and owners negotiate directly with one another.
ESPN.com's Pierre LeBrun is intrigued by that possibility, but goes even further, suggesting that Bruins owner Jeremy Jacobs, viewed as a hardliner among the anti-union faction, should also
remove himself from the picture
:
I'd go further. I'd request that Jeremy Jacobs also join Bettman on the bench. Whether or not the kind of vitriol the players have for the Boston Bruins' owner is justified on all levels, the fact remains that he has come to represent all that is wrong with NHL ownership in the eyes of players. Get him out of the room.

Let's get some fresh voices with a fresh approach. At this point, the process requires it.
To read LeBrun's full take,
CLICK HERE
.
October, 22, 2012
10/22/12
6:26
PM ET
David Krejci
is normally a soft-spoken guy who does his talking on the ice, most notably when he tallied 23 points in 25 playoff games to help the Bruins win the 2011 Stanley Cup. But on Monday Krejci was talking off the ice, and in an interview with Czech media outlet iSport.cz he wasn't holding back regarding NHL commissioner Gary Bettman and his views on how Bettman is handling the NHL lockout.
"We want to play. We're the ones who are doing the show in the NHL, but Bettman thinks it makes him," Krejci said. "It is unfortunate that the NHL has such a guy. It's a shame for the entire hockey world. Treats us like animals."
Krejci currently is playing for Pardubice HC in the Czech Elite League in his native Czech Republic. He has four goals and three assists through seven games.
September, 28, 2012
9/28/12
12:30
PM ET
CHATEAUGUAY, Quebec -- Bruins alternate captain
Patrice Bergeron
was wearing his familiar No. 37 and playing hockey Thursday night. But unfortunately for him and Bruins fans he wasn't in his Black & Gold jersey playing in a preseason game. Instead, on the same day that the NHL canceled the remainder of the 2012-13 preseason, he was wearing the blue and white for Team Quebec as Bergeron and some fellow NHLers played the first game of La Tournée des joueurs, a traveling exhibition league organized by Flyers players and Quebec natives
Maxime Talbot
and
Bruno Gervais
.
Numerous Quebec-born NHL players as well as some
Montreal Canadiens
that reside in the area were split into two teams -- Team Quebec and Team Montreal -- and played before a packed house at the Complex Multisports de Chateauguay. All the money from the exhibitions will go to charity.
Bergeron -- who is from Quebec City -- was happy to give back to the fans in his native province while trying to stay in game shape if the NHL lockout ends.
"We have a lot of great players here in the area and there's some players that play for Montreal -- like [Roman] Hamrlik -- or ones that stick around Montreal that are not from here and it's great to have them with us," said Bergeron who had two helpers in a 7-4 loss for Team Quebec. "They're great players and it was a lot of fun. Maxime and Bruno came up with this idea over the summer and we realized that it wasn't going anywhere with the CBA and I was all for it."
"It's great. The outcome is awesome," said Bergeron. "For us, it's to get in shape and make sure we're ready once the season starts. It's not easy but we gotta stay strong and I thought the game was a pretty good game. It was pretty intense and outside of no contact I thought guys were battling hard."
The NHL and NHLPA are set to resume talks on non-economic issues Friday and while Bergeron is happy to see the two sides talking for the first time since September 14, he didn't seem optimistic there would be NHL hockey anytime soon.
"I don't know," Bergeron said when asked if he thinks this could be another long lockout. "They're going to be talking [Friday] and I guess that's a positive but we'll see. You look at 2004 and they didn't talk for three months after they were locked out. I think it's a positive sign but I think we're a long ways and we have to make sure we stay positive as a union."
After a disappointing first round exit in the 2012 Stanley Cup playoffs, Bergeron has been eager to get back to work and help his team make another Cup run. But he stands by the NHLPA and believes the owners need to reevaluate the players' last proposal.
"You want to get back at it right away, but with that being said we have some issues with the CBA," Bergeron said. "We thought that we could keep negotiating on the old CBA while training camp got started but the owners are not ready to do that. For us, what we came up with I think are some great ideas. So hopefully they're going to look at it with more intensity."
There were reports this week that Bergeron was close to joining linemate
Tyler Seguin
with HC Genève-Servette in the Swiss League, but Bergeron said nothing is close yet.
"No we haven't," Bergeron replied when asked if he had signed a deal yet. "We spoke early and a little before the lockout and nothing came out of it. We have to get the right fit I guess and make sure everything is set up before I go over there."
But whether he plays more games in La Tournée des joueurs or heads to Switzerland, Bergeron's primary desire is to be playing for the
Boston Bruins
again soon. He was thrilled to see Bruins general manager Peter Chiarelli continue to keep the team's core intact with the recent signings of
Milan Lucic
and his regular linemates Seguin and
Brad Marchand
.
"It's great to see that and I think Peter is doing a tremendous job keeping the whole team together," Bergeron said. "He's been doing that since he's been there and it's very special what we have in Boston."
Bergeron also joked that he expects a special dinner from Marchand and Seguin now that they're being paid so much.
"They better take me out now for a nice dinner or something," Bergeron joked. "But they deserve it and I am happy for them. I can't wait to be back playing with them again."
September, 19, 2012
9/19/12
6:24
PM ET
The NHL announced Wednesday that all preseason games through Sept. 30
have been canceled
.
It's the clearest indication to date that the lockout could jeopardize the start of the regular season, which is scheduled to begin Oct. 11. What is for certain is that the Bruins will miss four preseason games: Tuesday's Sept. 25 opener at the Washington Capitals; Sept. 26 at the Buffalo Sabres; Sept. 29 vs. the Winnipeg Jets; Sept. 30 vs. the Jets.
The Bruins have
three games scheduled
for the following week, but they too could be eliminated if the lockout drags on.
September, 15, 2012
9/15/12
3:14
PM ET
Winger
Milan Lucic
re-upped with the
Boston Bruins
on Saturday, receiving a handsome reward for his five seasons in Black and Gold with a three-year, $18 million contract extension.
Lucic has one year remaining on his current deal, and is definitely excited about his pay raise. But
he -- like many other NHLers -- is wondering when he will play again. The deadline to avoid another NHL lockout is at 11:59 p.m. Saturday night, and as of Saturday afternoon, the NHL and NHLPA still remained far apart in negotiations with no further meetings planned.
"Obviously it's definitely an exciting day for myself," Lucic said Saturday in a teleconference with Bruins GM Peter Chiarelli to announce his new contract. "As far as the union stuff goes, obviously a lot of stuff still needs to be sorted out and hopefully things will heat up in these next couple of weeks in sorting the NHL out. There's some type of concern.
"There's not much more comments or info I can make that would be significant than what you've heard from [union head] Don [Fehr] and [NHL commissioner] Gary [Bettman] and in their press conferences that they had a couple of days ago. There's obviously a little bit of concern, but right now all you can do is stay optimistic and stay positive and hope that a deal will get done."
Many NHLers are already arranging deals to play elsewhere during the lockout, but Lucic hasn't put his agent to work yet and was still holding out hope something would be resolved soon and the NHL season would start on time.
"As of right now, I have not," Lucic answered when asked if he has looked into other playing options. "I know I told some of the guys yesterday that my plan was to play for the Boston Bruins this year and right now it's the same. Obviously if it goes on longer than most of us expect, then I'll have to look into something, but as of right now, I have not looked into playing elsewhere."
September, 14, 2012
9/14/12
6:28
PM ET
With the NHL lockout looming, the
Boston Bruins
assigned many of their young players and prospects to the AHL's Providence Bruins.
Joining Providence will be
Matt Bartkowski
, Ryan Button,
Carter Camper
,
Jordan Caron
,
Colby Cohen
, Tommy Cross, Craig Cunningham, Justin Florek,
Michael Hutchinson
, Jared Knight,
Torey Krug
, Kevan Miller, Adam Morrison, Tyler Randell,
Max Sauve
, Ryan Spooner, Niklas Svedberg, Zach Trotman and David Warsofsky.
Players such as the above who are on their entry-level contracts are eligible to be sent down without clearing waivers, meaning that teams could opt to do so with a young star player, such as the Bruins'
Tyler Seguin
.
But it seems unlikely the Bruins would go that route with Seguin, who on Tuesday signed a six-year, $34.5 million extension. The 2012-13 season would be the last on his original contract. He was not included in Friday's announcement by GM Peter Chiarelli.
On Friday evening, an NHL source told ESPNBoston.com's James Murphy that "at this point, players such as Seguin who have played more than 160 games regardless of being on an entry level contract cannot be sent down to the AHL or sign a contract to play there during a lockout. But that could change as discussions are ongoing to determine their situation."
Players who are on two-way contracts also are eligible to be sent down upon clearing waivers, and the Bruins are doing so with
Garnet Exelby
,
Christian Hanson
, Jamie Tardif and
Trent Whitfield
. These players can re-enter the NHL and join their old team without having to pass through re-entry waivers, provided it's done at least three days before the start of the season. The lockout is set to take effect at 11:59 ET Saturday unless a new collective bargaining agreement can be reached.
Meanwhile, Niagara IceDogs defenseman Dougie Hamilton, who was viewed as having a good shot to make Boston's roster in training camp, will be heading back to the Ontario Hockey League, as will 2012 first-round draft choice
Malcolm Subban
, who will be sent to the Belleville Bulls. Junior players such as Hamilton and Subban can reach an agreement with their teams at any time and return to the NHL.
September, 7, 2012
9/07/12
6:35
PM ET
In another sign that a NHL lockout is all but inevitable at this point, the
Boston Bruins
have canceled their annual rookie camp, which was set to begin Sept. 14 -- the day before the current collective bargaining agreement would expire.
In a conference call announcing the signing of
Brad Marchand
to a contract extension, Bruins general manager Peter Chiarelli -- who also said a Bruins rookie tournament was canceled -- told the media that some of their rookies would report to Bruins training camp if and when there is one. As of now, training camp is still on for Sept. 17.
"The rookie tournament has been canceled. And our rookie camp has been eliminated also," Chiarelli told the media in a conference call Friday. "We're going to bring in -- as the schedule permits -- we're going to bring in a number of those [players] that would have been in the rookie camp. And I'm not sure what our exact number is going to be at. It's a little bit fluid right now, but it will probably be a little bigger camp to start than normally what we're accustomed to. But there won't be any 'rookie camp,' per se."
Chiarelli touched on various CBA-related issues and acknowledged he is currently in discussions with other restricted free agents to extend them but did not specify whom. The Bruins extended Brad Marchand on Wednesday.
Tyler Seguin
,
Milan Lucic
and
Tuukka Rask
will all be restricted free agents next summer.
Here are some tidbits from the teleconference Friday:
On other restricted and unrestricted free agents:
"I've had some discussions and I'll leave it at that," Chiarelli said. "I don't really like to comment on negotiations, but for the sake of hearing something different than the labor situation, I'll go off the rails a bit and tell you I've had some discussions with some of our guys."
On the recent contracts signed by Carolina Hurricanes forward Jeff Skinner, Edmonton Oilers forwards Taylor Hall and Jordan Eberle and their impact on a possible contract extension for Seguin:
"You look at comparable players, you look at where your team salary structure is, and you look at the market," Chiarelli said. "You don't look strictly at one of those things -- you try and look at all of them. So we try and do that in all our negotiations, and we will continue to do that. Sometimes you're faced with different dynamics, and you have to make decisions at certain junctures of the negotiation, but generally speaking the comparables are important; comparable peer groups, and where he fits into the team salary structure."
On the rules for players entering the American Hockey League in the event of a lockout:
"In a nutshell, it was those waiver-exempt players that would go down, and then as far as those 'depth players' -- I say that because I think there was a definition of those types of players last year -- I think a lot of those guys ended up that you were able to sign them to American League contracts. Then there were a few guys that required waivers that were 'bona fide NHL players' that chose at some point to play then sign AHL deals. So you've got a whole range of types of players. And this was last time ... I don't know if this is what's going to happen this time."
On the status of Dougie Hamilton in terms of starting the year in the Ontario Hockey League and being able to make the jump to the NHL if there's a lockout:
"It's less unclear. We're told they're working on an agreement, and we're told that there will be the ability to take players, in the event of a work stoppage, and it cutting into the CHL [Canadian Hockey League] season," Chiarelli said. "There will be some type of ability to take players from their respective CHL teams. So, I'm hoping that that will be finalized, but at the very least I'm told that it's expected to happen in the agreement. So, I mean, to the extent -- I don't know how many we can take, and I know that they haven't done the agreement yet, but they're working on it. So yes, if we can take one, I can tell you that he'll be the one."
On whether there is a different perspective from players to sign contracts prior to a possible labor stoppage:
"That really never entered into our discussions [with Marchand]," Chiarelli said. "I can understand the question; it's been written enough that that seems to be a leverage point. I can understand if you're maybe trying to get something that you don't think will be there when we return if there's a stoppage. I guess there's the specter of a new system and we've all been hearing about it for the last couple of months. That drives it I think, but potentially I guess from the players' side, and maybe from our side to the extent that we can -- and there may be some guys we're unable to get to -- but we've tried to be relatively proactive in extending contracts for guys prior to the start of the season and we're trying to keep our core together. It's part and parcel of that in what we're trying to do, not so much governed by this September 15th date."