Bruins:

Nicklas Backstrom
April, 18, 2012
4/18/12
6:47
PM ET
ARLINGTON, Va. --
Bruins
coach Claude Julien did not appreciate
Capitals
coach
Dale Hunter
's contention that the Bruins are headhunters.
Julien called Hunter's comments "ridiculous" and "ludicrous."
On Tuesday, Hunter said the Bruins were targeting the head of
Nicklas Backstrom
, who missed 40 games this season due to a concussion.
"There's no reaction, really," Julien said. "That doesn't make sense. We don't. I don't know any coach that would tell his team to go after somebody's head. That speaks for itself and that's all I'm going to say about that."
[+] Enlarge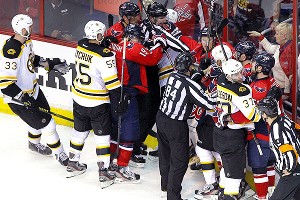 Barry Chin/The Boston Globe/Getty ImagesCaps center Nicklas Backstrom is suspended for Game 4 for inciting this post-Game 3 scrum by cross-checking Rich Peverley.
But Julien continued.
"It's ludicrous. It's ridiculous. There's always going to be emotions in games and there are things that are happening. There were three cross checks and they penalized one and suspended one, but we're not whining about the referees and what's going on here. We need to win a game and we need to win a series. That's where our focus is on and that's where it should be."
Backstrom was suspended for one game and will miss Game 4 of the Eastern Conference quarterfinal series against the Bruins on Thursday night at Verizon Center. After Boston's 4-3 win in Game 3, Backstrom cross-checked the Bruins'
Rich Peverley
in the face.
"We're definitely going to miss him," Hunter said. "We don't think he should be suspended.
"It's disappointing. He's suspended and it's in the history books and we have to concentrate on [Game 4]."
After the Capitals held practice Wednesday morning, Hunter said the Bruins are not only playing between the whistles.
"They were after the whistle and before the puck was dropped. They were doing stuff off the draw, like
[Milan] Lucic
going after Nicky's head," Hunter said. "We've got to play through it and let the refs do their job. We just have to play."
Julien believes his team is doing exactly that.
"The one thing you have to do is play between whistles," Julien said. "There are scrums that happen after whistles and you've got to be disciplined enough not to put your team short-handed. We're just one of many series that have all the same things happening. This is not unique. This is playoff hockey."
When it comes to concussions, the Bruins have recently dealt with their fair share of head injuries. Currently, forward
Nathan Horton
will not play again this season after suffering a concussion on Jan. 22.
Marc Savard
's career is likely over because of numerous concussions, and
Patrice Bergeron
nearly had his career ended in 2007.
"It's the first I'm hearing of it," Bergeron said of Hunter's comments. "We're just playing playoff hockey. We're not worrying about who's out there. I certainly would be the last guy to do something like that, having been through it. I don't really worry about that, to be honest, we just need to go out there and play our game."
Bergeron does not believe players head-hunt in the NHL.
"No. Obviously, games are played hard, especially at this time of the year," he said. "I hope not."
After the Bruins held practice at Capitals Iceplex Wednesday afternoon, Julien spoke at length about concussions, and mentioned a tweet by Octagon hockey agent Allan Walsh, who wrote: "This has spiraled from out of control to total chaos. Do we really need a player to die on the ice for this insanity to stop?"
April, 17, 2012
4/17/12
11:33
PM ET
Capitals center Nicklas Backstrom has been suspended one game after Backstrom received a match penalty in Game 3 of Washington's opening-round series against the Boston Bruins.
The NHL announced the penalty Tuesday night.
Backstrom was facing an automatic suspension after he cross-checked Bruins forward Rich Peverley following the final buzzer of Boston's 4-3 victory Monday night.
Backstrom, who missed 40 games this season with a concussion, scored the game-winning goal for Washington in double overtime in Game 2.
CLICK HERE
for more on Backstrom's suspension.
April, 17, 2012
4/17/12
12:04
AM ET
WASHINGTON -- The
Washington Capitals
could be without star center
Nicklas Backstrom
for Game 4 of the Eastern Conference quarterfinal series against the
Boston Bruins
after Backstrom received a match penalty following the final buzzer of Game 3 Monday night at Verizon Center.
After Boston's 4-3 margin of victory, Backstrom crosschecked Bruins forward
Rich Peverley
to the face.
The NHL rule book states that in addition to the match penalty, the player shall be automatically suspended from further competition until the commissioner has ruled on the issue.
"I think that it's normal that there's some intensity and the rivalry is getting better and bigger as we move forward here," Bruins coach Claude Julien said. "You understand that those kinds of things are going to happen. The only thing that's a little disappointing, for me personally, is the fact that this is the third time in three games our player has been crosschecked in the face.
"We saw the one on [David] Krejci where he was cut in Game 1, and [Alex] Ovechkin on [Dennis] Seidenberg in Game 2 and now Backstrom. You hope those things don't get out of hand. I'm going to say the same thing I said last time: Somebody else has to deal with that and it's not us. As a coach, I'm going to continue to get my team ready for the next game."
Backstrom scored the winning goal in double overtime of Game 2 at TD Garden on Saturday.