April, 4, 2012
4/04/12
9:33
PM ET
WILMINGTON, Mass. -- The
Boston Bruins
will be in
Ottawa
to face the Senators on Thursday for their final regular-season game and for what very well could be a preview of a first-round playoff matchup between the Northeast Division rivals.
The Bruins are locked into the second seed in the Eastern Conference playoffs and will play the seventh seed, which currently is Ottawa. The Senators lead the Capitals and Sabres by four points, with all three teams having two games remaining. Unless the Senators lose to the Bruins on Thursday night and again at New Jersey on Saturday afternoon, they will finish in seventh and start the playoffs at Boston.
The Bruins are 4-1-0 against the Senators this season and have outscored them 19-12, after going 5-1-0 versus Ottawa in 2010-11.
Tim Thomas
--- who will not dress Thursday night -- is 4-1-0 with a 2.41 GAA and .932 save percentage against Ottawa this season and has historically owned the Senators, going 23-9-2 with a 1.98 GAA and .937 save percentage.
But don't think Thomas and the Bruins are going to have a cakewalk in this potential first-round tilt. Former Senator and current Bruins alternate captain
Chris Kelly
-- who was dealt to the Bruins just prior to the 2011 NHL trade deadline after six seasons in Ottawa -- will make sure he and his teammates don't overlook the Senators.
[+] Enlarge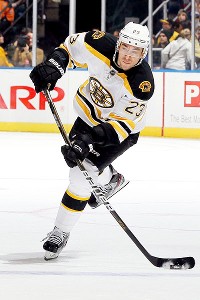 Jim McIsaac/Getty ImagesChris Kelly won't let his Bruins teammates overlook the Senators.
"If we take that approach to the playoffs, we'll be in some big trouble," Kelly said. "Regular season is regular season and the playoffs is a whole different beast. I think we've seen in numerous times where a team does really well against a team in the regular season and then in the playoffs it goes the other way. So like I said, regular season is regular season and that gets thrown out the window when after Saturday's game."
After a dismal 2010-11 season, the Senators were viewed as a team in rebuild mode by many -- including some Senators officials and owner Eugene Melnyk.
But Kelly saw a team that had its star players battle injuries and struggle while their younger surrounding cast followed suit. Kelly didn't see this season as a write-off for Ottawa by any means. Kelly was on the Senators' squad that made it to the Stanley Cup finals in 2007 before falling in five games to the
Anaheim Ducks
, and he noted that Ottawa still has two players from that team --
Daniel Alfredsson
and
Jason Spezza
-- who tied for the 2007 Stanley Cup playoffs scoring lead with 22 points apiece. (Then-Senator
Dany Heatley
also had 22 points for a three-way tie).
"That's rare that all three guys would lead 1-2-3 from same team," Kelly said. "Heatley's gone but those guys are still here and now there's a lot of new faces that gained some playoff experience (in the AHL) winning the Calder Cup with Binghamton. So there's no shortage of playoff experience on that team."
Alfredsson and Spezza both had difficult seasons in 2010-11, but they're back in a big way this season. Spezza has rebounded from a 57-point campaign last season with 83 points this season, while Alfredsson is sipping from the fountain of youth at age 39 with 59 points.
"They have unbelievable talent," Kelly said. "I'm not really surprised. They have some good young players that they brought up that can play and understand the game. Then they had some guys who were obviously having off years because the team wasn't doing well. By no means am I surprised. They got a new coach (Paul MacLean) and he's brought in his philosophies from Detroit and they work hard. They seem to like him and it's amazing what one person can do with an organization."
The Senators also have one of the NHL's rising stars in defenseman
Erik Karlsson
, who is arguably a Norris Trophy candidate. He leads all NHL defensemen and is second in team scoring with 77 points.
"He skates unbelievable and probably one of the most efficient skaters in the league," Kelly said. "He's got a great shot and he sees the ice very well. He's very composed and goes out there and has fun."
Kelly figures the Senators will embrace the underdog role playing the defending Stanley Cup champions, but the Bruins won't be fooled by the hype.
"You can take that underdog mentality until you're blue in the face and I'm sure we can take that as well," Kelly said. "But I think they're a confident group and they have every right to be. They earned their way into the postseason and I think from the start of training camp if you asked every guy there if they thought they'd make the postseason, they'd say yes. I know in this dressing room we're not looking at them that way (as underdogs) and we know they're a good team."
January, 31, 2012
1/31/12
12:49
PM ET
BOSTON -- The
Boston Bruins
return from the All-Star break and will host the
Ottawa Senators
Tuesday night at TD Garden.
Even though the Bruins are 2-0 versus the Senators already this season, Ottawa still presents a big challenge. The Senators are currently ranked sixth in the Eastern Conference, only four points behind the second-place Bruins. The Senators are 13-10-5 on the road this season.
They're led by veterans
Daniel Alfredsson
(17 goals and 21 assists) and
Jason Spezza
(20 goals and 30 assists), while goaltender
Craig Anderson
has posted a 25-16-4 record with a 2.90 goals-against average and a .910 save percentage.
Bruins coach Claude Julien credits Ottawa coach Paul MacLean for brining the Senators together as a team and building strong chemistry.
"You can see it in their play," Julien said. "They play hard and they don't hang their heads, they compete hard and if they weren't a happy group, at one point you would see them let their game slip away, but they don't."
The Senators have exceeded expectations this season to a lot of people, but Julien said he's not surprised by Ottawa's success.
"It may be a surprise for a lot of people where they are, but I would tell you right now that they're the real deal," Julien said.
The Bruins defeated the Senators 5-3 on Nov. 1 and 5-2 on Dec. 14 this season. Beginning Tuesday night, the teams meet four more times this season.
"I see a hardworking team that's pretty well coached with a goalie who is fairly hot this year," said Bruins forward
Shawn Thornton
. "I played with him in the minors and when he's on, he's on. They're definitely not sneaking up on anybody any more. It's going to be a good for us coming out of the break."
Your request cannot be processed at the current time. Please check back as we will work to correct the problem as quickly as possible.
Please feel free to send us any comments or feedback.
Your request cannot be processed at the current time. Please check back as we will work to correct the problem as quickly as possible.
Please feel free to send us any comments or feedback.