September, 9, 2014
Sep 9
12:28
PM ET
NEW YORK -- Given the handshake line seen around the world last spring, you better believe many players on both the Montreal Canadiens and Boston Bruins knew their first encounter this season was Oct. 16.

After a drama-filled seven-game series last spring between the two rivals, capped by Bruins winger Milan Lucic sharing his love for the Canadiens in the handshake line -- we jest, of course; heated words were exchanged with several players -- the Oct. 16 game in Montreal is certainly must-watch TV.

"Absolutely, it's going to be a lot of fun," Canadiens star winger Max Pacioretty told ESPN.com Tuesday during the player tour media event.

"After a series like that, there's tons of emotions. It might have been build up a little bit more than what it really was. But at the same time, they're a great team. That's our measuring stick team. We play against them so many times a year, they're one of the best teams and you really can tell a lot about your team by how you measure up against the Boston Bruins. They contend every year. We get a little bit more of the juices flowing when we play against a team like that. We definitely have a lot to prove when we play a team like that."

Teammate P.K. Subban echoed the respect the Canadiens have for the Bruins, but also said the emotion and intensity between the two rivals is absolutely genuine.

"We don't need to sugar coat it, there was a big deal made about the comments that Lucic made in the line," Subban told ESPN.com Tuesday during his player tour interview. "But I mean, this is hockey, this is professional sports. There's mutual respect between all players. That series got heated. And I think it's good for the game, it's good for the fans to know that these guys are making millions of dollars but it's real, guys want to win. It's competitive. At the end of the day we still want to send kids the message of sportsmanship, but this is professional hockey. I'm not going into that game thinking about was said in the handshake line. We're just trying to win. Lucic is a big enough guy anyway that I'm sure if anyone wanted to justify it, he'd be willing to answer it. But all in all, the rivalry that's rekindled over the last few years has been great for hockey."

Asked about Shawn Thornton no longer being with the Bruins (he signed with the Panthers) to squirt him with a water bottle, Subban didn't miss a beat: "Well, I don't mind him squirting me with water in Florida because it's hot there."

The Habs upset the Bruins last spring in the second round before losing to the New York Rangers in the Eastern Conference finals, a successful season by any measure for a Habs team not picked by most to contend.

And yet, lots of changes in the offseason, the team getting younger after parting ways with veterans such as Brian Gionta, Josh Gorges and Daniel Briere.

Gionta's free-agent departure opens up the captaincy in Montreal, and it's expected head coach Michel Therrien will name his new captain at the end of the training camp or around that time.

Both the names of Pacioretty and Subban have been in the mix from fans and media as far as candidates to be the next captain, along with the likes of Tomas Plekanec, David Desharnais, Andrei Markov et al.

"It's already an honor just to be in the conversation, but I know I have to step up and help lead this team no matter if there's a letter on this sweater or not," said Pacioretty, 25, Montreal's leading scorer last season. "I feel like I'm ready for it. When Gorges and Gio were here, you don't want to step on any toes, you want the leaders to lead and want them to be able to do their thing. But now that they're gone, I think there's a big gap to fill right now. I hope to be able to do so. Whoever does have the 'C' on their sweater, he's going to have a lot of help. We know a lot of guys in the room that can lead, guys who have been on Stanley Cup teams. So I think whoever gets the letter, he'll get help."

Like Pacioretty, Subban didn't hide what it would mean to him if he were ever named captain of the Habs.

"Obviously, I would want that honor," Subban said. "I don't think anybody sees me as a player that would shy away from that type of responsibility. Not more money, not more ice time, but more responsibility given to a player, in my opinion, makes him better. For a player that's going to be in Montreal for a minimum eight years time, to be considered a leader of this franchise and a leader of this team, would be a great deal of responsibility but it's exciting you could be a guy to help lead your team to a Stanley Cup."

Subban recalled a phone call he got after signing his new contract this summer from the wife of Habs legend Jean Beliveau.

"She congratulated me on the new contract, was very complimentary, and very excited to know that she'll be watching me for the next eight years," said Subban. "She spoke on Jean's behalf as well. To me that was very flattering. To be able to wear the 'C' like one of my idols Jean Beliveau, that would be a great honor."
May, 11, 2014
May 11
12:20
AM ET
BOSTON -- Spraygate has arrived.
Immediately following the
Boston Bruins
' 4-2 win over the
Montreal Canadiens
in Game 5 of the second-round Stanley Cup playoff series Saturday night at TD Garden, the Canadiens were upset that Bruins forward
Shawn Thornton
allegedly sprayed Montreal defenseman
P.K. Subban
in the face with a water bottle in the final minute of the game.
[+] Enlarge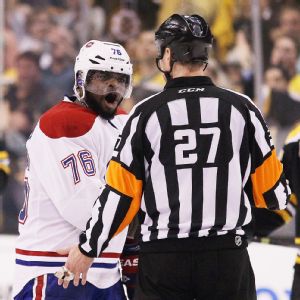 Bruce Bennett/Getty ImagesP.K. Subban was none too pleased after a third-period incident involving the Bruins bench.
Subban had the puck and skated by the Bruins bench when it appeared he was sprayed in the face.
"Yeah, we saw that. I don't want to comment on that," Montreal coach Michel Therrien said.
Bruins coach Claude Julien also tried to downplay the controversy.
"No, I didn't see that," Julien said. "Again, I've heard the same thing about that. I certainly don't support those kind of things, but I didn't see it, so I can't comment more than that."
Subban expanded on the incident.
"With Thorty [Thornton], I don't know if it was him, but someone had squirted water twice at the end of the game in my visor, and I couldn't even see for a minute and a half. I was pretty upset about that, but that is part of the game."
Subban added, "I don't know if it is part of the game. I am sure if that was me that did it, it would be a different story. It would probably be on the news for the next three days. I don't expect that to be a story, but, listen, whatever it takes to win.
"I got hit in the visor twice with water. I don't know who it was. I mean, listen, I don't need you guys to make it a big deal out of it. It is one of those irritating things when you're down 4-2. Listen, they beat us. That's not the reason why we lost. It's just one of those things that frustrates you even more towards the end of the game. I don't want to take away anything from their team. They played well today. They executed. We have to be better. Now, it's do or die for us going back home. We have played well in our barn all year and in this playoffs, so we have to execute."
Thornton wasn't the only Bruins player to mix it up with Subban during Game 5.
With Montreal trailing 3-0,
Milan Lucic
and Subban were running at each other for an entire shift, and it was obvious the Montreal defenseman was attempting to bait Boston's hulking forward into a penalty.
"Lucic is a great player. He is big, and we were at that point where we were down 3-0, just trying to find everything that I can to try, maybe get him into taking a penalty or something," Subban said. "He's a pretty smart player. He has been around a while, so he really didn't fall into that. Just trying to battle him."
At one point, Lucic was flexing on the bench in Subban's direction.
"I think it's self-explanatory," Lucic said. "Just one of those battles within the game. And just having some fun within the game. You know, as serious as this game can be sometimes, it has to be fun as well. You know [Subban] likes to have fun, too. So, I mean, you turn the page and focus on the next game."
May, 7, 2014
May 7
5:57
PM ET
BROSSARD, Quebec --
P.K. Subban
has been the
Montreal Canadiens
' difference-maker against the
Boston Bruins
in this second-round Stanley Cup playoff series.
The 24-year-old defenseman has been spectacular, a beast in every aspect of the game. Subban has three goals and three assists for six points in the first three games versus Boston. Overall this postseason, he has three goals and eight assists for 11 points in seven games, including a plus-1 rating.
The Bruins have attempted to get Subban off his game with little luck.
"He's a good player," Bruins forward
Gregory Campbell
said. "He's a real talented offensive player with a lot of speed. He plays with a lot of emotion and he's playing well right now. With all good players, it's an in-your-face type of game and that's our game. Whether it's him or whether it's
Sidney Crosby
, a good player, you can't make it easy on him. [Subban's] been a big part of their offense so far and it's something we need to be aware of."
[+] Enlarge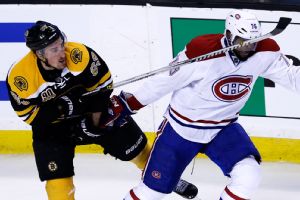 AP Photo/Charles KrupaBrad Marchand and the Bruins are struggling to slow down P.K. Subban.
Subban scored a pair of goals to help Montreal to a 4-3 double-overtime win in Game 1 against Boston. He then had two assists in Game 2, which the Bruins won 5-3. In Game 3, he scored a big breakaway goal as the Canadiens won 4-2.
Not only has he chipped in offensively, Subban has been strong in the defensive end, too.
"He's doing a good job creating space for himself," Bruins forward
Shawn Thornton
said. "Even sometimes when you put pucks in his corner and try to finish him, he's getting on his horse and getting back as quickly as possible. They do a really good job of getting in lanes when we're on the forecheck, making you go around them to create that extra half second. Tip your hat to him because he's playing a great series right now. Do we need to get on him quicker? Yeah, we do. He's been unbelievable."
Bell Centre is electric when Subban has the puck on his stick or is about to run an opponent into the boards. In Game 3, Subban received a two-minute roughing penalty after he hammered
Reilly Smith
in the neutral zone.
When the penalty expired, Subban jumped out of the box, received a pass and scored on a breakaway to give Montreal a 2-0 lead in the first period. The Canadiens feed off his energy and that's one reason Montreal has a 2-1 series lead.
"He's playing great for us right now," Canadiens right wing
Brendan Gallagher
said. "It's exciting. That's what we expect from him and he's certainly delivering. He's one of our best players and we expect him to show up and he's done that in the playoffs so far. He's a game-changer. For him to play with the emotion and keep those emotions in check has been big for him. He's just giving us a lot of energy right now. You see how much he's enjoying it, so it's a lot of fun to be a part of."
As loud as the fans in Montreal cheer for Subban, it's the opposite in Boston. Bruins fans boo him every time he touches the puck. He did a solid job of silencing those fans in Boston at the start of the series.
"It's a lot of fun. It's fun for us to see him take over the game, and he has been so far this series," Montreal's
Daniel Briere
said. "He's making big plays at big times. For us, we're trying to ride that wave. We have a few guys who have made big plays so far in the playoffs and that's the only way you'll keep moving, especially playing good teams like the Boston Bruins."
In what Bruins goaltender
Tuukka Rask
described as a "veteran move," Subban knocked the Montreal net off its moorings as the Bruins were surging with an extra attacker in the closing seconds of Game 3. Had the referee called a penalty, the Bruins would have received a penalty shot.
After the Bruins' optional practice Wednesday at Bell Sports Complex, coach Claude Julien did not want to blame the loss on Subban's net nudge.
"This is all stuff that we can't control," Julien said. "Referees make those calls and you move forward. I'm going to be honest with you, if we rely on the referees to give us the breaks then we certainly don't have our focus in the right place. We need to make our own breaks. We have to look at ourselves and say, 'Listen, did we play well enough yesterday to win that game?' We didn't. So we can look at all this little stuff on the side and it's something that we don't control and complain about it, that's not what we do. We have to be honest here and tell ourselves we need to be better."
For the Bruins to improve, they need to minimize Subban's impact on this series, or it could be the last one in Boston's season.
May, 6, 2014
May 6
11:19
PM ET
MONTREAL -- With the Bruins trailing by a goal in the waning seconds of Game 3 against the
Montreal Canadiens
, and with Boston goalie
Tuukka Rask
on the bench for an extra attacker, the Bruins had control of the puck in the offensive zone when Montreal defenseman
P.K. Subban
knocked the net off its moorings.
The whistle blew, and there was no penalty called on the play. Had the referee thought he intentionally knocked the net free, he could have called for a penalty shot. Instead, the Canadiens finished with a 4-2 win and now have a 2-1 series lead.
In the Bruins' locker room after the game, the players had mixed emotions about Subban's play.
"He's playing the clock, and he's trying to make something happen," assistant captain
Patrice Bergeron
said. "Maybe he felt that we were coming hard. You've got to leave it to the refs, and they didn't make the call. It's about bearing down and starting a lot earlier to make it a game."
Bruins top-line center
David Krejci
, who had the puck when the whistle blew, offered a similar sentiment.
"After [Subban] rimmed the puck, Torey [Krug] got the puck and he found me. I had so much room in front of me, I could have walked in. You never know what can happen with eight to 10 seconds left," Krejci said. "Yeah, it was frustrating at the time, but I don't know if that was a penalty or not."
By not calling for a penalty shot, the officials obviously felt Subban inadvertently knocked the net off.
"I didn't see it," Bruins forward
Jarome Iginla
said. "It happened pretty fast. I wasn't sure how it came off, but I didn't see. I wish [a penalty shot] was the case."
Rask smiled after the game when asked about Subban's play.
"Yeah, well, a veteran move, I guess," he said. "I mean, everybody does it. Referees, sometimes they call it, sometimes they don't."
Rask said he didn't know it could have been a penalty shot.
"Is it? I didn't know that. Maybe I should've bitched about it then," Rask said.
May, 3, 2014
May 3
6:35
PM ET
BOSTON -- Bruins forward
Shawn Thornton
suffered what appeared to be a right leg injury 22 seconds into the third period during Boston's 5-3 win against the
Montreal Canadiens
in Game 2 of the first round Stanley Cup playoff series Saturday at TD Garden.
[+] Enlarge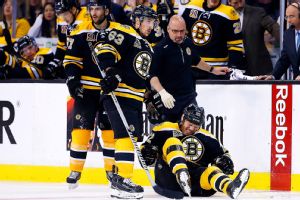 Jared Wickerham/Getty ImagesShawn Thornton was shaken up along the boards early in the third period but managed to return to action after being helped to the locker room.
Thornton went into the boards awkwardly after attempting to apply a check on the Canadiens'
P.K. Subban
between the benches. At the last second, Subban ducked and Thornton went crashing into the boards.
A team trainer tended to Thornton, and he needed help off the ice and back to the locker room. He returned midway through the third period and received a standing ovation on his first shift back.
"He's definitely a warrior," said Bruins assistant captain
Patrice Bergeron
. "It's not necessarily surprising from him, but with that being said he always wants to be out there with us and battling and fighting. It definitely sends out the right message to all the guys."
After the game, Thornton wasn't too pleased with Subban for ducking the check.
"I don't like people ducking," he said. "I think [
Brad Marchand
] got about five games for it once. I will say, off the draw he apologized afterwards, so there's that. I think it's a dangerous play, personally. But it's playoffs, it's hockey, I'm fine, so we're OK."
After the game, Subban said he didn't know what happened on the play.
"I just tried to shoot the puck around the zone and I sort of lost my footing there," he said. "Obviously you don't want to see anybody go off hurt but he came back, I don't know if he stayed in the game, happy to see that."
May, 3, 2014
May 3
7:10
AM ET
WILMINGTON, Mass. -- The racist tweets of a few bigots do not speak for a fan base.
Those who took to Twitter late Thursday night to decry
P.K. Subban
because of the color of his skin don't deserve to call themselves Bruins fans.
They don't deserve mention at all, but their expression of a hateful, racist viewpoint cannot be ignored.
Unfortunately, their ignorant views got the attention of the sports world and they ended up representing Boston in the eyes of some, which is a misguided shame. These bigots can hide behind the wall of anonymity social media provide, but they have no place in Boston.
These are not the people who dress up in black and gold and fill the TD Garden every game night. No one among the nearly 18,000 fans Thursday could be heard shouting racial epithets at Subban after his game-winning goal. In fact, in all my years following and covering the team, I have never heard the kind of vile bigotry that soiled the social media landscape Thursday night.
Bruins players say they've never heard it, either.
"I didn't hear anything from the fans -- at all," said Bruins forward
Brad Marchand
. "It's all Twitter."
Bruins coach Claude Julien also said he hasn't heard any racist comments while he's been on the bench at the Garden, or in any building around the league.
"Not to my knowledge, no," he said. "There's a lot of good fans out there, and that's the sad part about it is that your good fans get tarnished because of a couple of comments like that who don't belong in that same group."
The team is just as disgusted as we all are by those who espouse their bigotry and hide behind anonymous Twitter handles. Bruins forward
Milan Lucic
has a message for those cowards.
"Take a good, hard look at yourself," Lucic said Friday. "You shouldn't be doing anything like that. I have to play against [Subban], and I would never say [that] and cross that line, and neither should they."
If you think for a second that those who tweeted their ignorance are actually Bruins fans, consider this: Are they also offended by Boston forward
Jarome Iginla
, who, like Subban, is black?
"Exactly," Lucic said. "Jarome is here, and he's been treated with nothing but respect in Boston since he's been here. All the Celtics and Patriots and Red Sox and all those players that have been here have been treated with nothing but respect. If you're going to make bad comments, stick to hockey comments, not to stuff that crosses the line."
Subban's younger brother Malcolm is a top goalie prospect in the Bruins system. What do those who were so disgusted by P.K. think about Malcolm? I shudder to think what was going through Malcolm's mind when he discovered that people who call themselves Bruins fans were spewing such venom.
These weren't the actions of Bruins fans. Bruins fans were angry after Subban's game winner, sure. A few even littered the ice with debris. But it wasn't because of the color of Subban's skin.
It was the colors on his sweater -- bleu, blanc et rouge -- that got them riled up.