May, 11, 2014
May 11
12:31
AM ET
BOSTON -- The
Boston Bruins
won the Stanley Cup in 2011 with a subpar power play. Actually, it was worse than subpar. It was essentially nonexistent.
That special-teams unit has been an area of focus for the Bruins, who have worked hard to improve their PP. That effort has been paying off in the Stanley Cup playoffs.
Boston scored a pair of power-play goals in a span of 32 seconds early in the second period en route to a 4-2 win over the
Montreal Canadiens
in Game 5 of the second-round series Saturday night at TD Garden.
"I think our power play was due," said Bruins coach Claude Julien. "After the first period, our power play was just average so we had a little chat and talked about bringing the intensity up there on our power play and winning more battles and making stronger plays. And it gave us obviously those two goals, which were huge for us, but as always and as a normal situation will tell you, you always like to play for the lead, and it was nice for us to have it and be able to hang onto it."
Overall, the Bruins are 8-for-28 on the PP this postseason.
"We were able capitalize on our power-play opportunities," said Bruins captain
Zdeno Chara
. "You know it's nice to see that we were creating some quality chances and were able to capitalize on that. It's always big to have strong specialty teams."
Boston had a 1-0 lead when it capitalized on the PP early in the second period.
The Bruins began the period with 1:44 remaining on a man-advantage and they converted when
Reilly Smith
scored at 1:04 to give Boston a 2-0 lead. Bruins defenseman
Dougie Hamilton
took a shot from the point, Smith redirected it and the puck trickled through the 5-hole on Montreal goalie
Carey Price
.
Only 26 seconds after Boston's second goal, Montreal's
Tomas Plekanec
was called for high-sticking. Boston needed only six seconds to score its second power-play goal for a 3-0 lead. The Bruins controlled the puck in the right corner when
Torey Krug
made a nifty backhand, cross-ice pass to
Jarome Iginla
, who beat Price at 1:46.
"Yeah it was a great pass," Iginla said. "I was just trying to sneak back and just hope that he would see me and I wasn't sure but he did and he threw it right on my tape."
The Bruins finished the regular season with the No. 3-ranked power play in the league, going 50-for-230.
May, 4, 2014
May 4
10:37
PM ET
BOSTON -- When
Reilly Smith
scored the winning goal to propel the
Boston Bruins
to a 5-3 victory over the
Montreal Canadiens
in Game 2 of their second-round Stanley Cup playoff series, it was another example of how well he fits in with the team.
The 23-year-old forward has meshed perfectly on the line with
Patrice Bergeron
and
Brad Marchand
. Smith is reliable at both ends of the ice. He has strong instincts and is willing to do anything to help the Bruins win. He has basically become an extension of Bergeron.
"He plays like a veteran," Bruins coach Claude Julien said. "And he's very calm in those kind of situations. You don't see him make too many big mistakes because he's a smart hockey player, and some guys have it. It's a knack he's had from the start, and with his experience playing with guys like Bergeron and Marchand, he's just gotten better."
When the Bruins acquired Smith as part of the blockbuster trade last summer that sent
Tyler Seguin
,
Rich Peverley
and Ryan Button to the
Dallas Stars
in exchange for
Loui Eriksson
, Smith, Joe Morrow and
Matt Fraser
, Boston definitely got the better of the deal. Eriksson has been good for the Bruins, but Smith has been better.
At the start of the season, Julien had Eriksson on the wing with Bergeron and Marchand, but after Eriksson suffered a concussion, Smith was inserted onto the team's second line and the chemistry was instant.
Smith's youthful energy and ability meshed well with Bergeron and Marchand. However, like many young players in the league, Smith dealt with the typical goal-scoring drought at the midway point of the season. He went a stretch of 26 games with only one goal, and as frustrated as he was, it didn't affect his two-way play.
[+] Enlarge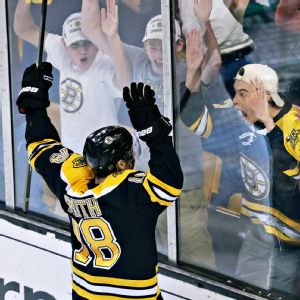 AP Photo/Charles KrupaReilly Smith took his celebration directly to the fans after giving the Bruins the lead in Game 2.
"He's got the right mentality. He wants to get better. He wants to be a difference out there," Bergeron said. "I think even in that stretch he was still making the right plays and playing well.
"I love playing with him. He's always in the right spot making great plays. Right now, he's played some great hockey. He's really fighting, battling, making some right plays, going to the front of the net, making some great backchecks, and that's what you need."
When Smith scored to give the Bruins a 4-3 lead in the third period on Saturday, he pumped his chest and celebrated accordingly. His teammates surrounded him in celebration and after the game the vintage Bruins jacket was hanging in his locker, which is given to the player of the game by his teammates.
Sporting the jacket, Smith sat at the microphone and answered questions about his heroics in Game 2.
"I think there is a lot more to my game than just scoring goals," he said. "I have learned a lot with playing with Bergy. This year especially, him being such a tremendous two-way forward, you pick up little things. Probably coming in here a lot of people thought that was the only part of my game and I think playing with Bergy and Marchy, you know, a lot of leadership and the character has helped my defensive game tremendously this year."
Smith has shown the ability to get dirty. At the start of training camp, Bruins general manager Peter Chiarelli and Julien told the young forward he needed to play with more grit. Smith accepted the challenge and has not disappointed.
As the regular season ended and he was preparing for his first Stanley Cup playoff experience, Smith seemed a bit overwhelmed by the situation. But in the first round against the
Detroit Red Wings
, while playing against his older brother Brendan, Smith proved he could handle the pressure and succeed in the postseason.
"It was really good to see," Chiarelli said. "With Reilly, the inexperience of the playoffs and the ramping up of the play at the end of the year, you can see he kind of got caught up in it a little bit. But he's a very heavy player and he's able to adjust his game."
Chiarelli admitted Smith was worn down by the end of the regular season, but he's been revived in the playoffs.
"He is a mentally strong kid and he was able to get past the hurdle we all saw in the last little bit in the regular season, so it was good to see," Chiarelli said.
When Smith's goal sailed past Montreal goaltender
Carey Price
at 16:28 of the third period in Game 2, it was a major boost of confidence for the Bruins forward. It was evident in the locker room after the game, and his teammates realize how important his contributions will be this spring.
April, 20, 2014
Apr 20
8:45
PM ET
BOSTON -- When this series between the
Boston Bruins
and
Detroit Red Wings
is complete, it would be interesting and entertaining to hear what Bruins forward
Reilly Smith
says to his older brother, Brendan, about his desire to drop the gloves with Bruins captain
Zdeno Chara
.
At the conclusion of the first period during Boston's 4-1 win over Detroit in Game 2, a scrum broke out behind the Bruins' net. Away from the play,
Brendan Smith
got in the face of Chara and attempted to draw the Bruins defenseman into dropping the gloves.
Chara didn't bite and Smith should be thankful.
"He wouldn't be the first guy I'd choose in the NHL to go against," Reilly Smith said. "He should probably think twice next time."
When asked if he was worried for his brother's safety, Reilly said, "No, not too much. That's the least of my worries right now."
Brendan Smith did not speak with the media after the game, and Chara downplayed the situation as part of the game.
"Nothing really, it's just playoff hockey," Chara said.
March, 18, 2014
Mar 18
12:07
AM ET
BOSTON --
Boston Bruins
forward
Reilly Smith
was sitting at his locker stall when suddenly all the lights in the room went out.
Only a spotlight from a television camera was shining on him.
In the dark with the spotlight still on him probably best describes how the 22-year-old winger has felt recently.
Prior to his goal that helped the Bruins to a 4-1 win over the
Minnesota Wild
on Monday night at TD Garden, Smith had scored only three times in the previous 25 games. Entering Monday, his skid without a goal in regulation was at 15 games, although he did score the game-winning goal in a shootout win over the Tampa Bay Lighting on March 8.
"Personally, it was a little tough not scoring for that many games, but I tried to stay positive and not get too down on myself because the chances were still coming," Smith said.
After the goal went in and the red light went on, it appeared as though Smith said, "Finally." In the locker room, he wouldn't confirm or deny his on-ice statement.
"I don't know, I'll have to check the replay," Smith said with a grin. "I'm not sure -- maybe."
As the pressure mounted for Smith personally, the saving grace has been the Bruins' winning streak, which reached nine with Monday's victory.
"That definitely helps a lot that our team has been playing good hockey," Smith said. "It definitely kept a more positive atmosphere at the rink. The guys and the coaching staff have been great, trying to help me through it."
[+] Enlarge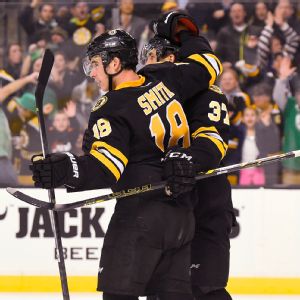 Eric Canha/CSM/AP ImagesReilly Smith worked hard through his 15-game drought, which he snapped by crashing the net.
Since the goals weren't coming as frequently as they were earlier in the season, Smith focused on shooting the puck more. He then found himself forcing the puck too much, but was trying anything to build momentum.
After the Bruins' morning skate on Monday, Julien said he wouldn't call Smith's goal-scoring drought a slump because the young forward has been competing and working hard. Based on the last couple of games for Smith -- nine shots on net in his previous three games -- Julien knew No. 18 was turning the corner.
Smith finally was rewarded for his hard work when he tallied his 19th goal of the season at 7:50 of the third period to give Boston a 3-1 advantage.
"The last game he had six shots on net and you could see it turning around, so it was just a continuation of that," Julien said. "Right now, his work ethic and his mindset are good, so as long as those two things are there he's going to get better all the time, and tonight was proof of that."
Smith's goal was typical of many he's scored for the Bruins this season. His gritty play and willingness to crash the net translated into many goals earlier this season, and that's how he scored on Monday. The Bruins had control of the puck in the offensive zone when Minnesota goalie
Darcy Kuemper
made the initial save on Patrice Bergeron's shot, but Smith crashed the off post and pumped in the goal.
"I don't think I've scored a pretty goal this year, so I figured it was going to come that way," Smith said with a smile. "It had been a long time, so it's definitely a good feeling."
Between Oct. 12 and Jan. 28, Smith had three separate point streaks of five, four and seven games. Since he'd experienced success earlier in the season, knowing he had the talent and ability to produce offensively helped him get through his recent drought.
"Definitely helps," he said. "The start of the year I definitely went through a bit of a hot streak and I mentioned a few times that you can go cold just as fast as when you're hot, so hopefully I'm through this and I don't go through another 15 games. I'm just happy to help the team win tonight."
At one point, Julien realized Smith had been putting too much pressure on himself, so the coach pulled him aside and told Smith to keep his game simple, play hard and have fun. It sounds almost elementary but it's true.
"He was coming to the rink and getting on the ice and instead of smiling he was just carrying the weight that he didn't need to carry," Julien said. "So we were just trying to help him take some of that weight off his shoulders."
It was evident after Monday's win that finally scoring did just that for Smith. While trying to describe his game of late, Smith credited his teammates and Julien for helping him stay focused.
"He definitely talks to you and gives you little tidbits and tries to help out a little bit," Smith said. "It's the same with a lot of my teammates. The biggest thing for me is I was still getting chances, so it was only a matter of time."
Since he has been getting some chances in the past few games, Smith said he was hoping it would finally go in for him Monday. It did, and the long-awaited goal helped the Bruins win their ninth straight.
December, 28, 2013
12/28/13
12:18
AM ET
BOSTON --
Reilly Smith
's postgame routine has become almost automatic these days.
He'll take off his equipment, then sit and wait for the media to enter the locker room, because he knows he'll have to answer questions about his game.
Smith, 22, hasn't become totally comfortable with the media attention in Boston, but he handles it well and always says the right things. So, after helping the Bruins to 5-0 win over the
Ottawa Senators
with a pair of goals Friday night at TD Garden, he was once again sitting at his locker stall.
[+] Enlarge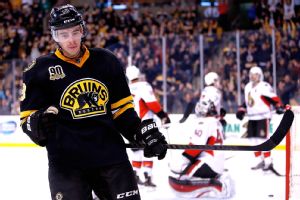 Jared Wickerham/Getty ImagesReilly Smith leads the Bruins with 14 goals through 38 games.
His two goals extended his point streak to three games, and he now has five goals and two assists for seven points in that span. Smith leads the team with 14 goals.
"He's really taken that opportunity he's been given. He's on a streak now. When you're hot, you're hot, just keep shooting and it's been working for him," said Bruins goalie
Tuukka Rask
, who finished with 33 saves to record his fourth shutout of the season.
Smith was part of a seven-player deal when the Bruins sent forwards
Tyler Seguin
and
Rich Peverley
to the
Dallas Stars
in exchange for
Loui Eriksson
, Smith,
Matt Fraser
and Joe Morrow. Since the day he arrived in Boston, Smith wanted to make sure he belonged.
"Absolutely, I think every hockey player has that type of mindset," Smith said. "My first thing coming to this team was just to make the team. Everything is going pretty well right now; the thing is not to be happy with where you are, just to keep on pushing, and if you're on a hot streak, it can turn cold really quick so just keep a positive attitude and the same outlook going into each day."
Even before the July 4 trade, the Bruins had been heavily scouting Smith since his collegiate days at Miami of Ohio. So, those who believe Smith was a throw-in are mistaken, because the Bruins don't feel that way.
"Not at all," coach Claude Julien said. "If anything, this guy has been a good player from Day 1. I don't think that he was ever looked upon as just a throw-in."
Julien also believes Smith's success is not a fluke. The reason he's leading the team in goals is simply because he's a good hockey player.
"I don't know that during the summer when the trade was done that we'd expect him to be where he is right now, so those are bonuses for teams after they make those kind of deals," Julien said.
At this rate, Smith is providing a huge return on the Bruins' investment.
December, 5, 2013
12/05/13
1:38
PM ET
MONTREAL -- Bruins forward
Reilly Smith
has already experienced a lot of firsts in his NHL career. When the puck drops Thursday night against the
Montreal Canadiens
, this will be his first time playing at Bell Centre.
In fact, he's the only Bruins player not to have played a game here.
"It should be pretty exciting," Smith said. "I've never played in Montreal but have heard great things about the arena and the fans. They're playing well right now and that's the biggest factor. It's a big game and there's a lot on the line. It should be fun."
When the Bruins played the Canadiens at Bell Centre during the preseason, Smith did not play that game. He expects it to be loud and has been told by his teammates how emotional it will be, but Bruins coach Claude Julien expects the 22-year-old forward to handle it well.
"He acts like a guy who's been around forever," Julien said. "He's very calm and doesn't let those kinds of things get to him. He's the only guy on our team who hasn't played here, but I don't think it will affect him. He's such a cool competitor, a cool individual, and he just goes out there and plays. I think it's going to be fun and exciting for him to play here for the first time."
Overall, Smith has played well in his first season with the Bruins. He has five goals and 12 assists for 17 points, including a plus-3 rating in 27 games.
November, 30, 2013
11/30/13
2:00
PM ET
BOSTON -- The
Boston Bruins
held an optional skate Saturday morning at TD Garden in preparation for their game against the
Columbus Blue Jackets
at 7 p.m.
Both teams played Friday. The Bruins beat the
New York Rangers
3-2, while the Blue Jackets defeated the
Edmonton Oilers
4-2.
This is the third meeting this season between Boston and Columbus, with the Bruins winning both of those earlier games.
Here's Julien's take on the Blue Jackets:
"They work hard. Their goaltending has been good for them," he said. "Again, I can't say enough about parity. You look at the standings and you see where teams are but when you see teams on the ice, there isn't that big of a difference. I don't think you've seen in our league a lot of teams totally toy around with another team -- except for our team in Detroit. But other than that, you don't see that too often."
On Nov. 14, the Bruins beat the Blue Jackets 3-2 in overtime at TD Garden.
"I thought we played them well last game," Julien said. "I thought our finish wasn't there and because of that they hung around. I think we had enough chances earlier in the game or during the game that if we would have scored on those, it might have been a bit of a different game; it probably wouldn't have had to go into extra time."
** While Bruins defensemen
Adam McQuaid
and
Dennis Seidenberg
were recently sidelined with lower-body injuries, fellow blueliner
Matt Bartkowski
played nine consecutive games. Since everyone is healthy again, Bartkowski was a healthy scratch against the Rangers on Friday, and it appears he'll be watching from press level again tonight against Columbus. Of the seven healthy defensemen on the team, Julien said Bartkowski still needs to work on his game.
** It's unusual for Julien to make a mistake with his lineup, but he made a clerical error prior to Friday's game against the Rangers. He inadvertently circled
Reilly Smith
's number instead of
Jarome Iginla
's for the starting lineup. Iginla was on the ice with linemates
David Krejci
and
Milan Lucic
for the national anthem, but Smith needed to replace him for the opening faceoff. Once the puck was dropped, Smith went to the bench and Iginla jumped on.
"You had to bring that up, didn't you?" Julien said with a laugh when asked about it Saturday morning. "That was my fault. Instead of circling 12 and 17 on my lineup that follow each other, I accidentally went 17 and 18. So then when they called it up, which was lucky we were paying attention, I said, 'Oops.' So I had our trainer run and get the sheet but I asked the referee first because he's got the sheet; and I'm allowed to do that. I had mistakenly done that. We're not perfect, right?"
Iginla said he was a bit surprised but laughed about it.
November, 23, 2013
11/23/13
7:08
PM ET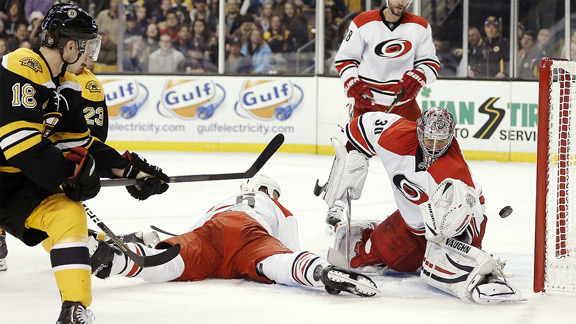 AP Photo/Winslow TownsonReilly Smith slips a backhander past Cam Ward to give the Bruins a 2-1 lead.
BOSTON -- The Bruins weren't at their best against the
Carolina Hurricanes
, but they found a way to win Saturday afternoon at TD Garden.
Thanks to
David Krejci
's goal at 1:28 of overtime, Boston finished with a 3-2 victory in a game where they had plenty of chances to close it out but failed to capitalize.
One positive aspect of the Bruins' victory was the continued solid play of third-line winger
Reilly Smith
. He scored a goal and now has four points in the past four games, and nine points in his past 11.
But it's not just the statistics. He's playing well in every aspect of the game, and it's evident his confidence is building.
"We always seem to overlook his age and he's a young player," Bruins coach Claude Julien said of the 22-year-old Smith. "And the way I think he's handled himself in pressure situations, handling the puck a little bit better and holding onto it. And at the same time, I thought tonight he shot the puck a little bit more; he had a little bit better of a nose for the net and before, [he was] looking to make plays versus shooting the puck. So he's really turned a corner and is really coming along well for a young player."
Smith's goal to give the Bruins a 2-1 lead at 13:31 of the second period was similar to Krejci's game-winning tally. Like Krejci, Smith showed patience with the puck in front of the net and forced Carolina goalie
Cam Ward
to move to his left before Smith beat him with a backhander to the short side.
A few weeks ago, Smith wasn't playing with as much confidence as he is now. But Saturday, he had the patience not to immediately shoot the puck, and was able to create more of a quality chance.
"Every day gets a little easier," Smith said Saturday. "When you stay with the same linemates I've had for the last month, it gets easier and chemistry builds every day. Take it day by day, but everything right now is going pretty well and I've got to keep the ball rolling."
[+] Enlarge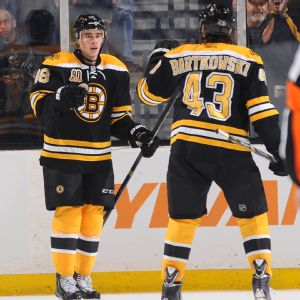 Brian Babineau/Getty ImagesReilly Smith celebrates his fourth goal of the season with Matt Bartkowski.
Even though their paths to the NHL were completely different, Krejci earned a similar opportunity in his first full season in Boston. The highly skilled forward registered six goals and 11 assists in his first 23 games as a 22-year-old during the 2008-2009 season. Krejci would finish with 22 goals and 51 assists for 73 points in 82 games.
"I remember I was just happy to be playing in the NHL," Krejci said of that season. "I played with no expectations, I was just going out there and playing my game and the points were coming my way. It was a great first couple of years, but later on the expectations get higher and it's about how you can handle the pressure. [Smith] is still young. He's looking pretty good, but we'll see how he handles it in the next few years."
Smith arrived in Boston with only 40 games and nine points of NHL experience in Dallas. Now, he has four goals and 11 assists for 15 points in 23 games for the Bruins. He's on pace to potentially match what Krejci accomplished at the same age.
"I didn't know much about him before he got traded, but all I know is he's a great player and he's still young," Krejci said. "He's playing like a 10-year vet, so it's good to see him doing well and hopefully he can keep it up."
Bruins veteran forward and future Hall of Famer
Jarome Iginla
played the majority of his career in the Western Conference for the
Calgary Flames
. He didn't know much about Smith during his brief time with the Stars, but Iginla has been impressed with what he's seeing now.
The aspect of Smith's game that impresses Iginla the most is his poise on the ice, especially with his work on the team's second power-play unit. Along with defenseman
Dougie Hamilton
, Smith runs the point on the power play -- and that can be a lot for any young player to handle.
"That's a high-pressured situation as a forward and he looks great back there," Iginla said. "Then 5-on-5, him, [
Chris Kelly
] and [
Carl Soderberg
], they seem to be getting better and reading off each other. [Smith's] one-on-one skills, he seems to beat one guy a night going down the wing. … It's great, another young guy who is in high-pressured situations, but he's enjoying it and thriving in it. He looks very confident there."
Even before the Bruins acquired him as part of the
Tyler Seguin
trade on July 4, Boston had been scouting Smith since his collegiate days at Miami (Ohio). Yes,
Loui Eriksson
was the big return in the Seguin deal with Dallas, but Smith was nowhere close to being considered a throw-in.
Because Smith has acted and played so professionally, his Bruins teammates haven't had to mentor him too much. He's learned by watching what they do on and off the ice and it's had a positive effect on his play.
"He's doing well so I don't want to say, 'You're doing great but in a few years from now you're going to suck.' He's doing awesome," Krejci said. "His head is right in it and it's good to see him doing well."
November, 9, 2013
11/09/13
3:07
PM ET
BOSTON --
Boston Bruins
forward
Reilly Smith
grew up in Toronto, but that doesn't mean he was a Maple Leafs fan. In fact, he admits rooting for the
Detroit Red Wings
.
The 22-year-old winger will play his first game against the Maple Leafs when Boston hosts Toronto Saturday night at TD Garden. This is the first time the Bruins and the Leafs have played since that epic Game 7 of the Eastern Conference quarterfinals last May when Boston ended Toronto's season with a historic comeback and won 5-4 in overtime.
"Obviously I grew up in Toronto, but I was never much of a Leafs fan growing up," Smith said. "But they've got a good team and it'll probably be a pretty physical battle tonight, and that's not even considering all the stuff that happened last year with Boston ending their season. It should be high intensity with a lot of emotion out there."
The Bruins acquired Smith,
Loui Eriksson
,
Matt Fraser
and Joe Morrow from the
Dallas Stars
last summer in exchange for
Tyler Seguin
and
Rich Peverley
. While Eriksson was the primary return in that deal, the Bruins had been scouting Smith since his collegiate days at Miami (Ohio) University.
In the first 15 games of the season, Smith has two goals and eight assists for 10 points, including a plus-6 rating.
Bruins coach Claude Julien was asked what kind of impact Smith has made this season.
"Just look at the stats," Julien said. "He's been a real good player for us. He's a young player that's probably not been overlooked but kind of been in the shadow for a long time and he's emerged with us here. He's played a big role for us. He's a real smart player. He's creative, has good hockey sense and makes good plays. We're really happy. We talk about getting Loui Eriksson in that trade, but I think [Smith's] another key asset in that trade, as well."
Smith is currently playing on the Bruins' third line with
Chris Kelly
and
Carl Soderberg
. But Smith has played a few different roles this season, including being moved up to the second line with
Patrice Bergeron
and Eriksson, along with getting playing time on the power play, too.
"The biggest thing is my confidence has gotten a lot better since the start of training camp. I feel like every day I'm getting more comfortable, so that's probably the biggest difference in my game since last year," Smith said.
October, 17, 2013
10/17/13
10:25
PM ET
Boston Bruins
forward
Reilly Smith
scored his first goal of the season at 19:01 of the third period to give the Bruins a 3-2 victory over
Tim Thomas
and the
Florida Panthers
on Thursday night.
The last time the Bruins saw Thomas on the ice, it was Game 7 of the Eastern Conference quarterfinals on April 25, 2012, at TD Garden. It was Thomas' final game as a member of the Bruins.


After a 16-month hiatus to spend more time with his family, the 39-year-old netminder returned to the NHL this season with the Panthers and was between the pipes against his former team at BB&T Center in Sunshine, Fla.
The Bruins got the best of their former teammate en route to the win, receiving goals from
Daniel Paille
,
Dougie Hamilton
and Smith, while goalie
Tuukka Rask
made 27 saves.
Thomas, the former Vezina, Conn Smythe and Stanley Cup winner, finished with 37 saves.
Kris Versteeg
and
Jesse Winchester
scored for the Panthers.
SAVE OF THE GAME:
During his time as Thomas' backup in Boston, Rask witnessed many timely saves by his predecessor. On Thursday, it was a huge glove save by Rask in the first period that proved crucial. The Panthers'
Tomas Fleischmann
created a partial breakaway and attempted to slip a backhander past Rask, who made the glove save to keep the game scoreless. On the ensuing faceoff, the Bruins gained control and broke out of their zone when defenseman
Dennis Seidenberg
moved the puck to Paille, who swooped in and beat Thomas to the short side as Boston gained a 1-0 lead at 3:45.
POWER PLAY:
The Bruins connected on their first man-advantage of the game, snapping an 0-for-12 skid. Boston's top unit capitalized when defenseman
Zdeno Chara
, who was camped out in front, screened Thomas as Hamilton's shot from the point made its way through traffic and beat Florida's goalie to the top right corner to give Boston a 2-0 lead at 12:47 of first period.
O-ZONE:
After tweaking his lines the past two games, Bruins coach Claude Julien went back to the lineup he began the season with to start the game.
Brad Marchand
was back on the second line, along with
Patrice Bergeron
and
Loui Eriksson
. Reilly Smith returned to the third line with
Chris Kelly
and
Jordan Caron
. However, Julien switched back early in the first period and Marchand returned to the third line, with Smith on the second.
HEADS UP:
Smith had his bell rung early in the second period when the Panthers'
Mike Weaver
applied a clean hit and crushed Smith into the end wall as he was trying to play the puck to the right of Thomas. Smith was slow to get to his feet and skate to the bench, but did not miss a shift.
SCRATCHED:
Julien recently said he would find a way to rotate his defensemen, and that was evident against the Panthers. It was
Adam McQuaid
's turn to sit as he was the healthy scratch. In five games, McQuaid has one assist with a plus-2 rating. Sophomore blueliner Dougie Hamilton returned to the lineup after being a healthy scratch the past two games.
Defensive pairings: Zdeno Chara-Dougie Hamilton,
Matt Bartkowski
-Dennis Seidenberg,
Torey Krug
-
Johnny Boychuk
CONNECTIONS:
Thomas isn't the only link between the Bruins and the Panthers. Seidenberg and Campbell both played for the Panthers. Florida assistant coach Craig Ramsay served as an assistant in Boston, while fellow Florida assistant
Gord Murphy
played parts of two seasons for the Bruins. Florida forwards
Brad Boyes
and Kris Versteeg also played for the Bruins.
September, 29, 2013
9/29/13
6:37
PM ET
BOSTON -- After completing the preseason exhibition schedule on Friday and then having Saturday off, the team returned to the practice ice Sunday to find the regular-season roster set.
The team sent forwards
Ryan Spooner
,
Matt Fraser
,
Matt Lindblad
and goaltender
Niklas Svedberg
to Providence of the AHL, and placed forward
Nick Johnson
on waivers.
[+] Enlarge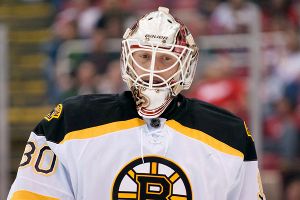 Tim Fuller/USA TODAY SportsGoaltender Chad Johnson beat out Niklas Svedberg to be Tuukka Rask's backup in Boston. "Im happy. Im excited. It was a tough camp," he said.
When the Bruins host the
Tampa Bay Lightning
in the season opener on Thursday night at TD Garden, Boston will have 13 forwards, eight defensemen and two goalies on the roster. Earning spots were forwards
Jordan Caron
,
Reilly Smith
and
Carl Soderberg
, defenseman
Kevan Miller
and backup goaltender
Chad Johnson
.
"This was my goal, obviously, coming into camp to be with this club," Johnson said. "I'm happy. I'm excited. It was a tough camp. Svedberg played great and had great camp, too. It was obviously a tough decision. We both played well. I'm happy I'm here. It was a tough camp, but it's kind of like the easy part is over because you've got to play well during the season. I'm excited for it and I'll focus on the day-to-day. It's a tough league. The best players are here and this is where I want to be."
Goaltender
Tuukka Rask
will see the bulk of the ice time and Johnson understands that. Meanwhile, Svedberg will split time between the pipes in Providence with prospect
Malcolm Subban
.
"Having good practices and playing those as they're games, play those situations like they're game situations," Johnson said. "[Rask] is going to play a lot and he's one of the best goalies in the league and he wins a lot of hockey games. I'll be ready, and when I do get those games I'll help this team win hockey games.
Coach Claude Julien doesn't have a set game schedule for his goaltenders. Julien normally decides it on a weekly basis, taking into consideration the amount of games, the travel schedule, and whether Rask needs a rest.
"Sometimes he looks like he's fresh and other times he may look tired and I'd rather make that decision then, than look too far ahead," Julien said. "And that's not to say that during that week I say, 'Well maybe we can use him for these games and we'll use the other goaltender for those ones.' I do those things but I don't necessarily stick to them as if it's carved in stone. So I like to make decisions based on what I see and feel and what I think is right."
Caron on a mission
It was evident a season ago that the Bruins were not happy with Caron's development path. The talented forward spent the majority of the season with the P-Bruins. When he returned to Boston after the P-Bruins' playoff run ended, Caron still couldn't crack the lineup when the Bruins needed reinforcements due to injuries.
[+] Enlarge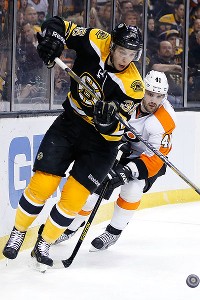 AP Photo/Michael DwyerJordan Caron, who spent the majority of last season in Providence, gets a fresh slate in Boston.
Caron admits he lost his confidence last season but believes it has returned, and still being on the roster helps.
"I know I can do it," he said. "I just need to go out there, play my game, be confident and good things will happen."
When he arrived at camp, he was noticeably more engaged and focused.
"The last couple of games I thought there was a little bit more urgency in his game, in doing the things we talked about," Julien said. "His whole camp was what we know about Jordan. He was reliable and doing the things he has to do. But we asked him to do a little bit more."
Caron worked on the penalty-killing unit. Offensively, he went to the net more and created more chances.
"That has to continue," Julien said. "He's 23 years old, he's still a young player, and he's a player that an organization doesn't want to give up on too early. So we feel as coaches that we can help him improve and we're going to work with him to make him improve in those areas."
High expectations for Smith
Reilly Smith also impressed during training camp.
From the start, he was working the wing on the third line with center
Chris Kelly
. As training camp numbers decreased, Julien decided Soderberg, Kelly and Smith could work as the team's third line.
Smith, who was one of the prospects the Bruins received from Dallas as part of the
Tyler Seguin
trade last summer, has 42 games of NHL experience with the Stars. The Bruins heavily scouted Dallas last season and were impressed with what they saw in Smith. The one thing Boston's management wanted to see from Smith was more tenacity and grit, and he's added that to his game with the Bruins.
As a result, the 22-year-old right wing earned a spot on the roster.
"It's a great feeling, obviously, to be a part of this group," Smith said. "But it doesn't stop here. I've got to keep doing the same thing that I was doing to make this team.
"Playing with Kells and Soderberg is great," added Smith. "There are two real good players and they help me a lot. It's a competitive atmosphere here, so I'm just happy to be a part of it."
After Bruins GM Peter Chiarelli rebuilt the team's roster last summer, the depth in the organization was evident. He knew there would be an influx of youth for the 2013-2014 season. What he and Julien witnessed during training camp was satisfying and the team is ready to drop on puck for real on Thursday.
September, 13, 2013
9/13/13
9:16
PM ET
BOSTON -- Bruins forward
Carl Soderberg
is competing for a roster spot during training camp and he's hoping the brief contributions he made last spring will help his cause.
He arrived at camp in great shape and wants to prove he can help the Bruins. After he signed with Boston late last season, and transferred to the NHL from the Swedish Elite League, Soderberg played only six regular-season and two playoff games. Now, getting a fresh start at camp, he believes it will help his chances at earning a roster spot.
"Of course it's pretty nice to be here at the beginning of training camp, but the 11 weeks I had here last season meant so much to me," Soderberg said. "I got to know the guys and the staff, the game in the NHL, too. I had a good workout summer and I came back in good shape."
When Bruins forward
Gregory Campbell
suffered a broken right leg in the Eastern Conference finals against the
Pittsburgh Penguins
, Bruins coach Claude Julien was forced to tweak his lineup. At first, he inserted
Kaspars Daugavins
into the lineup, but in Game 5 of the Stanley Cup finals against the
Chicago Blackhawks
, Soderberg made his NHL playoff debut.
"It was a great experience," he said. "I got to play games in the NHL and it means a lot to me. I'm new here but I don't feel that new."
A natural centerman, Soderberg can play the wing, too. Even though he's been working as a center in the first two days of camp, he'll play any position in order to stay in the lineup.
"It depends what [Julien] wants to do," Soderberg said. "I can play winger or I can play center, it doesn't matter."
Bruins newcomer
Loui Eriksson
played against Soderberg in the SEL.
"He's a pretty strong player. He's pretty big and he can use his size over here. He has a good shot and he's pretty dangerous," Eriksson said.
At the end of last season, Julien admitted he didn't see enough of Soderberg to give an honest evaluation, but he's been impressed in the early going of training camp.
"He's looking good," Julien said. "He's lost weight but he's also gained some muscle. He was already a strong player to start with. I think he's looking good. When you see him in those battle drills, he's pretty strong on the puck and we like that about him. He's got a good skill level, he can shoot the puck well and make plays so he'll get a great opportunity in those preseason games to showcase himself and show the improvement."
* Only two days into camp, newcomer
Jarome Iginla
already appears comfortable playing with
David Krejci
and
Milan Lucic
.
"I've enjoyed it the last couple of days getting to skate with them," Iginla said. "They are great players and have great chemistry together. I'd like to play with them and help them out. As far as building chemistry, it's just time together and getting used to tendencies."
Once the exhibition games begin, it will give the Bruins' top line a chance to showcase its complete skill and there's no reason not to think that trio will have a major impact this season.
* Julien isn't ready to single out any of the young players just yet as to which one has stood out in the first two days of camp. Both he and GM Peter Chiarelli told the group of prospects during rookie camp that there are a few roster spots available for the taking. When asked who has impressed him the most so far, Julien said he's pleased with what he's seeing from all of them.
"There's a lot of them. There's nobody that is kind of on his own but there are a lot of good players who are showing some good things here," Julien said. "I think those kind of answers to me get answered during those preseason games because you've got some players that, going out would look great in practice but get them in a game situation they're really good players. And then you get the opposite, guys that are fine in practice, look great and you think, 'Wow, I can't wait to see them in a game' and the game starts and he becomes invisible or nothing gets accomplished. So you get those kind of players so to me, I'm careful about assessing players before I see them in a real game or a game type situation."
One player who has been really impressive has been forward
Reilly Smith
. He was one of the three prospects acquired from the
Dallas Stars
as part of the
Tyler Seguin
trade.
"Getting traded was obviously mixed emotions," Smith said. "It pretty much came out of left field. I wasn't expecting it at all going into this summer to be traded. I found out on Twitter, actually, so that was kind of funny. But it's a big difference coming from Dallas to Boston. There are higher expectations here."
The first two days Smith has been on the line with
Chris Kelly
and
Jordan Caron
.
* Set your DVRs because the second episode of the new all-access "Behind the B" series will air on Oct. 1 at 8 p.m. on NESN.
July, 4, 2013
7/04/13
5:01
PM ET
So,
Boston Bruins
general manager Peter Chiarelli wasn't just sending a message to
Tyler Seguin
after all.
Instead, he sent the 21-year-old forward packing and shipped him to the
Dallas Stars
, along with forward
Rich Peverley
and defenseman Ryan Button, in exchange for forward
Loui Eriksson
and prospects Joe Morrow,
Reilly Smith
and
Matt Fraser
.
The blockbuster deal ends Seguin's subpar three-year career in Boston. He never really lived up to expectations while in a Bruins sweater, and now, his $5.75 million cap hit per season is off the books.

Seguin, the No. 2 overall pick in 2010, struggled to produce offensively on a consistent basis. In 203 regular-season games for the Bruins, he scored 56 goals and added 65 assists for 121 points. In 42 playoff games, he had six goals and 12 assists for 18 points.
He helped the Bruins win the Stanley Cup in 2011 with a big series against the
Tampa Bay Lightning
in the Eastern Conference finals. This spring, though, he struggled and had only one goal and seven assists in 22 games as the Bruins lost to the
Chicago Blackhawks
in the finals.
Seguin had a hard time using his speed to his advantage, and opponents controlled him by keeping him to the perimeter, which made his shot useless.
The Bruins are moving him while he's young and relatively healthy, and Chiarelli was able to get a good deal in return.
Chiarelli criticized Seguin last weekend at the NHL draft, saying the forward needed to become a better pro. Bruins assistant captain
Patrice Bergeron
had his former linemate's back, but understood what the GM meant.
"I think Tyler's a young guy still and he's got a lot to learn," Bergeron said. "At the same time, he's improved a lot. At that stage, when you're learning like that, that's going to happen, you need to make sure you learn from it and find a way to get better. That's the main thing with him, it's about him finding ways to battle through it, find ways and build some character out of it. He's a terrific player, a terrific person, but sometimes you need to have some lows to get back up and feel better and play better.
"I thought he was really good the way he helped us. He found a way even though he wasn't scoring as much as he would like to. He was still battling hard and doing things, the little details that you don't always see on the score sheet, but it wasn't going unnoticed from us as players and teammates. He's a terrific young player, so he's going to learn."
As for the other players in the deal:
Eriksson, 27, is a solid left winger and posted 12 goals and 17 assists for 29 points in 48 games for the Stars this season.
Smith, 22, can play either wing and posted three goals and six assists for nine points in 37 games.
Morrow, 20, is a solid, puck-moving defenseman and spent this past season at the AHL level.
Fraser, 20, is a left winger and spent the majority of the season in the AHL, but did play in 12 games for Dallas.