November, 25, 2013
11/25/13
1:39
PM ET
BOSTON -- There's an image from Game 1 of the Eastern Conference finals this past June when Bruins captain
Zdeno Chara
was leaning over and yelling in the face of
Pittsburgh Penguins
captain
Sidney Crosby
.
Their tussle at center ice followed a fight between the Bruins'
Patrice Bergeron
and the Penguins'
Evgeni Malkin
at the end of the first period. Boston won that game and eventually swept the Penguins in that series as Crosby did not register a point.
[+] Enlarge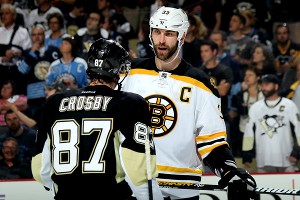 Bruce Bennett/Getty ImagesSidney Crosby and Zdeno Chara exchange words during Game 1 of last season's Easter Conference finals.
After the series, Pittsburgh wanted it known that Chara punched Crosby in his surgically repaired jaw and released footage of the incident.
Crosby had missed the final 12 games of the regular season and the first game of the quarterfinals with a broken jaw. He also played with a cage in the first two rounds but removed it for the conference finals against the Bruins.
The Penguins and Bruins have already played this season with Pittsburgh beating Boston 3-2 on Oct. 30 at Pittsburgh. The teams will face off again Monday night at TD Garden.
Following the Penguins' morning skate, Crosby revisited that emotional series and his run-in with Chara.
"He punched me in the jaw and I obviously wasn't happy with that and said something," Crosby said. "But after that it was done. I don't really say much to him. He's a guy who competes, wants to shut me down and I respect that. I like to play hard and so does he. It's two guys who want to do the best for their team and it gets heated out there sometimes. It's just the way it goes. I don't look at him any differently than I would any other guy I'm going up against."
It's no secret that almost every time Crosby is on the ice against the Bruins, Chara will be, too. He's done a solid job of shutting Crosby down, especially in the conference finals.
"There's always challenges," Crosby said of playing against Chara. "Those little games within the game, I guess, he's a big guy and you're definitely aware when he's out there, you're not going to miss him. He's one of those guys who looks forward to those challenges, gets up for those and wants to shut you down. You have to find ways to create, and the thing with him, his reach is so long there are times when you feel like on a normal-sized defenseman you'd have him beat, then he gets a stick on it. You've just got to be patient. There are times when you feel like you've got a step on him, but he finds a way to get a stick on it."
June, 8, 2013
6/08/13
1:56
AM ET
BOSTON -- They had all the markings of greatness, but in the end the
Pittsburgh Penguins
were revealed as being something far, far less.
In less than a week, the star-studded Penguins were shown a great lesson about greatness, about will, about discipline and, ultimately, about moving on by the
Boston Bruins
.
As the time wound down in Boston's 1-0 victory in Game 4 on Friday night, the Penguins must have, to a man, wondered how it all went so bad so quickly.
Four games, two goals, zero power play-goals, zero leads.
There is, quite simply, no other way to describe that output other than shocking.
"I share your disbelief [that] that's a possible storyline in this series," Pittsburgh coach
Dan Bylsma
said. "You know, at times -- even going down to maybe the last play at net by [Evgeni] Malkin, when he had the empty net -- it felt like something was keeping the puck out of the net.
"It certainly wasn't lack of opportunity or scoring chances or situations for our team, for our players, for our power play. We did have them. And at the end it felt like not only
Tuukka Rask
was keeping the puck out of the net, but there was a force around the net, because we had some great opportunities, good situations for our team, our players, and were not able to find any kind of goal in this series, and never a lead."
In the Penguins locker room, Malkin, a man who had 10 shots in Game 3's double-overtime loss but had just one shot in Game 4, sat hunched over as reporters crowded around captain
Sidney Crosby
and then
James Neal
.
Across the way,
Pascal Dupuis
, the last player to shed his gear, sat head down, eyes red with emotion.
This was a team that was built to win these kinds of games, to win this kind of series.
The Penguins added key personnel at the trade deadline in the form of
Brenden Morrow
and
Jarome Iginla
, who eschewed a trade to Boston to come to the Penguins, along with
Douglas Murray
and
Jussi Jokinen
.
Those players were added to help propel the Penguins through these kinds of moments. Instead, they conspired to somehow make the team slower, less fluid.
Iginla especially struggled in the Eastern Conference finals. He won few puck battles, contributed little on the power play and was finally shuffled down through the lineup.
"Obviously, we're a very good team, too," Iginla said. "We went cold at the wrong time, as far as going in. I had a very tough series, there's no question about that. Those close games, we believed we were going to find a way to win those close games, and we didn't and they did and they're moving on. They played great hockey."
Ultimately, that
Adam McQuaid
's rocket that would be the decisive goal in Game 4 would tick off Iginla's stick would speak volumes about the wildly different paths these two teams had taken in this oh-so-brief series.
Six different Bruins scored in this series, and
David Krejci
outscored the entire Penguin roster with four goals.
And while neither team managed to score a single power-play goal in the series, combining to go 0-for-28, the Bruins were able to rise above it because they got just enough timely scoring, just enough timely saves from Rask, just a little bit more from their lineup.
"This series here against Pittsburgh was not a 4-0 series," Boston coach Claude Julien said. "I really felt that the breaks went our way in this series on a lot of occasions. You just have to look back right at the end of the game, where Malkin has the open net and Zdeno [Chara] makes the arm save. They dinged some shots off the post. If those go in, it's a different series.
"That's the unfortunate part of this game, you know, sometimes as a team, you don't get the breaks and you wonder what you have to do. I think that's where Pittsburgh was a little snakebitten that way, and we were the team that was taking advantage of our breaks.
"That's not to say we didn't play well, because when you allow two goals to a team like that in four games, your team certainly deserves some credit. I think defensively our guys did a great job against their top players of taking away time and space."
In the end, the Bruins probably won't get the credit they're due in defusing the Penguins lineup, as the focus will be on the act of failing as opposed to the act of succeeding. When you look at the Penguins lineup and how little it generated, it is human nature to dwell on the negative.
The team's star players -- Crosby, Malkin, Letang, Neal -- considered the best in the world at what they do, combined for zero points.
How does that happen?
In the Penguins dressing room, a mixture of stunned surprise and regret hung in the air.
"You know what? There weren't times where we were worried, to be honest with you," offered captain Crosby. "Where we felt like we were losing momentum. There's times where you get three, four shifts where they're hemming you in and you feel like they've got a lot of pressure. There wasn't really any point besides that second game where we felt like that.
"If you look back and chances are there, I mean, you try to fight, you try to get through to the net and get rebounds, and sometimes they come to you and sometimes they don't. Obviously, you score two goals as a team in four games, and personally to go without any points, it doesn't sit very well."
Neal finished the second round against Ottawa with a flourish, scoring five times and adding two assists in the last two games. In Game 4 against the Bruins, he had five shots and a number of solid chances but could not produce that one moment that might have changed the course of this series.
"Obviously, very disappointing," Neal said. "You know I look to score goals, like to score goals to help the team win, and the chances were there. I had some great shots, some great looks, but couldn't find the back of the net, and their goalie came up big and a few unlucky bounces where the puck's rolling a bit, but, I mean, no excuses. I've got to score and help the team win.
"It's a tough feeling right now because you feel like you didn't do anything when you go out four games like that."
If there is soul-searching within the dressing room, in the coming days there likely will be soul-searching in the boardrooms of the Penguins.
While the Bruins will rest and contemplate whether they will face the
Los Angeles Kings
or
Chicago Blackhawks
in their second trip to the Stanley Cup finals in three years, the Penguins will contemplate what went wrong and how best to fix it.
There seems little doubt general manager Ray Shero will move netminder
Marc-Andre Fleury
, who was pulled after Game 4 of the opening round and didn't start another game (although he did come on in relief in Game 3 of the conference finals, a 6-1 loss to the Bruins).
There will be decisions on Letang, who can become an unrestricted free agent at the end of next season and as a Norris Trophy nominee will command top dollar and a significant term. But Letang was spotty during the playoffs and, while better in Game 4, struggled mightily against the Bruins' forecheck in the first three games, forcing passes, committing turnovers and generally looking very un-Norris-like.
If Shero doesn't think he can bring Letang under contract, he will likely explore moving him before next season.
"If we would have lost in seven, it's the same result, we don't move on. We want to move on," Letang said.
"Every year when we look at our dressing room, we think we have a chance. I think if we don't reach the final, it's a fail for us."
Most of the discussion, though, will be on Bylsma's future. Since winning the Stanley Cup in 2009 after replacing Michel Therrien midseason, the Pens have beaten the
Ottawa Senators
twice and the
New York Islanders
once in the postseason.
Is that enough?
Is being among the final four this year enough for Shero to give Bylsma another shot at taking this team back to glory?
What is the measure of success for a coach and, more specifically, a coach who has such a wealth of options set before him, as has been the case in Pittsburgh?
Certainly Bylsma did not shy away from discussing the considerable expectations both internally and externally that his team failed to meet.
"Our team is a team that considers itself a team capable of winning a Stanley Cup, put together to win a Stanley Cup. That's our expectation from day one. That's how we build through the season. We certainly feel that we were a team that was capable of winning a Stanley Cup," Bylsma said. "So, you know, coming up short from that, no question, it's disappointing. No question, you feel like with the expectations that we have on ourselves, that the team has for this group, no question you're going to look at this as a missed opportunity."
June, 6, 2013
6/06/13
2:28
AM ET
BOSTON -- There is nowhere quite like the dressing room of a team that has gone down 3-0 in a best-of-seven playoff series.
There is especially nothing like the dressing room of a team that has lost an epic double-overtime battle like the one the
Pittsburgh Penguins
lost by a 2-1 count in the early-morning hours of Thursday to fall behind the
Boston Bruins
3-0 in their Eastern Conference finals.
A dressing room like this is a gloomy place, balanced somewhere between the dead and living.
With any realistic chance of getting back in this series hanging in the balance, the Penguins rebounded after two home losses, the last a 6-1 shellacking in Game 2, to produce a dramatically different effort in Game 3.
Even when they gave up a goal on the first shot of the game when
David Krejci
's shot caromed off Pittsburgh defenseman
Matt Niskanen
's stick and past netminder
Tomas Vokoun
, the Penguins did as they promised.
They stayed patient.
They forechecked with a purpose.
They created chances from a strong defensive position.
And as time went on and the Bruins could not crack the Penguins as they had in the first two games, something special began to unfold.
Starting in the second period, the kind of series most had imagined when these two deep, experience, talented teams faced off in Game 1 emerged.
It's easy to toss out terms such as "classic" or "titanic," but as this game moved through Wednesday evening and into Thursday, it was hard not to think of it anything but those terms.
It was part the relentless to-and-fro nature of the action and part what was at stake, the reality of what the outcome meant to both teams.
The Bruins did not nurse the lead but forced Vokoun, named the starter after being yanked after allowing three first-period goals in Game 2, into making key saves to keep his team in the game.
But the Penguins began to carry the balance of the play. They earned three second-period power plays and finally tied it midway through the period on an even-strength
Chris Kunitz
goal.
That it came off a face-off, another element the Penguins had been miserable at in the first two games, was further illustration that the Penguins had brought something different to the table.
Back and forth this game went, each missed chance for the Penguins a missed chance at a new lease on their playoff lives.
Each missed Bruin chance was a missed chance at pushing the Penguins to the edge of the abyss.
Each post rattled was a mournful lament at what might have been.
Crosby hit one on a blind backhand as
Tuukka Rask
scrambled across the crease in the third.
Nathan Horton
hit one in the first overtime.
The Penguins were given a power play in the first overtime when
Chris Kelly
was whistled for tripping and then the Bruins got a chance when
Brooks Orpik
high-sticked
Brad Marchand
.
Late in the first overtime,
Evgeni Malkin
flipped the puck over the glass for a delay-of-game penalty and still the Bruins could not finish it. Early in the second overtime, the Penguins got a second chance when the Bruins were called for too many men for the second time in the game.
In all, the teams combined to go a shocking 0-for-11 with the man advantage and each time those opportunities ticked away on the giant score clock hanging over center ice, it was greeted with equal parts sigh of relief from one side and rueful grimace on the other.
Rask would not yield, in the end stopping 53 of 54 shots.
Vokoun matched him virtually stop for stop, allowing just the first-shot deflection and then, in the end, the final shot of the night, the Bruins' 40th.
It came with 4:41 left in the second overtime. After
Deryk Engelland
could not clear the puck through the neutral zone and Evgeni Malkin was knocked off the puck by a rejuvenated
Jaromir Jagr
, the Bruins' resident hero
Patrice Bergeron
redirected a Marchand pass past Vokoun and abruptly, as all overtime games end, it was over.
It was Bergeron who tied Game 7 of the Bruins' opening-round series against the
Toronto Maple Leafs
in the final minute after the Bruins had been down 4-1 and then went on to score the overtime winner.
The Bruins have been so steady, so near perfect since then in going 7-1 in in beating the
New York Rangers
in five and now three straight against the Penguins, that it's hard to recall they were that close to being one round and done.
Now they are one win from sweeping the Eastern Conference's best regular-season team and a team built to succeed in the postseason.
"I think it's a little bit of everything," a weary Bergeron said after reinforcing his status as one of the game's clutch players. "It's also mental. You've got to stay sharp and find a way, but I think it's all in your head. As long as you don't feel tired in your head, your legs are fine. But you're right, your body is cramping up and you've just got to find a way, just keep battling, because I think everyone is in the same situation."
Well, everyone was in the same position until that final moment, the denouement.
From the moment Bergeron's shot found the corner of the net, it was as though a great chasm opened between the two teams that had battled in such close quarters throughout the evening.
In the Boston dressing room, relief and cautious talk about not looking too far ahead, taking nothing for granted.
"That's a game that could go either way," Boston defenseman
Andrew Ference
said. "It's overtime. Double overtime. There's posts, there's big saves. That's the type of game you clash and you bang heads.
"Win or lose, you come out and you say, 'You know what? We gave it our hardest.' So, like I said, we're obviously happy to come out on the right side of it but I don't think anybody is kidding themselves. You know that it can go either way in a game like that."
But it didn't go either way. It went their way. And, oh, isn't that a world away from what might have been for the Penguins?
In that room, hushed and humid, the familiar predictable words of hope and defiance were emitted but history and, perhaps more important, reality serves to crush the words like dry leaves the moment they are spoken.
"It was obviously a large improvement from the first two games," Orpik said.
Then he paused, and you wondered if it was from the tremendous hit he took from
Milan Lucic
that left him stunned during the second overtime or just the reality of the situation.
"We're here for results, so there's no real moral victories at this point in the season," Orpik said.
Crosby echoed those sentiments, saying this game looked so much better because the Penguins were so much better than in Game 2. But that, in the end, meant nothing.
"Did a lot better job tonight but that doesn't guarantee anything," Crosby said. "So, we do a lot of these same things and I think we all trust and believe we can get this back to Pittsburgh."
Crosby was one of many Penguins who had a terrific bounce-back effort in Game 3 after two miserable outings in Pittsburgh. He went 21-17 on draws and won the one that led to the Pens' only goal.
Evgeni Malkin was a beast and led all players with 10 shots.
James Neal
had seven shots and was a different player. His pass to
Craig Adams
in the second overtime nearly sent the game and the series onto a different path.
But it didn't.
They could not, with all their star power and determination, find that second goal that would have changed everything.
"It's obviously frustrating but at the same time it's a positive, too," Neal offered, still sitting in his stall with most of his gear on. "We did a lot of good things and stuck with it throughout the whole game.
"We think we deserved a little better tonight but that's what playoffs are. One bounce can go either way. They got that there. So, obviously, tough to come back from three (games down), you know. We're going to start with one period and one game because there's no give-up in this room."
June, 4, 2013
6/04/13
8:51
AM ET
This was too priceless not to pass along. Our Bruins reporter, on a flight from Pittsburgh to Boston, relayed this observation:
Baby crying on flight. Pilot comes on and asks if it's Sidney Crosby.

— Joe McDonald (@ESPNJoeyMac) June 4, 2013
The Penguins star Crosby has been held pointless through the first two games of the Eastern Conference finals. It's the first time this season he has had been held without a point in consecutive games.
June, 3, 2013
6/03/13
1:54
PM ET
PITTSBURGH -- It's hard to imagine
Sidney Crosby
being a wide-eyed, starstruck teenager, but that was exactly the case back in 2005 when the 17-year-old was selected to Canada's junior national team for what was one of the greatest World Junior Championships.
During the NHL lockout that scuttled the 2004-05 season, the junior tournament was chockablock with top-end talent, talent that would go on to have a significant impact on the NHL in later years.
Crosby, of course, was already garnered significant media attention as one of the greatest young prospects in the hockey world. At the tournament held in Grand Forks, N.D., Canadian officials paired him with
Patrice Bergeron
in an effort to help him through the high-profile tournament.
Bergeron at the time was a man among boys. He had already played a full NHL season and Crosby was soaking up as much information as possible from the soft-spoken Bergeron.
"What was he, 19 that year? And I was 17. And I just remember probably talking his ear off just trying to ask him every single question," Crosby told ESPN.com. "Not to necessarily learn but I was just so eager to find out what it was like in the NHL.
"I wasn't really taking notes, it was just exciting hanging with an NHL player."
Bergeron was patient with Crosby taking him under his wing off the ice while playing on the same line on the ice.
"That team was awesome, but he was really good for us and I remember how good he was to me," Crosby said. "I was probably pretty annoying, junior kid didn't have any clue what it was like, asking him all kinds of questions. But he was great to me."
It must have been a memorable time for Bergeron, too, as he asked Crosby for a signed stick at the end of the tournament.
"We're friends, but we don't talk that much," Bergeron said. "We obviously played together on Team Canada and we established a friendship there. We text each other once in a while; he's a great guy, great player, but I haven't spoken with him in a long time."
The two have remained relatively close over the years and were teammates once again in Vancouver when Canada won a gold medal in the 2010 Olympics, with Crosby scoring the overtime winner against the United States in the gold-medal game.
They have a shared history, too, in terms of overcoming career-threatening head injuries.
"He's a guy that I talked to going through all the concussion stuff," Crosby said. "I remember when Boston won [the Stanley Cup in 2011], not that you're ever necessarily cheering for another team, but ... that was pretty positive to see him bounce back the way he did."
The two, of course, are now intersecting in a completely different way, playing against each other for the first time in the playoffs.
Given Bergeron's status as one of the game's best two-way players (he won the Frank J. Selke Trophy in 2012), the expectation is he will be facing off literally and figuratively against Crosby throughout these Eastern Conference finals.
"He's a special player and you need to be aware every time he's on the ice and it's a good challenge," Bergeron said. "He's probably the best player in the world, and every time you're on the ice against him, you have your hands full.
"I wouldn't say I know how to play against him because he's always getting better, he's always trying to improve, and I'm trying to do the same things."
Crosby said it's not uncommon for players to acknowledge guys they know away from the rink, although he and Bergeron did not have that kind of conversation in Game 1, which was won 3-0 by the Bruins.
"It didn't happen last game but it's not uncommon at all, I think any guy will tell you if they've played with a guy or know him personally, it's not uncommon to say hi out there," Crosby said.
Although he struggled in the faceoff circle, winning just six of 17 draws, don't look for Crosby to start chatting up his old friend in an effort to gain an edge.
"I don't typically talk to other centermen to get them off their game or anything like that, so probably not going to try with him. I think you put all your focus towards winning the faceoff, not really the social aspect," the Penguins' captain said.
"I've obviously played with him and know how great of a guy he is and know how hard he works. So, yeah, I would say I have a lot of respect for him and know that I'll be seeing a lot of him here in the next couple of weeks."
June, 2, 2013
6/02/13
12:56
AM ET
PITTSBURGH -- It was probably the moment when
Evgeni Malkin
and
Patrice Bergeron
, he of the one career NHL fight, decided to drop the gloves and start whaling on each other at center ice that illustrated how very quickly this Eastern Conference finals had gone off the charts emotionally. And while Malkin, a former Hart Trophy winner, scoring champ and playoff MVP, might have won a unanimous decision in his rare bout with the Boston center, it was the Bruins who scored the Game 1 knockout by blanking the Penguins by a 3-0 count.
The game, a curious affair filled with borderline and over-the-line plays, including a hitting-from-behind call against the polarizing
Matt Cooke
, put us immediately in mind of last year's first-round series between Pittsburgh and Philadelphia: a wacky, out-of-kilter series that featured at one point simultaneous fights between
Claude Giroux
and
Sidney Crosby
and
Kris Letang
and
Kimmo Timonen
.
Given how the Philadelphia-Pittsburgh series of April 2012 turned out, with the Flyers getting the Penguins completely off their game and walking away with a six-game victory -- including victories in the first two games in Pittsburgh -- you have to figure Saturday's emotionally charged affair was exactly what the Bruins were looking for to begin the conference finals.
"I don't think the situation at the end of the second period was in our favor," Pittsburgh head coach
Dan Bylsma
said of the Malkin fight and an extended jawing session between the two captains, Boston's
Zdeno Chara
towering over his counterpart Sidney Crosby while exchanging pleasantries near where the fight was taking place.
Although the Penguins trailed just 1-0 at that point, Bylsma pointed to that moment as the one where Game 1 got away from the Penguins and conversely when the Bruins seized control.
The Penguins were on a power play at the end of the second period that would carry into the third, thanks to another potentially dangerous play by
Brad Marchand
, who was called for boarding after hitting
James Neal
from behind near the Pittsburgh bench.
But with the Penguins missing power play mainstay Malkin, off for fighting, as well as
Chris Kunitz
, who was sent off late in the second with
Rich Peverley
for another dustup, the Bruins continued their strong penalty kill, and shortly after the Penguins' power play ended scored their second goal to suck the life out of the Penguins.
"It did get us off our game," Bylsma acknowledged.
Defenseman
Brooks Orpik
suggested the Bruins are the team better suited for those kinds of extracurricular activities and that it did seem to change the course of the game.
"After that, it seemed like they were a lot better," he said.
The Bruins, of course, saw that defining moment through a different prism.
"That sums up this time of year," Boston defenseman
Andrew Ference
said. "Two of the top guys on each team are raising the stakes and will do anything to either fire up the team, to swing momentum, to establish what this series is going to be all about. It's impressive to see guys like that do that dirty work. It's raw emotion and it's good."
Ference returned to the lineup after missing seven games with an injury and added an assist on the Bruins' first goal, a
David Krejci
blast that nicked off the skate of Pittsburgh defenseman
Paul Martin
and squeezed through netminder Tomas Vokoun's pads.
Bruins coach Claude Julien gave the matter little thought, which is most often how these incidents are viewed from the winning side.
"I didn't see everything happen except that there was a fight. I saw Sidney [Crosby] push our goaltender as he's skating off," Julien said.
"This is playoff hockey. Those things are going to happen. You don't whine or complain about it, you just deal with it. What we had to deal with tonight was winning a hockey game. That's all that mattered."
Nine times in their first 11 postseason games, the Penguins scored four or more goals. They did so with a relentless forecheck and at times uncontainable skill. In the latter stages of the
New York Islanders
series and for long stretches against Ottawa in the second round, the Penguins dictated pace, imposing their will upon the game.
One wondered then how the Bruins would or could contain that kind of offensive might, how they might grab the tiller themselves.
As it turned out, they did it by winning the patience game and goading the Penguins into a kind of emotional space they are far better to avoid.
"It's tough. They're letting a lot go out there. The more and more it gets like that, the more it's going to escalate," said Crosby, who was whistled for two minor penalties.
"Keep letting guys do that stuff, they're just going to push the envelope," he added. "That's something we obviously want to stay away from but it's kind of a natural thing when it gets like that."
You never know at the start of a series how the two elements are going to mix.
These two teams have little in the way of relevant history and yet the heightened tension, the short tempers, the borderline and across-the-line hits and post-whistle scrums suggested teams that have had a long-simmering feud that quickly boiled over onto the brightly lit ice.
While there were obvious signs of rust -- to be anticipated when the league inexplicably delayed the start of the series until Saturday evening, giving the two teams a week off from playoff action -- there was no rust in the emotion department.
That the emotion turned ugly and thus prompted more bad blood was, if not inevitable, then at least not unexpected.
Cooke crunched
Adam McQuaid
from behind into the end boards and earned a five-minute major and a game misconduct for hitting from behind before the second period was two minutes old.
Although Julien said during an in-game interview he believed McQuaid might have put himself in a vulnerable position, it doesn't absolve Cooke, of all people, from understanding what is a borderline hit.
That Marchand was whistled for a potentially dangerous hit from behind on Neal but received only a two-minute minor enraged the sold-out CONSOL Energy Center crowd, although the hit had much less velocity than the one administered by Cooke.
Although the penalties had little bearing on the outcome of the game -- the two teams combined to go 0-for-8 with the man advantage, including a three-minute power play the Bruins enjoyed after the Cooke major -- they were certainly part of the emotional tapestry of the evening.
"As far as the emotion, I don't know, it definitely wasn't what we had in the Ottawa series but after what happened at the end of the second there, maybe it'll ramp up," Orpik suggested.
If that's the case, hang onto your hats for Game 2 on Monday.
June, 1, 2013
6/01/13
2:30
PM ET
PITTSBURGH -- There are many storylines to examine in the Bruins-Penguins series, so it was no surprise when a reporter asked
Boston Bruins
defenseman
Andrew Ference
about his fight with Penguins superstar
Sidney Crosby
.
On Dec. 20, 2007, the two dropped the gloves at TD Garden and it was a spirited exchange. In fact, it was Crosby's first NHL fight.
"It was a nice, good, short fight and probably ended up good for me that nothing [happened]. He's a competitive player and most competitive players in the league end up in a couple of dust-ups," Ference said Saturday after the team's morning skate at Consol Energy Center.
Crosby registered a Gordie Howe hat trick that game, posting a fight, a goal and two assists.
"Trivial Pursuit question, that's about it for me. I'm still waiting for a signed picture," Ference said.
May, 27, 2013
5/27/13
9:00
AM ET
In the video above, Barry Melrose takes an early look at the upcoming Eastern Conference finals between the Bruins and the Penguins. One matchup to watch is
Zdeno Chara
("the best defensive defenseman in the world," according the Melrose) vs.
Sidney Crosby
("the best forward in the world").
April, 25, 2013
4/25/13
1:29
PM ET
There's no other way to put it: The Northeast Division is a train wreck with the playoffs just around the corner.
That may end up meaning nothing once the second season begins, but I doubt the way the
Boston Bruins
,
Montreal Canadiens
,
Toronto Maple Leafs
and
Ottawa Senators
have played of late comforts any of their fans as the postseason approaches.
The Bruins host the
Tampa Bay Lightning
on Thursday night having dropped five of their past six games, unwilling to cement a division title the Habs have tried to hand them on a silver platter. Bruins coach Claude Julien was incensed after the team's road loss to the
Philadelphia Flyers
on Tuesday night, saying among other things in a terse dressing down of his team: "We're running out of time to get this stuff going."
The Bruins should be able to beat a tired Tampa team Thursday night (the Lightning played at home Wednesday night) before visiting the
Washington Capitals
on Saturday, then closing out their season Sunday night at home against the Senators. Odds are the B's should win the beleaguered division, with the emphasis on
should
as a word that doesn't imply certainty.
The Canadiens? Mercy, they've fallen apart worse than any other club in the division -- and not just because, like Boston, they've lost five of their past six games. Rather, it's the manner in which they've lost: clobbered in most of those games and looking nothing like the juggernaut that surprised everyone this season. The team's defensive coverage has been porous and star netminder
Carey Price
has looked downright shaky.
Having said all that, I think the Canadiens finally showed some promise in the final 30 minutes against the
New Jersey Devils
on Tuesday, and perhaps that's what they build on heading into Thursday night's road game against the
Winnipeg Jets
. Maybe.
Otherwise, if Montreal loses again Thursday and the Maple Leafs beat the
Florida Panthers
, the Habs could lose home-ice advantage in the first round if Toronto beats them in regulation in Saturday night's season finale (the Leafs own the tiebreaker on the Canadiens).
Of course, the fact that the Leafs could end up with the fourth seed (and possibly the division title) would also have to suggest they have a clue right now. They've been outshot a whopping 183-114 over their past five games. They've won two of those five, but even in those wins, they were outshot 32-13 by New Jersey and 50-22 by the Senators.
On Wednesday night, with a golden chance to cut the gap to two points on both idle Boston and Montreal, the Leafs fell 5-2 in Tampa against a Lightning team that sits 14th in the Eastern Conference.
Combined with losses to the
New York Islanders
and Capitals last week, Toronto is mired in a mediocre stretch that mirrors that of the Habs and Bruins.
"There's things we have to shore up for sure," Leafs blueliner
Cody Franson
told TSN.ca on Wednesday night after the game in Tampa. "The last thing we're going to do is just hit the panic button over it. We know the mistakes we're making, and it's just a matter of paying attention and shoring them up."
A win in South Florida on Thursday night against the last-place Panthers would make a lot of people in Leaf Nation breathe a little easier. But just a bit.
And finally, what of the Senators?
A five-game losing streak earlier this month had people thinking perhaps the injury-riddled club had finally hit a wall. But four straight wins again made believers out of Sens fans. Then came a demoralizing home loss to the hated Leafs on Saturday, followed by another home loss to a
Pittsburgh Penguins
team missing
Sidney Crosby
and
Evgeni Malkin
, a game Senators players said was one of their most uninspired efforts in a while.
All of which has left the Sens just one point ahead of ninth-place Winnipeg, although with Ottawa having two more games to play than the Jets -- who wrap up their regular season Thursday night -- you have to think the Sens will get in without a problem.
Perhaps the game-changer Ottawa has been waiting for will arrive in the form of
Erik Karlsson
. The reigning Norris Trophy winner is on the verge of returning from what was supposed to have been a season-ending Achilles injury, taking a regular shift at practice Wednesday alongside normal partner
Marc Methot
, which had people in Canada's capital buzzing. Word is Karlsson and the Senators will decide after the morning skate Thursday in Washington whether it's a go that night or if he'll wait for Saturday's game against the Flyers.
The Sens will take any boost they can get, that's for sure.
Frankly, so would any playoff-bound team in the Northeast. It's ugly right now in this grouping. Somebody show the way!
January, 10, 2011
1/10/11
10:52
PM ET
The
Boston Bruins
produced one of their more emotional victories of the season Monday night when they erased a two-goal deficit late in the game and finished with a 4-2 win over the
Pittsburgh Penguins
at CONSOL Energy Center.
Trailing 2-0 in the third period, the Bruins'
Zdeno Chara
scored a power-play goal at 16:37 before teammate
Brad Marchand
netted the game-tying tally 12 seconds later. The Bruins netted another power-play goal, which proved to be the winner when
Mark Recchi
scored at 19:10.
Gregory Campbell
provided an empty-net goal.
The Penguins were without
Sidney Crosby
, who missed his third consecutive game because of a mild concussion.
Bruins goalie
Tuukka Rask
made 23 saves to earn the victory.
LIFE ON THE POWER PLAY:
The Bruins entered the game 0 for their last 13 on the man-advantage, so facing the NHL's top penalty-killing unit didn't seem fair for Boston. But the Bruins were able to control the point on the man-advantage and it finally paid off when Chara's slap shot knuckled past Penguins goalie
Marc-Andre Fleury
at 16:37.
Boston's game-winner also came on the power play. Defenseman
Dennis Seidenberg
did a tremendous job showing patience with the puck, moving it to
Michael Ryder
, who took the shot. Recchi, camped out in front, did the dirty work and pumped it in.
[+] Enlarge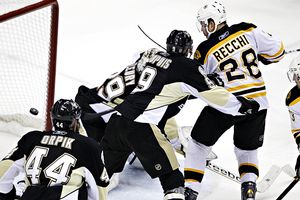 AP Photo/Gene J. PuskarOn a night he drew an uncharacteristic unsportsmanlike penalty, Mark Recchi also scored the winning goals with 49.2 seconds to play.
REX IS A MONSTER:
It was an emotional night for Recchi. The former Penguin was called for a hooking penalty in the second period while on the back check, and as he was heading to the box, he was jawing at the referee, who handed him another two minutes for unsportsmanlike conduct. That is unusual for the future Hall of Famer, but he made up for it with his winning goal with 49.2 seconds remaining in regulation. It was Recchi's 1,612th NHL game, tying him with
Ray Bourque
for eighth on the all-time list.
TANDEM IN ACTION:
With the Bruins in the midst of a tough schedule, look for coach Claude Julien to start using both Rask and
Tim Thomas
as an equal tandem. Rask was given the nod against the Penguins and played well. The Penguins got on the board with a bad goal, one Rask should have stopped, but when Pittsburgh took a 2-0 lead late in the second period, Boston's goaltender had no chance as he was screened on a power-play goal. Other than those two goals, Rask kept the Bruins within striking distance and his teammates finally rewarded him with a come-from-behind victory.
Meanwhile, Penguins netminder Fleury appeared unbeatable until the Bruins finally broke through with a power-play goal at 16:37 of the third period. It took the Bruins only 12 more seconds to tie the game at 2-2.
HOMETOWN HERO:
It must have been a dream come true for Bruins rookie Matt Bartkowski, who made his NHL debut Monday night in his hometown of Pittsburgh. The 22-year-old defenseman was recalled Sunday on an emergency basis from the Providence Bruins of the AHL. He was paired with veteran
Andrew Ference
on Boston's blue line. Bartkowski posted four goals and eight assists for 12 points in 34 games for the P-Bruins this season. The
Florida Panthers
selected Bartkowski as a fifth-round pick (190th overall) in the 2008 draft. The Bruins acquired him, along with defenseman Dennis Seidenberg, from the Panthers in exchange for
Byron Bitz
and
Craig Weller
on March 3, 2010.
UP NEXT:
The Bruins get right back at it Tuesday night when they host the
Ottawa Senators
at 7. Boston then hosts the
Philadelphia Flyers
on Thursday before getting another shot at the Penguins at home on Saturday. It's a busy and important week for the Bruins.
January, 10, 2011
1/10/11
12:12
PM ET
The
Boston Bruins
continued their inconsistent play over the weekend, but they'll have a chance to rebound when they face the
Pittsburgh Penguins
tonight at the CONSOL Energy Center.
The Bruins played well for 40 minutes against the Canadiens on Saturday night in Montreal, but they surrendered a two-goal lead in the final period and eventually lost to the Canadiens 3-2 in overtime. Sure, Boston gained a point but it should have earned two against Montreal.
"It was important for us to win that game [Saturday] night and it stings more than anything else," Bruins coach Claude Julien told bostonbruins.com following Sunday's practice. "There's a big rivalry there and that rivalry has been existing for quite awhile. That game, to me, was extremely important, and to the players, as well. The way we lost it was real disappointing."
Prior to Sunday's practice in Pittsburgh, the Bruins watched extensive video as Julien addressed some concerns with the players. The coach wanted to make sure he clarified a few things in preparation for the Penguins Monday night in Pittsburgh.
"We need to move on and focus on [the Penguins]," Julien said. "We can't carry that load with us and it's important to bounce back."
The Penguins have won three of the past four home games against the Bruins, and most of those games have been high-scoring contests. Fortunately for the Bruins, Pittsburgh will be without
Sidney Crosby
, who has missed the last two games with a mild concussion. The Penguins still have a 21-12-8 record all-time when Crosby is out of the lineup.
A few Bruins players missed Sunday's practice due to the normal bumps and bruises players experience this time of the season, but forward
Nathan Horton
, who missed Saturday's game with an undisclosed injury, is still listed day to day. There's a chance he could return against the Penguins.
"I wouldn't write him off," Julien told bostonbruins.com. "Hopefully we'll get some good news here soon."
A few Bruins players will reach milestones tonight, including
Marc Savard
,
Mark Recchi
and Matt Bartkowski. Savard will be playing his 800th NHL game, while Recchi will be playing his 1,612th NHL game, tying him with
Ray Bourque
for 8th place on the all-time list. Bartkowski, who was called up from Providence on Sunday, could be playing in his first NHL game.
But the Bruins are not focused on individual accolades.
The Bruins have a tough schedule this week, playing a total of four games against the Penguins, Senators (Tuesday), Flyers (Thursday) and Penguins again (Saturday).
"I think it's important to get right back on the horse," Julien told bostonbruins.com. "When you fall down, you get right back up. We need to bounce back. The schedule is out of our control and we'll take whatever game comes along. It's more of how we're going to bounce back more than anything else."
February, 16, 2010
2/16/10
11:36
AM ET
If Team Canada sticks to its practice alignment Tuesday in its preliminary-round opener against Norway, Bruins forward
Patrice Bergeron
will be playing right wing with Columbus left winger
Rick Nash
on a line centered by Pittsburgh superstar
Sidney Crosby
.
Bergeron and Crosby will look to renew the chemistry they forged during the 2005 World Junior Championship (en route to a gold-medal win) and at the same year's World Championship.
"I have no idea exactly what it is, but we just seem to see each other pretty well on the ice," Bergeron told NHL.com. "He's such a great player and so well positioned on the ice. It's up to us to find each other again, find that chemistry again."
* Bruins captain
Zdeno Chara
told BostonBruins.com that he has been named captain of Team Slovakia. The Slovaks open preliminary-round play against the Czech Republic at 9 p.m. Wednesday (12 a.m. Thursday ET).