April, 10, 2012
4/10/12
11:36
PM ET
The Bruins signed Boston College defenseman Tommy Cross to an entry-level contract and the 6-foot-3, 215-pounder with report to Providence and make his pro debut on Friday.

"It's special," Cross said at the Eagles' on-campus celebration of their national championship. "It's a great organization. It's an honor to sign [with them]. I think right now it hasn't really settled in -- my mind is still here at BC. I've had four unbelievable years here. It's sad to see it come to an end, but when one door closes another one opens."

Cross set career highs in games played (44), assists (19), points (24) and penalty minutes (66) during the regular season in winning his second national title at BC. A native of Simsbury, Conn., he was originally drafted by the Bruins in the second round (35th overall) of the 2007 draft.

July, 14, 2011
7/14/11
11:32
AM ET
By
Brendan Hall
| ESPNBoston.com
WILMINGTON, Mass. -- In years past, Tommy Cross has limped his way through Bruins Development Camp. But now healthy, the defenseman and Simsbury, Conn. native is showing the talents that made him a second-round draft choice of the Spoked-B back in 2007. Paired with last month's top draft choice Dougie Hamilton during scrimmages, the 6-foot-3, 210-pound Cross used his combination of size and strength to his advantage, while showing his skating ability in joining the rush.
[+] Enlarge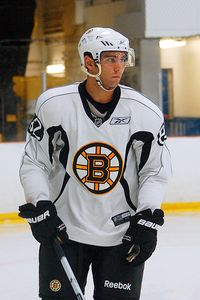 Brendan Hall Tommy Cross of Simsbury, Conn., took top draft choice Dougie Hamilton under his wing at the Bruins' development camp, to positive results.
But moreover, it's his leadership skills at the five-day prospects camp, which concluded last Monday at Ristuccia Arena, that had the front office buzzing. And the journey has been unique since being named the
Hartford Courant
's Connecticut Player of the Year as a sophomore at Simsbury (Conn.) High in 2006. He subsequently transferred to nearby Westminster School, and pulled double-duty with the U.S. Under-18 National Team and the USHL's Ohio Junior Blue Jackets. Now with Boston College, where he helped the Eagles win a national title in 2010, Cross will be a captain next season.
Following an on-ice workout last weekend at Ristuccia, Cross sat down with ESPNBoston.com to discuss his journey.
Q: Going from Simsbury to the prep school ranks, what was the biggest adjustment you had to make?
A:
"The biggest adjustment I had to make was not even with hockey. It was more just going from school to school, different lifestyle. But I mean hockey-wise, I think the players are just older at prep school, there's some P.G.'s (post-graduates) and older seniors with more experience. That was about it."
Q: What kind of goals did you set for yourself going into high school?
A:
"I just wanted to be a good player for my team. In high school it was just kinda, that's when I started to develop. I just wanted to get up on the rush, and be one of the best defensemen on my team, and one of the best defensemen in the state."
Q: When did you first start playing hockey, and who did you look after growing up?
A:
"I was about three or four years old, in the backyard. Bourque, Lidstrom, guys like that. Willie Mitchell, because I watched him a lot when he was in college. My dad was a defenseman, so mostly players like that."
Q: What's it like playing for a coach like Jerry York?
A:
"I love it. He's a great guy, great coach and he's fun to play for. He's demanding, but he's honest, and you know what you have to give. It's a fun place to play."
Q: Best high school game you played?
A:
"Probably my sophomore year at West Haven. I had a shorthanded goal that kinda turned the game around. Our coach took a bench minor, then I scored a shorthanded goal, so I bailed him out. I think we won 5-4."
Q: What do you do when you're back home?
A:
"Just hang out at my house, by the pool, I go to the golf course a lot, and the weight room. I like to play a lot of golf, but I'm not a scratch (laughs)."
Q: This is your fourth time in Development Camp, how has it differed from your first experience?
A:
"Completely different experiences. You know, the first one you're young, you don't know what to expect. Now, you kinda know the routine, you know the schedule, you know a lot of the staff, trainers, coaches, so you're a little more comfortable."
Q: Tell me about your experience playing with Dougie Hamilton this week.
A:
"It's been great. Obviously, he's a real good player, first rounder this year, and a young guy, but he's real mature for his age. We're roommates this week too, so we got to know each other pretty well. It's been fun to get to know him, he's a good guy and obviously a real good player."
Q: There has been a lot of talk this week about your leadership qualities with this group. What have you learned over the years in that department that you apply now?
A:
"Yeah people have talked about it, and it's just leading by example, I think. If guys follow you, they follow you, and if they don't, they follow someone else. It's just kinda natural. I think I've been around a lot of good leaders, guys at Boston College that I learned a lot from like Ben Smith and Matt Lombardi. Those are the kinds of guys you can learn from and emulate them, you see how guys follow them. You want to give a good example, so that guys will follow you."
July, 9, 2010
7/09/10
9:51
PM ET
Just as many young prospects have to put their rivalries aside and play together with their respective national programs, the same can be said for the Bruins prospects who have participated at the Bruins development camp this week. Many of the players at camp face each other regularly in their junior or college leagues, but when they're here in Boston playing for the team that drafted them, with possible future teammates, they must maintain that competitive spirit but also put their bitter rivalries aside.
"I think they put it aside," Bruins assistant general manager and camp director
Don Sweeney
said. "Now they're all on the same team so I think they kind of walk on those eggshells and that will change when they go back and play each other again."
But Sweeney believes the rivalries can also serve as a motivator and incentive to beat out their regular opponents during the season for a spot with the Bruins.
"I believe there will be a little extra incentive because the bottom line is that while you're on the same team here, you still want to compete against each other for quite possibly the same job," he pointed out. "So there's a fine line in that dynamic and there's a balance. But I would expect there's incentive to be better than the guy lining up against you because there should be in this sport."
A perfect example of that this past week was seen with Boston University junior defenseman David Warsofsky (acquired recently from St. Louis in a trade for
Vladimir Sobotka
) and Boston College junior blue-liner Tommy Cross, a 2007 second-round draft pick of the Bruins. The rivalry between the Terriers and Eagles is one of the oldest and fiercest in any sport. In fact, Warsofsky and Cross demonstrated this when they got into a physical clash that almost led to fisticuffs during the "Battle Of Comm. Ave." at Fenway Park this past January.
But now that they're both playing with a spoked B on their chest, the normal hatred must be quelled and the two rear guards are finding a new respect for each other.
"It's different, first of all," said Cross of playing with Warsofsky. "But I think you come to realize that he's obviously a good guy and that's usually the case. You have mutual respect for each other and even on opposite sides you have that respect for each other. You do go at each other pretty hard and there's some dislike there, but it's a different setting here. Like I said, he's a good guy and that respect is still there."
Cross had to go through the same transition with former Terriers forward Jason Lawrence, who was a camp invite last summer. But just as he did then, he is learning to play with Warsofsky.
"Last year Jason Lawrence was here and he actually sat next to me so it's a little better that he's [Warsofsky] on the other side," Cross joked. "No, I'm just kidding! It's all good and we respect each other a lot. We're on the same side right now and we'll do whatever we can to help each other out. But come October it's a little different story."
And what if they ever became teammates in Boston?
"If it's up here, I would love it," Cross said with a big smile. "I'd absolutely love it."
Spooner Looking To Follow In Footsteps Of Another Kanata, Ontario Native
Ryan Spooner, who was selected in the second round of the 2010 NHL Entry Draft (45th overall) last month, is known to be quite the creative playmaker by many NHL scouts. The Kanata, Ontario, native, who scored 112 points for the Peterborough Petes (OHL) over the last two seasons, has not shied away from his game this week.
Spooner tried to make something out of nothing and utilize his vision and creativity during scrimmages Thursday and Friday. When asked if he was afraid some of the Bruins brass or fellow prospects may take that as showboating, Spooner didn't seemed worried.
"You just want to be yourself, and no matter where you go, you have to play to your strengths," Spooner said. "You come to a camp like this, everyone is a lot better than you're used to whether because of skill or experience. So it's more challenging and you have to go out there and try different things. Sometimes they work and sometimes they don't, but you want to play your game."
Not surprisingly, the 5-foot-10 175-pound crafty center likes to emulate his game after the Bruins star pivot
Marc Savard
, who is the same height but doesn't let his size impede him and also shares another important similarity.
"Savard is a great player and if I was to try and play like someone, it would be him because he's a smaller guy yet he's great with the puck," Spooner said. "He was also born in the same town I was so I have to like him!"
James Murphy has covered the Bruins and the NHL for the last eight seasons. He has written for NHL.com, NESN.com, Insidehockey.com and Le Hockey Magazine. Murphy also authors a blog, Drop Puck Murphy.