May, 19, 2013
5/19/13
2:47
PM ET
May, 15, 2013
5/15/13
8:49
PM ET
BOSTON -- It's looking increasingly likely the Bruins will be without one or more of their injured trio of defensemen when they begin the Eastern Conference semifinals against the Rangers on Thursday night at TD Garden.
Dennis Seidenberg
,
Andrew Ference
and
Wade Redden
were all missing from practice Wednesday, and there were no updates on any of the blueliners from coach Claude Julien after practice.
"Not really. Again, you saw none of them on the ice today. That's the situation," Julien said. "I'm in the training room every day talking to my trainers. A lot of that stuff is day-to-day until we get them through. There's injuries; there's no hiding that fact, except that sometimes you can get players through those and sometimes you can't. Sometimes it's better not to practice and just to play. We're going to look at that situation. At the end of the day, my final roster will be decided before the game."
[+] Enlarge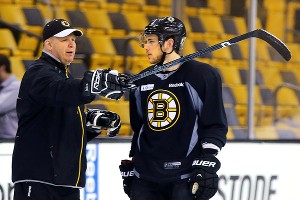 John Tlumacki/The Boston Globe/Getty ImagesBruins coach Claude Julien gives some pointers to forward Tyler Seguin at practice Wednesday.
For now, Julien is hoping
Matt Bartkowski
-- who scored the first goal of his NHL career in the Bruins' 5-4 Game 7 win over Toronto Monday -- and
Dougie Hamilton
can build off the minutes they saw in Monday's win and their playoff experience thus far.
"I think, again, we went down to five D's [defensemen] in the first couple of minutes of the game," Julien said. "When you look at the ice time they got, they got quite a bit and they did a great job. For them, it's important that they build on that and take the confidence that they had in that game and carry it into the next series."
On Tuesday, the Bruins recalled
Torey Krug
from Providence to boost their blue-line depth. The rookie defenseman has never played a Stanley Cup playoff game in his life, but he knows that he must follow in Bartkowski's and Hamilton's footsteps and just be himself on the ice, if he ends up playing Thursday.
"One thing that Bart has told me, and that the coaches have reinforced in me, is to play the same game I was playing in Providence," said Krug. "Bart came up and played the same way he was playing in Providence. It's important for me to stick to my roots."
Julien said that's exactly what he and his staff want from Krug, Bartkowski and Hamilton.
"That's what I encouraged our guys to do -- 'You guys go out there and play your game.' I don't want them to feel the pressure," Julien said. "I don't want them to not be comfortable or have the ability to play as well as they can. It's about encouraging them to do those kinds of things. We know our players well enough that we know what they're capable of bringing. It's about putting them in those positions to be able to play that way and bring that part of their game to the team."
Julien also said that positive reinforcement is key for this young trio to succeed in the pressure environment that is the Stanley Cup playoffs.
"I think it's more about showing confidence in the guys that are going to be playing if that's the case," Julien said. "Right now, the guys that played last game, you look at Hamilton and Bartkowski, I thought they handled themselves really well, especially with five D's. The confidence in those guys seems to be getting better all the time. It's a matter of stabilizing, I guess, your team the best you can and move forward. When you look back at situations that we see in the past, there's guys that have walked into a team and done extremely well because they just go out there and play."
May, 14, 2013
5/14/13
6:46
PM ET
BOSTON -- It appears that the Bruins could be without some key veteran defensemen when they begin their Eastern Conference semifinals series with the
New York Rangers
on Thursday at TD Garden.
Andrew Ference
(lower body) and
Wade Redden
(lower body) missed the Bruins' epic 5-4 overtime win over the Maple Leafs in Game 7, and
Dennis Seidenberg
(undisclosed injury) was only able to play 37 seconds.
On Tuesday, Bruins general manager Peter Chiarelli indicated to the media that the Bruins may be without Ference, Seidenberg and Redden and could have a "different look" for Thursday's game. Later in the day, the team recalled defenseman
Torey Krug
from Providence.
"Maybe we have a different look than we're used to, as far as puck transporting," Chiarelli said. "Maybe that's a good thing, but that's what we're going to be. We're calling up Torey Krug today to come along for the ride, so you may see him at a point. Those three D, if they're in the lineup, give us a little different complexion back there."
Chiarelli had no updates on the injured defensemen but he seemed very impressed with the progression that rookies
Matt Bartkowski
and
Dougie Hamilton
made in the Toronto series. Chiarelli also praised head coach Claude Julien for how he handled Bartkowski, who played 24:51, and Hamilton, who logged 21:08 on ice.
"I don't have any updates. 'Seides' [Seidenberg], as you know, played 37 seconds last night and, obviously, is injured," Chiarelli said. "He's been a playoff warrior for us, so if he's not in we'll miss him. But I saw two really good performances in those young players, the two rookie players; that's another testament to coaching, that they were able to integrate these two guys amongst the five D core, in 'Bart' [Bartkowski] and Dougie [Hamilton]."
But while Bartkowski, Hamilton and possibly Krug can bring some offense and more puck-moving skills to the Bruins' blue line, the veteran presence of Redden, Seidenberg and Ference will be sorely missed, as will the physicality that Ference and Seidenberg bring. Seidenberg has repeatedly upped the intensity in his game come playoff time and become one of the premiere shutdown defensemen in the league at this time of year. Ference, who has missed three games in the playoffs now, also becomes more physical in the playoffs.
Meanwhile, Redden has proven to be a calming influence on the younger rearguards like Hamilton and Bartkowski. But now the young core of this Bruins defense will need to step up. Captain
Zdeno Chara
can be counted on to eat minutes and will surely step up as he did in Game 7, but these youngsters are about to be baptized by fire against a very physical Rangers forward group.
"They play like us, these guys," Chiarelli said of the Rangers. "Maybe a little different now that they don't have [Marian] Gaborik. They might be a little bit deeper, but not as dynamic. They play a heavy game like us."
May, 10, 2013
5/10/13
12:30
PM ET
BOSTON -- Bruins coach Claude Julien will need to tweak his defensive pairings (again) for tonight's possible series-clinching Game 5 of the Eastern Conference quarterfinal series against the
Toronto Maple Leafs
at TD Garden. Veteran defenseman
Wade Redden
will not be in the lineup due to an undisclosed injury, and he's listed as day-to-day.
Boston recalled defenseman
Matt Bartkowski
on Sunday night from the Providence Bruins and he participated in the Bruins' game-day skate.
Even though the Bruins have veteran
Aaron Johnson
available, Julien said it will either be Bartkowksi or
Dougie Hamilton
in the lineup tonight. Julien is trying to figure out his pairings, with Bartkowski being a left shot and Hamilton a right shot.
"We have to decide what we want to do with our pairing here," Julien said. "Once we decide that we'll know who to put in, and they've both been told that, so it'll be one of those two guys."
It's unlikely Julien would separate his top pairing of
Zdeno Chara
and
Dennis Seidenberg
, which would have to happen if Hamilton is inserted. If Bartkowski plays, he could be paired with
Adam McQuaid
.
At the time of his recall, Bartkowski and the P-Bruins were preparing for the second round of the Calder Cup playoffs against Wilkes-Barre/Scranton. Providence erased a two-game deficit for a 3-2 series win against the Hershey Bears in the quarterfinals.
"After Game 4, we won in the last four minutes, that was a great feeling," explained Bartkowski. "Then winning [Game 5] was pretty special. Being down 2-0 is like being down 0-3 in a seven-game series and having to win four, so I feel pretty good right now."
Bartkowski registered five assists in the playoffs for the P-Bruins, and because he was focused on his job, he wasn't expecting a call from Boston.
"It was kind of unexpected," Bartkowski said. "I figured I'd be down there playing [in Providence]. I don't know anything about tonight yet, so I'll find out when we show up for the game."
Bartkowski spent the majority of the regular season in Providence, but played 11 regular-season games for the Bruins before he was sent back in order to get some playing time.
"It's good he's been playing and that's why we sent him down there," Julien said. "At one point, we knew what we were going to start with in the playoffs, so because we had the ability to send him down we wanted him playing for that reason, so if we needed him he wouldn't be sitting for a long time. We've got a chance to bring him in now."
Bartkowski said he glad he's been playing instead of watching from press level as a healthy scratch, something Hamilton has done in all but one game of this series.
"I think it makes a world of a difference, compared to if I was just sitting around riding the bike and bag skating, and stuff like that, so I definitely think it helps a lot," Bartkowski said.
If he does get in the lineup, Bartkowski said he won't be nervous.
"No, I don't think so," he said. "I've been playing playoff hockey down there, it's not the NHL, but it's still playoff hockey. It's still the same mentality, same style of play, and I played against Toronto in the regular season, so I'll be alright."
May, 2, 2013
5/02/13
1:16
AM ET
BOSTON -- Before the Boston Bruins' 4-1 win over the Toronto Maple Leafs in Game 1 of their first-round playoff series Wednesday night,
Wade Redden
told the media that he was excited to be back in the playoffs and in the Bruins' lineup. The defenseman, acquired from the St. Louis Blues at the trade deadline, wasn't about to get sentimental in the face of his first postseason game since 2009, when he was with the New York Rangers, but it's clear Redden relished the opportunity.
[+] Enlarge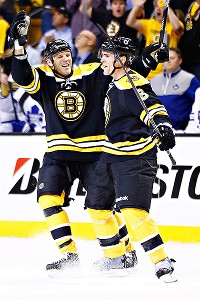 Jared Wickerham/Getty ImagesWade Redden scored the Bruins' first goal and assisted on their second.
Redden made the most of a chance he likely thought he'd never have again after spending the past two seasons buried in the AHL with the Rangers' affiliate, the Connecticut Whale (formerly the Hartford Wolf Pack). He helped jump-start the Bruins' offense, erasing an early 1-0 Toronto lead with a goal 16:20 into the first period. He then rifled a shot from the point that
Nathan Horton
tipped in for a power-play goal that proved to be the game winner.
After the game, Redden acknowledged some satisfaction but was more concerned with crediting his teammates and looking ahead to Game 2.
"It was a great effort all-around," Redden said. "I think everyone had a strong game and we had played, I think, a lot of the time in their end. That makes a D-man's job a lot easier. For sure, we're going to expect a different game come Saturday night, but we'll take that one and move on.
"It's been a long road. Obviously, the position I was in, a lot of uncertainties. But I kept working and kept believing. It's great to be here now and have the chance, and I'm going to try to make the most of it."
While Redden may have wanted to deflect attention, his teammates and coach weren't about to downplay what a great story he appears to be scripting.
"I was really happy for him," coach Claude Julien said. "I think I said that this morning, he's a player that has gone through some rough times. What we've tried to do when he came here is make him feel welcome, make him feel appreciated, and give him some confidence that way. So far, it's paid dividends."
Redden's blue-line mate,
Andrew Ference
, echoed his coach's sentiments.
"Everybody is really happy for him," Ference said. "His whole last two years, just to get back playing at this level out of the AHL, and now to be able to contribute for us in the playoffs -- guys are very happy for him. He's got a lot of respect not just in this room, but you could tell just with his old teammates and stuff, he's a well-respected player."
May, 1, 2013
5/01/13
10:16
PM ET
BOSTON -- For the past two days, the
Boston Bruins
insisted their late-season funk was in the rearview mirror. There would be no more blown leads in the third period and no more lackluster starts. The skilled and physical Bruins would return.
Well, the Bruins kept their promises as they overcame an early
Toronto Maple Leafs
power-play goal and scored the next four goals, dominating the Leafs 4-1 in Game 1 of their Eastern Conference quarterfinal series.


David Krejci
had a goal and two assists,
Wade Redden
had a goal and an assist and
Nathan Horton
and
Johnny Boychuk
both lit the lamp for the Bruins.
Tuukka Rask
looked solid between the pipes, making 19 saves, with
James van Riemsdyk
's power-play goal in the opening period the only shot that beat him.
For the Leafs,
James Reimer
was under siege all night as the Bruins poured 40 shots on him.
Lucic-Krejci-Horton line clicks again:
One of the big question marks heading into this series was whether
Milan Lucic
, Krejci and Horton could find their magic again. If Game 1 is any indication, the band is back together and the magic is there. In addition to Krejci's three-point performance and Horton lighting the lamp, Lucic had two helpers and continued to look more like the Lucic who used a combination of grit, size and skating to earn two straight seasons of 20-plus goals. The chemistry was back as Horton and Lucic got to open spaces to benefit from Krejci's playmaking skills, and Krejci looked a lot like the player who was a candidate for the 2011 Conn Smythe Trophy as playoff MVP.
Bruins defense provides offensive boost:
Prior to Game 1, coach Claude Julien lauded Redden for his recent play and puck-moving skills. Redden continued to impress with his goal and an assist, but the Bruins' entire defense did a great job of moving the puck and creating offense in Game 1. In addition to Boychuk's goal, Bruins defensemen helped in peppering Reimer and controlling neutral zone play.
Power play looks better:
While the Bruins' power play (1-for-5) can certainly still be better, it did convert once and moved the puck a lot better. The passes were crisp, and there was less hesitation. If that continues, the scoring production will increase.
Suspension coming for Ference?
Andrew Ference
could very well be sitting out a game or more after elbowing Leafs forward
Mikhail Grabovski
in the head in the first period. No penalty was called, but
the replay
clearly shows an elbow to the head.
Bruins have two goals called back:
Things could have been even worse for the Leafs if not for two Bruins goals being called back. The referees and replay officials got it right in calling back a
Tyler Seguin
shot that clearly rang off the post 1:10 into the second period. But
Patrice Bergeron
's no-goal was a bit questionable as the referees claimed the whistle was blown before Bergeron pushed it into the net. But even if the refs were wrong, the rule states if they intended to blow it and didn't do it in time, then it's still not a goal.
Bad blood boils at end:
In addition to Ference's questionable hit to the head of Grabovski, there was plenty of hard hitting throughout the game. As time wound down in the third period and it was clear the Bruins would win, the Leafs decided to let the Bruins know they were still there, taking plenty of extra hits after the whistle and then stirring things up at the final buzzer. The result was a
Chris Kelly
-
Leo Komarov
fight. It should be a physical Game 2.
Hamilton and Peverley sit:
Not surprisingly, Julien kept
Dougie Hamilton
in the press box as a healthy scratch. The defenseman struggled in his last few games of the regular season, and Julien seems to have opted to take the learning-from-up-top route he took with Seguin as a rookie to start the 2011 Stanley Cup playoffs. While
Rich Peverley
might have had an off season, one would think Julien would prefer playoff and Cup experience in the lineup instead of an inexperienced
Kaspars Daugavins
. But it was Daugavins playing with Kelly and
Jaromir Jagr
for Game 1.
Here's what the rest of the lineup looked like:
Forwards
Milan Lucic-David Krejci-Nathan Horton
Brad Marchand
-Bergeron-Tyler Seguin
Daugavins-Kelly-Jagr
Daniel Paille
-
Gregory Campbell
-
Shawn Thornton
Defensemen
Zdeno Chara
-
Dennis Seidenberg
Ference-Boychuk
Redden-
Adam McQuaid
Goalies
Rask
Anton Khudobin
May, 1, 2013
5/01/13
3:55
PM ET
BOSTON -- When
Wade Redden
was acquired from the Blues at the NHL trade deadline last month, it was understood by all that it was a depth move by GM Peter Chiarelli. In fact, it was such a depth move that Boston sent a conditional 2014 seventh-round pick to St. Louis in the deadline deal, with the pick becoming a 2014 sixth-rounder if he plays at least one playoff game in the 2013 Stanley Cup playoffs. That pick will very likely change to a sixth-rounder tonight as Redden figures to be in the Bruins lineup when they host the Maple Leafs in Game 1 of the Eastern Conference quarterfinals series at TD Garden.
Redden has earned head coach Claude Julien's trust, playing like the puck-moving defenseman that patrolled the Ottawa blue line in their heyday in the mid-2000s and that helped lead them to the Stanley Cup finals in 2007 (the Senators lost to the Randy Carlyle-coached Ducks in five games). He had a goal and in an assist in the final three games of the Bruins' regular season, and Julien believes Redden's experience and recent play can help Boston in the playoffs.
"I think Wade feels pretty good about himself right now," Julien said. "I mean, he's
had some tough years, as far as where he was, whether how he's been traded and
everything else, but he's come in here and he's got a fresh chance to prove himself.
The games that he played, he moved the puck extremely well. His experience is
invaluable, and his confidence right now is pretty good. When you have Wade in that
zone, he becomes a pretty good player."
Those tough years Julien spoke of came after Redden signed a six-year, $39 million deal with the Rangers in the summer of 2008 but then watched his game decline so drastically that he ended up playing for the Rangers' AHL affiliate in Hartford for the last two seasons. Thanks to the rules of the former CBA, the Rangers couldn't bring him back up and be totally exempt from his salary even if a team claimed him. So Redden was held hostage basically until the Rangers used a tool of the new CBA, the compliance buyout, and freed him from hockey purgatory. Redden was signed by the Blues early this season, and now with the Bruins he has a chance at the Stanley Cup again.
A clearly excited Redden told the media after the Bruins' morning skate that he is just going to go out, play his game and be thankful for another opportunity in the playoffs.
"You never know what's in store for you," Redden said. "I went down, I approached
the game [the way] I always have. That hasn't changed today, so I'm just going to play my
game, go out there and have some fun. I'm looking forward to it. This is what we all play for this time of year. Everything is on the line, so it's going to be fun. I'm going to try to
enjoy as much as I can. It's obviously an intense atmosphere. To try to go out there,
play loose and play free. That's the best way to approach it."
Redden, 35, joked that he is envious of the young Bruins core that has already won a Stanley Cup.
"You gotta go out, earn the right to get it, and obviously these guys did at a young age," Redden said. "I'm happy to be here with them now."
April, 3, 2013
4/03/13
3:59
PM ET
BOSTON -- Just before Wednesday's trade deadline, the
Boston Bruins
pulled off a trade for veteran defenseman
Wade Redden
from the St. Louis Blues in exchange for a draft pick, a team source told ESPNBoston.com. The pick is reportedly a seventh-rounder in 2014.
Redden joins future Hall of Fame winger
Jaromir Jagr
and AHL center Rob Flick as the team's additions for the stretch run.
The 35-year-old Redden will be reunited with former
Ottawa Senators
teammate and current Bruins captain
Zdeno Chara
. The two played together in Ottawa from 2001-2006.
Redden, a former first-round draft pick (second overall), played 23 games for the Blues this season. He spent the previous two seasons in the AHL with the
New York Rangers
' affiliate, the Connecticut Whale.
When Chiarelli was first hired by the Bruins prior to the 2006-2007 season, Redden and Chara were both on the on Boston's radar before Chara signed as free agent.
Redden adds depth to Boston's blue line. It was not immediately clear whether the Bruins consider him a top-six defender.
The Bruins sent AHL forward Max Suave to the
Chicago Blackhawks
in exchange for Flick.
The 22-year-old Flick played 51 games for the Blackhawks' AHL affiliate, the Rockford IceHogs this season, and collected three goals and two assists for five points. The 6-foot-3, 208-pounder also has 97 penalty minutes. Chicago drafted him in the fourth round (120th overall) of the 2010 NHL draft.
The Bruins originally drafted Sauve in the second round (47th overall) in the 2008 draft. He's spent the last three seasons with the P-Bruins and never developed the way the Bruins hoped he would. In 52 games this season in Providence, Sauve recorded 10 goals and 13 assists for 23 points, including a plus-3 rating.
Information from ESPNBoston.com's James Murphy was used in this report.