December, 19, 2014
Dec 19
12:01
AM ET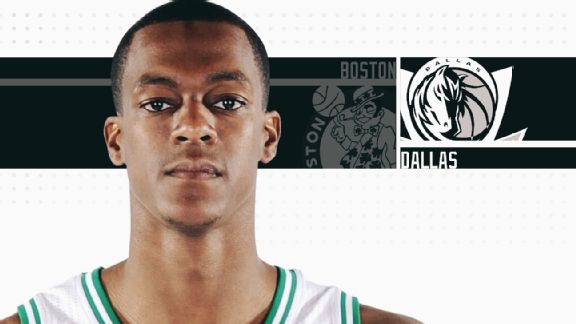 ESPN Illustration
There's an awful lot to digest in the aftermath of the
Boston Celtics
' shipping
Rajon Rondo
to the
Dallas Mavericks
on Thursday. Let's break it down in bite-sized chunks while analyzing the deal, examining where Boston stands, and predicting what lies ahead as the Celtics alter the direction of their rebuilding process.
TRADE BREAKDOWN
The Celtics sent Rondo and rookie
Dwight Powell
to the Mavericks in exchange for
Brandan Wright
,
Jameer Nelson
,
Jae Crowder
and future first- and second-round draft picks. The team also waived second-year center Vitor Faverani in order to facilitate the trade. While most Celtics fans are disappointed with the return haul for the All-Star point guard, you must keep in mind that Rondo will be an unrestricted free agent at the summer, diminishing some of his total value at this point. What did Boston get in return?
• Wright is an intriguingly efficient player, one who is shooting a ridiculous 74.8 percent from the floor while ranking fourth in the NBA in player efficiency rating (26.1) and third in win shares per 48 minutes (.274). With Boston, he'll likely get a chance to showcase if he can maintain such lofty numbers in elevated minutes (he's averaging 18.7 minutes per game this season). Is Wright long for Boston? We'll know by February when he -- and his digestible $5 million salary -- could potentially be dealt again in order to bring back more future assets. Wright is an unrestricted free agent after the season.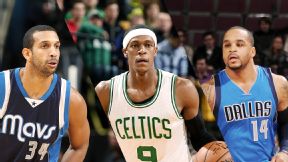 Getty ImagesBrandan Wright (left) provides the biggest upside for the Celtics in the Rajon Rondo trade, while Jameer Nelson (right) will step in as Boston's ranking veteran point guard.
• Nelson becomes the oldest player on Boston's roster (five months older than
Gerald Wallace
). He started 23 games for the Mavericks this season, averaging 7.3 points and 4.1 assists over 25.4 minutes. Nelson's last game with the Mavericks saw him post 0 points and 0 assists over 26 minutes. It's probably better for Boston to give the bulk of its point guard minutes to youngsters
Marcus Smart
and
Phil Pressey
(or even
Evan Turner
). Nelson has a $2.9 million player option for next season.
• Crowder is a 24-year-old swingman who has played limited minutes this season (career-low 10.6 per game). He can provide some defensive help on the wing. The former second-round pick (34th in 2012 draft) is due a $1.2 million qualifying offer next season.
• The draft picks are the true prize for Ainge, who adds to Boston's surplus (more on that below). The Celtics are unlikely to see the Mavs pick until 2016, but will likely have four first-rounders in that draft. Ainge can pick which selections to take his swings with and package the others to try to bring in more established talent. Draft picks are a premium in a league where the cap is rising and there's a value on low-cost, high-potential talent that you have under long-term control at the start of their careers.
• The Celtics also generated a $12.9 million trade exception that could help them bring in starter-caliber talent in the next year's span. Or consider what Boston did with the $10.3 million exception it got from trading away
Paul Pierce
, using it in July to help bring in
Tyler Zeller
,
Marcus Thornton
and future draft picks.
GOODYBE, RONDO
The Celtics were hopeful that Rondo would be the one to lead Boston through this rebuilding process, even giving him the captaincy upon his return from ACL surgery in January. But his play had yet to return to the game-changing level we'd seen pre-injury (though he remained an elite distributor, even when surrounded by an inexperienced core). And maybe sensing that it was easier to start fresh than both pay Rondo maximum money to stick around and try to find a superstar sidekick to pair with him, the Celtics moved quickly to find the best in-season deal possible in advance of the February rush.
Rondo's departure closes the book on Boston's most recent Big Three era. Rondo will be remembered fondly for helping the 2008 team win a title, for all the dazzling moments on the court, his toughness, and his stubbornness that initially endeared him to his veteran teammates. Rondo will be celebrated like the rest of his 2008 title teammates when he returns here with the Mavs in early January. The hard part for Boston fans will be watching him from afar as he should thrive in Dallas, where he'll be surrounded with star talent and reinvigorated by the chance to contend again.
WHAT'S NEXT FOR BOSTON?

There are still two months for Ainge to tinker with this roster and it certainly seems like more moves will follow.
The Celtics will almost certainly put a premium on developing their young core, particularly rookie guard Marcus Smart once he's healthy enough to stay on the floor. If Smart is inserted as the starting point guard, that gives Boston an insanely young core with starters Smart (20),
Avery Bradley
(24),
Jeff Green
(28),
Jared Sullinger
(22), and Tyler Zeller (24). Add in
Kelly Olynyk
(23) and Evan Turner (26) as key reserves, along with rookie
James Young
(19) when he's healthy enough.
With a focus on the future, the tough losses that frustrated Boston early in the season won't sting quite as much now. The team must hone in on individual development and build team chemistry within its young core. And, if we're being honest, each loss now means only a better chance at a quality draft pick.
It's fair to wonder if Boston will be aggressive in shopping veteran players who don't seemingly fit the team's future plans. The likes of
Brandon Bass
(29), Marcus Thornton (27) and even Nelson (32) might intrigue contenders looking to bolster their rosters before playoff runs.
The biggest question mark here is Green, who holds a $9.2 million player option for next season. Having the best year of his career, Green might be more likely to opt out this summer and seek a higher payday given the growing cap (and salaries to match the rise). With that in mind, might Boston be willing to sell high if they can net additional future assets from a contender before the February deadline?