August, 27, 2014
Aug 27
1:01
AM ET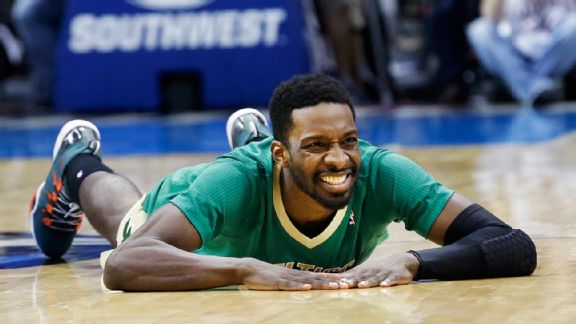 AP Photo/LM OteroCan the Celtics and Jeff Green turn any 2013-14 frowns upside down?
Each weekday for a three-week span, our summer panel of prognosticators -- a motley crew featuring our friends in the Celtics blogging community -- will join forces to tell you how the 2014-15 season will play out for Boston. We'll gaze into our crystal balls and attempt to answer all your questions before this season's team even hits the floor together for the first time.
Today's Celtics Summer Forecast topic
: In what area will the Celtics struggle the most during the 2014-15 season?
On Tuesday, we
examined the potential areas of growth
for Boston. But with the upcoming season expected to be another rebuilding campaign, the Celtics are likely to struggle in many of the same areas that held them back last season.
Our panel, without being given specific options for this question, returned multiple votes in three areas: 3-point shooting, interior defense, and winning. No surprises there, the Celtics struggled beyond the arc (28th in 3-point percentage) and the lack of a true rim protector was often cited as a reason for Boston's defensive woes late in the season. That contributed to the team's meager 25-57 record, with the Celtics often letting games slip away late.
It's fair to wonder if Boston will improve in any of those areas this season. The team didn't add a lot of shooting, though Marcus Thornton will likely have a green light from the perimeter. The Celtics acquired Tyler Zeller, who will have to lean on his athleticism to help protect the back line. Considering the sheer number of games that Boston let slip away last season -- Boston was 15-34 last season in games that were within five points in the final five minutes -- it would seem the team would have to improve there, even without adding a surefire "closer" to the roster.
This writer's vote?
Offensive efficiency remains a concern
. The Celtics ranked 27th last season while averaging a mere 99.7 points per 100 possessions. A healthy Rajon Rondo is likely to bring some additional consistency to the offense, but the team's lack of shooting could force it to generate points in other ways (an up-tempo style could help, but this team still needs to do a better job of getting to the free-throw line after ranking 25th in free-throw attempt rate last season).
Boston needs Avery Bradley to continue to blossom offensively, while hoping more time for the likes of Kelly Olynyk and Jared Sullinger could add a scoring burst at the power forward spot. As usual, Jeff Green is a wildcard who could help Boston's offensive output with more consistency.
On Tuesday, we predicted Boston will improve defensively and that could help it win a few more games next season. Alas, the concern is the offense will continue to hold this team back.
Read on as our panelists explain their picks:
PODCASTS
Field Yates, NFL
Play Podcast ESPN NFL reporter Field Yates covers expectations for Rob Gronkowski, the Patriots' outlook, LeSean McCoy's injury and Alex Smith's contract negotiations with the Chiefs.
Baseball Tonight - Jed Hoyer
Play Podcast Buster Olney and Justin Havens discuss how teams that made major deals have fared since the deadline. Plus, Cubs GM Jed Hoyer on the strange circumstances caused by weather.