October, 20, 2014
Oct 20
3:14
PM ET
By
Kyle Brasseur, Special to ESPNBoston.com
WALTHAM, Mass. -- Whatever this season holds, it's all uncharted territory for
Boston Celtics
forward
Gerald Wallace
.
He underwent his first surgery -- arthroscopic procedures on his knee and ankle -- in early March last season. And now, with the start of the regular season nine days away, Wallace is trying to completely move on from his injury.
"It's a tough progress," Wallace said. "The little things that you take for granted are kind of difficult and hard to do after surgery. You don't realize it until you have surgery. This is my first surgery so not being able to do the little things is kind of hurtful for me, especially on and off the court."
During practice on Monday, Wallace sported a sleeve on his left knee while taking his normal turns during small-group drills run by head coach Brad Stevens. And while Stevens said he's still trying to determine Wallace's role on the team, the two are on the same page with regard to what will be expected from Wallace as a veteran surrounded by younger players.
[+] Enlarge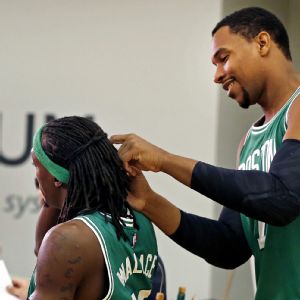 AP Photo/Elise AmendolaWallace says he'll do anything the Celtics ask of him -- even allow Jared Sullinger to help prep him for a media spot.
"Obviously with his knee injury, that set him back a little bit," Stevens said. "I already sat down and talked with Gerald earlier this year, he shared the same sentiments with me that he's shared to all of you. He's willing to do whatever to help this team and that's a great thing. He's been a great veteran and that's a real positive. Nothing is guaranteed from a time standpoint, but we have a ton of depth one through three.
Wallace concurred.
"Whatever the coach needs me to do, we've already talked about it," Wallace said. "I'm in a position where I'm comfortable with it. Whatever the team needs me to do, I'm willing to do it.
"If they need me, they need me. If they don't, then they don't. But I'm here, I'm always prepared and I'm ready to go whenever he calls my name."
Despite being used sparingly this preseason as a result of his knee injury, Wallace has been OK with the reduced role. In fact, he's been appreciative of the time, noting that it's been easier than years previous seeing that he still feels he's "a work in progress" getting back to being 100 percent.
"I'm still trying to get my knee back to where I want it to be at," Wallace said. "At this point I don't feel like I could go out and play 30 or 40 minutes right now with my knee where it is.
"Just the pain -- pushing off, exploding off of it. It's my most dominant leg so I'm not able to do the things I'm used to doing without discomfort. I want to get to the level where I don't have discomfort when I do them," he said.
When he gets to that level, Wallace will provide welcome depth for a team looking to carve a new identity after last year's difficult campaign. And while the team still figures to endure growing pains as their young players continue to develop, Wallace remains optimistic about their prospects as a whole.
"I feel good about our team," he said. "I think they're young, they're hungry. We play aggressive. I think our main thing is we play aggressive and play more physical than a lot of teams. We can make up for a lot of the [faults] that we have.
"We've just got to continue to get better as a team and continue to get better as a unit."