December, 20, 2014
Dec 20
2:00
AM ET
BOSTON -- There was a touch of defiance in his voice. Polite defiance, mind you, but
Boston Celtics
coach Brad Stevens still bristled a bit when it was suggested that some fans assume that the Celtics are content to tank the remainder of the 2014-15 season following the trade that delivered point guard
Rajon Rondo
to the
Dallas Mavericks
.
[+] Enlarge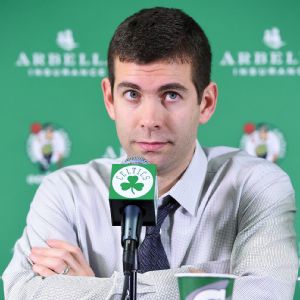 Brian Babineau/NBAE/Getty Images
"First of all, this team is going to prepare every day to win games," Stevens said before Friday's tilt with the
Minnesota Timberwolves
. He acknowledged that some of the young players on his roster are going to have to step up and embrace leadership roles to replace what Rondo meant as captain, but Stevens made sure to stress that the goals of this team haven't changed because of one player's departure.
"I think the deal is, this is our team," added Stevens. "This is how we're getting ready to win every single night. And we are building every single night to be the best that we can be. Tonight, tomorrow, the next night, and it's never going to stop. I'm excited about the guys in the locker room. Time will tell how we do, but I'm excited about the guys we have."
It's hard to gauge Boston's true potential after Game 1 of the post-Rondo era -- it was the basement-dwelling Minnesota Timberwolves on the opposite sideline after all -- but there's something to be said for the way Boston dominated the final six minutes of the game en route to a 114-98 triumph at TD Garden.
The Celtics have now won three straight games, matching their season high. While there are still 58 games left in the season, Boston shuffled into the No. 8 spot in the Eastern Conference playoff standings, at least for one night.
For a team that just traded away its best player, the Celtics were a pretty jovial bunch after Friday's game. While players admitted to being surprised -- and maybe a bit disappointed given Rondo's departed talents - many were quick to point toward the opportunity that still exists for them. Like Stevens, they don't like the idea that they're supposed to just wave the white flag on the season.
As Boston's remaining young core were savoring Friday's victory, the team's three newest faces --
Jameer Nelson
,
Brandan Wright
, and
Jae Crowder
-- convened at the interview podium to assess their new squad and hold up their new uniforms.
"On the plane ride up [to Boston] we were looking at the standings and the team is right here, goals are still attainable, playoffs are reachable," said Wright. "We just want to come in here and do the best we can. Do what we do best: Play hard, add an aspect to this team that hopefully pushes up in those standings."
Added Crowder: "That's what we talked about on the way up here. I still feel like we have a chance to make a push in the Eastern Conference, to make the playoffs and that's our goal. And that's how we're going to influence those guys to keep fighting, each and every day, to get better as a unit and see what happens."
[
Read full story
]