September, 11, 2014
Sep 11
11:35
AM ET
As part of its 2014-15 season preview countdown, USA Today is ranking the 30 NBA teams based on watchability. The Boston Celtics landed
at No. 29
, just one spot in front of the basement-dwelling Philadelphia 76ers.
[+] Enlarge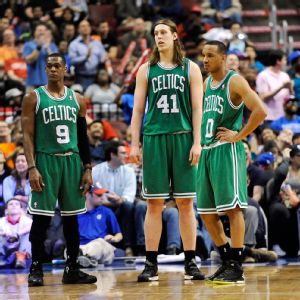 AP Photo/Michael Perez
It's not hard to understand Boston's low position. You have a rebuilding team coming off a 25-win season that made only minor tweaks this offseason. Heck, the NBA schedule-makers seem to agree with the rankings considering Boston landed only one national TV game -- an unremarkable mid-January tilt with the Atlanta Hawks.
Maybe we're drinking the green Kool-Aid, but we'd suggest that the Celtics have potential to be much more intriguing, even to casual viewers this season. We're not suggesting that this team deserves a massive vault in the watchability rankings, but Boston will almost certainly lure more eyeballs this season, particularly among those diehards that love to hopscotch on League Pass.
Here's a few reasons for potential intrigue:
•
Healthy Rondo
: One prominent theme that's emerging as the new seasons nears is a sense from Celtics players/management that some have simply forgotten what a healthy Rajon Rondo is capable of. As Celtics team president Rich Gotham noted last week, "I think a healthy Rondo is a huge difference-maker for us." Further removed from the ACL surgery that limited him to 68 games over the past two seasons, it'll be interesting to see if Rondo can return to All-Star form and just how much he's able to elevate the play of a young supporting cast.
•
Competitive games
: The Celtics lingered near the top of the league in close games for most of last season, playing a total of 49 games that were within five points in the final five minutes (that was tied for fourth most overall). Boston's lack of proven closers contributed to the team going 15-34 in those games (its .306 winning percentage the second worst mark in the league). Will Boston win more of those close games this season? That remains to be seen, but last year's efforts suggest that the Celtics will often keep things interesting (and trigger plenty of late-game "League Pass alerts.")
•
Can young talent take next step?
: There's maybe no bigger reason to watch this year's team than the development of the youngest players. The Celtics have an intriguing young nucleus with players at all different stages of their development and lingering questions about just how good they can become. You've got someone like 23-year-old shooting guard Avery Bradley coming off his first big payday this offseason and he must prove he can be a consistent two-way threat to justify the team's spending. Then there's recent draftees like Jared Sullinger and Kelly Olynyk, both of whom will be expected to take the next step in their developments with potential to assert themselves as key parts of the team's future. Then there's rookies Marcus Smart and James Young. Even as the No. 6 overall pick, Smart has created an awful lot of buzz this offseason for both his personality and potential. The 19-year-old Young might even spend a good chunk of the season in the D-League shadows if he simply needs game reps to further his development, but there will be interest in his progress after just one season at Kentucky.
•
Reshaping on the fly
: Even if the Celtics are completely unwatchable -- and their offense sputtered so badly at times last season that that could be a reality -- there's going to be lingering intrigue about how the team reshapes during the season. There will be constant speculation about Rondo's future, particularly with his looming status as an unrestricted free agent, while the team brought in other veteran bodies like Marcus Thornton and Evan Turner, who could attract interest from contending teams later in the season depending on their individual performances.
Again, we're not expecting this team to make a surprise run at a high berth in the Eastern Conference. During our Celtics Summer Forecast, our panel predicted
a mere three-game improvement
from this team. But in terms of pure watchability, even the casual fan might find themselves more invested this year. Gotham stressed that, this season, "the future will come a little bit more into focus."
Ignore the record and focus on the progress, and the Celtics might just be more watchable than you think.