December, 9, 2013
Dec 9
3:30
PM ET
He watches over them like a father whose children have scattered to various corners of the country, no longer in his charge yet still firmly implanted in his psyche.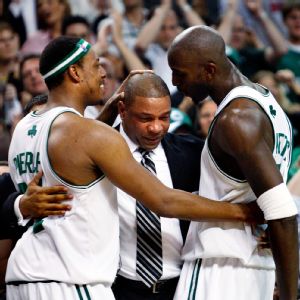 AP Photo/Elise Amendola"My heart breaks for them," Rivers said, about watching the struggles of KG and Paul Pierce with the Nets.
"I was watching the Nets the other night and Kevin (Garnett) collided with someone and fell,'' Doc Rivers reported. "My heart kind of skipped a beat. I was thinking, 'Oh no. Is he hurt?' Before, I'd be yelling at him to get up.''
Garnett and Paul Pierce are toiling in New Jersey for a hugely disappointing Nets team that has been underwhelming under coach Jason Kidd.
The Celtics will face them on the road Tuesday, then will return to the Garden Wednesday, where Rivers and his Los Angeles Clippers will be waiting.
It's nostalgia week for Boston Celtics fans, yet the reunion with Pierce and KG is likely to be underwhelming. Pierce might be sidelined with a broken hand, while Garnett is submitting startling career lows in just about every category, including 6.4 points a game and 36 percent shooting.
"It's not what was supposed to happen."
"My heart breaks for them,'' Rivers said. "It's not what was supposed to happen. It's just so strange. It's amazing how much I watch them.
"I just wanted them to do well. That's all. When I watch them now it's like I'm rooting for (daughter) Callie or (sons) Jeremiah and Austin.''
The Nets are not the only team the coach of the Los Angeles Clippers monitors with regularity. Although he will play them only twice a year, when Rivers sees footage of the Celtics he can't help but stop, rewind, and watch.
In many ways, what he sees is close to unrecognizable: new coaches, new players, new sets, new expectations.
(
Read full column
)
PODCASTS
Kyle Arrington, Patriots
Play Podcast Patriots CB Kyle Arrington talks about recovering the onside kick in the victory over the Browns, his team's comeback wins, New England's reaction to Rob Gronkowski's injury and more.
Trent Dilfer, NFL
Play Podcast ESPN NFL analyst Trent Dilfer dishes on the impact of Rob Gronkowski's injury, Tony Romo's style of play, Chip Kelly's coaching, Robert Griffin III's struggles and more.
Tim Hasselbeck, NFL
Play Podcast ESPN NFL analyst Tim Hasselbeck talks about the quality of officiating, Wes Welker's health, Rob Gronkowski's injury, the state of the Redskins and more.
Ron Jaworski, NFL
Play Podcast ESPN NFL analyst Ron Jaworski discusses how Rob Gronkowski's injury could affect the Patriots' playoff success, the Eagles' offense, Peyton Manning's throwing style and more.
On NFL Week 14: 12/9
Play Podcast Mike Greenberg and Cris Carter cover Week 14 of the NFL season, including Rob Gronkowski's injury, Panthers-Saints, Peyton Manning's big day, the drama in Washington and more.
Johnny Damon, MLB
Play Podcast Two-time World Series champion Johnny Damon dishes on Jacoby Ellsbury's decision to sign with the Yankees, what moving from Boston to New York is like and more.