March, 8, 2014
Mar 8
3:00
PM ET
WALTHAM, Mass. --
Boston Celtics
guard
Avery Bradley
forgot how much he missed the lights.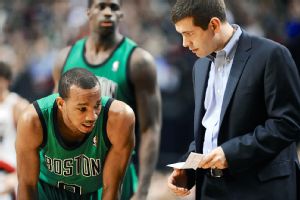 AP Photo/Greg Wahl-StephensAvery Bradley is eager to get back on the floor for Celtics coach Brad Stevens.
Having spent much of February in the cramped trainer's room inside the team's locker room, Bradley basked in the warmth of the TD Garden lights when he stepped onto the court to get up shots before Friday's visit from the
Brooklyn Nets
.
After missing 16 of the team's last 19 games due to a lingering right ankle sprain, Bradley resumed basketball activities this week and is eyeing a return to game action on Friday night against the
Phoenix Suns
.
Given how the ankle injury has lingered -- Bradley returned after an initial five-game absence, only to sit out the past 10 straight when the ankle balked -- some have wondered if the team would consider shutting Bradley down for the season. With the team enduring a rebuilding year, that thought process wonders if it's worth jeopardizing his long-term health with little to play for beyond pride.
But both the Celtics and Bradley believe there is plenty to play for, including a chance to uncloud his future.
When healthy, the 23-year-old Bradley has put together a quality season, averaging career bests at 14.3 points and 3.9 rebounds over 30.6 minutes per game. He's shown increased confidence shooting the ball and thrived in the midrange, while also putting a heavier emphasis on crashing the glass from the guard position. His defensive talents are well-documented (even if they haven't been on display quite as much this season).
Had Bradley stayed healthy this year, he likely would have put himself in position for a healthy pay raise this offseason. After failing to hammer out an extension of his rookie pact in late October, the Celtics are expected to extend a $3.6 million qualifying offer this summer that will make Bradley a restricted free agent. As a young, defensive-minded guard with a blossoming offensive game, Bradley could draw outside interest and run up his price tag.
But you wonder if the recent absence could leave teams a bit leery. Which is why these final 17 games could be important for Bradley. While he stressed Saturday that he thinks he's "already proved [his value] throughout this year," finishing the season strong certainly wouldn't hurt his cause.
And the Celtics certainly wouldn't mind getting a longer look at the backcourt of Bradley and (a healthier)
Rajon Rondo
. The pair, potentially the team's backcourt of the future, has rarely been on the court together in recent seasons due to injuries.
For his part, Bradley just wants to get on the court.
"I'm just going to go out there and play hard," said Bradley. "It's the game I love to play, and I feel like, even if we didn't have a chance to make the playoffs, we should still go out there and prove to our fans and to ourselves that we're going to fight no matter what, even if we don't have a chance."
PODCASTS
Bill Simmons, NBA
Play Podcast Grantland's Bill Simmons discusses the state of the Lakers, Phil Jackson's future, the perception of Rajon Rondo, Doc Rivers' impact on the Clippers and more.
Baseball Tonight
Play Podcast Buster Olney chats with Jayson Stark about Ken Griffey Jr.'s uncomfortable interview with Linda Cohn and the value of spring training. Plus, Mike DiGiovanna on the Angels and Derrick Goold on Matt Carpenter's negotiations with the Cardinals.
John Farrell, Red Sox
Play Podcast Red Sox manager John Farrell talks about whether he expected his team to make such a turnaround in one season, his relationship with his players, fans' expectations for the squad and more.