September, 30, 2014
Sep 30
6:25
PM ET
Chris Forsberg/ESPN BostonCeltics players go through dribbling drills to start camp.
WALTHAM, Mass. -- With
Rajon Rondo
sidelined by a broken hand, the biggest storyline surrounding the
Boston Celtics
as they open training camp is who exactly will fill the All-Star point guard's shoes during his absence.
While navigating a double session on Tuesday, the Celtics utilized the trio of
Evan Turner
,
Marcus Smart
and
Phil Pressey
as primary ball handlers and hope those players can step up despite their lack of NBA experience at the spot.
"We really only have one point guard healthy that has NBA experience and that's Phil Pressey, so there's not a lot of it," admitted coach Brad Stevens.
While it seems reasonable to expect Smart, a combo guard whom Boston snagged with the No. 6 pick in June's draft, to get thrust into the NBA fire, Stevens also seems to like the idea of putting the ball in Turner's hands. While Turner hasn't played pure point since his college days, Stevens has been quick to note that Turner "was national college player of the year" that season at Ohio State.
One year after revitalizing
Jordan Crawford
's career by giving him point guard reps while Rondo rehabbed from ACL surgery, could Stevens jump-start Turner in a similar role? If nothing else, Stevens likes the idea of having multiple ball handlers on the court to defray the load.
[+] Enlarge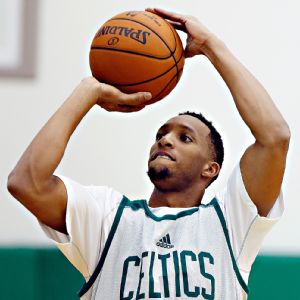 AP Photo/Michael DwyerEvan Turner is ready to assume some ballhandling and playmaking responsibilities for the Celtics.
"Hey, I'm not as worried about [where Turner plays], because people are going to put you in a box for your position," said Stevens. "I'm not going to do that. I'm not going to worry about it. He's a ball handler, he can handle, he can make plays, he's smart. And then I think that keeps our other guys in the positions where they are most comfortable."
For his part, Turner said he's "relearning" the point guard spot while trying to pick up his role in any of the three perimeter spots. He shrugged off the idea of having an awful lot on his plate, assuring that he's not overwhelmed by the task.
"I'm fine. I'm not really worried," said Turner. "It's the first day of practice, so once again, I want to learn all the plays and just get a pace to myself. I think that's the biggest thing. If you have pace, I think you'll be fine."
While he acknowledged playing only spot minutes at point during his NBA career, Turner added, "That's what I grew up playing for the most part, so that's something that I'm kind of more comfortable with, as opposed to being a catch-and-shoot guy, which I've done in the past. Once again, I think it's advantageous to what I like to do."
Said Stevens of Turner: "He's better with the ball than not. And, Rondo notwithstanding, he's as good of a pick-and-roll player as we have."
GREEN WITH ENVY?
Celtics swingman
Jeff Green
expressed a desire to be a better leader this offseason and now he has an immediate chance to prove he can be. Rookie
James Young
has latched onto Green in the early stages of camp with hopes of learning from a veteran at a similar position.
"I look up to him," Young said before the team's second practice of the day. "Green] had a lot of advice for me. He helps me out a lot. I follow his every move and try to be like him."
Some Celtics fans, frustrated by Green's inconsistencies, are cringing at that thought. But even Stevens is hoping Green embraces his 19-year-old understudy and nurtures his development.
"I told [Green] this: You're closer in age to me than you are to James Young," said Stevens. "So James Young has to look up to somebody. You need to take that serious. Now you're an older guy, you're a veteran. I think that last week, I saw him try to grab James and bring him in a couple of times, and I think sometimes that clicks with you. That idea that you can lead somebody, or somebody is watching your every step makes a difference."
Stevens was complimentary of Green's offseason work ethic while noting, "He looks good and you can kinda tell by the pace with which he's worked, even when he was working in individuals before [Tuesday's practices], he's got a different step about him, in that early-season work at least."
LOOSE BALLS
•
Camp schedule
: The Celtics opened camp with a double session. The morning session featured an hour of noncontact work and meetings before the team reconvened for a more up-tempo afternoon session. The team has a second day of double sessions planned for Wednesday.
•
First day of school
: Rookie Smart on if he had any butterflies for his first training camp practice: "I definitely woke up excited," Smart said after the morning session. "A little bit nervous. Things got shaken up. I'm excited more than ever and I'm just ready to get to the second practice."
•
Max capacity
: Boston's practice facility was packed with 20 players in camp. Stevens noted how the team even had to send some bodies over to one of the health club's nearby basketball courts just to spread things out a bit during the morning session. As for breaking up reps, Stevens noted, "For the most part, the guys that are going to be in the mix are going to get the most reps." The Celtics utilized two teams of players in the morning session, but expanded to three teams for the afternoon workout.
•
Limited participants
:
Joel Anthony
(groin),
Vitor Faverani
(knee), and
Gerald Wallace
(knee) participated in drills, but were limited at times. Rondo (hand) is the only player who was not available.
•
Convenience over scenery
: The Celtics have camped in Rome and Turkey in recent years and, even when they don't have overseas exhibitions to navigate, they've tended to sneak down to Newport, Rhode Island, for a few days. Why did Stevens lobby to keep the team in Waltham this year? "Because my office is here. The computer is there. The TV I know how to work is in the same place," explained Stevens. "The equipment guys don't have to carry thousands of bags, the video guys don't have to move their whole life. It made a lot more sense to stay here. We're in the age and stage where ... the kind of work we are getting done is more important than anything else."
•
Throwing the book at them
: Even with some new faces on the roster, Stevens said he plans to throw a lot at his team in the early stages of camp. "I thought I was too gradual last year, so we're going to be a lot quicker," he said. "After a couple of days, we'll stop and we'll hopefully break it down in kinda that whole-part-whole [learning model]. Later Stevens added: "I'm not putting in 9,000 things. I'm going to put in the right amount, we're going to break it down, we're going to teach it, and we're going to try to get as good as we can at it."
•
Camp glance
: Training camp isn't always glitzy, especially the initial sessions. Here's a peek at Boston players going through dribbling drills at the start of the afternoon workout:
PODCASTS
Peter King, NFL
Play Podcast Sports Illustrated's Peter King weighs in on the Patriots' offensive line, the outlook for New England, Jim Harbaugh's relationship with his team and the Cowboys' success.
Opening Rant, 9/30
Play Podcast Colin Cowherd shares his thoughts on the state of the Patriots, New England's offense and Brady Hoke's future at Michigan.
First Take
Play Podcast Skip Bayless & Stephen A. Smith debate if the Patriots dynasty is over, if the 49ers have stopped listen to Jim Harbaugh and more. Plus, they make their World Series predictions.