December, 27, 2014
Dec 27
11:00
PM ET
One day you're getting showered with praise by a future Hall-of-Famer, the next you're getting yanked early due to struggles at both ends of the floor. Such is life for
Boston Celtics
rookie guard
Marcus Smart
.
Little more than 24 hours after
Kevin Garnett
praised the No. 6 pick in June's draft for his "
work ethic and how hard he plays
," Smart endured a series of first-quarter turnovers and struggled to slow
John Wall
as the
Washington Wizards
raced away early Saturday en route to a 101-88 triumph over the Celtics at the Verizon Center.
[+] Enlarge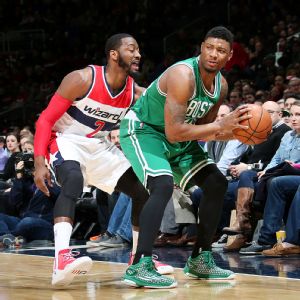 Ned Dishman/NBAE/Getty ImagesMarcus Smart struggled offensively and defensively against John Wall and the Wizards.
Smart threw away three passes in the first 3 minutes, 36 seconds of Saturday's game and found himself on the bench less than a minute later. He did not return until late in the first half and played only 14:21 overall.
After turning in maybe the best all-around effort of his NBA career in Washington earlier this month -- spearheading Boston's furious fourth-quarter charge against the Wizards in a double-overtime loss on Dec. 8 -- Smart turned in one of his poorer outings on Saturday. Make no mistake, Smart was not the only Boston player who started sluggish on this night, but his struggles are simply accentuated in the aftermath of the
Rajon Rondo
trade. Smart's development is one of the biggest storylines now for a Celtics team hoping to develop its young core while navigating this uncertain rebuilding process.
After Saturday's game, Celtics coach Brad Stevens tried to absorb some of the heat for Smart's lackluster play, telling reporters, "That's on me. I've got to help him get ready to play."
Some will wonder if Stevens needs to let Smart play through some of his struggles. The problem, in part, is that an overcrowded roster makes it a little too easy for Stevens to call on a veteran like
Jameer Nelson
, or roll the dice with an energy-giver like
Phil Pressey
when Smart struggles.
Smart played only 6:38 in the second half of Saturday's game and was subbed out early again in the third quarter before logging five minutes of trash time at the end of the game (the Wizards were up 20 when he entered).
Smart finished with three points, making his only shot, with two rebounds, two assists, four turnovers and three fouls. He was minus-7 in plus/minus.
In the five games since Rondo was traded away, Smart has started three times and is averaging 4.4 points, 3.6 assists, 2.4 rebounds and 1.2 steals over 23.4 minutes per game. He's shooting 41.2 percent in that span, including 36.4 percent beyond the 3-point arc.
The Celtics' offensive numbers are lacking a bit with Smart on the court as the team owns an offensive rating of 96.8 (four points lower than the team's average in that span) with Smart on the floor, though a glossy defensive rating of 98.2 (nearly five points lower the team's average in that span) helps negate those offensive struggles.
Smart is still learning how to be a playmaker at the NBA level, and searching for spots to contribute his own offense. These growing pains are not unexpected. But the Celtics have lost four straight, with Saturday's game being maybe the most disheartening of the bunch given how overmatched they looked early, and fans are left searching for silver linings.
Smart wasn't able to provide one on this night.
The 20-year-old Smart understands that nothing is given at this level and said that he doesn't take this stint as a starter for granted given the presence of more established players like Nelson and
Evan Turner
who could also handle the ball.
The Celtics have tasked Smart with bringing energy and defense when he's on the floor, especially as he grows into the role of point guard. On Saturday night, Smart failed to bring either of those and Stevens sent a bit of a message with the early hook.
The Celtics needed more from Smart, particularly with slowing Wall, who didn't have a great shooting night, but absolutely set the tone of the game with his first-half play.
Every game is a lesson for Smart and there's plenty he can draw from Saturday's loss. Stevens needs to help guide his rookie along, but it's on Smart to bring his typical energy and defense each night in order to impact the game like he's expected to.