Boston Celtics:

Avery Bradley diary
April, 6, 2014
Apr 6
8:41
PM ET
By
Avery Bradley
| ESPNBoston.com

Celtics guard Celtics guard Avery Bradley has kept a Celtics diary all season. In his final installment, he discusses what he's learned this year, which teammate he looks up to, the uncertainty of being a restricted free agent this summer and his message to the fans. (As told to Louise K. Cornetta)

The ankle I had hurt is feeling great. I'm going to be back on Wednesday. It's important to be able to get back and play some more games with [Rajon] Rondo to build our chemistry. It's amazing playing with him. We just understand how to play with one another.
It's been unfortunate that we haven't played a lot of games together. But we still have that chemistry because we play so hard. We want to win every single game. We'll do whatever it takes to win games. How hard we play is what makes our chemistry so good, that and our love for the game.
Rondo did some TV analyst work on one of our games. I didn't really check it out because I was playing at the time. I can't see myself doing that. Being honest, it's just not me. Speaking of him, he recently got some nasty stitches right between his forehead and nose. But that's not the worst injury I've ever witnessed, the worst also involved Rondo. When he dislocated his elbow, to this day I can't even watch it. I was on the bench and saw the replay and never wanted to see that again.
It's hard to believe there are only two more home games before the season is over. One thing I do know is that we want to take care of the two last games we have at home by giving our fans a win. Our loss to the 76ers here left a nasty taste in our mouths. Hopefully we can finish strong in our last two games at home.
When I look back on this season, I'll remember my teammates. In this league, you don't always have the same team every year. So I'm going to remember my teammates and I'll miss a few as I'm sure some will end up leaving. I've liked seeing some of my teammates really come into their own this season. Sully [
Jared Sullinger
] is one of them. On both ends of the floor, he's really done well. I always knew he was a talented offensive player, but his defense is getting better every single game.
[+] Enlarge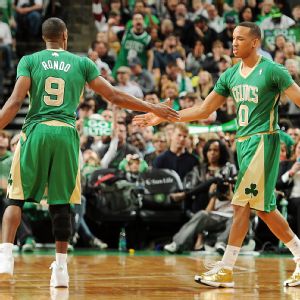 Brian Babineau/NBAE/Getty ImagesAvery Bradley is eager to get on the floor for the last few games in order to build on his chemistry with Rajon Rondo.
Kris Humphries
and
Brandon Bass
are two teammates who I think have had really good years, but maybe haven't gotten a whole lot of attention. I love how those guys play. No matter what happens, they always had a positive attitude.
I've always looked up to Brandon because he's such a good guy and he works so hard. I feel like Humps had an amazing year. He didn't play at the beginning of the year but always carried himself as a professional coming out every single practice. He worked hard to get better and help people to get better. I just respect those two for how hard they play every single night.
I'll be a restricted free agent this summer. I honestly don't know what that experience is going to be like. Obviously I know different teams can be involved and the Celtics can match whatever happens. I've decided not to worry about it until the time comes. Of course I'd like to remain a Celtic. I love the culture here and the people here. I love the whole front office as far as Danny Ainge and everybody. They're just great people.
The biggest lesson I've learned this season is no matter what the outcome is, continue to work hard. I feel like that's something we've tried to do. We haven't had a very good year but we can continue to work hard no matter what.
To be a playoff contender next year we need to play Celtics basketball. By that I mean playing hard-nosed every single night and every single possession. If we do that, we'll make the playoffs.
It's very weird not to be going to the playoffs this year. It's really weird actually. We at least got a chance to work on getting better every single game this year. I still to this day have the mentality like we have a chance to be in the playoffs.
I don't have a prediction for who will win the NBA championship this year and I honestly don't even care. I will say San Antonio has impressed me. I say them because they're a veteran team who plays hard. They play together and know their roles. It's just amazing and I've never seen anything like it.
Like I've done all season, I'll give a recommendation before I wrap this up. I thought I'd recommend some artists to listen to. While I love music I actually don't listen to any before a game. In my car, I recommend listening to Nipsey Hussle, Drake, Dom Kennedy, Young Jeezy and Kendrick Lamar. I love music, just not before games. But for your playlist, those are the artists I'd recommend.
For this final diary, I'm not ending with a recommendation because I want to spend a minute to thank the fans. I appreciate you so much. We have the best fans in the world. From my heart, I just want you to know I do appreciate you. You came out and supported us in a down year. I've never seen anything like that. Take a game like Philadelphia, where we were down by double-digits and you were still cheering for us. Most fans would be either booing or leaving, but you were here. I thought that was pretty cool. I just hope you know it means a lot to us.
March, 10, 2014
Mar 10
10:00
AM ET
By
Avery Bradley
| ESPNBoston.com

Celtics guard Avery Bradley has been keeping a diary for ESPNBoston this season. In this edition he talks about which teammate might surprise you, describes what the Celtics are really like off the court, reveals how the team felt about no trades at the deadline and when he expects to return from his ankle injury, and recalls his funny experience with comedian Chris Rock. (--As told to Louise K . Cornetta)
I'm not playing right now because of a sprained right ankle. It's the same thing I did earlier in the season in that I just rolled it. We've been nursing my ankle so that I don't come back and re-roll it and have to start from the ground floor again. We've just been taking our time. The team has been having me sit and wait for it to get 100 percent. Friday I was out taking some warm-ups and I did the same Sunday before the Pistons game. I felt like that was progress. I hadn't touched a basketball since the injury until this past Friday. It felt like it had been forever.
The way I've been spending my days lately is I wake up and go to rehab every morning then I watch practice and after that I get on a treadmill. After that, I leave and go home for a few hours then go back to rehab. That is pretty much what I do every single day. I think for basketball players the most important muscles to keep up are the legs. While the core is important, I really feel every part of your body is important to work on. You should take care of everything. That's why players lift throughout the season to maintain that strength. You can't just focus on one part. You have to focus on everything.
Away from the court, I'm not much of a TV guy. I'll go to the movies every now and then with my fiancée. Really when I'm home, I like to relax. Being a dad now, I found my routine has changed a lot but I have it down now. We use teamwork between me, my fiancée, and her mom. We help each other out as best we can.
On game day when I'm playing, I'm not a superstitious person or anything. I don't really have a certain pregame routine. I switch things up every now and then. I'm easy on game day. I'm not someone who has to have the same meal before every game either. I change it up. Some games I may eat at home and others I eat at the arena. It just depends on how I feel.
I'm not the only Celtics player who is hurt, unfortunately. Both
Vitor Faverani
and
Gerald Wallace
had season-ending injuries. I want to mention something about Gerald. You may look at him and not realize what an awesome guy he really is. Like people say how you can never judge a book by its cover, that applies to him. Gerald is one of the nicest people I've ever met. It's the same as with
Kendrick Perkins
. They look all mean and stuff but they're really nice guys and that's the kind of guy Gerald is. He's not only a great teammate but he's a great leader on and off the floor. I really respect him a lot.
February, 4, 2014
Feb 4
12:45
AM ET
By
Avery Bradley
| ESPNBoston.com

Celtics guard Avery Bradley is keeping a diary for ESPNBoston.com. In this installment, he talks about his home-state Seattle Seahawks winning the Super Bowl, discusses playing with Rajon Rondo again and gives a Valentine's Day recommendation. (--As told to Louise K. Cornetta)
Congratulations to the Seattle Seahawks for winning the Super Bowl. As you might know, I'm from the state of Washington. I grew up a Seahawks fan. I watched the game from my house. I've been to two Seahawks games, and it is crazy loud like everyone says it is.
My favorite Seahawks player is
Earl Thomas
. We went to college together and were drafted the same year. He's like a bro to me. He's also the one that gave me tickets to those two games I went to. He's a really good guy. More than anything that makes me respect him is he has worked for everything he has. He wasn't always the best, but he continued to get better every single year. I texted with him after they won the NFC Championship Game against San Francisco, and you better believe he'll be hearing from me now to congratulate him on being a champion.
I'm also a big
Richard Sherman
fan, and I'm glad even though he got hurt he was able to celebrate the win, but I'm an even bigger fan of
Marshawn Lynch
. I love Marshawn Lynch. I don't care what anybody says about him, I think he seems like a good dude. He seems like a good person.
I was so hoping Seattle would win and go out there and play a complete game, which is exactly what it did. I would have been really upset if Denver had won. I'm not a
Peyton Manning
fan. I never have been.
There's a mystery going on in this locker room. I wore my Seahawks hat to Sunday's game, and someone put masking tape over the logo and wrote Broncos on the tape. I haven't found out who the culprit is yet. Everybody denied it.
So congrats again to the Seahawks, but I guess I should talk some basketball now. It feels good to be back playing on the court after hurting my ankle. I still feel a little bit of pain, but I'm happy to be back out there on the floor. During that
Miami Heat
game we had in January, I rolled it pretty badly. It's a bone bruise. Luckily, I rolled my right ankle and not my left one, which I've had surgery on before.
If there was a silver lining to any of this, it's that the time off did allow my right hand, which had been sore, to heal. Last week, my hand was big time swollen. I iced it every day. I think I had about eight days off, so I was able to ice it and take care of not only my ankle, but also my hand.
January, 4, 2014
Jan 4
1:00
PM ET
By
Avery Bradley
| ESPNBoston.com

Celtics guard Avery Bradley is keeping a diary for ESPNBoston.com. In this installment, he talks about what he and the team should work on in the new year and gives out his best travel tips as they head out to the West Coast. (--As told to Louise K. Cornetta)
Friday was another really close game. This one against New Orleans we came up just short.
[Rajon] Rondo
and I were talking that this might be the fifth game since last month that we had a nailbiter that we weren't able to finish, which is always frustrating. Friday was an unusual day all around. We flew in from our Chicago trip and landed around 1 p.m. with a 7:30 game at the Garden. I didn't get any rest, but that's no excuse. It was hard definitely, but it was all mental for us. We knew it was going to be a grind-it-out kind of game. We came in and played as hard as we could and had a chance to win.
It was freezing out there on the court just like I know it's cold outside. It was absolutely freezing before the game. I am not a big fan of the snow. I'm not a big shoveler.
[+] Enlarge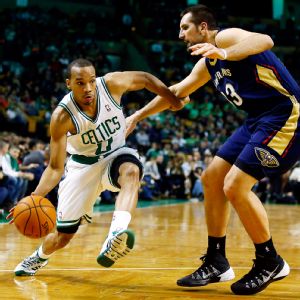 David Butler II/USA TODAY SportsAvery Bradley's 22 points versus the Pelicans wasn't enough as the Celtics lost another close one.
Hope everyone had a good New Year's. Mine was pretty good. I stayed at home with my girlfriend and my family. We watched the ball drop. Did you make any resolutions? For me, it's to stop cussing. I'm not really big on that, but if there was any resolution I am going to make, it would be that.
When I look back on the first few months of this season, I'd say I'm most proud of our progress and being able to stick together. We're a very young team. We have a lot of people who could jump off the ship and think we have no chance, but nobody is doing that. Everyone is coming to the gym every single day and playing hard and wanting to be a better teammate for one another.
I was proud of how this team handled the trade rumors that were flying around a few weeks ago. Nobody really talked or worried about it. If it happens, then it happens. That's the other thing about this team that is amazing to me is we had all those rumors but nobody worried about it. We were just coming in every single day and working hard.
In 2014, I'd like to see us work on better habits. I feel that anyone here would say that because individually you want to work on the small things so you can help your team out any way you can. Defense is another area we've talked about working on. It's about getting back to the small things as far as like sticking your hand up to try and get deflections. All the small things like being able to talk to each other on the floor and stuff like that.
[+] Enlarge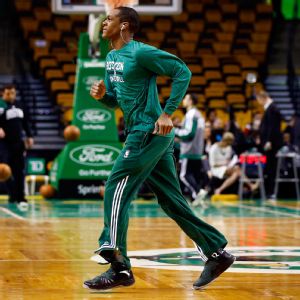 David Butler II/USA TODAY SportsRajon Rondo can't return soon enough as far as backcourt mate Bradley is concerned.
Rondo is getting closer to coming back from his knee injury. He will have a big effect on our lineup. Rondo is an amazing player. We all can't wait for him to get back. He's going to help us out a lot. It's great just having him around us. This locker room is filled with lots of guys who like to joke around with one another.
We're about to head out on a West Coast road trip where we'll play five games in seven nights. The hardest thing for us is mentally just going on the road and playing all those games, especially the back-to-back ones. I feel like we have a chance against any team in this league.
As I've mentioned before, I grew up in Seattle. So I grew up a Sonics fans. Yes, there is a little bit of animosity there for Oklahoma City since they were once the Sonics. I was just telling
Gerald [Wallace]
that I wished Seattle still had a team so I could go back. It would be nice to have all my friends and family be able to come out and watch me play. Oklahoma City will always be the Seattle Sonics to me. Growing up my favorite Sonics were
Detlef Schrempf
and
Shawn Kemp
. Shawn Kemp of course, right?!
I always like to end these diaries with a recommendation. This one will be about traveling since we're about to go on a weeklong trip. I don't know what kind of packer you are, but I am a very very neat packer. I pack the night before and everything is folded neatly. When I get to the hotel it depends whether I unpack right away or not. Sometimes I like to put my clothes that are already folded in a drawer, other times I might leave it in my bag. It really depends on what time of night we get in. Everyone has a must travel item. For me, it's cologne. I always travel with YSL. I always make sure I have that.
The best way to pass time on the plane is to sleep. I'm the type of guy who can fall asleep on the plane. It's easy for me. If you can't fall asleep, then I'd have to say my best travel tip is pray before you take off. That's the best tip I can give anybody because you never know what can happen.
December, 14, 2013
12/14/13
4:19
PM ET
By
Avery Bradley
| ESPNBoston.com

Celtics guard Avery Bradley is keeping a diary for ESPNBoston.com. In his second installment, he talks about the importance of leading after the first quarter, what kept him up late into the night because he had to watch it and some Christmas shopping recommendations. (--As told to Louise K. Cornetta)
We find ourselves in first place in the Atlantic Division. How did we get there? By working hard and continuing to get better as individuals and as a team. That's our biggest thing is to continue to get better. I think it's very unfortunate that some people thought we wouldn't be a very good team. Everybody here thrives off proving people wrong.
I feel like we've been playing well. We obviously took a few steps back when we lost two games last week, but we responded well against the Knicks on Friday night when we got a great win. I had to spend a little time in the trainer's room after that one as I got hit in the thigh, but I'll be fine. It's nothing serious.
Coach Brad Stevens is really big on stats. He likes us to be leading after the first quarter. I'm sure he's been looking it up where statistically when we're up in the first quarter, we probably win the game, which was the case against the Knicks. Stats don't lie. Leading after the first quarter is obviously very important for us.
One of my teammates I wanted to point out is
Jared Sullinger
. He's been playing really well. He's very confident, and we've been able to get him the ball, which has kept up his confidence. As a result, he's been playing excellent.
[+] Enlarge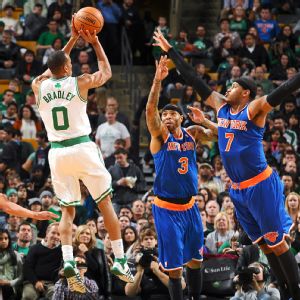 Brian Babineau/NBAE/Getty ImagesAvery Bradley contributed to two wins over the Knicks this week.
The game in New York I was close to a triple-double but ended up with a double-double, which I'll take. I've been very blessed and fortunate to be able to make some shots. All I can really do is thank God. On Friday, I was able to hit a 3 to put us ahead at the end of the game. When you hit a big shot like that, it's fun for me because I put so much work into my game. So to be able to make a shot like that for my teammates is just an amazing feeling. It's why I play this game.
I made the Top 10 Plays on "SportsCenter"
last week
when we played Milwaukee. Funny story about that as I didn't know I had made Top 10. One of my teammates,
Jeff Green
, texted me late at night, like at 2 in the morning, saying, "Bro, you're No. 1." I stayed up to watch it, and I was cracking up that I was the No. 1 play of the night. It was pretty cool.
Eventful week as it felt like a sort of homecoming since we faced the Nets with
Paul Pierce
, KG (
Kevin Garnett
) and Jet (
Jason Terry
) in Brooklyn then with the Clippers having Doc Rivers come back. With the Nets, my former teammates are like older brothers to me. It was fun to be on the other side to play against them. Not only to go up against them but going up against Doc as well. It was weird but fun at the same time. I was able to speak to everyone before or after the game. Everyone knows KG is an infamous trash-talker on the court, but he didn't say anything -- well, at least not to me.
I was glad the fans showed Doc a lot of love with that ovation. He deserved that. He had a great career here. He's a really good guy and coach. He's highly respected here in Boston. I felt the fans responded the right way, the appropriate way.
Last diary I gave you a movie rental recommendation. This time I'll do a holiday version of something to recommend. We have a nice stretch around Christmas without games. I'll spend the holidays with my family. This will be the first Christmas for my son, Avery. My girlfriend and I had a hard time trying to decide what to get him because he's so young, only a few months old. He already has everything that he would want. We did go to Toys R Us on Thursday for like two hours to find some things to get him. I'd recommend going to a store to see what's out there, but you can sometimes get bogged down when you try to go to a store. So whether you are an online shopper or an in-store one, do what works for you.
I'll tell you a little secret. I've never been a big fan of Christmas. My girlfriend is trying to get me into the spirit. I just have never been a big Christmas guy. I really don't know why. Not even as a kid, I didn't get into it. Really weird, right?
But I like to get stuff done early, so I do recommend shopping early. Don't wait until Christmas Eve or something. I do not like to do things last minute. So I got all my Christmas shopping done already. Actually, another recommendation is about what to buy your significant other for Christmas. Ask your friends for helpful suggestions; that's what I did. Jeff and
Courtney Lee
helped me pick out my gift for my girlfriend, and I feel like it's a very good gift. It was expensive. So get advice from your friends or her friends and you can't go wrong.
November, 16, 2013
11/16/13
11:22
PM ET
By
Avery Bradley
| ESPNBoston.com
Celtics guard Avery Bradley will be keeping a diary for ESPNBoston.com this season. In his first entry, he talks about an emotional offseason, the identity of the team, how the coaching style has changed this year, and the unique way his favorite movie came about. (--As told to Louise K. Cornetta)
Well, before we get to what's happening on the court, I thought I'd share that before the season started I became a father when my son was born. Being a dad is an amazing feeling. I can't ask for anything better than having a son. The hardest part of taking care of a newborn is sometimes I don't know what he wants. Sometimes I can't tell what he wants and then I feel badly. I am on diaper duty and change them all the time.
Right before he was born I lost my mom. It was a very tough time in my life. I went from a very low moment to a very high moment. It's just how life is and all you can do is pray. I've asked God for guidance. Now I'm doing just fine.
[+] Enlarge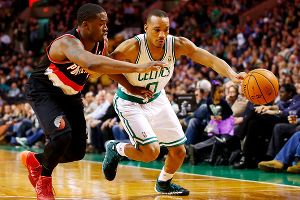 Jared Wickerham/Getty ImagesAvery Bradley and the Celtics have had a streaky start to the season, losing four then winning four before their current three-loss skid.
On to basketball ... If you asked me what position I play my answer would be a combo guard. I'm able to play both positions of point guard and shooting guard. Lately I've been used at shooting guard and I've gotten a better feel for the game as a result. Instead of having to come out right away and make plays for others, I've been able to get a better feel for the game as it goes along. I can get comfortable and become more relaxed on the offensive end when I'm at the 2-guard.
The Orlando game this past week was a good example of this. We got the win and I was able to come away with 24 points. My midrange jumpers are feeling pretty good. They are something I've been working on a lot. Not only that, but my teammates were able to find me and I was able to knock down open shots. That was a big game for me.
I take pride in my defense, too. Being good defensively is not something I really learned. Honestly, it's just a God-given gift. I've been playing defense like this my whole life.
Last year
Jason Terry
was someone I had known for a very long time. We are both from the state of Washington. He always likes to look out for people from his home state. We were very close. He was kind of like a big brother to me. So I guess you could say he looked out for me. But really the most influential people to my game have always been my family.
While I know I'm no longer a rookie on this team, I wouldn't say I'm a vet yet. It's been pretty cool to finally get a chance to help others out. People have been helping me out every single year since I've been here. Now it's my turn to return the favor. It's been a good opportunity for me.
I'd describe the team this year as a grind team. Overall that's the kind of team we are. I feel like every individual on this team would say they're a grind player because we don't have that one star on this team. Everybody is in the gym every single day trying to get better.
Our star players were traded this offseason when KG [
Kevin Garnett
] and
Paul [Pierce]
went to Brooklyn. I was heartbroken. Being here with those guys for years, I learned a lot from them. They kind of became my older brothers. So it was hard to see them leave but all you can do is wish them the best. I hope that they do well.
There are a lot of new faces on this team. I'd say we're jelling together very well. Because there are veteran players like
Gerald Wallace
,
Keith Bogans
and
Rajon [Rondo]
, they keep us all together. We just have a great group of guys, honestly.
Doc Rivers also left this offseason as you know. Coach [Brad] Stevens has a different coaching style than Doc did. One is more laid-back, one is more intense than the other. The more intense is Doc for sure. Coach Stevens is pretty calm the whole entire game. He also likes an up-tempo style.
This team's goal is just like any team's. We want to win the championship. We will never sell ourselves short or count ourselves out. Our goal is to go to the playoffs and win the championship. My goal personally is to help this team out any way I can. I'm going to have the opportunity to try to make the first-team defense this year. That's pretty much it for my personal goals, but I feel like the sky's the limit if I work hard. Not seeing my name listed as a potential All-Star candidate didn't bother me at all. I was not surprised. It just tells me I have to keep working.
Friday night we lost to Portland. It was just a tough one. It's a game we could have had but unfortunately we didn't get it. We need to learn from our mistakes. We watch film to learn what we need to do to improve as a team. We're headed out on a three-game road trip. As we do, our hope is to continue improving as a team.
I started this diary with an off-the-court story and so I'll end with one, too. I'll give a recommendation and this time it will be for a DVD. I know everyone has a favorite movie: Mine is "All About the Benjamins." The reason is one summer I was in Mississippi with my family for the entire summer. My grandmother didn't have cable; all she had was that movie to watch. So I watched "All About the Benjamins" every single night. You can quiz me on it. I know that movie word-for-word. Check it out if you haven't seen it already.
PODCASTS
Field Yates, NFL
Play Podcast ESPN NFL reporter Field Yates covers expectations for Rob Gronkowski, the Patriots' outlook, LeSean McCoy's injury and Alex Smith's contract negotiations with the Chiefs.
Baseball Tonight - Jed Hoyer
Play Podcast Buster Olney and Justin Havens discuss how teams that made major deals have fared since the deadline. Plus, Cubs GM Jed Hoyer on the strange circumstances caused by weather.